Choose from a wide selection of products to make unique personalized Valentine's gifts.
Create your own custom Valentine's gifts with no up front cost and no minimum orders.
Get your personalized Valentine's gifts delivered worldwide with ease.
Add our custom products to boots your sales up!
Choose and customize a product that will make your customer fall in love in this Valentine's day.
Ready?
Design and sell your custom Valentine's gifts now!
Here are some of the best February 14 Gift Ideas
Let's explore some custom Valentine's gifts suggestions for your store!
Personalized Valentine day gifts for him
Personalized Valentine Shirts, Mugs, Blanket, Boxer, Photo Night Light, are some great ideas to send boyfriends and husbands over the moon on Valentine's Day. Find more products from our product category to make the perfect gifts for men this Valentine's.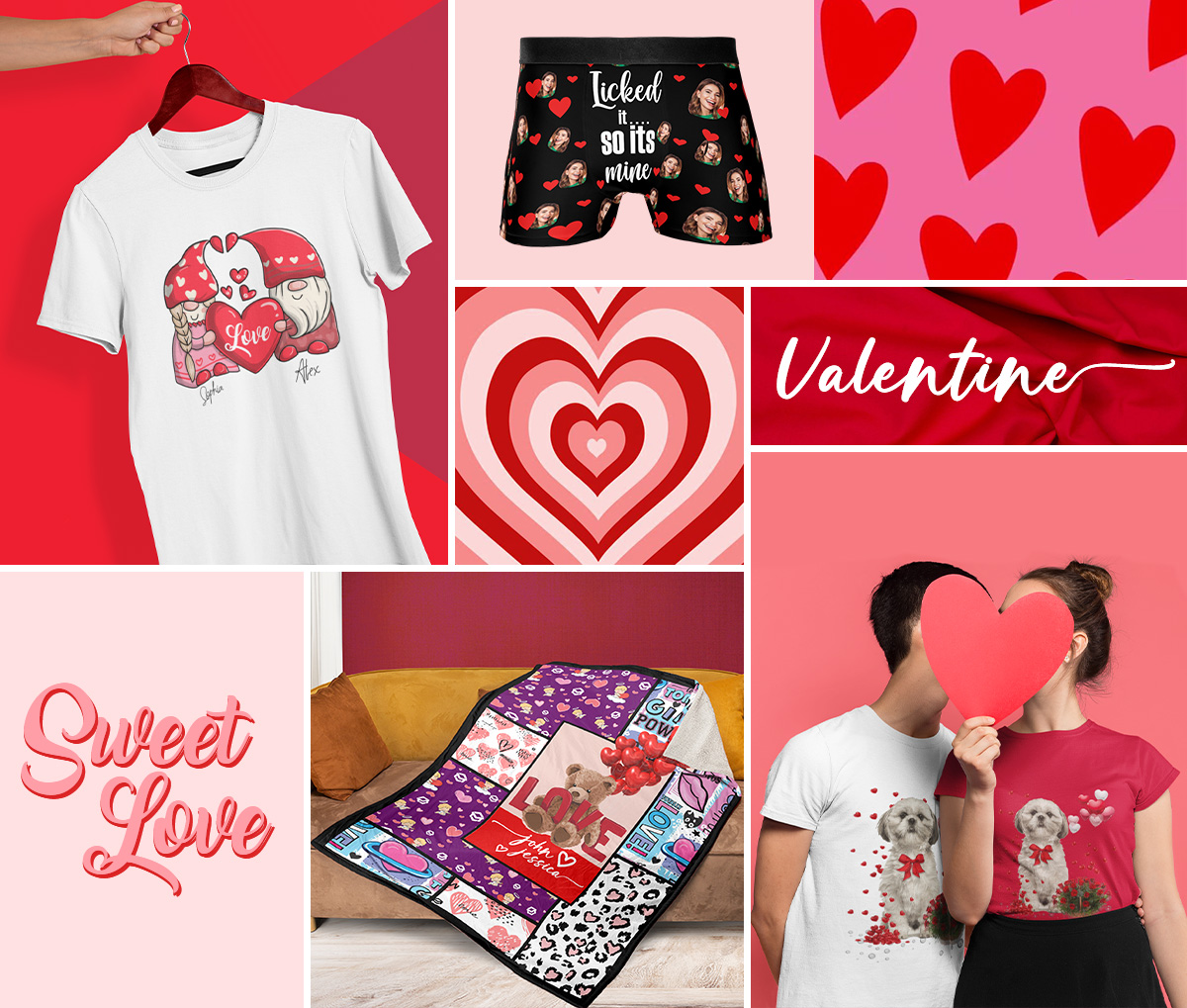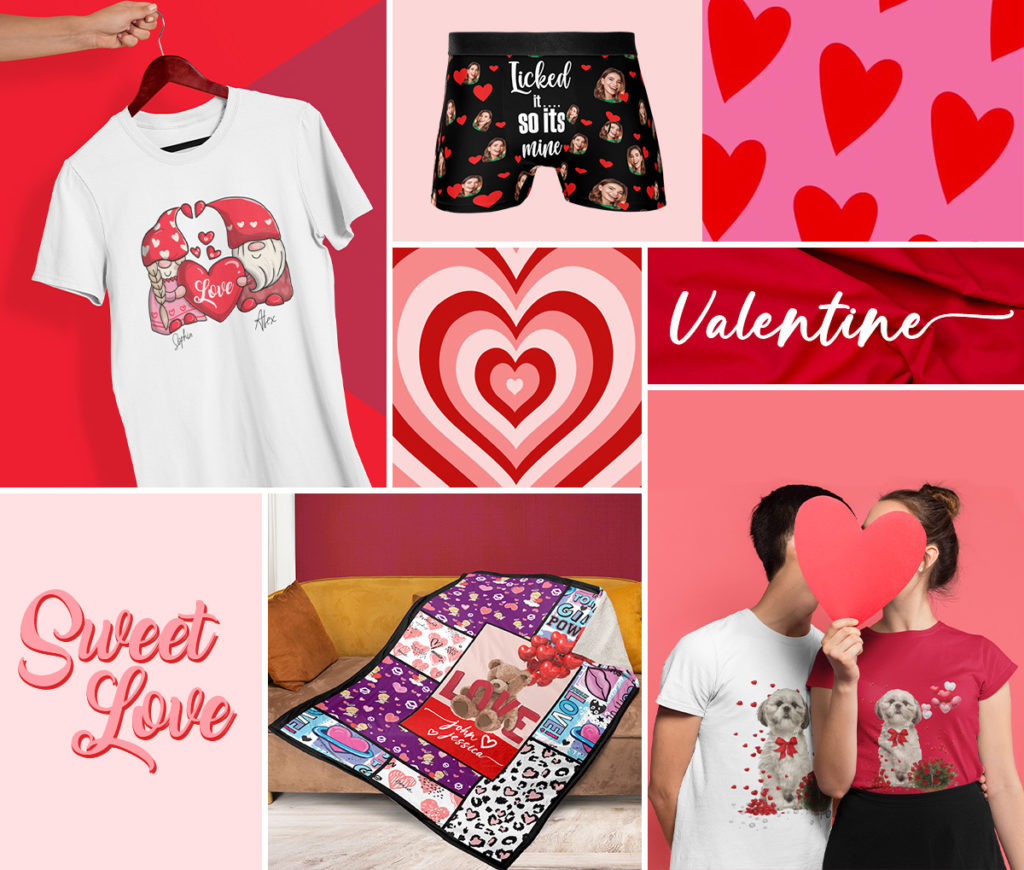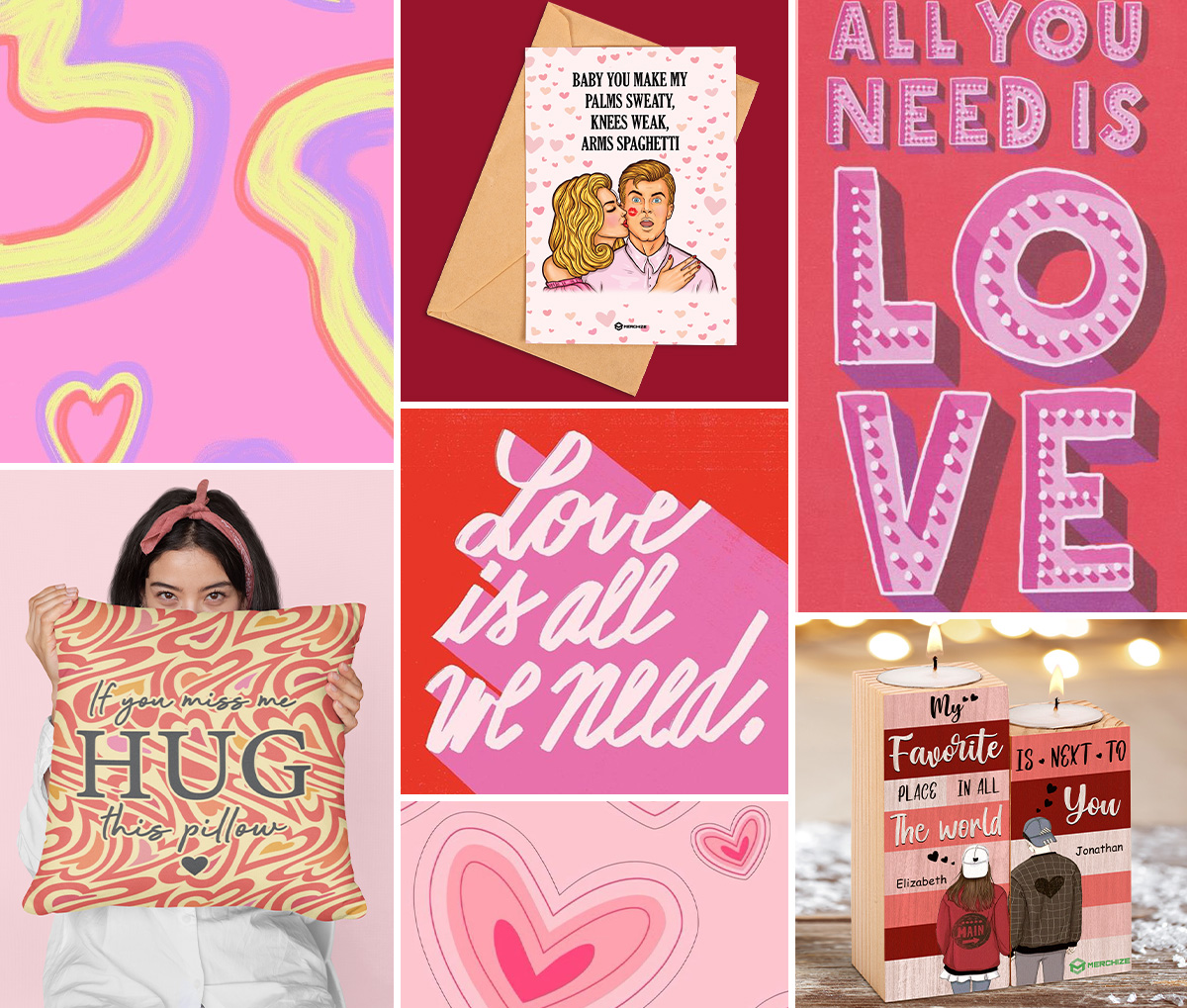 Personalized Valentine's gifts for her
Valentine's Day is the right time to send love to all girlfriends or wives in the world. Create some classic gifts for your woman like customized T-shirts, Pillow Case, or try something more romantic like Candles, Candle Holder Set, Greeting Card, and more.
Cute Valentine gifts for him and her
Couple matching never goes out of style. Valentine's is the best time for couples to show everyone in the world that they're in love. Personalized couple T-shirts, personalized Valentine's day Heart-shaped Mug Set, Tumbler, Trucker Cap are some wonderful couple Valentine's gifts this year.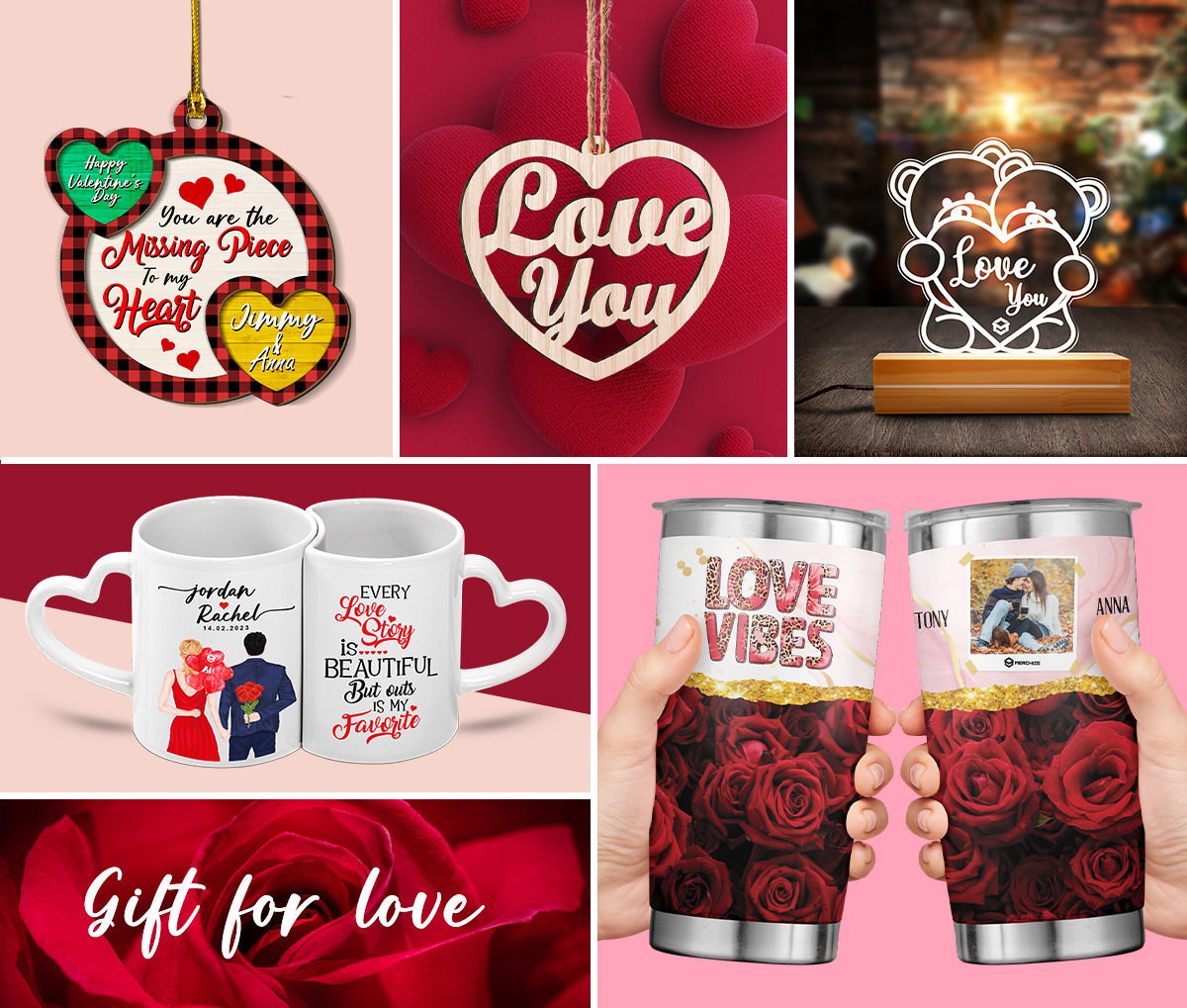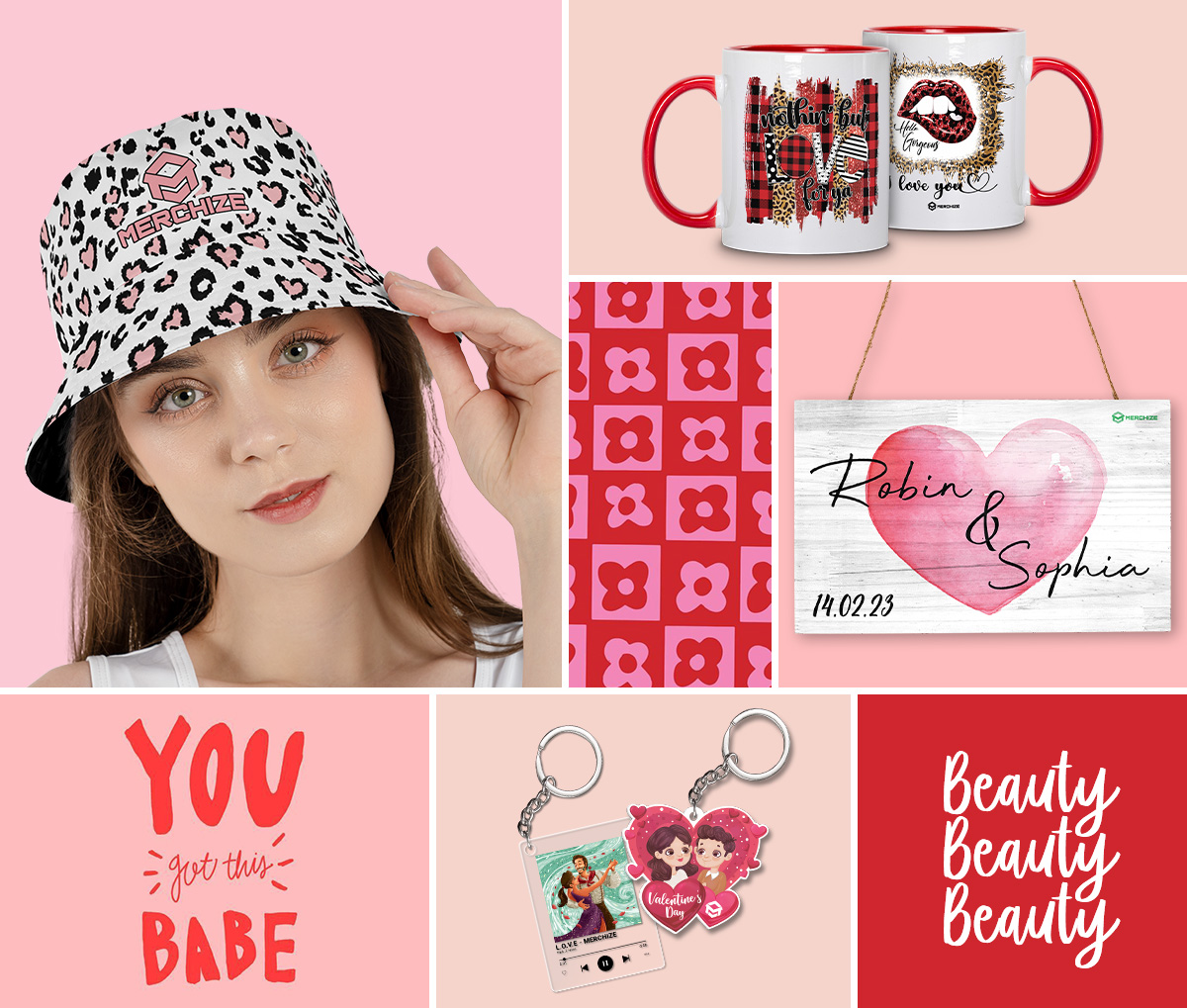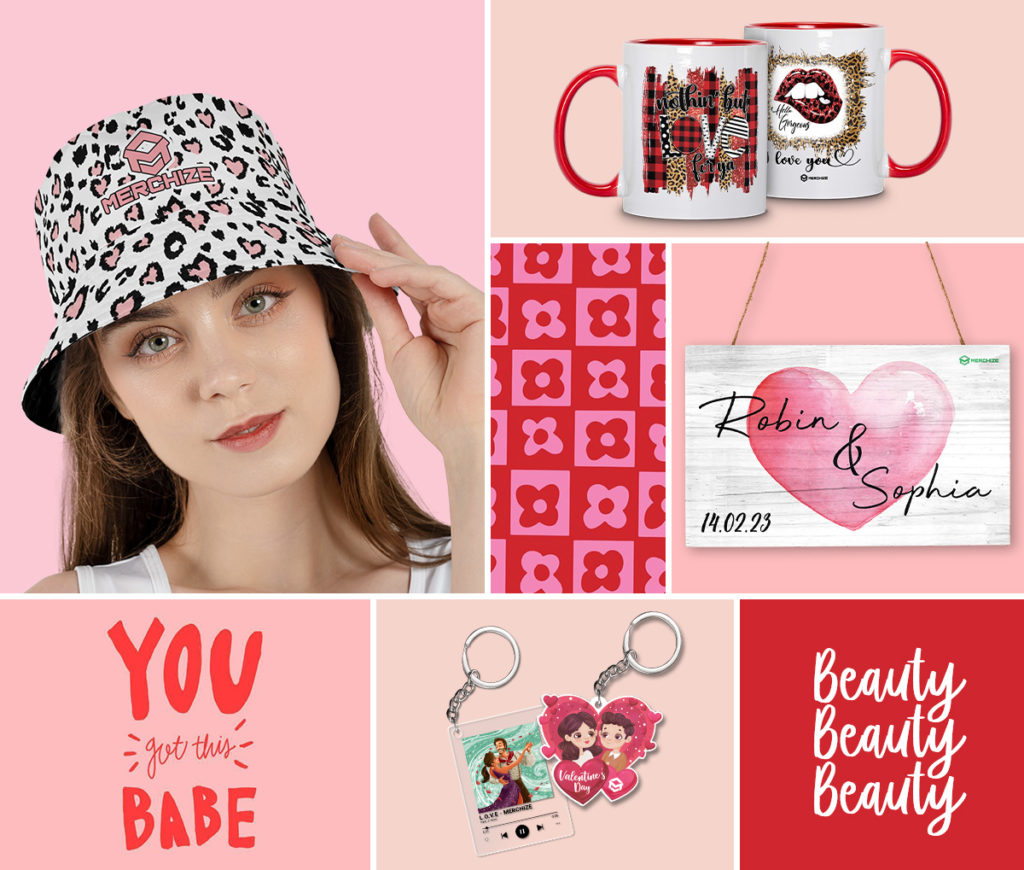 Highly practical Valentine's gifts
Custom Valentine's gifts can be practical and useful as well. Since some people are not big fans of corny couple-ish presents, useful gifts are the best choice for them on Valentine's. A Ceramic Mug, Wood Sign, Keychain, Bucket Hat are some great ideas for a practical Valentine's gift.
Ready to launch new products for this Valentine's season? Get started with Merchize now!
What makes Merchize different?
Cost-effective solutions for personalisation of print on demand products, regardless of how high the volumes is
Over 250+ custom products
Don't stop at t-shirts, hoodies, masks and mugs. Diversify your store with less competitive products like polo shirts, hats, sweaters, ornaments.
Your products are produced under strict control – Best quality guaranteed. We try our best to process your orders faster than other suppliers.
With in-house manufactory located in Vietnam, we control and optimize product cost very seriously. That's why our custom product base costs are low.
Track all your orders from producing to shipping. Get everything under your control.
Multiple Platform Integrations
Sync and track all your orders from popular marketplaces and platforms. This seamless automated process saves you a ton of time.
We are always on standby. We care about all that you need.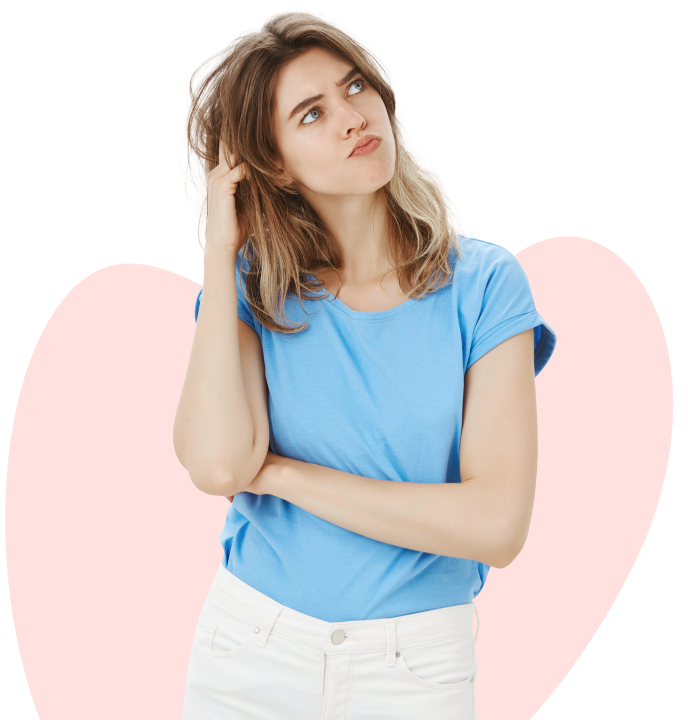 Get answers from our frequent asked questions
What is St. Valentine's day and when is it celebrated?
In one story, Valentine is a saint in third-century Rome that got caught breaking the rules. Emperor Claudius II outlawed marriage because he wanted more dedicated soldiers going to war. A wife or family was a distraction.
Valentine didn't like this and performed marriages in secret. He was caught and killed.
In a different story, Valentine was trying to help Christians escape Roman prisons. According to this story, Valentine sent the first "valentine" letter to a young girl, potentially a jailor's daughter, who visited him while in prison. Before his death, it's thought that he wrote her a letter and signed it "From your Valentine."
While it's unknown which is the true origin of Valentine's Day, both stories feature a person that died for love. The date of Valentine's Day is to honor the day of his death and burial. This holiday is celebrated on February 14 every year.
Why you should invest in Valentine's Day?
Valentine's Day is an extremely profitable holiday. In 2022, around 23.9 billion dollars was spent on this one holiday! Men spend an average $235 and women spend an average $119 on Valentine's. Where do they get these gifts? They get them from small businesses, online stores, big stores, and discounted stores.
You have the unique opportunity of being both a small business and being online. By having the right products, you'll be able to have a lot of sales and get new regular customers. Merchize provides a large collection of highly potential print on demand products for Valentine's Day that is sure to get customers' attention.
Can I get samples before selling?
Yes, just send your request, our support team is always ready to help!
How long does it take to ship my customer?
Most orders from our factory in Vietnam ship within 4-7 business days. It takes around 3-5 business days to ship from our US and EU-based facilities.
Do you have minimum order?
No minimum order requirement means you can order whatever and whenever you need, and we'll take care of the rest.
Start Your Own Print On Demand Business Today!
Our service is free, easy to use and available to everyone. Simply sign up for free Merchize account and start selling with no barriers!