eCommerce platform that let you
Meet your print-on-demand dropshipping and fulfillment production partner: You'll only need to take care of the sale and we will take care of everything else for you: printing, shipping, quality control.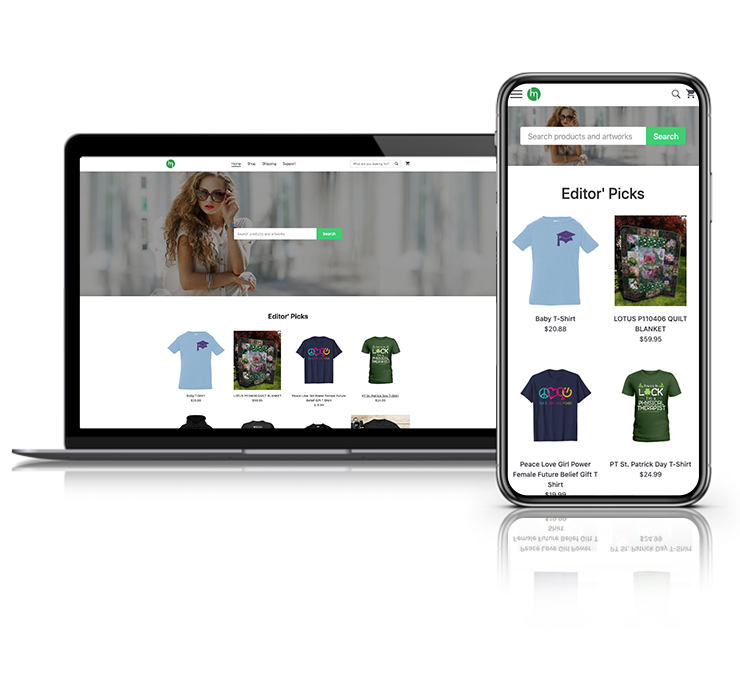 Start Selling In 3 Simple Steps​

Enter your domain, store name and you are ready to Sell. Setting up a store on Merchize takes less than making a cup of coffee.

Create your products, or import from existing platforms. Then, get some traffics to your store and it will start selling like hotcakes. Guaranteed!

Now that you've got sales, start tweaking it by checking the analytics to make even more out of what already works.
Winning Products You Can Sell​
With a range of products from T-shirt, Quilt, 3D Hoodies, Mug, Pillow, Watch, Phonecases, etc, our high-quality POD catalogue allows you to
sell anything you want at the best cost, handed to your customers at the fastest time frame.
Products are delivered to your customers in within 3-5 days or 5-7 days based on your shipping plan.
Features to Scale Your Business
from Zero to HERO
Multi Channel Integrations at Your Fingertips
You can sell anywhere, and fulfill your products on Merchize. Or you could also sell on Merchize, and advertise your products anywhere. Either way, we've prepared integration to the best solutions out there for both:
Google shopping
Facebook Ads
Bing Ads
WooCommerce
eBay
Integration for Amazon, Etsy are coming soon.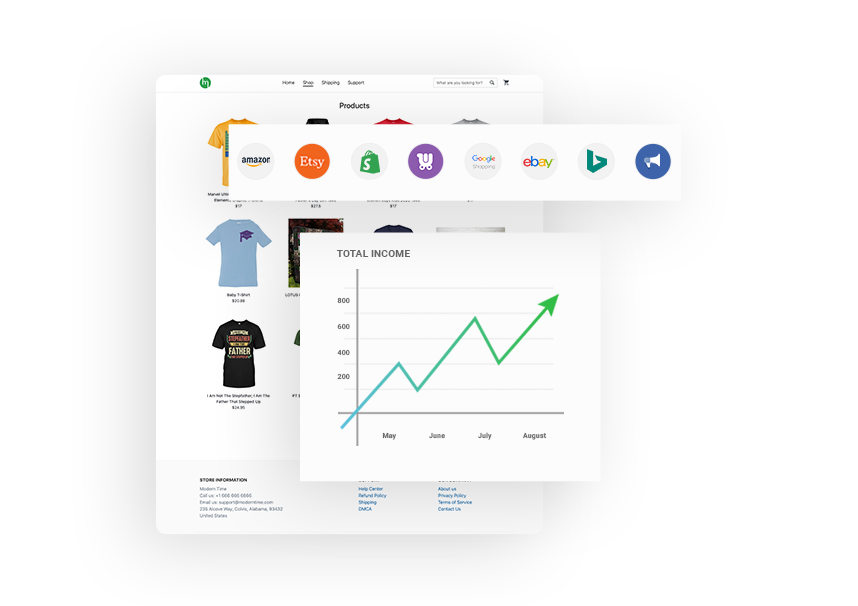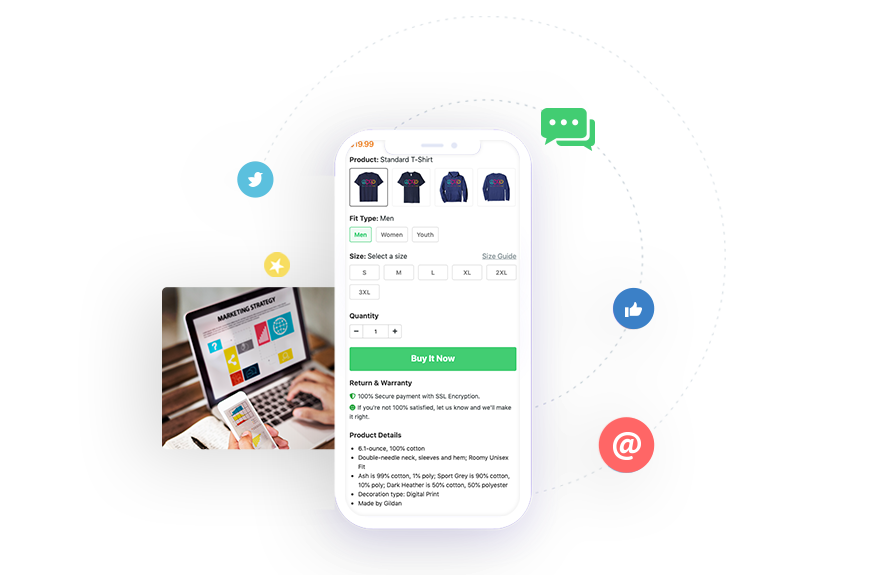 Built-in Tools to Promote Your Business
Promoting your business and building your brand is simple with Merchize. From the production line to the production site, we've implemented tools to distinguish you from other sellers and tools to help you extend your reach to your customers. Having these powerful tools at your disposal is really the first step in marketing and advertising your store.
Analyze, Optimize and Manage at The Same Time
Merchize's dashboard provides a range of analytics tool to help you take a closer look at your store's data so you can analyze and optimize what already work to make it sell even more. Managing products and making changes in Merchize are also very simple, so you can easily transform your store to make it fit with your selling strategy.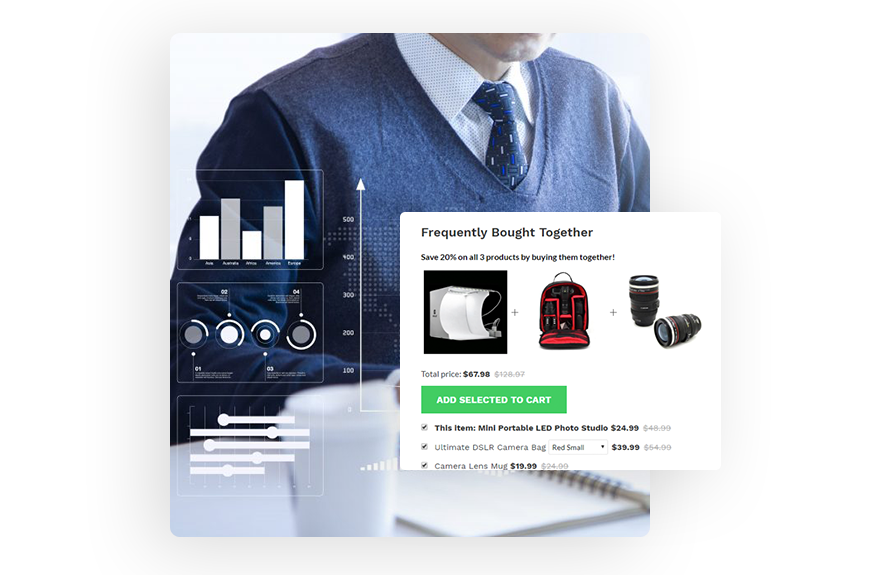 Obsessed by Great ROI, CR, Upsell, Cross-sale techniques?
Same here! We are also obsessed by things we can do to increase the site's performance. Therefore, Merchize implemented several CR, Upsell and Cross-sale techniques which help you sell more. Along with that, our server infrastructure is top notch and the site's speed is always the fastest, guarantee a satisfactory shopping experience.
Join Thousands Of Sellers On Merchize Now!
Start with us now and you will lead the competition in the Print-on-demand fulfillment and dropshipping game, simply by taking the lead. Merchize is your game-changer!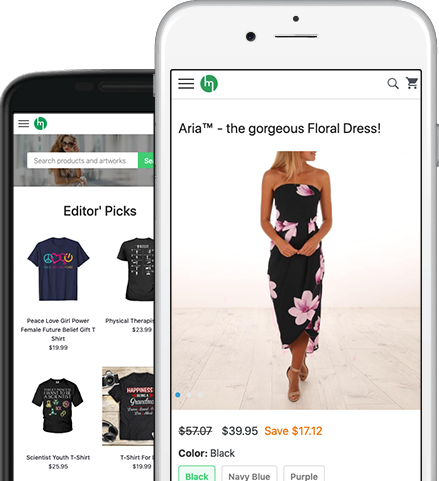 Guaranteed Shipping Time
Orders are processed in 1-2 days and delivered to buyers in 3-5 days (Express shipping) or 4-7 days (Standard shipping)
High Quality Products
Products are made and quality controlled in several stages to make sure your customers get the best product possible

Migration Made Easy
Tired of having to upload and setup all the products again? Don't worry, our system can help you migrate from your existing platform effortlessly

Seamless One Page Checkout Process
To encourage visitors to buy more, we make the checkout process fast, smooth and easy

Google Ads & Google Shopping
Stop worrying of having to look for an app to connect with Google advertising solutions when they are all built-in with the system

Facebook Retargeting
Just like Google Ads, adding Facebook Pixel for retargeting campaigns is also easy as they are Merchize's built-in features

High Coversion Rate Design
Merchize's default theme has been tested thoroughly both on and off field. With Merchize, you can have a store that both meets the eye and drives the sale

Search Engine Optimized
As you are building your brand for the long run, SEO is ultimately important. That's why every bit of our designs are made for SEO

Mobile First Design
It's a fact that the majority of sale happens on Mobile devices. That's why Merchize is all in with Mobile First Design. That's why our CR rocks!
WANT TO GET STARTED? WE'D LOVE TO HAVE YOU IN!
CREATE YOUR STORE WITH US NOW