1. Compared to other eCommerce marketplaces, Etsy is quite a niche platform. The emphasis on selling items with originality and high customization makes it one of the best places for print-on-demand businesses to flourish. If you are interested in creating a new flow of income from this unique market, print on demand is the best suggestion for your future business. One of the top important decisions you will have to make is to find the best Etsy print on demand partners.
As you might be aware, the print on demand market is filled with multiple manufacturers and suppliers and competitive offerings, making it even more daunting to select the best manufacturer. It might take you a while to weigh each and every Etsy integration option out there. But don't be discouraged yet. If you are patient enough to stick around, you will find the best POD manufacturer that will help you gain huge success in this market.
Here is a quick list of the best Etsy approved print on demand partners:
Printful
Printify
Merchize
Gelato
Gooten
Art of where
Teelaunch
Custom cat
Prodigi
Printed mint
If you are selling print on demand on multiple platforms or marketplaces, you can also look into our list of the best print on demand companies in 2021.
Before getting into details about the pros and cons of top approved print on demand manufacturers with Etsy integration, let's wrap up some basic knowledge of the print-on-demand business and Etsy platform first.
What is print on demand and does Etsy do print on demand?
Let's address the most basic question – "What is print on demand?"
Print on demand, also known as POD, is a fulfillment process that allows you to design and sell your own products online without having to own the products or maintain inventory.
Business owners can create and customize their designs from the white-label products offered by the manufacturer. One of the best things about print on demand is that the production is order-based, which means you will not have to pay for your product until it is sold. This feature of POD business will free you from the fear of unsold stocks and mounting inventory costs. Even when the demand drops, you are safe from wasting your money.
With print on demand service, the supplier will take care of the entire process, from producing to packaging and shipping. The only job left for you to do is to come up with the best ideas to capture the buyer's interest and market it to the right audience. The rest will be handled and taken care of by POD companies. Basically, you can get the best of both worlds with print on demand, low investment, and low maintenance. 
That's a brief introduction to the world of print on demand. If you are new to print on demand, you can read our detailed guide on print on demand and why you should start a print on demand business.
What about Etsy? First launched in 2005 as a small platform to connect and support artists and craftsmen who make and sell artworks, handmade crafts, and personalized goods. From this humble and very niche market, Etsy has developed into one of the top eCommerce platforms with a strong focus on unique, custom-made, handmade goods as the demand for such products is seeing considerable growth. Best-selling products on this marketplace include jewelry, clothing, home decor, prints, arts, toys, and more.
According to the latest statistics by Wallstreetzen, this marketplace has over 90 million active users in 2021, including 4.7 million sellers. The number of active users at the end of the first quarter of 2021 is reported to go up by 89.9% compared to the same period last year. 
Unlike Amazon, the online retailer does not support sellers to manage their stock. It means that sellers will have to multitask, from doing marketing to managing orders and inventory. That's where the print on demand service shows its best.
The good news is Etsy does accept print on demand services and products on their platform. Best of all, many POD manufacturers and suppliers offer integration with this marketplace on their platforms. Print on demand Etsy integration will help you streamline your whole process and make it super easy to run your business on this site.
With Etsy, you can easily make the best out of your POD business. 
Is Etsy good for print on demand?
Absolutely, yes. Etsy and print on demand is the obvious winning combination. POD on Etsy offers the best solution for shop owners as it will take care of the manufacturing as well as handling orders. Print on demand helps to fill the gap in Etsy's service including stock management and delivery. 
If you are planning on selling white-label products using your own design, print on demand service is the best option to try.
You can make the best of print on demand by uploading products on this website. Print on demand also offers products that are highly relevant to the user base on Etsy. Statistics show that "personalized gift" was the most popular search term in 2020 on this e-commerce site, revealing the increasing demand for custom products on this platform. With print on demand, you are given the full power to create personalizable products. Needless to say, integrating POD with Etsy is arguably the best way to start an e-commerce business.
How to find the best print on demand sites for Etsy
Quality
Quality is, first and foremost, the top important criteria when it comes to choosing the POD integration option for this . Besides fitting your customer's demand, there is also the need to provide quality products.
While the design is entirely under your control, the quality of your product relies on your selected POD integration option. For this reason, you should do thorough research to find the best Etsy print on demand manufacturer or supplier that can meet your quality requirements.
It is best that you order a sample before settling down on one manufacturer. Moreover, choosing from the Etsy-approved partners list is also a good idea 
Price and Shipping cost
Another make-or-break factor for your business is pricing. Finding the best Etsy-integrated print on demand manufacturers that offers good shipping costs and base costs is one of the key steps toward success, especially in a highly competitive marketplace like Etsy.
Each POD manufacturer will offer different rates for their various services. We will discuss the pricing in detail in the next section.
>>> Check out attractive pricing at Merchize
Speed
Speed is particularly important to the print on demand business. Because the products are not shipping-ready but made on demand – after the order is made, it will take longer than usual for the customer to finally get the package. We all know that the longer the waiting is, the less satisfied the customer is. You should reduce the shipping time to the best of your ability.
To grow a sustainable business, store owners should pay close attention to speed when choosing the best POD  manufacturer and supplier for your stores.
Printing method
Most of the best Etsy-approved POD manufacturers provide sellers and business owners with some similar basic printing options. Still, if you want to sell a product that demands a specific printing method or you are looking for a new and unique product, your options can be limited. Not many approved manufacturers have the technology it takes to fulfill your expected outcomes. For the best, find a manufacturer that has a wide variety of printing technologies.
That's why you should take into consideration the printing method a POD manufacturers can offer when selecting the best print on demand integration option for your store.
Capacity
Another thing to take into consideration is capacity, especially when you are running a large business. Etsy-approved manufacturers with the largest production capacity are not necessarily the best choice. What's important is the capacity of the POD manufacturer should match your store's demand best.
 If you are not conscious about picking up a print on demand manufacturer with a capacity that suits your store's demand best, you might run the risk of having a supply crisis.
Reliability
Reliability is one of the top important parts of a partnership, but also the hardest to evaluate.
The best thing you can do is to take the advice from people who had experience in doing business with print on demand companies for Etsy integration. You can also look for feedback from people who have tried POD integration on this marketplace before. These people can share their experiences and give you suggestions on the best print on demand manufacturers that they have used. 
Still, to get the most objective judgment, you had best take advice from a number of experienced sellers. 
Customer Support
The quality of customer support is one of the best indicators of a company's reliability. Plus, timely and reliable customer support will make it easier for you to run your business and focus on what you're doing best. 
Print on demand Etsy integration
Last but not least, Etsy integration. For Etsy store owners, it is best to find a print on demand manufacturer that integrates with the site. Print on demand Etsy integration will allow store owners to initiate a seamless experience in managing and tracking orders across platforms.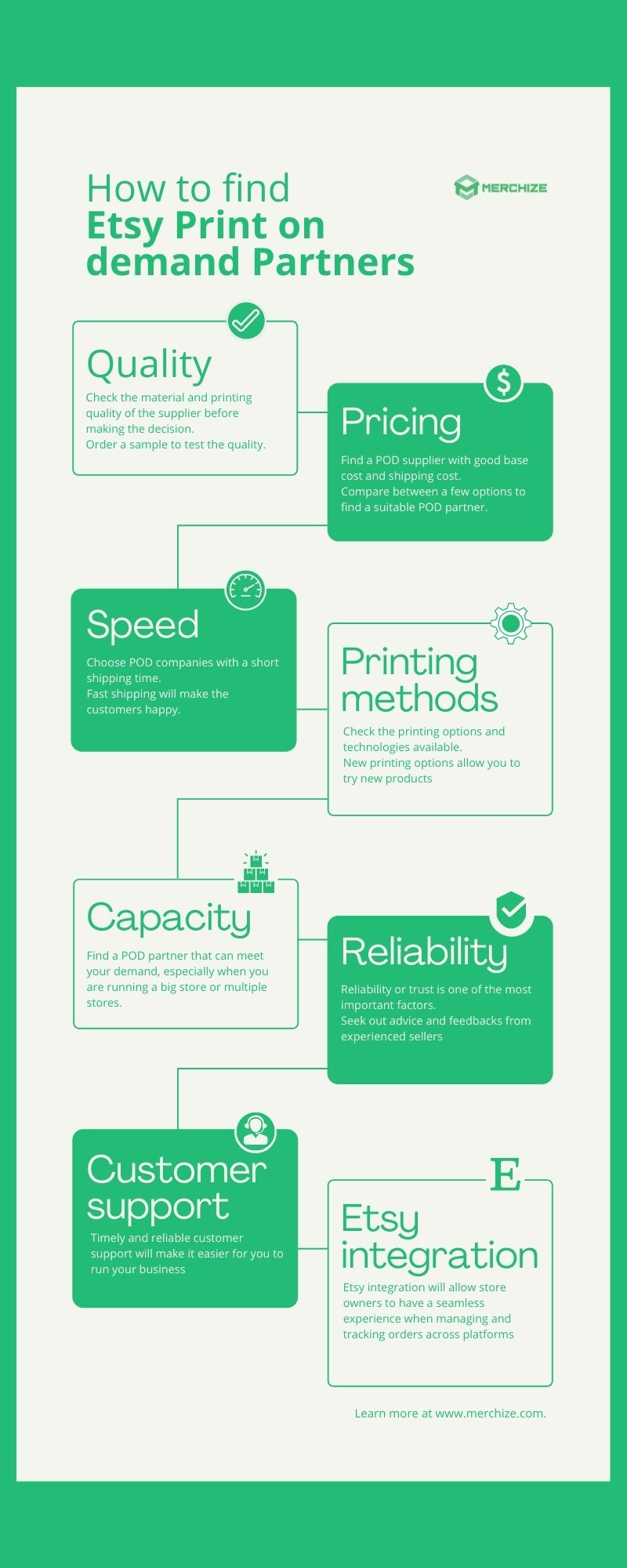 Best Etsy Print on Demand Partners 2023
Printful
Printful is one of the best Etsy-approved print on demand manufacturers. Printful integration is a popular option for many business owners when starting selling POD products.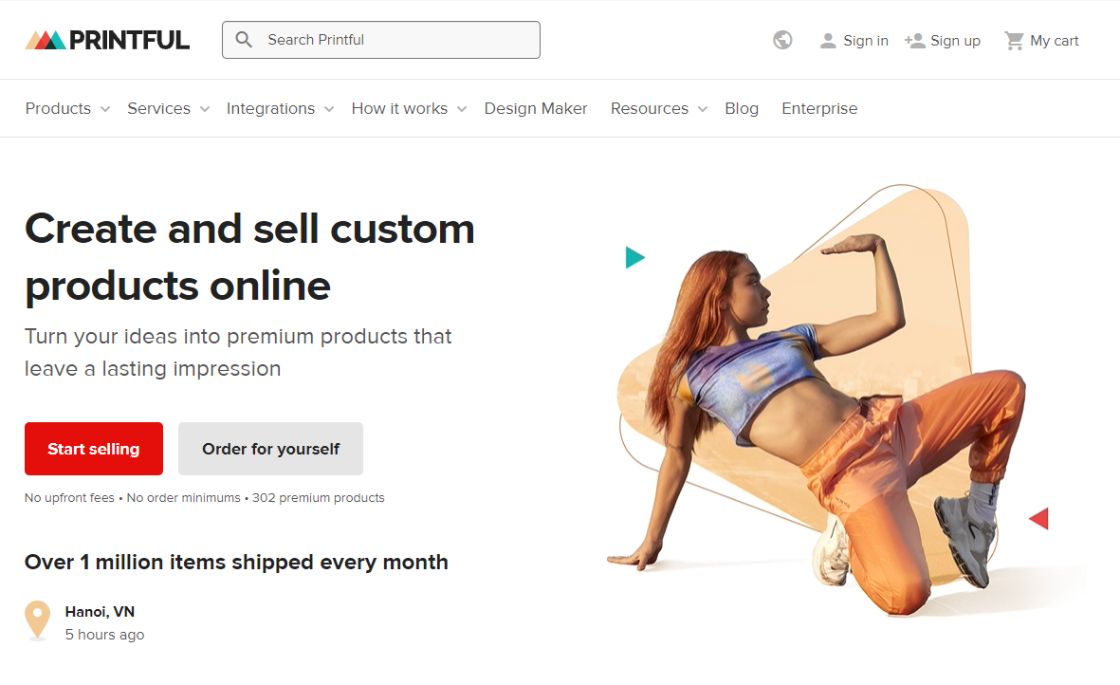 Pros
The approved manufacturer can offer a wide range of services from manufacturing and fulfilling your orders to store setup – probably the best in this facet. It also offers help to store owners who need support in design, photography as well. Plus, store owners can also benefit from Printful's pro tool kit that is integrated with a useful Etsy SEO tool – Keyword Spout. These various services allow sellers to make the best of their print on demand business.
This option suits beginners best. If you are new to the print on demand business, Printful integration can give you comprehensive support in order to kickstart your business.
Besides, the Etsy-approved manufacturer has a wide range of products for you to make the best of. Their catalog includes over 300 products from various categories. 
Currently, the Charlotte-based POD manufacturer has established a few fulfillment centers across the world. Their locations include Europe and the United States. From these locations, your order will be distributed over the world. It comes as no surprise that their shipping service is considered among the best.
Cons
However, while Printful's service is considered one of the best, it comes at a pretty high cost. If your budget is limited, you had best consider other integration options with competitive prices or learn to do things yourself.
Etsy Integration
Printful-Etsy integration is effective and considered among the best, however, it is not yet perfect. At best, you can list your products to your store automatically after integrating with Printful. However, you will not be able to check details regarding the shipping rate, shipping status, or stock status on Etsy.
Another advantage of this approved manufacturer's integration with Etsy is that the company also offers fulfillment services for goods not produced by them. They will store your products and handle the shipping for you. It is one of the best POD manufacturers for business owners with diverse product options.
Printify
Printify is another major player in the print-on-demand industry and one of the best Etsy-approved print on demand suppliers. It is also one of the best alternatives to Printful.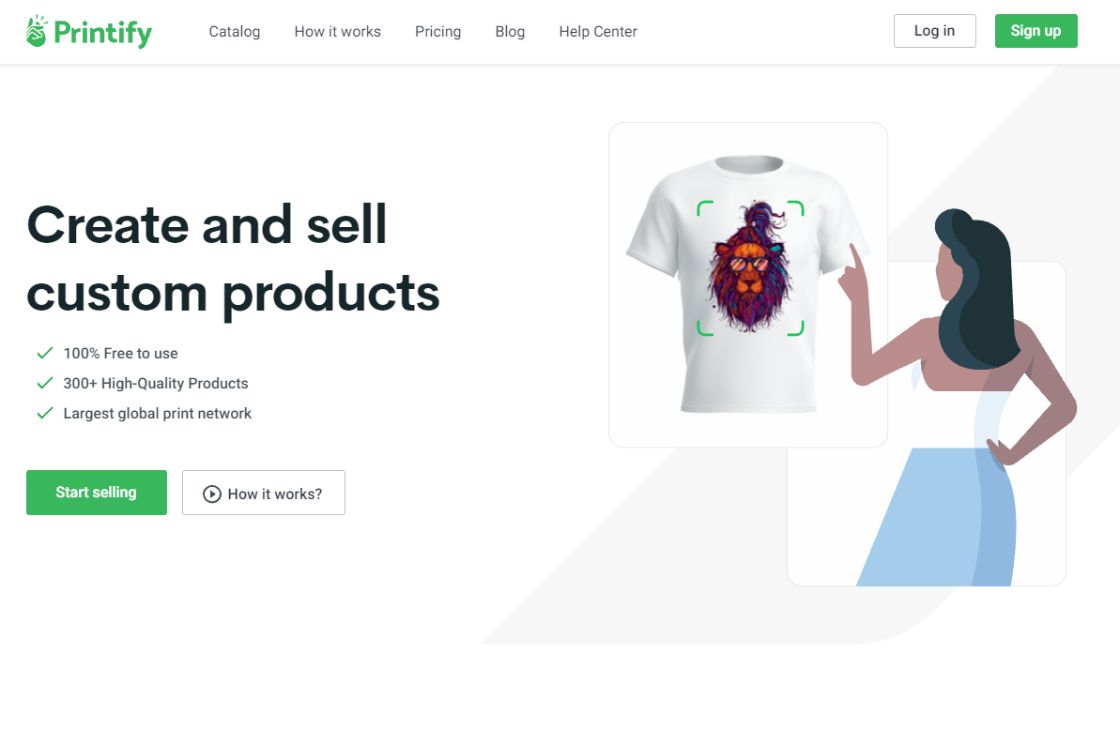 Pros
While Printify comes later than Printful, its offers and services are not at all far behind. The best thing about this approved supplier is its broad selection of products. Some of which are not available on other POD services like pet accessories, electronics, and so on. At the moment, there are around 300+ products listed on Printify's website with various printing options. 
The operation of this Etsy-approved supplier is slightly different from Printful. The company doesn't own the manufacturing facility or the inventory. Instead, they partner with a range of print on demand manufacturers across the globe to fulfill your orders. It means that you can select the manufacturers from the given list, and Printify, as a middleman, will connect and send your order to the chosen manufacturer.
Printify claims to have a network of more than 90 manufacturing facilities in the US, UK, Canada, Australia, Europe, and China. From these locations, your orders will be fulfilled by Printify to buyers across the globe. With such a large network of manufacturing facilities, this Etsy-approved supplier can meet the demand for stores of different sizes.
This solution grants the print on demand sellers the freedom to choose the best manufacturing locations, thus, optimizing the shipping time and cost.
Cons
The flexibility of choosing manufacturing locations comes at an expense. With various manufacturers, it will be harder to control the quality of the final product and create some inconsistent in the product quality and shipping times. To deal with this, the best you can do is to order samples each time you want to change the printing manufacturers and provide clear return and refund policies. 
Etsy Integration
Similar to Printful, Printify's services also include Etsy integration as well as integration to other marketplaces like Amazon or Ebay. Their integration is approved to be user-friendly.
Still, their integration solution still has limitations that the company might have to work on to help users run their business as best as they can. It doesn't include HTML editor. In other words, users are unable to edit the product information right from Etsy. In order to do that, business owners must update their listings from Printify platform.
In addition, this Etsy-approved integration limits the number of product images per listing to 10 images. You need to be selective about what pictures to use on your listings.
Another limitation is that Printify Etsy integration does not allow store owners to update sizing charts automatically. You must include the size chart on your listing images.
Merchize
Merchize is a print on demand company based in Vietnam. Within a short period of time, Merchize has disrupted the print on demand market for the sellers in Vietnam. The next destination in Merchize's journey is going global and providing fulfillment services for international sellers.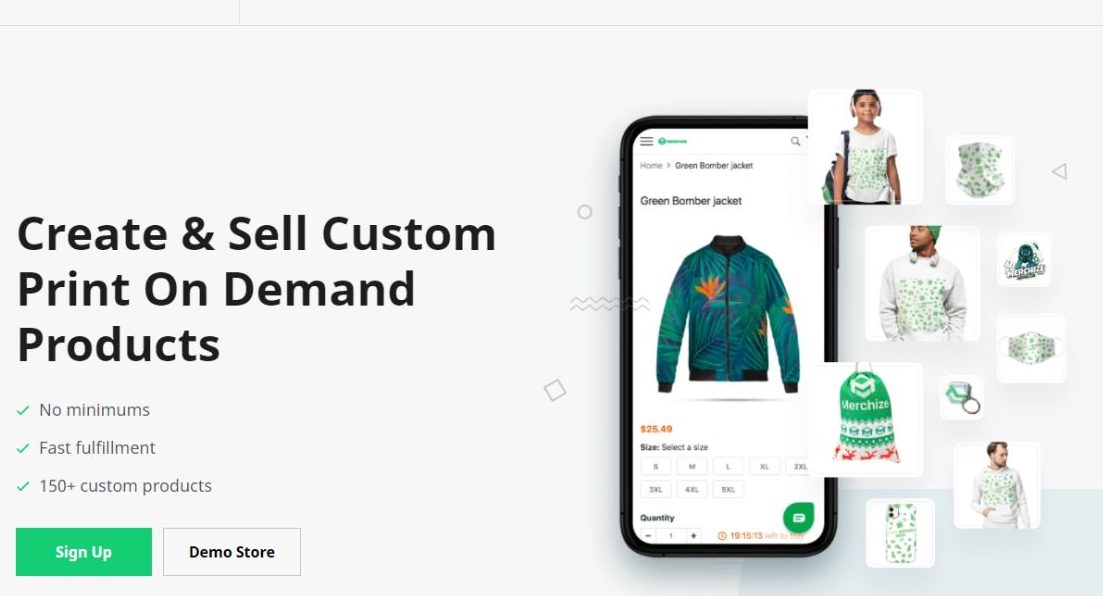 Pros
Merchize offers a beginning-to-end experience for store owners, taking care of your orders from production to fulfillment and helping you to run your POD business as best as you can. Merchize currently has an in-house manufacturing facility in Vietnam.
The best thing about the Vietnamese manufacturer is the attractive base costs – possibly one of the best in the market.
Our company also developed a platform that allows you to set up your own eCommerce store at ease. In addition, the sellers can also integrate some of the best marketplaces and platforms like Etsy. Orders from other platforms will be imported to Merchize's store where you can keep track of all the orders and fulfillment processes. It creates a seamless experience for store owners.
Cons
Compared to the long-established manufacturers, Merchize doesn't offer as many products. However, it has the huge advantage of competitive pricing over other print on demand manufacturers.
Plus, with the availability of over 150 products (and still growing), Merchize can fulfill the majority of best-selling products in the market, along with many unique products like custom automotive accessories, engraved accessories as well as a less popular print on demand materials like wood or leather. 
>>> Browse the best products for your Etsy Store at Merchize
Etsy integration
Merchize supports integration with Etsy. This integration system allows orders from your store to be synced into your account on Merchize's platform.
>>> Sell print on demand products on Etsy with Merchize Etsy integration
Gelato
The next best Etsy-approved supplier on this list is Gelato. Gelato is operated in a similar model to Printify. It means that the company does not own manufacturing facilities or printing technology. Instead, it outsources from other print-on-demand manufacturers and provides software solutions for business owners to manage and process their orders.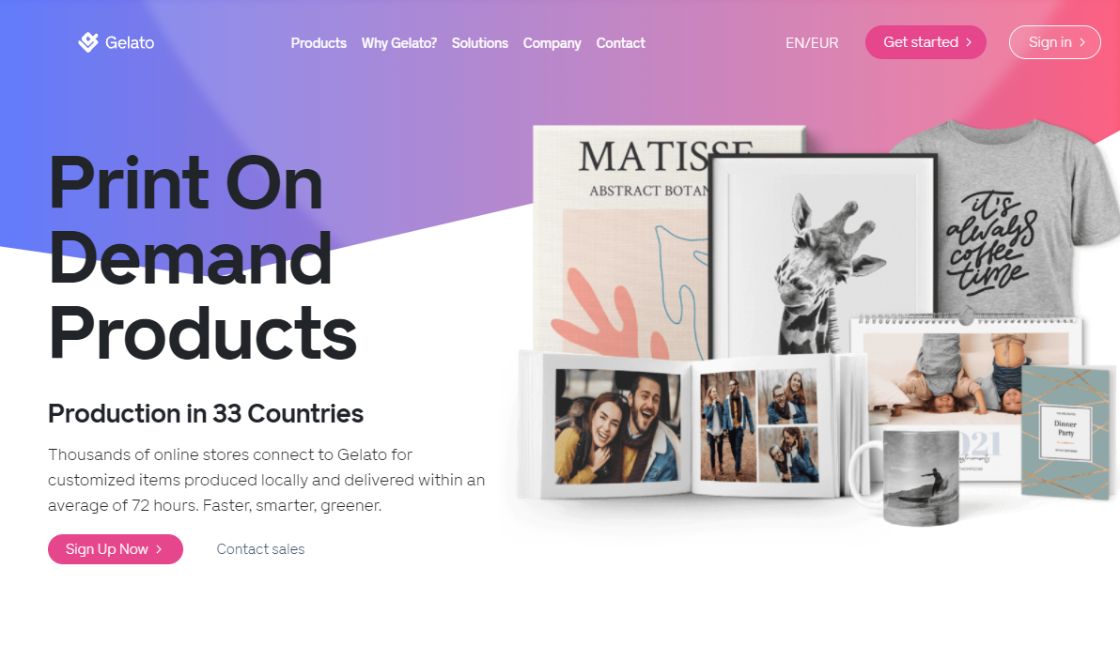 Pros
With over 100 manufacturing facilities across 33 countries, Gelato can handle production quickly and efficiently.
Cons
One of the downsides of this Etsy-approved POD supplier is its limited selection of products. The company's catalog is currently limited to only around 90 products, which can cover most of the best-sellers but leave you little space to explore new and potential products.
Another limitation of Galeto is its limited integration options. For example, Galeto supports integration to Shopify, WooCommerce, and Etsy only. 
It is possible for you to integrate your Gelato account to other platforms. However, it will require special help from a developer or someone familiar with this technology.
Etsy integration
Currently, Galeto is offering Etsy integration for their customers. The process of integrating your store to Galeto is simple and easy to follow at best. However, its integration function still possesses some critical issues that the company should work on in order to improve the overall experience.
Gooten
Here is another print on demand Etsy-approved integration option that is similar to Printify. Gooten is operating a network of 30+ print on demand manufacturing partners in over 70 locations across the world. One of the best advantages of this model, as we all know, is its ability to deliver your order with the best efficiency. It is currently accepting orders for over 130 products.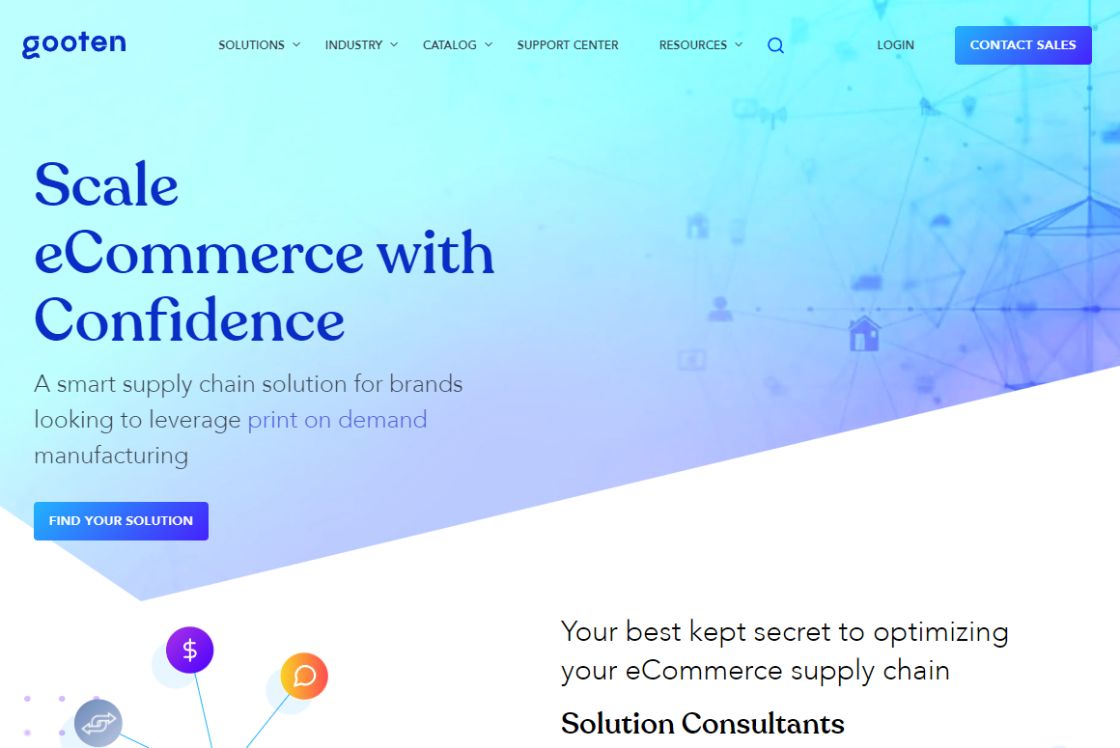 Pros
Apart from popular and best-selling options like T-shirt, mugs, canvas prints, Gooten's category is included some of the best niche products like yoga mats, puzzles, or yoga mats, which are in high demand recently. Its responsive customer service is also approved by a lot of POD sellers.
Cons
Here are something you should be aware of before opting for Gooten's services. Unlike Printify, you cannot choose the manufacturer, which will limit your control over the quality of your product. Lastly, this Etsy-approved supplier is only offered Shopify, Etsy, and Amazon integration. To integrate your store from other platforms, you might have to seek help from technical professionals. 
Etsy integration
Your store on this online website can be integrated into Gooten, along with other stores on other platforms. Here, you can sync all your products for automated fulfillment to fulfill the demand on your POD-integrated store. However, this Etsy integration only allows you to upload 10 images per listing at best, you should choose the images that represent your products the best.
Art of Where
Art of Where is one of the best approved Etsy print on demand partners. But Art of Where is not as popular as other top print on demand platforms listed above. Still, it is still considered among the best Etsy-approved manufacturers for you to try.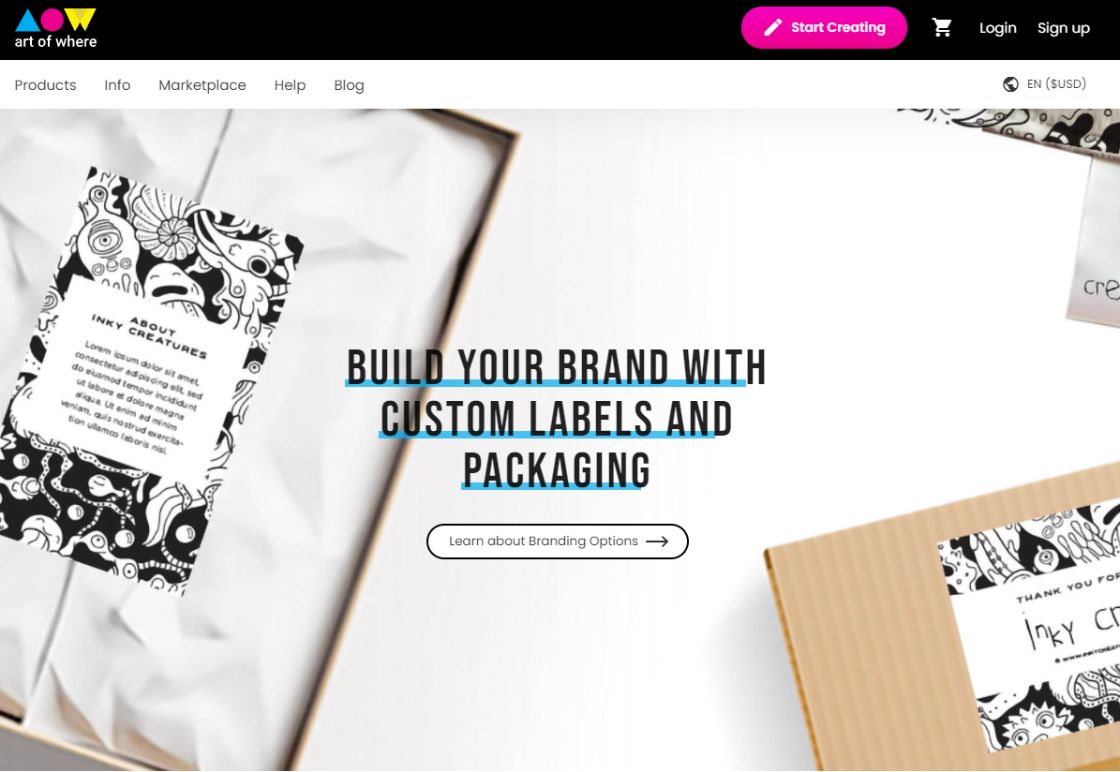 Pros
The best thing about Art of Where is their selection of unique products with decent demand. Some of these are not available on some of the best Etsy-approved POD manufacturers, for example, notebooks, pencil cases, wooden wall decor. When integrating Art of Where to your POD-integrated store, the company will manufacture and fulfill the demand on your stores on your behalf. It also allows you to customize your package for effective branding.
Cons
This print on demand manufacturer might not be the best fit if your business has demands from across the globe since the platform only offers to ship in the USA and Canada.
Teelaunch
Teelaunch is well-known as one of the best Shopify apps. Besides Shopify, Teelaunch also supports Etsy sellers by providing integration to this marketplace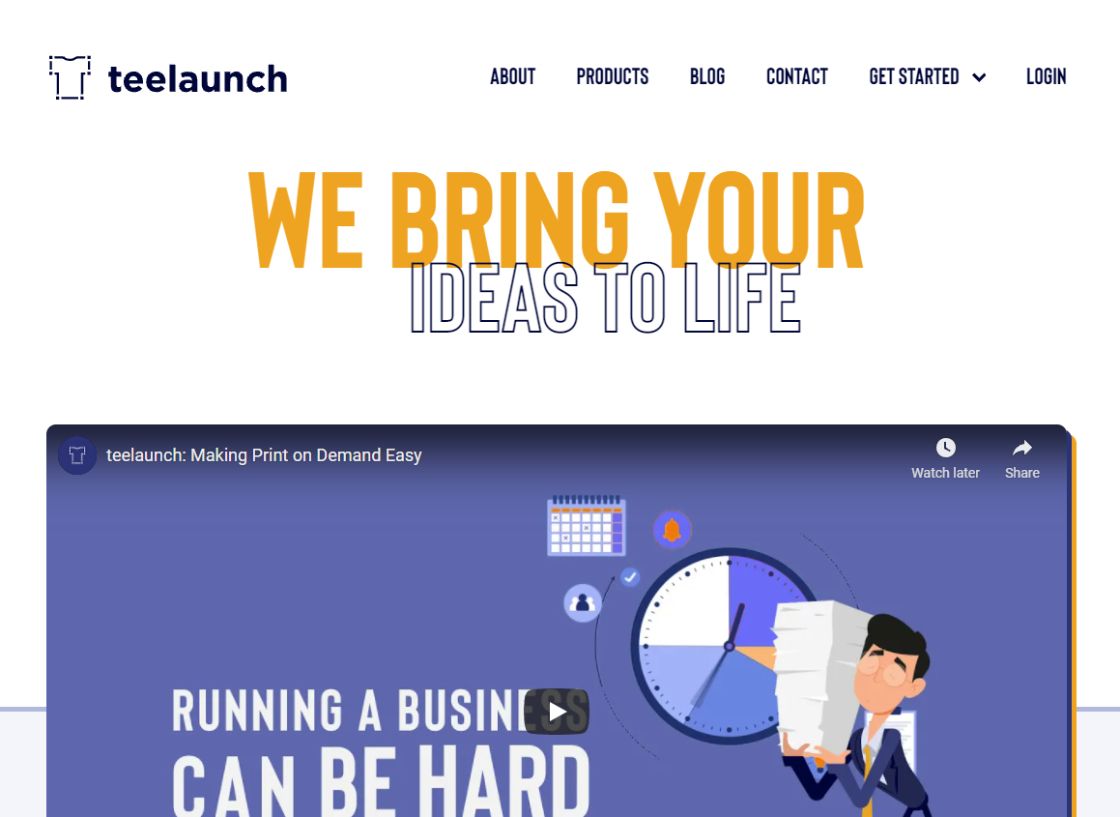 Pros
Teeclaunch suits Shopify owners the best. Moreover, with Teelaunch print on demand integration, the store owners can try some unique products that are not usually available in other companies' categories. For example, this approved manufacturer offers custom electronics like Bluetooth speakers, headphones, power banks, or homewares like bowls, plates, platters, wooden cutting boards, and so on. These trendy products are in increasing demand, which is why you should not skip them. 
Cons
While the products that Teelaunch might be unique, it lacks diversity. In fact, there are only 50 products that are on offer on this platform. If you are not set for a specific product and want to try out various products, Teelaunch might not be the best choice for you. 
If you want to expand your product category to meet diverse demands from the customers, Teelaunch might not be the right choice.
Another concern when working with this manufacturer is that it doesn't offer the best solution when it comes to international shipping. To be specific, the shipping time is too long for international orders.
Etsy integration
Teelaunch integration is now available for both Shopify and Etsy store owners. However, it is required that you use Shopify for your stores in order to integrate with Etsy. Elsewhere, Teelaunch can't integrate with your stores and process orders.
Custom Cat
Custom Cat is one of the best Etsy-approved print on demand manufacturers. It features a wide range of customizable products for your POD-integrated stores. You can experience to the best of your ability with CustomCat's diverse product selection. However, since it is based in the US and does not source manufacturing facilities or warehouses outside the country, international shipping could be a hassle. It is not the best option to meet the demand from the different markets outside the US.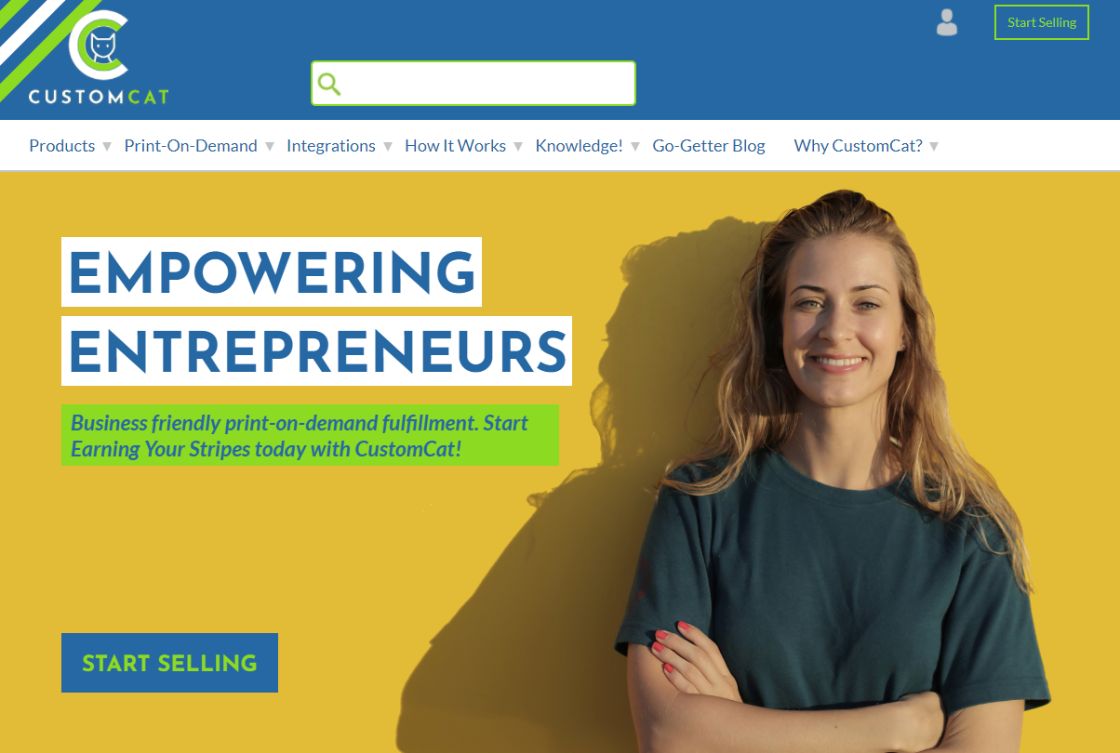 This Etsy-approved print on demand manufacturer offers multiple marketplaces and platform integration, including Etsy integration.
Prodigi
Prodigi is another Etsy-approved manufacturer that should be mentioned on this list of the best print on demand integration options. The print-on-demand fulfillment company is based in the UK. That being said, their products are manufactured in different countries. From these locations, the products will be shipped to customers across the world. Another advantage of this platform is its attractive pricing.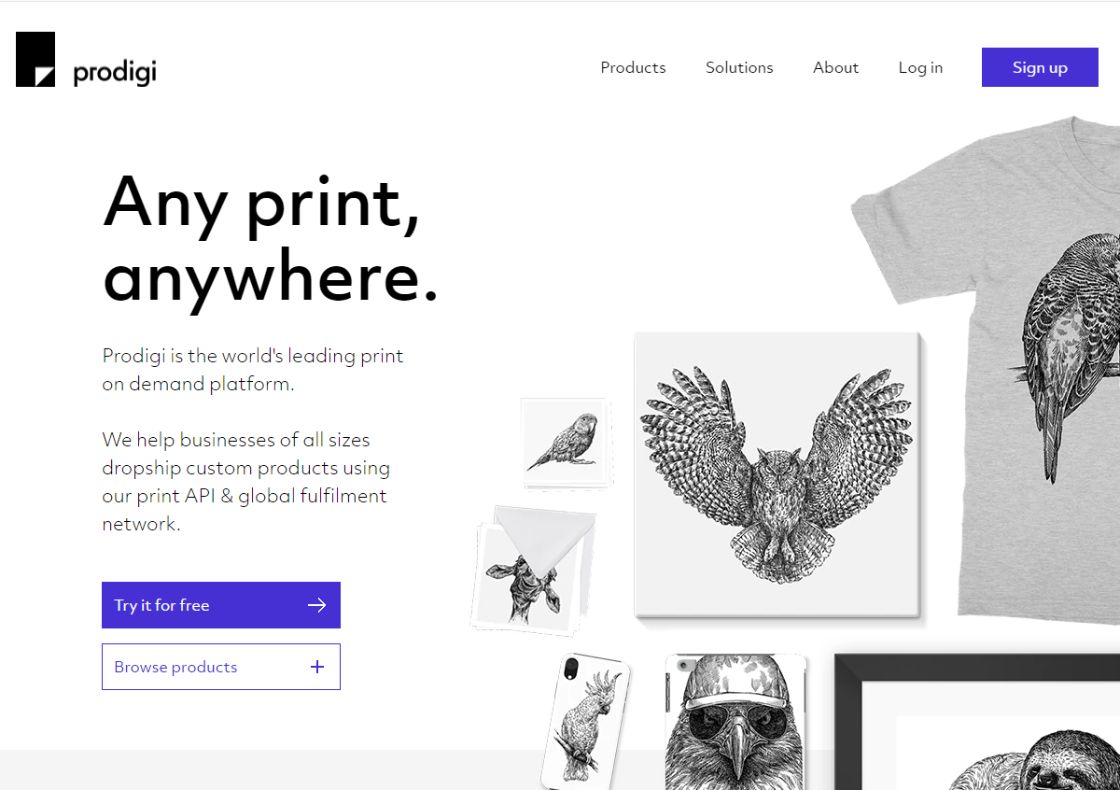 However, the top challenge for sellers when working with Etsy-approved manufacturers is that it doesn't offer direct integration to this marketplace. If you want to integrate your store to Prodigi, you will have to take some extra steps to make it work. First, you need to establish a store on Shopify. From there, you can integrate your Shopify store with Prodigi. To complete the process, integrate your Shopify shop to Etsy using a third-party plugin like Etsify. However, these plug-ins will charge you an amount in order to get the job done.
Considering the increasing demand from POD Etsy sellers, Prodigi should probably launch a direct integration with the e-commerce site.
Another way, which is more tedious, is to manually submit your order. But I bet that it would be the last resort for many. In the days of automation, no one can bear the boredness of manual tasks. An easier Etsy integration process for POD sellers is highly demanded.
Printed Mint
Printed Mint's product selection includes various items in the clothing, accessories, and wall decor category. This Etsy-approved print-on-demand manufacturer has built a brand with pleasant aesthetics, which is reflected through their web design, their selections of products as well as their packaging.
Their specific style might not be meet the demand of all POD sellers. But if your brand has a similar style, you will love to have them as your Etsy print on demand partner for your POD-integrated store.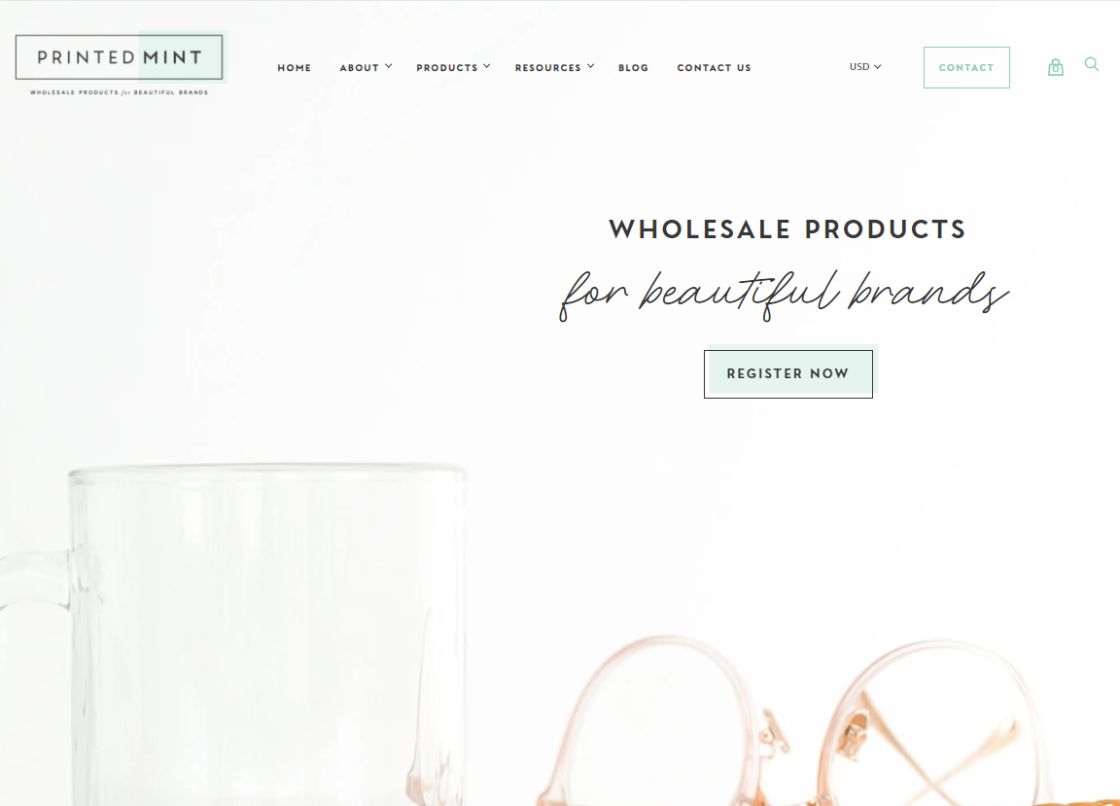 While the manufacturer does offer Etsy integration, the operation of its integration function is not the best. Once integrated with Etsy, your order will be synced into their system. It will require going through the orders and confirming the order manually. 
If your POD-integrated store doesn't have a huge demand, you might want to give Printed Mint's manual system a pass. 
Another thing to keep in mind is that the price of Printed Mint is quite hefty compared to Printful and other print-on-demand manufacturers.
How do you integrate print on demand on Etsy?
Each print on demand company will have a different way to support Etsy integration. It is best that you check out each site to see the detailed guideline on how to integrate your print on demand service into your store. In the following, I will explain 2 common ways that print on demand manufacturers are employed to integrate their platform to the online retailer site.
Direct print on demand Etsy integration
First up, you must sign up on print on demand site. Most print on demand websites will not charge you anything to create an account or integrate your account with Etsy.
From your main profile on the print on demand site, sellers can find and select the marketplaces or platforms they want to integrate to – in this case, it's Etsy. Here you can integrate your store with multiple print on demand manufacturers to process different products.
After selecting Etsy, you will be directed to the site. To complete, click "Allow Access". Now, your store is integrated into Etsy. Orders from your store will be synced to your account on the print on demand website.
>>> Read our Guideline on how to integrate Merchize to your Etsy Store
Third-party print on demand Etsy integration
While some of the best print on demand manufacturers allow easy and quick integration to your store, some don't. Like Prodigi and Teelaunch, for example. These print on demand websites will demand you to have a Shopify store in order to integrate to Etsy and process orders.
Etsy Tips for selling POD products – How to sell print on demand on Etsy
Find the right POD products to sell
Picking up profitable and best-selling products is the first crucial step towards success in eCommerce, especially in Etsy. While choosing the products for your POD-integrated store, keep in mind that this market has a unique nature – it favors and focuses on customizable, crafty, and handmade goods. Products like custom T-shirts, custom jewelry, or personalized gifts are in high demand on the site. Etsy-approved manufacturers are also some trust-worthy options to try.
Include unique and attractive product images
Images are particularly important on Etsy. Customers on this platform really love nice aesthetics. When you and your competitors are offering somewhat similar designs or products, apparently, the one with the best images will capture the attention of buyers. 
Investing in high-quality images will definitely pay off. The top print on demand platforms always offer mock-up generators for your products – which is very convenient and cost-effective, but this one-fits-all method will limit your chances of standing out from the crowd. It's best if you can order samples and hire a professional photographer to take photos of your products.
Work on Etsy SEO
Good products and good photos can prompt customers to buy your products. However, all of these will not make any sense if the customers don't see your products in the first place. This is why SEO plays an important role in the success of your POD-integrated store, if not the best free way to promote your products. Make sure that your title, tags, descriptions are optimized for the search engine – it will help your listings to rank high on search result pages. Read our detailed guidelines on how to win Etsy SEO.
Offer Free Shipping
Be smart with your pricing. Pricing has a huge impact on the sales of your POD-integrated store. Offering free shipping is the best policy to keep your customers happy and go straight to the checkout page. Another workaround for you is to include the shipping cost on your price and offer free shipping. This way, you can motivate your customers to buy your products.
Social media is the best way possible to promote your business these days. For your products, Instagram and Pinterest are two platforms where your target audience might hang around regularly. Promoting your brands on these platforms will help you attract an impressive amount of visits to your POD-integrated store. In the long run, it will help you to establish a strong brand and increase the number of return customers.
Use Paid ads
In the beginning, to build up the momentum for your POD-integrated store, you can run some paid ads campaigns to attract customers and sales. Facebook and Instagram are the best places to start paid aids campaigns. 
Etsy promoted listing is also a good option to start with. Promoted listings on the site will directly increase your visibility to the customers who are looking for similar products.
What print-on-demand products sell best on Etsy?
For starters, it is best to start out with best-selling print on demand products like T-shirts, mugs, canvas, wall arts. These products can be manufactured and fulfilled by most print-on-demand manufacturers. With high demand, they can guarantee good sales for your POD-integrated stores. As long as your design looks good and unique, customers will approve and buy your products. Some of the best print-on-demand manufacturers offer some uncommon products in their catalogs. Still, these items cannot attract as many sales as other best-selling items. Here are some best products to sell on Etsy:
>>> Explore the full list of best-selling print on demand products for your Etsy Store.
With all the information above, hopefully, you can find the best approved Etsy print on demand partners to grow your business.