In eCommerce, product personalization has a lot of potential because it fulfills the needs of individual customers following their hobbies & preferences. There are various alternatives for customizing products based on your consumers' preferences.
Print on demand services, on the other hand, allow you to sell personalized products on your WooCommerce store without having to keep stock. It's similar to dropshipping, but the products will be tailored to your specifications with no minimum.
For example, you'll be able to provide your artwork to print-on-demand suppliers, which will incorporate it into items such as t-shirts and mugs. With print on demand progress, you also do not need to find third party shipping services, POD print on demand partners will set custom shipping routes with their partner and deliver it to the customer's door.
In this blog post, we'll go over some of the top Print on Demand plugins/ Websites for WooCommerce that are definitely the best choices for your Woocommerce stores.
What are Print on demand WooCommerce plugins & websites?
A plugin is a piece of software that functions as an add-on to a web browser and extends the browser's functionality. Plugins allow a web browser to display content that it wasn't designed to display.
As a result, an integrated WooCommerce plugin is a plugin that enables users to connect to WooCommerce and publish data from WooCommerce on their website.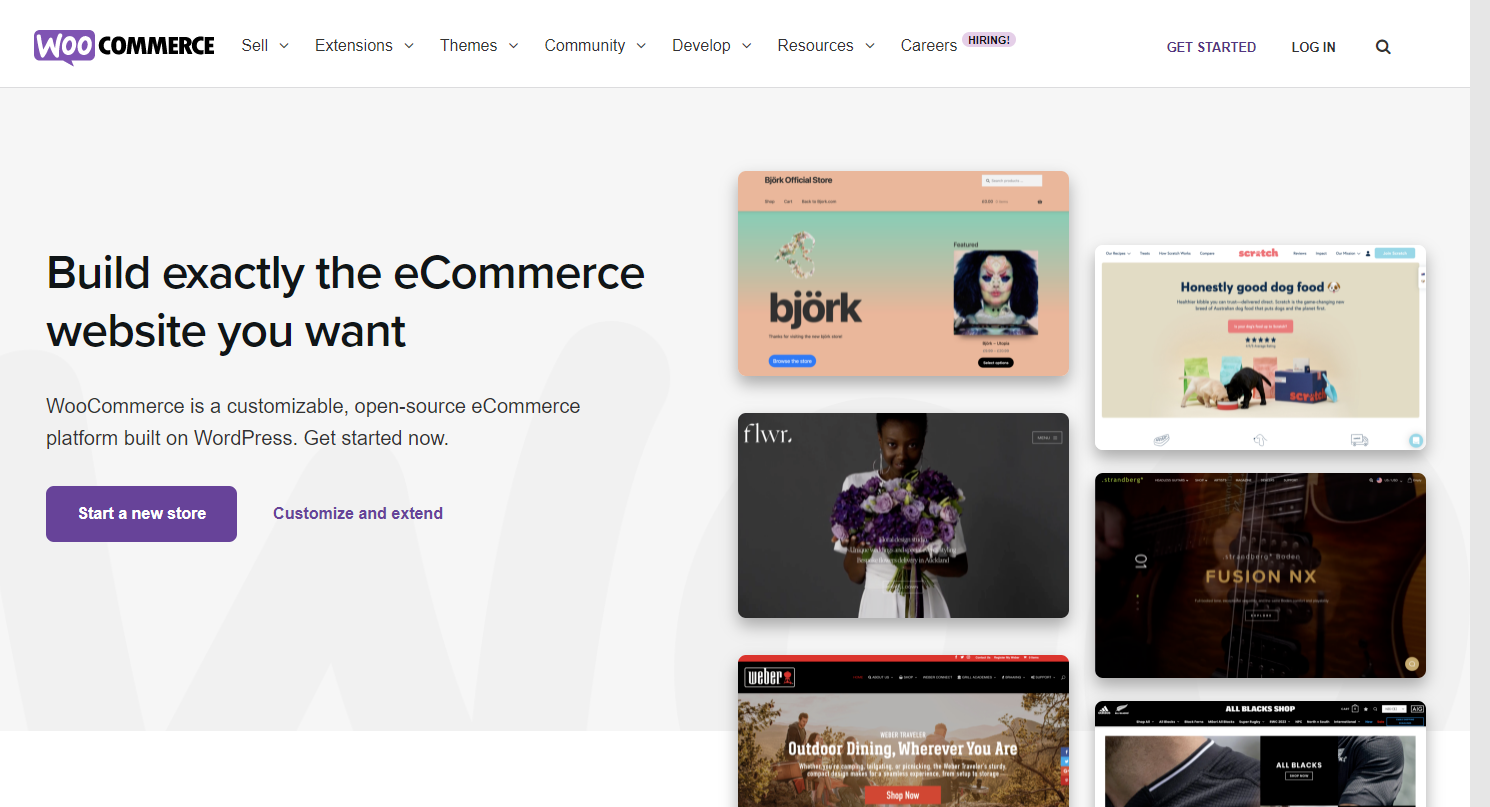 Both print on demand Woocommerce plugins & websites will particularly allow print-on-demand enterprises to handle their products and stores more efficiently.
What are the best Print on demand Woocommerce plugins?
Merchize
Merchize is a WooCommerce application print-on-demand dropshipping sales and management company which owns 43,000 sqft Vietnam Based in house manufacturing facility.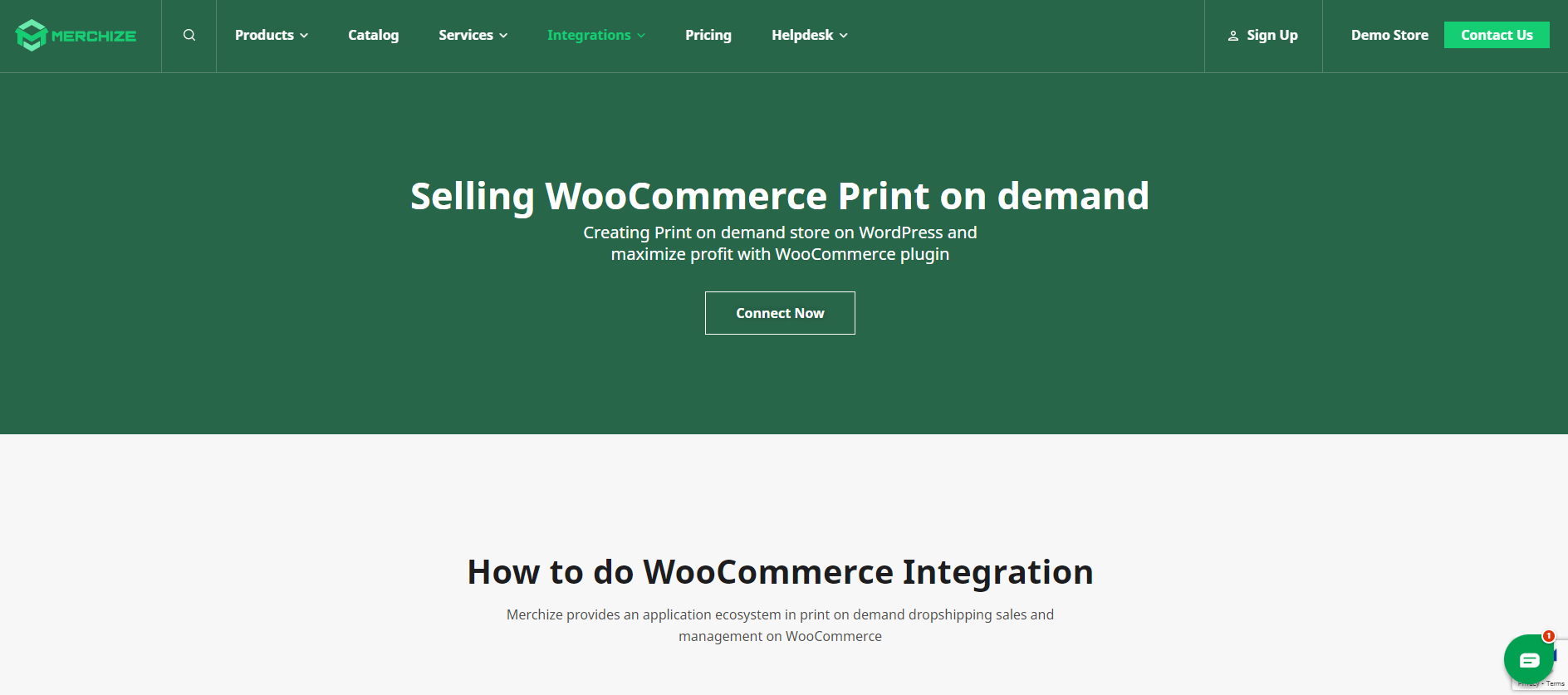 Merchize can be easily connected to your WooCommerce store: The Merchize platform automatically connects & updates your WooCommerce Print on Demand – Digital Print Orders.
Activate the WooCommerce fulfillment feature: All of your orders are delivered to our fulfillment system, ensuring complete automation for your print on demand Woocommerce site.
WooCommerce fulfillment is handled by Merchize: Merchize will handle the printing, packing, and shipping of your WooCommerce custom Print on Demand orders from Vietnam.
Automatically receive tracking updates: Get all of your WooCommerce tracking numbers for bespoke orders quickly and easily. It's simple to keep track of all of your bespoke orders.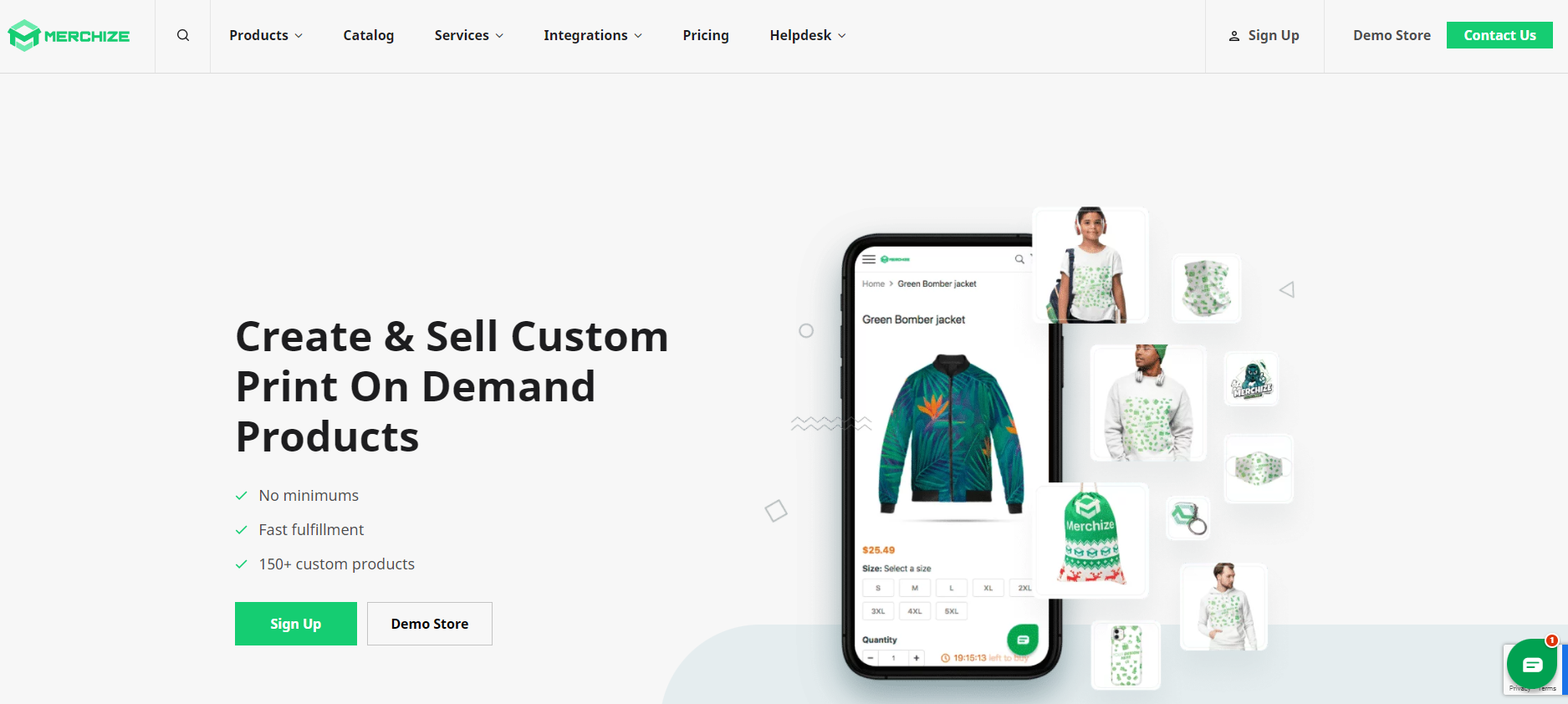 Features:
Globally shipping from 4-20 days
Pre-made stores that are SEO-optimized and quick, with SSL certificates, sophisticated marketing tools, 2-day payouts, and customer support.
Product samples receive a 20% discount.
Discounts are depending on your monthly sales tiers.
Payment with PayPal or Payoneer.
Shopify, WooCommerce, eBay, Amazon, Etsy, and Google Shopping all have integrations.
Customized brand labels & packaging
Being the leading print partner which provides reasonable shipping fees, great printing method and great customer service, Merchize has become one of the top choices for sellers who are looking for the best print on demand Woocommerce.
Printful
Another popular print-on-demand service is Printful, which allows you to create and sell personalized products through your eCommerce store. By integrating Printful with your WooCommerce store, you can quickly launch an online business with print on demand creative services.
Printful will handle the printing and fulfillment for you once you've uploaded your designs. Furthermore, there are about 230 products in various categories such as fashion, jewelry, and so on.
Furthermore, advanced capabilities like automated order import, free design templates, and so forth are available.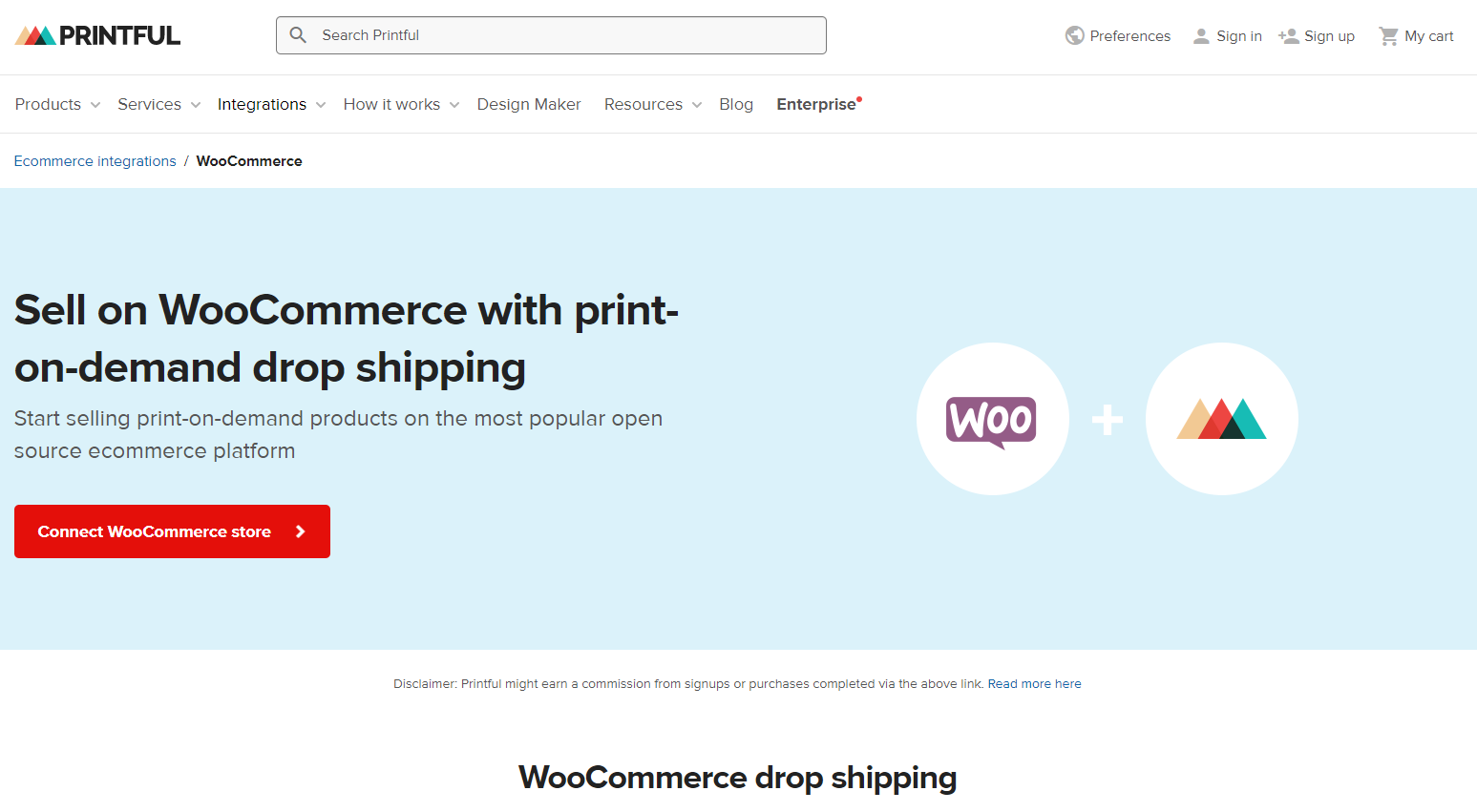 Features:
Advanced print-on-demand service with order import automation.
Custom labels and packaging slips will be available to you.
Real time shipping rates
It's completely free to use, with only fulfillment charges.
There are no monthly costs for using this service; only fulfillment fees apply.
Printify
Printify has a simple WooCommerce interface that will assist you in setting up a print-on-demand store. It's simple to get started with this service; all you have to do is sign up and connect your store to Printify.
They feature over 300 print products, including t-shirts, bags, and mugs, as well as a simple mockup generator to help you manage your ideas. Printify will handle the full fulfillment process, including printing and international delivery.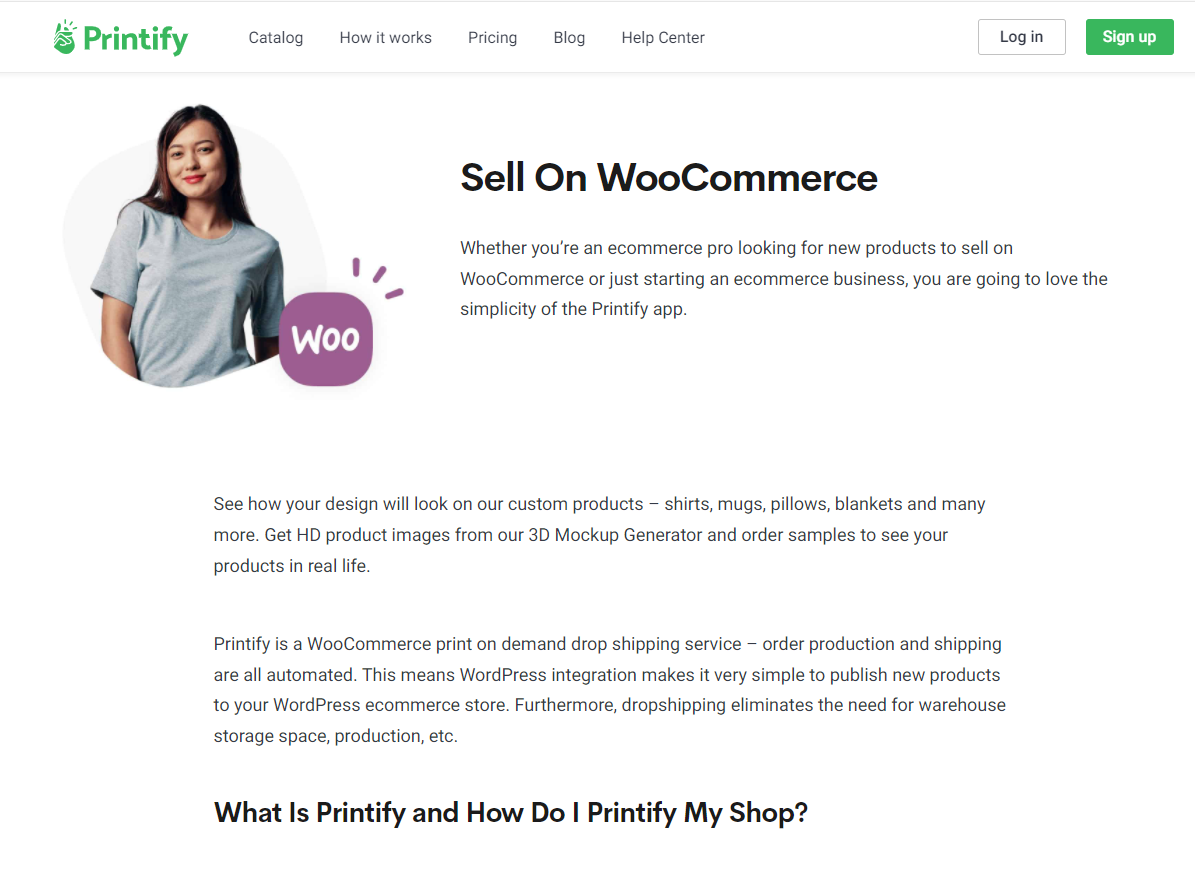 Features:
Easy WooCommerce integration for a popular print-on-demand service.
There are over 300 items to pick from.
Mockup maker that is simple to use.
Customer service is excellent.
If the production time exceeds 10 business days, a refund will be issued.
You can start with the free plan for up to 5 stores per account. You can also pay $24.99 per month for the Premium plan, which allows you to have up to 10 stores per account.
Scalable Press
Over 5,000 people have used the Scalable Press platform, which has fulfilled over 9 million product orders and come with international delivery. They do, however, provide a WooCommerce plugin that allows for print-on-demand.
Scalable Press, on the other hand, specializes in DTG printing, screen printing, sublimation printing, embroidery, and other related services.
They have a number of production facilities, but they are all located in the United States. Scalable Press does, however, fulfill orders for consumers outside of the United States.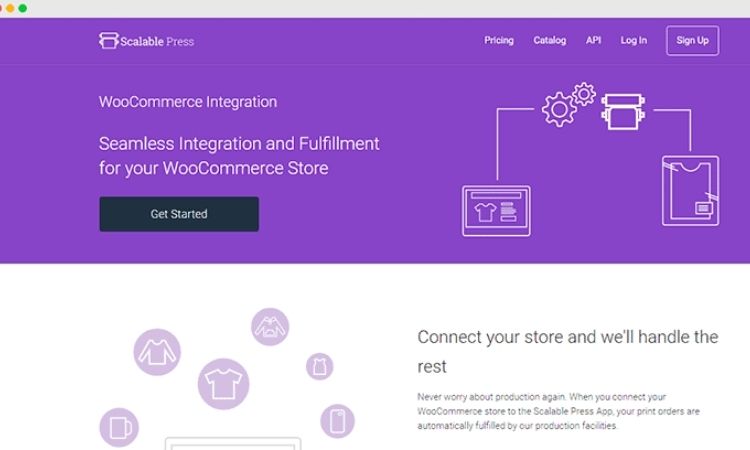 You cannot register for Scalable Press directly, unlike other print-on-demand platforms. The platform isn't open to everyone because you have to seek an account by contacting the sales team. Furthermore, your application request may be turned down.
Features:
There are no upfront costs if you are authorized. You only have to pay for the items and shipping.
You may use their pricing estimator to figure out how much a product will cost based on the print type and quantity. Fortunately, large-quantity orders can benefit from discounted prices.
You can sell thousands of products using Scalable Press. Shirts, hoodies, hats, backpacks, phone cases, beanies, and other items are among their offerings.
Nonetheless, fulfillment is rather quick, as all orders are guaranteed a 72-hour production turnaround time.
If you already use Scalable Press, after installing their WooCommerce plugin, you may immediately synchronize products into your online store. Users that are new to the system will have to choose and publish products.
CustomCat
CustomCat has a vast selection of print-on-demand products that you can quickly import and sell on your WordPress site. Your orders will be instantly synchronized for printing and fulfillment once your store is integrated with the service.
They'll also send the goods to your customers with your labels on them. Furthermore, CustomCat offers over 300 customisable items as well as a 3-day or shorter fulfillment window.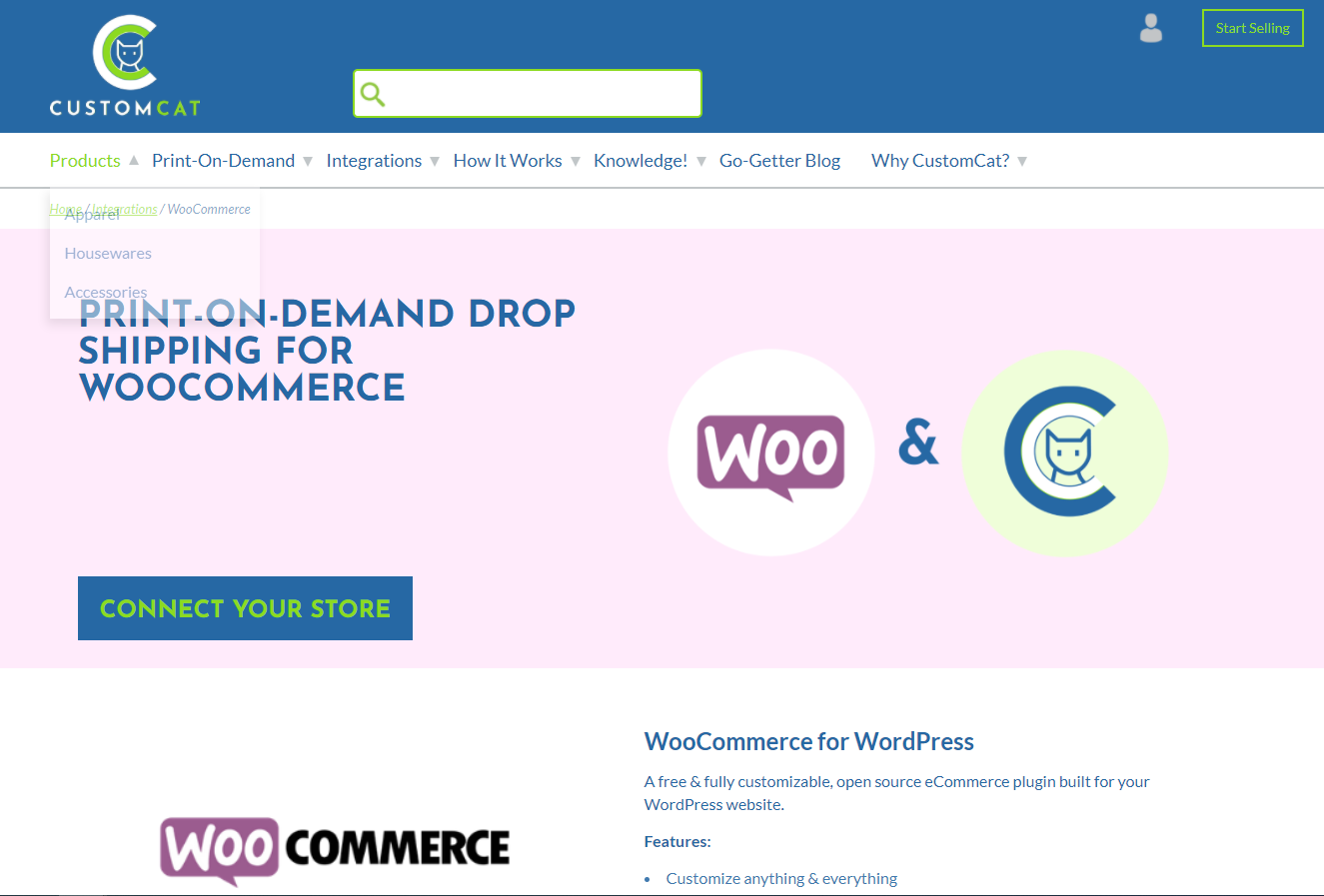 Features
A popular print-on-demand solution that integrates seamlessly with WooCommerce.
There are over 300 pod items to pick from, all of which may be customized.
Comfortable pricing pattern for vendors to achieve decent profit margins.
Quick response time.
Configuration options are simple.
You can sign up for a free account and then contact their sales staff for a Customcat pricing sheet.
Printrove
One of the simplest ways to add a print-on-demand service to your WooCommerce store is to use the Printrove plugin. The product catalog includes a wide range of items, including clothes, phone covers, and posters.
Using a dedicated app, you can quickly link your WooCommerce store with the service. After you've created a connection, you may upload the designs and map them to the appropriate SKU. Printrove will print the design and fulfill orders on your behalf when you get them through your store.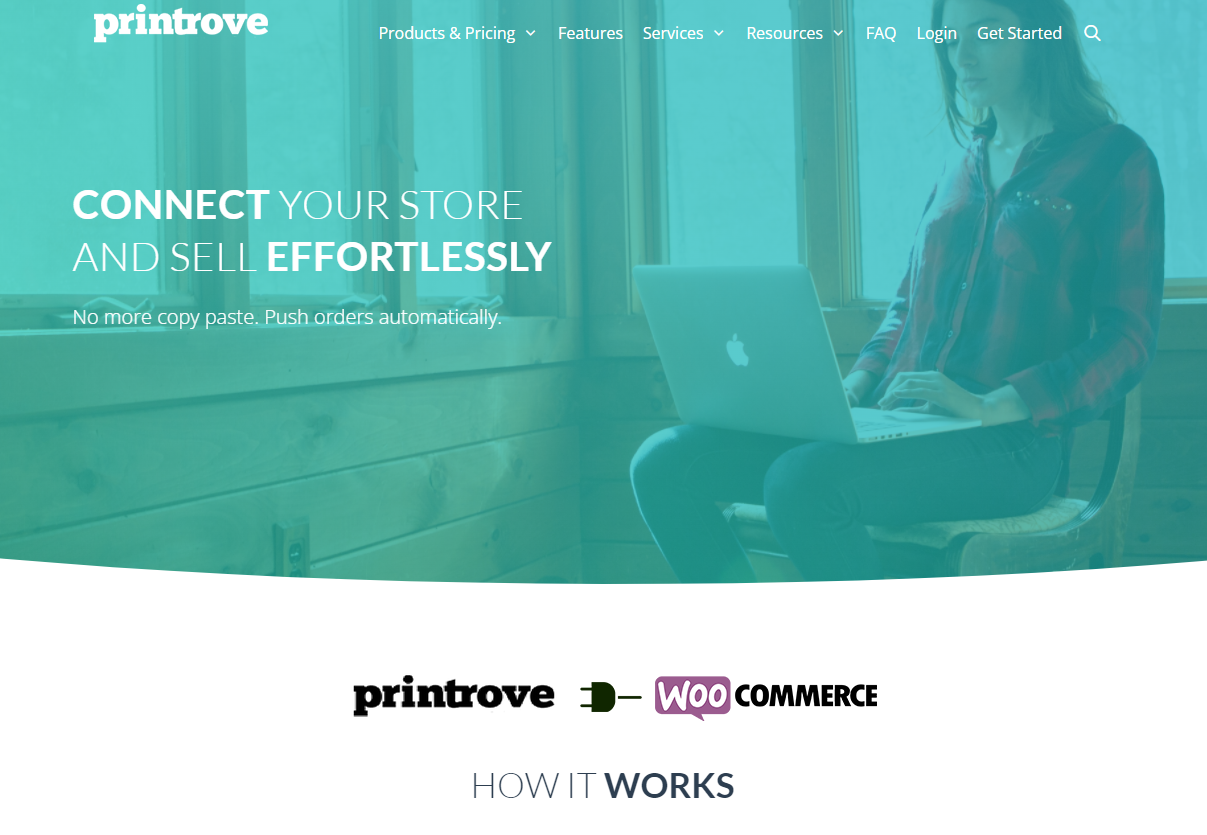 Features:
With WooCommerce integration, you can easily develop a print-on-demand store.
Mockup generator and design library.
User-friendly tools make it simple to set up and operate.
Order status is updated in real time to ensure flawless delivery.
For price information, please contact them.
Print Aura
The Print Aura platform is presently used by over 150,000 online shops. It is simple to register and set up, and there is no signup fee.
This platform uses Kornit printers to produce high-quality prints. The products are printed in full CMYK color with direct to garment printing (DTG printing).
To utilize this WooCommerce plugin, you must first register an account with them. After that, choose things to sell, create mockup photos for them, and post them to your store.
Features:
Print Aura has over 100 different items; the platform is known for having a wide range of products. It's not difficult to choose the proper thing because you can sift through the product catalog using criteria such as categories, pricing, colors, and so on.
T-shirts, sweatshirts, polos, tank tops, hats, bags, phone cases, drinkware, wall art, and neck labels are among Print Aura's offerings.
You are automatically billed when clients pay for orders. Print Aura has no minimum order requirements and can handle huge daily printing runs of up to 500 pieces per day.
Order fulfillment at Print Aura is fully automated. Within 3 to 5 days of receiving an order, products are printed and sent.
The shipping fee is reasonably priced, starting at $5.50. If you choose quick processing, it will take 2–3 business days, however you will be charged a higher shipping rate.
Print Aura ships worldwide, while local delivery in the United States is faster.
Because the platform is white-label, the products are sent with your brand. Packing slips, collar labels, and return labels are all good places to add your branding/logo.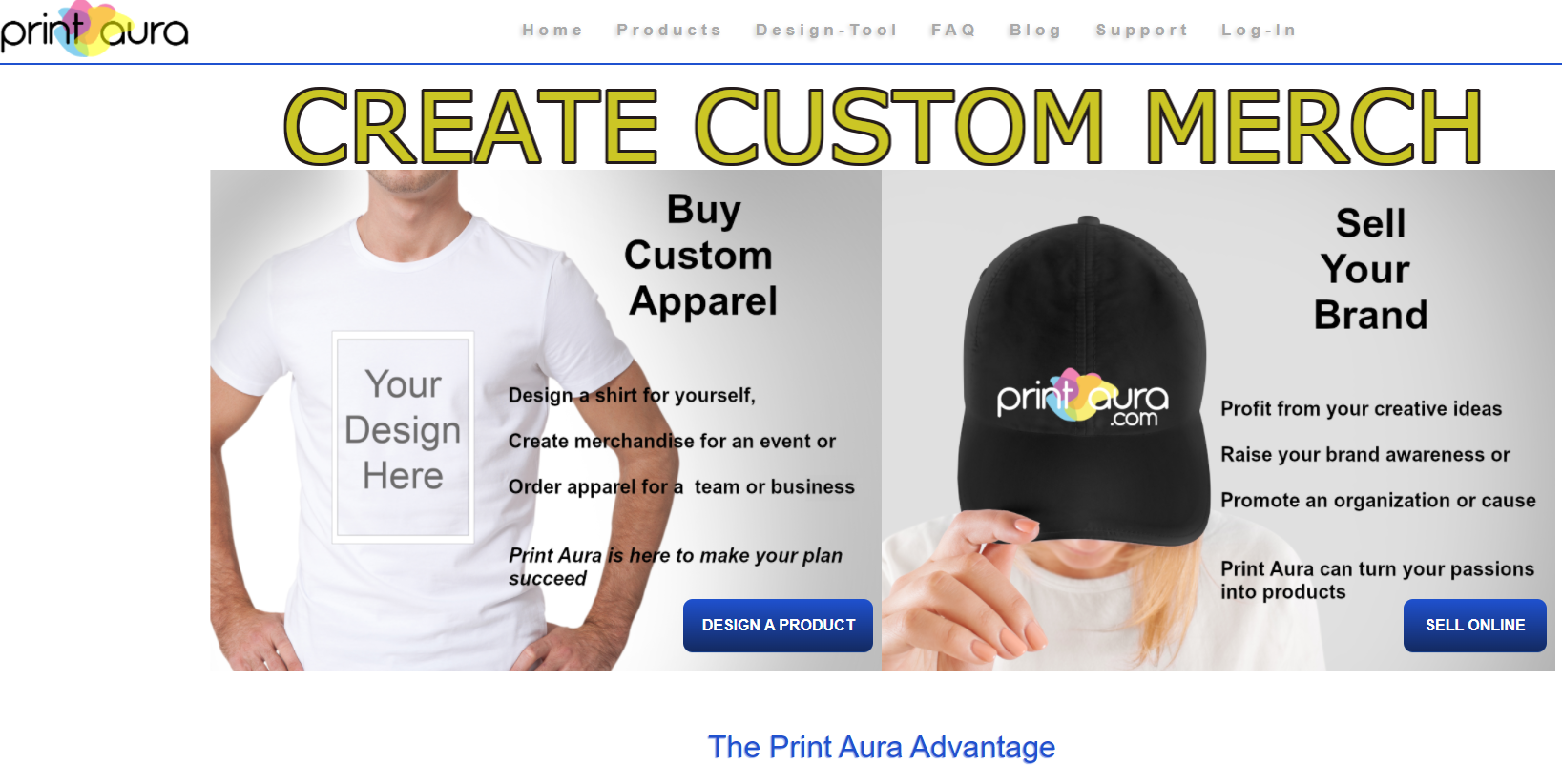 When you sell Print Aura's print on demand items, you get a quality guarantee. Any products that have flaws or mistakes will be replaced at no additional cost to you.
Spreadshirt
Spreadshirt is a print-on-demand platform that focuses mostly on apparel. To utilize the Spreadshirt WooCommerce plugin, first install it from your WordPress dashboard, then connect to Spreadshirt via the Spreadshirt API.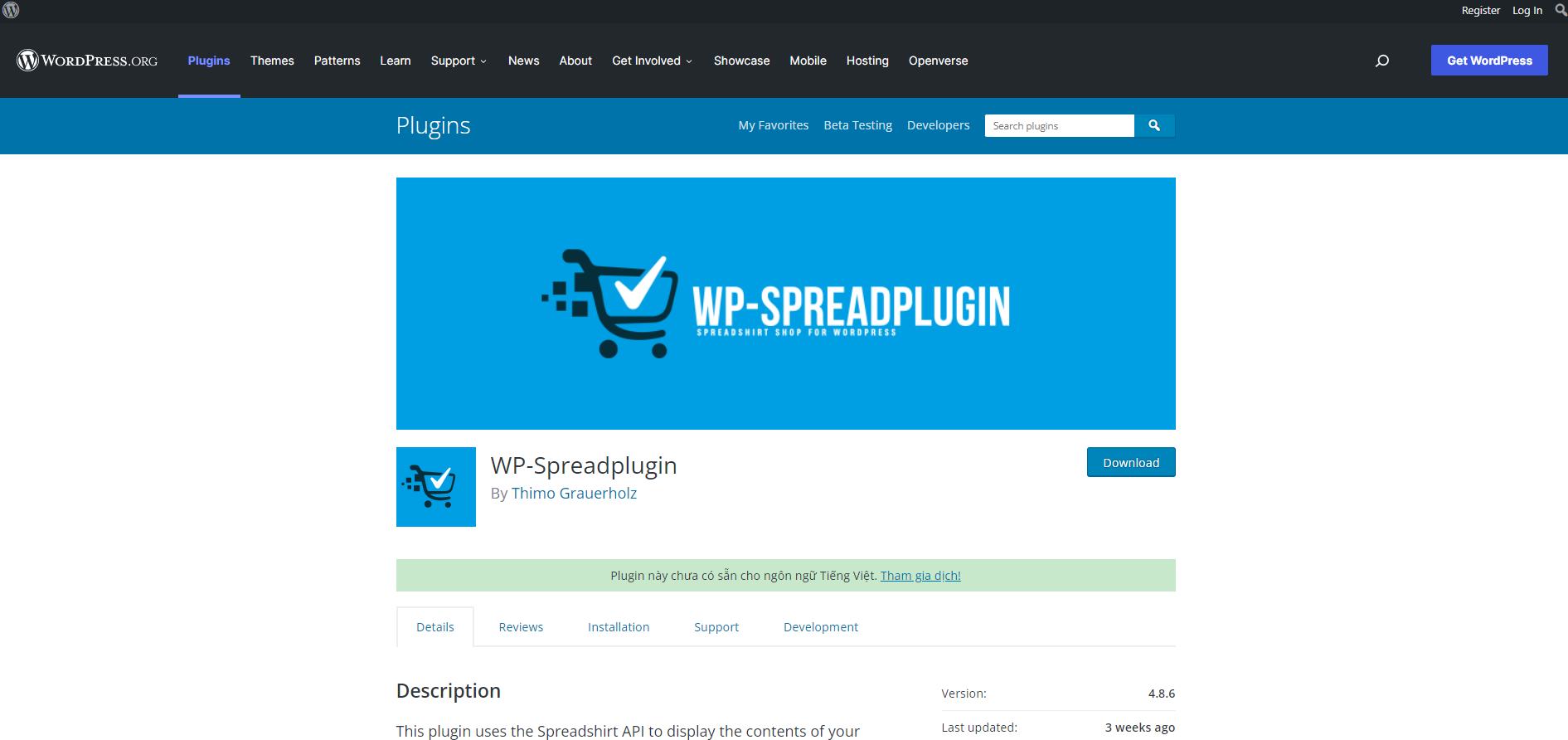 Spreadshirt offers digital printing, direct to garment printing, thermal sublimation, laser transfer, flock printing, and flox printing as well as other services.
Features:
T-shirts, hoodies, sweatshirts, photo gifts, aprons, phone cases and other items are available on Spreadshirt.
When customers click on checkout, they are routed to the Spreadshirt checkout site, where payment and order processing are handled by Spreadshirt.
The cost of a product on Spreadshirt is determined by the amount of print areas.
Spreadshirt ships internationally, although their main markets are the United States, Australia, and Canada. International and domestic shipping rates differ, but they set shipping fees based on the order value.
Various delivery companies are used by the company. Premium shipping takes 6 to 9 days, while standard shipping takes 7 to 15 days.
After printing, domestic delivery takes just one day, while overseas delivery takes 1–3 business days with Express shipping.
Service to difficult-to-reach locations, on the other hand, can take substantially longer, up to 5 days with Express delivery.
Spreadshirt's fair return policy allows you to get a replacement or a refund if your product is damaged. In addition, refunds take seven days to process.
Shirtee Cloud
For importing their products into WooCommerce stores, Shirtee Cloud offers a free WooCommerce plugin. Product storage (warehousing), packaging, and transportation are all handled by the platform.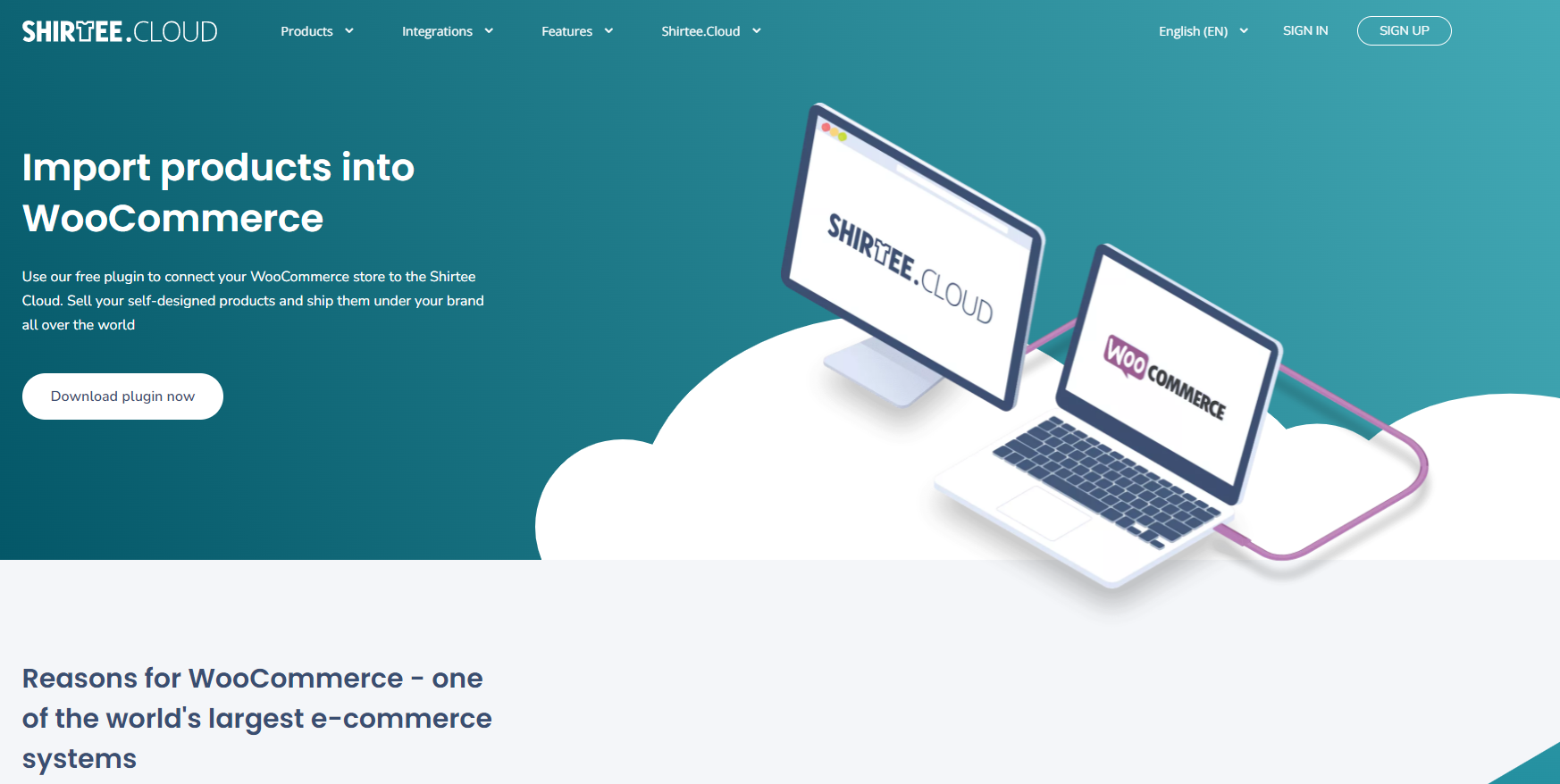 Features:
You may deliver t-shirts, sweatshirts, hats, mugs, caps, bags, and other items such as phone cases to your WooCommerce store with the Shirtee Cloud plugin. In total, there are more than 50 different product types.
You may create things to sell, import them from the cloud, and start selling with their product generator. There is no cost up ahead.
The Shirtee Cloud platform is completely automated. Orders are transferred immediately after payment, and shipping and tax expenses are calculated in real time.
Shirtee Cloud, thankfully, is a white-label print-on-demand shipping platform. Leaflets and product labels can help you represent your brand on your items.
Shirtee Cloud goods are printed with the most up-to-date printing technology and new machines, resulting in high-quality prints.
All of their products are organic and come from Stanley/Stella. In addition, production is quick. Regardless of order quantity, orders are produced and ready to ship within 2 to 5 working days.
The shipment time is determined by the customer's location. On Shirtee Cloud, the shortest shipment time is 2–3 days, while the longest is 8–12 days.
You can now see the usual Shirtee Cloud shipping charges in your backend.
CloudPrinter
Thanks to CloudPrinter, setting up a print-on-demand store and selling things from it has become a breeze. You may display a variety of products, including books, and use their product templates to quickly offer personalisation to your clients.
With the service integrated, you may show customers actual shipping prices and charge a price markup based on your plan. Furthermore, depending on your business management tactics, you can sync your orders with CloudPrinter automatically or manually.
CloudPrinter, in essence, manages a print network of over 150 printers. As a result, you're more likely to find an acceptable print source near your consumers. To use the CloudPrinter WooCommerce plugin, you must first create an account. You can publish products, establish delivery fees, and start selling with only a few clicks.
Because of the large variety of print providers, you can sell up to 5,000 different items.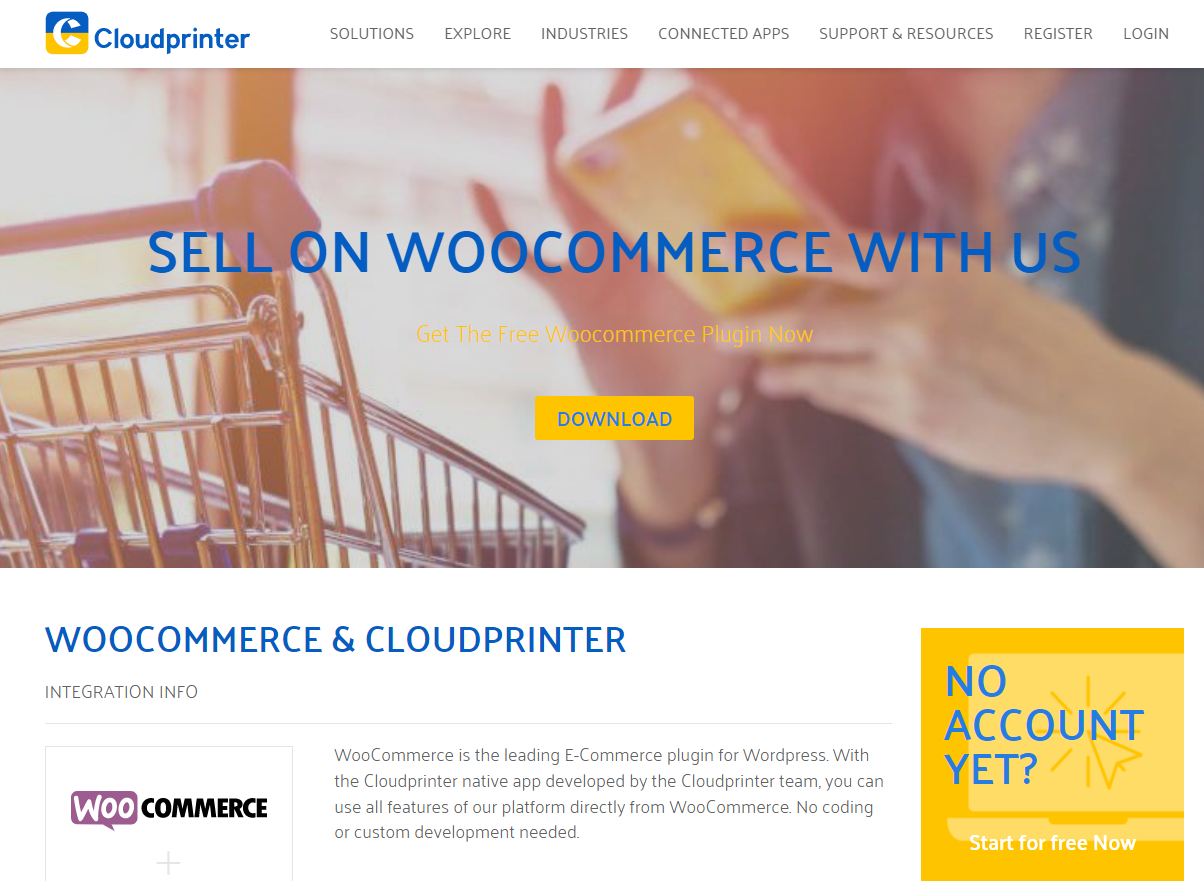 Features:
Integrate CloudPrinter with your WooCommerce store.
You can use product templates to help you customize your product.
Allows you to calculate the shipping cost margin.
Orders can be synced automatically or manually.
CloudPrinter has over 500 product templates to choose from. As a result, instead of using the usual WooCommerce product templates, you can use their product template.
CloudPrinter is free to use, but there are commercial subscriptions available as well.
Their pricing plans include the following:
Starter Plan – $0
Business Plan – $199 per month
Enterprise Plan – $999 per month
However, because job costs are charged, the free plan isn't completely free. Every print order is subject to task fees, regardless of the quantity of products ordered.
Key2Print
With Key2Print, you can connect your WooCommerce store to one of Europe's most popular print-on-demand services. There are many product categories to choose from, allowing you to offer personalized products of your choice. You can display products according to your preferences and send orders directly to production locations for fulfillment.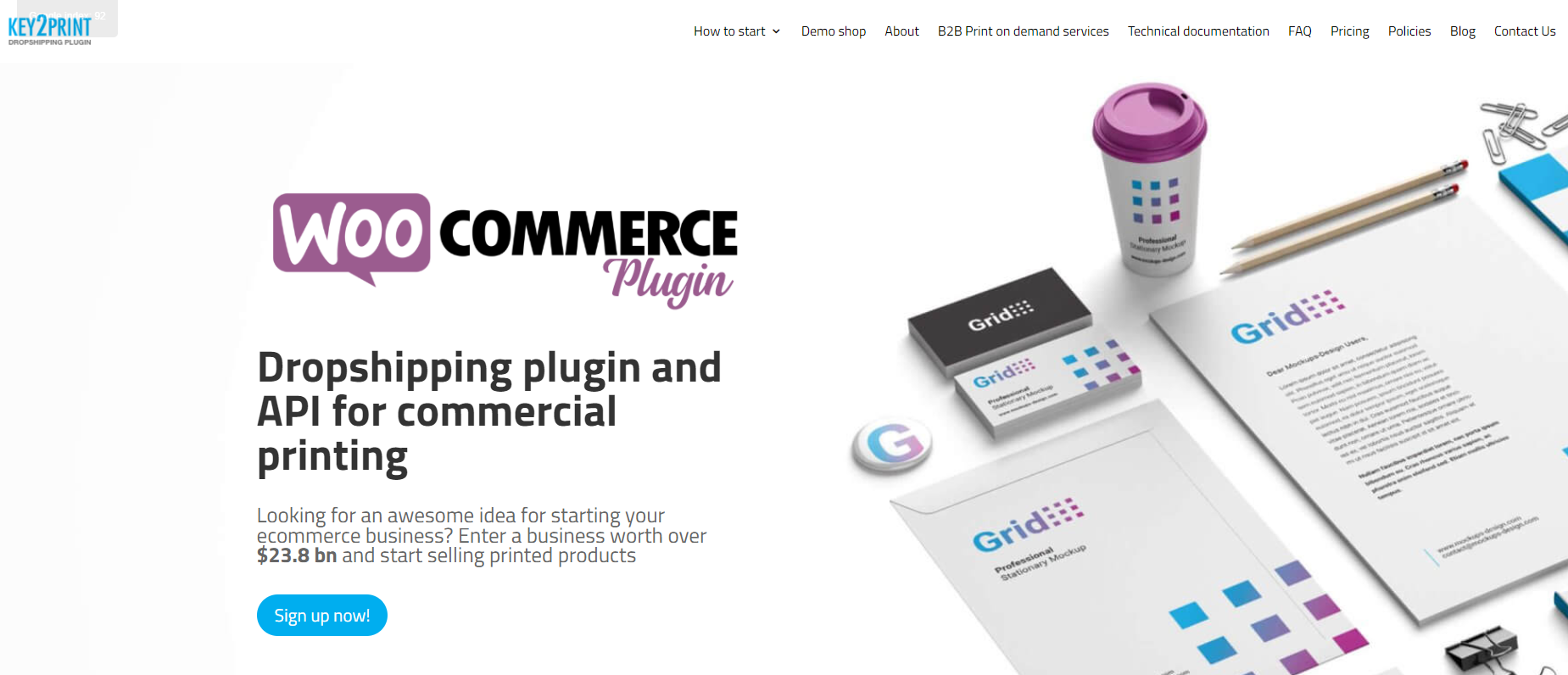 Features:
A cost-effective way to set up a print-on-demand store.
Order administration and fulfillment are fully automated.
Choose from a variety of products that encourage repeat business.
API integration is seamless.
Zakeke
Zakeke is another popular print-on-demand service that allows you to provide your clients with extra personalisation possibilities. With 3D visualization, you'll have access to a wide choice of products that you can sell in your store. This allows your customers to completely personalize the products before purchasing them. Zakeke would fulfill their order without any issues after they place it.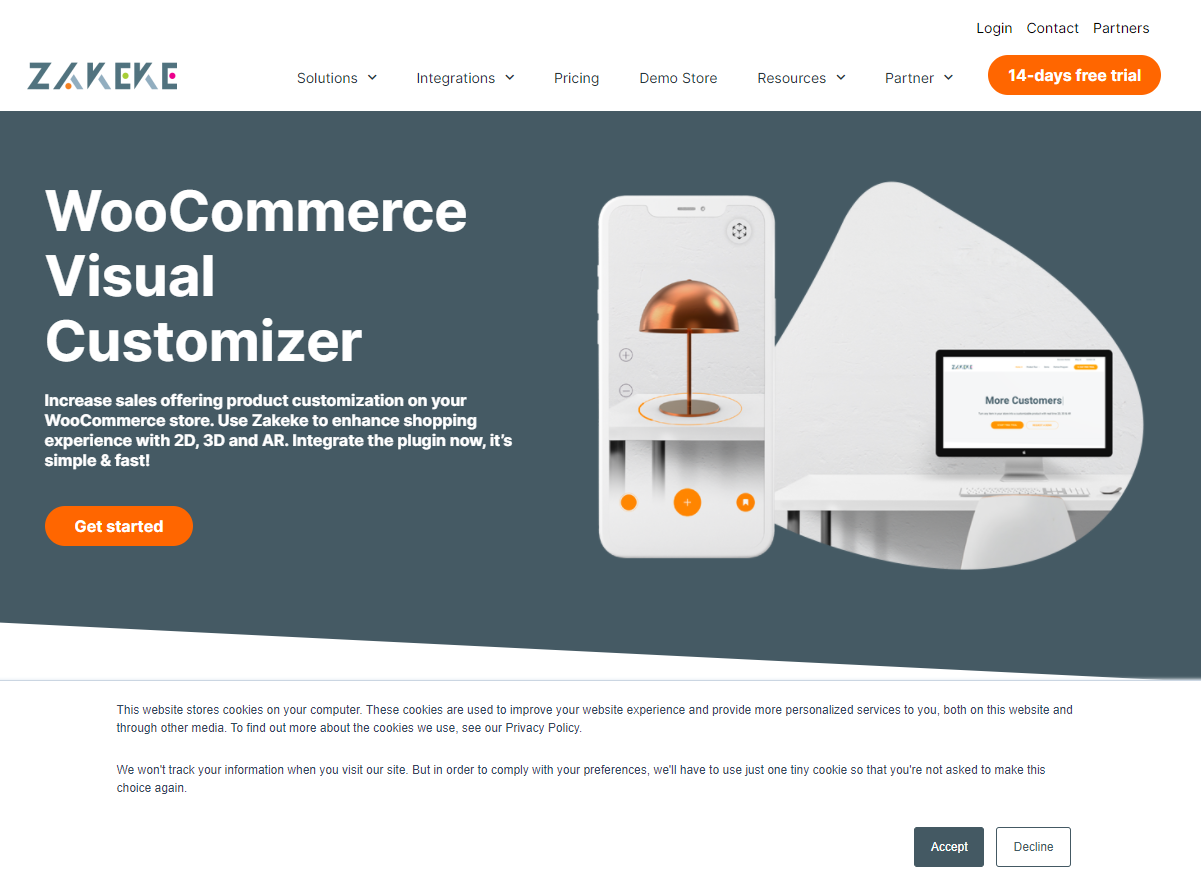 Features:
Print on demand service featuring a product designer that you can interact with.
Customers will be able to customize their own products.
There is a large selection of products to pick from.
WooCommerce integration is seamless.
The plugin is available for free download from the WordPress plugin repository. Zakeke's Starter package will set you back $6.99 each month.
Acutrack
Acutrack print on demand Woocommerce plugin allows you to connect your WooCommerce store to Acutrack's media on demand service. Based on your demand projection, you will be able to effortlessly publish a book.
Coaches, teachers, consultants, advisors, and others will benefit greatly from the ability to deliver their books or media directly to customers or marketplaces. More significantly, you will have access to a skilled staff to assist you with graphic design, printing, packaging, and other services. There's also flawless WooCommerce integration and dependable customer support.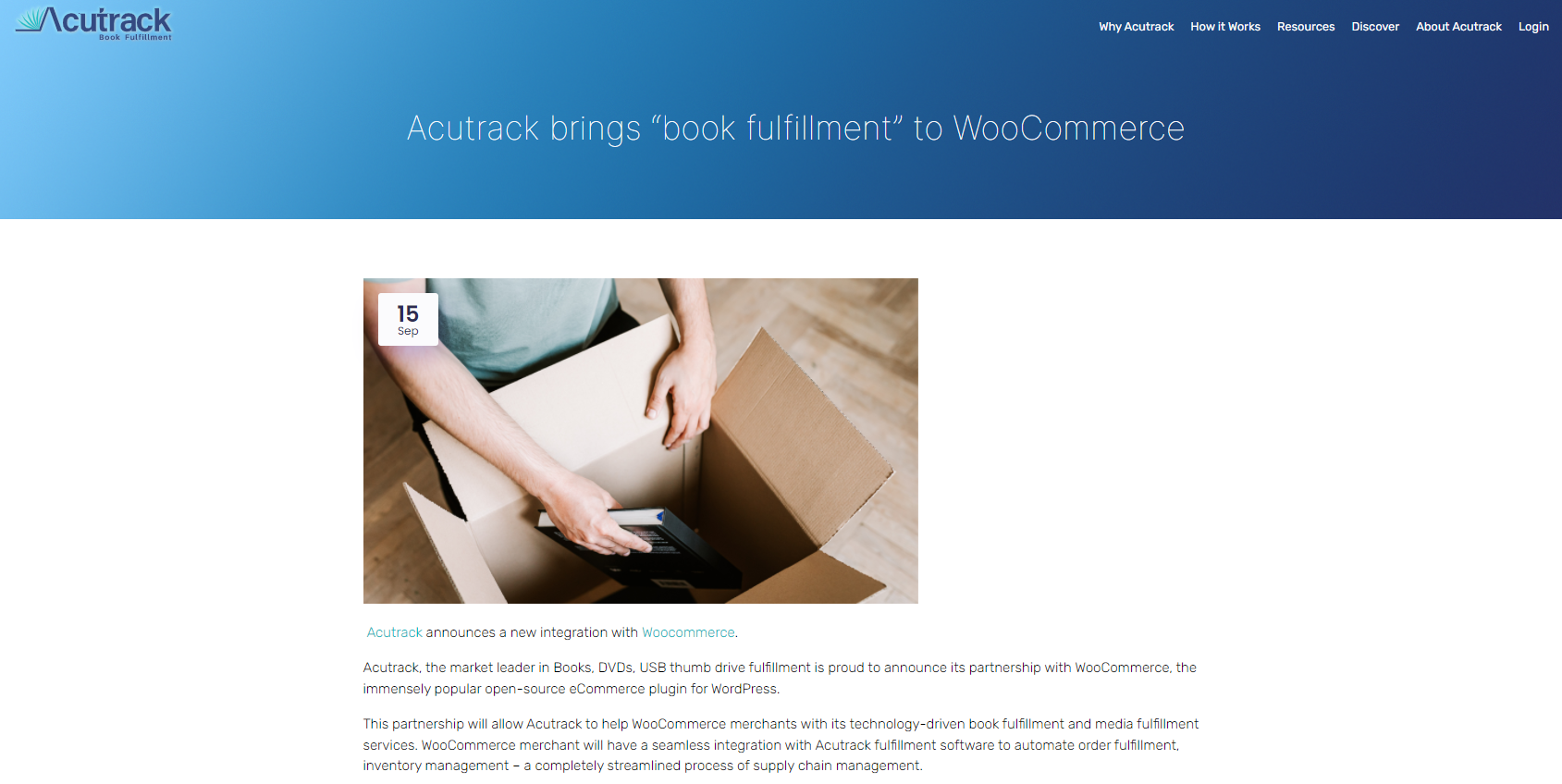 Features:
In book publishing and media on demand, you can count on us.
WooCommerce integration is seamless.
Configuration is simple.
Dedicated assistance.
To learn more about pricing, please contact Acutrack. You'll have to pay $49 for the WooCommerce integration plugin.
Hopefully, these print-on-demand plugins will assist you in using WordPress and WooCommerce to develop a customized store. If you have any questions, please leave a remark.
Final Thoughts
These are the best-integrated WooCommerce plugins for selling Print on Demand. We hope you can use the benefits of these plugins & websites to help your print-on-demand business become the greatest on the market