The year-end season is when the shopping sensation reaches its height, bringing many opportunities for businesses to thrive.
Ornaments are among the most purchased items during this shopping season since forever. With print on demand, it's easy to create a unique ornament that gives absolute strength to your store over other competitors.
In the following, let's explore the best print-on-demand ornaments that are going to give you a successful and profitable year-end season.
Acrylic ornament
Acrylic ornaments are a classic item for house decoration during Christmas. It's cheap yet very durable and reusable for many seasons.
Types of acrylics ornaments
With print on demand, it is easy to transfer your beautiful designs into the acrylic sheet and create a one-of-a-kind ornament. There are a few options when it comes to acrylic ornaments that you can take advantage of and make the most of.
Plastic ornament
Plastic ornament or acrylic ornament comes in different shapes. At Merchize, we offer 6 most popular shapes for you to add your designs. From these basic shapes, you can use your creativity to make the most amazing, capturing designs ever.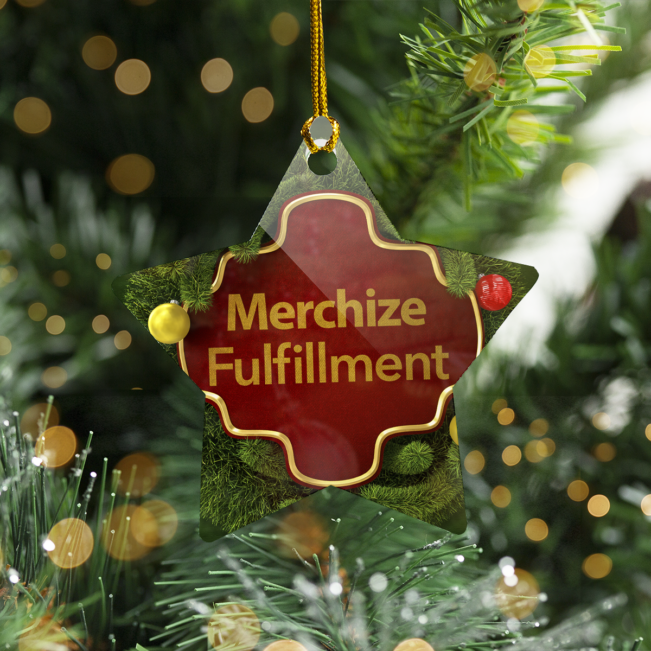 While these traditional plastic ornaments are extremely popular in the market with plenty of supply, you can still find opportunities by making custom design with print on demand.
Base cost: $2.00
SKU: ORNP
Shapes: Star, Oval, Circle, Heart, Snowflake, and Benelux
One-side printing
Custom shape plastic ornament
Default shapes are good. However, to fully explore the many opportunities in this massive ornament market, you might need some more powerful means. Here's the secret: Make yourself ornaments that are custom-shaped.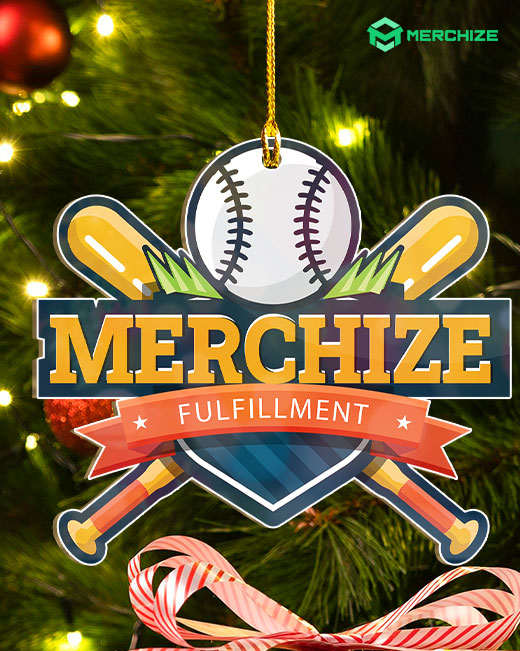 With this option, you can literally turn your ornament designs into any shape. It maximizes customization scope and gives you new chances to make more money with ornaments. For example, you can make ornaments in the shape of letters or animals, etc. The possibilities are endless.
Base cost: $2.00
Custom shape
SKU: ORNC & ORNC2
One-side and two-side printing
Clear plastic ornament
Transparent ornaments are trendy in the past few years and it is not going away any time soon. You can make some elegant designs with transparent ornaments to match the style.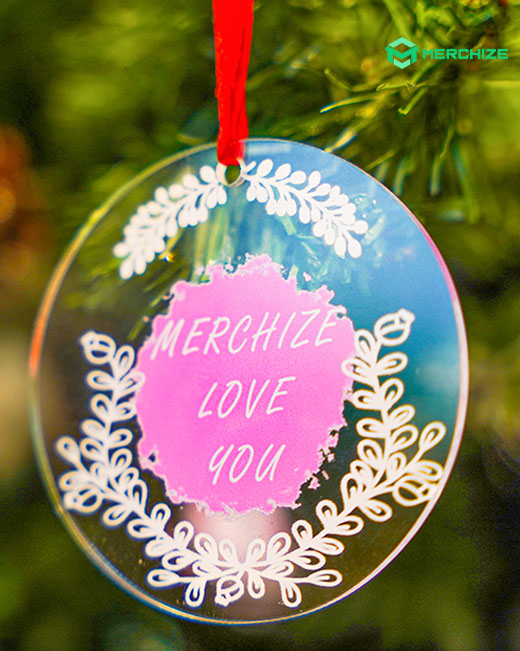 Moreover, you can also add any kinds of designs you want to create an impressive, unique ornament with transparent plastic. Our Clear plastic ornament comes with two options: regular hanger and a bead chain hanger.
Base cost: $2.00
Custom shape
SKU: ORPC & ORPCR
One-side and two-side printing
Why choose Merchize's acrylic ornaments?
Acrylic ornaments are versatile. It is a go-to decoration option for many shoppers because they are easy to find, very cheap, and durable which can be reused for many years without really losing the quality.
While this type of ornament is popular and chosen by many, some shoppers might want to opt out of the conventional decoration and pick something more unique, something that goes well with their decoration style.
With the whole environment-conscious movement wiping the consumer market, you might need to explore more options to catch up with the demand. Don't worry! There are still more print on demand ornaments options for you to try.
Wooden ornament
Wooden ornaments have become the new favorite Christmas decoration items in the past few years. The search trend for the keyword "wooden ornament" has seen a consistent rise over the years.
The increase in demand for wooden ornaments is easy to understand. In a 2019 survey by Global Consumer Insight, 35% of the respondents said that they preferred sustainable products as a way to protect the environment. It should be noted that 41% shared that they avoided the use of plastic when they could.
A new study done by Getty Images in collaboration with YouGov also reveals that 69% of respondents said that they were doing everything possible to minimize their carbon footprint.
Fortunately, with print on demand, you can make wood ornaments easily.
Types of wooden ornaments
At Merchize, we provide various types print on demand wood ornaments. There is plenty of room for you to create beautiful, unique ornaments that can capture the attention of buyers. Here are wood ornament options for you to consider:
Printed wood ornament
Base cost: $2.00
One side printing
One layer
Cutout wood ornament
Base cost: $2.00
One side printing
One cut-out layer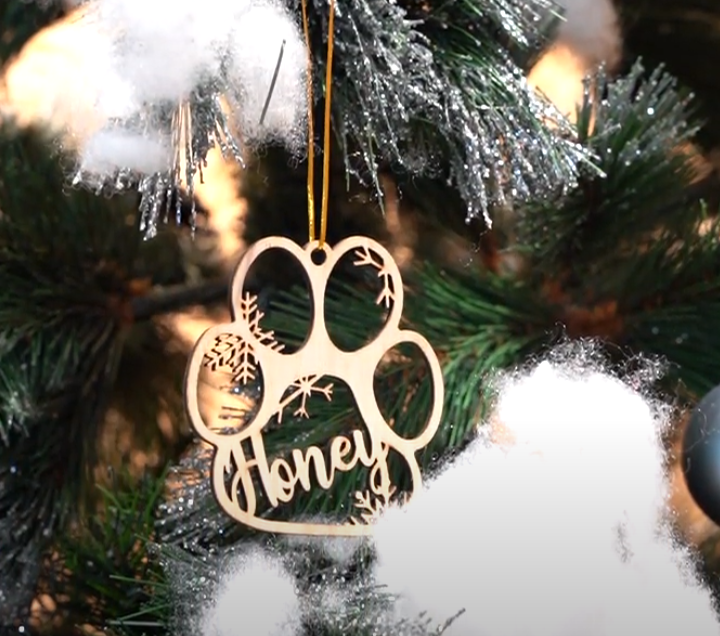 Layered wood ornament
Base cost: $2.00
One side printing
Two cut-out layers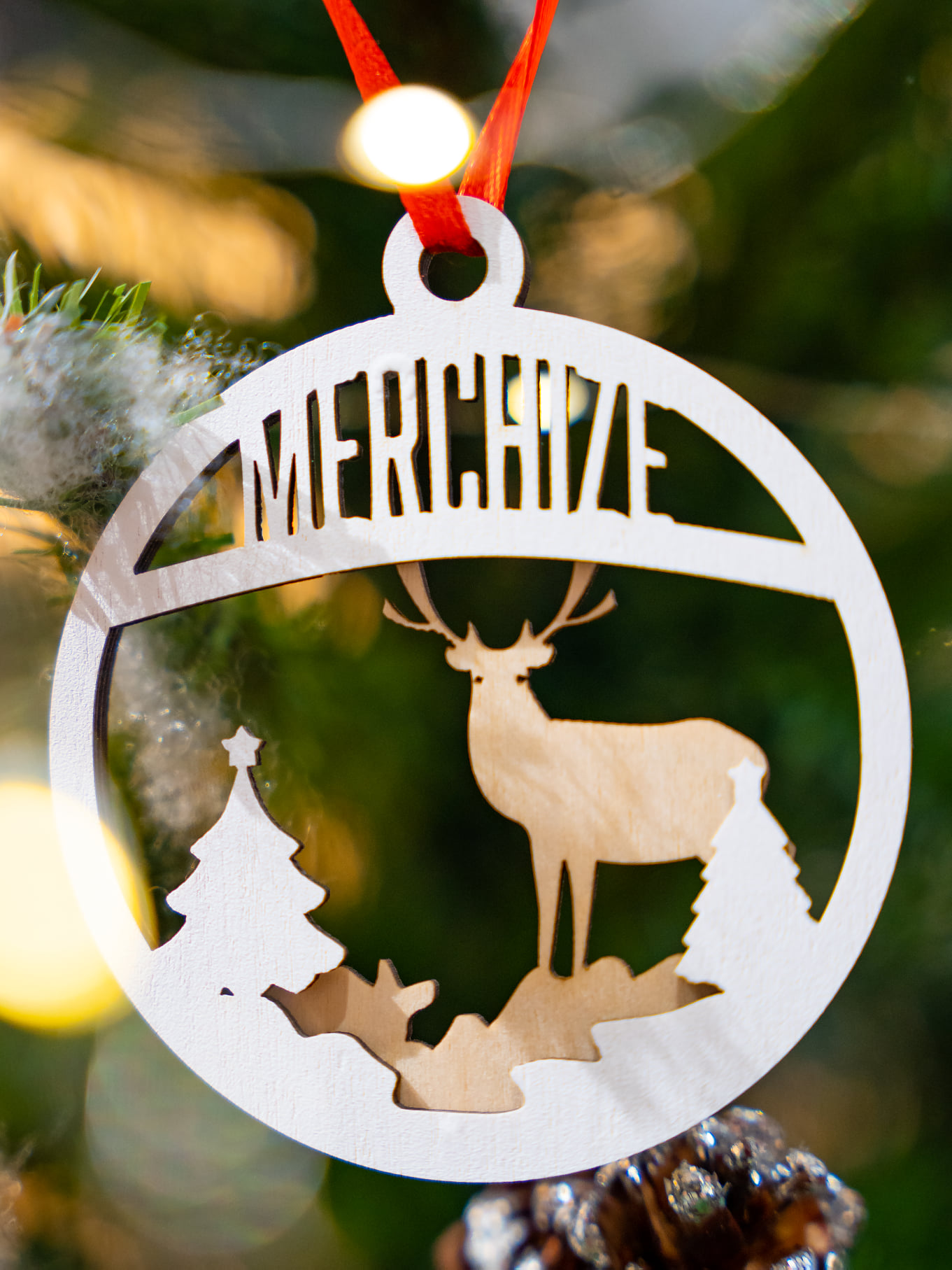 Why choose Merchize's ornaments?
Merchize's print-on-demand wooden ornaments are made from high-quality ash wood that comes with beautiful, polished natural color and grain. This wood type is very lightweight, which is a plus for shipping in large quantities.
Three different wood ornament options that you can choose from. Each option comes with a unique look and delivers space for you to be creative with the designs.
Wood ornaments are made using UV printing and laser-cut technology for the best quality. Wood ornaments are cut with high precision that matches your details. You can combine shapes, colors, and layers to create unique-looking and intricate ornament designs that buyers would definitely love.
MDF Ornaments
MDF ornament is another great ornament option. MDF ornaments are actually made from wood sheets laminated with layers of plastic, which brings some unique characteristics and feel to the table. MDF ornament makes a great alternative to traditional plastic ornaments. Unlike the acrylic ornament, MDP has a non-glossy, matte-like surface. It also doesn't collect fingerprints as the regular acrylic ornament does.
Apparently, many shoppers will prefer the matte surface over the shiny look of acrylic plastic ornaments.
Types of MDF Ornaments
Merchize offers different types of ornaments made from this material, including:
1-sided Printed White MDF Ornament:
Base cost: $2.00
One-side printing
Shapes: Star, Oval, Circle, Heart, Snowflake, and Benelux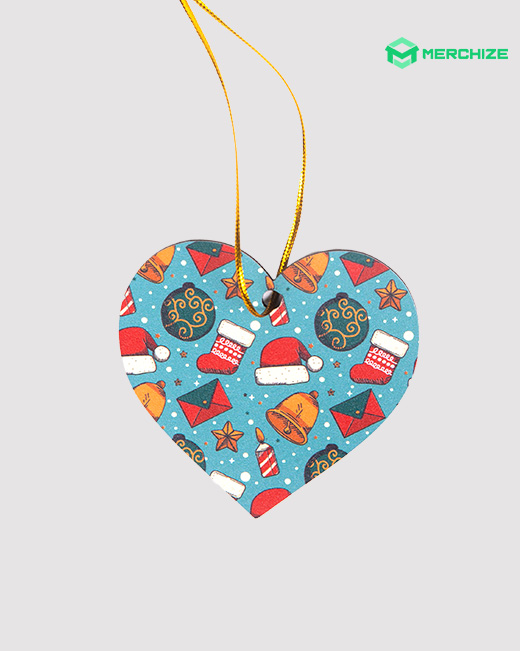 2-sided Printed White MDF Ornament
Base cost: $2.00
2-side printing
Shapes: Star, Oval, Circle, Heart, Snowflake, and Benelux
Custom Shape White MDF Ornament
Base cost: $2.00
1-side printing
Custom shape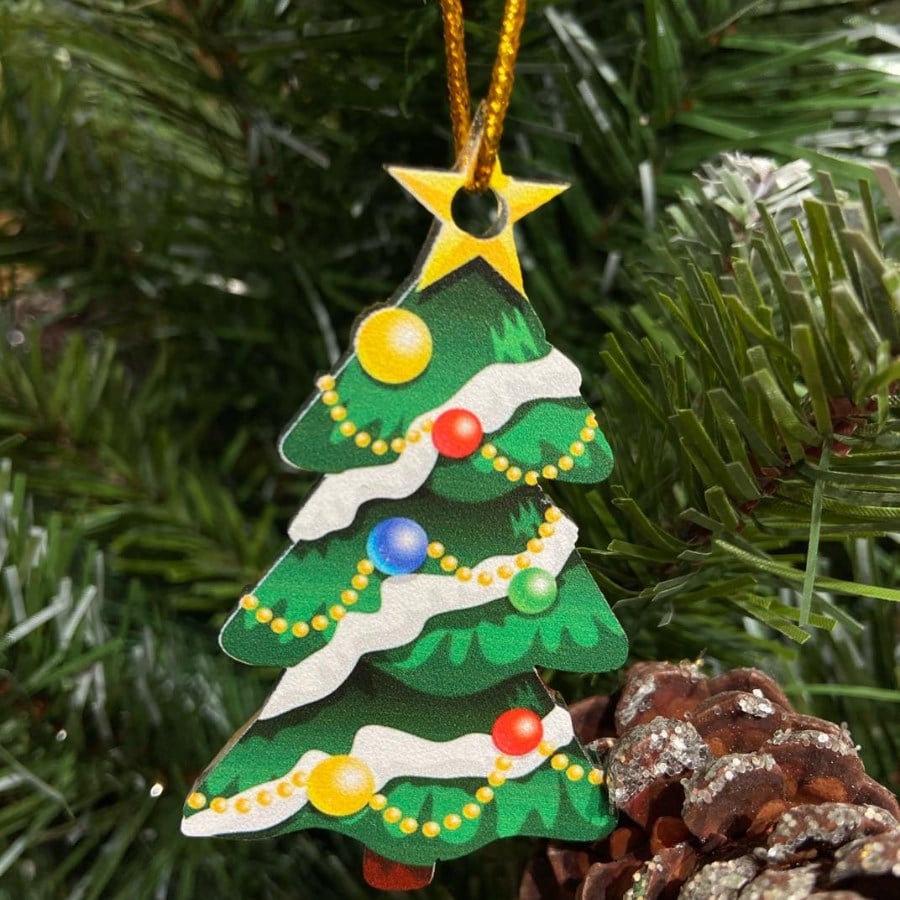 Why choose Merchize's MDF ornament?
Merchize's MDF ornaments are made from high-quality MDF – lightweight, strong and durable material that won't break easily. The MDF ornaments are the perfect canvas for your designs.
Merchize provides various customization options for you. You can customize the designs on each ornament. You can print designs on one side or both sides. You can also customize the ornaments into any shape.