Print on demand affiliate programs can be a great niche for a new income stream. The print-on-demand market is growing at a stable rate, expected to reach $39 billion in value by 2030 with a compound annual growth rate of 26.1%. 
Print on demand is definitely a promising market for both print-on-demand sellers and affiliate marketers as well. At the moment, many print-on-demand companies are offering print on demand affiliate programs with attractive commissions. Don't let these opportunities slide. Below is the list of the best print-on-demand affiliate programs that you can try!
Our editor's choices of the best Print on demand affiliate programs
Merchize

🏆 Best Overall Choice

Printful

🏆 Various Options For Affiliate

PrinterPrinting

🏆 Highest Commission Return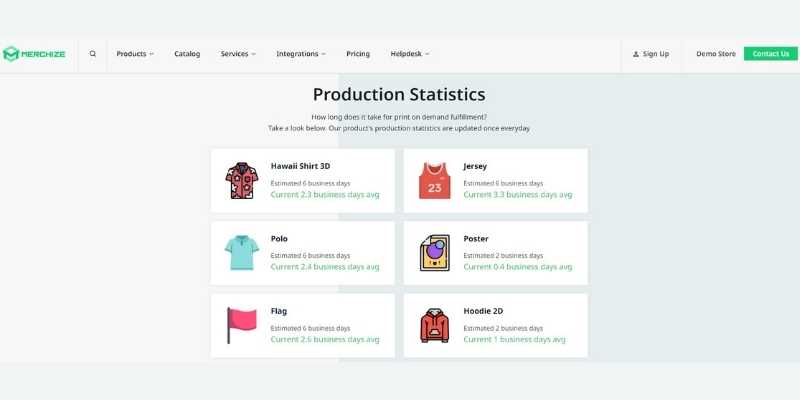 Commission

: Curtailed for diferent referrer
Merchize is a cheap print on demand platform that becomes outstanding for its pre-built storefront solution, which can support you to easily take care of all customer orders via many different site programs like eBay, Amazon, Etsy, or Google Shopping, together with direct sync, fulfill, and control shipments.
Direct to garment, heat transfer sublimation, UV printing, and laser cutting are printing techniques that are currently applied for Merchize print on demand services. The 43,000-square-foot Vietnamese manufacturing factory is able to serve your customers with the best quality products and speedy worldwide shipping. It also offers a custom branding fulfillment service for labeling print on demand products. 
Why Merchize is one of the best affiliate programs
Merchize is currently opened a private affilicate programs with special attractive commisions.  For more details, you can contact with us via email, Fanpages or live chat for more detailed.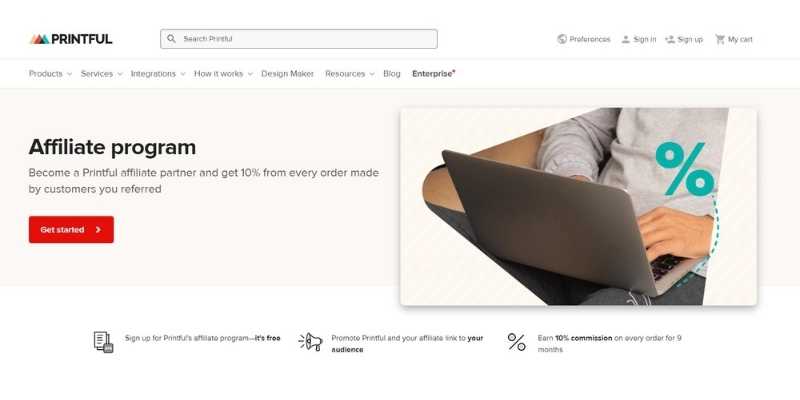 Commission

: 10%

Cookie

: 9 months
Printful is a bespoke print-on-demand garment and accessory retailer that also offers embroidery services and Printful's affiliate program. Printful is used by clients to design and supply personalized garments to end-users.
Printful makes a lot of print on demand products to choose from, from clothing such as T-shirts, hats, etc. to home & living selling products like blankets or pillows. Items like backpacks and phone cases can be customized by this print on demand service. Your customers can use the brand services to develop their own clothing lines or collections, which are then printed and delivered rapidly from fulfillment centers in the US, Mexico, and Europe.
Affiliate marketers who promote Printful brand are given all of the necessary tool ads from Printful's affiliate program as well as the option to earn money on repeat customer orders for a period of nine months.
Why Printful is one of the best affiliate programs
Customers can choose products from Printful's extensive product range. The items are printed on demand and sent directly to the customer. The cookie length is ideal for affiliate marketers, and the compensation junction is reasonable.
PrinterPrinting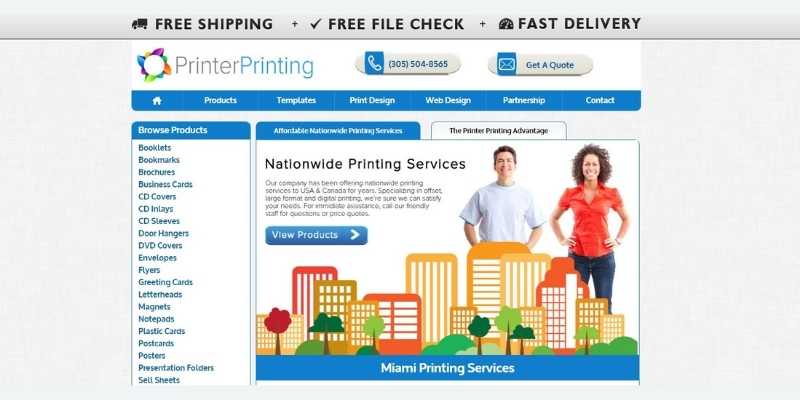 Commission

: up to 15% on printing purchases, up to 20% on any graphic design service

Cookie

: Unknown
PrinterPrinting is another print on demand company located in the US. Whether it's graphic printing, digital printing, or full-color printing, they offer high-resolution printing presses. Customers will receive high-quality digital products thanks to their modern printing facilities.
PrinterPrinting features a user-friendly website and offers printing services ranging from business card printing to postcard printing. Large format printing, such as poster printing, banner printing, car magnet printing, and window cling printing, is also available.
If you have any questions about printing rates, graphic overviews, file settings, or even general questions related to sales can speak for free with certified printing specialists and highly educated customer care services.
Why PrinterPrinting is one of the best affiliate programs
Aside from the hefty 15% commission on each printing order, affiliates can also earn money up to 20% of the total sale of any business graphic design service.
PrintingForLess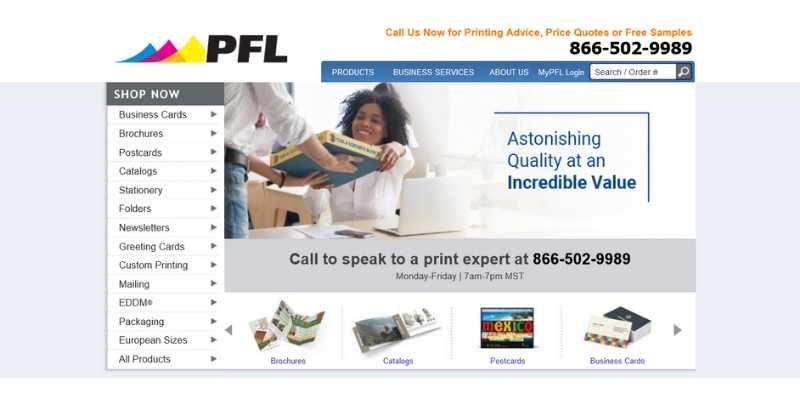 Commission

: 18% (paid monthly)

Cookie

: 90 days
Business cards, brochures, stationery, postcards, and catalogs are among the products offered by PrintingForLess, a brand-building print business. This business also sells European sizes. This business is notable for providing email marketing materials with a 13-1 return on investment.
Both Commission Junction and ShareASale manage the affiliate program. Affiliate marketers are given banner advertisements, direct links, and custom codes to promote the items, as well as access to an affiliate newsletter with marketing advice. The commissions are given out on a monthly basis.
Why PrinterForLess is one of the best affiliate programs
The commission rate is excellent, and having two other affiliate programs to select from is convenient. This business also offers a complete satisfaction guarantee.
PsPrint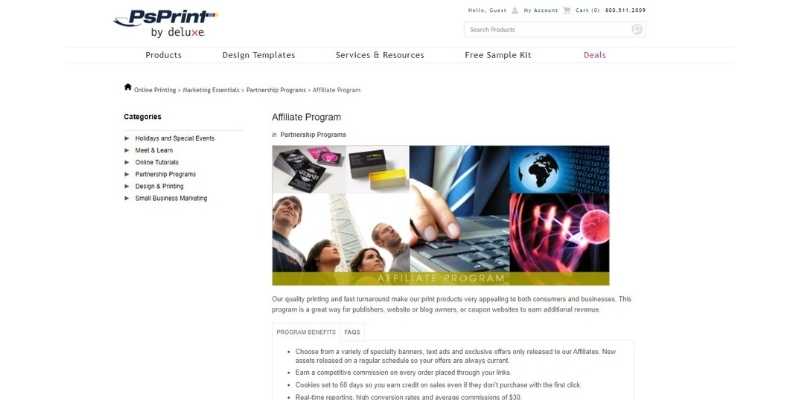 Commission

: up to 8%

Cookie

: 60 days
PsPrint sells custom business cards, calendars, and notepads, as well as promotional items like magnets and stickers. You can search the product list for what you want to promote, and there is a design templates part where you can personalize your purchase.
PsPrint offers printing, design, die-cutting, foil stamping, and postal services, among other things. You can also request free sample kits to feel the paper stocks and compare them to other products from different services.
ShareASale and CJ are both used for the affiliate program. Affiliates receive access to advertising materials as well as real-time data. The revenue streams start from $30, and the products have a high conversion rate, despite the fact that the commission rate isn't stated.
Why PsPrint is one of the best affiliate programs
The products are of good quality, the printing is quick, and the company offers free samples to potential consumers. The average commission rate and cookie duration are also appealing.
Mimeo Photos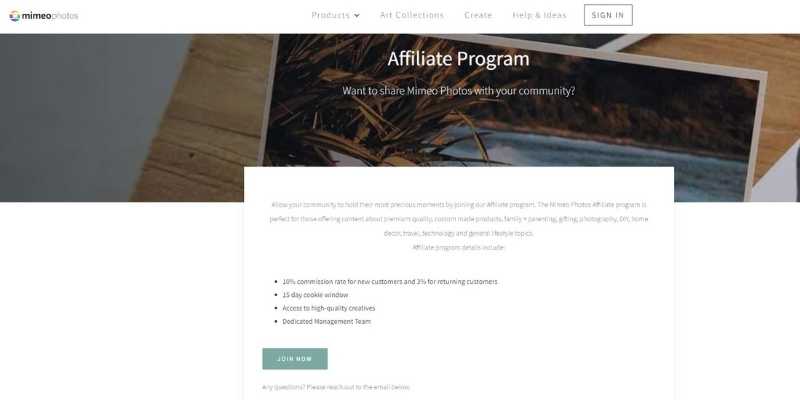 Commission

: from 3 to 10%

Cookie

: 15 days
Mimeo Photos printing services are accessible in 21 different sizes for citizens of the United States, Canada, Europe, Australia, and New Zealand. Books, blankets, calendars, cards, decorations, puzzles, tabletop decor, and wall decor are the other products available.
Mimeo Photos is an Apple-approved photo printing service. They create their own apps to ensure that their creative and design needs are addressed regardless of the device. They've mastered the art of personalized picture books, calendars, card sets, and other photo products over the years. You can find more information about the print on demand products on their website.
To control the affiliate program better, Mimeo Photos has corporated with Radius Impact.
Why Mimeo Photos is one of the best affiliate programs
The business is a popular and reliable brand. Besides the 10% commission, there exists a 3% commission for returning sellers.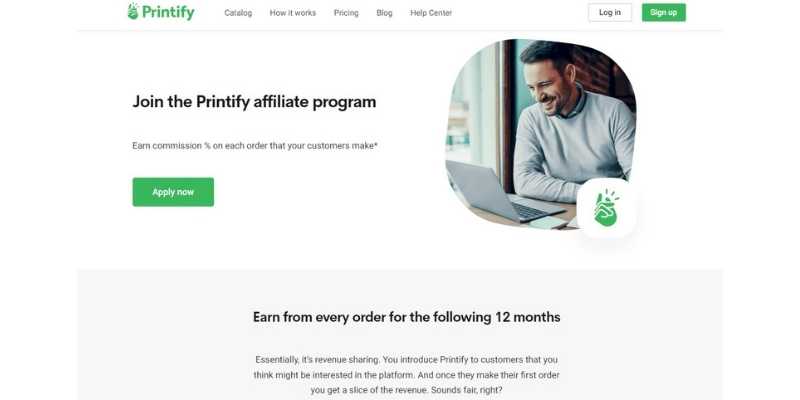 Commission

: 5%

Cookie

: 12 months
Printify lets you create and order printed garments, household goods, and accessories like bags, phone cases, and pens. People who want to try out the design mockup generator and other services can sign up for a free account. This organization offers paid plans for larger businesses that feature 20% off orders, the ability to link several stores to each account, and more. Companies that expect to do a lot of printing can request a tailored quote to match their needs. The paid plan costs roughly $29 per month.
Affiliate marketers can receive earnings from referrals for a period of 12 months after the first purchase made by the referrer. Affiliate link on websites, email marketing, and social media marketing is the most effective marketing methods for this organization, and affiliates are provided with marketing materials. Commissions are given out on a monthly basis via a PayPal account.
Why Printify is one of the best affiliate programs
This business can control the demand for both large and small size companies which is good for you to do affiliate.
Max Q Printing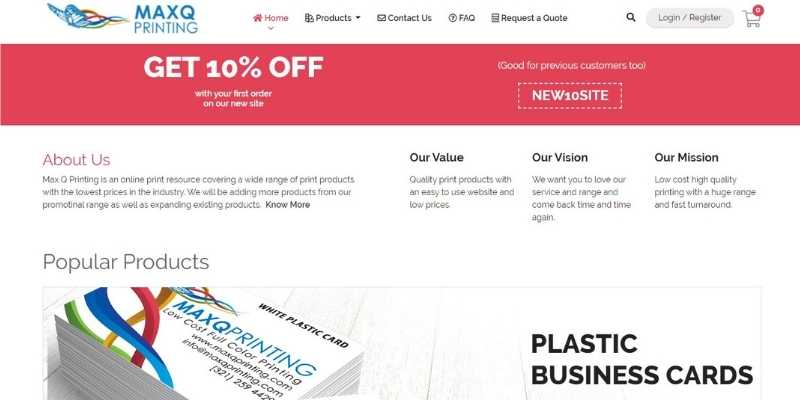 Commission

: 10%

Cookie

: Unknown
Max Q Printing is an online printing service that provides low-cost, high-quality print brokering from trustworthy vendors throughout the United States. They've been in the graphic design business for a long time and believe in providing the highest quality printing at a reasonable price.
Along with printing, Max Q Printing provides a full variety of graphic and web design services. On each of their product information pages, they also provide free print templates. 
Why Max Q Printing is one of the best affiliate programs
The business offers you a lot of print on demand products at affordable prices and great commission which is suitable for the affiliate program.
Moo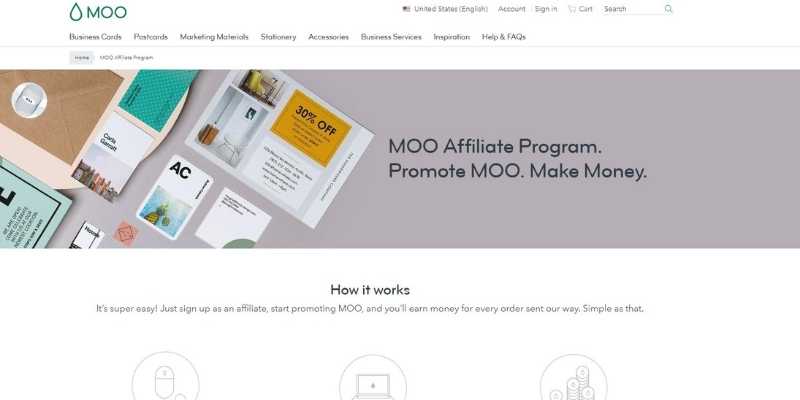 Commission

: 8% – 12%

Cookie

: Unknown
Moo offers printed business items such as business cards, marketing brochures, stationery, notebooks, envelopes, and business cardholders that may be personalized.
The majority of print on demand products are delivered the next business day after being ordered, with high-quality printing and a satisfaction guarantee. Moo can accommodate bulk orders.
Why Moo is one of the best affiliate programs
This business offers a component dedicated to real estate brokers, which would be a good fit for some niche marketing affiliate sites. Repeat orders might also earn affiliates commissions up to 2%.
Vistaprint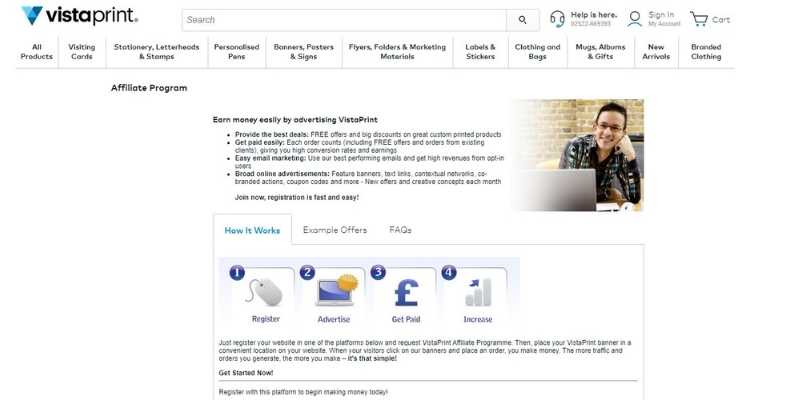 Commission

: Not listed

Cookie

: 15 – 30 days
Vistaprint specializes in graphic design. Websites, domains, company email marketing, and logos are among the digital products available.
CJ is in charge of managing the affiliate program. Affiliate marketers can make commissions from both free and paid products, which is an unusual feature of this organization. Affiliates can use Vistaprint's frequent promotions, such as free shipping, free product offers, and percentage discounts, to sell the company's products and services.
Why Vistaprint is one of the best affiliate programs
The business provides you with a lot of printing service choices, which makes it easier for you to do affiliate programs with it.
Custom Cat
Printful and Printify, Custom Cat is a brand that has a remarkable standing in the print-on-demand market. However, the brand still awaits greater visibility to gain more traction. Custom Cat's affiliate program was introduced as a boon to the platform's growth.
The potentialities of this platform as an affiliate program are enormous, and undoubtedly, it's going to secure a prominent position among the top-notch print-on-demand affiliate programs. Here are some benefits of Customcat's affiliate program:
10% commission on all sales made by your referrals for the first 12 months.
20% commission on every CustomCat Pro Subscription from your referrals for the first 12 months.
Custom Ink 
Commission:  7% commission on all qualifying sales through your referral link. (The commission percentage can increase based on the number of sales an affiliate generates each month)
Cookie: 30 days
Custom Ink affiliate program is like a golden ticket to making money by generating sales for this well-established brand. If you promote the brand via your affiliate link, you can earn a staggering 7% commission on all orders made by your referrals.
Custom Ink's offerings are mainly focused on catering to bulk orders for families, groups, and organizations, rather than operating as a print-on-demand company. However, they do have a selection of products that don't require a minimum order quantity, and the prices are surprisingly affordable. A minor downside, though, is that the products will come branded with Custom Ink's logo.
While it might not seem apparent initially, Custom Ink can still be utilized for print-on-demand. Their massive customer base and product offerings could undoubtedly be beneficial for affiliate marketers. Furthermore, you stand to gain significantly from their affiliate program by bringing in new affiliate members.
Printbest
Commission: 10% off every order made by your referral
Cookie: Not specified
Printbest is an up-and-coming print-on-demand service that enables users to customize over 100 unique product types with their own designs and have them dropshipped to customers in the US and Canada. Currently, Printbest integrates with Etsy, Shopify, and WooCommerce, with Wix, and Squarespace.
The platform has an exceptional in-house printing affiliate program that store owners can register for via a straightforward online form that can be completed in just five minutes. Affiliates can also sign up through the PostAffiliatePro network, both offering a 30-day cookie window and a 10% commission on all orders from store owners for a full 12 months after the customer's first click on the affiliate link.
Printbest's affiliate program offers easy payment via PayPal and operates in the US and Canada. T-shirts, hoodies, tank tops, and mugs are some of the fantastic products/services that can be sold through the platform, making it an excellent opportunity for affiliate marketers.
Sellfy
Commission: 25% per sale
Cookie: 90 days
Sellfy is a powerful platform that enables creators worldwide to sell and ship apparel and accessories with ease. Its integrated print-on-demand service, which automatically prints and ships incoming orders, has helped users earn more than $100 million on the platform.
Sellfy offers subscription-based pricing plans starting at $19 per month. Once signed up, users can create and launch their online store in just five minutes.
The company's printing affiliate program, run by PartnerStack, features an impressive 90-day cookie window. The baseline commission rate is a recurring lifetime commission of 25% per sale, but high-performing affiliates are rewarded with dynamic commission tiers:
6 – 15 sales per month pays 30%
16 – 40 sales per month pays 35%
41+ sales per month pays 40%
Super affiliates who can drive 100+ monthly sales are eligible for custom commission rates. Commissions are calculated and paid out monthly via PayPal or Stripe.
Sellfy also provides a variety of resources to help affiliate marketers succeed, including promotional ideas and affiliate marketing tips to help drive traffic to their affiliate links.
TeePublic
Commission: 11%
Cookie: 30 days
TeePublic is a radical company that offers millions of pop culture designs across 100+ product types, making it the biggest platform for independent creators. It's an explosion of colors and patterns that sell original T-shirts, posters, merchandise, and more. Indie artists get a percentage of each sale and the company provides 100% free exchanges and free US shipping for orders over $80.
TeePublic's in-house printing affiliate program is a doozy, offering a huge 11% commission on the entire sale value. Plus, if you design any of the products, you could earn an average commission of 31%. With a 30-day cookie duration, there's plenty of time to make a sale. Commissions are paid monthly through Payoneer or PayPal on the 15th of every month for sales generated in the previous month.
Affiliate marketers can get lost in a wonderland of promotional materials and resources, including exclusive coupons, flash sales, competitions, and giveaways. Limited-edition campaigns allow affiliates to run promotions around specific products for a set period. TeePublic has a dedicated account management team to offer advice on campaign optimization, email marketing, and more. Affiliates are also offered free products and discounts on wholesale orders.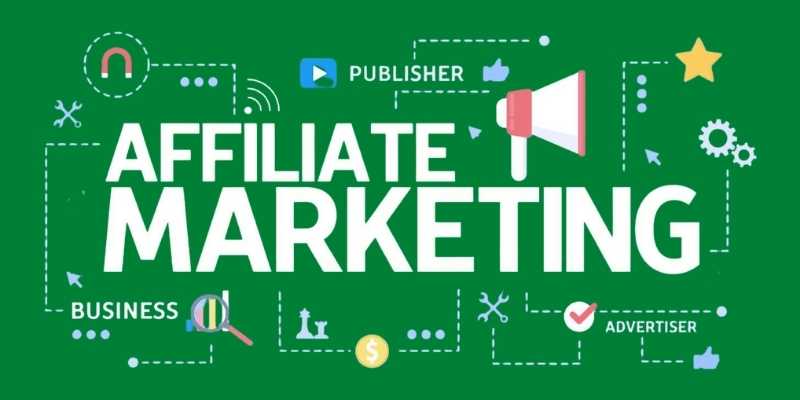 Affiliate marketing tips
Write down all affiliate journeys:

Make sure you plan your journal in 3 different parts including campaigns, resources, and costs from now to the future. Then you should update your status and check if your affiliate programs were on plan and figure out if your plan works effectively or not.
Be socialized:

Every affiliate has to start from the very beginning, for example, by asking basic questions on different forums. You might feel affiliate marketing is a huge topic at the first start, but mainly it's because you were short in training and experience. So definitely, we recommend you to be socialized, search on forums, read what others posted, ask questions, and follow along. You will get better day by day and won't feel lost in affiliate aspects.
Affiliate marketing is a huge topic at the first start, but mainly it's because you were short in training and experience.
Corporate with others:

We recommend you to work with others, and hire people to do different tasks. For example, if you are a marketer. It's your responsibility to make things function with a specific type of traffic. You don't need to be the best designer in the world or even a designer at all. All you need to do is figure out which angle to employ in your graphics and then tell a designer how to incorporate it. But make sure you balance your money spending well at this point.
Wrap up
Print on demand affiliate is a perfect chance for affiliate marketers to tap into. We hope that this post will give you some good ideas of how you can earn income through print on demand affiliate programs. And if you were looking for the best overall print on demand company to work with, Merchize is definitely for you!