You've come to the right place if you're looking for the best free mockup generator to showcase your projects or plans in realistic environments.
Merchize has compiled a list of the best online mockup generators, which includes not only free online mockup generator tools but also the best practical mockup generator.
If you don't know how to use Photoshop or other design software, online mockup generators can save you a lot of time. It is extremely simple to use, and you can save both time and money by using free online mockup generator tools. It won't cost you anything.
Online mockup generators will simply astound you by increasing the speed of your design workflow. Use the free online mockup generators listed below to complete the task in a matter of minutes.
What is a mockup?
A mockup is a digital replica of a product that is used to demonstrate how a product or graphic design will appear in use. In the case of a print-on-demand company, you might look for mockups of models wearing t-shirts to show how your products look on people, or picture frame mockups to show how your posters look when framed on a wall.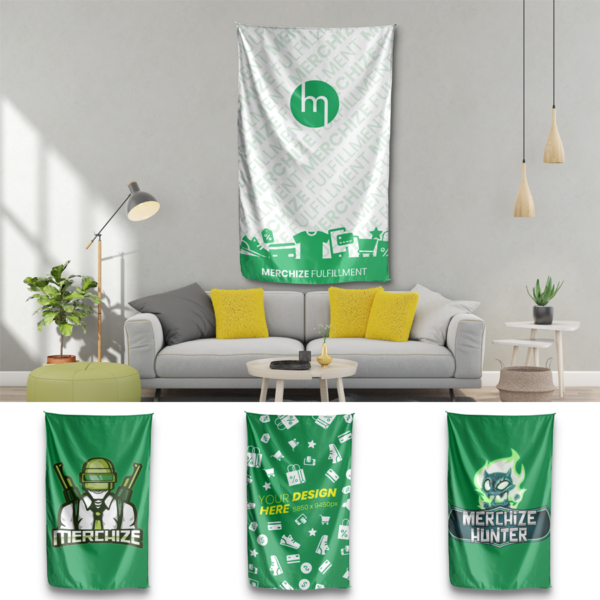 Mockups are a must-have tool for any company with an online presence. Mockups help make your print-on-demand business look professional without requiring you to do your own photoshoots. They assist you in displaying your digital products in use if you sell them.
By using mockups, you can avoid unspoken assumptions and confusion by discussing in detail with your coworkers and clients what the finished product or design will or could look like before you begin the actual creation process.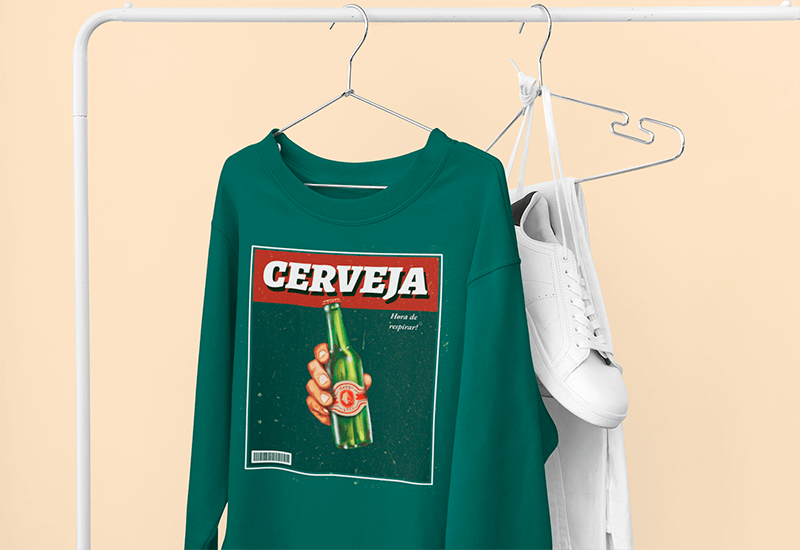 Mockups can also be used to share product ideas or renderings with customers so they have a better idea of what they're getting before they buy. You can quickly get a first visual impression of your future website by using an online mockup generator as well.
Why should you use the mockup generator?
Mockup is designed to bring an idea or wireframe to life and allows a designer to test how various visual elements interact with one another. It shows your designs in a real setting to your customers.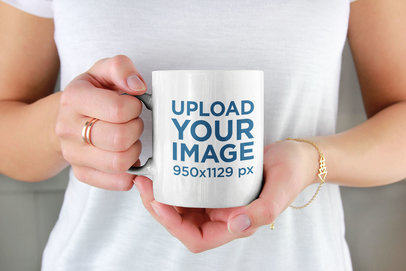 Here are the reasons why you should use a mockup generator for your business:
Image Quality: The mockup generator will provide you with high-quality images that accurately reflect your design.
Time-Saving: It is a very time-saving process. The same mockup that you can create in Photoshop will take much longer than generating it online.
Design Execution: How does your initial design fare? A mockup, from the standpoint of usability, allows you to test and change the visual details before committing them to code.
A large library with a variety of formats: Each of the online mockup generator websites contains a large number of libraries that are more than sufficient for your needs.
Mockup Customization: You will be able to customize mockups to your liking. Customization is faultless and adaptable.
Money-Saving: Our best free mockup generator is ideal for businesses to save their money when facing huge business expenses.
With many advantages, a mockup can make your ideas stand out and they aid in the elimination of ambiguity when it comes to quality-related expectations.
Especially for print on demand business owners who want to improve their customer's experience, a mockup generator could be a lifesaver.
Who can use the mockup generator?
With the help of a mockup generator, you can go from never using a mockup to using one for every product you envision with the help of a mockup generator.
You'll enjoy using the tool, and it'll be a piece of cake to create a design in minutes rather than hours on Photoshop. This is a must-have tool for many people, but in this article, we will divide them into 2 groups: Designer & Non-Designer.
Designers: A mockup generator can help designers speed up their workflow. Rather than opening Photoshop or other design software, they can use a mockup generator by following a few simple steps. The ability to create high-quality mockups will assist clients in visualizing the design's implementation in context.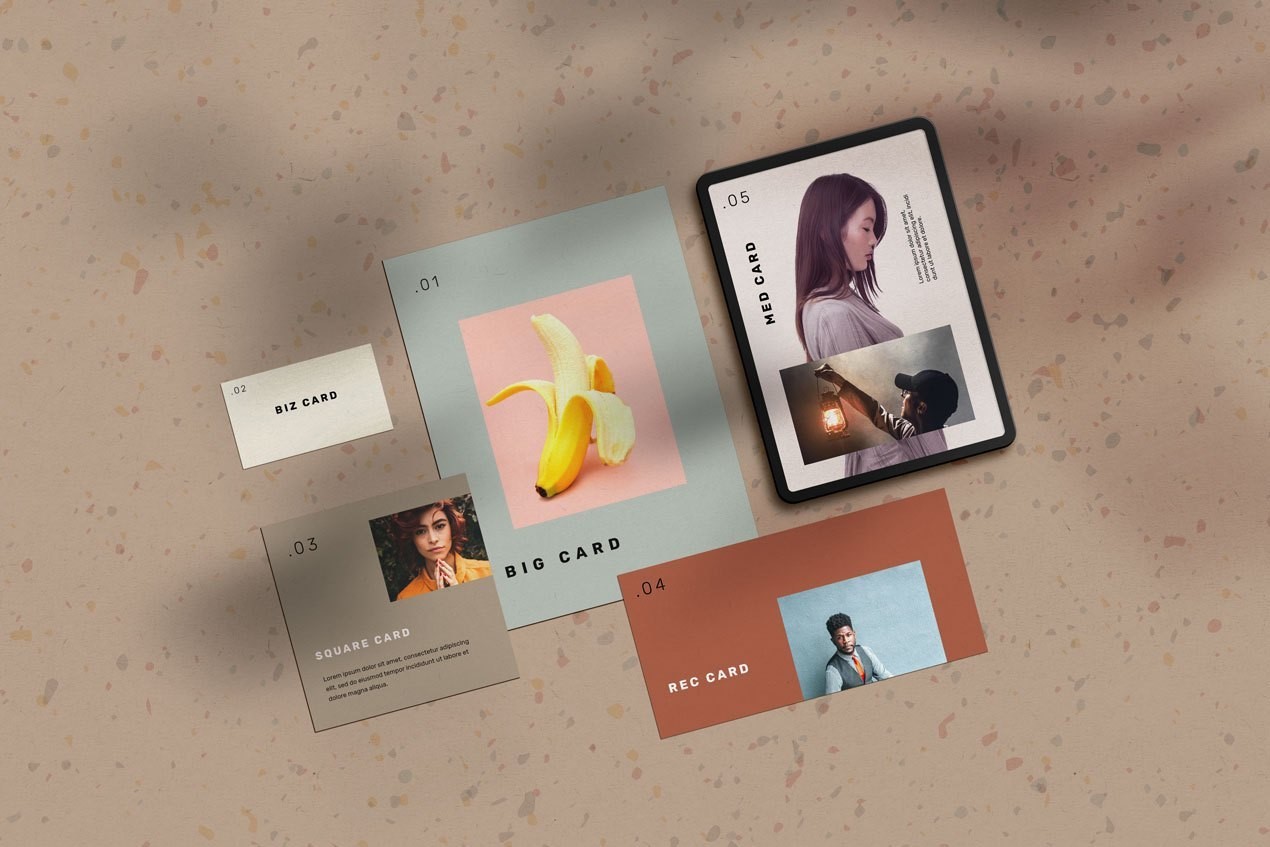 Non-Designers: In addition to designers, non-designers can benefit from the ease of use and simplicity of mockup generator tools. You can quickly select a high-quality mockup from a library. There are no hidden fees, and designs can be quickly customized with little technical knowledge.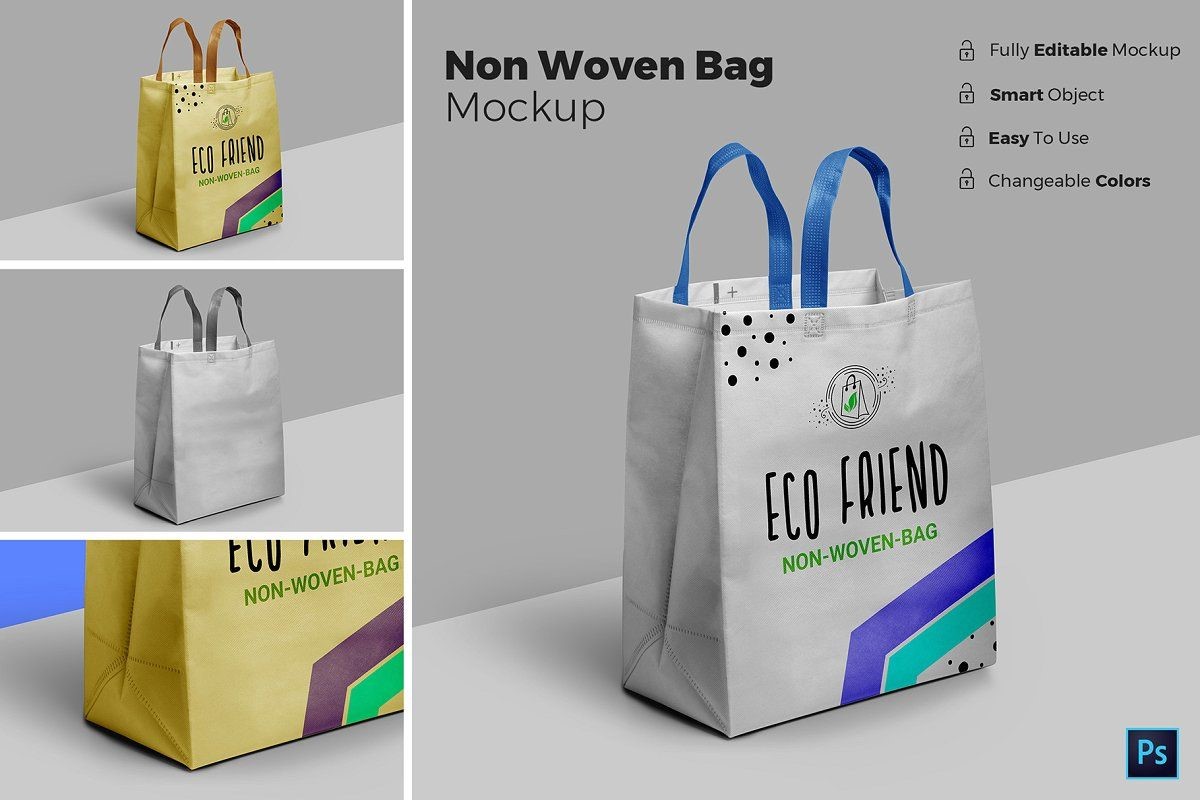 Top free mockup generator for Print on demand business
Because of the wide range of industry requirements, there are numerous types of mockups available, including print mockups, branding mockups, product mockups, and others.
We'll go over some of the best free mockups so you can save a ton of money when starting your online business.
Placeit
Overview
Placeit mockup generator provides a plethora of benefits, including over 39,846 ready-made mockup templates in a variety of settings. You can use any existing device, including all IOS products, PCs, smartphones, and smartwatches.
There is also a video mockup creation available, so your clients can see their website in action. Because Placeit is Recordit-compatible, you can record a short screencast of your mockup creation and share it on your social media account's timeline.
Pricing
| | | | |
| --- | --- | --- | --- |
| Plan | Free | Monthly | Annually |
| Pricing | $0 | $14.95 | $99.95 |
| Features | With a Placeit free account, you can try out your designs in all their mockups for free. But you have to either buy the single mockup you like or sign up for their unlimited subscription to export them. | The subscription for Placeit Pricing includes access to all mockups, designs, logos and video templates. | The subscription for Placeit Pricing includes access to all mockups, designs, logos and video templates. |
Features
Quantity: More than 36k templates
Categories: T-Shirts, T-Shirt Videos, Hoodies, Long Sleeve Tees, Sweatshirts, Mugs, Beanies, Garment Only, Sublimated, Apparel, iPhone, iPhone X, MacBooks, iPads, iMacs, Pillows, Hats, Books, Tote Bags, Tank Tops, Onesies, Leggings, Sports Bras, Sports Jerseys, Travel Mugs, Phone Cases, PopSockets, Facebook Ads, Responsive Devices, App Store Screenshots, App Videos, Android Devices, Posters, Business Cards, Flyers, Banners, Magazines, Brochures.
Format: JPG, PNG, MP4
Resolution(width): Perfectly fit with your screen size.
Mediamodifier
Overview
Mockups are now simple to create with a Mediamodifier. To quickly and easily create product mockups, this online mockup generator tool employs a user-friendly drag-and-drop method.
Simply drag and drop your images into a graphic template. Don't be concerned about having to make one. Mediamodifier provides you with ready-made templates.
Despite the fact that their website is not really organized, they have a good selection of mockups.
Furthermore, all logged-in users have the ability to download small images of their creations. There is also no watermark on the images. You can download a full-size quality image, but you must have an active subscription to do so.
Pricing
Plan

Starter (Free)

Professional 

Team

Pricing

$0

$19.00/ month (billed monthly)

$15.83/ month (bill yearly)

$45.00/ month (billed monthly)

$37.5/ month (bill yearly)

Features

100 free templates to get you started

Create and save your own designs

1300+ free fonts from Google

Unsplash & GIPHY integration

Download or embed your designs

Publish to social media

Everything in Starter, plus:

8000+ professional templates

Unlimited downloads

Brand assets and color palettes

Unlimited file storage

Organize your work into projects

Everything in Professional, plus:

Up to 5 team members

Assigned team admin

Central billing

Shared team assets 

90 USD/ year for every additional member
Features
Quantity: 2k+ free mockups; total more than 8k+ templates
Categories: Technology, Logo, Print, Products, Apparel, Image Effects, Facebook 3D, Social Media.
Format: JPEG, PNG
Resolution(width): 2400 px
Smart Mockups
Overview
Smartmockups does an excellent job of creating a simple website with user-friendliness at its core. There are many features available, including the ability to use video instead of images, create animated GIFs, and integrate it with other programs such as Photoshop.
Smartmockups offers mockups for more than just websites; you can also find business cards, t-shirts, billboards, and books.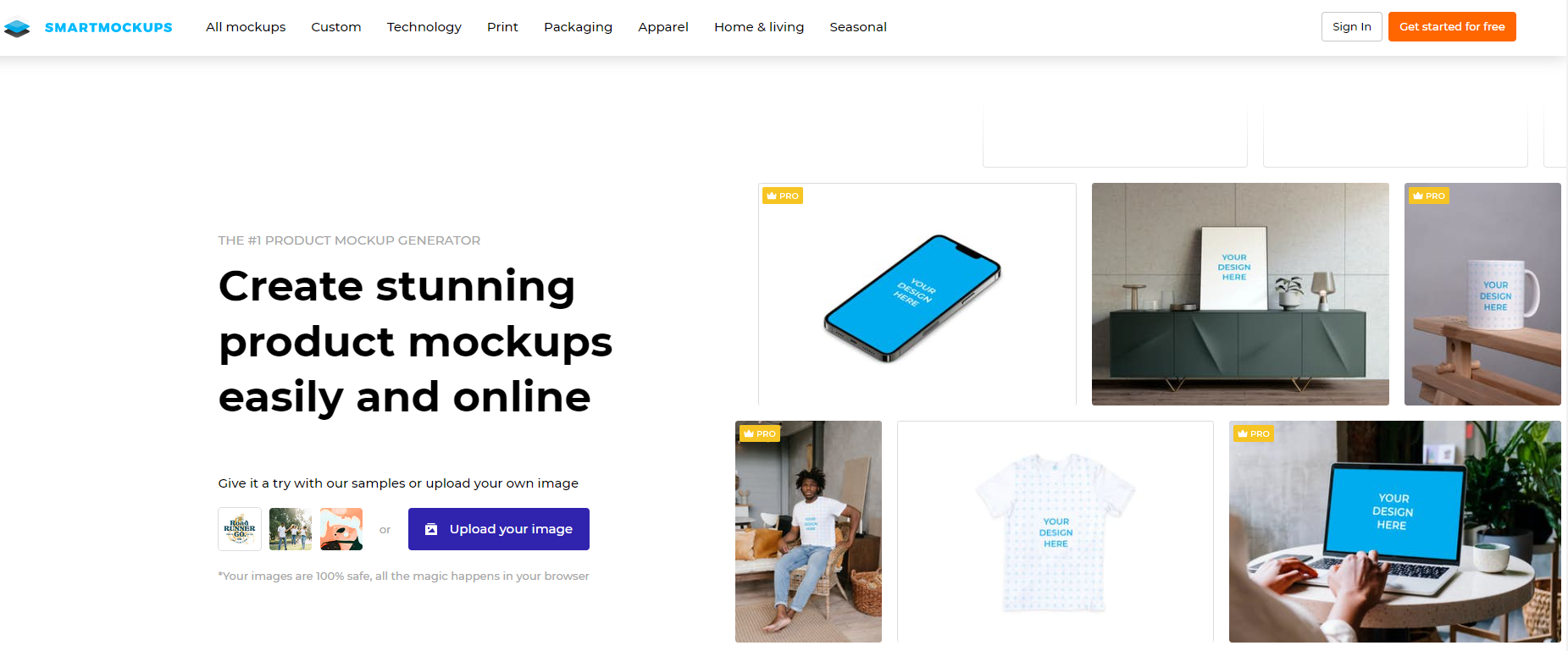 Pricing
Plan

Free

Pro

Pricing

$0

$14/monthly

$9/ yearly

Features

1 user account

Free 800+ mockups

Basic features

Integrations

Live previews

Medium quality exports

Everything in Free

Access to all mockups (11,000+)

Advanced features

URL screenshots

Unlimited mockup export

Transparent PNG export

Video mockups

Custom mockups

Your branding

Custom background feature

Super-high quality exports

Bulk mockup download
Features
Quantity: Technology 1248+, Print 660+, Packaging 181+, Apparel 245+, Home and decor 117+, Social media 22+…
Categories: Desktop, laptop, tablet, smartphone, watch
Format: PNG
Resolution(width):original (2500 px), large (1920 px), medium (1280 px), small (880 px)
Mockuper
Overview
Mockuper is a simple but effective tool for creating mockups in minutes. The best part about this incredible tool is that it is completely free.
You simply select a mockup, upload your image, customize it as needed, and then download your mockup-ready file.
That's all it takes to create a stunning mockup file. With 978+ mockup variations, it will come in handy if you are in a hurry.
Pricing
Mockuper is a free online mockup generator.
Features
Quantity: 978+ mockups
Categories: Desktop, laptop, tablet, phone, other (Apple watch, outdoor signage, business card, frame, billboard, TV, paper book
Format: PNG
Resolution(width): XS (700+ px), S (1500+ px), M (2300+ px), L (3100+ px), XL (3800+ px)
Magic mockups
Overview
Magic Mockups is one of the best free mockup generators, capable of producing mockups in a matter of seconds. You can use it to create real-life mockups for both commercial and non-commercial purposes.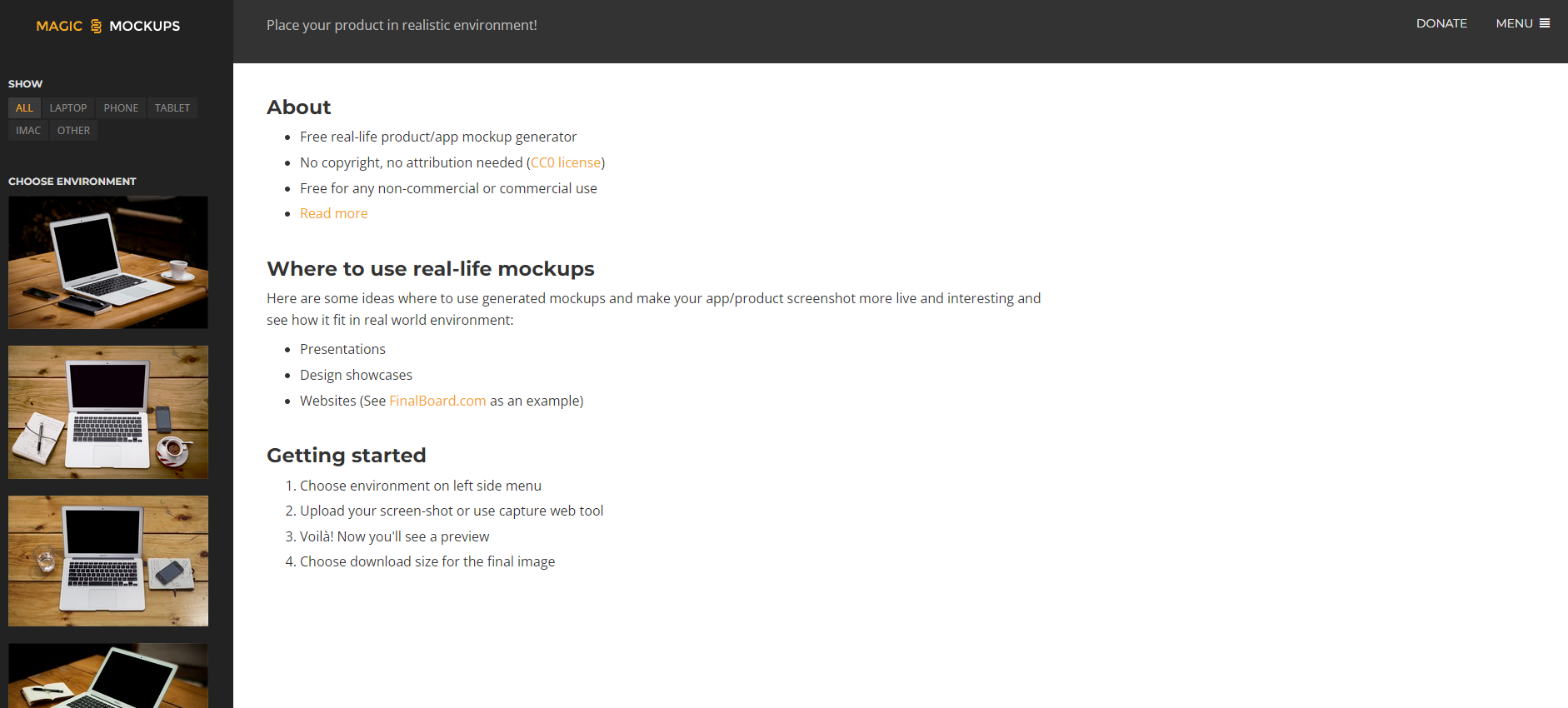 Because they are licensed under Creative Commons Zero, they do not require attribution or copyright notes. There aren't many mockups available, but they're all professional and high quality.
Pricing
Magic mockup is a free online mockup generator.
Features
Quantity: 25+ mockups
Categories: Laptop, phone, tablet, iMac, etc.
Format: JPEG
Resolution(width): 960 px, 1280 px, 1600 px, 1920 px, 3000 px, 5000+ px
Mockups Jar
Overview
MockupsJar is an all-in-one design platform. In just a few minutes, it can generate mockups for your design. It does not require Photoshop or any plugins to demonstrate its awesomeness; all it requires is your design and it will begin its magic. It only takes three simple steps to complete your mockup.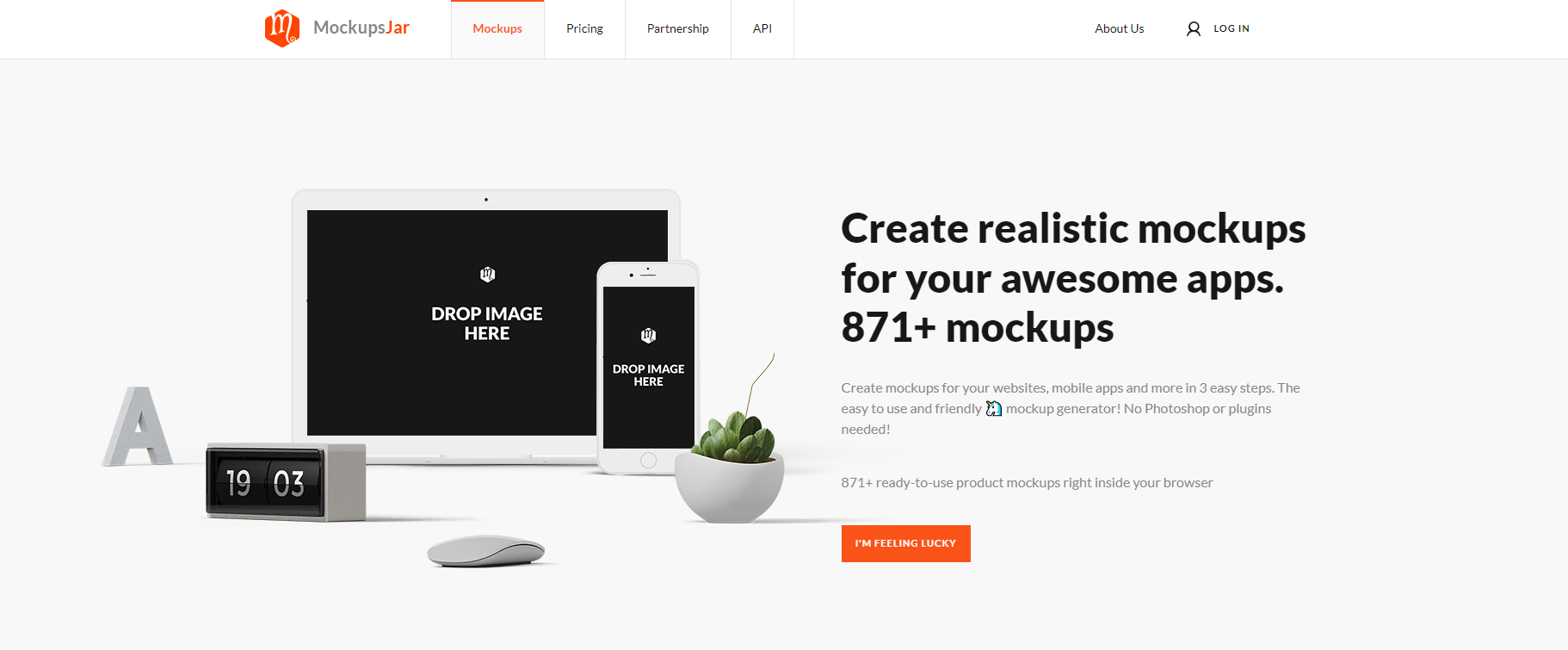 Pricing
Plan

Free

1000 tasks

10000 tasks

50000 tasks

Pricing

€0

€45/ month

€99/ month 

€249/ month

Features

Perfect for

students

or if you just want to kick the tires.

First 10 images are free and after that unlimited downloads with limited resolution (640 x 480).

All images are watermark free.

Capture full web page screenshots from URL or Figma

Support for multiple formats: PNG, JPG or PDF

Display Ads

API quick introduction
API full documentation
NPM package

Unlimited downloads for regular mockups

Company Invoice

Import your own designs

Contact us for a dedicated account or request extra features at

We provide consulting and integration for companies at

[email protected]
Features
Quantity: 696+ mockups
Categories: iPhone, Android, MacBook, Frames, Browsers, Packaging, Apparel, Tablets, Books.
Format: PNG, JPG, PDF
Resolution(width): 320 px, 480 px, 640 px, 1280 px, 2560 px
MockuPhone
Overview
MockuPhone is a highly interactive platform that allows you to instantly wrap your design in your mobile device. Simply drag your design into the workbox, and your mockup will be generated in a matter of seconds. It is a good tool for beginners.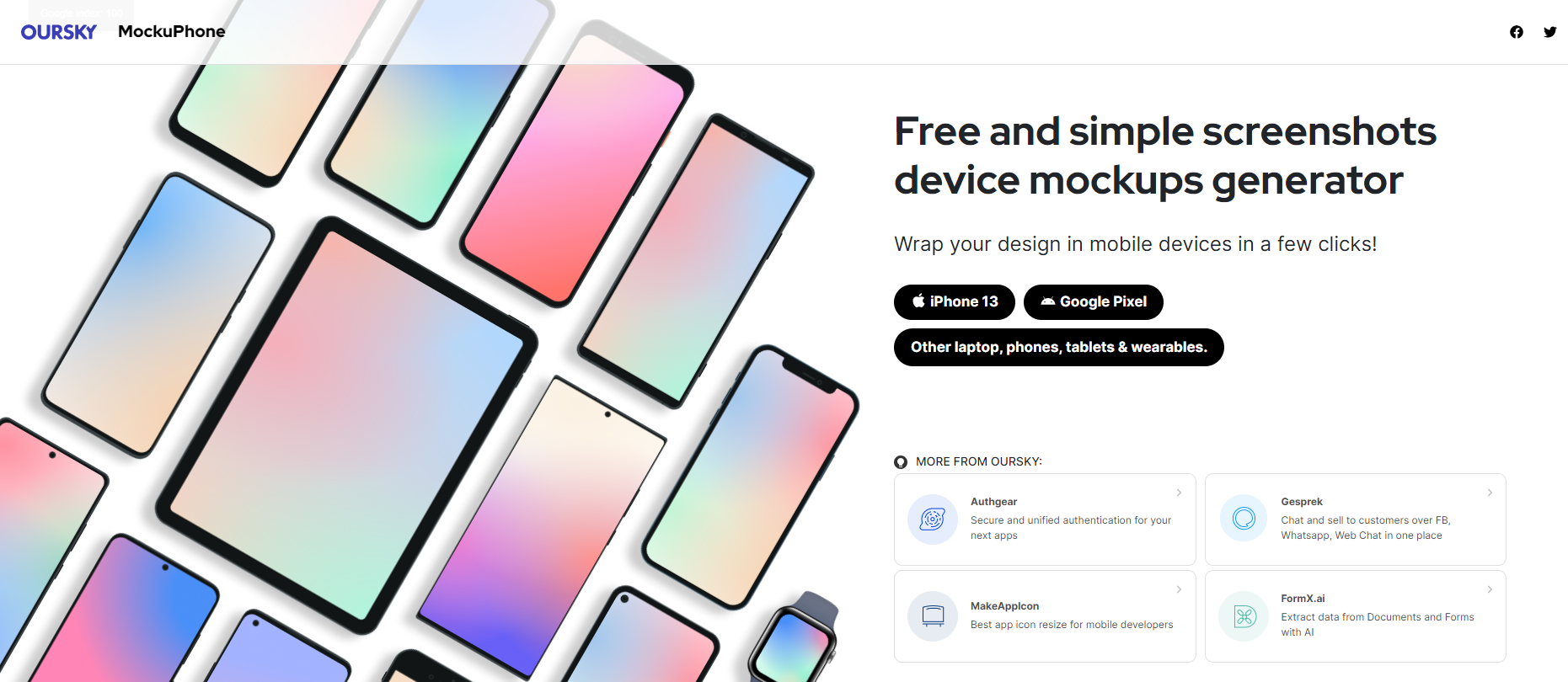 Pricing
Mockup phone is a free online mockup generator.
Features
Quantity: 90+ mockups
Categories: iOS, Android, Windows phone, laptop, desktop, TV
Format: PNG
Resolution(width): 2,000+ px
Renderforest Mockup Generator
Overview
Renderforest, like Placeit, is an online design tool that allows you to create a variety of things such as logos, videos, and even websites. They recently added their own mockup generator, which includes a large number and variety of mockup templates.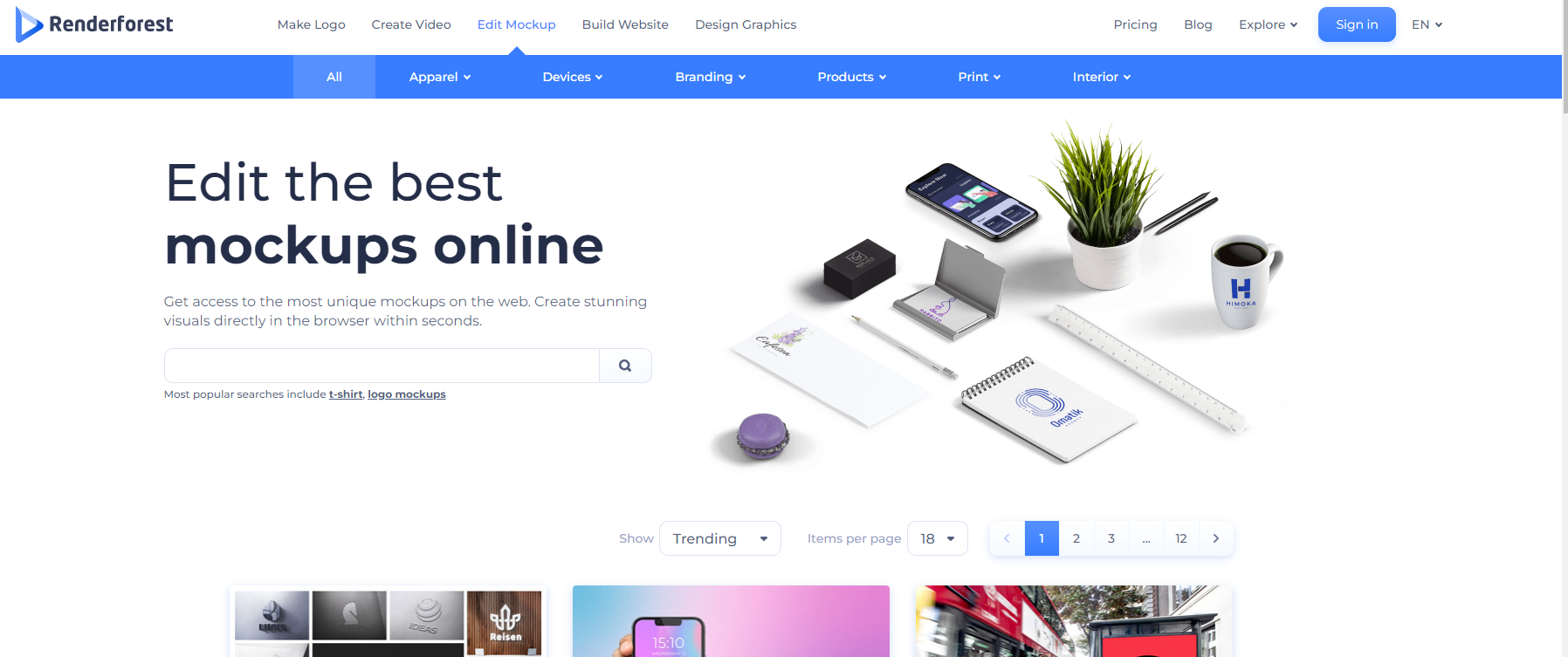 There aren't many filters for mockups on Renderforest, which can make it difficult to find the template you're looking for. They have, however, created some mockup packs to make it easier for users to find similar groups of mockups.
Also, Renderforest's mockups are very easy to customize. All you have to do is select a template, add your design, select the color you want, and download it.
When you customize a template, they show you how your design looks on similar mockups, which is a useful feature of their mockup generator. So, if you like the way your design looks on another template, you can easily select it.
Pricing
Plan

Free

Lite

Amateur

Pro

Agency

Pricing

$0

$12.99/ monthly

$ 7.99/ yearly

$19.99/ monthly
$11.99/ yearly

$39.99/monthly
$14.99/ yearly

$49.99/ yearly

Features

Unlimited low-quality mockups with watermarks

Unlimited low-quality mockups with watermarks

10 high-quality mockups per month

50 high-quality mockups per month

Unlimited high-quality mockups
Features
Quantity: Nearly 800 premium mock up
Categories: Apparel, Devices, Branding, Products, Print, Interior
Format: JPEG
Resolution (width): high resolution
Artboard Studio
Overview
Artboard Studio may be just what you're looking for if you're looking for an online mockup generator that gives you a lot of control over your designs.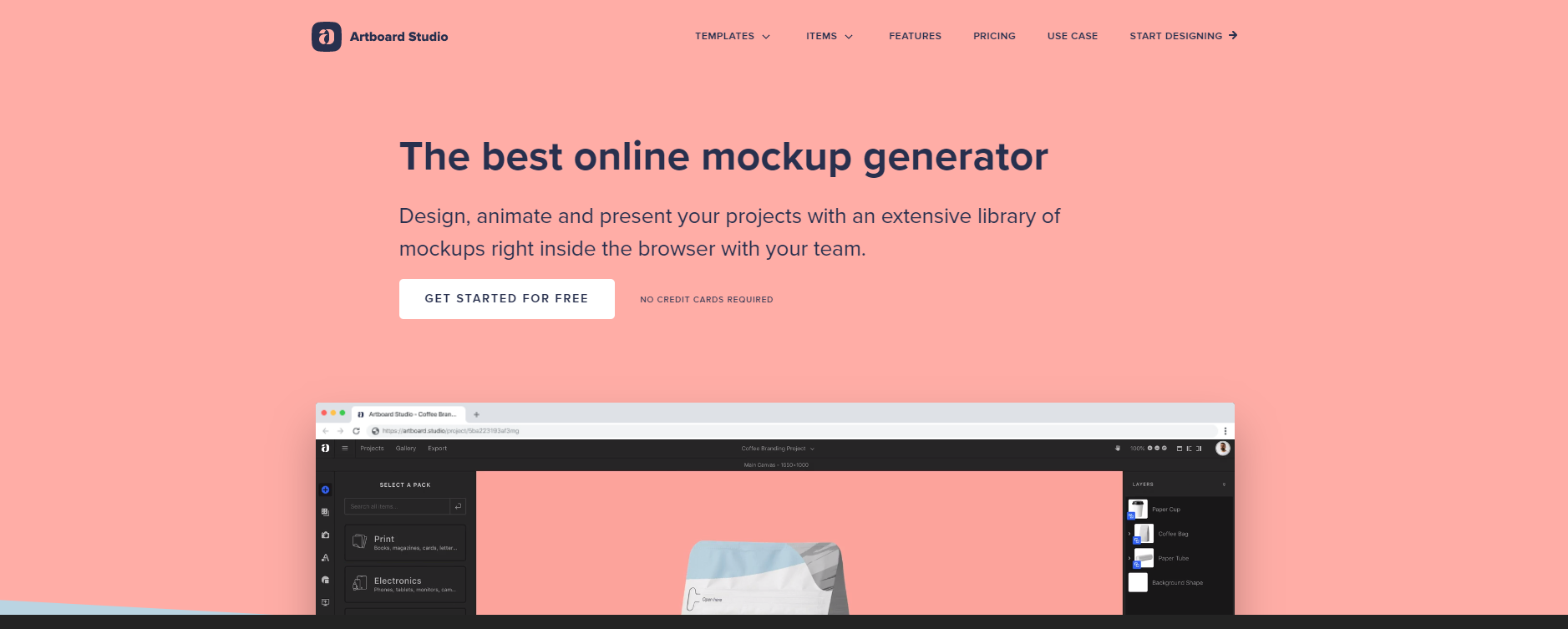 Layers will be present in your Artboard Studio designs, just like they are in more advanced design tools such as Photoshop. You can change them, add more, remove them, and so on, giving you far more customization options than any other tool on this list.
Artboard Studio allows you to create mockups from scratch by dragging and dropping premade design elements onto a blank canvas.
The easier option, however, is to choose one of their templates and modify it to your liking.
Pricing
Plan

Free

Professional

Price

$0

$15/ month (cancel any time)

$99/ year

Features

Free items only

3 projects

Free templates only

Standard support

Unlock all items and content

Unlimited Projects

Access Premium Templates

Commercial license

Custom Fonts

Team Collaboration

Shutterstock Library

Priority Support
Features
Lightning-fast, simple to create eye-catching mockups
An ever-growing library of premium mockups & templates
With the click of a button, you can create real-time interactive presentation slides from your projects/versions and share them with your clients.
Create branding design systems with shared components that can be updated automatically across multiple projects.
Printful Mockup Generator
Overview
If you use Printful for your print-on-demand business, you could use their free mockup generator. You can use their tool to create print files as well as mockup photos all from the same platform.
Printful has a large selection of mockups for its products, which include apparel, mugs, posters, pillows, and much more.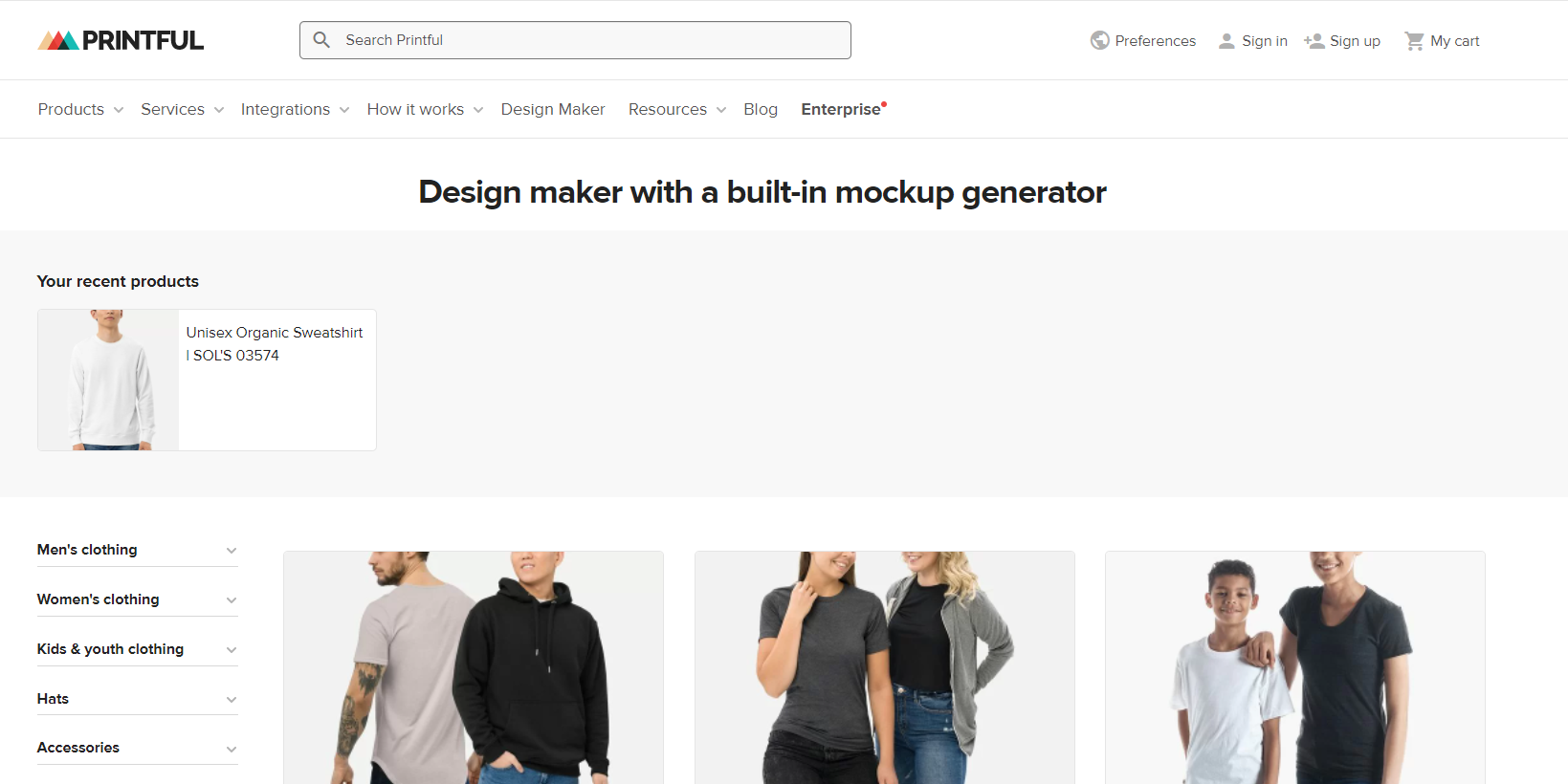 The mockup generator itself is very simple to use and includes all of the customization options you'd expect, such as the ability to add your own design, position it, resize it, and select the item color.
The only problem with using Printful's mockup images is that they're a little basic, so if you're looking for unique mockups to display your designs on, we'd recommend looking at one of the other tools on this list.
Pricing
This tool is free
Features
Showcase your designs on products
Categories: Men's clothing, Women's clothing, Kids & youth Clothing, Hats, Accessories, Home & Living, Collections, Brands
Access hundred of mockups from our ever-growing gallery
Go all out with Printful's free design tools
MockupMark
Overview
MockupMark is a newcomer to the mockup generator scene, but they appear to have a really solid selection of mockup templates on offer, including some free options.
Their mockup templates are all in the apparel niche, and they have some unique templates that are ideal for online store owners and designers who want to feature their designs on apparel.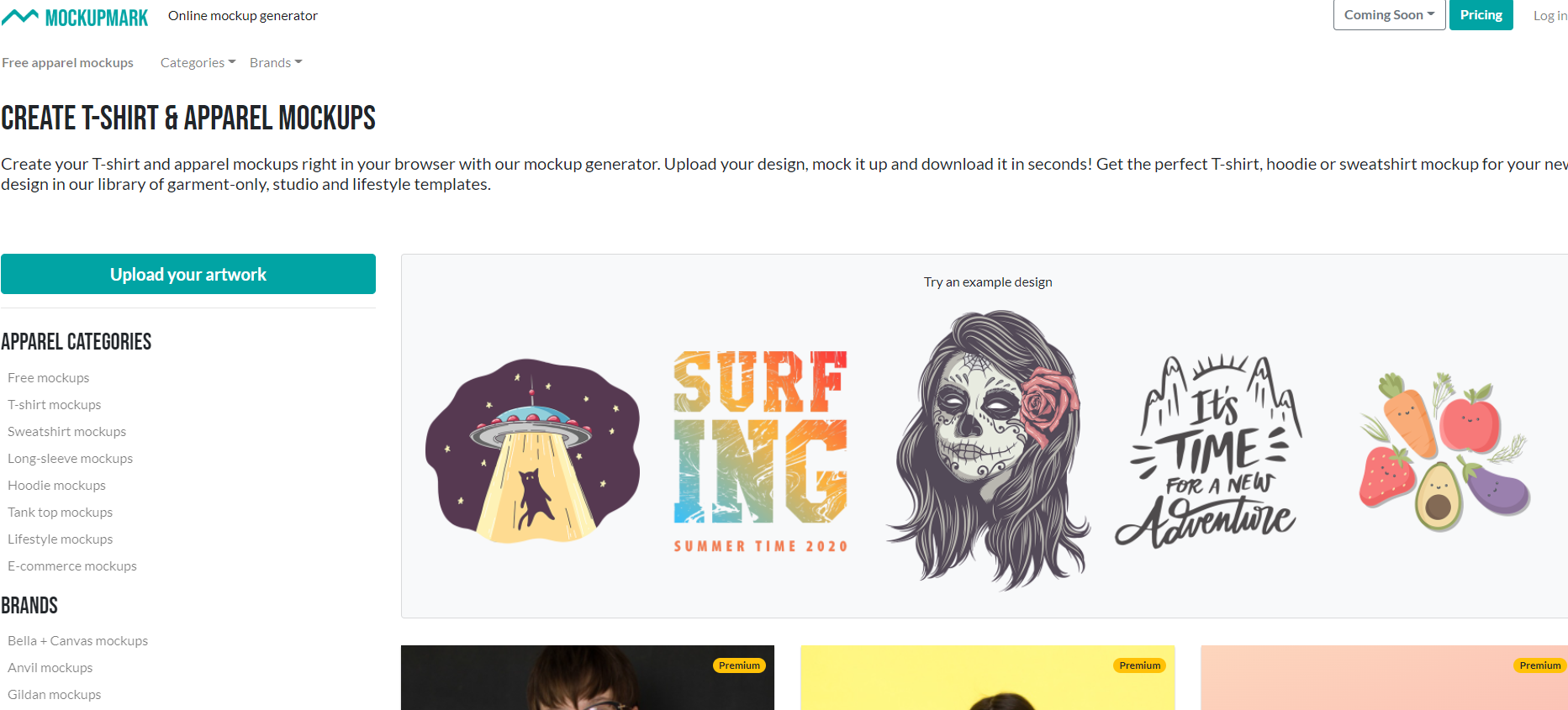 One feature that we really like about MockupMark is the ability to filter the templates by brand. Mockups from Bella + Canvas or American Apparel, for example.
For the time being, your customization options are fairly limited, as you can only resize and position any images you upload, and you can only change the shirt color on some but not all of their mockup templates.
However, if you're looking for some unique and stylish mockups and need your images quickly, MockupMark is definitely worth a look.
Pricing
Plan

Free

Premium

Lifetime

Price

$0

$14.99/monthly
$9.99/ yearly

$299.99

Features

Access some free templates

Access to full library of templates

Access to branded templates

Premium support

Early access to new features

All premium membership features

Lifetime access for a one-off flat fee
Features
Categories: Free mockups, T-shirt mockups, Sweatshirt mockups, Long-sleeve mockups, Hoodie Mockups, Tank top mockups, Lifestyle mockups, Ecommerce mockups
New template updated weekly
You can quickly scale and position your design on a T-shirt with the image editor of the mockup generator.
Mockup.Photos
Overview
Mockup.Photos is another high-quality 100% free mockup generator that has a decent-sized library of templates with over 1500 available at the moment.
The majority of the images on the site are from stock image sources such as Pexels and Unsplash, as well as the Mockup team. Those images are now available as free mockups on Photos.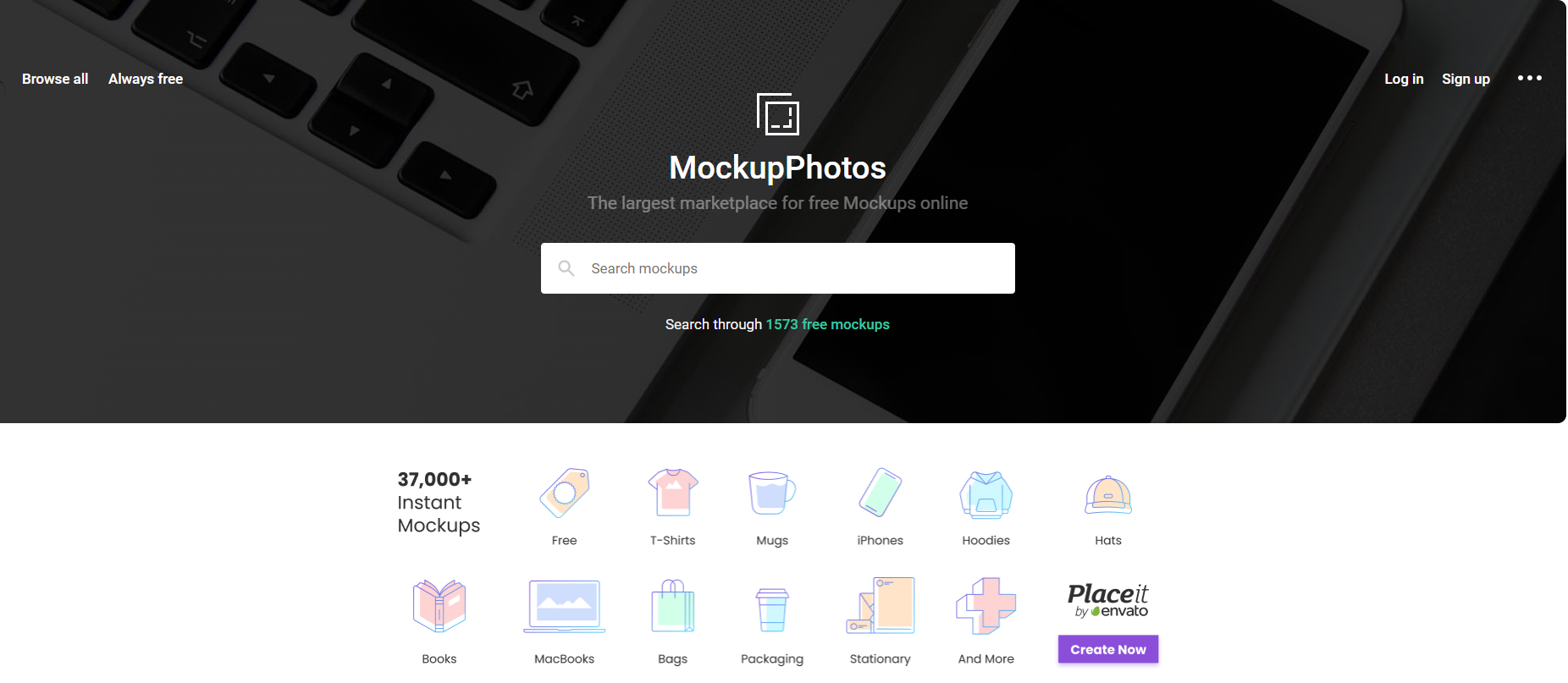 The majority of the mockups on the site are of devices such as iPhones, tablets, desktop screens, and smartwatches, but there are some in other categories such as posters, billboards, and a few others.
Customizing the mockup templates is simple; however, you must ensure that whatever design you intend to upload is the correct dimensions for your chosen mockup. If not, it will not work.
Pricing
MockupMark is a completely free mockup generator
Features
37k+ instant mockups
Various categories: T-shirts, Mugs, iPhones, Hoodies, Hats, Books, Macbooks, Bags, Packaging, Stationary…
MockupBro
Overview
MockupBro is a free mockup generator that is extremely smooth and simple to use. Anyone can make use of it. Simply choose one of their templates, change the background color (only available on some templates), upload your design, and download. It takes absolutely no time.

The only disadvantage of MockupBro is the site's limited number of mockup templates.
However, as previously stated, everything on MockupBro is completely free to download, so if you're looking for some high-quality free mockups, you might just find what you're looking for.
Pricing
Features
There are currently only about 96 templates.
Categories: Devices, Print, Apparel, Packaging, Home & Decor, Social Media
Conclusion
If you want personal advice, we would strongly recommend Placeit. The reason for this is that it not only has a diverse number of categories, but it also contains a large number of mockups that exceed your requirements. It is simple to use while also featuring a modern design.