Selling T-shirts is a lucrative business that offers plenty of room for you to establish your own brand. With print on demand, it becomes incredibly easy to build your own T-shirt brand. For a print on demand T-shirt business, as well as other print on demand businesses, it is of high priority to create appealing and realistic mockups. In the following, let's explore the best t-shirt mockup generators that are convenient and easy to use.
For those who are not in the know, mockup generators are digital tools that enable to put designs, images, and patterns into pre-made images in order to create realistic and high-quality product photos without actually picking up the camera.
Basically, advanced graphic design tools like Photoshop can enable users to create mockups for literally any product. But it would take a huge amount of time to create a mockup. In case your business has a huge amount of products that need mockups, it can take ages to do it all by yourself. Mock-up generators offer a more efficient and less time-consuming medium to create images for your products.
Here is our list of the best t-shirt mockup generators:
What makes a best T-shirt mockup generator?
Each tool has its strengths and weaknesses. But as a T-shirt print on demand seller, here are some crucial criteria that will help you determine if a tool is suitable for your needs before investing your resources.
Obviously, the more mockup templates, the better. For a print-on-demand store, a majority of your products rely on mockup images. If you only use a small amount of mockup, it becomes obvious to the buyers that the shown images are not real pictures of your product but are generated by a mockup generator. To make your shop appear less repetitive and more diverse, you should choose mockup generators that have a huge volume of mockup templates for the types of products that you are selling, in this case, print on demand T-shirts.
User interface and feature
The main reason why people choose to mock-up generators is that they want a convenient and efficient way to create images for their online business. Many of those are not experts in designing or familiar with editing tools. That's why mockup generators with user-friendly interfaces and highly useful features are favored over other over-complicated and non-intuitive mockup tools.
The ability to generate realistic and sophisticated mockup images is highly-regarded for a mock-up tool. Having high-quality product images is named one of the key factors that convince shoppers to buy a product. Always be on the lookout for the T-shirt mockup generator tool that helps you to create the best quality and attractive photo for your online print on demand business.
Based on the mentioned factors, Merchize has picked up the best T-shirt mockup generator for you.
Top Best T-shirt Mock-up Generator for Print on demand Business
Placeit
Placeit is generally the most popular mockup generator tool out there. Not only limited to T-shirts, Placeit allows you to generate mock-ups for a huge range of products in different categories. If your store is not limited to selling T-shirts only, Placeit is an incredible choice to create mockups.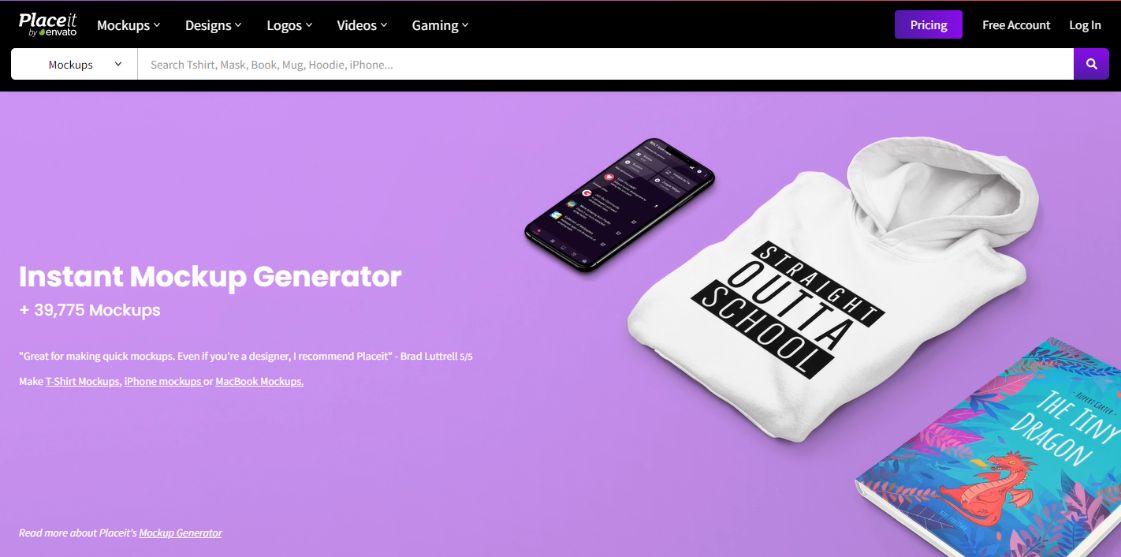 Placeit has a huge library of T-shirt mockups with over 10,000 templates. You can find literally any form and style of T-shirt that is similar to your products. This tool also provides a smart filter that allows you to find T-shirt templates with models based on gender, age, and ethnicity. These parameters provide more room for you to create specific mockups that closely match your target audience.
Other than finding T-shirt templates based on models' demographics, you can also explore their vast amount of templates via a wide range of themes and styles. For example, Placeit has collections of Ringer T-shirts, Crop-top, Crew-neck, and so on. T-shirt templates are also categorized by themes like Christmas, Back to School, LGBT, and Construction/Engineering, to name a few. These themes allow print on demand sellers to find the right templates that fit their niches.
On top of that, Placeit also offers various T-shirt mockups for free. If you have just started, these free and easy-to-use templates surely meet your needs.
Placeit pricing
You can make use of the templates that are available for free on Placeit or choose a paid template for $7.95 per mock-up. Placeit also offers subscription plans that allow unlimited downloads
Monthly subscription: $14.95
Annual subscription: $89.95
SmartMockups
While Placeit is the number one name that comes to mind when talking about mockup generators. It also means that there are plenty of sellers using the same templates. If you want to distinguish yourself from the rest, you should find other mockup tool alternatives. SmartMockups is a worthy option to consider.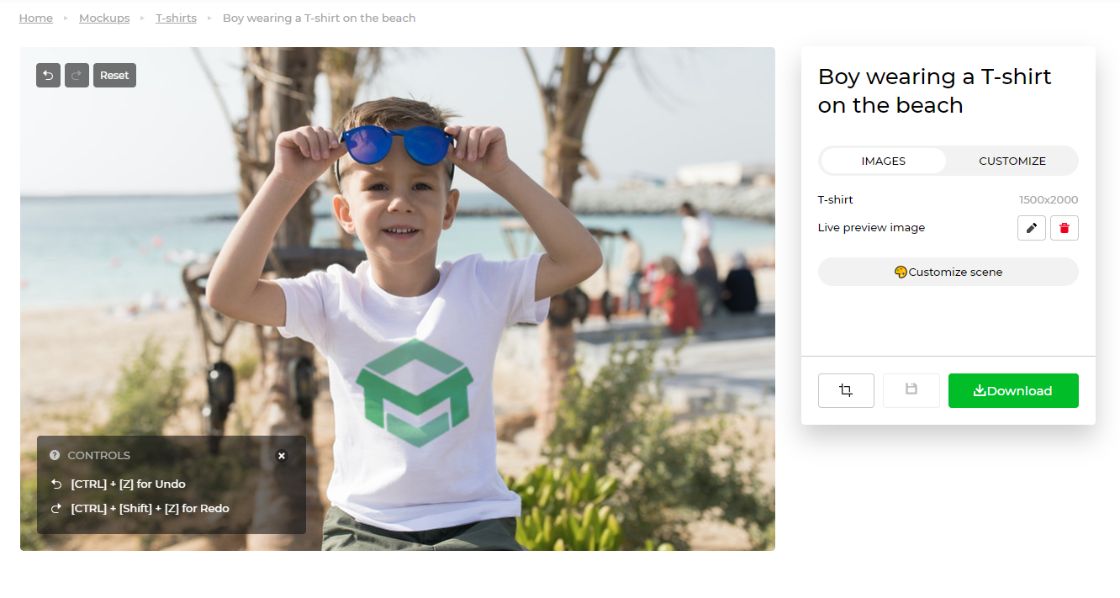 SmartMockups are offering a large number of over 1,100 templates for T-shirt alone. All isolated T-shirt templates on SmartMockups are available free of charge. These free templates include a few T-shirt styles like short-sleeve shirts, Raglan, dresses, and polo for you to choose from. SmartMockups also allows you to add neck-label to your T-shirt mockups.
To get more appealing product images with models, you should opt for the Pro version of the SmartMockups.
Admittedly, SmartMockup's template library can't compete with Placeit. Still, this tool provides a very decent selection of templates for all the essential product categories. Plus, SmartMockup also provides a special feature called Custom Mockups that allows you to easily create your own mockup template. This feature enables sellers to create unique templates of their own in a hassle-free way.
In addition, Smart Mockups also integrates with the free stock image site Unsplash and allows you to use available free images as the background for your mockups.
SmartMockups pricing
SmartMockups offers a number of templates for free. But if you want to gain fall access to all of their templates and functions, you must opt for the paid version. Here is the price:
Monthly Plans: $14/month
Yearly Plans: $108/year (saving $60 yearly)
Media Modifier
The next on this list is MediaModifier. Media Modifier has a T-shirt template collection of around 400, which is considerably smaller than Placeit and even SmartMockups. Even so, you can find many beautiful mockups with unique themes and concepts that offer a fresh look for your print on demand store.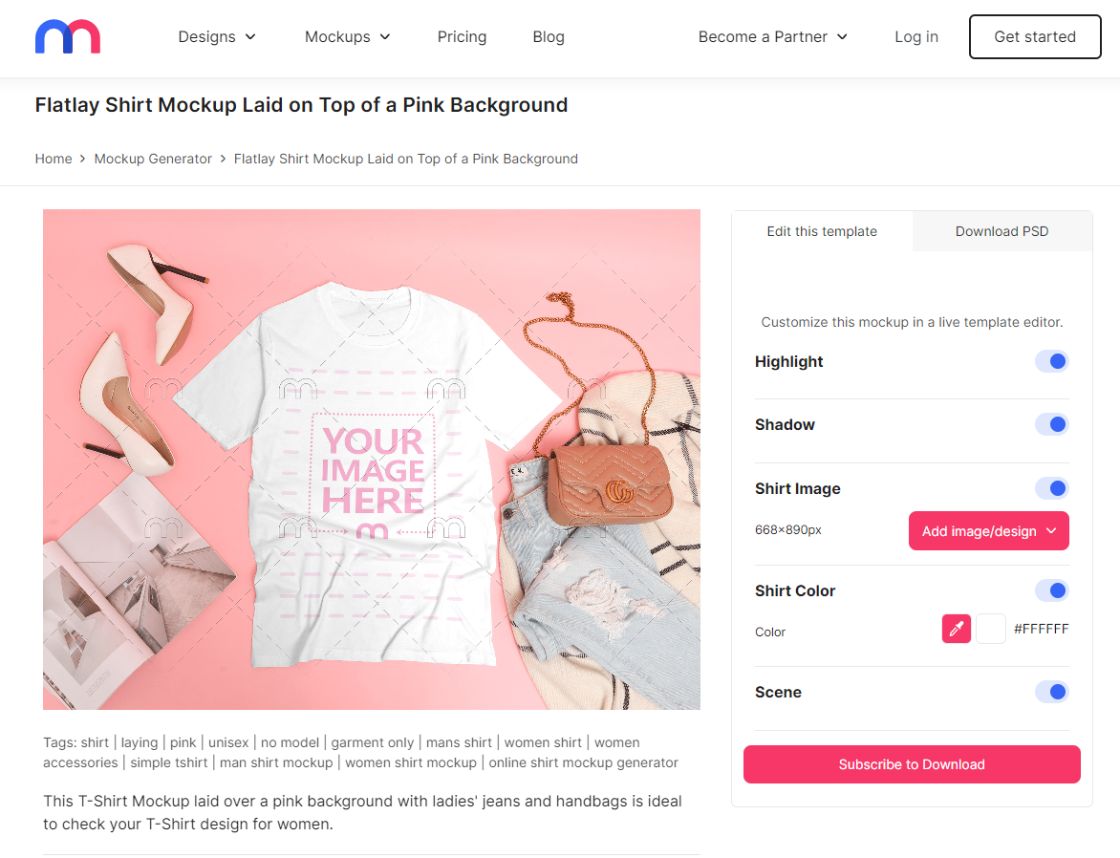 With their selection of T-shirt mockups, you can create some unique lookbooks for your T-shirt store. This tool offers a simple, effortless way to generate mockup images in no time.
Plus, Media Modifier can offer some unique functions. For example, with Media Modifier, you can save mockup files in PSD, PNG, and JPG format, unlike Placeit which only allows users to save templates as PNG files.
Media Modifier pricing
Media Modifier allows you to create mockups with their free templates. However, these templates will bear the trademark of the website. To access more templates, you can opt for the Professional and Team plans
Professional: $19/monthly, $189.96/yearly
Team: $45/monthly, $450/yearly
Renderforest
Renderforest is a comprehensive web-based design tool that allows users to create different forms of media and visuals including video, website design, mockups, and graphic designs. Their mockup generator tool is recently added with a variety of templates that include some outstanding T-shirt templates.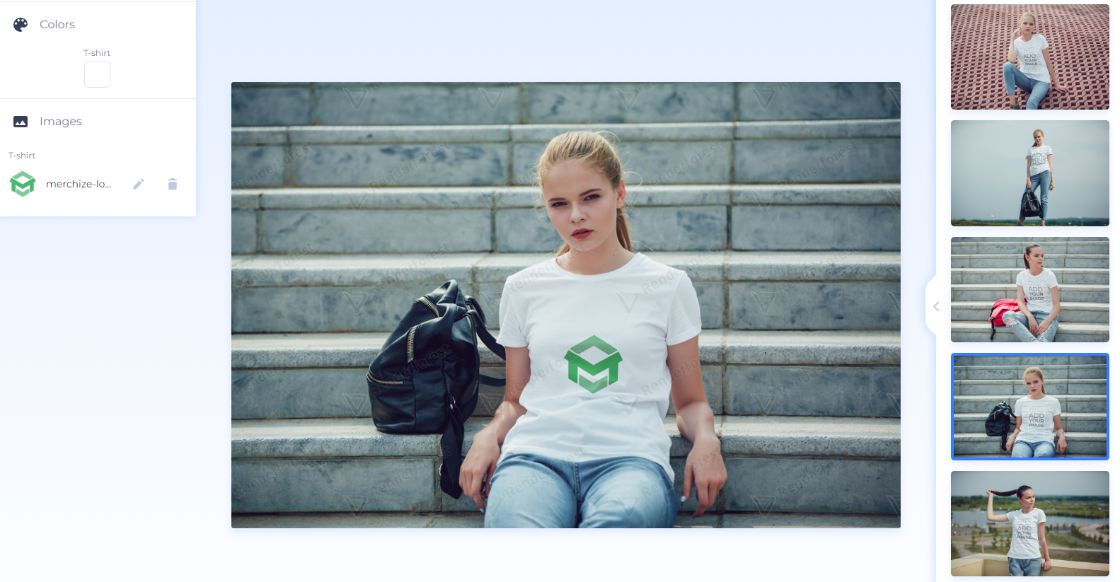 As their mockup generator is recently developed, it can be a bit challenging to filter and find the right template for your store. Instead of categorizing templates into a big collection, RenderForest put templates in "packs" for users to browse similar mockups.
The best part is that Renderforest can provide some unique and high-quality templates for your store. This tool allows you to change the colors. This tool also displays other templates on the right sidebar so you can easily switch to other templates effortlessly.
RenderForest plan
RenderForest is recently offering some templates for free. However, mockups generated using these templates will have the trademark. Or you can pay $3.99 for an individual template. In case you need to create a large number of mockups on regular basis, it is smarter to opt for the paid plans:
Monthly subscription: $19.99 – $59.99
Annual subscription: $83.88 – $599.88
Vexels
Vexels is not dedicated to Vexels. Instead, it is a design stock that offers a variety of pre-made graphic designs that can be used for multiple purposes. Apart from selling design, this website also has its own mockup generation tool that can be utilized to create mockups for your products.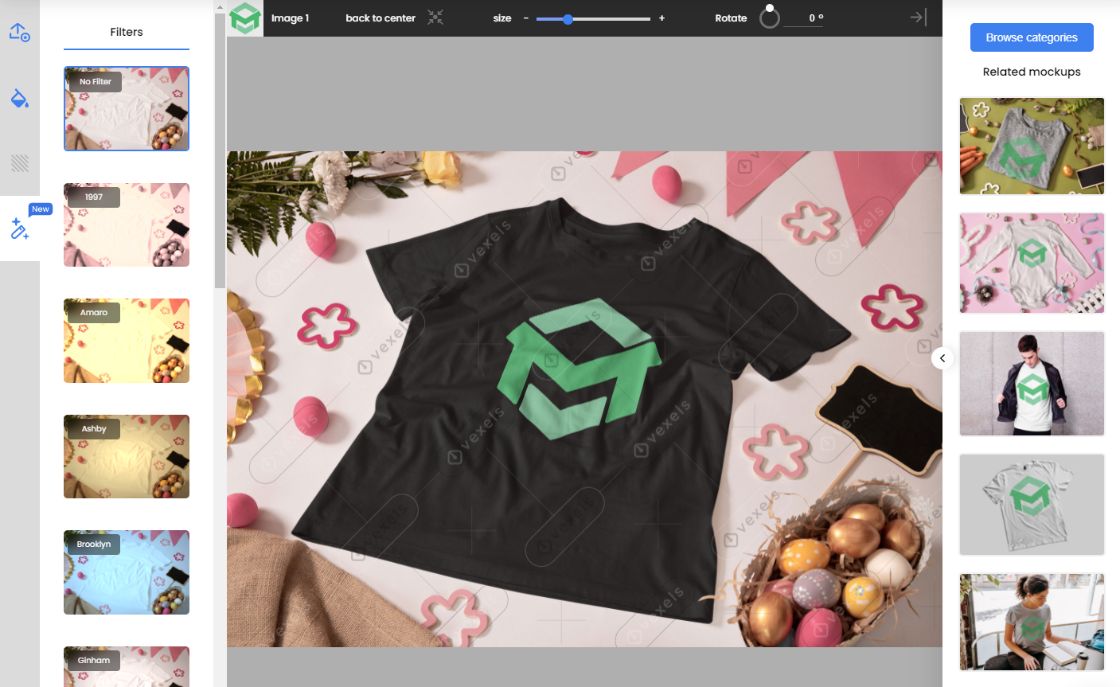 There are around 650 designs in their Merch and Clothing category. Even though their template collection is not as large as some other mockup generators, the quality of their mockup is, without any double, among the best.
Besides the ability to add designs, and change the colors of your T-shirts, Vexels also has a special feature – Image filters. It will allow you to adjust the aesthetics of your product mockups to fit the personality that your brand is chasing after.
Another smart feature of this tool is that, as you are working on one template, the tool also automatically applies the design and effects to other similar templates, which gives you an overview of how your design will turn out on different templates.
In addition to the mockup generation tool, this website also provides a T-shirt maker tool, which offers an easy way for sellers with little or no design experience to create their own T-shirt designs in just a few steps. You can also avail the existing graphics on Vexels' library to add to your T-shirt.
Vexels Price
Monthly subscription: $9.99 – $89.99
Annual subscription: $90 – $816
MockupMark
MockupMark is also a great source to find mockup templates for your design. This tool is newly introduced so there is still room for development. There are only a few basic customization options, for example, design positioning and image resizing. Moreover, you can't change the color of all product templates on their collection.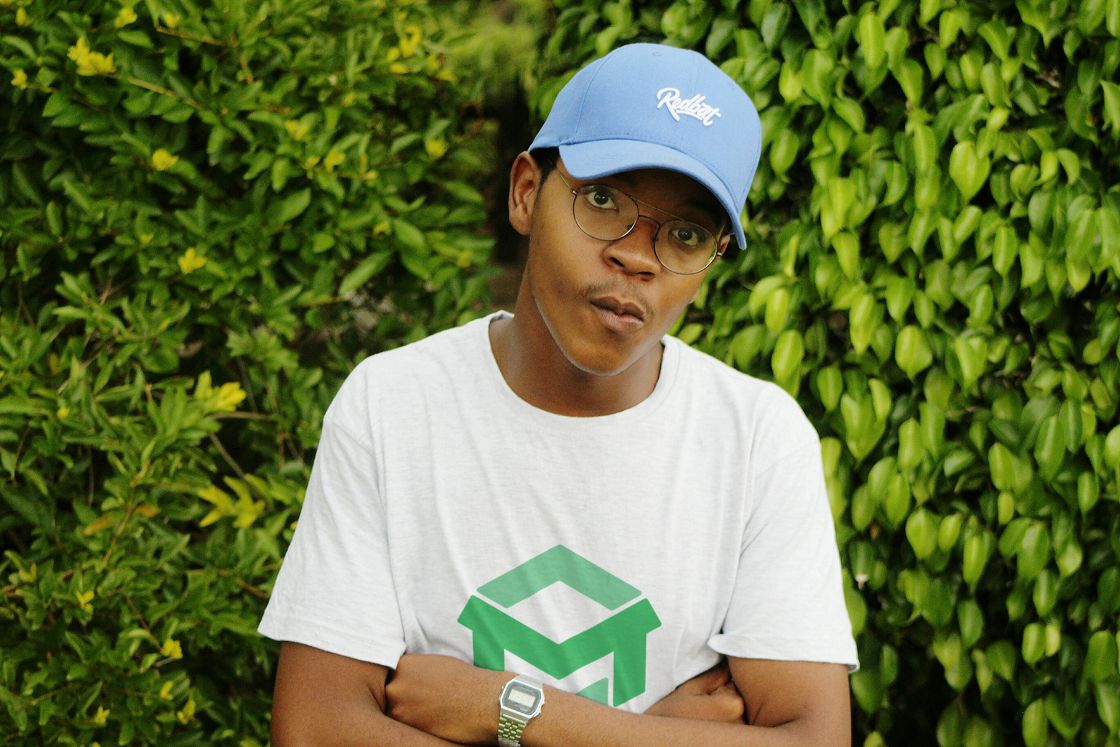 That being said, MockupMark has curated a decent range of templates for apparel products including T-shirts and other basic items like hoodies, Sweatshirts, long sleeve shirts, and more. In addition, this tool has a dedicated selection of templates for different T-shirt brands like Bella + Canvas, Gildan, Anvil, and American Apparel.  Another bonus for this T-shirt mock-up generator is the intuitive and simple-to-use interface that allows you to quickly create attractive designs.
Mockup Mark pricing
Some free templates
$14.99: Monthly subscription with unlimited downloads
$119.88: Annual subscription with unlimited downloads
$299.99: One time for lifetime access
Printful
Besides the standalone mockup generator tools mentioned above, there are also other built-in mockup tools developed by print on demand companies for their customers like Printful for example.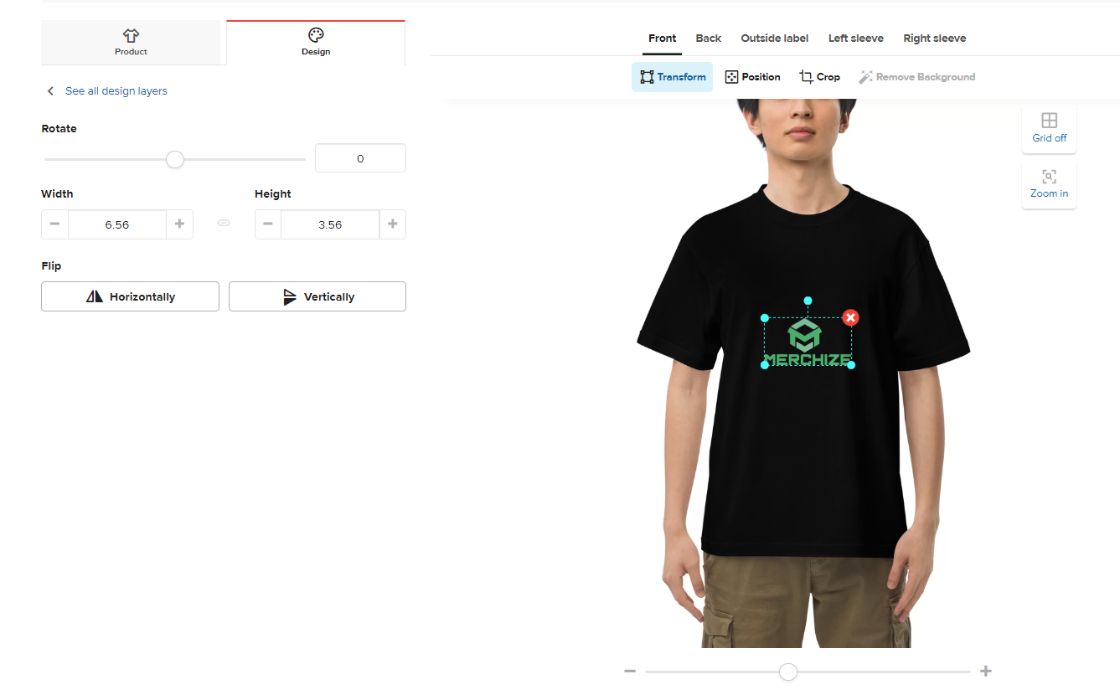 Printful's tool allows you to create mockups for a variety of products available in their product category. If you are selling print on demand via Printful, you can utilize this tool to generate mockups for your products. While it is available as an add-on, this tool is fully equipped with all the necessary features like positioning, resizing, and changing colors. Printful's mockup tool is intuitive and easy to use.
The best part is that Printful is offering this tool free of charge for all of its users. But there are some obvious drawbacks. Printful's tool only has a few templates on offer. And most of them look quite simple and basic. Moreover, since the tool is free, many sellers are using the same set of mockup templates.
If you want to create unique images for your product catalogs, it is advisable that you choose other paid options as listed above.
Printify
Just like Printful, Printify also provides its built-in mock-up generator. Printify's mockup tool is easy to use with a simple drag and drop design function. Similar to Printful, Printify also shares similar drawbacks like the limited mockup templates and blend mockup style.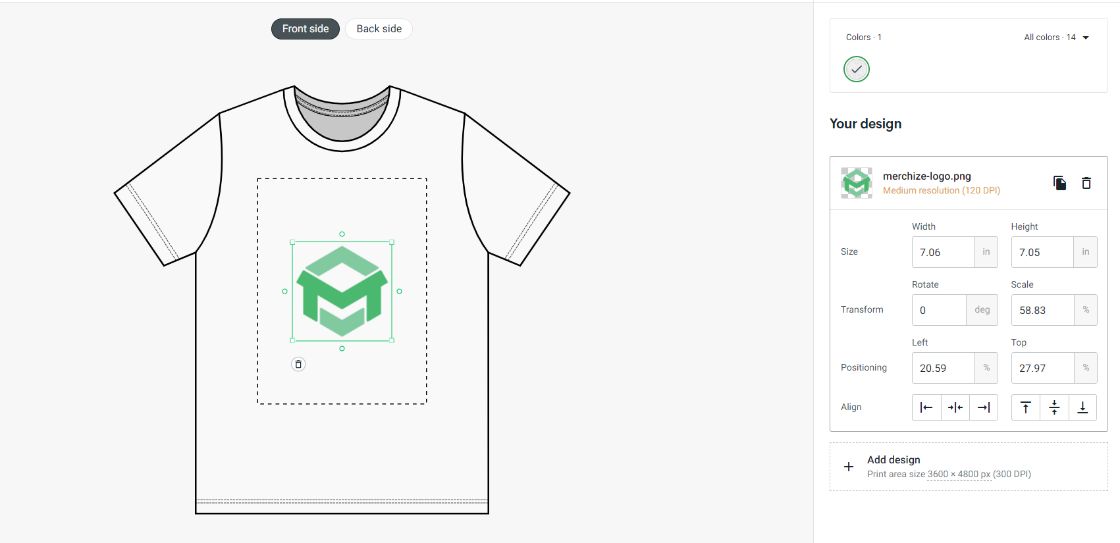 If you are Printify users who just started, Printify's mockup tool can be a decent free option to start with. But as your T-shirt business grows, you might want to explore more options to increase the image quality of your store, then you need to switch to other paid tools as mentioned above.
Merchize
Merchize is also offering a free mockup generator for sellers who use our services. With this built-in mockup generator, it will be much easier to create convincing images for print on demand products. Especially, Merchize allows users to generate mock-ups for various all over print T-shirt options on their catalog. 
If you are looking for print on demand suppliers for your all over print designs, check out Merchize's service and mockup generators. 
Create Your Own Print on Demand Business with Merchize
Merchize helps you to bring your designs into reality and, of course profitable products. Get 20% off for your sample order now.
What other options to create T-shirt mock-ups?
Using T-shirt mockup generators is the most convenient way to create product images for your online store.
But if you are familiar with design tools like Photoshop, you can use your skills to create unique and beautiful mockups for your product catalog.
What you need to do is to download T-shirt design templates and import them to your editing software in order to make changes as you wish. You can perform more complicated actions like changing the fabric texture, switching the background, and adding clothing tags. Surely, it will take more time to make such changes.
If you want more space to show your creativity and create unique mockups for your online business, here are websites where you can find plenty of mockup template files.
Envato Elements
Envato
Creative Market
Final Thought
Creating attractive mockups is one step that leads to your store's overall success. The mentioned best t shirt mockup generator can offer some great option that helps you to save time and efforts and make the most out of your print on demand business.