Whether your income has been affected by the pandemic, you are bored of your 9-to-5 job or you are just looking for a side hustle to earn some extra cash, starting an eCommerce business could be a great solution. And why not start with a print on demand t-shirt business? Selling print on demand T-shirts is a popular choice for both beginners and veteran eCommerce entrepreneurs. On the other hand, the concept of print on demand service will help you reduce the inventory cost as well as time and effort.
Before jumping into how to start an online t-shirt business, please take a minute to consider why you should an online T-shirt business.
Why Should Start An Online T-shirt Business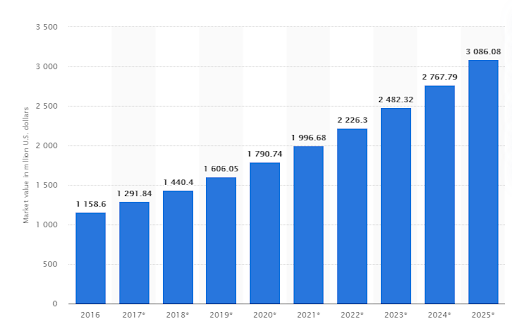 In case you don't know, the custom t-shirt printing market has flourished since 2016 and is estimated to value $3.1 billion by 2025. It's not hard to see that custom and individualised t-shirts are trending and becoming more and more popular. But, if you are wondering if it will be hard and expensive to start an online t-shirt business, the great thing is that it's not as hard as you might think. It is because there are a whole bunch of forces out there already acting on your behalf – actively working and making everything is now easier than ever.
On the other hand, the T-shirt is basic but can make a statement about the personality, style, attitude, and interest. So, it is favored by millions of people around the world, including celebrities and famous brands, both luxury and street brands. In addition, the dramatic development of technology has allowed you to operate and run a t-shirt online store with less inventory and effort. So, if you have an interesting idea for a custom printing t-shirt store that you think customers will love, why not check out the next parts and make it comes true?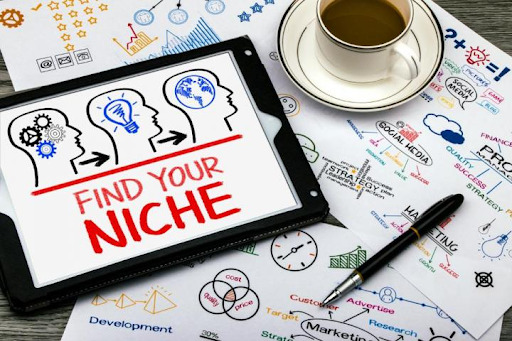 As an eCommerce entrepreneur, who is looking to start an online print on demand t-shirt business from zero to hero, it should take some research and find a niche for your store. If you have one or some ideas in your mind, these researches will help you verify the matches between your idea and the trending niche. If you operate an online t-shirt store that is truly trending and unique, either in terms of products or brand image, your store will stand out and better attract the right target customers at the first time.
Take your time, look through other online stores that you like and do some researches that can give you many interesting and cool ideas to brainstorm your own one for your store. Once you can narrow down your niche, it will be easier to create a perfect business plan for your online t-shirt store that can cover your goals and different opportunities to sell print on demand t-shirts.
Choose The Material Source And Printing Options.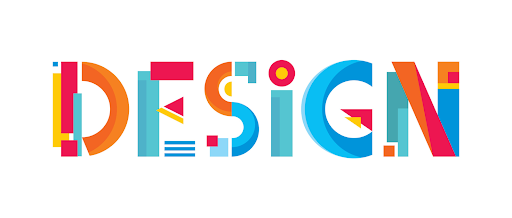 This step plays an important role in the success of your online store. Since quality is paramount that can decide the success of your products and brand, it's important to educate yourself and your team on how to choose a blank shirt wisely. Though, thanks to the appearance of many fulfillment suppliers, it's so easy now to choose the material source and printing options. Everything you need to find now is a prestigious fulfillment supplier who can offer your wanted material and printing techniques.
There are some important factors that you should consider when choosing a fulfillment supplier:
The material of products: it has a lot of materials that can be used to produce a T-shirt. You have to check carefully with the suppliers and then take some research on the internet before making the final decision.
The fit of T-shirt: You can choose between standard fit (or classic fit) and fashion fit (or slim fit). Or you can choose to sell both of them to diversify your sales selves.
The size that suppliers can provide: Some suppliers offer a wide range of sizes from Extra Small to Extra Large and over, but some of them just offer a limitation of size.
The printing techniques: Your chosen printing technique will be based on your demand, you want to sell DTG printing (2D) T-shirts or all-over print (3D) T-shirts. Some suppliers provide sample products that you can order to check the fabric and printing quality.
Fulfillment process: Another key factor that you have to consider. The process includes producing time, shipping time, order tracking, and the way how to fulfill with suppliers also.
Once you consider these things and narrow down your choice, you are one step closer to your dream store by jumping to the next step
Create Your Own Design And Make The Mockup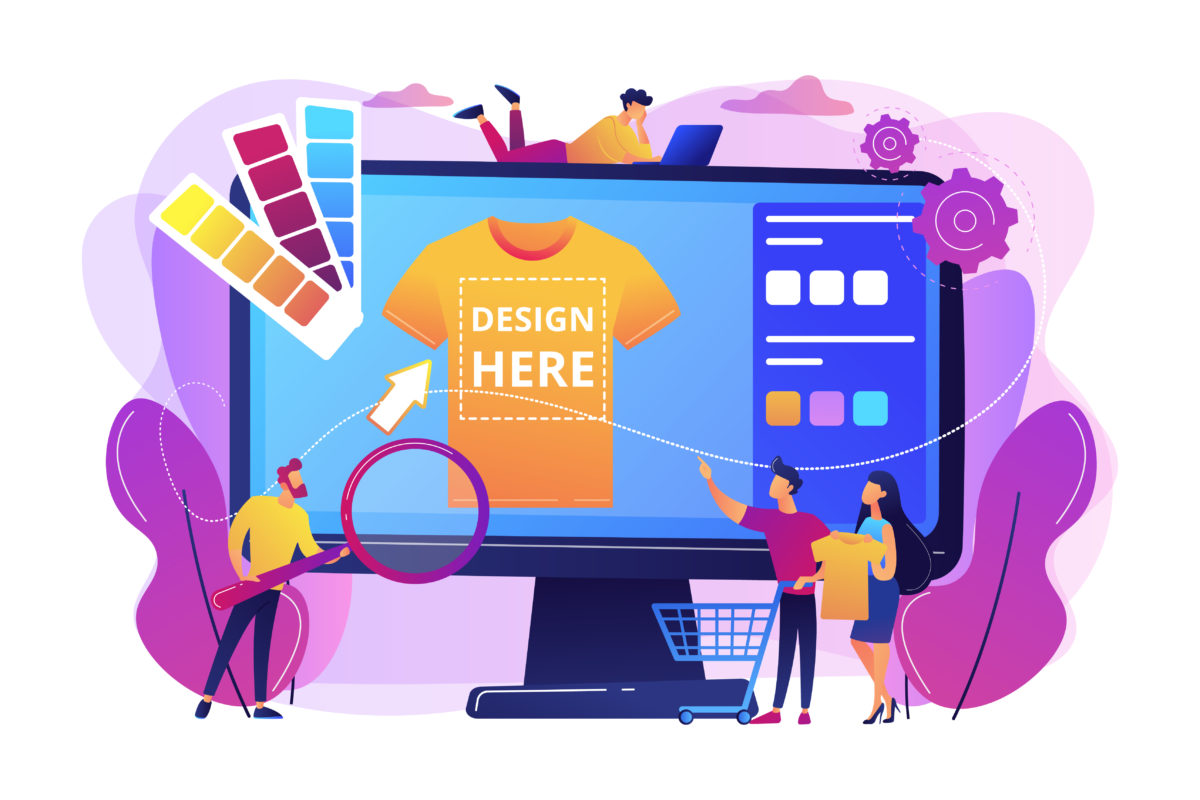 If you are stuck for t-shirt niche ideas and designs, you can start by looking at what else is popular and currently selling else. You can go around some t-shirt marketplaces and search the "best seller" or "most popular" to take a look at what design attract customers the most. Here is some suggestion for you in case you don't know how to start to find ideas for your design
Or you may want to consider checking out some design communities to get a sense of the trending design customers are currently attract to. There are some that you can find a lot of inspiration for your t-shirt design:
If you have experience and mastery the professional design tools such as Adobe Photoshop or Adobe Illustrator, it will be easy for you to make a t-shirt design by yourself. Though, it's fair to say that these professional softwares might not be the best choice since they are difficult to use and the annual fee which you have to pay.
Fortunately, there are tons of alternatives out there that offer the basic features needed to design the artwork for your t-shirt. Let's take a look at some suggestions for free open-source vector graphic editors that you can start to use now:
Not everyone has all the necessary skills to create an attractive design. If you don't feel comfortable and confident creating a t-shirt design by yourself, let a professional designer takes over for you.
Luckily, there are a lot of platforms out there that will connect you with a designer who has experiences and skills that can turn your ideas into a print file for your print on demand t-shirt online store. You can find a talented designer on many websites for a freelance job. Here are some suggestions for you:
99designs: This platform will connect designers with clients who are looking for custom designs such as logos, cards or clothing artwork designs. If you know your wanted design style, you can simply browse through the pool of designers to find out the one whose style fit your desire. Once you find a designer whose style you enjoy, you can hit the "Invite to work" button and start your discussion.
Dribble: Besides finding a design idea, you can find a professional designer here. To find a designer here, you can take time to look at the portfolios and showcases of different designers and agencies until you find the one whose design you enjoy. Once finding a designer, you can see the "Hire me" button if this designer is open to hiring.
The Mockup Generator of printers.
As you may know, most suppliers have their Mockup Generator that let you make a t-shirt design in one go. So that, if you don't want to think too much about finding an easy-to-use design software or hiring a professional designer, this generator might be the right one for you.
If you don't committee with any suppliers, but would like to test this amazing tool, try out Merchize Mockup Generator. This generator will help you create designs with custom shapes, sizes, fonts and show them on the actual t-shirts. So that you can see how your artwork goes in life on a t-shirt.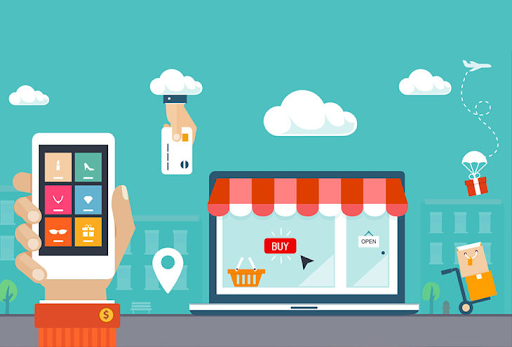 Build your store presence
It's time for you to build your store. But first, you have to think about where you will sell and market your t-shirt. There are a huge number of eCommerce platforms for you to build an online store such as Shopify, Amazon, eBay or WooCommerce. Though, with these platforms, you still have to find a fulfilment supplier that can help your produce products and ship them to your customers. Fortunately, there is a handful of print on demand and fulfillment services that directly integrate with these eCommerce platforms, allowing you to start taking orders in no time such as:
Or you can choose the companies that provide both storefront and fulfillment services.
Learn more: Build and run a print on demand t-shirt online store with ease. Visit
Build the payment gateway
The payment gateway plays an important role in the success of your t-shirt business. It's important to understand that the quality of your eCommerce payment gateways helps you fend off these attacks in real-time, providing a buffer of encryption between buyer and seller. Some popular payment gateways for you to choose from are Paypal, Stripe or Payoneer. Though, these payment gateways are now working with a lot of policies to prevent cheating. On the other hand, it has lots of problems such as your customer services or report of your customers because of wrong product shipment, which can make your account has been blocked by the payment gateway providers.
If you don't want to think too much about this issue, you can choose Merchize Print on Demand Platform service. It provides end-to-end services, from the storefront, customer service to Build-in Payment Gateway. More specifically, you have no more limited by Paypal and Withdraw your profit payout only within 2 business days with Merchize Build-in Payment Gateway.
Plan Marketing campaign to promote your store
Once your store and products are ready to sell, you might think about how to promote your online store. To have a successful marketing campaign, you need to understand your target customer's insight.
It could be the case that your target customers are active on social media, and they don't tend to search for a t-shirt through Google search. Then you should focus on advertising and influencer marketing, instead of spending a lot of time and effort on SEO. Otherwise, building a good social media presence will increase the trust of customers in your brand. Try to engage with your audience, participate in conversations outside of your social media accounts feed, follow the trends, and react to the hottest news in real time.
On the other hand, growing your brand awareness is also important to land more sales. The easiest way to get people interested in you is something free. A good old giveaway can work wonders in getting more eyes on your business and products. And that's not a myth.
Some questions you may ask when setting up your online business
Is a print on demand t-shirt online business profitable?
I claim that yes. A T-shirt is a basic and must-have item in any wardrobe, no matter who you are and what your style is. The global retail sales reaching $1.9 trillion in recent years and a typical t-shirt seller can earn $90.000-$100.000 per year. So, an online print on demand t-shirt business can be profitable and has low startup costs compared to other online businesses. Though, you need to pay a lot of time and effort researching a niche market and design and marketing strategies if you want to succeed online.
What printing techniques does the supplier use for t-shirt printing?
Normally, there are 3 main printing techniques that suppliers use for the t-shirt:
Screen printing: This is an old but popular printing technique that can produce durable and long-lasting results. However, this printing technique will pose issues when printing a complex design or a design with more than four to five colors. This normally uses for DTG (2D) t-shirts.
Heat transfer: This printing technology allows you to "print" each shirt on demand. The heat transfer technique has the ability to order a stack of prints from your local printer and transfer them to your t-shirts with a commercial heat press machine as you receive orders.
Direct-to-garment: A common type of t-shirt printing supplier since it pinks ink directly onto the t-shirts and can print full-color images with accuracy. This printing technique prints higher quality images on par with screen printing and heat transfer.
How much does it cost to start up an online t-shirt store?
The cost of starting a t-shirt store will depend on the type of your business. If you want to sell ready-to-buy t-shirt printing, you need to pay a lot for the set cost which will include printing fees, and material source fees. And you have a risk of being stocked.
On the other hand, if you choose a print on demand t-shirt business, it will require less or even no money. You will add your products to your store using the print on demand providers such as Merchize and you have to pay only when your customers buy your products.
Start Your T-shirt Store Today
It's never been easier to start something new from zero. However, nothing is impossible, all the efforts will be rewarded. Whether the niche you choose to serve or the quality and designs you decide to be with, an online t-shirt store will be a great first for new entrepreneurs.
And the good news for you, launching and developing your online t-shirt brand on Merchize is relatively inexpensive and quick. So, what are you waiting for, get started to become a hero with Merchize today! You can join our international community to get more tips about online selling and finding trending designs