Before making any definite answer, let's have a look at how Amazon and FBA sellers are doing lately:
This year, Amazon makes up 40% of US eCommerce sales in 2022. In the grand picture, major online retailers, all together, account for only 31% of the market. 
Amazon makes around $400 billion in revenue, which is five times higher than its biggest competitor in the retailer segment – Walmart. 
Last year, Amazon registered a growth of 22% in net sales. 
22% revenue of Amazon last year came from third-party sellers. And nearly nine of out ten Amazon sellers are using FBA for their business. 
These numbers speak for themselves. The growth of this marketplace and the potential for doing FBA business is undeniable and impossible to ignore. Admittedly, there is a noticeable increase in terms of competition. But if you know the ins and outs of this marketplace, you are well ahead of the curves. 
Yes. FBA is still worth it in 2022. 
What is FBA?
Fulfillment by Amazon is a fulfillment service provided by Amazon. With FBA, sellers on Amazon can send products to Amazon and let them manage the storage of their stock, as well as other preps processes like packing and shipping.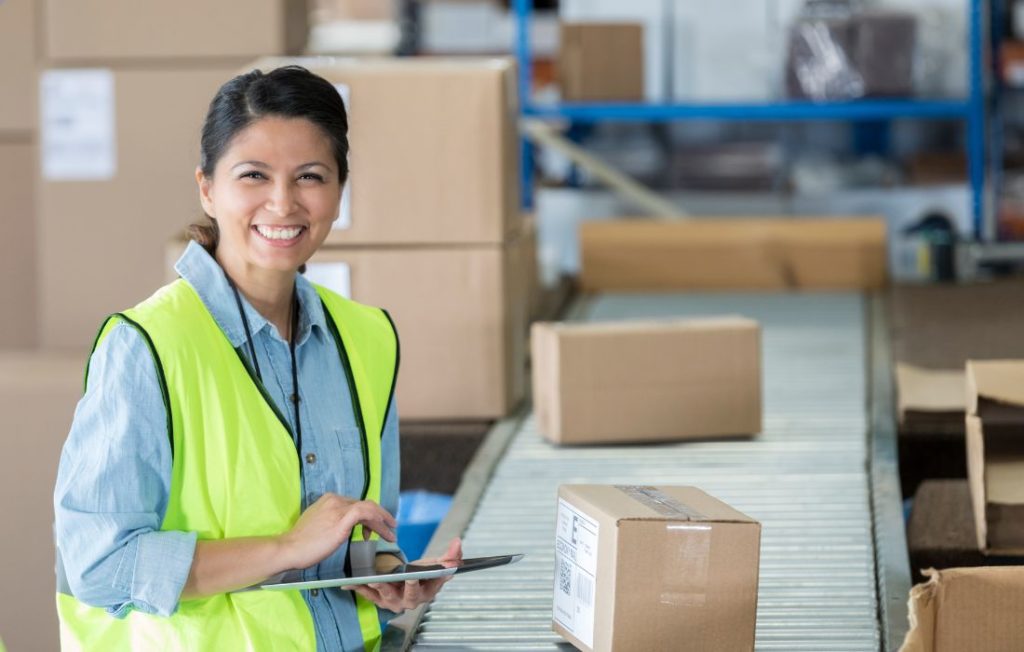 Benefits of FBA 
FBA is now a popular choice among Amazon sellers. There are some obvious reasons why everyone is choosing to fulfill orders via Amazon. 
FBA Prep Service
Amazon takes care of all the prep steps which include preparing orders, checking quality, packing, and shipping products. 
Prime Shipping
One of the highlight benefits of FBA is Prime shipping. With Prime Shipping, your package will be delivered within two days. It's worth noting that Prime membership has increased by 47% last year, solid proof that the shoppers are favoring products with Prime Shipping more. 
Statistics also show that Prime members are spending significantly more than regular Amazon customers (1). 
Low shipping cost
When selling via FBA, you can benefit from the massive discount that Amazon got from the major carriers. It is much lower than the rate that individual sellers could get. 
Professional Customer Service
When using FBA services, you can benefit from Amazon's customer service resources. Buyers can contact directly to Amazon customer service center for any query about their orders. That's how you can save a lot of time and energy by dealing with customers' concerns.
Pros of Amazon FBA
Besides all the obvious benefits mentioned above, FBA services can provide significant help to grow your business. In fact, FBA has helped many sellers to significantly increase their incomes by 30-50%. (2)
Reduce workload 
After sending products to Amazon, you are basically free from all the responsibility of handing your stock. It will significantly reduce your workload as well as save time and effort. Everything is now in good hands and you can focus on marketing your products, building your brand, and driving more sales to your store. 
Increase visibility and scale up your business
One of the biggest benefits of doing FBA is the ability to reach a larger audience of shoppers on this platform. 
With Amazon FBA, your products will appear on Prime search. More buyers are searching for Prime shipping products, which means your product will have a higher chance of showing up on potential buyers' search results. 
Increase customer satisfaction 
FBA helps you to cut down shipping time, lower shipping cost and deliver professional customer services – all of which contributes to an overall higher level of customer satisfaction. 
Expand your business globally 
Thanks to Amazon's widespread network of warehouses and facilities in many locations, you can rely on them to deliver products to your international customers with efficiency.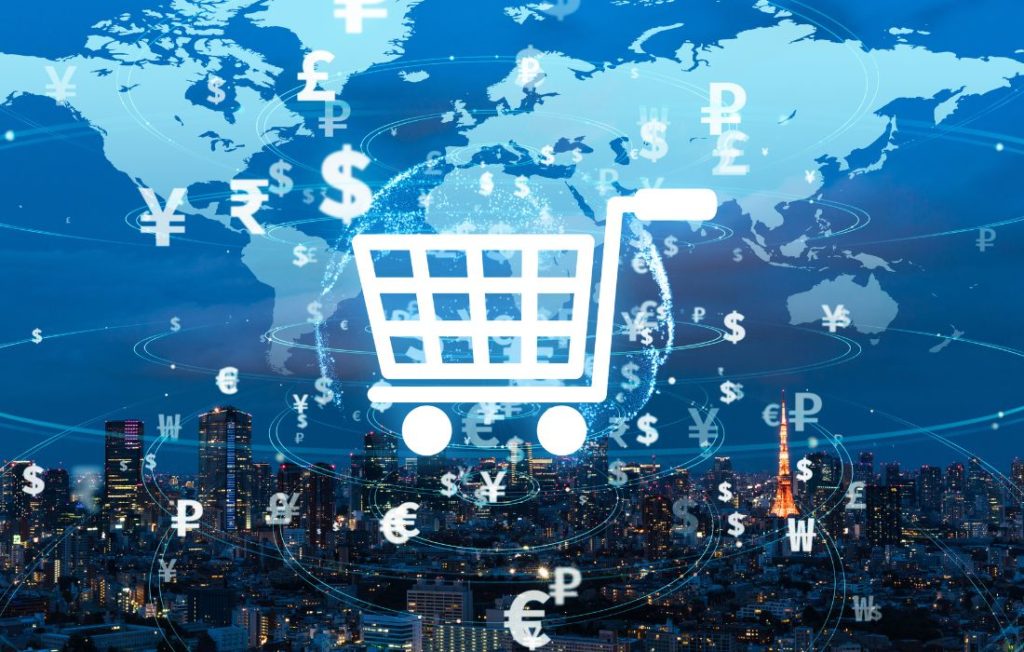 Cons of Amazon FBA
Yes, Amazon FBA is beneficial in many aspects. Yet, there are a few downsides that you need to be aware of before setting your foot into this market.
Higher cost
You are paying Amazon to take care of your fulfillment process. That will add an extra cost to your business operation. To make sure that your products' prices are still competitive after adding all the extra fees, you must plot your plan and calculate your pricing carefully. 
Higher return rate
Amazon's always on customers' side. Because of their generous return policy, it is easier for buyers to return products. So, when selling via Amazon FBA, you might have to accept a rise in return frequency. 
Extended fee for unsold stock
Apparently, Amazon will charge warehouse fee even when your products. So, you have better clear your stock as soon as possible.
How much do average Amazon sellers make?
With all the benefits that FBA brings, it seems like a sensible move to start selling via Amazon FBA. Yet, if you are still hesitant, let's address the key questions that might motivate you to get going. So "How much do Amazon sellers make?"
Let's take a look at this chart.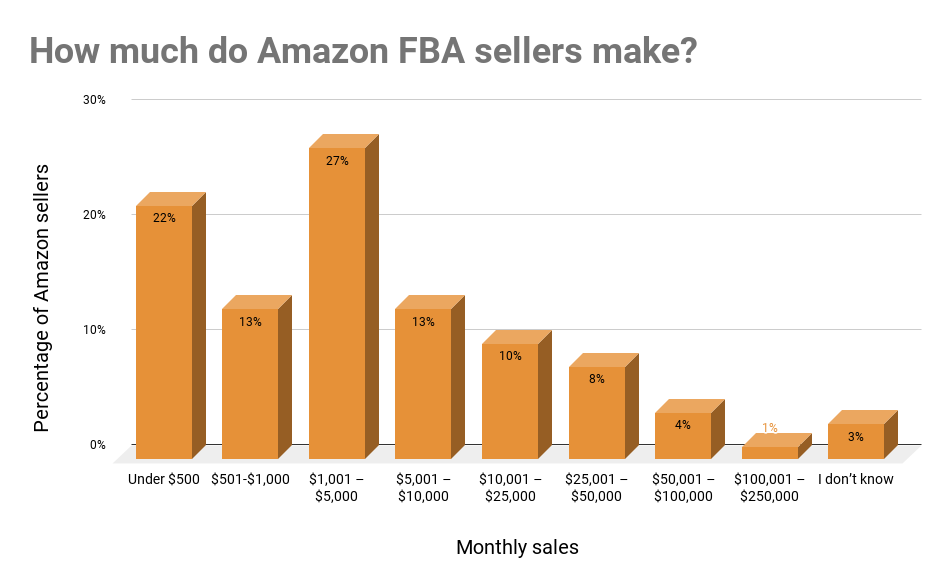 As we can see from the chart
The majority of FBA sellers (50%) generate revenue from $1000 to $25.000.
Only a small percentage of buyers can cross the $25,000 sale mark. 
Only a 1% can make more than $100,000. 
The revenue looks great. But you know it so well that sometimes, high sales volume does equal good profit. So, let's see how much FBA sellers can actually make from Amazon FBA.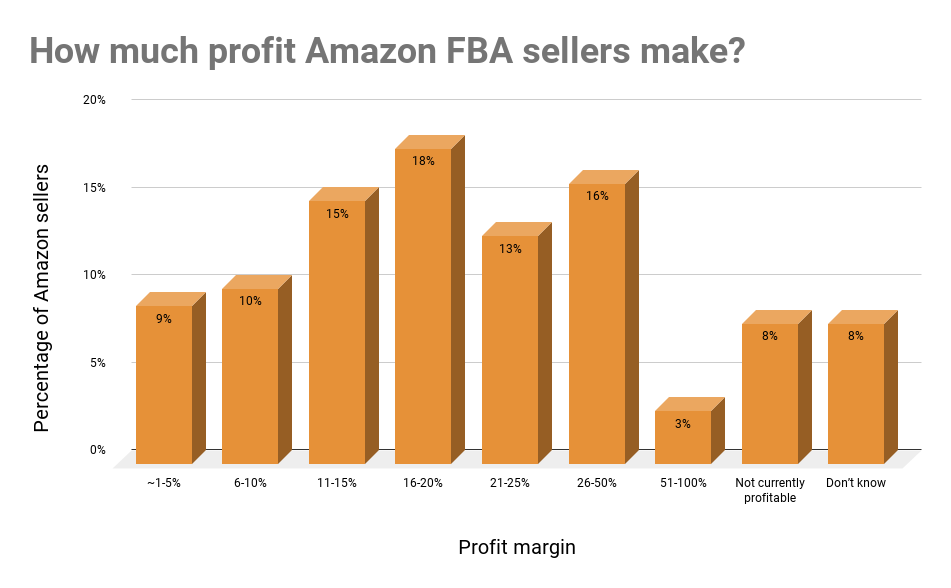 As per the chart above, the majority of FBA sellers (65%) earn more than 10% of the profit margin. It seems to tell that the average Amazon FBA sellers are doing pretty well. Yet, 8% of the  Amazon FBA sellers haven't made any profit yet. 
If you want to make sure that you will not fall into this category, read our special beginner guide to know more details.
How long does it take to start amazon FBA?
It is pretty straightforward to start selling on Amazon and using FBA services. You need to create a Professional seller account to sell on Amazon. Just follow the instructions and you're set to take advantage of Amazon FBA fulfillment service. 
The registration process is quick and easy. Yet, to actually launch your FBA business, you need to do the preparations, which include creating a business plan, finding products and suppliers, and setting up the price before actually pushing your products out there in the market. 
For some sellers, they might want to get all the necessary knowledge and training before setting off. If you are this type of person, it might take a bit longer to actually start selling via FBA.
In general, it usually takes from 2 months to 3 months to get your Amazon business up and running. 
How long does it take to make profits from Amazon FBA?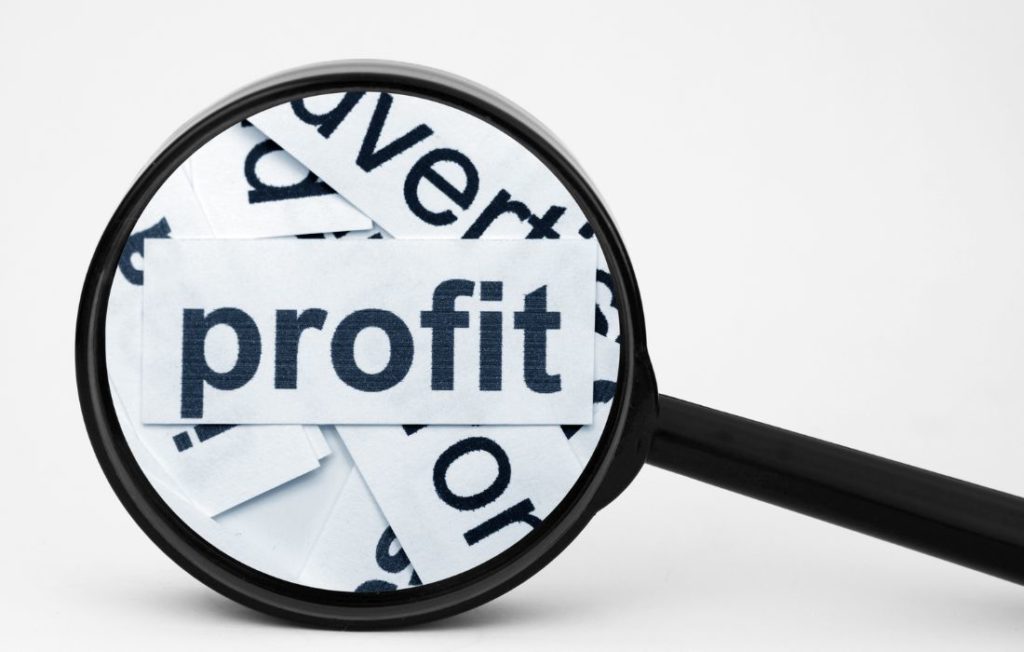 After the registration and launching stage, it might take some time to finally gain profit from your Amazon store. 
Starting an online business requires less capital than a normal brick-and-mortar business. That's why it takes less time to see a return on investment. 20% of the third-party sellers on Amazon reported it took them less than 3 months for their business to gain profits – which is the best scenario. 
Yet, another 22% of sellers said they only earn a profit after 3-6 months. For some sellers, it would take up to one or two years to finally see the returns, which is most likely the case for some private label products.