The first three months are deemed to be the low-sale season. That being said, there are still a few key occasions where you can capitalize on. St Patrick's Day is one of those.
Let's find out the secret to winning St Patric's Day campaigns.
1. What is St Patrick's Day?
St. Patrick's Day is celebrated annually on March 17 in memory of St. Patrick. This is also an official holiday in Ireland.
Other than commemorating Saint Patrick, the foremost patron saint of Ireland, this day is also about the celebration of Irish culture and heritage. It is not only celebrated by people living in Ireland but also by Irish in many parts of the world, including the US, Canada, Australia, New Zealand, and more.
On this day, people would join big parades, eat traditional Irish food, dance, and have fun. You will notice green colors everywhere during the celebration. Green is the color of the shamrock which was said to have been used by Saint Patrick to explain the Holy Trinity to Irish people.
2. Ideas for St Patrick's Day
Top best-selling products for St Patrick's Day
According to a 2020 report, customers would spend 30% of their budget for St Patrick's Day on clothing and accessories and 24% on decoration.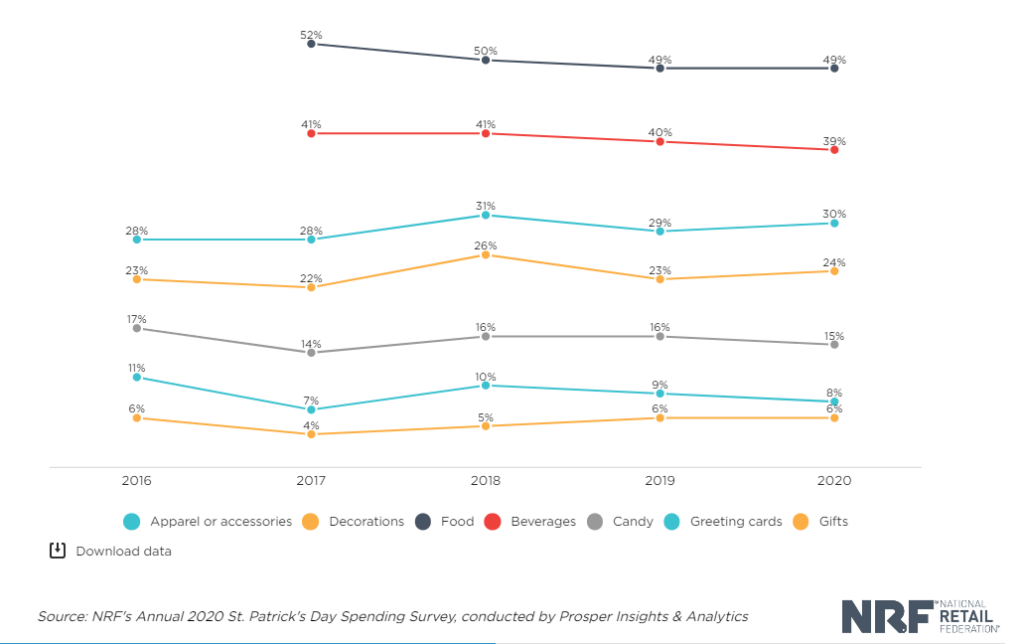 Here are some ideas for your St Patrick's Day products:
Ideas for St Patrick's Day designs
Green color
79% of respondents said that they would choose to wear green on this day. Make sure your designs are using green as the theme color.
Even when your store does have products made specifically for St Patrick, you can still offer discounts for green-colored products to boost sales.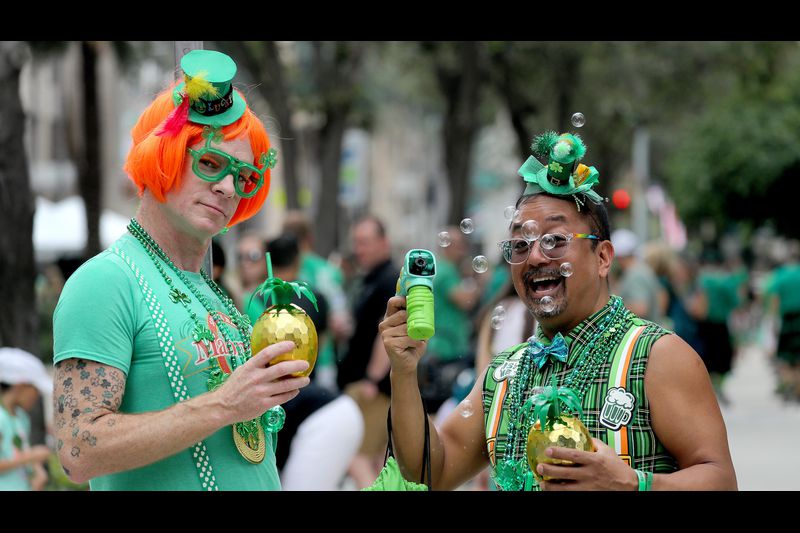 Shamrock
Shamrock is closely associated with St Patrick's Day. This symbol represents belief, hope, and the blossoming of Ireland. It is believed that Saint Patrick used a shamrock with its three-lobed leaves as the metaphor for the Christian Holy Trinity – the unity of Father, Son, and Holy Spirit.
There is also a special version of the shamrock – the four-leaf clover which represents luck and fortune.
Leprechauns
According to Irish folklore, Leprechauns are fairies, usually represented as mischievous little old bearded men wearing cocked hats and leather aprons. These fairies make and mend shoes. The tales also tell that they have hidden crock of gold. If you can catch one, they might tell you where the treasure is.
Beer
For Irish people, St Patrick's Day is the time for people to meet, chat, party and of course, drink beer.
As the world is moving on from the pandemic, this year, we will see more people going out, gathering, celebrating, and drinking on this St Patrick's Day. Don't miss this opportunity and try to incorporate this idea into your designs.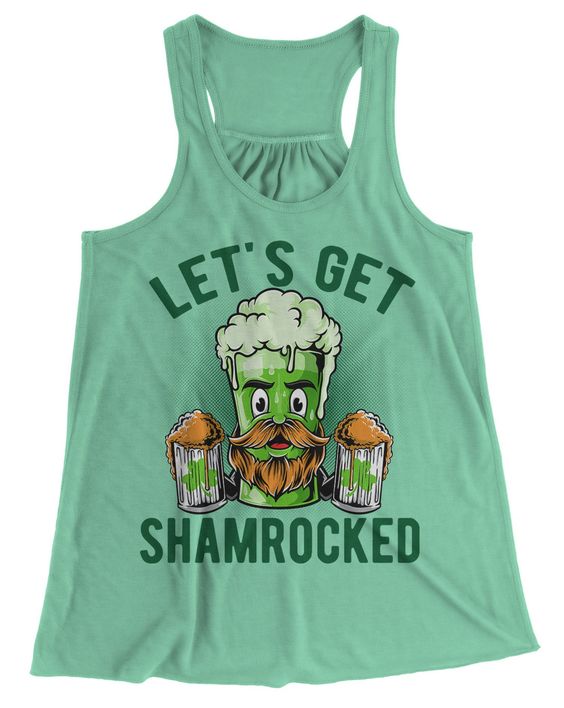 Irish in America
There are around 32 million Americans who identify themselves as Irish, which makes up for around 10.9% of the total population while the population of Ireland is only around 6.6 million.
It means that there are more Irish living in America than in Ireland. There is no surprise that the celebration of St Patrick's Day in the US is just as jubilant and joyous as in the country of its origin.
To make the most out of this occasion, don't forget to target this group of customers and make designs that speak to the Irish American audience.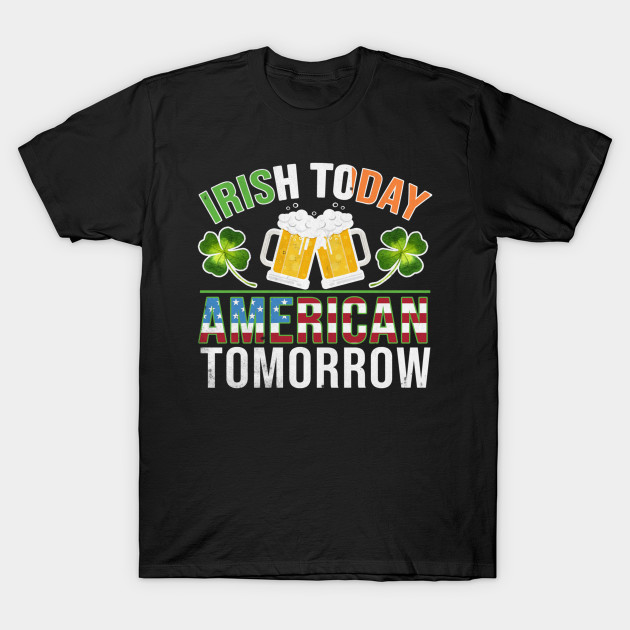 Pride of being Irish
More than a religious holiday, St Patrick's Day is also a special event for the Irish to celebrate and honor their origin. That's why "I'm Irish" is very popular during the St Patrick's holiday.
Besides the proud Irish, people who aren't Irish can also have their share of fun. You can make quirky and funny designs targeting this group audiences.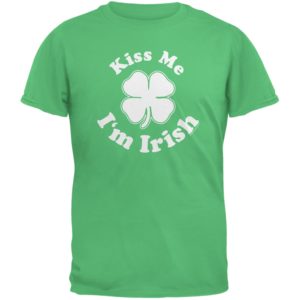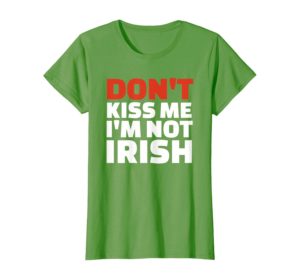 Funny slogans for your designs
Saint Patrick's Day is all about having fun and pulling pranks. People love wearing shirts with funny slogans on parades and at parties. Get your customers excited with fun designs that match the spirit.
Here are some funny slogans to use on your designs:
Keep calm and leprechaun.
Take a pitcher. It'll last longer.
Perfect for a shamrockin' night
The leprechauns made me do it.
You're my lucky charm.
Irish you a happy St. Patrick's day!
Don't worry, beer happy.
Irish today, hungover tomorrow.
I kissed a leprechaun and I liked it.
Can't think of a better way to March into Spring.
Besides the funny T-shirts, you can make your shirts personalized to each customer and allow them to make special, creative designs. At Merchize, you can easily add personalization to your designs with our "Personalize Product" feature.
Tips for your St Patrick's Day campaigns
Use appealing Call-to-action
Appealing and hookable Call-to-action will help you to boost the Add-to-cart rate and overall conversion rate. Here are some examples of high-conversion CTA for St Patrick's Day:
Come for the shenanigans, stay for the St. Patrick's Day sale!
We will, we will shamrock you! Check out our latest release!
Get lucky. These St. Patrick's Day savings won't be around forever.
It's your lucky day! Save with our St. Patrick's Day promo!
Save some green with our St. Patrick's day sales event!
Get your shamrock on with this St. Patrick's Day tee!
Shop our best St. Patrick's Day sale yet – no luck needed!
Grab our latest St. Patrick's Day tee. Your friends will be green with envy
You won't need the luck of the Irish to shop this sale, but you do need to hurry!
Give your customers more reasons to buy products
Go green
Promotions, discounts, and campaign optimization are no-brainers to having a successful St Patrick's Day. Yet, to push your conversion rate even further, it is a good idea to support environmental initiatives and give your customers reasons to make purchases.
For example, you can donate a part of your profit to environmental-related charities, or introduce environmental-friendly goods. There isn't a better chance to promote green lifestyles than this green-themed holiday!
Customers are more pleased to know that they are contributing to a good cause, especially on St Patrick's Day.
Bring luck
St Patrick's Day is usually associated with luck. There are many symbols representing luck on this occasion, like the green color, shamrock, four-leaves clovers, leprechaun, and so on.
That's why this day is perfect to bless your customers with good luck. Here are some ways you can bring luck to your customers.
Off some special gifts for a lucky customer
Hold a minigame with a prize of discount or coupon for your customers
Run email campaigns that offer gifts to your customers
St. Patrick's Day is just around the corner and it's the perfect opportunity to get creative with your marketing campaigns.
Now that you have secured a well-thought-out plan for St Patrick's Day, let Merchize take care of the rest. We provide a wide range of products including apparel, decorations, and accessories, offering many unique opportunities for your business.
With Merchize, you'll be able to wow your customers and stand out from the competition. So why wait? Start planning your St. Patrick's Day campaigns now with Merchize and get ready to make the most of this festive holiday.
Have a successful St Patrick's Holiday with Merchize now!
Check out Merchize's list of the best products and start selling now!