What is "print on demand"?
Print-on-demand or POD is an order fulfillment method where you can create and sell your own products online without the need of buying in bulk or having a large budget to keep an inventory. That means you do not have to pay for the product until after you've actually sold it and only in the quantity, the order asks for.
There are a variety of print on demand products that you can choose what you want to sell, customize, set your profit margins and wait for the orders to roll in.  I  have listed the top print on demand products to sell in 2021 to help you get some product ideas to get started.
Additionally, with print on demand services everything after the sale, from printing, packaging, and shipping, is handled by your supplier. This way, you can start your own brand online without having to buy large quantities of products or investing in production equipment and staff when you get started. So you don't have to pay for your products upfront, stock them yourself and manage shipping them – you can run your business from the comfort of your home!
Once you've set everything up, it takes only a few clicks to fulfill an order once you've made a sale. Therefore, keeping the entry barrier very low in starting your own online business.
Why is print-on-demand a great business model to choose when starting an ecommerce store?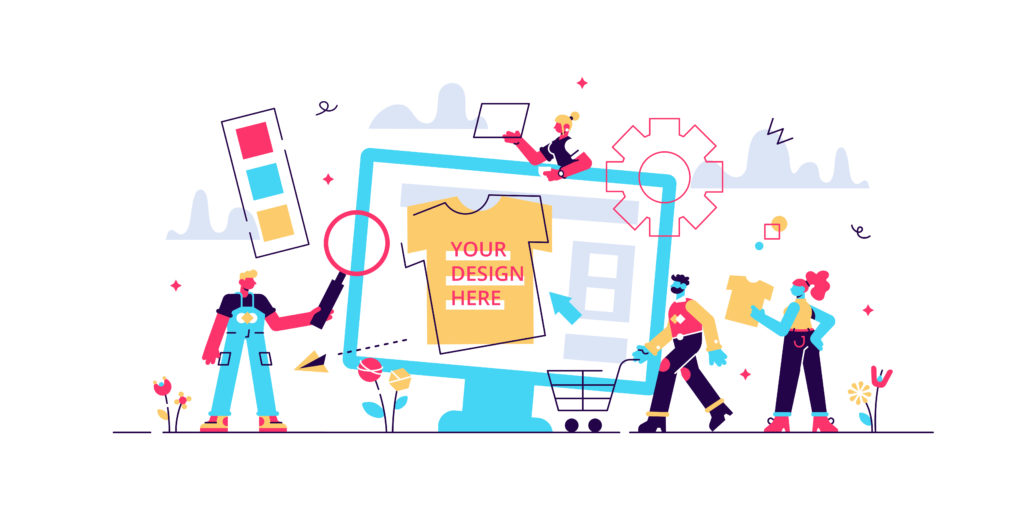 With print on demand services you can:
Test a business idea or new product line for an existing business without the risks that come with buying inventory.
Monetize an audience you've built. Printing on demand is a great option if you're a YouTuber, cartoonist, or social media influencer who wants to spend your time creating content instead of fulfilling orders.
Create original products for a niche of customers. For example, apparel for people who are passionate about gaming.
Easily print one-off items—t-shirts, hoodie, bomber jacket, canvas, wall art, poster, phone cases, mugs, and so much more. You can send these as gifts or keep them for yourself and your team.
Sell photos online easily by placing your photography on different products to sell on your own business website.
What are the REAL pros and cons of the POD business?
In traditional retail businesses order products in large(bulk) quantities at wholesale prices, which then get sold at a higher price. With print-on-demand, you don't need any large investment, as you only pay for the product(s) you sell, which then gets manufactured and shipped directly to the end customer.
Pros print on demand
Create products quickly: Once you have the design, you can create the product and put it up for sale in minutes.
Shipping is taken care of: Shipping and fulfillment out of your hands and in your supplier's. After the sale, you're just responsible for customer service.
Low investment, lower risk: Since you're not physically holding any inventory, it's easier to add or remove products, test ideas, or pivot your approach.
No storage needed: In print on demand, the emphasis is on the "on-demand" part – the printer will only print the product once it's ordered. This means you don't have to gamble with your money – you won't end up with a huge stock of t-shirts with a design that doesn't sell as well as you'd hoped.
Test new designs/products easily: You can experiment not only with designs but also with products. More and more print on demand services are expanding beyond the scope of just 'printing'. Print on demand is not about only selling graphic tees anymore—now you can create your own apparel lines for a variety of niche audiences.
Never run out of stock
No risk if a product doesn't sell
Cons print on demand
Lower margins: Naturally, your costs per item will be higher than if you buy in bulk. On-demand products may yield thinner profits, depending on how you price them and acquire customers.
Less control over shipping: Shipping costs can get complicated as it often varies for different products. Your options may also be limited if you want to create a standout unboxing experience.
Limited customization: Your ability to customize products depends on the vendor and the product. You'll have to weigh base costs, customization options, printing techniques, and available sizes when deciding on which products to customize.
Sell online only
Conclusion, now you found the answer about what's print on demand and understand why print-on-demand is great for starting an online business because of the low cost and minimal risk factors. It saves you time since you don't have to take care of production or shipping.
The POD industry is constantly growing in the variety of products you can customize and sell, and it's advancing in ways that make it easier for you to run a business. More and more people are getting used to shopping online, so it makes sense that ecommerce is one of the largest growing industries. And starting up with print-on-demand is a great way to jump on ship with the world of online business.