Hats are probably one of the essential accessories for your outfits. Besides helping you to make a fashion statement, hats, or headwear in general, are practical and handy items to protect you from the weather, be it the scorching sun or cold breeze, or even the rain. Hats or caps are also the go-to options when you are not in the mood to show up or when you want to hide your messy hair. For all these functions, jats are always in high demand across the globe.
In the past years, we have seen some slow-down in the headwear market as people across the world are stuck at home because of the global pandemic (1). But as for now, people are getting back and heading out. It means the need for hats and headwear is bouncing back and expecting to see tremendous growth in the future. 
Print on demand offers you the best chance to grasp this opportunity and start selling custom hats at no upfront cost and no minimum. Merchize will provide you with an ultimate guide on how to make a huge profit out of this promising market. 
What are the best print on demand hats to sell?
Headwear designs are highly diverse. It comes in all shapes and styles. Here comes the question: What are the types of hats/caps that people love most? And more importantly: "What options are possible to custom with print on demand?"
Here we have listed the best print on demand hats to start selling.
1. Custom baseball hats
According to a survey conducted by Ask Your Target Market, the baseball hat is the most popular hat style with over half of respondents picking this hat style as their daily choice (2). 
Baseball hats were originally made for baseball teams. It has become a part of the traditional baseball uniform. Over time, this hat has increased in popularity among the regular population and turned into one of the must-have items in everyone's daily wear. Its application has gone beyond just a sports item and has an impact on the popular fashion scene. 
The style of baseball has immensely evolved over time and has various variations and forms. But overall, it still keeps a similar structure with five or six panels, a brim, crown button, and eyelets.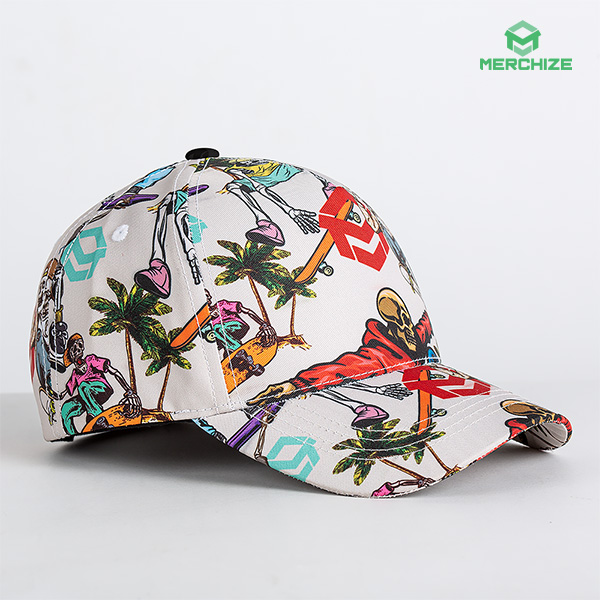 Baseball caps are easy to style and suitable for creating an effortless, off-duty look. You can start selling baseball caps with Merchize. 
Baseball caps are all over print products, which means you can create designs to cover the whole cap – including the five panels and the visor. With advanced dye-sublimation, your designs will be transferred into the fabric with high precision and vibrant colors.
Merchize's baseball cap looks sturdy and structured with five panels, an interfaced front panel, and a sturdy pre-curved visor. 
This item comes in one size. But you shouldn't worry that it would not fit. With a plastic snap closure on the back, anyone can wear it comfortably. 
A cotton sweatband is sewn inside to absorb sweat and keep your head cool and dry even on a hot summer day. Eyelets are stitched for better ventilation. 
Baseball caps are a favorite item for sports fans. Niches that you can target with this product include veterans, hunting, dad, and so on. You can target the audience of these niches and make creative designs that appeal to their interest. 
2. Print on demand trucker hats 
Trucker caps are quite similar to baseball caps. Originally, trucker caps were produced as promotional gifts from farming supply companies to farms as well as truck drivers. That's how the trucker caps became popular among the US rural workers. 
Before being known as a fashionable accessory, trucker caps were made for convenience and practicality. Its signature feature is the mesh back that boosts the ventilation and keeps the head cool so that workers can feel comfortable wearing it when working outdoors under the sun. That's why this headwear item has always been a favorite among blue-collar workers and farmers.
Trucker caps have gained popularity in the 00s and become a household name. Trucker cap brands like Von Dutch thrived significantly. Lately, with all the 00s trends, or as we call it Y2K style, coming back, trucker caps are on trend again.
If you want to catch up with this trendy item, Merchize is here to help you. Our trucker caps are structured and sturdy. More importantly, you can add all-over print design to this hat, even including the mesh area. Our print-on-demand trucker caps offer many opportunities to create an impressive and winning product for your store.
Well-structured and sturdy
Pre-curved visor to cover faces from the sun
Sweatband and mesh back assure high breathability and ventilation for your store.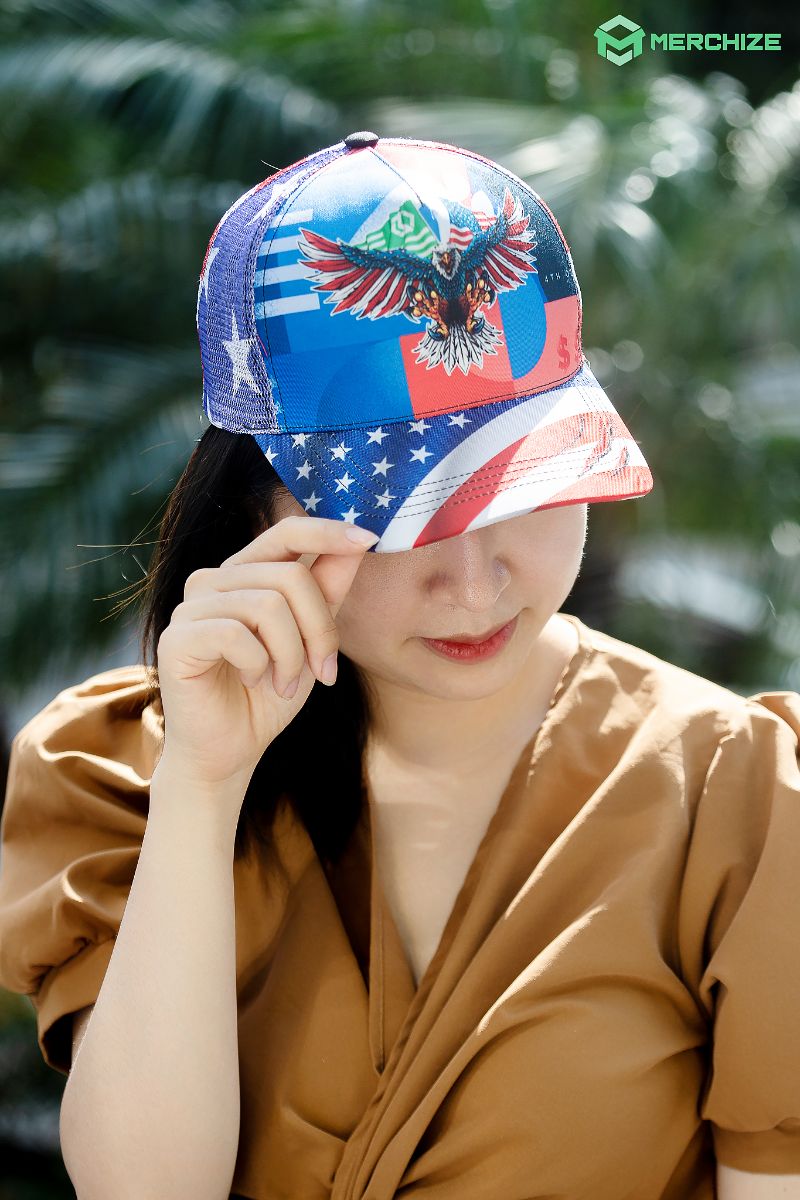 These characteristics make our trucker hats highly functional and fashionable. Start selling trucker caps with Merchize now. 
3. Print on demand bucket hat
There is no need to introduce this one. The casual and effortless vibe of bucket hats has made them one of the essential staples in streetwear fashion. This simple item holds incredible power in elevating your style and adding characters to your outfit. It is also an easy solution to hide your bad hair situation. 
The good news is that Merchize also includes this hot-selling hat in our hat collection. You can customize all parts of the hat, from the side, crown, and brim. There is no limit to what design you can add to the fabric.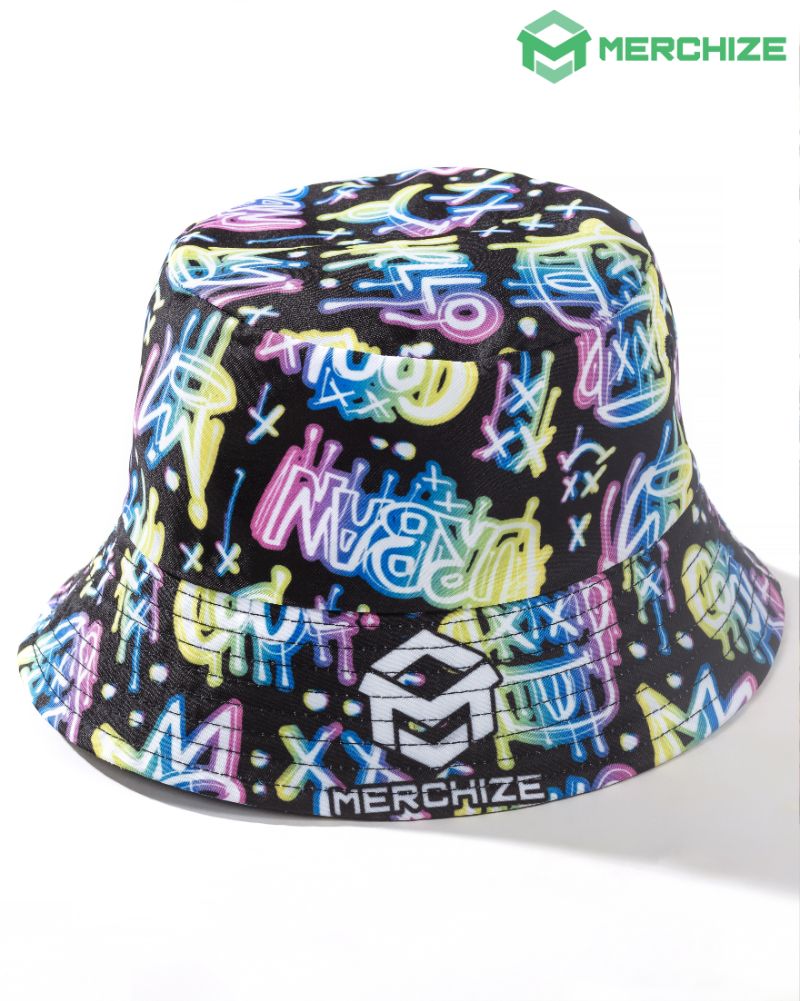 The best part is, that you can include two designs for one hat as our bucket hats are reversible, which means that you will get two different looks with just one hat. 
Two layers of fabric create a firm and structured form for the hats.
Reversible style allows you to create more style with just one item.
Reinforced-stitched eyelets help the ventilation of the hat. 
Check out Bucket hat to start fulfilling now!
4. Embroidered print-on-demand hats
Embroidery is a popular decoration type for hat designs. Compared to the regular print, embroidery is more durable, long-lasting as well as more high-quality-looking. However, there are a few cons to embroidered hats: 
It is more expensive to produce. 
Only applicable to simple artwork. Machine embroidery can't handle complicated and detailed designs. 
On the other hand, printing allows you to be creative and come up with the craziest ideas for your hat fashion.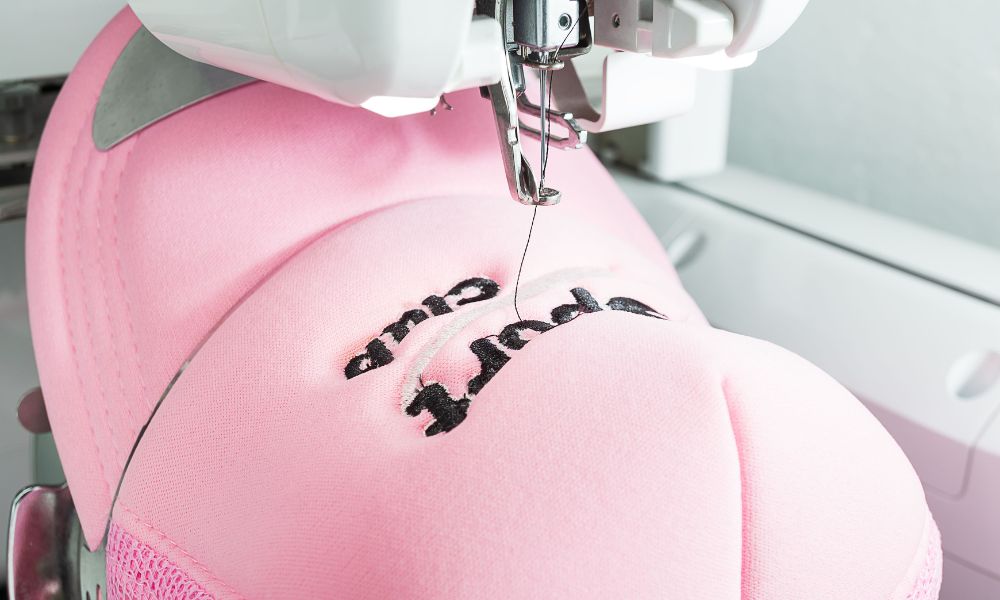 Merchize is currently not supporting this type of hat. However, there are some other print on demand suppliers who offer embroidered hats in their catalogs. 
4. Custom beanie
Next on this list is a custom beanie. This hat is an essential headpiece for the cooler season. Not only keeping your head warm, but this headwear gear is also very stylish. More than just a winter-exclusive item, beanies can be worn all year round.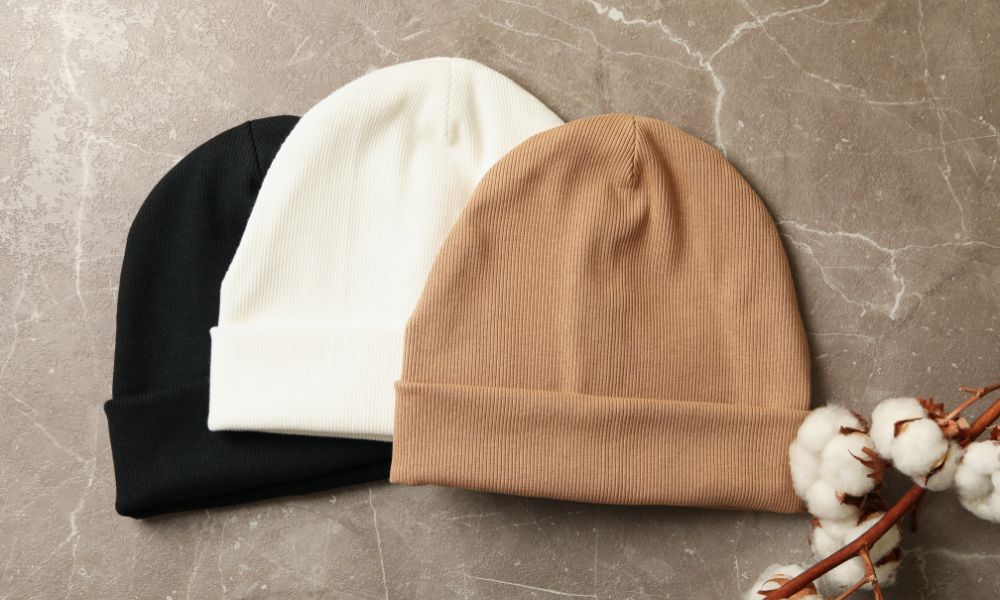 Beanies are also available for print on demand sellers to sell. Selective print on demand companies are offering this custom embroidered beanie for sale. 
How to find print on demand hat ideas
Add Personalization to your product
For the younger generation like millennials and GenZ, personalization is a highly valued factor when it comes to choosing a product. This trend is also accelerating in the hat market (3). Wearing a custom hat is a fabulous way to make a statement and show off your unique personality.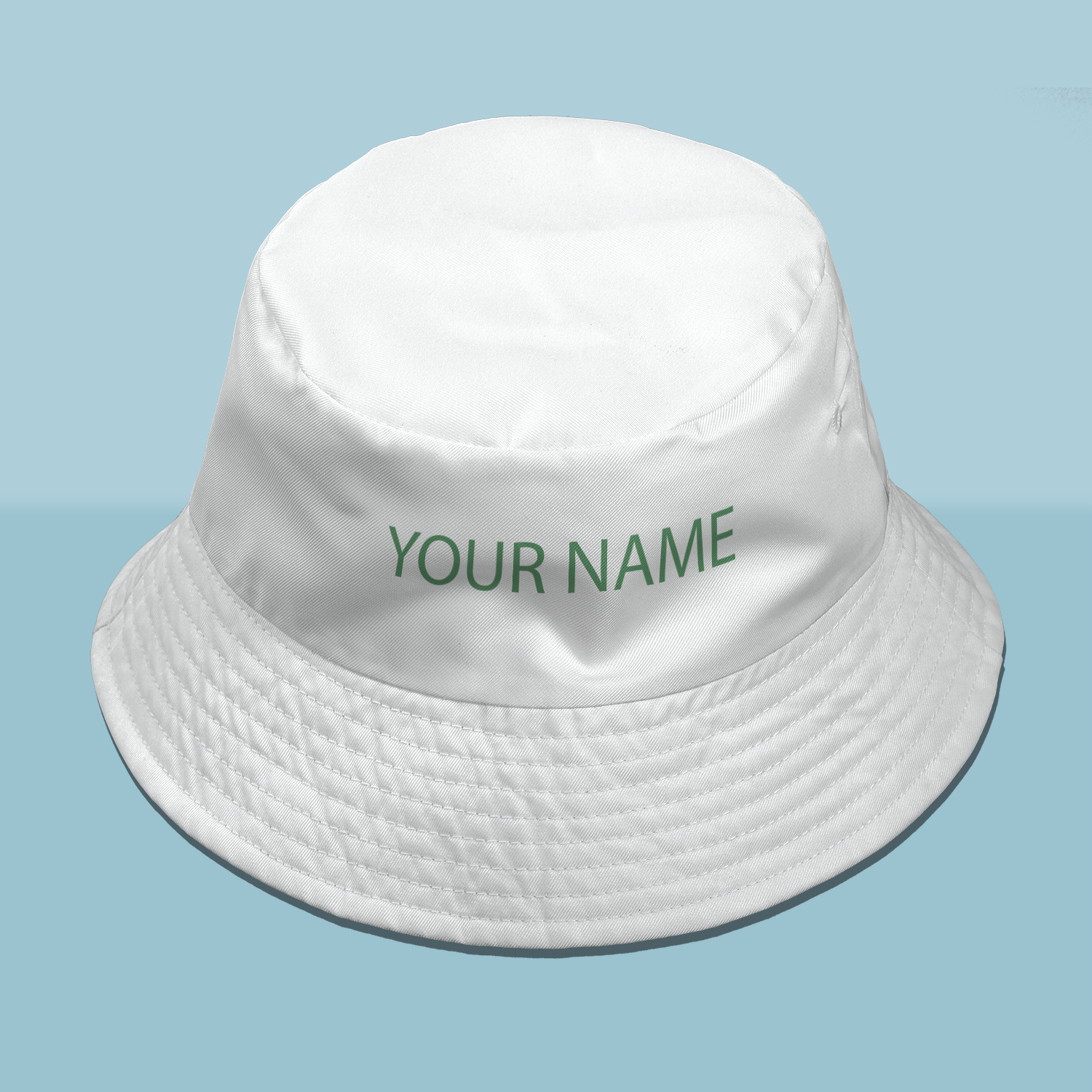 Many people also choose hats as a uniform for groups and teams, which is another potential for you to monetize headwear products. With print on demand, you can easily add a personalization touch to your products.
Find suitable niches 
Finding the right niche is key to success for any type of print-on-demand product. In this case, think about what audience group would use and take interest in wearing hats? 
For example, for trucker caps, some popular niches that you can target are hunting, veteran, road trip, outdoor travel, and more. It is highly recommended that you expand your research into other niches that might be interested in wearing trucker caps. A baseball cap, on the other hand, is a very popular option among sports fans. 
By digging deeper into niches, you will be able to find unique opportunities to generate sales with different types of hats.
Choose Merchize to start selling hats
Attractive base cost: The base cost for our hats are super competitive for all-over print, cut-and-sew products. 
All-over print designs: One of the best parts about Merchize's hats is that you can add designs all over the products, not limited to just one small area. You are given more space to create impressive and eye-catching designs that appeal to your target audience.
Transparent process: Each order is updated regularly in every step of the fulfillment process so you can update the latest status of your order. 
Merchize is offering over 200 products in our product catalog with new products added every month. Each of our products is made with unique selling points that will help your store to gain impressive sales. Plus, it costs you nothing to start operating your own business with Merchize. Just create an account and start creating our fulfillment platform and start selling all of these unique products and extending your business. We will help you to seek out new opportunities with more new and exciting products.
To get the latest updates on the new products, follow us on Facebook and Instagram or visit our website for more information. 
References:
1. IBISWorld, Hat & Cap Stores in the US – Market Size 2002–2027 retrieved from https://www.ibisworld.com/industry-statistics/market-size/hat-cap-stores-united-states/
2. Anne Pilon, Hats Survey: Nike Named Top Hat Brand retrieved from https://aytm.com/blog/hats-survey/
3. Research and Market, Headwear Market – Growth, Trends, COVID-19 Impact, and Forecasts (2022 – 2027) retrieved from https://www.researchandmarkets.com/reports/5005972/headwear-market-growth-trends-covid-19