Are you looking for ways to start your print on demand business? If yes is your answer, here is the list of 14 best print on demand Shopify apps to power your new eCommerce store.
Printify
Printiful
Merchize
Gooten
Teelaunch
Teespring
Teechip
CustomCat
Pixel
Fuel
Printy6
Print Aura
JetPrint
AOP
But before we dive into each print on demand platform's pros and cons, as well as Shopify integration, let's wrap up some fundamental knowledge about what is print on demand and how it works to benefit business owners.
1. Why selling print on demand on Shopify?
Shopify is one of the largest platforms for eCommerce. It is estimated that there are around 2.6 million active websites using Shopify in 2021, acquiring 29% of eCommerce platform market share. Pepsi, Unilever, Redbull, Tesla, Gymshark are among their customers.
It allows you to create your own eCommerce store and offers a full suite of eCommerce solutions including payments, marketing, shipping, and customer engagement tools.
But why should you use Spotify for selling print on demand?
At the moment, Shopify is chosen by most print on demand companies to offer integration services with. It means that when opting to use Shopify, there are more options for you when it comes to choosing a supplier that offers print on demand integration with Shopify.
Building an eCommerce store using Shopify's platform allows you to establish your own brand as well as full control over your business. Though, it will require more work from your side in order to operate a profitable and long-lasting business.
In the meanwhile, if you sell your print on demand products on online marketplaces like Etsy, eBay, or Amazon, you can make use of the massive existing audience there. However, your business will depend heavily on the operation and existence of that platform. It is also hard for you to build your brand and scale your business.
2. How to find the best print on demand service for Shopify
Having a Shopify-based store is a good start for print on demand business. Since many print on demand suppliers are offering free print on demand integration with Shopify.
But it also means that you have more choices to consider. Here are some criteria for you to take into account when choosing the best print on demand Shopify apps.
Price: Print on demand is known for having a low profit margin. In that sense, finding a supplier that can offer low base costs will help you to maximize the profit or allow you to spend more budget on marketing and brand building.
Delivery and shipping: Long shipping time is the biggest shortcoming of print on demand business. In the modern world, customers are less tolerant toward long shipping. In order to keep the customers happy, you have to make sure the packages are delivered as soon as possible. Choose a print on demand supplier that can fulfill your order quickly.
Product options: A wide selection of products gives you more business opportunities. Most of the print on demand Shopify apps provide common products like mugs, t-shirts, hoodies. Though, since everyone can make it, the competition is very high and the profit margins are not particularly attractive. To build up the steam for your business and get ahead of the game, you will have to find special products to sell.
Printing options: Printing methods and technologies have a huge impact on the quality and the end result of your products. If you are satisfied with some standard options like direct to garment, digital printing, or sublimation, many print on demand Shopify apps can do that for you. On the other hand, if you are looking for an embroidered product, for example, the odds are you will have to look further as not many POD suppliers have that option. Make sure that your print on demand partners have the printing options you expect.
Inventory size: Inventory size is not a crucial factor if you are running a side hustle, small-sized print on demand business. Yet, if your store is getting hundreds of orders every day, it is very important to take the inventory size into consideration.
Mock-up generator: Features like mock-up generator are very useful for sellers. It allows you to create mockups for your products in no time, without any design skills.
Sample order discount: Some print on demand companies allow sellers to order samples with discounts. It is a nice-to-have offer that helps you save money for the product testing phase.
Print on demand integration with Shopify: Last but not least, the print on demand supplier must have some level of integration with Shopify. Fortunately, because Shopify is a very popular ecommerce platform, most of the print on demand companies are offering Shopify apps and Shopify integration functions.
Reliability: Reliability is one of the most important factors. One way to know if a print on demand company is reliable or not is by checking the reviews on Shopify app store.
Each business will have a different priority and requirements. Not many companies can give you the best in every criterion mentioned above. As a business owner, you should decide what requirements are most important for your business. From there, you can weigh the pros and cons of each print on demand Shopify apps and choose the ones that suit you best.
3. Best print on demand Shopify apps
Printful is one of the first names to come to mind when it comes to print on demand business. Based in the US, Printful can provide the most comprehensive print on demand solutions for merchants, from fulfillment to storefront setup, design, and branding. Their services are helpful for beginners with no prior experience or knowledge.
Another draws of Printful is its competitive production times. If orders are estimated to be processed within two or five business days. Shipping within the US will take around three to four business days. International shipping might take longer to be delivered to the customers.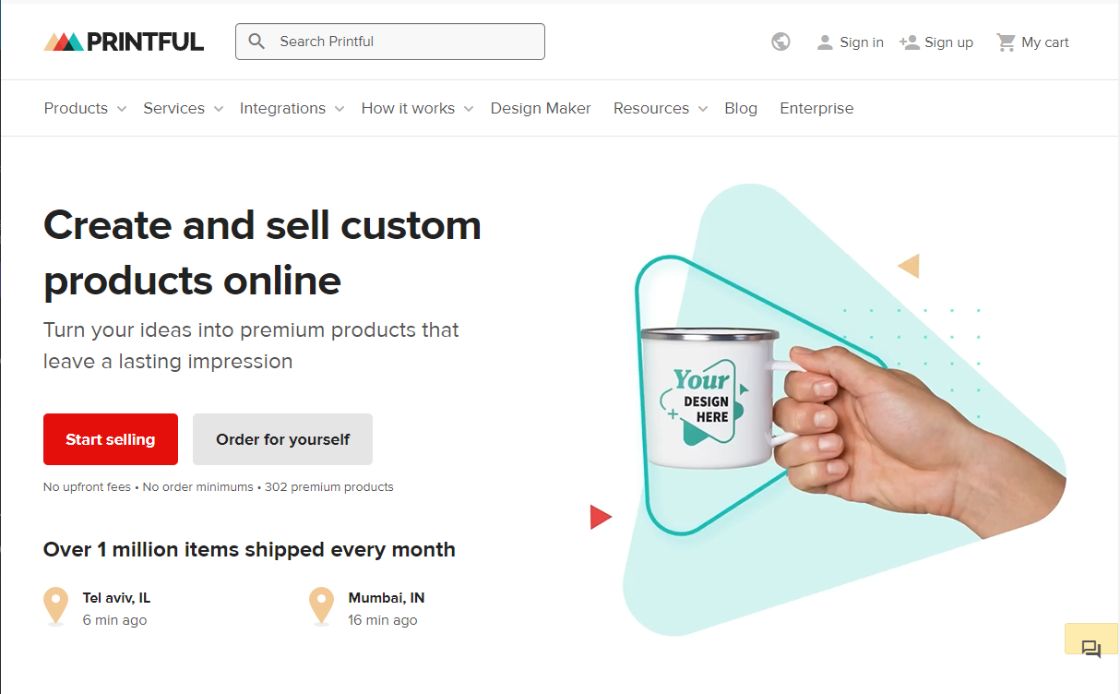 Pros:
Large selection of products with high-quality material and printing technologies
Fast production time
Various printing options: Direct to garment (DTG), sublimation print, embroidery, engraving.
Mockup generator
20% discount for sample orders
Cons:
Expensive base cost, lower profit margins for sellers
3.2. Printify
Printify is another best print on demand Shopify apps for Shopify. Compared to Printful and other print-on-demand suppliers, Printify has a different approach in terms of the business model. Instead of manufacturing the products itself, Printify plays as the middleman, connecting the sellers with the customers.
The peak of this model is that you have more options to choose from. It can help you to maximize the profit margins by choosing manufacturers with competitive prices. Moreover, if you are targeting an international audience, Printify's network of manufacturers will help you to find convenient production locations, hence, lowering the shipping time and shipping cost.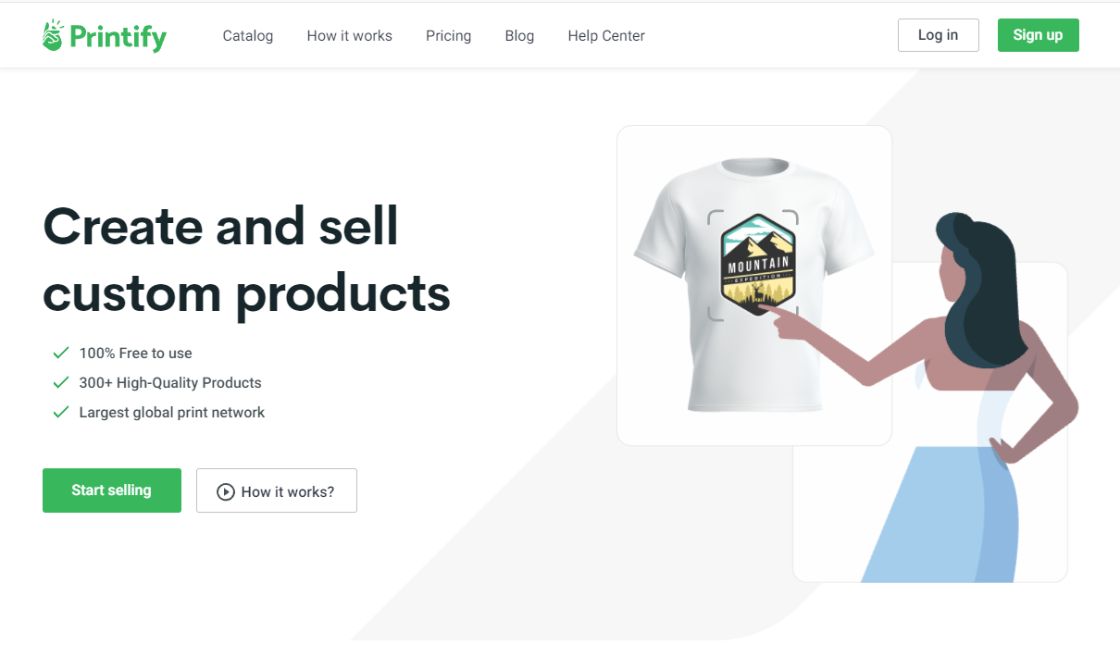 Pros:
Wide range of products from various manufacturers across the globe
Faster international shipping
Better production and shipping cost than Printful
20% discount for all orders with Premium plan
Cons:
Inconsistent quality due to various manufacturing partners
3.3. Merchize
Merchize is the next one on this list of the best print on demand apps for Shopify. The biggest draws of Merchize are its competitive pricing and end-to-end fulfillment solutions for sellers.
Merchize owns one of the largest manufacturers in Vietnam, which allows the company to control everything from product procurement, product quality, and order management. Also, you cannot find all-rounder printing products at a more competitive cost than Merchize.
Integration with many popular eCommerce platforms like Shopify, eBay, Amazon, etc. Merchize offers a complete print-on-demand solution, allowing you to sync all your orders into one place.
Merchize offers more than 180 products that covering various categories, from apparel, outfit accessories to home living and automotive accessories. New unique items are updated frequently, offering you various opportunities to make money. Merchize also allows you to order a sample product at a 20% discount.
The major disadvantage is its longer shipping time since it is shipped from the factory in Vietnam. Still, Merchize is assuring a consistent shipping time. It means that you won't risk upsetting your customers if the estimated shipping time is made transparent.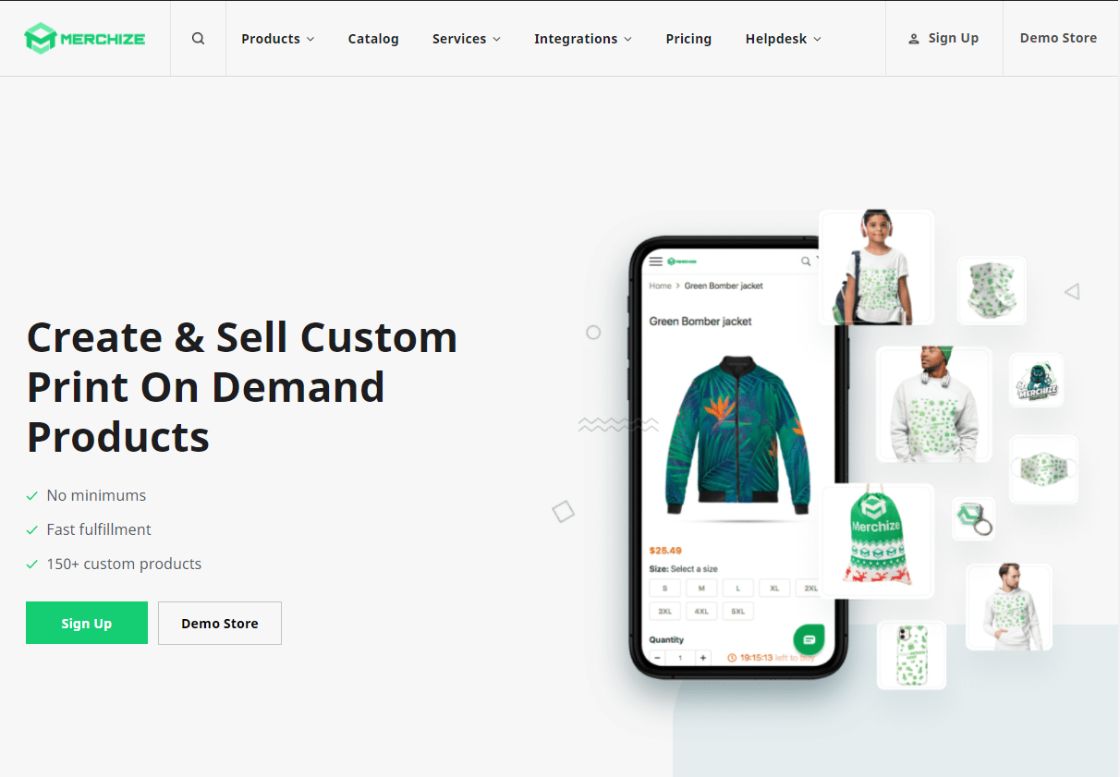 Pros:
Competitive product prices
Integration with multiple marketplaces and platforms including Shopify, eBay, Amazon, Woocommerce.
20% discount for sample order
Large collections of trendy and unique products
Cons:
Another alternative for Printify is this Gooten. Gooten has a global network of more than 30 print-on-demand production partners in over 70 locations. As discussed above, the advantage of this model is its ability to deliver your item quickly and at a very competitive price. Gooten is now offering more than 130 items on their catalog.
Aside from common items such as T-shirts, mugs, and canvas prints, there are some unique items from its catalog such as yoga mats, puzzles, and yoga mats.
However, unlike Printify, you are unable to select the source, which will limit your options. It also means that you have barely any control over the quality of your products. You have to accept whoever Gooten has picked as your print-on-demand manufacturer.
Another thing to keep in mind is that, while the company offers print on demand Shopify app and integration with Etsy, WooCommerce, Bigcommerce, integration to other eCommerce marketplace are through API. It means that you will need help from tech professionals.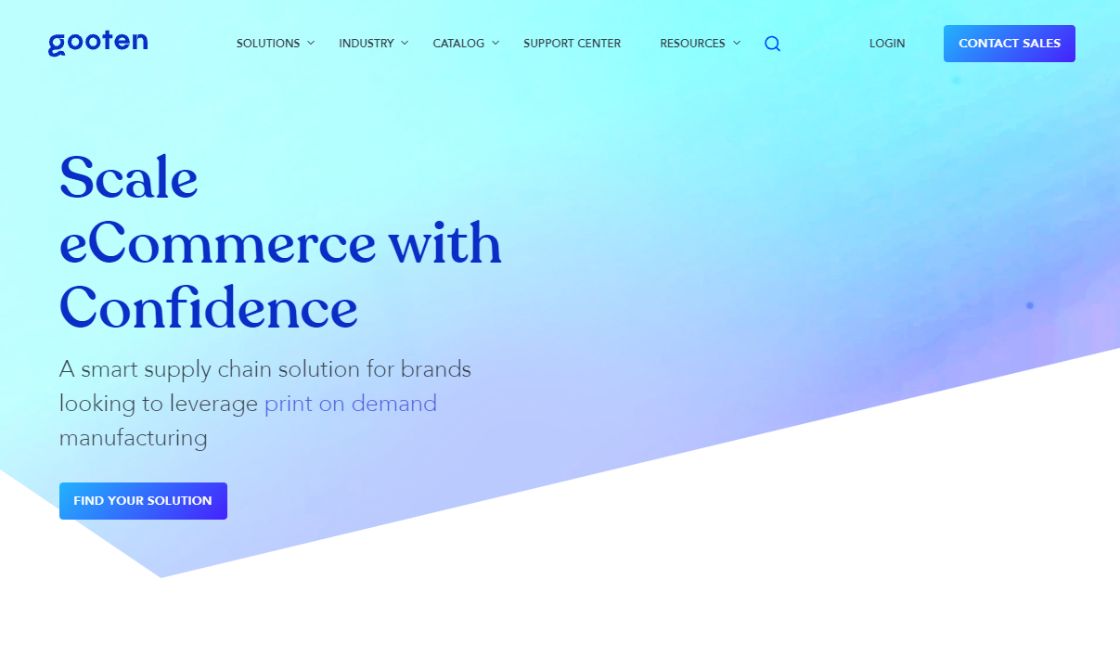 Pros:
Large selection of products
No monthly price or set-up fee
Cons:
Can't choose print partners
No in-app mock-up generator
No integration with eBay or Amazon
Teelaunch is originally built as a Shopify-exclusive app. Teelaunch allows store owners to try out some unique products that are not normally available in other print on demand companies' product catalogs like custom electronics such as Bluetooth speakers, headphones, power banks, or household items such as bowls, plates, platters, wooden cutting boards, etc. The mock-up generator of Teelaunh Shopify app should be topped as one of the best. What's special about this mock-up generator is that it allows you to incorporate personalization into your product.
Although Teelaunch products may be unique, there are fewer options for you to choose from. In fact, only 50 products are available on this platform. For the best, you should use Teelaunch along with other print on demand Shopify apps.
Another problem with Teelaunch is that they do not offer the best solution in terms of shipping time, especially with international shipping. The production time is also estimated to take longer than usual, even for simple products like t-shirts.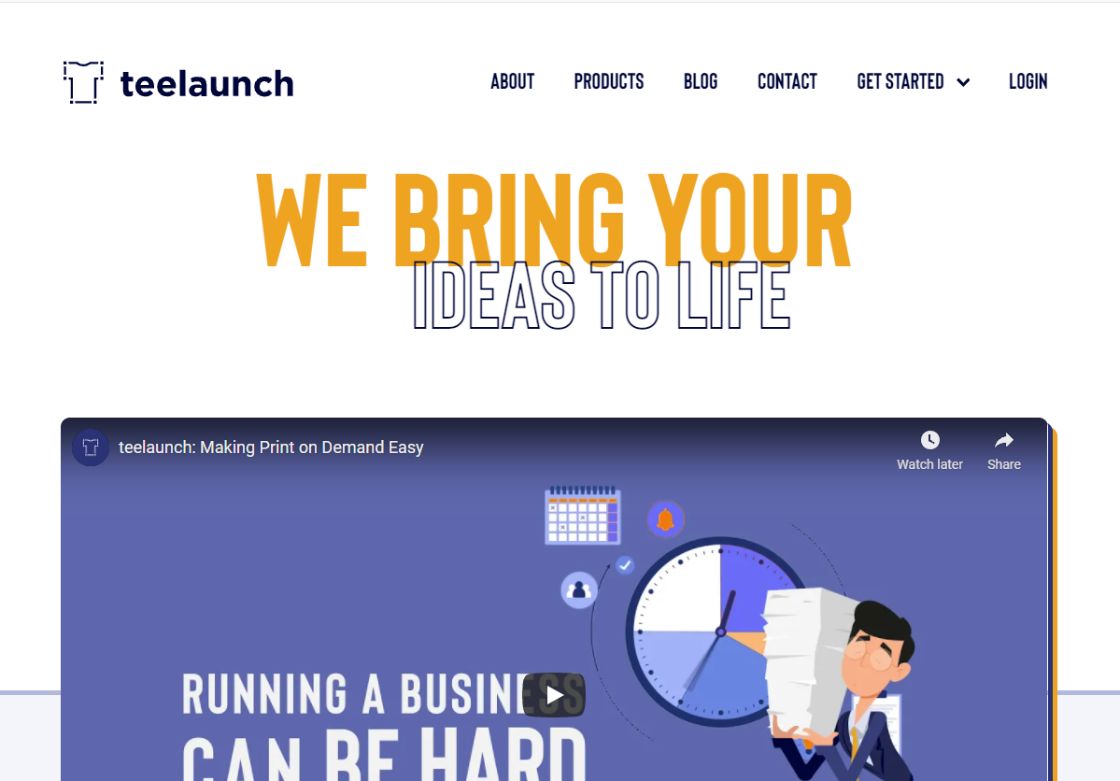 Pros:
Unique products for higher profit margin
Built-in Shopify app with mock-up generator
Cons:
Small selection of products
No integration with other ecommerce platform
Long production and shipping time
CustomCat is a US print-on-demand company. It also has one of the largest print on demand categories with over 550 products. CustomCat also offers various printing options, including 3D diffusing, DTG, sublimation, and embroidery. Production is processed in less than 3 days. It will take 1 to 7 days to be shipped to customers within the US while international shipping will take around 4-15 days.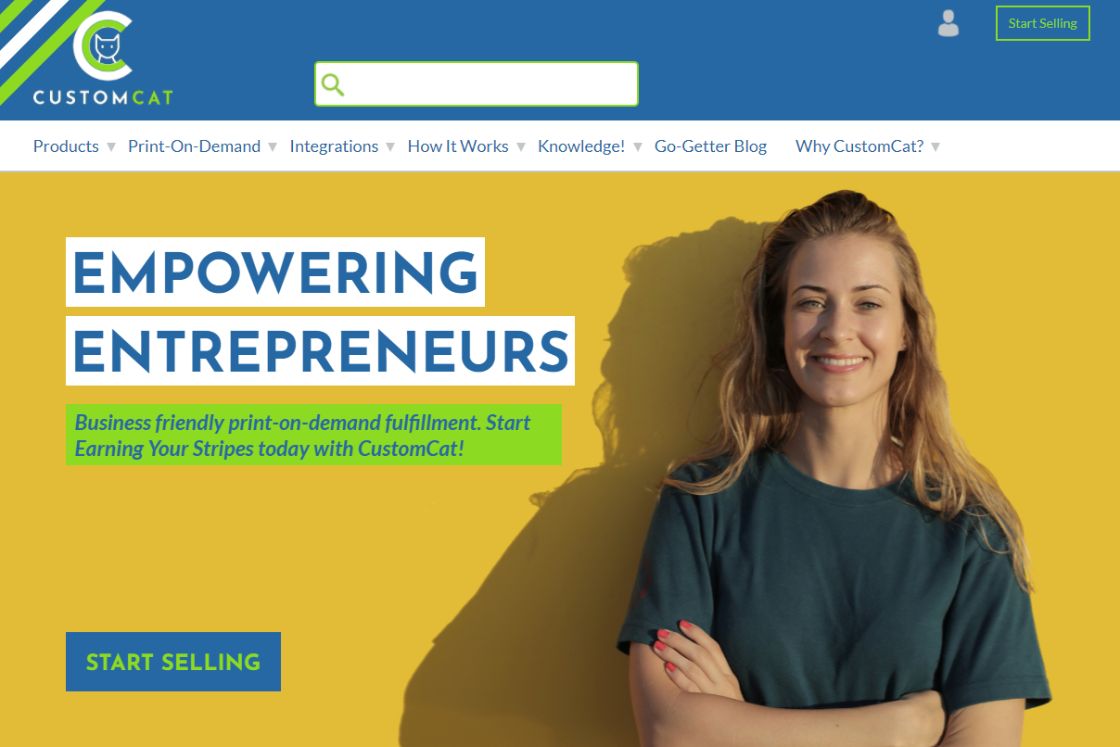 Pros:
Large product categories with over 300 products
Quick US shipping
Competitive price
Discount with a paid plan ($30/month)
Cons:
Long shipping time for international orders
Pixel is a worth-trying print on demand Shopify app. This app provides you with more than 100 products, including basic items like t-shirts, mugs, bags, to less common products like wood print, metallic prints. With 15 fulfillment centers in 5 locations across the world, Pixel can manage the shipping efficiently, assuring your packages arrived quickly.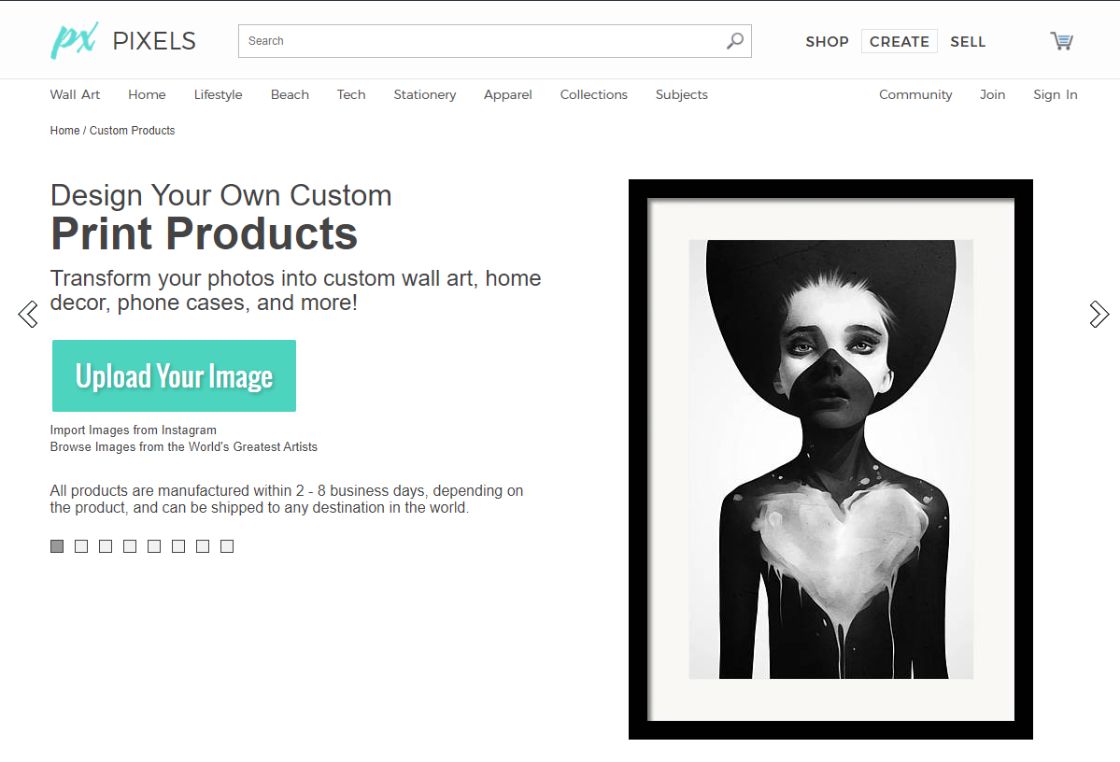 Pros:
No monthly fee or set-up fee
Good choice for art printing
Easy-to-use mock-up generator
Fast shipping at a lower cost
Cons:
Fuel has a competitive advantage of affordable product pricing. For example, a t-shirt printed by Fuel is priced from as low as $3.00. The app also includes some design tools for sellers to utilize. With multiple fulfillment centers, the delivery of their products is processed in a timely manner. Still, the biggest challenge with this print on demand app is its small range of print on demand options.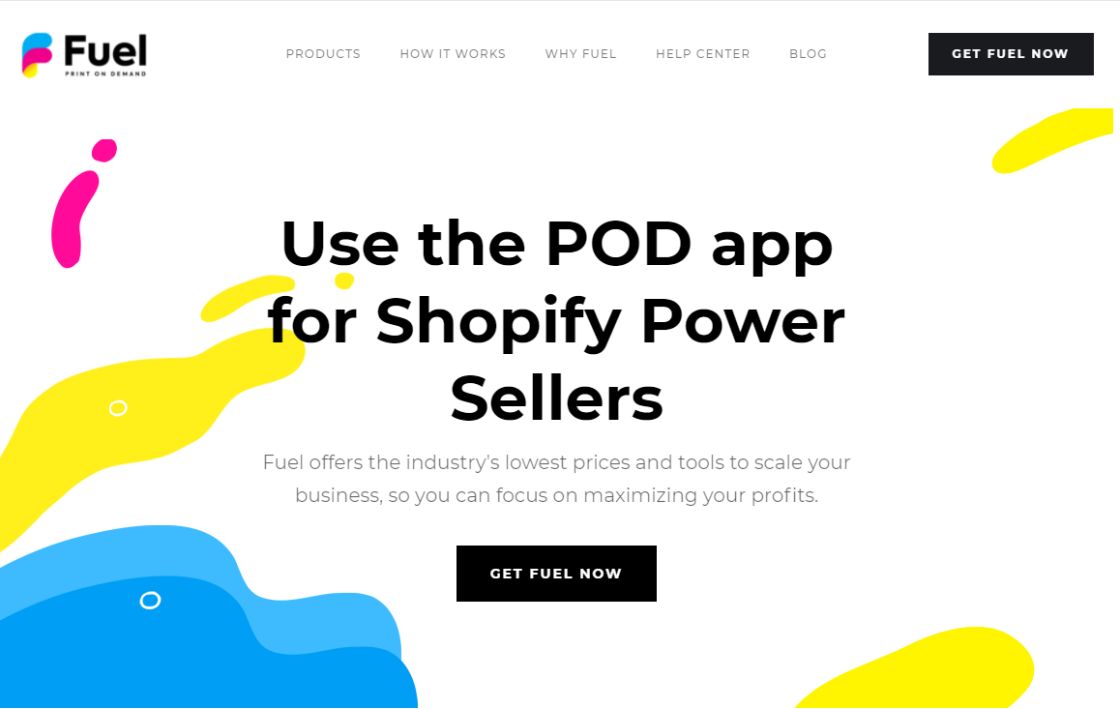 Pros:
Attractive product price
Fast shipping
No extra charges for express shipping in the US
Cons:
Limited number of product options
Printy6 can provide some unique print-on-demand items like wristwatches, mobile accessories, canvas shoes, sneakers, wall art, or wall clock. In the apparel category, Printy6 covers from men's, women's, to children's clothing. Their vast range of products allows you to explore more business opportunities. In addition, these products are also offered at a good price. Global shipping has already been included in the product price. Though, it should be noted that their products will be printed in China. The production time and shipping time are also longer than other print on demand companies.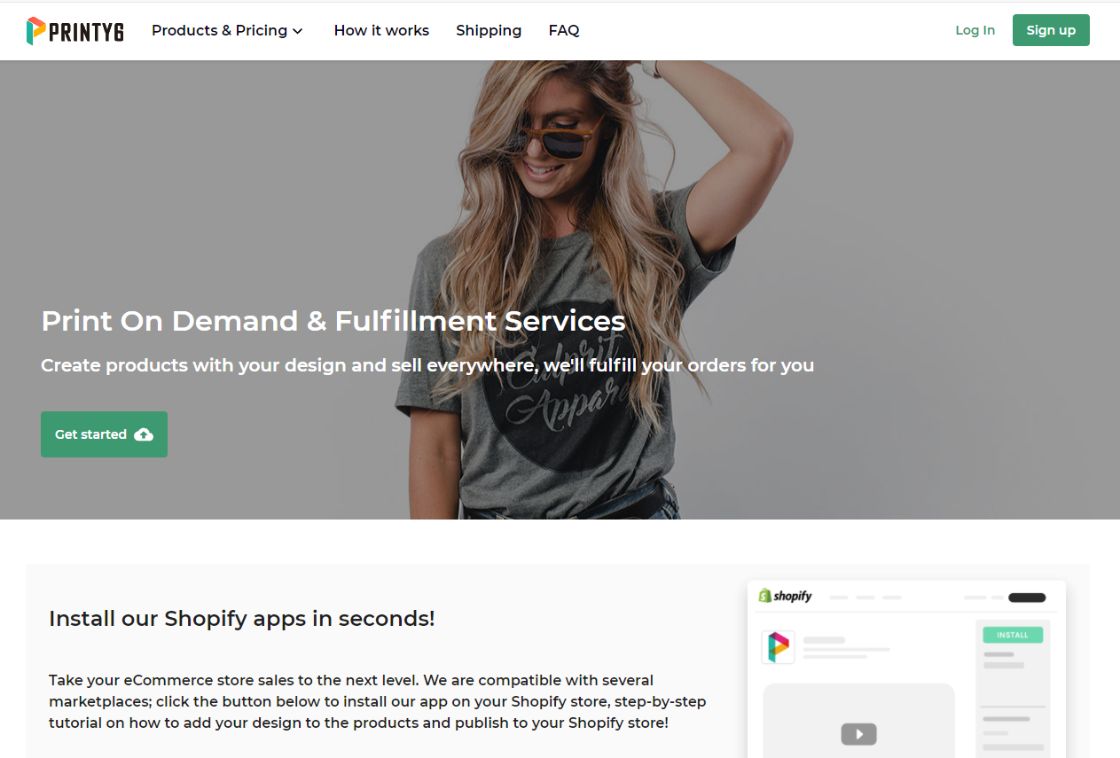 Pros:
Wide range of products in various categories
Good product prices
Free international shipping
Cons: 
Print Aura is another good option for your print on demand Shopify store. As for the product category, Print Aura covers all standard products like t-shirt, mugs, bags, etc. Another highlight of their services is the custom option for pack slips, neck labels, and more. There are also design tools for sellers to create their own mock-up.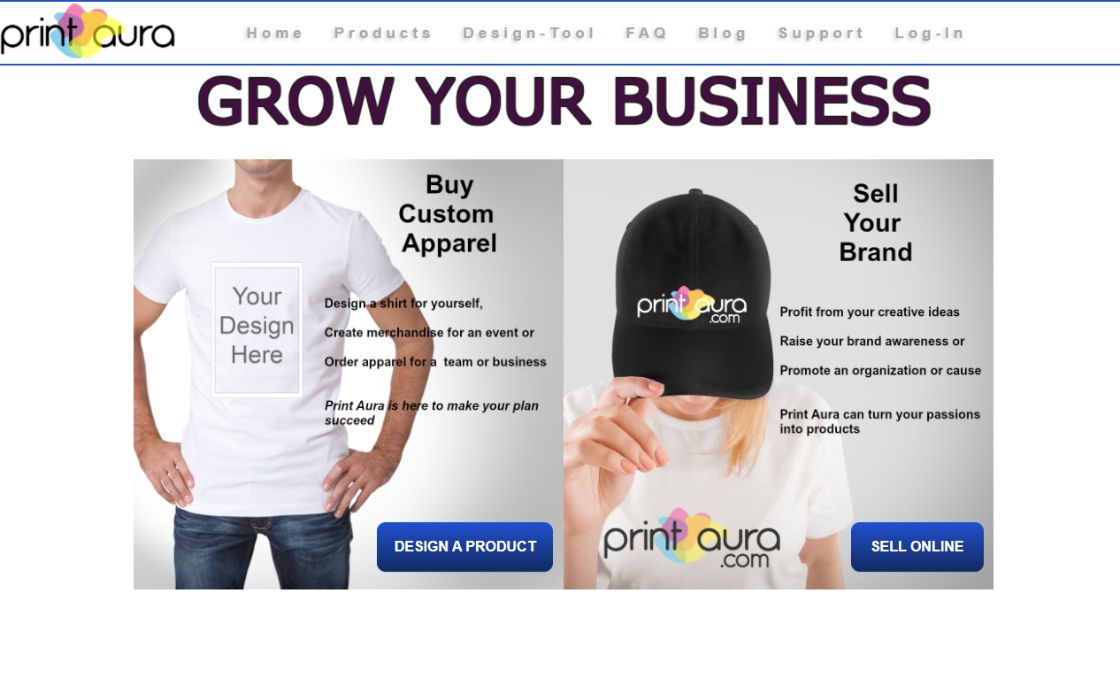 Pros:
Various options for brand building
Easy-to-use mock-up generator
No minimum order
Cons:
High shipping cost
Lack of customer support
Limited integration options (only Shopify and Esty)
JetPrint is another print on demand Shopify app that provides a unique selection of products. A major category of their product catalog is for watches. Watches come in various styles, colors, strap designs. The in-app mock-up generation is also handy for sellers to create professional images for their products.
Along with watches, JetPrint also expands its product line-up to other items like home decors and phone accessories.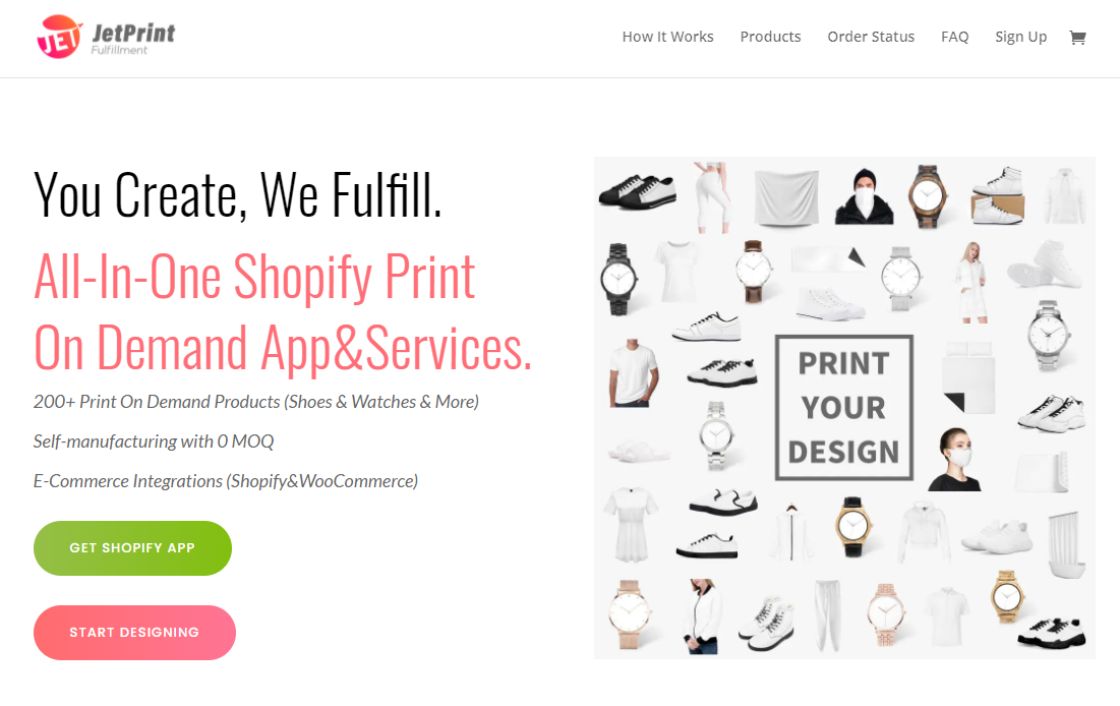 Pros:
Unique selection of products, especially watches
Mock-up generator
Cons:
Limited number of product options
Based in the UK, AOP+ is a print on demand Shopify app with a strong focus on all-over-print products. The manufacturing of these products is processed in-house and takes from three to five days to complete. The company currently has fulfillment centers in the US, the UK, and Europe from which your orders will be delivered to customers. With a paid plan, print on demand Shopify owners can access services like custom packing slips, custom branding, or 10% discounts for different products.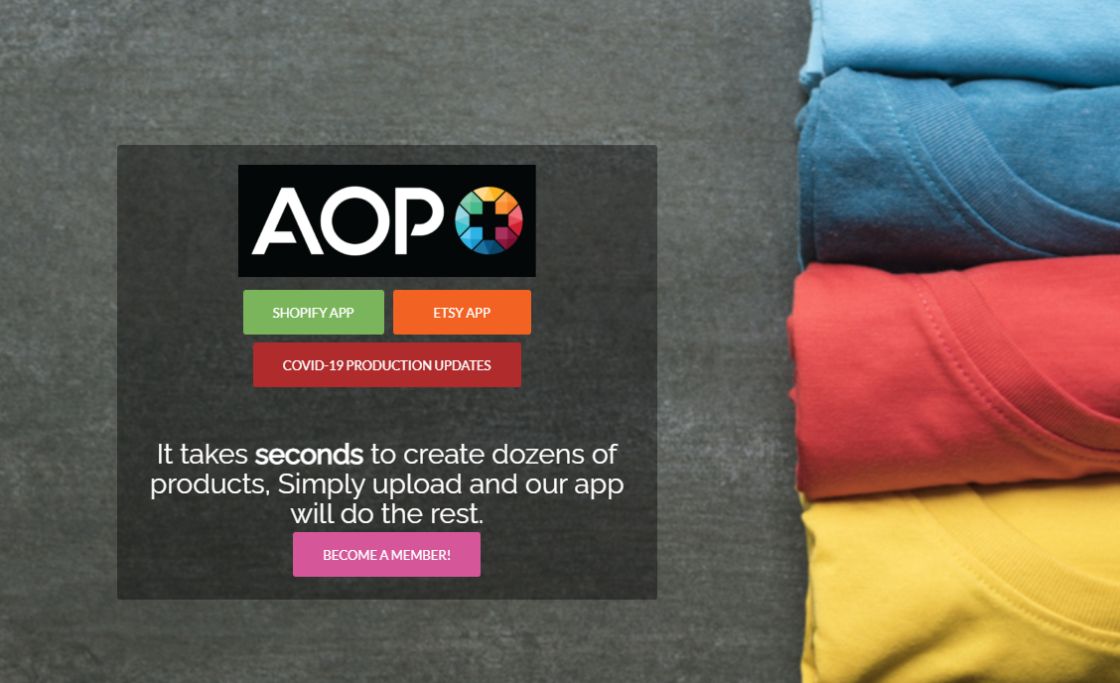 Pros:
Various all-over-print products
Branding options
10% discount with Paid plan
Cons:
Limited number of printing options
Only Shopify and Etsy integration
After figuring out which of the best print on demand Shopify apps works best for you, now you can move to the next step – finding the most profitable and hot-selling products to fill your store with. In the following, we will come to explore the best print on demand for Shopify.
4. Best print on demand Shopify products
How to find print on demand products
There are 3 different key factors that I have made to find the top winning print on demand products to get start on selling:
These products provide high-profit margins: Profitability is important. If you can source your product for a good price that gives you plenty of room to absorb all of the additional expenses you have to cover.​
It is easy to sell: Finding a trending print on demand product or niche and sell something similar, but different or better that way, you get the best of both worlds: A hot market and less direct competition.​
Low investment: Finding a trending print-on-demand product or niche and sell something similar, but different or better that way, you get the best of both worlds: A hot market and less direct competition.​
4.1. Canvas
Canvas is a popular option for many print on demand businesses. It is also highly recommended for artists to capitalize on their artworks. While many people will choose Etsy to create their own store and sell canvas art, selling print on demand canvas on Shopify is still a good option if the artist wants to establish a strong brand for their own. With Shopify, artists can use their own domain to sell art. They can also make use of the available mock-up generator to create multiple products with the same artwork.
How to sell print on demand canvas on Shopify?
Digital arts: If your arts are created digitally using tools like Photoshop or Adobe Illustrator, you can upload your high-resolution file into the mock-up generator on Shopify print on demand built-in app, and let the print on demand supplier take care of the rest.
Handmade artwork: you can either scan or take a high-resolution picture of your art to transform it into a digital image. For better results, you can use some image editing software like Photoshop to adjust the lighting, contrast before uploading it to the mockup generator.
Canvas artwork is a sought-after home or office accessory. Whether it's a large, luxury lifestyle image print for someone's living room or a smaller Instagram-worthy quote for a home office, there are a lot of applications for adding this product category to your store.
For example, by making some kinds of inspirational motivational quotes or personalized dog, the iconic kindness culture kind of style, entrepreneurial motivational art, and good design behind them, you will definitely get incredible sales. There are people out there just doing weird canvas designs that seem to really work well so you can go out there and find like your passion niche target that nation could put a really cool design or put some customization on.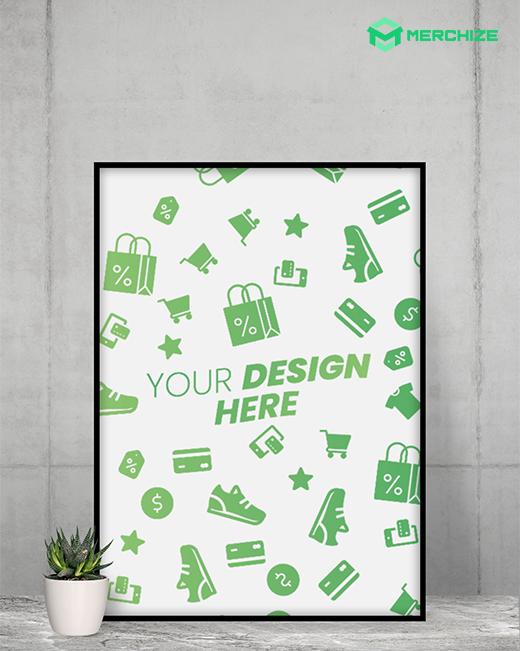 4.2. Stickers, Greeting Cards
Stickers and greeting cards are very affordable to manufacture. It is also another great way for artists to monetize their arts. However, it is hard to make big money by solely selling print on demand stickers on Shopify. The same goes for print on demand greeting cards. Instead, you should sell items as cross-sell items in your store.
If you can't create an attractive design yourself, you can go either hire a designer or buy art from other artists to sell. With print on demand, you don't have to worry about printing or shipping your products. Just make sure you have visually appealing arts, good-looking mock-up, and consistent traffic to your websites, money will find its way to your pockets.
4.3. Swimwear
Swimwear is a very unique print on demand clothing line that you can add to your store. Currently, only a few print on demand suppliers are including this option in their product catalog. Printify and Merchize are two companies that allow you to sell print on demand swimwear on Shopify. Especially, Merchize is offering some unique pieces like All Over Print Beach Kimono, All Over Print Beach Sarong, and All Over Print Sleeveless Romper at a very respectable price.
Check the full collection of print on demand swimwear fulfilled by Merchize.
4.4. Unisex T-shirts
Firstly, you know that unisex t-shirts are one of the most popular print on demand products that people sell. T shirts are an extremely common item because they work in all four seasons: winter, summer, fall, spring. Compared with swimwear actually is seasonal, most people only wear it in summer. Otherwise, on the flip side, you take sweater, sweaters are big and heavy so most people only wear them in colder months like winter.
But t-shirt are great because in summer people can wear them as a single layer and then in winter they can wear them under sweaters. Because homes are always heated so oftentimes it's too hot inside to be wearing a sweater so you want a shirt on underneath.
Therefore, unisex t shirts are so popular with customers as they're so versatile. With unisex all-over-print t-shirts which aren't just a fashion statement. They're a great way to express your portfolio of designs and bring out your true creative self. Furthermore, they open up design possibilities for different types of design. Such as patterns or large artwork, and even landscapes. You will be creative without fear of limits. It's definitely one of the winning print on demand products to get started on Shopify.
You can check some kind of print on demand t-shirts here: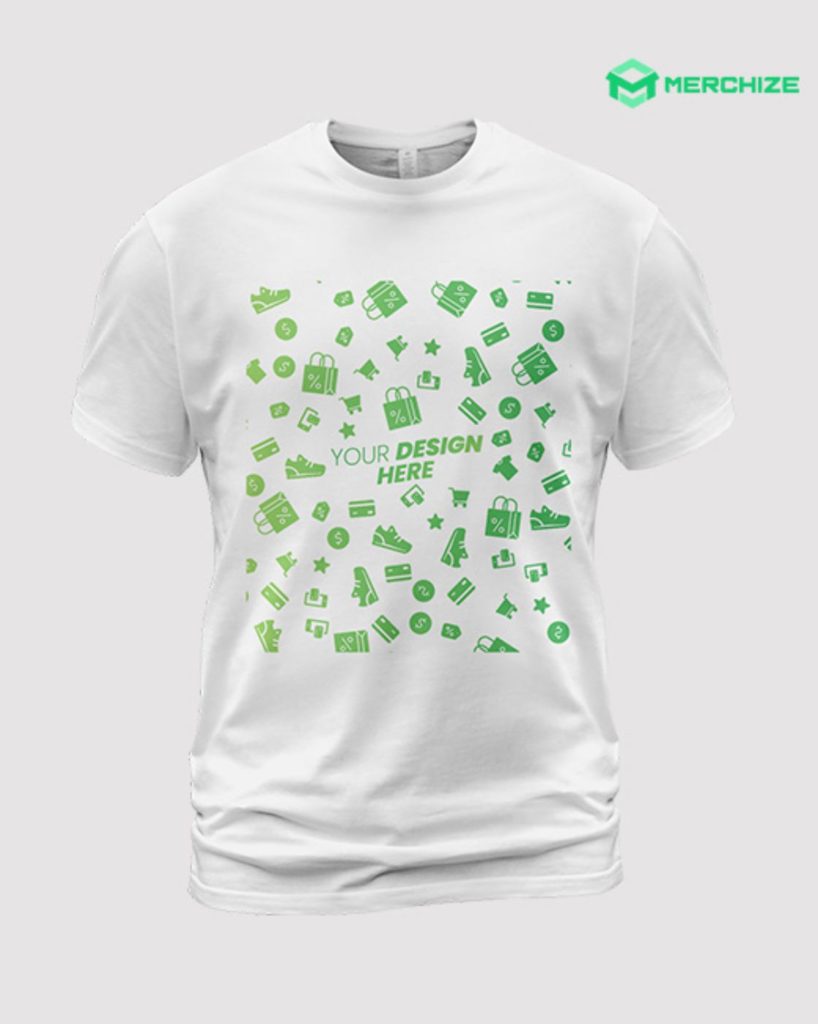 4.5. All-over-print mask
The second winning print on demand product is all over print mask. If you are not carrying print on demand face masks in your Shopify store you are missing out on 100% to 200% returns on investments. All over print face masks are a huge eCommerce product trend right now. Turbocharge your print on demand sales by offering face masks as soon as possible since many online sellers have been jumping on the bandwagon to customize and brand reusable masks.
Frankly, it doesn't take a genius to see why these are selling so well because so many jurisdictions around the world are now mandating face masks or at least mandating them when social distancing is not possible. Therefore, face masks might become mandated.
There are some unique face masks that you can add to your Shopify stores:
AOP Face Mask
AOP Stretch To Fit Face Mask
Neck Gaiter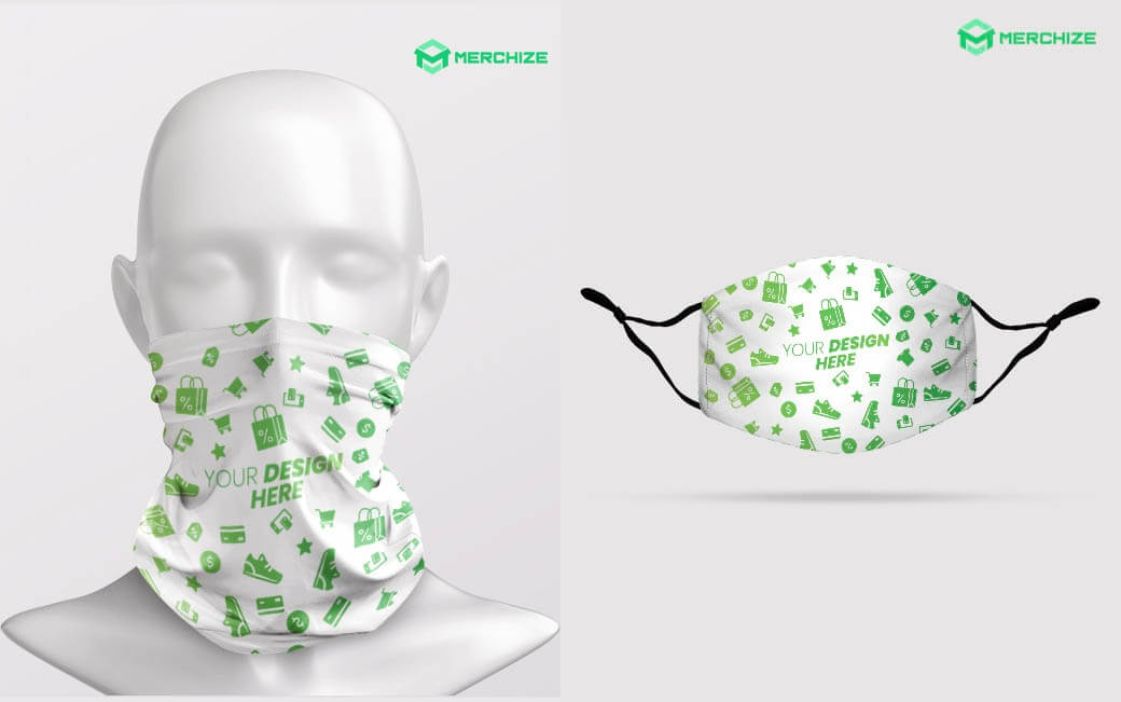 4.6. All over print hoodies
Another winning print on demand product for Shopify is hoodie which is a popular garment and people love wearing it. Unlike several apparel or accessories that are gender-specific; a hoodie is for anyone and everyone. They are comfortable, warm and can be trendy and casual for everyone. Especially, all over print hoodies have been growing in popularity and interest over the last few years.
Additionally, their eye-catching prints are ultra-cool and novel and they allow people to express themselves in ever-unique ways with a garment that's pretty straightforward. You know that people do want to stand out and look different on the streets, they love to wear a customized hoodie with your name, a favorite cartoon character, or something personal printed on it. So if you offer them the freedom of customization, they can customize the hoodie the way they want.
On the other hand, they may also customize it to match with their jeans or sneakers to look dashing. And when they succeed in turning heads with unique and beautiful designs; they would definitely consider buying more from your store. Lots of our sellers have been successful and make incredible profit margins.
Here are some top selling hoodie of our sellers you might have a look: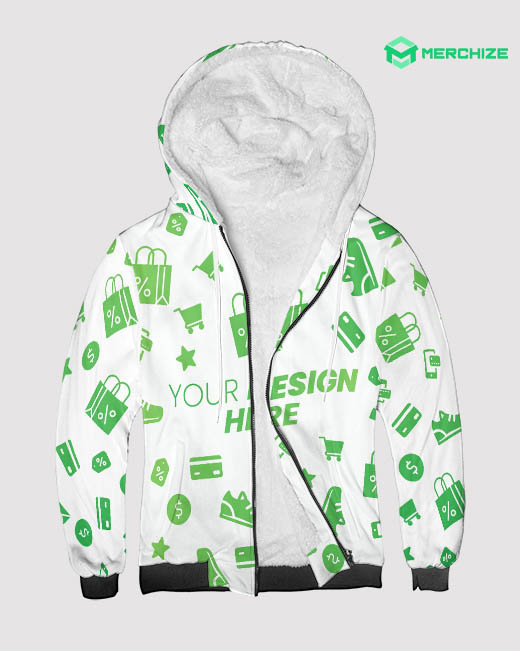 4.7. Unisex all over print sweatshirts
Following the all over print hoodie, you can not miss the unisex all over print sweatshirts which are also super trendy right now in the streetwear niche which is why a ton of influencers have all over print sweatshirts in their merch lines. With all over print sweatshirts, you can charge much higher prices a lot of if you have a unique design and brand
Some people are afraid to raise their prices but to those people I say this pricing is entirely subjective perceived value. This is a term that we use in marketing to refer to the value that your customer perceives your products to have and oftentimes the way that they come up with its value is by comparing your products to others.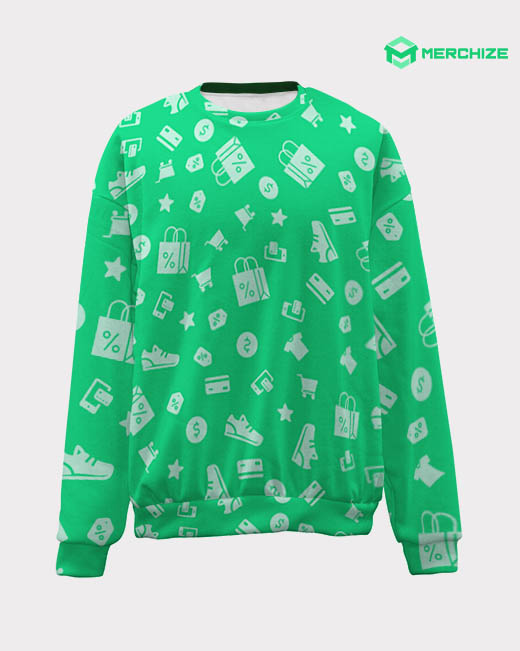 4.8. All over print fleece blanket
If you want to sell a print on demand product that has a high-profit margin, look into selling blankets. These days, consumers are spending more and more money keeping their homes cozy and warm during colder seasons. According to research by Future Market Insights, the increase in demand is driving the blanket market, valued at $6.6 billion in 2018, to reach an estimated $9.9 billion by 2027, growing by a CAGR of 4.6%. Google Trends confirms this research by showing a noticeable uptrend over the past few years, with sharp peaks during the winter.
4.9. All over print bomber jackets
Currently bomber jackets account for 12.8% of women's outerwear and 17.5% of men's. There's going to be a bomber-jacket-sized hole left in retail business if the industry isn't prepared. Today, across the retailers we track globally, there are more than 120,000 bomber jackets in stock. More than baseball caps and plaid shirts even. So, what are you waiting for? Start design and sell your own all over print bomber jacket today.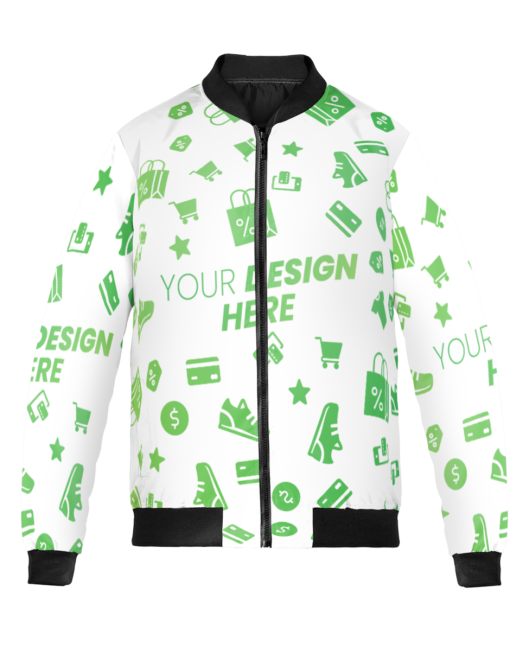 4.10. Mugs
Lots people think that nobody's going to buy a mug when they already have a bunch and well to those negative sayers I tell them to stop making assumptions and looking for excuses to fail and to instead look at the facts, this shows every year people are buying more and more drink drinkware which includes mugs in the US. The global drinkware market size was valued at USD 3.87 billion in 2018 and is expected to register a CAGR of 3.1% from 2019 to 2025.
But it's true there are lots of mugs to choose from so you have to make your mug stand out from the crowd and the way to do that is to have your mug design be both unique and emotionally evocative. Now usually mug have such small profits because shipping is expensive that they are difficult to run Facebook ads too but design it, sold so well that it was profitable with Facebook and because of being able to personalized it.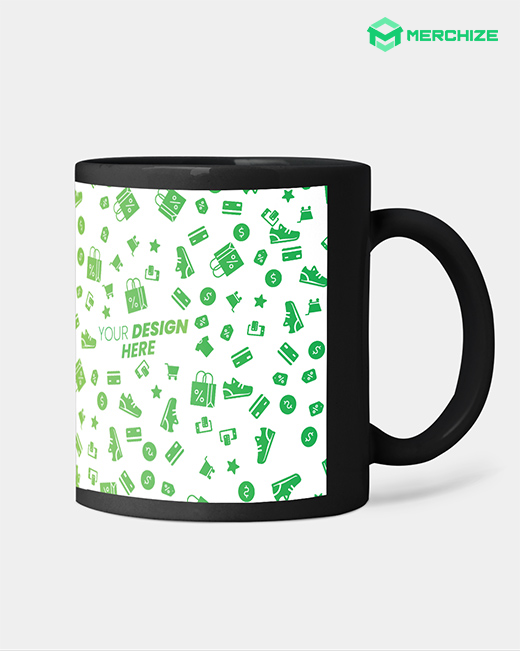 4.11. Posters
Just like with t-shirts, mugs and hoodies, it doesn't take a genius to figure out what posters have been popular and will continue to be popular because in life, they will always be exceptions.
Most people instead of having a plain white wall would prefer to have a wall that features original art that they enjoy. On the other hand, depending on your target audience, you can get a quick mover. Instantly, you know that when professionally set up and marketed, poster stores can rake in millions of dollars in revenue. That is why posters are always on the top of trending product and best-selling print-on-demand product lists.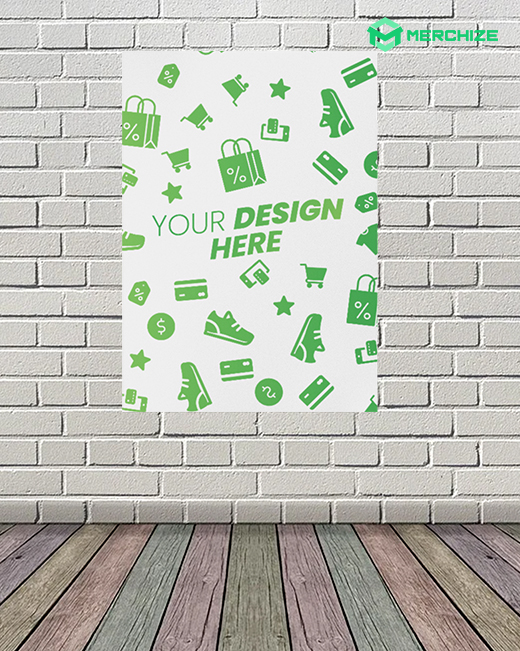 4.12. Phone cases
The last one is Phone Case which can not be missed on the list of the top winning print on demand products to get start on Shopify. Because it's rare to see someone not carrying a phone around these days, so it makes sense that phone covers would be on the best-selling list, right?
They provide protection for your beloved smartphone and look stylish, also. From catchy sayings to unforgettable designs, phone covers can be printed with almost any type of message or design possible. Otherwise, It's also a great way to identify your phone if you're at a party and put it down for a minute on a table with 20 other phones. As a result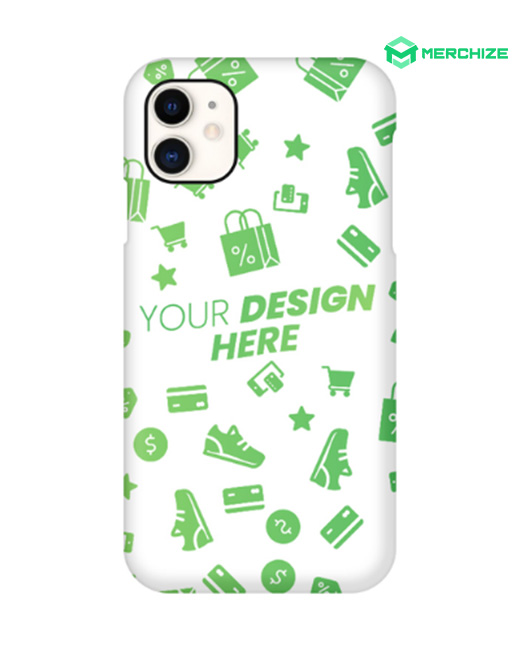 How to start print on demand shop on Shopify?
Starting a print on demand shop on Shopify requires only a few steps. Shopify also allows you to run a store on trial for 14 days. Print on demand integration basically costs you nothing. Here are the key steps to establish a successful print on demand business on Shopify.
Set up your Shopify store: You can use your own domain or use the default domain provided by Shopify. It is recommended to buy your own domain for your store. It will make it look professional and reliable. It will only take few steps to configure your stores with Shopify.
Add selected print on demand apps to your Shopify store. Some print on demand companies have their print on demand apps listed on the Shopify app store. However, some print on demand suppliers will require you to go to their website to integrate your store with their platform.
Create your product – After connecting your print on demand supplier with your store, now you should add listings and start marketing your products.
Are print on demand shops profitable?
Yes. If you have a strategic plan, it is possible to create a consistent income from print on demand. To make your print-on-demand shop profitable, you should find a good niche, create attractive designs with that niche, choose the right products, and then promote your products using social media and paid advertising. There is practically no limit to the profit that you can make with print on demand.
What is the cost of selling print on demand on Shopify?
It only costs $29 per month to sell print on demand on Shopify. It's the minimum cost to run an eCommerce store on Shopify. No additional costs are required by print-on-demand companies.