Etsy is one of the most popular marketplaces to sell print on demand. Many print on demand sellers have successfully built a million-dollar business on this platform. If you are starting a print on demand Etsy store, or have been around on Etsy but yet achieve your goals, here are some Etsy print on demand success stories to inspire your business. 
Why sell print on demand on Etsy?
Etsy is known as the best e-commerce marketplace for handmade and crafty products. According to the latest statistics, Etsy currently attracts around 90.65 million users across different countries, making it one of the largest online retailers in the world. (1)
Besides being a playground for handcrafted products, Etsy also allows print on demand items to be displayed on its platform, which opens a door for people to start earning money with this low barrier to entry business model.
Unlike other e-commerce platforms like Amazon and eBay, Etsy has some unique characteristics that make it an ideal space for selling print on demand:
Product-market fit: Buyers on this platform have a high preference for unique, handcrafted items. While being manufactured, print-on-demand products are using DIY designs and made in limited quality, differentiating from the mass products on sale.
Large existing audience: Being on Etsy means that you have gained access to a huge audience with a demand for special items.
Low maintenance cost: Etsy only requires a cost of 20 cents per listing and 5% per sale. There are a few other additional fees but it would add up to a huge amount of money. For this reason, Etsy has become a popular choice for people who want to do a side hustle with low investment.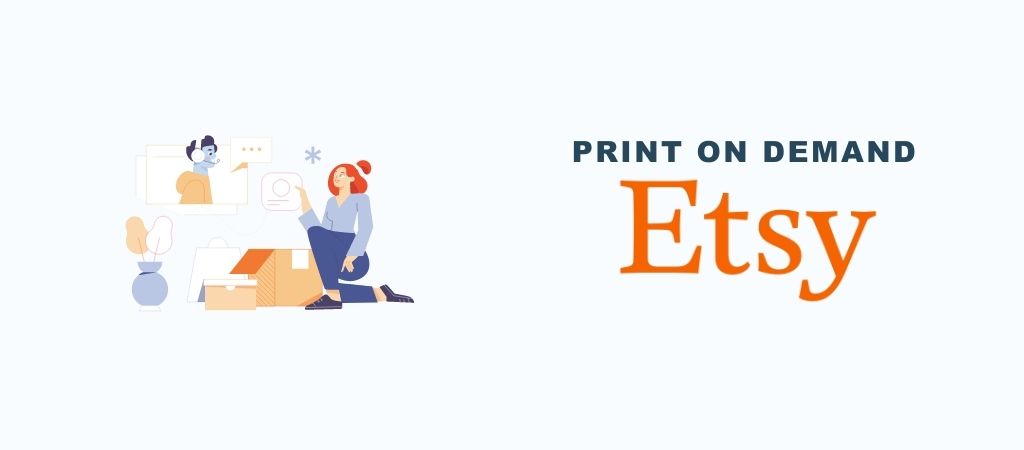 On the other hand, print on demand is also an effective means for Etsy sellers to test new products with no upfront cost as well as expand their product range.
With print on demand, sellers won't have to worry about producing, managing inventory, and shipping. The entire process is executed by print-on-demand providers. To generate sales, what sellers need to do is utilizing their creative ability and coming up with products that capture buyers' interest.
To conclude, Etsy is a good marketplace to sell print on demand products. In fact, many people have managed to build and create successful print on demand businesses and make a 7-figure income with Etsy.
In the following part, we will examine some good print on demand store examples on Etsy and learn the secret behind their success.
Etsy print on demand success stories to inspire your business
Sun Tzu once said: If you know the enemy and know yourself, you need not fear the result of a hundred battles.
The old saying by the Chinese renowned military strategist can apply not only to wars but also to the current market where the competition is just as severe and brutal. In order to succeed in a competitive place like Etsy, you need a well-crafted strategy. Learning from your competitors and predecessors who succeeded will help you make progress toward building a profitable and lasting business.
By studying successful Etsy print-on-demand stores, you can learn valuable lessons and apply them to your own business and achieve the same success.
WimlyMugs
Mugs are classic print on demand products that have brought huge success for many sellers. This type of product retains a steady demand over time. But along with the consistent demand comes stiff competition.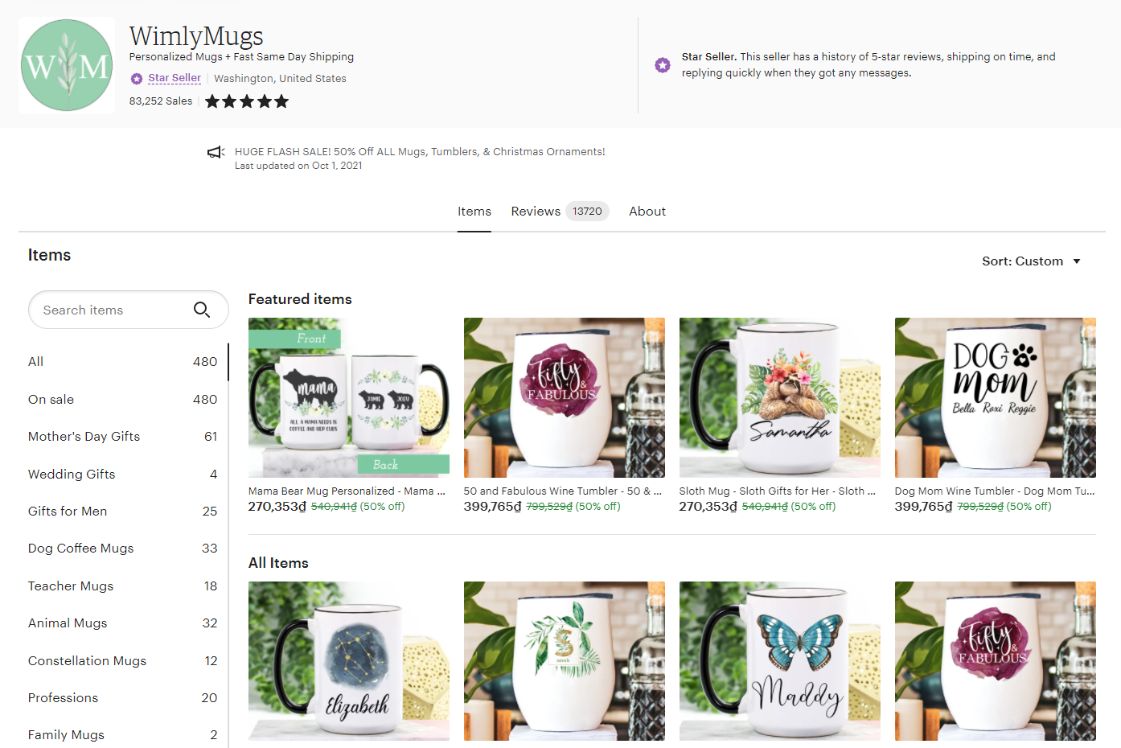 Regardless of the harsh competition, WimlyMugs still finds success with over 83,000 sales garnered within the course of three years.
What to learn from WimlyMugs' success story
Position yourself as a one-stop-shop for a particular product
Selling one product exclusively can be a tricky matter to handle. Less product diversity can limit your income to some extent.
On the bright side, it can help to position your store and your business in buyers' minds. Whenever they want to buy that product, your store might pop up in their mind as a one-stop outlet for that particular product.
>>> Want to know what sells best on Etsy, read out list of the hottest print on demand products for Etsy.
Experience with various niche
WimlyMugs sells mostly mugs. But this store has found a way to extend its product diversity by tapping into different niches, from animal, family, jobs, and so on. The best-selling products in this store are cross-niche products.
Offer personalized option
Buyers, especially buyers on Etsy, love personalized products. WimlyMugs knows it well and offers personalization options for most of their products.
It does seem that the personalization strategy is working well for WimlyMugs and contributed a great deal to the store's admirable number of sales.
SheMugs
SheMugs, as the name suggests, mostly sells mugs. But other than mugs, the store also makes space for a variety of other print on demand products, like cosmetic pouches, candles, stickers, pillows, jewelry, and so on.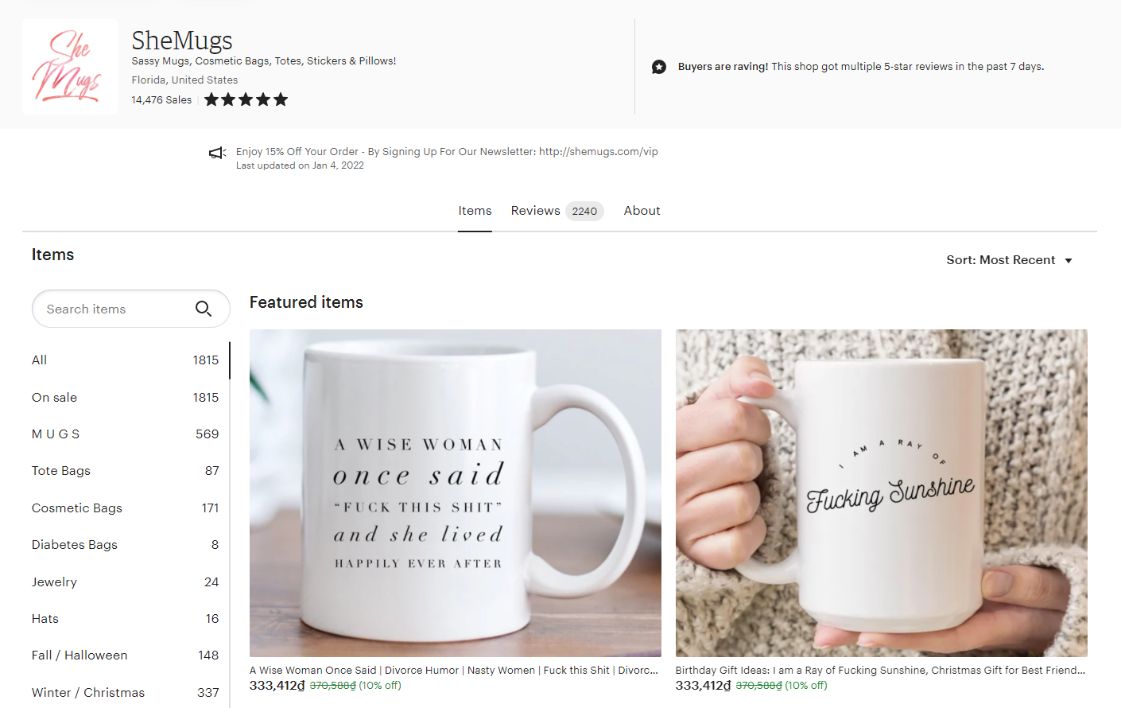 Starting in 2018, SheMugs has garnered over 14.5k sales over the years. The store is a great example of making products that sell.
What to learn from SheMugs' success story
The target audience of the store is females. With a clear picture of its target audience in mind, all other products are chosen and designed particularly for this group of buyers. All of their products are minimalistic with text-based graphics and simple messages. These simplistic designs are appealing to female buyers and can make a great gift for friends and family.
Try wide range of products
Unlike WimmyMugs above, SheMugs has a more diverse product range. With over 1,800 products, the stores offer a variety of options for interested buyers. While making the majority of the product number, mugs are not the only best-sellers of this store. In fact, other products like cosmetic bags, aprons, candles also contribute a lot to the gross profit of the store.
If you want to try more products for your store in the future, visit Merchize's Shop to find more unique print on demand items.  
Create good images for your store
Having attractive visuals is a good way to capture the attention of the customers, especially in a platform like Etsy where people have a keen eye for aesthetic products. Good product images can help you increase the conversion rate and build trust.
 I Like Maps
Olivier Gratton-Gagné started I Like Maps as his side hustle and an outlet for his passion for maps. The idea is to design and print out maps of cities and places people love as a wall decor item. His maps soon caught on and the sales rose significantly.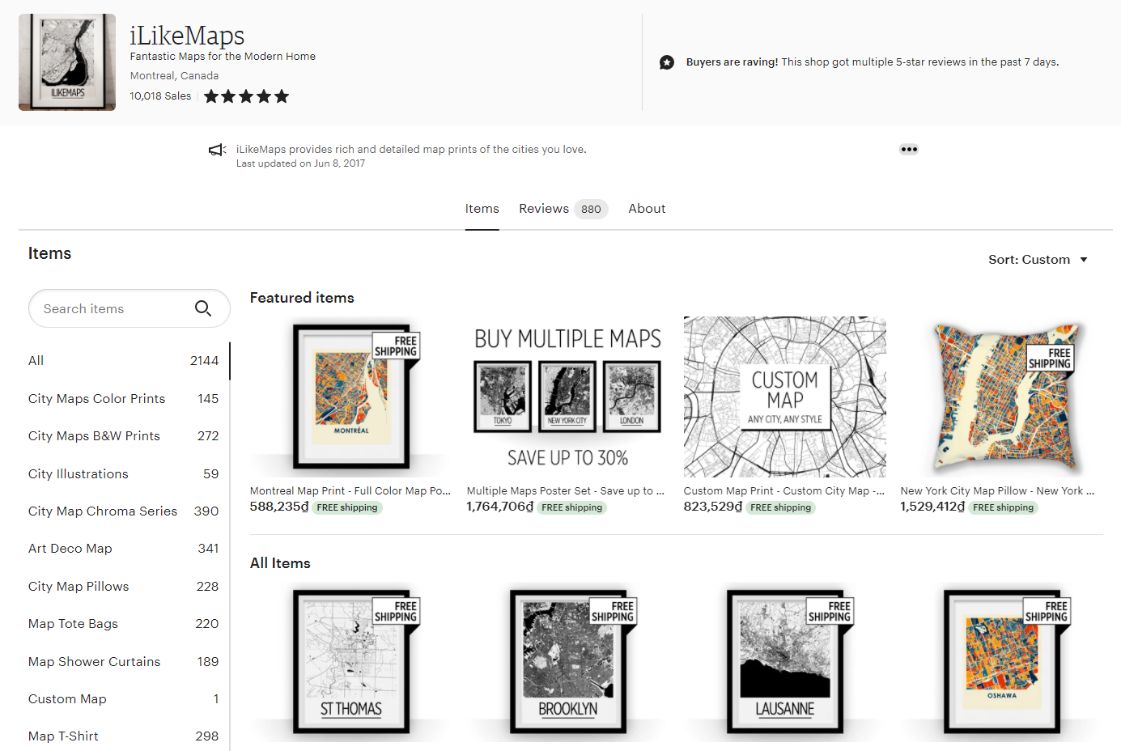 From a side hustle, Olivier is able to make it his full-time job that makes a decent income and allows him to have more space to enjoy life.
He first listed his listing on Etsy in 2012 and started working with a third-party print on demand provider a year later when Etsy allowed print-on-demand integration to its platform. iLikeMaps now has over 10K sales with over 1000 listings.
What to learn from I Like Maps' success story
Start with what you know best
This successful store wouldn't have been possible if Olivier wasn't so interested in maps. Using what he knows about maps – and the technologies, skills that he has, he is able to create products that are interesting and appealing to not only people sharing the same interest but also other regular shoppers.
Sell your products on multiple platforms:
Besides his store on Etsy, the store owner also opened an online Shopify store which adds another stream of income. To take his business even further, Olivier has also distributed his designs and artwork to sell on brick and mortar retailers across the world. With multiple sales channels, both online and offline, he was able to make a consistent income for his map-selling business.
JollyFamDesign
JollyFamDesigns is another successful print on demand Etsy store you should look up. This store was created in 2020. Until now, the print on demand store has accumulated over 17K sales. Buyers have showered the apparel online store with positive feedback. In fact, JollyFamDesigns is a five-star store with more than 3,000 favorable reviews from customers.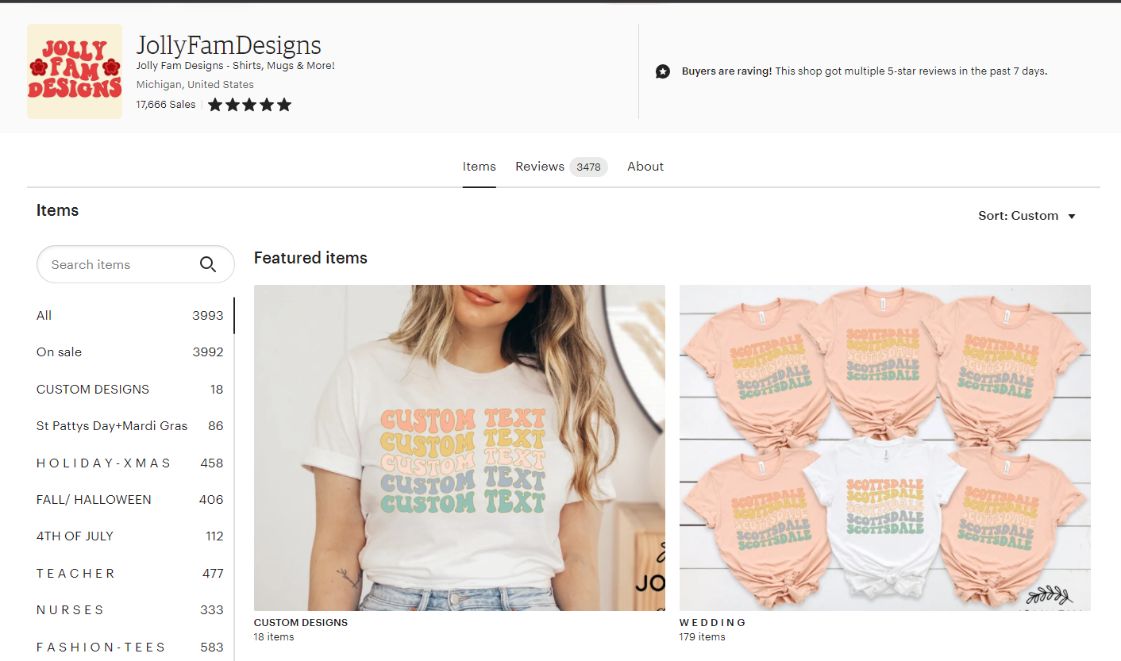 What to learn from JollyFamDesign
Create good product images for your listings
One of the great things that you should learn from this successful Etsy store is how the store owner creates consistently good images for each and every listing. While their designs can be a bit repetitive, they use a wide variety of mockup images that make the store appear more diverse and fun to look at.
Good product images also help to create a positive impression on the shoppers and gain trust for your products.
Implement trendy designs and styles to your product
This store only sells apparel, mostly including basic items like T-shirts, hoodies, sweatshirts. These products are in high demand but at the same time, very saturated. But this shop has got ahead of the competition by following the trend.
Besides the classic simple graphic for apparel printing, this store has experimented with some trendy aesthetic designs styles like retro wavy text, botanical hand-drawn graphics, leopard patterns, for example.
Little Cutees Studio 
This successful women's clothing store has once again proven how simple text-based designs can help you gain a huge number of sales. The text-based designs are easy to generate. There is no need to master the skills of graphic design to make such designs. In fact, you can use simple drag-and-drop design online tools like Canva or even use the build-in mock-up generator from your Etsy print on demand partner.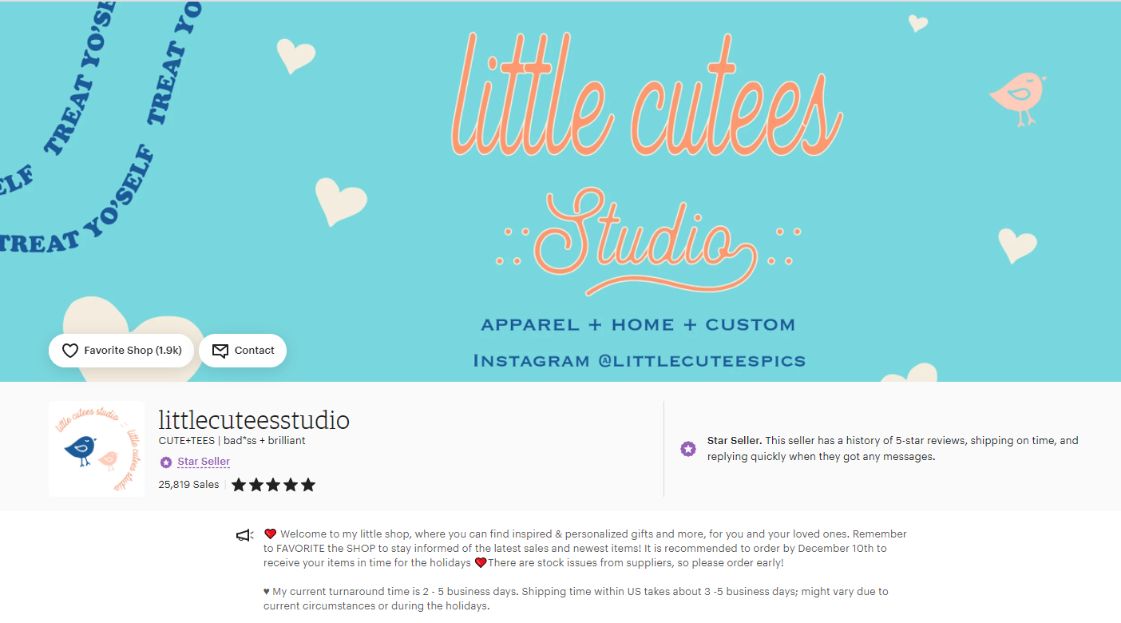 That sounds easy. But in practice, it requires an extensive understanding of your audience in order to find ideas that click with your target customers. Little Cutees Studio is a great example of how you can find ideas for such designs.
What to learn from Little Cutees Studio
Finding niches is the key to success with print on demand. Little Cutees Studio, for example, focuses on broad niches like jobs and hobbies. Within these niches, there are plenty of sub-niches that can provide plenty of ideas for your designs. So even though the product type and design are simple and minimalistic, this store still is able to come up with a wide range of products. Here are some text ideas that Little Cutees Studio has used to generate designs for the store.
"Coffee [a hobby or a job-related noun]"
"Future [job]"
"Eat. Sleep. [something related to jobs and hobbies]. Repeat."
"Women in [a field]"
>>> Check out the best tips to find a profitable print on demand niches for your Etsy store. 
HippoAndKelpie
HippoAndKelpie is a start-seller print on demand Etsy store that has successfully gained nearly 20K sales since launch.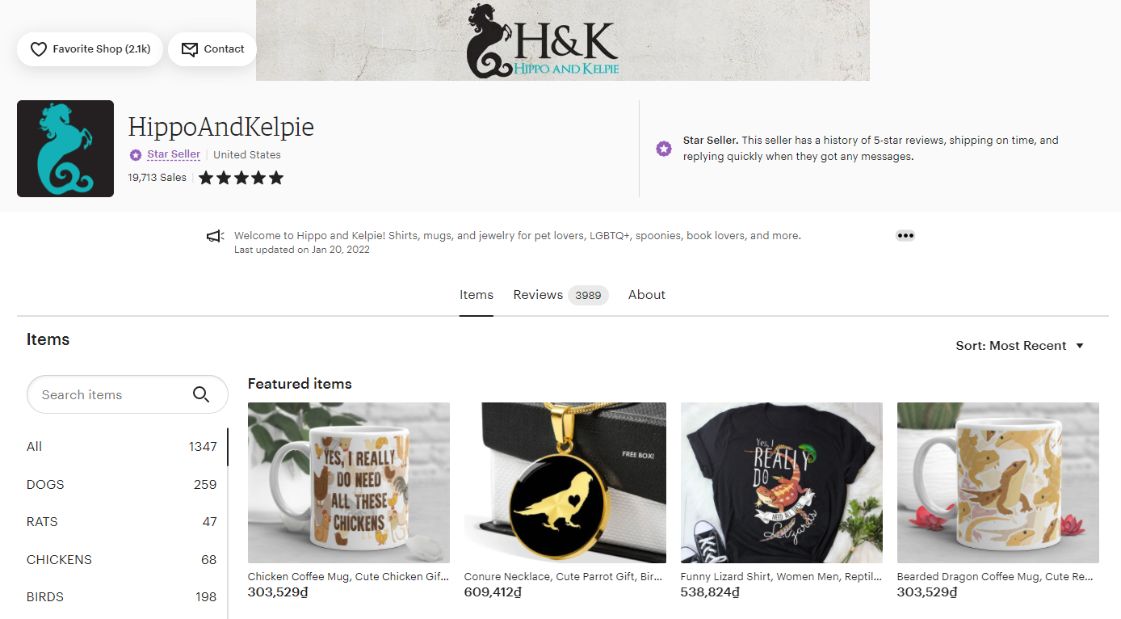 This store offers over 1,200 products, mostly including T-shirts and mugs. The products on these successful Etsy stores cover a few popular niches like pet lovers, book lovers, and LGBTQ. But the main niche that has made up for a majority of this store's catalog and driven a number of sales is pet lovers. You can check out the store and learn a few things about how to strategically navigate into such a highly competitive niche.
What to learn from Hippo And Kelpie's success story
Dive into different sub-niches within a niche
HippoAndKelpie store is a great example of how you can expand your product range within a niche. For example, the broad niche that this store is targeting is pet lovers. Within this large and highly competitive niche, HippoAndKelpie has focused on various smaller and more specific niches like dogs, reptiles, cats, rabbits, birds, and so on.
For sub-niches like dogs, there are plenty of smaller sub-niches of different dog breeds like pitbull, chihuahua, etc. This way, you can expand your product range by digging into a niche to find less competitive room for your product.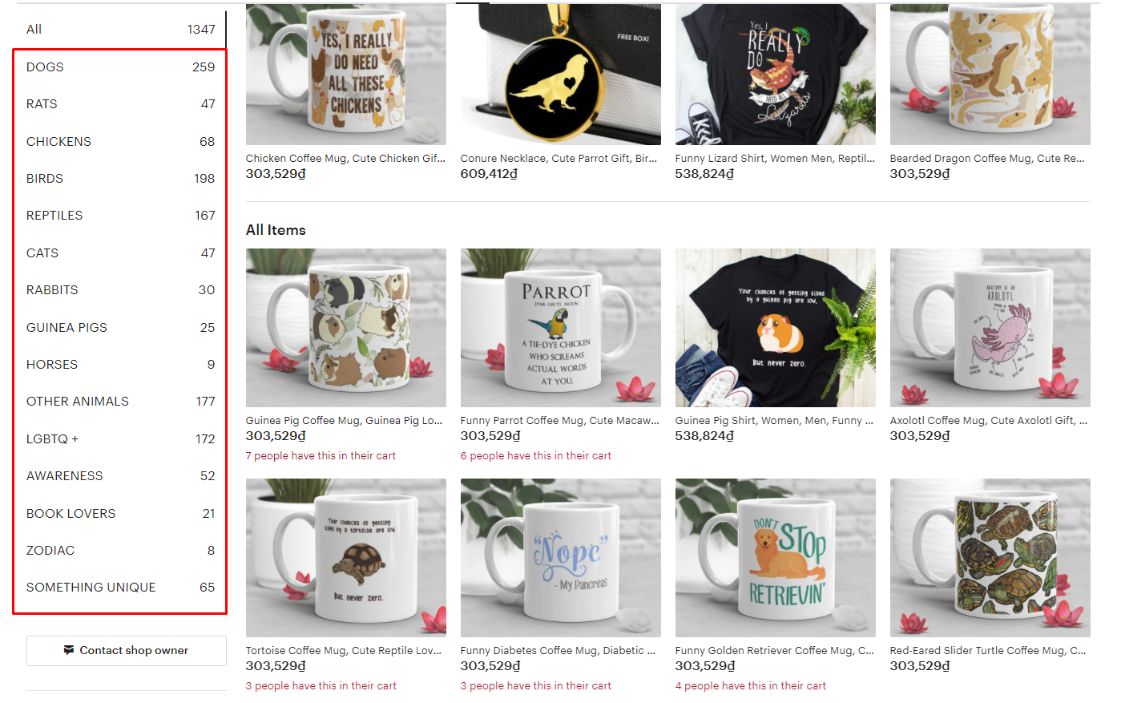 Text-based designs are easy to make. However, there is a better chance to increase sales if you can combine your texts with a be with a beautiful illustration.
If you want to include illustrations into your designs but are not an expert in creating ones, there are still ways to make it work. You can either hire a professional graphic designer to create designs for you, or you want to buy someone else's art and reuse it on your designs.
The first option is expensive and hard to sustain for a small Etsy business. The other option which is also chosen by HippoAndKelpie can be a more affordable way to generate attractive designs for your Etsy store. It only takes a fraction of the costs compared to what you might spend to hire someone to create original art for your store.
For example, one of the store's best-sellers – Rat Coffee Mug – is using illustrations created by another Etsy seller. There are many artists selling digital files on Etsy, which is a great resource to find designs for your niche.
More than often, these artists accept buyers to reuse their art for "small commercial business". They might or might not require some form of credit, like leaving the credit to their shop on product listings. You should check with the owner of the arts carefully before using their works for commercial purposes.
For one illustration, you can reuse multiple times by creating various designs using different layouts and texts. You can also maximize profits by adding these designs to different types of products.
RustyCowgirlBoutique
RustyCowgirlBoutique is a successful print on demand Etsy shop. Created in 2019, this Etsy store has accumulated nearly 48K of sales and offered over 1.4K print on demand products. It is estimated that the weekly sales of this store are somewhere around 600-800. This Etsy store sells T-shirts, tumblers, mugs, and decals.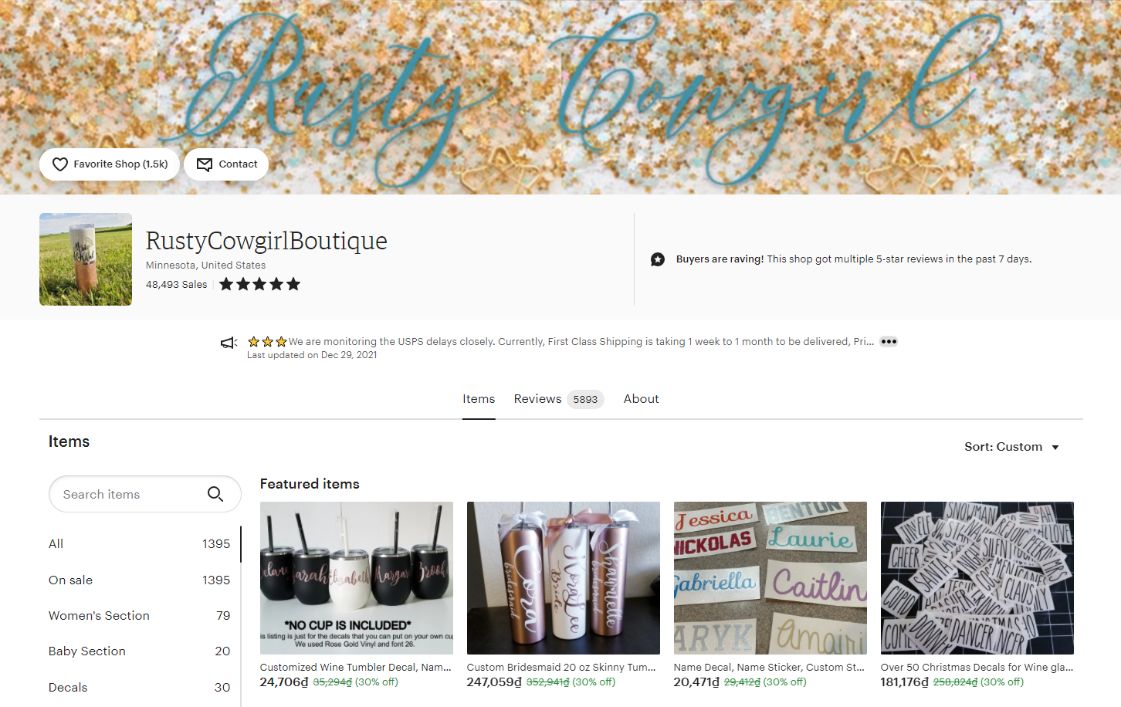 What to learn from Rusty Cowgirl Boutique's success story
There are a few lessons we can learn from this Etsy store's success stories.
Shoppers on Etsy particularly love personalized products. Knowing this, print on demand sellers should try to include some custom products on their Etsy shops.
RustyCowgirlBoutique has capitalized on buyer's preferences for customized products and gained tremendous success. Their personalized tumblers are sold in good numbers, proving the high demand for personalized products on Etsy.
Include discount for your products
Another tactic that is frequently used by many successful Etsy sellers is to provide discounts for their products. Even when it is quite an old trick, it is still very effective to push the conversion rate of your Etsy shop. For example, RustyCowgirlBoutique store is offering a discount of 30% on all their products.
Here are some other Etsy accounts that are doing a great job in attracting customers that you can look at to learn more about doing print on demand business on Etsy.
MazeCustom
ClotheDesign
PooSparkles
AhavtiLifeStyle
Lessons from successful Etsy print on demand stores
By looking at the successful Etsy store, you can learn useful tips to create a stable source of passive income on this ecommerce website. Each seller will have a different approach to make their Etsy store profitable. But there are a few common practices that are frequently used and proven to be effective to help Etsy business. Let's sum up some valuable lessons learned from the successful print on demand Etsy shop. 
Find a niche for your store
Finding the right niche is the key to building a successful online store. Many Etsy success stories begin with choosing a profitable niche. Niche research is even more important for sellers who just started selling print on demand on Etsy.
Focusing on one or a few niches will increase your chance of success in a highly competitive market like Etsy. It helps you to generate product ideas that can speak to customers' emotions and finally convert into sales.
Finding a good niche might require extensive research. If you have yet known where to start with your niche research, read our blogs on how to find a profitable niche for your print on demand e-commerce business.
Watch the market trend
Classic products and designs are proven to work wonders for many print on demand businesses. However, some design styles and products are overused and saturated over time. For your print on demand products to stand out and capture buyers' sentiments, you need to keep an eye on the up-and-coming trends.
How to detect a trend you might ask? Here are a few tips to find out what is trending in the market:
Watch out for your competitors: The most obvious answer is to closely follow your competitors to see what they are selling. By doing this, you can find out the market trends and what are selling well for your rivals.
Find information on etsy.com/trends: Etsy keeps updating and reporting trends on their own blogs and Trends. This is a reliable source to inform your market research.
Check Google Trends: Once you notice an emerging trend, you can double-check with Google Trends. This tool is incredibly useful for checking the trend of a keyword query on the world's largest search engine. If there is an increasing number of search volume for a particular product or idea, it is a good indicator that there is a growing demand for that.
Offer personalization options
Personalization is big on Etsy. According to Etsy's annual report, "personalized gifts" was the most searched keyword on Etsy in 2020. There is a huge demand for customizable products on Etsy, and if you totally use it to your advantage with print on demand.
Collect positive reviews
A collection of positive reviews is the backbone of a successful online business. Research by Dixa reveals that 93% of buyers read online reviews making the buying decision (2). Another research by Fans and Fuels shows that 92% of customers are less willing to buy a product if there are no customer reviews (3).
To succeed in a competitive online eCommerce website like Etsy, getting good reviews is a must. If you just start out and have yet to gain sales or reviews, it is worth offering some forms of initiative and discounts in return for reviews.
You also ask your friends or acquaintances to leave some feedback for your online shop at first. In the long run, this strategy won't help you but in the beginning, it is beneficial to gain momentum for your store.
At the same time, make sure that negative reviews are handled carefully. Even when you tried your best to give your customers the best experience, it's impossible to sassified everyone. If you get bad reviews, make sure that you address them publicly and privately so that this particular negative experience won't affect your store's stats and reputation.
Create attractive photos
Providing good product images is an effective way to increase the conversion rate for your Etsy store.
According to Justuno, 93% of the shoppers said that product images are the key factor for them to make a purchase (4). A survey made by Etsy itself also shows that 90% of the buyers agree that the quality of images is extremely important to purchase decisions (5).
Having well-photographed images for print on demand products is quite hard to archive since sellers don't manage the inventory themselves. Still, it's within your power to create well-designed mockups. Try to diversify your stock images and design mockups with styles that appeal to your target audience.
Do Etsy SEO
To leverage your Etsy game, you need to do Etsy SEO properly. SEO is a low-cost way to get your listings visible to buyers on Etsy.
Even when you have a selection of great-looking products and wonderful customer services, none of that would help if your listing doesn't show up on your potential customers' journey. SEO is a practice to increase your listings' visibility on the Etsy search result pages.
There are a few key factors you can optimize to improve your listings' ranking on Etsy search result pages:
Listing title
Tags
Categories
Descriptions
For more details on how you can get better with Etsy search engine optimization, you can check out our beginner-friendly Etsy SEO guideline.
Note that there are a few paid and non-paid tools that can help you to find the right keywords and optimize your Etsy store's SEO like eRank, Marmalead, Keyword Tool Dominator, and so on.
Wrap up
With the increasing competition, success on Etsy has become incredibly hard to attain. But with the right strategies and approach, you will soon find an effective, incredibly easy, and less time-consuming way to create and operate a successful Etsy store.
Hopefully, the success stories of these print on demand Etsy shops have helped you learn some valuable lessons to earn more on the Etsy platform.
References:
1. Etsy Inc Statistics & Facts retrieved from https://www.wallstreetzen.com/stocks/us/nasdaq/etsy/statistics
2. Mia Loiselle, 3 Important Statistics That Show How Reviews Influence Consumers retrieved from https://www.dixa.com/blog/3-important-statistics-that-show-how-reviews-influence-consumers/
3. Fan and Fuel, No online customer reviews means BIG problems in 2017, retrieved from https://fanandfuel.com/no-online-customer-reviews-means-big-problems-2017/
4. Justuno, 65 Surprising E-Commerce Consumer Psychology Statistics retrieved from https://www.justuno.com/blog/65-e-commerce-statistics-about-consumer-psychology/
5. Etsy, Why Product Photography Is Important retrieved from https://www.etsy.com/seller-handbook/article/why-product-photography-is-important/147451496051