With the print on demand industry, you can find a wide range of high potential products which is on high demanding to fill up your stores and sell online. The top print on demand companies are pushing and exploring to bring on new and exciting options to meet the ever-changing needs of the customers demanding.
Either you are a new or a veteran print on demand store owner, you should always keep your eyes on the current top trending and push new products on your store. Here are the best print-on-demand products to sell on Etsy in 2021.
Best things to sell on Etsy – Print on demand version
Homeware
Report shows that homeware and furniture are the top popular subcategories on Etsy. This trend is not going to go away anytime soon due to the pandemic. The more time people spend at home, the higher the need for them to upgrade and furnish their nest. There is no reason for you to stay outside of this market trend on Etsy. Here are some best-selling staples that you can sell on Etsy.
>>> Check out Merchize's full list of top Etsy Home Living product
Drinkware
Drinkware is clearly among the most popular print on demand products for the longest time. Mugs, for example, are all-time favorite items in the print on demand market. Basically, you can not put an end to people's fascination with personalized mugs. Etsy custom mug is also a top keyword that many customers are searching for. You can check out Etsy Merchize's collection of mugs.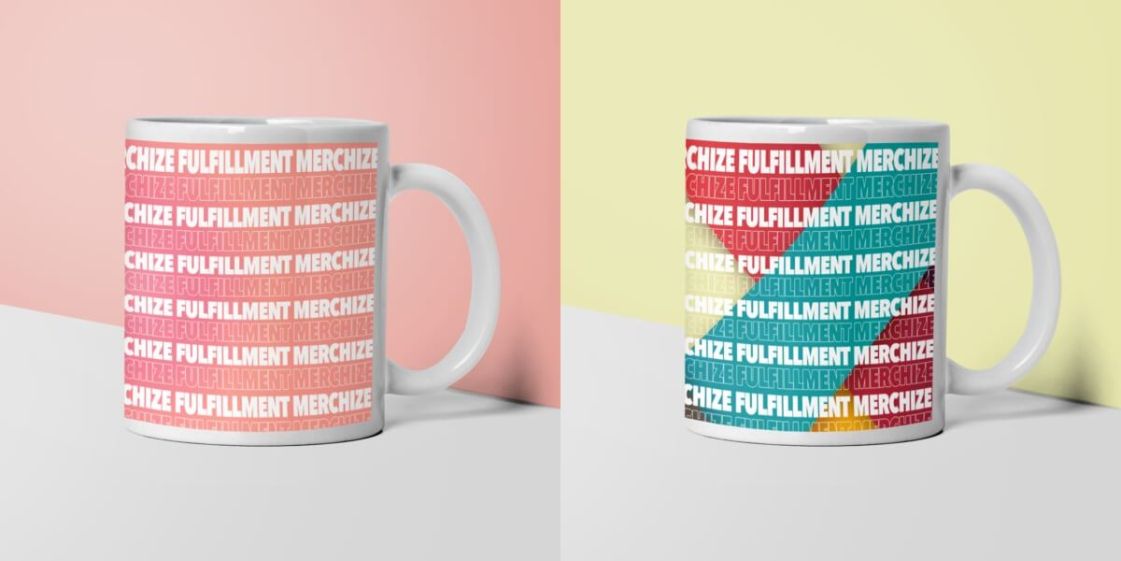 Mugs are classic products to sell on Etsy. It also means that the market on Etsy and other platforms for custom mugs is also saturated and competitive, making it harder for you to stand out from the crowd. The good news is, now, top print-on-demand suppliers with top products on Etsy are coming up with many new drinkware products like tumblers, water bottles, and so on.
Pillows, blankets
Pillows and blankets are also essential and on high-demand items for home decor. Since people are spending more time indoors, they might need (more) pillows and blankets to feel cozy and comfortable at home.
According to Twilio's 2017 State of Personalization Report by Segment, personalization would be the best key to the future of business and sell custom product online can bring high profit. Fast forward a few years, this prediction has been proved to be true. As per their latest State of Personalization Report, 60% of customers confirm that they are willing to buy again after a personalized shopping experience.
Print-on-demand products have an obvious advantage in fulfilling customers' needs for personalized products.
That's something everybody knows. But how can you integrate personalization into your products, or in this case, your pillow and blanket design? Here are some of the best personalized pillow and blanket to sell for your Etsy for:
Custom Pet pillow/blanket
Here is one top tip for you to create a hot-selling pillow and blanket product to sell on Etsy – try to integrate it with your niche. For example, pet pillows and blankets are some of the current successful & high demand items on Etsy. The custom pillows and blankets allow you to incorporate personalization into your niche. You can be creative and come up with your unique ideas. But if you're stuck here, reusing the personalized pet pillow and blanket is not a bad idea. Check out Merchize personalized plush pet pillow and blanket to sell on Etsy.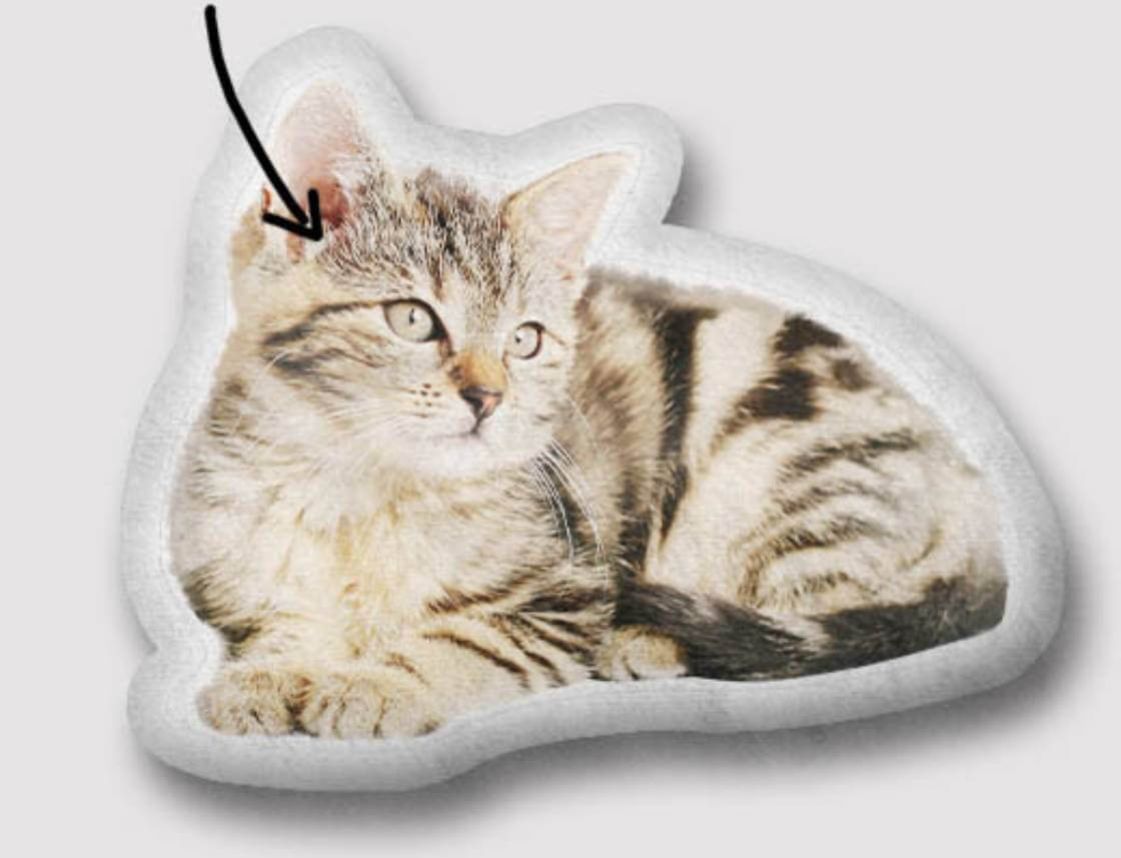 Personalized baby blanket
Personalized baby blankets are in high demand and have high chance to sell online, it belongs to top products on Etsy. People would love to buy this as a present for newborn babies. However, not many print-on-demand suppliers are including this product for sellers to sell on platforms in their catalog. You should do some thorough research on which companies can fulfill this kind of demanding product. Pay attention to the material of the blanket – make sure it's soft and gentle for babies.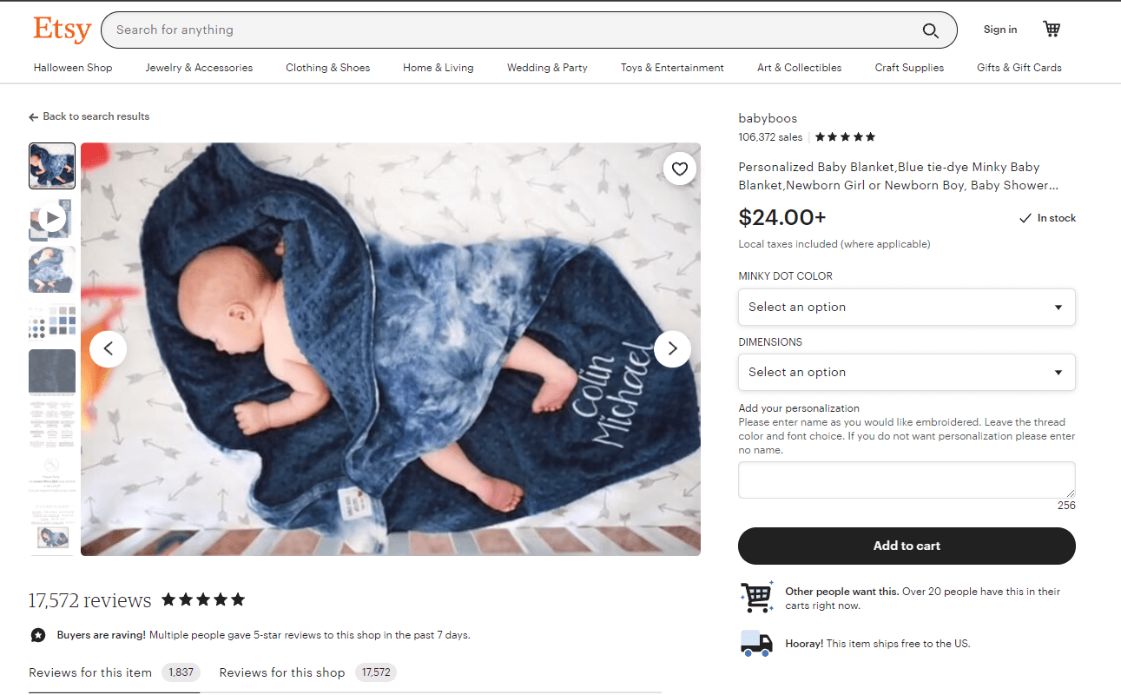 Wall Decor – Wood sign, frame, print, wall art
Wall decor is a very popular item that is on high demanding and will never go out of style. You can always make some cash out of this best-selling demanding product as long as you have a creative and beautiful design. This item is high demanding products to sell on Etsy.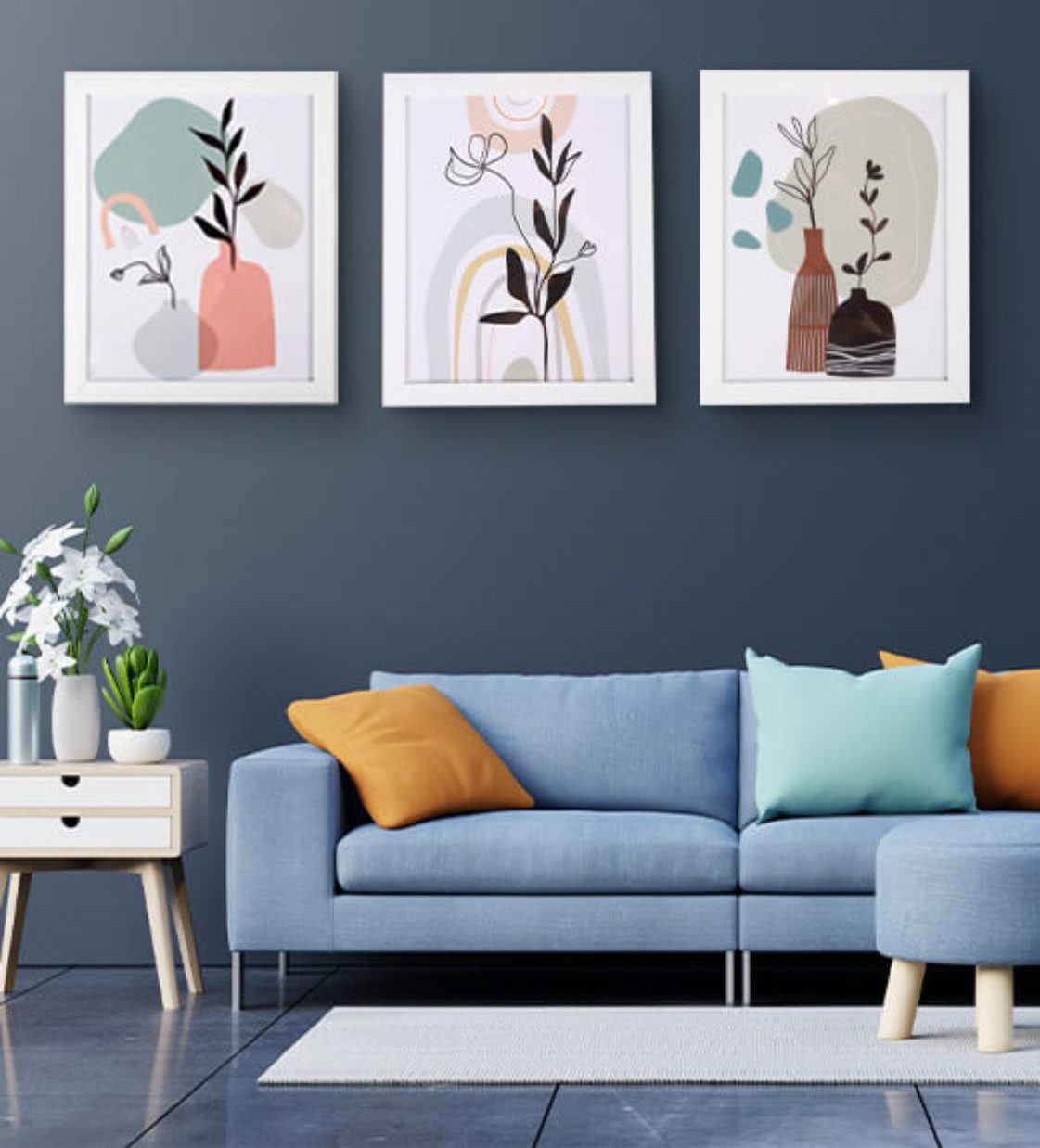 With print on demand on Etsy, you would have to be exceptionally good at hand drawing or spend hours and hours to create a painting. Instead, you can make use of the digital graphic tools and create the best designs that the mass customers can afford.
Besides the top popular items such as classic canvas and poster, here are some trendy wall decor products on high demand to stock up your store and sell online:
What arts sell best on Etsy?
If you are not sure where to start with your wall art design, here are some popular and profitable ideas and styles for you:
Boho art
Farmhouse decor art
Abstract print
Floral wall art
Fine art photography
Tropical plant prints
Mid-century art
Minimalism art
Animal arts (dogs, cats, dolphins, whales, birds, etc.)
Watercolor arts
Top tips on how to sell art on Etsy
Visually appealing designs are good. However, to constantly hook your customers, you have to appeal to their emotions. Creating wall art with meaningful messages will be the best way to help you to provoke customers' desire and selling them on Etsy can help you gain much profit.

Image quality is highly important for print on demand business because it will have effect to their ranking . For wall art prints, make sure the picture has a high resolution (it should not be less than 300 dpi) to bring high quality products. Otherwise, the images will break on your prints, making it like a poorly-made product.

It is always good to integrate some factors of personalization into your products to sell on Etsy. Create the best custom design that can give the customers a sense of personality.
Ornament – Christmas stocking, Christmas ornament
Holiday season only lasts for short periods of time therefore to get the best performance, it is better to start the campaign before 2,3 months. Also, it remains to be one of the most lucrative and busy times of the year for sellers on Etsy. If you know how to capture the buying sentiment during the Christmas season, you can make some big bucks. Ornaments are the top essential products for this season. However, to sell ornaments on Etsy, you will need to level up the game and think outside the box. Apparently, buyers are not going on Etsy for something they can easily purchase on a random brick-and-mortar store. Here comes the magic word – personalization. Yes, give the customers something with their names on it – selling personalized Christmas ornament, personalized Christmas stocking on Etsy is great idea. They would definitely love it because Ornament belongs to high demand products to sell.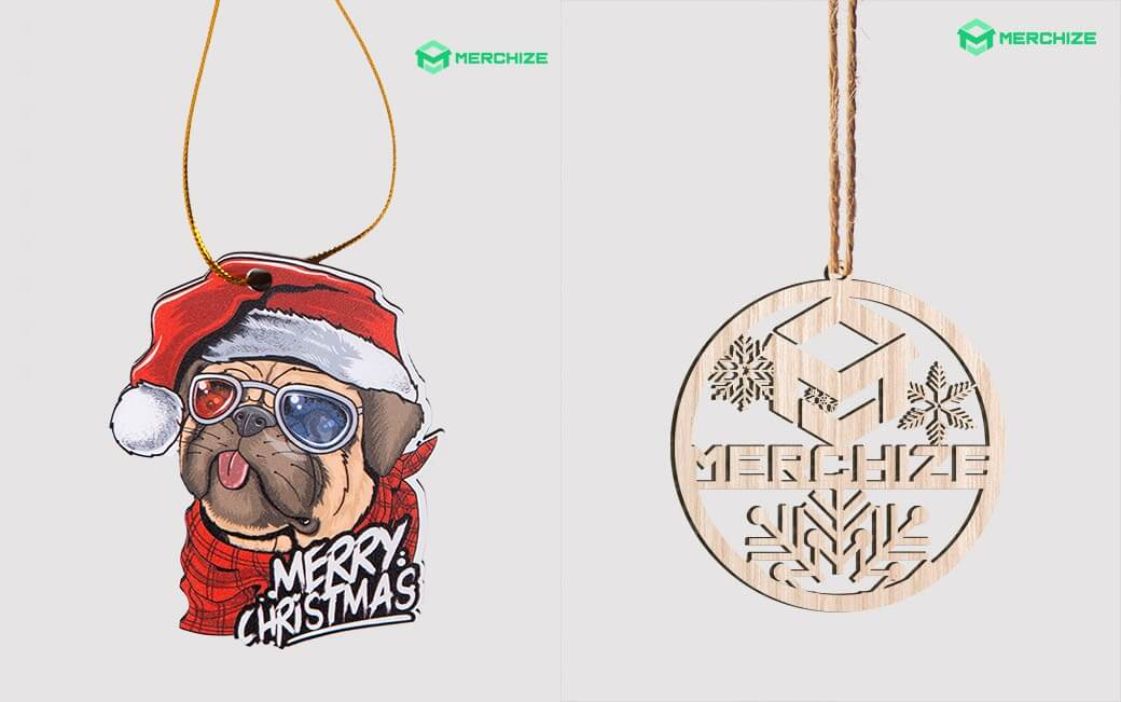 Merchize is currently offering some best unique custom ornament items to fill up your store this holiday season.
Clothing
Clothing is the backbone of the print on demand industry and it is high demand product to sell online. Last year, Printify, one of the largest & top print on demand companies in the world, revealed a shortlist of ten on demanding Etsy top-selling items. Four out of ten best selling products are t-shirts, and together, they accounted for 46.04% percent of the total sales. In addition, sweatshirts, hooded and crewneck, added a 9.85 percent.
It should be noted that Printify has one of the broadest product collections. The dominance of the clothing segment in the total sale of this platform could tell a lot about how important it is to the print on demand industry as a whole.
T-shirt
T-shirt is the the best on demanding item in the wardrobe due to convenience and comfort. It has always been the top product to sell for many newbie print on demand sellers. However, this also means stark competition. Here are some best tips on how to sell shirts on Etsy:
Find a niche that is unique and appealing to a high number of shoppers, the demanding products could attract more customer

Create top unique designs. Make sure that you don't infringe the copyright and trademark rules

Find the best print on demand suppliers that can guarantee high quality products. In a saturated market, focusing on quality will always be the best strategy.

Promote your brand on social media. Creating a good product is not enough. In order to really boost your business, you should pay attention to build a strong social presence and branding

Sell

Etsy custom shirts

. Custom items always gain a lot of attention on Etsy. This high demanding products has high potential to sell online.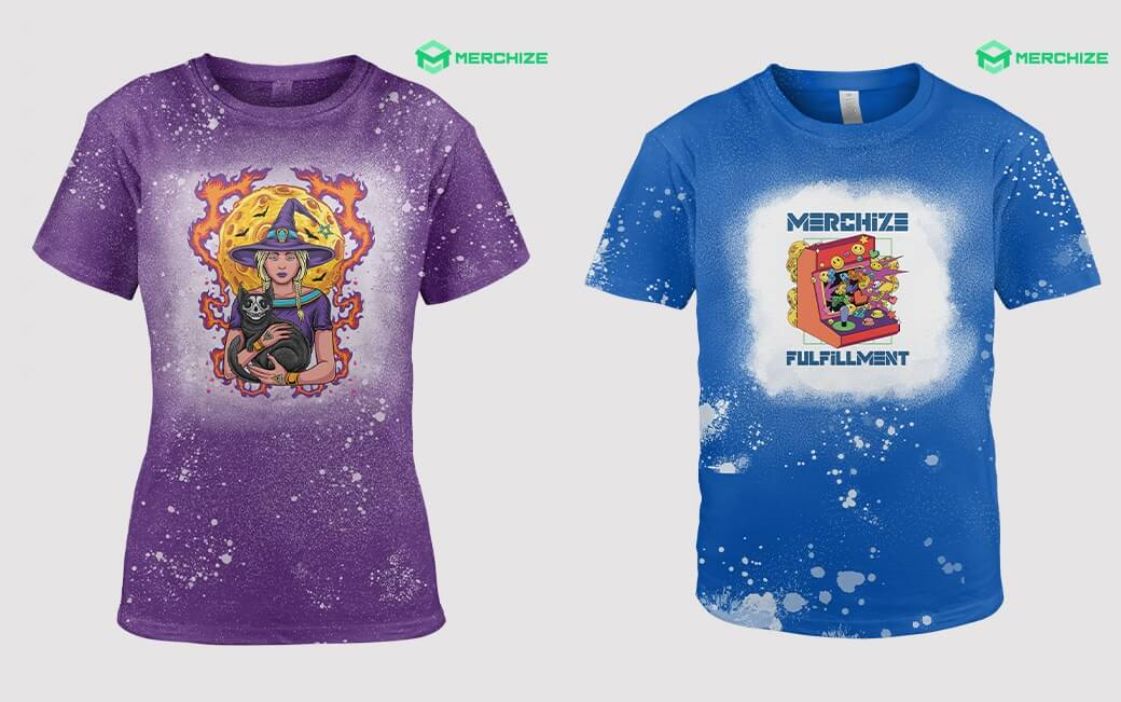 Hoodies and sweaters
Since the pandemic, people are spending more time at home, which leads to the increase in demand for top popular products such as hoodies and sweatshirts – the top cozy and comfortable items for staying at home. Both of them also belongs to high demand products to sell list.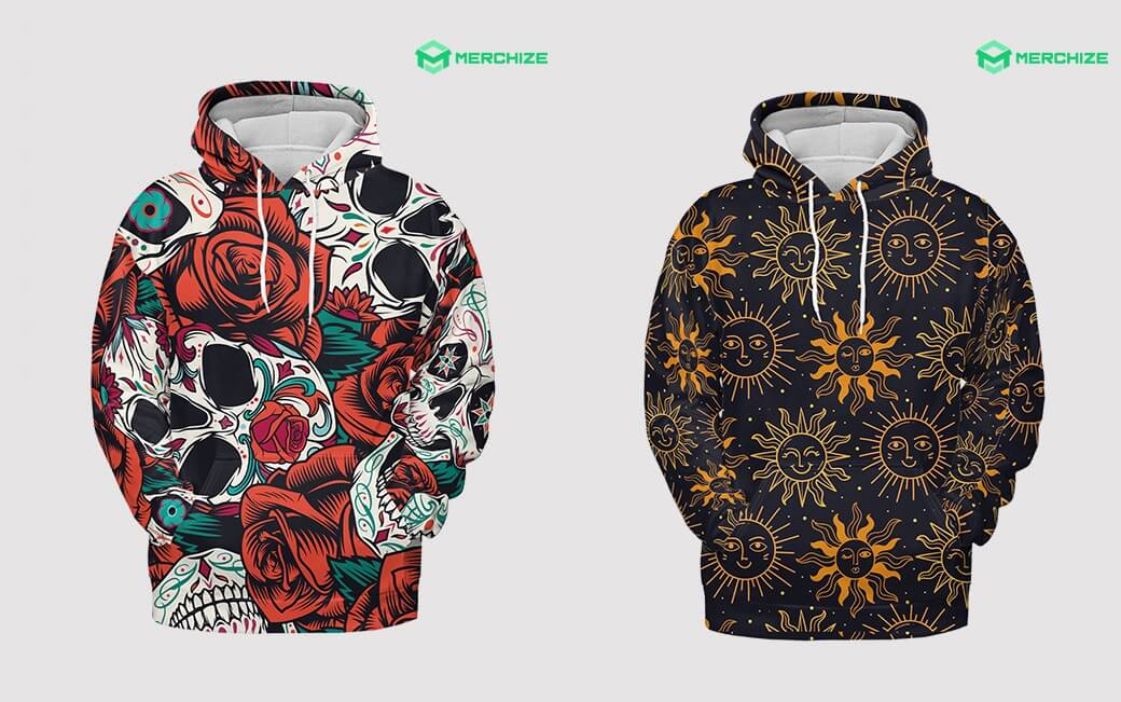 According to a report by Printful, 29 percent of online store owners have added hoodies and sweatshirts as new products to their store. Sweatpants and joggers also attracted 11 percent of the store owners during the pandemic. These products are making a trending that is expected to continue well into 2021.
Another trend that has been gaining popularity recently is all-over-print hoodies. Merchize – one of the top print on demand suppliers has introduced a collection of all-over-print items with high fabrics and printing quality.
Jewelry and Accessories
Jewelry and accessories are the top big category with a wide range of product to sell on Etsy. Shoppers look for unique and handcraft jewelry and accessories to sell. Still, there is still room for your print on demand product to sneak in. The secret to capturing customers is, again, personalization.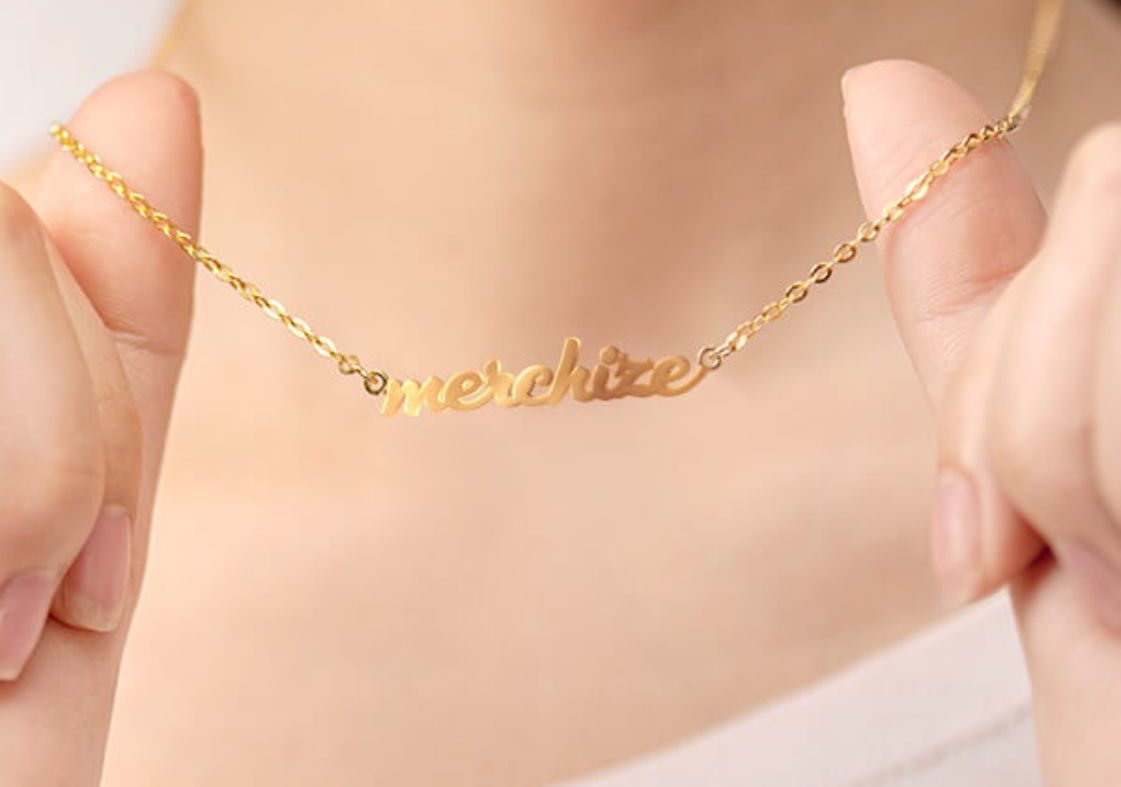 Engraved jewelry is the much-loved on demanding item that is a popular gift and popular item to sell on Etsy. It can create special meaning for a date, a special day and make it even more precious. Plus, since jewelry has always been considered a high-valued item, people are willing to pay for it at a high price. And with personalized design, the perceived value of a jewelry item can go even higher. Here are some hot selling customized jewelry ideas for your Etsy store:
Personalized ring

Personalized bracelet

Personalized necklace
It's an evergreen product, which means that it is popular and can create a consistent flow of income for you throughout the years. One tip to capitalize on this item on Etsy even better is to run promotional campaigns on special occasions like Mother's Day, Valentine's Day. On these occasions, there is an increasing demand for top meaningful gifts like personalized engraved jewelry on Etsy and other platforms. You shouldn't sleep on that!
Face covers
Face cover is one of the biggest trends in 2020 as well as in 2021 on Etsy. Since the outbreak of the pandemic, people are getting used to wearing face masks, face covers on regular basis. It has become more popular than ever and the top selling in recent years on Etsy.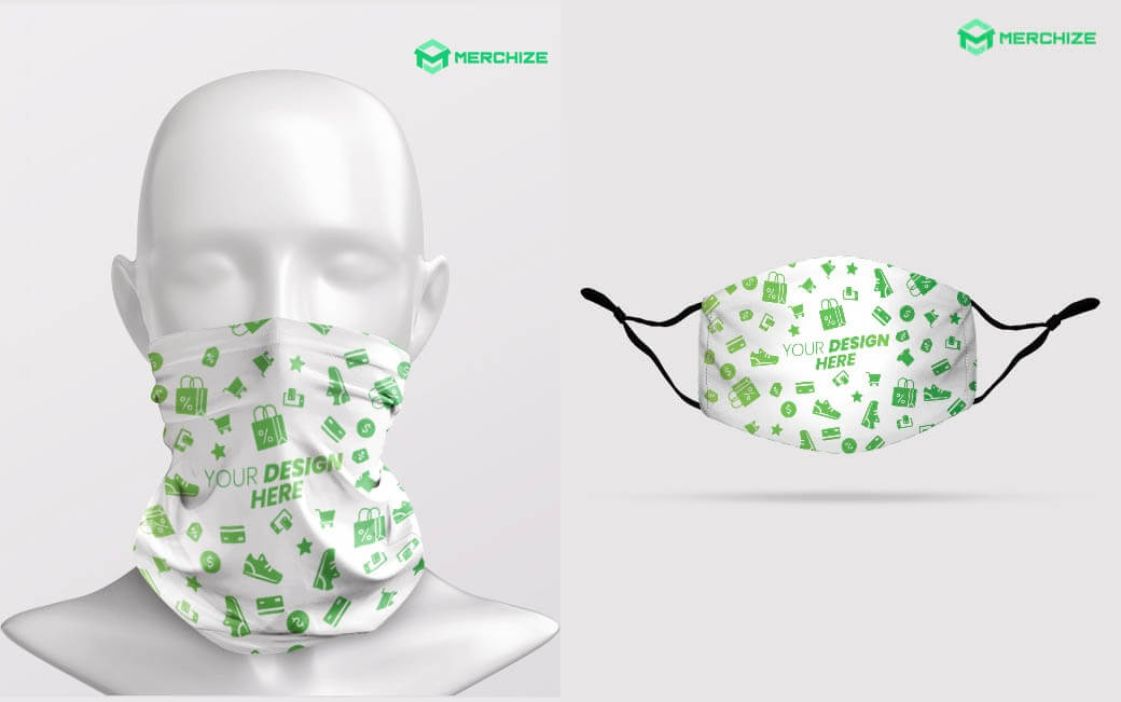 As the usage of face covers increases, so does the high need for "statement" face covers. Simply put, people are sick of regular surgery face masks. Plus, using one-time face masks is also not an environmentally conscious decision. And here comes the market needs that your print on demand store can fulfill.
Face masks: You can get creative and design funny-looking face masks that people love to put on their faces. At Merchize, we are offering a range of best face mask products with some unique designs that will definitely set your products out from other competitors like all-over-print luminous face masks, reflective masks, stretch-to-fit 3D
Neck gaiters: With neck gaiters, create some unique top prints that make your product stand out.
Dog/pet accessories
I wouldn't have to talk length about how much power these four-legged friends possess over the print on demand market. Pet owners are so generous when it comes to their beloved companions. Here are some top product suggestions for you to take this sentiment to your side when running the best print-on-demand store.
Pet cloth, pet tank, pet bandanas

Dog collars and tags

Pet bed, pet mat

Pet bowls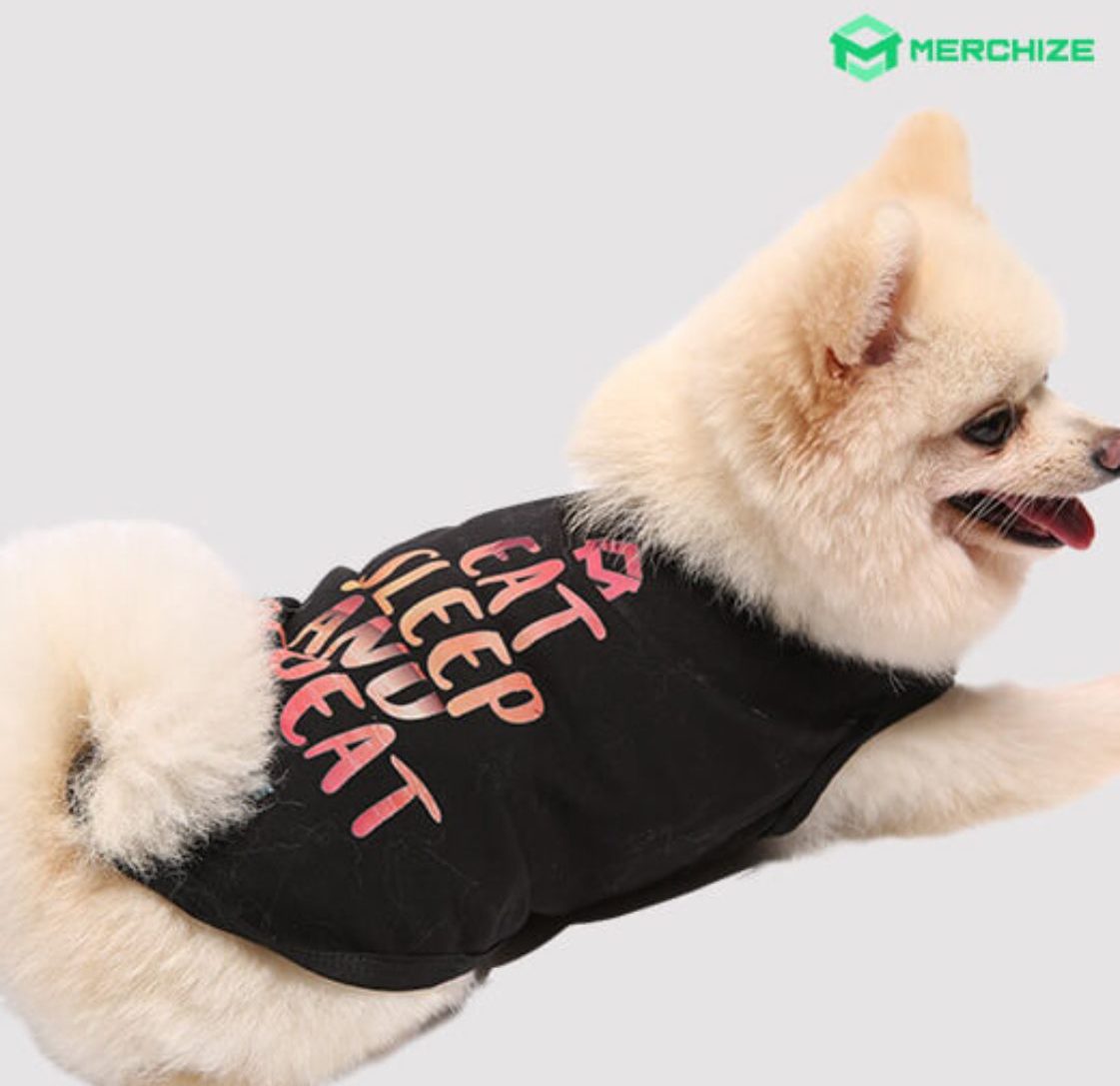 The listed on demanding products are the best for pets to sell on Etsy. But of course, you should not be limited to these products only. You can combine the pet theme into other products like T-shirts, mugs, blankets, posters, canvas, and so on. Cross-selling is a great idea in this case to get high profit.
Gifts
Gifts are technically not categorized as a product section. Still, we will put it as a separate group of products just to give you some product ideas. Basically, everything can be bought as a gift. However, to make your product appeal to shoppers who are looking for a gift, here are some tips for you:
Target on specific occasions. Gifts are hot keywords during special occasions like Mother's Day, Father's Day, Halloween, Christmas, Valentine's, and so on. Adjust your product design accordingly to these important events

Try selling evergreen products – a gift that can be sold all year round. Betting all your income on certain holidays or occasions will not give you a stable flow of income. You can try to capitalize on gifts that people will need anytime during the years.
Here are some good gift ideas for your store to make money all year round:
Selling Baby gift:

Apart from the baby blanket product as mentioned above, baby onesies, baby T-shirts are some hot-selling items that can be marketed as baby gifts.

Selling Wedding gift:

Wedding listings are very popular on Etsy. The marriage industry is so lucrative, especially on a platform like Etsy. Here are some high demand products to sell that you can offer as wedding gifts on Etsy:




Mugs

Throw pillow

Poster, canvas

Matching jewelry
3. Don't forget to add some personalization factors to your product.
When it comes to gifts, meanings and originality are highly valued. That's why personalized gifts are super popular. According to Erank's top keyword chart for September 2021, "personalized gifts" ranked third, just after "halloween" and "gift". Personalized baby gifts or personalized wedding gifts are some hot keywords on Etsy. On a related note, read our you want to find the right keyword, you can read our guide on Etsy SEO.
Kitchenware
Apparently, because of the pandemic, people don't eat out as much as they used to and start to cook at home. That leads to the increasing demand for kitchenware. On Etsy, handmade kitchenware products are selling really well. How can your print-on-demand store stand out in this competition against handmade kitchen products? The good news is that many print on demand sites have noticed the trend and added some kitchenware products to their catalog:
Personalized apron: Merchize is currently offering a cooking apron item with an adjustable neck strap. You can add your own designs and ideas to create an attractive product.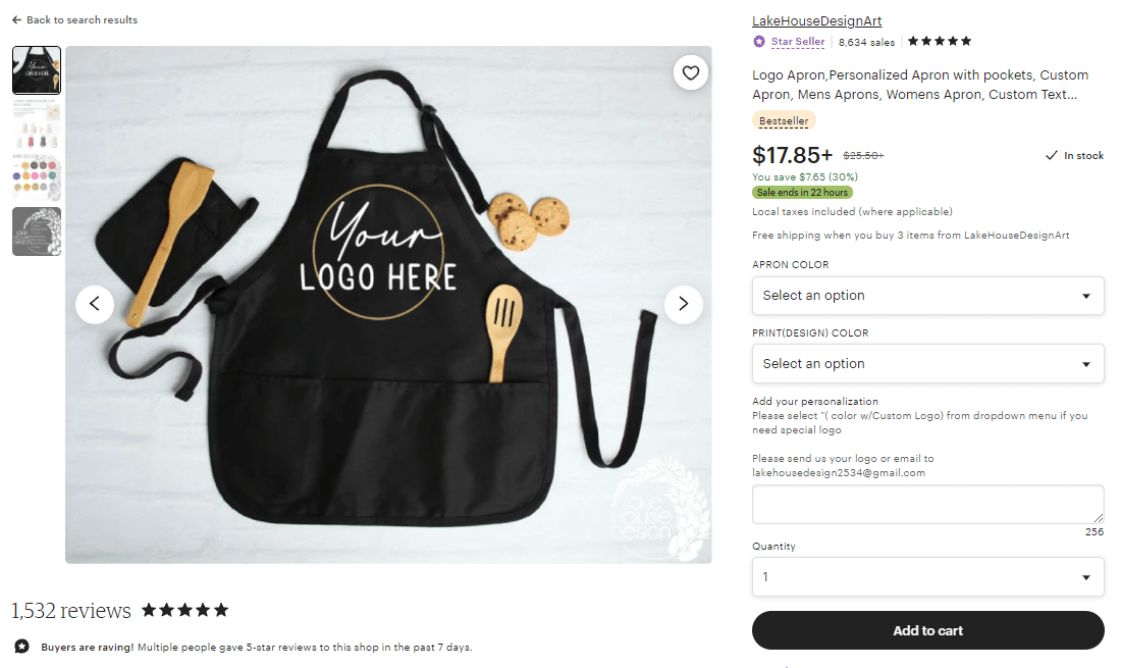 Cutting board: Yes. You can sell cutting boards with print on demand. Cutting board is also one of the

best-selling wood products on Etsy

. Currently, teelaunch is offering both wooden and glass cutting boards while gooten is giving you the option of glass cutting boards only.

Personalized cutting board

is obviously a good choice for you to try.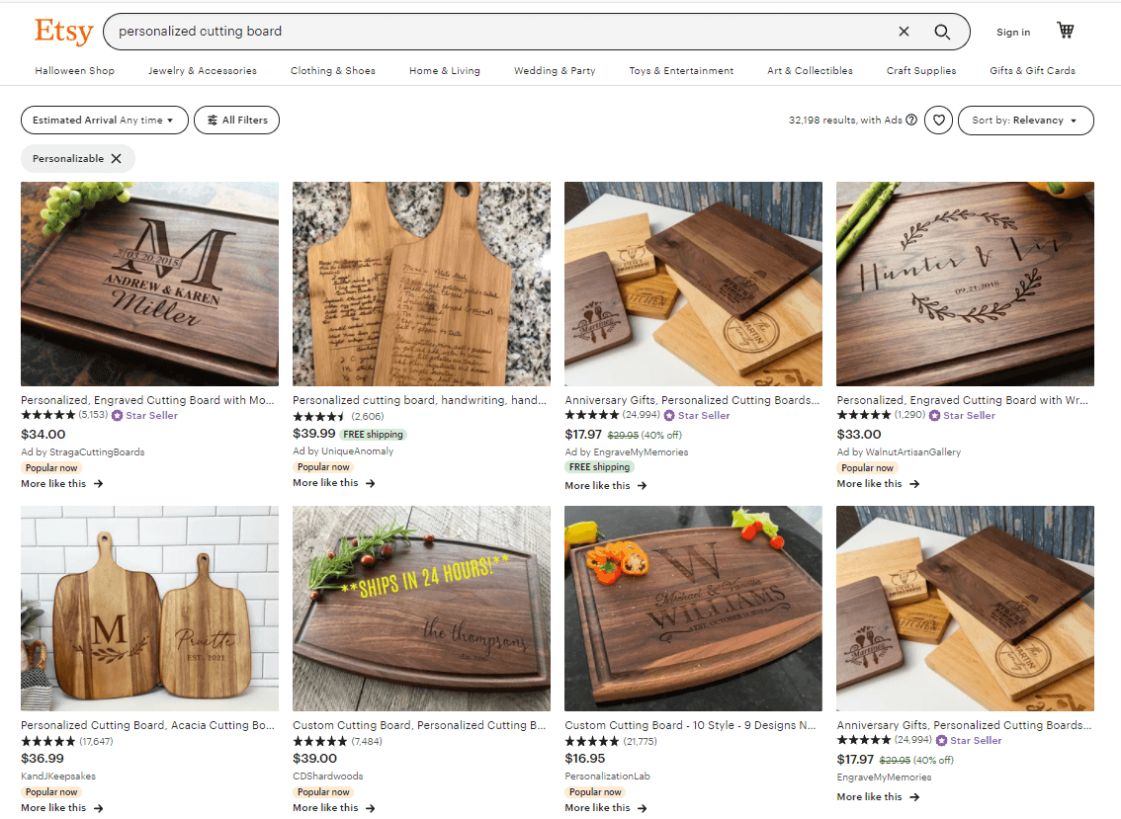 Successful print on demand stores on Etsy
Now you have known some of the best ideas for your print on demand Etsy store. But in order to make a successful launch for your products, it is important to keep an eye on the existing competitors in the market. By studying their best selling products and listings of top sellers on Etsy, you can learn some important insights in order to get ahead of your rivals. In the following, we will list out some top successful stores that have best-selling print-on-demand products in each category.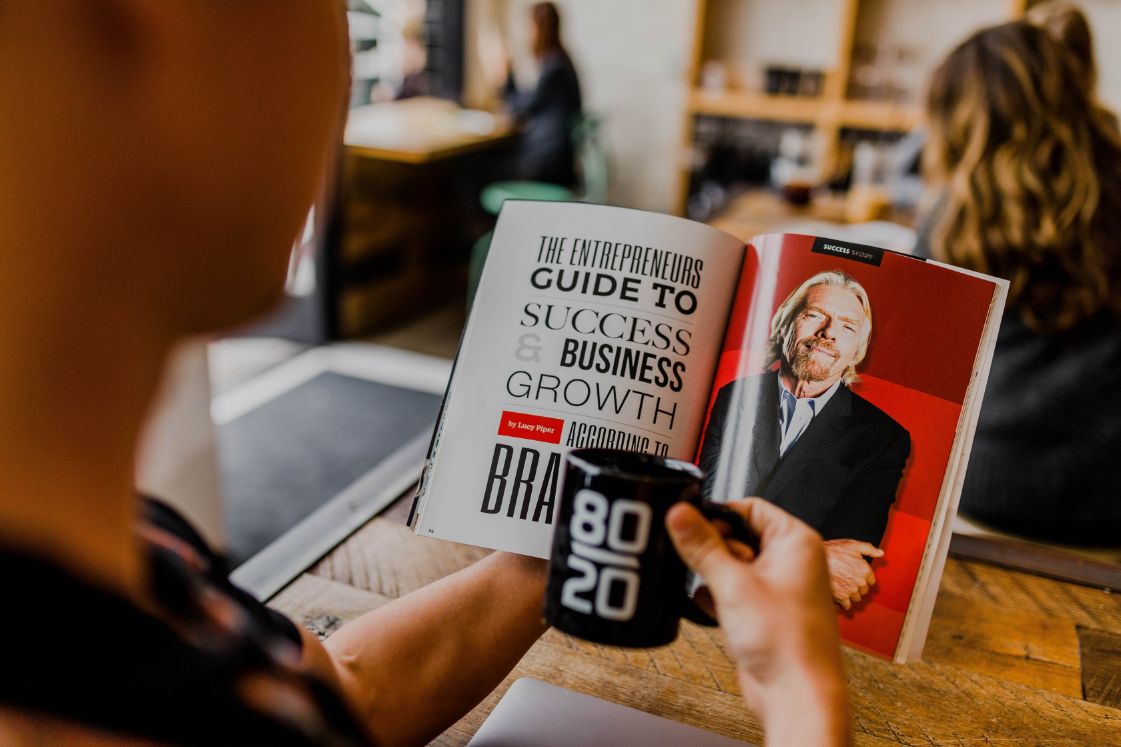 Homeware
Mugs – WimmyMugs, SheMugs

Custom pillow – Baileywicks, Beadsmall

Personalized wall art – The GiftingCats, BeaverPrints
Clothing
T shirt – RoseGoldRebel, NovemberandMae

Hoodies/sweaters
Jewelry and accessories
LenaPersonalized

CaitlynMinimalist
Face covers
GameTimePrints

Hustlefied
Dog/pet accessories
HarmonMaePups

HonestDogCo
Gift
Baby gift – DashingFoxCo, AllAboutTheBump, WhiteWoftDesign

Wedding gift – MantaMakesLtd, YourWeddingPlace
Kitchenware
Cutting board: EngraveMyMemories, WoodAndMine

Apron: NacreBoutique, CustomBellaShop, A1GraphicsLtd
>>> Already have something in mind? Now let's find the best print on demand for Etsy to fulfill your order.
Etsy is the top exciting and profitable market for print on demand sellers to tap into. Finding the best print-on-demand products for to sell Etsy is the first step in your journey to creating the best successful business on this platform.
Where to print art print on Etsy?
There are a few ways for you to print art print. If you want to have a high product margin, you can print a local print service or print your art at home to sell online. While you can make a slightly higher amount of money these ways, you will have to invest more time and effort. If you are expecting a passive income on Etsy, print on demand service can be the right solution for you. You won't have to worry about the production and shipping. Everything is automated. Your job is just to come up with beautiful designs, promote and sell them properly.
What are the most popular print sizes to sell on Etsy?
It really depends on the market that you're targeting. For example, for the US market, the most popular print sizes on Etsy are 8.5x11 inch, which is also the standard home printer size. If your customers are mostly from Europe, A4 (8.3 x 11.7 inches).