When it comes to selling on Etsy running a print-on-demand shop, clarity of Etsy shop policies and effective customer communication are critical to avoiding misunderstandings and building relationships.
As a seller, the single most important thing you should do before your first sale is to develop your policies. It is very likely that you will work with clients who do not fully comprehend the process.
As a result, this article provides some pointers on how to structure your Etsy store policies.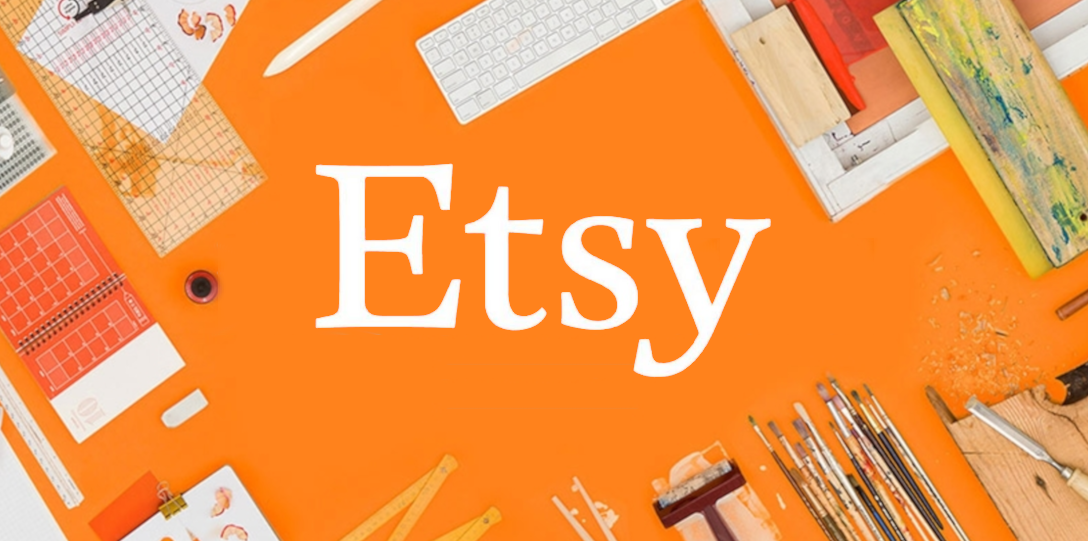 There are some major shop policies that you- as a shop owner should be aware of and prepared to implement in your Etsy store settings.
Why do you need Etsy Shop Policies?
Shop policies are completely optional when people sell on Etsy. You are not required to complete them. Many new sellers are unaware of how critical it is to implement policies, especially if they are new sellers (at first) doing it as a side business.
Etsy does not require sellers to create policies, which makes them less likely to spend the time creating them. They do, however, provide protection – for both you and your customers.
Avoid troubles with Etsy shop policies
Anyone who has done any online shopping has most likely encountered some subpar or disappointing items. Overall, it's perfectly normal for people to be skeptical (at least at first) of a new store. As a result, utilizing Etsy shop policies is an excellent way to personalize (legitimize) your store.
You are much more likely to avoid miscommunications if you clearly label how business is conducted. Putting some thought into presentation also helps a brand become more humane and less of a faceless robotic transaction.
See our tips for Etsy store here now!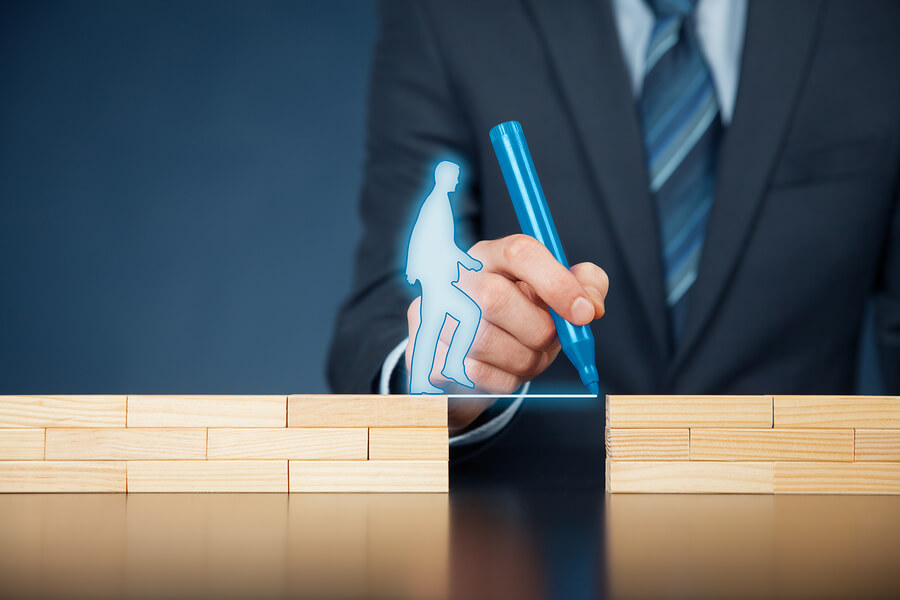 Create better branding & customer trust
When customers know exactly what to expect, there are fewer complications, business runs more smoothly, and customers trust store owners more.
You can also change or edit your Etsy policies at any time. There is no need to do everything at once.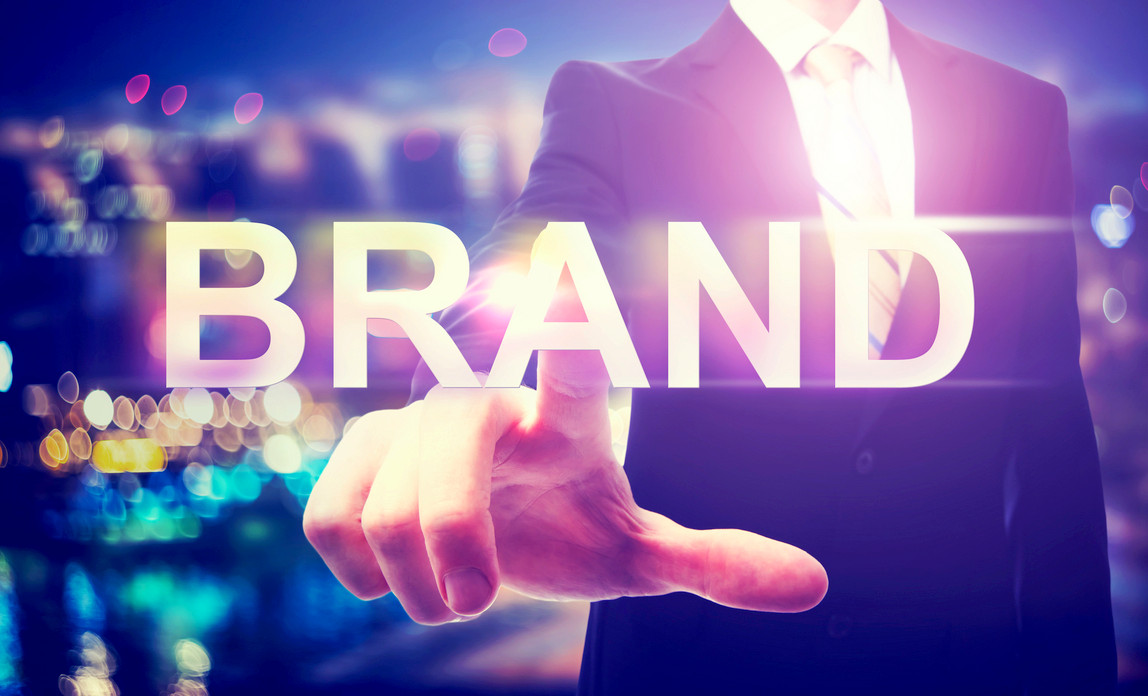 Are there any rules to create Etsy Shop Policies?
Yes. Etsy does provide merchants with a set of Etsy shop policies to use and follow. If you want to use some of these pre-built options, check out the Etsy Seller Handbook.
Please keep in mind that these freebie policies aren't exactly tailored to your needs. They're a great place to start, but the final product may require some tooling.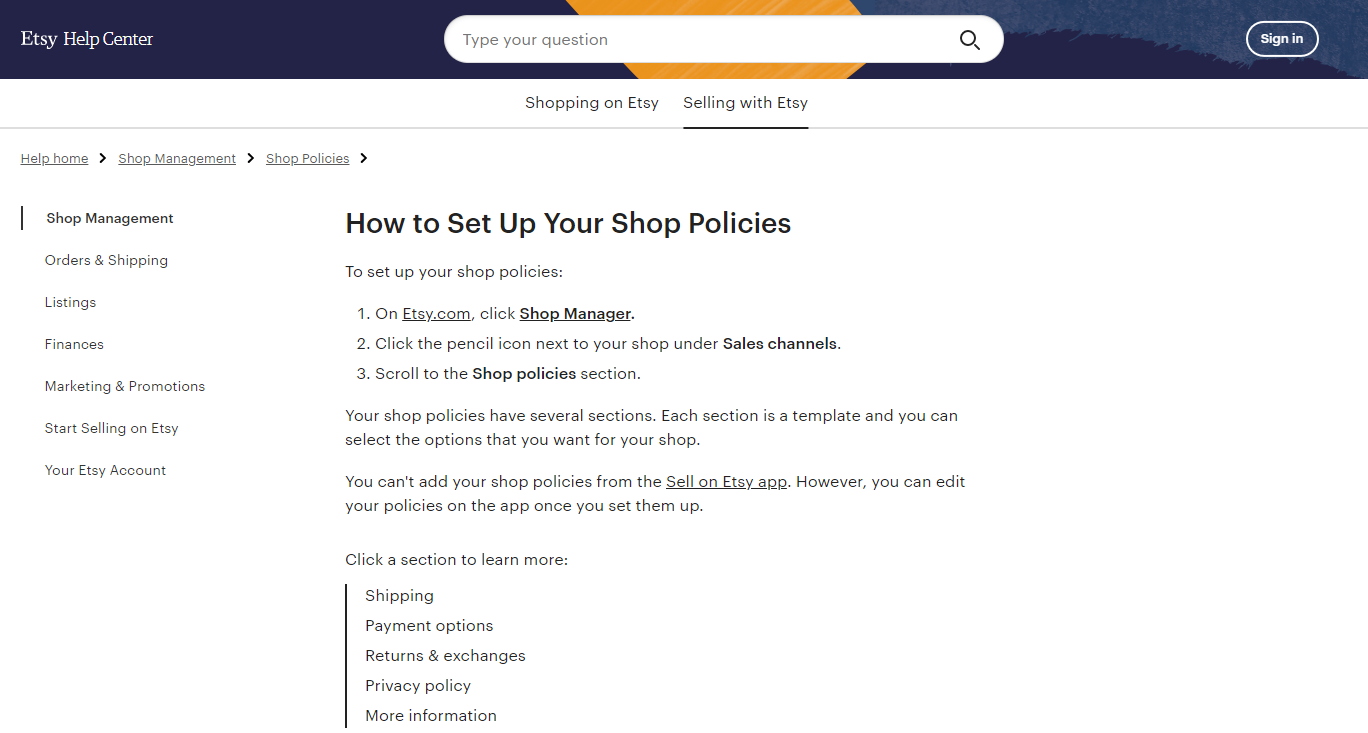 How to create & edit shop Policies on Etsy
Etsy shop policies cannot be edited on the Sell on Etsy app. Therefore to manage your policies, you need to go to the Etsy website
Go to Etsy.com and click "Shop Manager"
Click "Setting"
Click Info & Appearances
Click Policies
Type or change your policies in the textboxes for:
– Welcome Message
– Payment Policy
– Shipping Policy
– Returns & Exchanges
– Additional Information
– Private receipt info (only visible to buyers in the EU)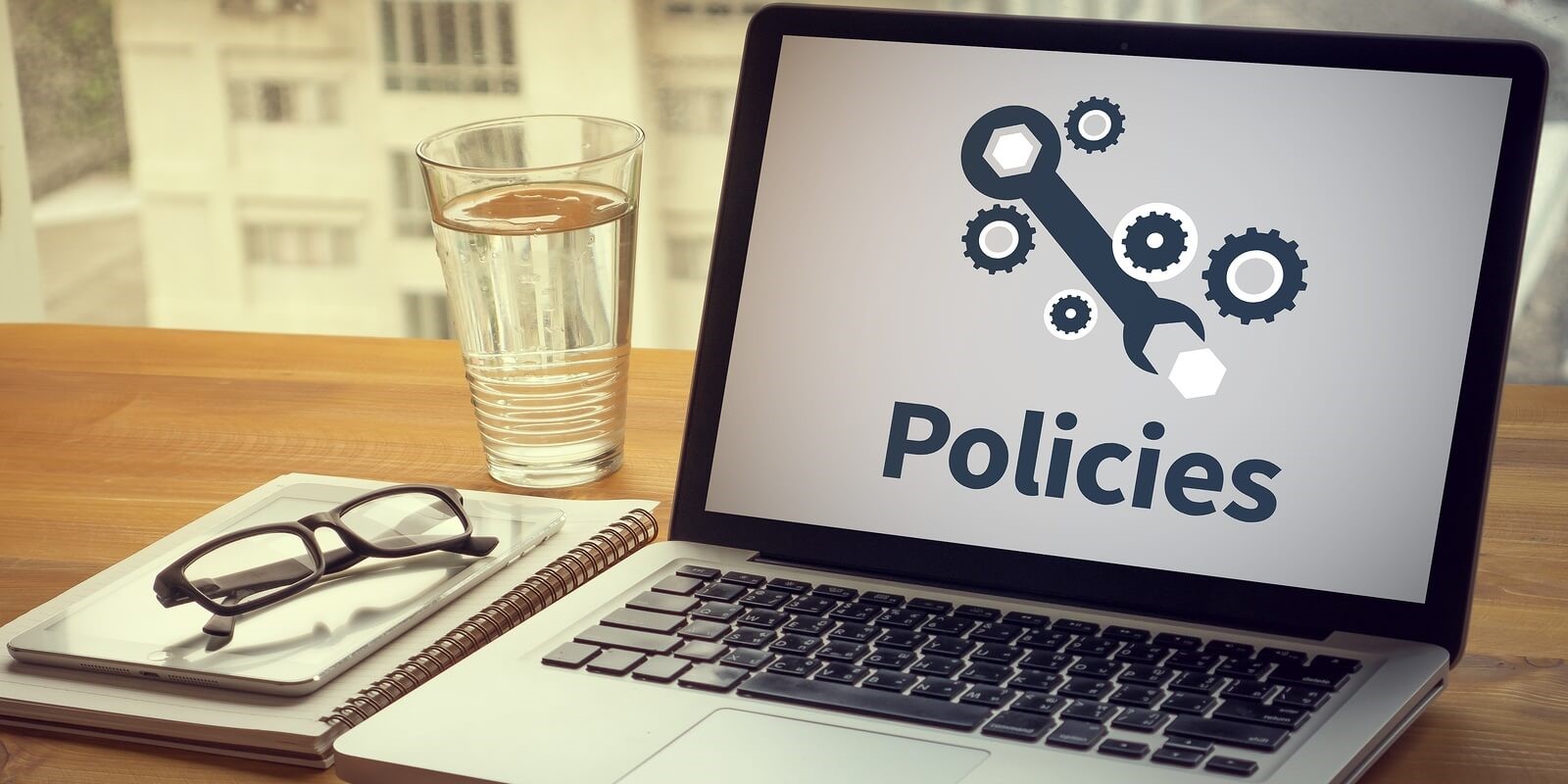 What is included in Etsy Shop Policies?
Etsy, according to techpenny, is an eCommerce platform populated by a crafty, predominantly female audience aged 18 to 35. As a result, when writing your Etsy shop policies, keep this audience in mind. They are the most likely to visit (and purchase from) your store.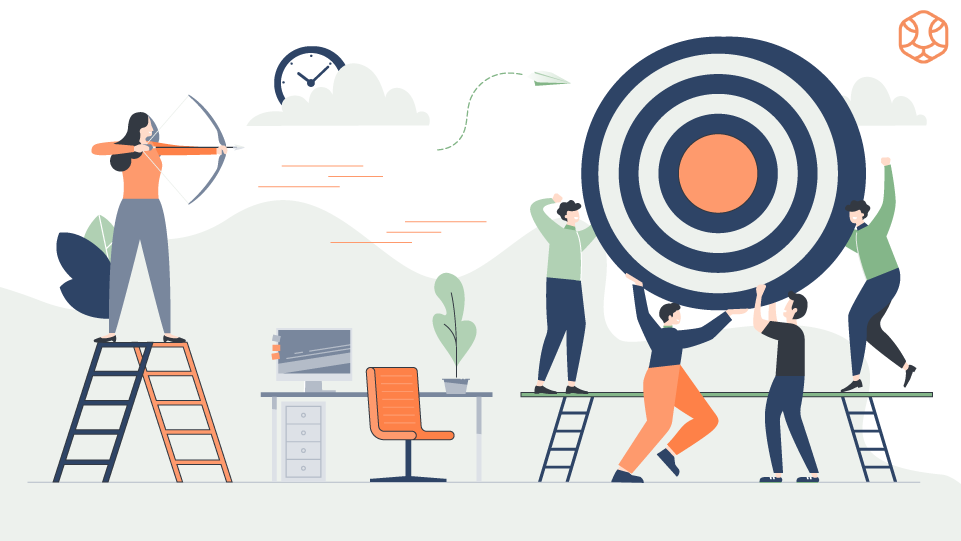 Welcome message: This is where you'll make an opening statement, explain your philosophy, and share any additional information you'd like to include. A little bit of creativity here can really pay off in terms of attracting attention.
Payment: You can specify which payment methods you accept in this section. Include payment terms, deadlines, payment plans, tax policies, cancellation details, and so on, if applicable.
Shipping: List the shipping methods your store employs to deliver goods to customers. Potential inclusions include information such as upgraded shipping, the possibility of international shipping, and address policies.
Refunds and Exchanges: Explain here if you offer refunds, exchanges, or have other special policies in certain circumstances.
Additional Policies and Frequently Asked Questions: This broad category is ideal for defining custom order policies and other information that doesn't fit anywhere else.
General information such as seller names, business addresses, email addresses, and other optional information should be provided in this section to bring trust to customers. You also can read our Etsy Print on demand success stories to get some ideas! 
Some of the best Etsy Shop Policies Examples
When it comes to circumstances and responses, it's best to be as specific as possible. Investigate what questions may arise, anticipating the customer's needs, problems, and concerns when they buy your products.
While you have almost complete control over these guidelines, please keep the following points in mind as you develop your Etsy shop policies. This section consists of a series of issues and questions and there are some Etsy shop policy examples you can use as well. However, it may be a good idea to tailor them more to the needs of your store.
Cancellations
The question you should answer in this part is: Do you accept cancellations?
If you do:
Is there a time limitation?
Does it matter if a customer doesn't like a product after it has arrived?
If the order is a custom order, does this make a difference?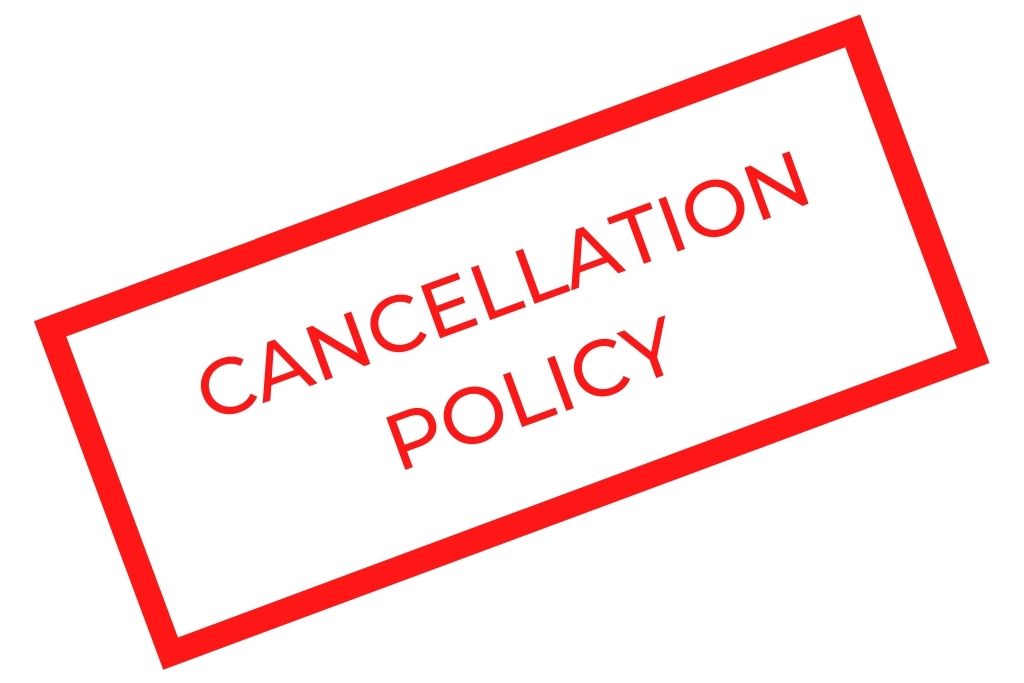 Merchize Cancellations Etsy Policy: If an order has not yet been sent to production, it can be canceled without issue. If the product is already in production, you cannot cancel or modify it.
If you need to cancel or modify your order, contact our customer service via live chat. And it is recommended to include the order number of the item that you would like to cancel or modify to ensure accuracy.
On the other hand, if you still want to cancel a processing order, you might be charged the printing fees to cover product material costs.
Etsy Cancellation Policy Template for references:
You're free to cancel an order anytime before items have been made. If a cancellation is requested after an item has been made, money and time could be charged. At this point, it's unlikely that cancellation is possible.
Return
You's better answer some questions about return policies before writing Etsy policies:
Do you require returns in certain situations?
Will the buyer have to return the item to receive a refund?
What if a returned item is damaged?
Are there any conditions (like a time limit) on a buyer providing a return?
Does the customer have to pay for shipping on a return?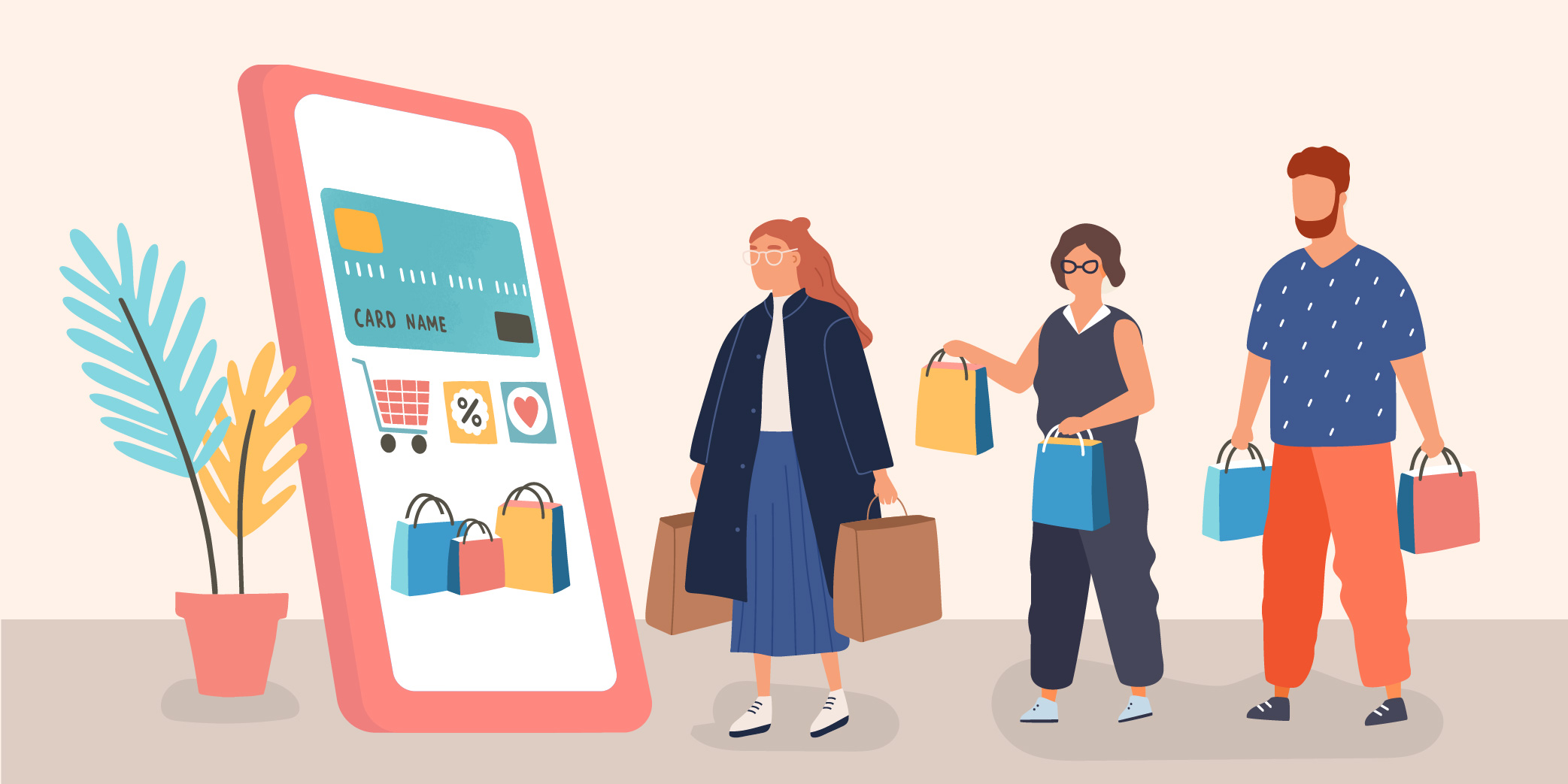 Merchize return policies: We typically do not offer returns due to user errors such as an undeliverable address, wrong address, incorrect selection of sizes, designs, colors, etc.
Etsy Return Policy Template for reference
We do not require customers to return any items. Photo evidence will be sufficient for more discussion.
Refund
Some questions in this part that need to be answered & include on your website are:
Do you offer refunds?
What are the circumstances through which (damage to the product, an item is poorly made, etc.) you offer refunds?
How long will it take to secure a refund for a customer that warrants one?
Do you do partial refunds?
Are there any conditions?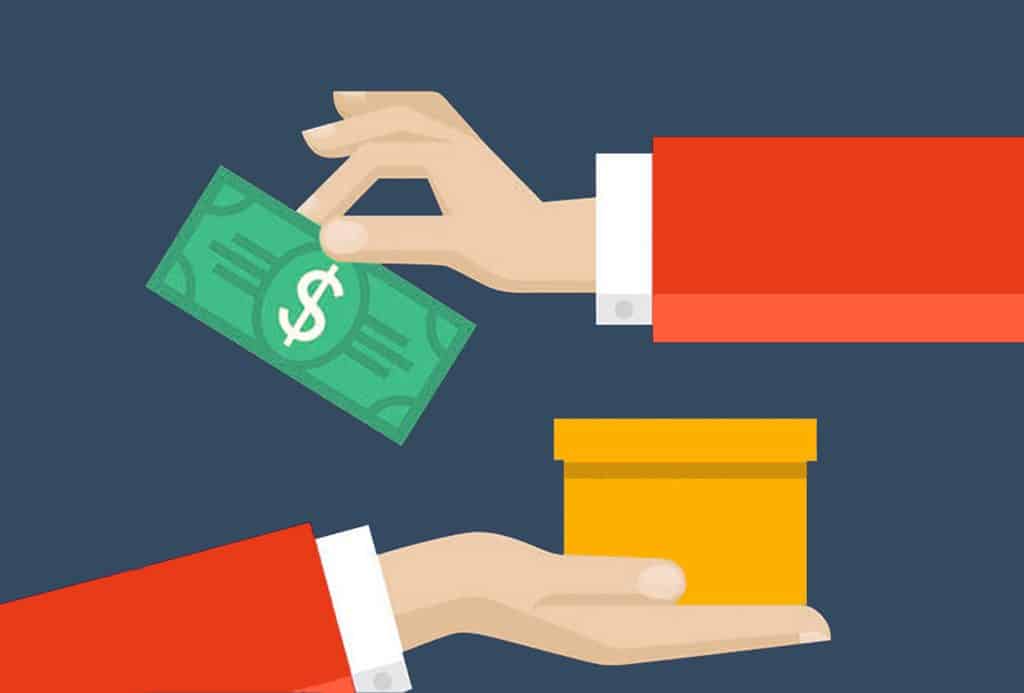 Merchize refund policies: If a product arrives damaged or flawed as a result of a manufacturing error, please take a picture to our customer support team to get the reshipment or full refund.
Any claims must be submitted within 60 days since the fulfillment cost is paid and the order is fulfilled. We won't resolve any claim of order that is over 60 days.
Etsy Refund Policy Template for references:
If there is any damage or broken during shipment, we're happy to offer a refund. You can get reshipment or return 100% when the mistake belongs to our factories such as manufacturing errors, items arriving with holes, or the order arriving with clear, demonstrable damage. To do so, please reach out with photo evidence of the item's improper condition.
It would be ideal if nothing ever went wrong, but no matter how careful you are, something will go wrong at some point.
It's critical to have a clear refund, returns, and exchanges policy in place so that your customers know where they stand and what they can do if they aren't satisfied with their purchase.
Shipping
Here are a few considerations for your take on Etsy shop policies related to shipping:
How long will delivery times take?
Do you provide insurance against damage or non-delivery?
Are tracking numbers provided?
Are any costs added to the final total when an item moves through customs?
Select the shipping method(s) you intend to use, whether you offer upgraded shipping for an additional fee, and so on in the "Shipping" box. You should also include information about processing time & shipping times on whether you will ship internationally and what your prices will be.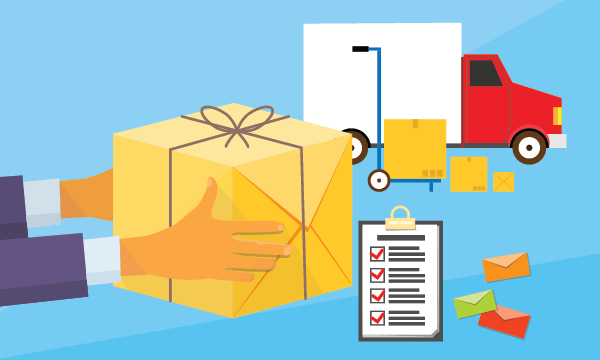 This is beneficial to both you and your buyer; shipping can be surprisingly expensive, and establishing a policy ahead of time ensures you have considered this. Determine the exact cost of shipping an item, keeping in mind the cost of things like packaging, your time, and so on.
Including all of these details in your policy ensures that your buyer understands what to expect and has no grounds to complain if problems arise.
Merchchize shipping policies: A standard shipping option is available for all products. You can find the average shipping time for each product on the Product detail page.
Depending on the manufacturer (in Vietnam, Europe or US), shipping time can range from 5 to ~ 15 business days. If you wish to choose Express shipping service, it's better to contact our customer service department for more information.
Etsy Shipping Policy Template for reference:
After an item is shipped, things have moved beyond our control but you can get the tracking number and progress easily with our tracking service. Shipping (particularly for international orders) is affected by many outside influences, especially COVID-19. If you'd like more support with your order, please contact us with your order number or use a tracking number or link.
Payment
Having a variety of payment options increases your chances of satisfying customers and meeting their needs.
For added convenience, you can sign up for Etsy's own payment system. You may also want to include details such as payment deadlines, cancellation policies, taxes, and so on.
This section should contain any information that customers need to know about how you accept payments.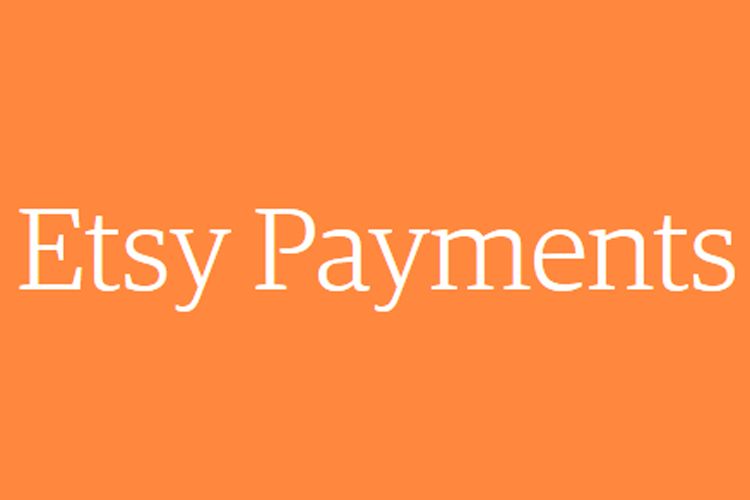 Etsy Payment Policy template for reference
You can make your payment on Etsy.com, as well as Etsy's mobile apps and other services. Our payments accept credit cards, debit cards, Etsy Gift Card, Etsy Credit, Etsy coupons, some bank transfer services, PayPal (where available), Apple Pay, Google Pay, and some country-specific installment payment methods from your domestic.
What can you do if customers change their minds?
It's an unfortunate reality that buyers sometimes come to regret their decision to buy after they've spent their money. Etsy, unfortunately for print-on-demand merchants, tends to side with dissatisfied customers.
As a result, it's a good idea to include your thoughts on the situation in your Etsy shop policies.
If a user has a complaint, Etsy allows them to file "Item Not As Described" cases against merchants. This could be because they didn't like the finished product, it wasn't what they expected, or they were dissatisfied because they misread (or didn't read) the product description.
Overall, this can happen, even if it is completely not your fault. Set up some strict Etsy shop policies to protect yourself.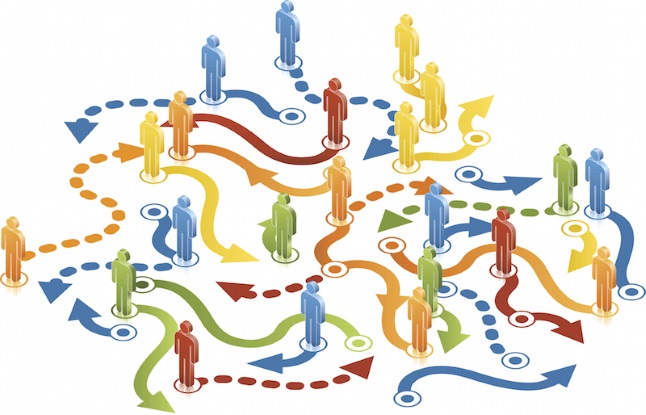 Etsy Shop Policy Template for reference:
If an order arrives with manufacturing flaws, is the incorrect size, or has other obvious flaws, we will gladly work with you to find a solution. If a customer simply changes their mind about a purchase, it is unlikely that a refund or exchange will be provided.
Considering which is ideal products to sell with Etsy to eliminate the haplessness, follow our blog post!
What should you do after creating the best Etsy shop Policies?
You should continuously improve your Etsy Shop Policies time by time.
While the chances of finding the ideal Etsy shop template are rare, you should look at what other Etsy store owners are doing.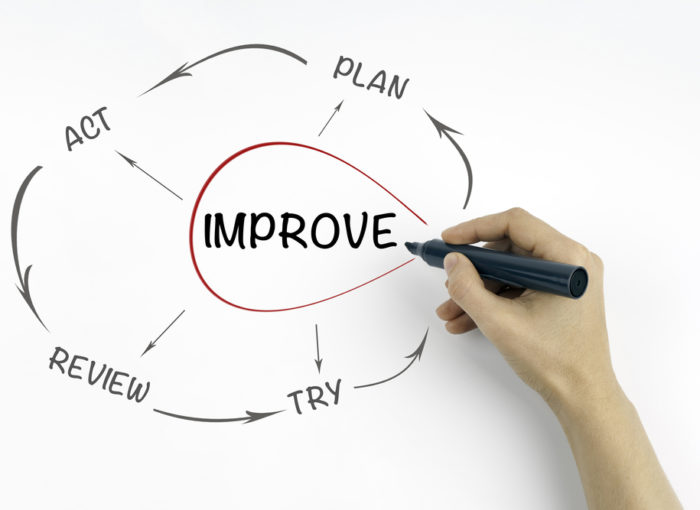 It's a good idea to look at how other merchants are protecting themselves. You can then tinker with the policies to better align them with how you want to conduct business.
Final thoughts
Etsy shop policies not only benefit your customer's custom orders but also assist you in remaining consistent and having actions in place for specific situations.
If you want some of the free templates & great tips for your Etsy store policy, simply fill out the references that we have prepared specifically for you.