As an artist or designer, you may be considering selling your unique t-shirt designs online, and Etsy is the perfect platform to start. With a proven track record dating back to 2013, Etsy remains the best marketplace for selling t-shirts and apparel online in 2023, catering to creatives, designers, and entrepreneurs alike. As a trusted retail marketplace that has stood the test of time, Etsy boasts more than 5.5 million active sellers and 89.1 million buyers in 2022, making it an ideal choice for selling t-shirts in any niche market.
In this comprehensive guide, we'll provide everything you need to know about how to sell Shirts on Etsy. We'll walk you through designing best-selling items, producing tees, managing inventory, and shipping custom t-shirts. Additionally, you'll discover how to solve sourcing and fulfillment with minimal hassle, utilizing print on demand and Merchize. Let's dive in and explore the steps and strategies to successfully sell shirts on Etsy, offering practical advice and real-life examples to make your journey smoother.
Step 1: Determine Your T-shirt Audience on Etsy
Before diving into the world of selling t-shirts on Etsy, it's important to pinpoint your target audience. By doing so, you can effectively focus your marketing efforts and tailor your designs to the customers most likely to purchase from your t-shirt brand.
Several factors define a target audience, such as gender, age, income, location, familial status, and religious or political views. Each audience has specific characteristics that set it apart from other groups.
Aim to target a niche that offers financial returns and profits without being over-saturated with competition.
To better understand your target market, use tools like Google Trends by entering search terms like "t-shirts" or "tees," followed by keywords related to your unique selling proposition. Gather as much data as possible from the results, paying close attention to location, demographics, and related searches. Additionally, explore Etsy search results for terms like "trendy t-shirts," "popular t-shirts," and keywords connected to your brand. By thoroughly researching your audience, you'll be better equipped to create appealing designs and sell shirts on Etsy successfully.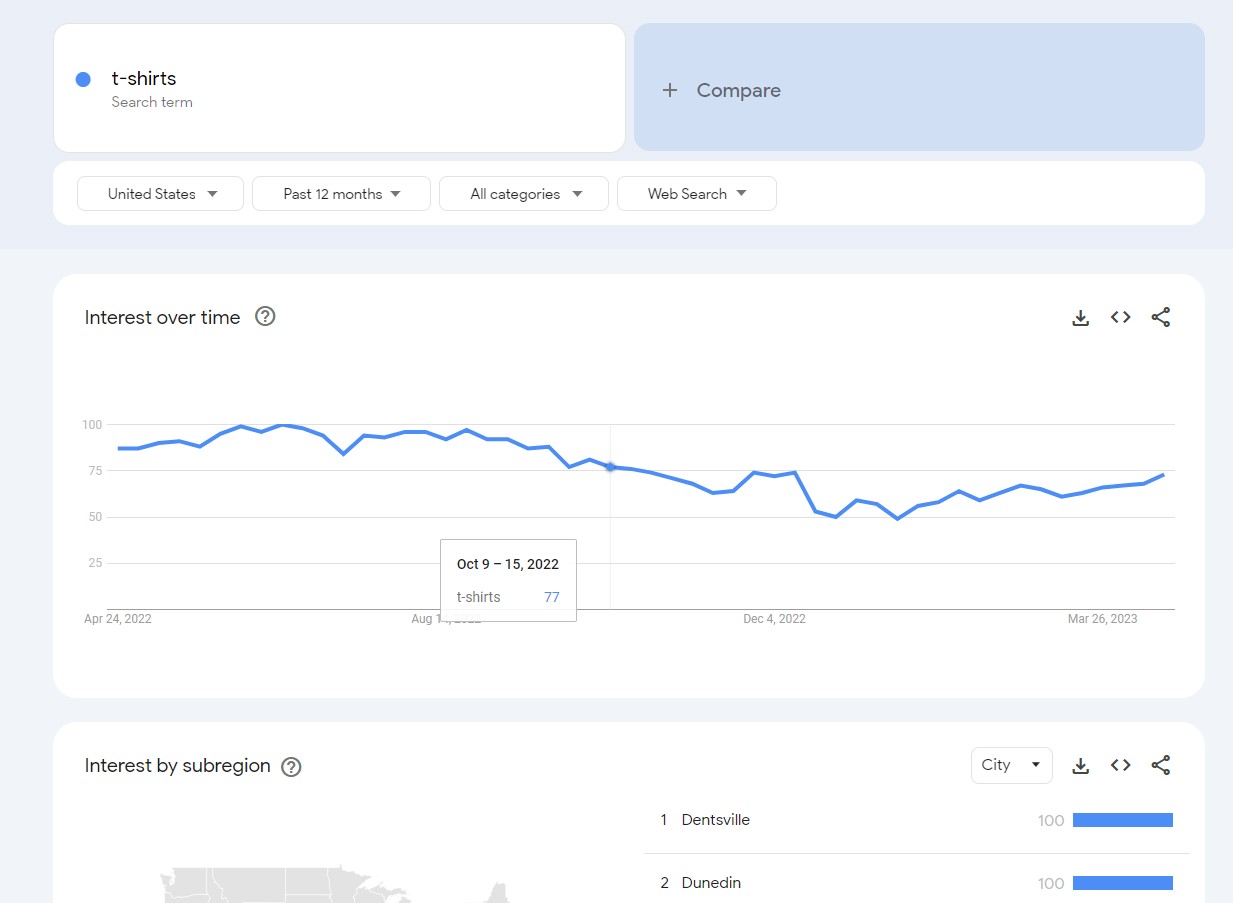 Use google trend to analyze the shopping needs of the market
Step 2:  Create an Etsy Account
To set up a seller account, you'll first need a consumer Etsy account. Follow these steps to create your account:
Go to Etsy.com and click on "Sign In" in the top right corner

If you don't have an account, click on "Register" and provide the necessary details

After registering, check your email for a confirmation message from Etsy

Sign in to your new account at www.etsy.com by selecting "Sign In"

Once logged in, add a profile picture and fill out your bio on your Public Profile page

To open a shop, click on the gray circle with a silhouette in the top right corner, and select "Sell on Etsy" from the drop-down menu

Navigate to the "Sell on Etsy" page and click the black "Open Your Etsy Shop" button below the banner
Note:

If you don't see the email, check your spam or junk mail folder
If you're using Gmail, check your Social and Promotions tabs
Add [email protected] to your email contacts and try resending the confirmation email if necessary
Step 3: Set up your shop
After creating your account and deciding to open a shop, follow these steps to set up your Etsy shop:
Click on the "Sell on Etsy" button and follow the prompts

Source: forbes.com
Choose a name for your shop (e.g., "MerchizeTshirtShop") – remember that you can change this later

Upload a profile picture and banner for your shop
Fill out your shop policies and information

Click "Get started" and then "Let's do this" on the next screen

Answer the following questions or skip them, and click "Start your shop"

Select the choices you want and then click "Save and continue" on the "Shop Preferences" box.
Now you're ready for the exciting part – stocking your shop! This is where you'll create and add your first t-shirt design to your Merchize shop.
Step 4: Create your shirt designs
Creating top-selling t-shirt designs that resonate with your brand and Etsy customers is crucial. Merchize is the perfect platform to help you select the best t-shirts and apply your designs with download the free Mockup Generator.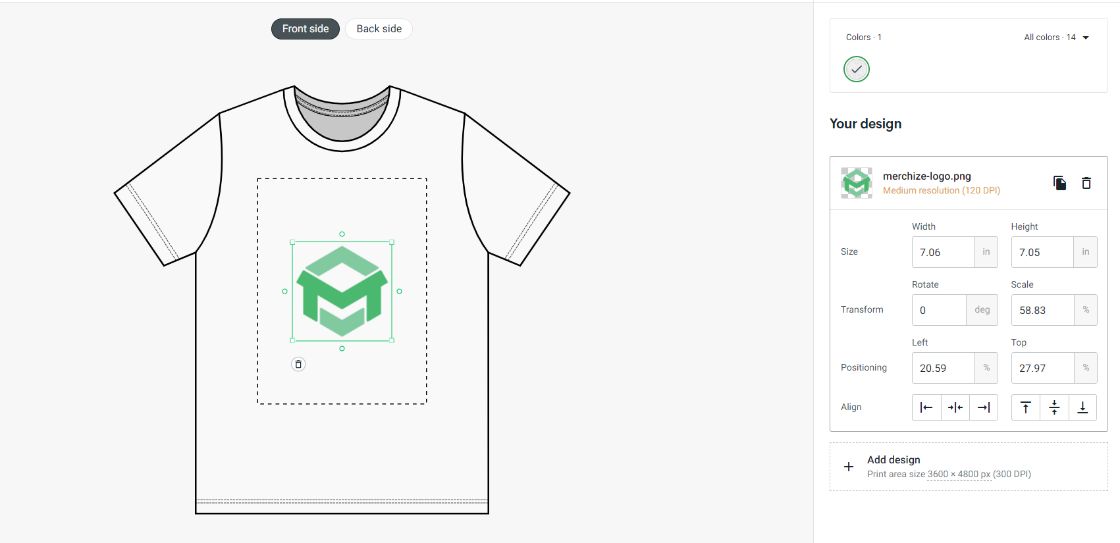 Here are some guidelines for creating great shirt designs:
Ensure your designs align with your brand and niche, and always strive for originality.

Prioritize simplicity in your designs, unless your target audience has different preferences.

Avoid using more than two fonts per design, and make sure they are legible, visually appealing, and on-trend.

Limit the number of colors per design and product to simplify buyer choices and prevent decision paralysis.

Use design tools that suit your needs and budget, exploring various options beyond Adobe Photoshop, including free and affordable alternatives.

If you need professional assistance, consider hiring designers through the Merchize Experts program to help you create high-quality designs.
With these tips, you'll be able to create eye-catching and successful t-shirt designs for your Etsy shop.
Step 5:  Fill Out the Storefront
As an Etsy seller, you might wonder where to source your shirts and how to fill your store. While there are various methods like wholesaling and manufacturing, using Print on Demand (POD) with Merchize is far more convenient and manageable.
With POD, a t-shirt is printed only after it's ordered. The Print Providers will prepare the product and ship it directly to the customer, while Merchize ensures quality and fulfillment.
Here's how to do it:
Prepare Products: Visit Merchize.com to access the best customizable t-shirts for printing. Browse through the Women's, Men's, and Kids' t-shirt categories. Once you choose the t-shirt, apply your designs using the Mockup Generator, adjust them, save, edit product descriptions, and publish them on Etsy.
Optimize Your Listings: After publishing the listings on Etsy, you'll need to fine-tune the product descriptions and pictures, product categories, tags, shipping settings, and Print Provider. Pay special attention to this step, as it will determine your t-shirt's searchability. Use relevant keywords associated with your product and brand identity whenever possible, but avoid overstuffing.
By following these steps, you can efficiently fill your storefront with attractive t-shirt listings that appeal to your target audience on Etsy.
Step 6: Price Your Products
Pricing your products effectively is crucial for your Etsy store's success. Start by conducting market research, taking into account your competitors' prices, production costs, and Etsy fees. Aim to cover all expenses and maintain a profit margin of 30-40%. Consider these two main pricing strategies:
Lower Profit Margin

: Keep a smaller profit margin to gain a competitive edge. This approach works well with target audiences like students and young people who prioritize lower prices.

Higher Perceived Value

: Slightly raise product prices and generate more profit by increasing the perceived value. This strategy is suitable for audiences composed of professionals and people with families who prioritize quality over price.
Remember to adjust your pricing based on changes in your audience and market, and take advantage of sales and holidays.
When using Print-on-Demand, calculate the cost of your t-shirt materials and printing, and figure out a margin you want to make. Add that margin to the cost. For example, if your printed t-shirts cost $9.30 + $4.00 shipping, ensure you make enough margin to cover the $9.30 + Etsy seller fees (You can charge shipping at $4.00 to cancel out the shipping fees).
Suppose your average cost is as described above, and you charge around $22.00 per shirt in your Etsy store (for small through x-large – more for larger sizes). After Etsy fees, you could expect around $10.16 in profit on one t-shirt.
Continually monitor your pricing strategy and make adjustments as needed to maximize your store's profitability while catering to your target audience's preferences.
You may also like: Best Selling Items on eBay: Top Trending Product 2023
Step 7: Choosing Print-on-Demand Fulfillment Services
Opting for a Print-on-Demand (POD) service can significantly simplify the process of selling t-shirts on Etsy. A POD service like Merchize takes care of printing, packaging, and shipping, which allows you to focus on creating eye-catching designs and effective marketing strategies.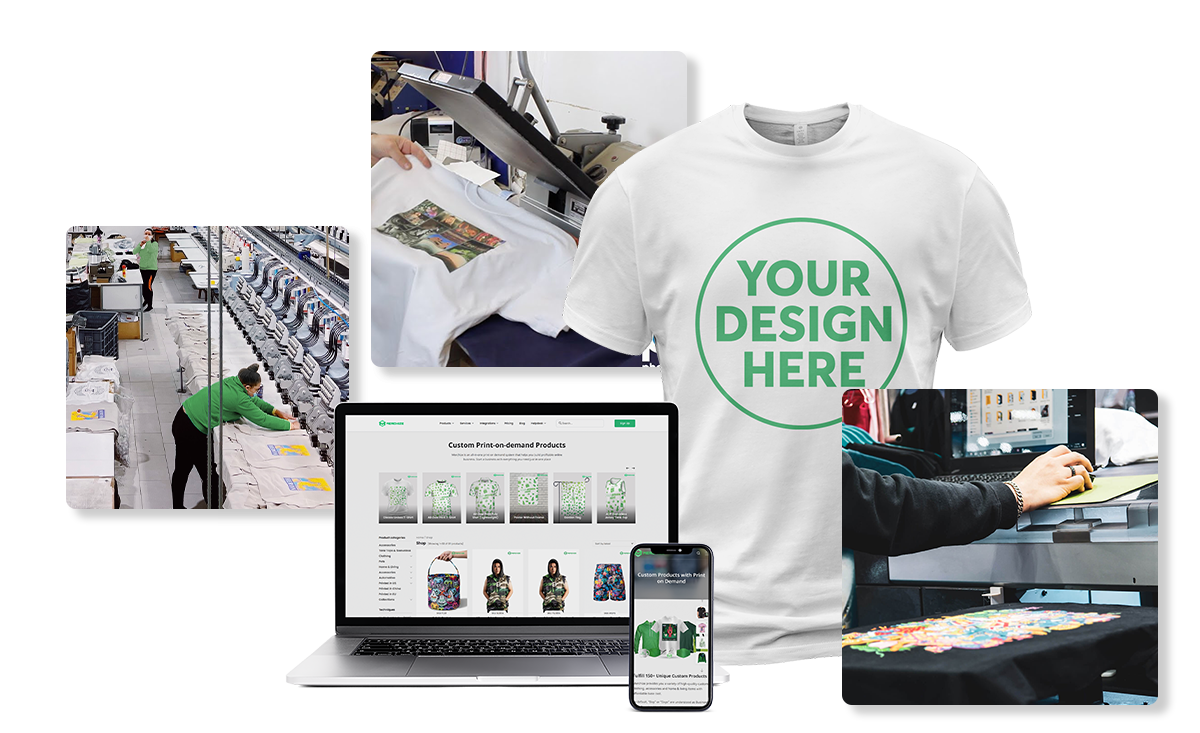 Merchize is one of the best Fulfillment Services for Print On Demand
When your Etsy customer places an order, it appears in your POD account. After verifying and submitting the order, Merchize handles the shipping, with your shop name displayed in the "return" address on the package. Although print-on-demand might be slightly more expensive, it saves you from dealing with inventory management and shipping logistics.
Here's a quick overview of how Merchize's Print-on-Demand fulfillment services operate:
Create a Merchize account: Begin by setting up a Merchize fulfillment store and connecting it to your integrated selling store.
Design & Sell Products: Select products from Merchize's extensive catalog, create your unique designs, and add them to your store. Now, all you need to do is wait for the orders to roll in.
Fulfilled by Merchize: Merchize manages the entire fulfillment process, from producing your products to shipping them directly to your customers.
By choosing a reliable print-on-demand service like Merchize, you streamline your business operations and free up valuable time to focus on expanding your Etsy store and boosting your profits.
Start your own Shirts Shop on Etsy With Merchize
Merchize is a print-on-demand platform that allows you to create custom products without investing in inventory upfront. By using Merchize alongside Etsy, you can easily set up and manage your online T-shirt business.
Step 8: Promote Your T-Shirt Shop
To increase your sales and visibility on Etsy, you need to promote your t-shirt shop effectively. While Etsy already provides a built-in audience, there are additional strategies you can employ to attract more customers:
Utilize Etsy Ads
To promote your T-shirt shop on Etsy, investing in Etsy ads is an excellent strategy. By setting a daily budget, Etsy will prioritize your listings in search results for relevant keywords, increasing your shop's visibility to potential customers. For example, if you sell T-shirts designed for teachers, your listings will appear higher in search results for terms like "shirts for teachers" and "teacher shirts." Using Etsy ads can substantially boost your shop's exposure, especially for new shops looking to establish their presence.
To maximize the effectiveness of your Etsy ads, monitor your ad performance and adjust your strategy accordingly. Tools like eRank can provide valuable insights into monthly search volumes and keyword trends, helping you optimize your listings and ad targeting. By investing in Etsy ads and fine-tuning your approach, you can significantly increase your T-shirt shop's visibility and sales potential.
Leverage Instagram
Instagram is an excellent platform for promoting your T-shirt shop, as it allows you to connect with your target audience and showcase your designs visually. To make the most of Instagram, follow these steps:
Create a well-branded Instagram page with an attractive logo or avatar, and write a compelling description that highlights your unique selling points, such as your background or expertise.

Link your Instagram page to your Etsy shop, making it easy for potential customers to browse and purchase your products.

Post engaging content tailored to your target audience's interests. For example, if you're targeting teachers, share inspirational quotes, teacher sayings, and stories about exceptional educators. Tools like Canva can help you create visually appealing posts that resonate with your audience.

As your follower count grows, occasionally feature your Etsy T-shirts in your posts. Use tools like Placeit to create professional mockups that showcase your designs in the best possible light.

Once you have at least 20 designs on Etsy and a minimum of 1,000 followers on Instagram, start promoting your posts periodically. Boosted posts with high organic reach and engagement are ideal candidates for paid promotion.

Run T-shirt giveaways to further grow your Instagram following. Select a popular design, announce the giveaway, and establish clear rules for participation, such as following your page, tagging friends in the comments, and liking the post. Giveaways can attract new followers and increase engagement on your account.
By leveraging Instagram effectively, you can attract organic visitors and sales to your Etsy shop, expanding your customer base and driving long-term growth.
Harness the Power of Pinterest
Pinterest is another valuable platform for promoting your T-shirt shop on Etsy, as it offers long-term exposure and can drive consistent traffic to your store. Pins you create today can generate interest and sales for years to come. To make the most of Pinterest, follow these steps:
Create a Pinterest account and optimize your profile by including a compelling description and a link to your Etsy shop.

Set up boards that showcase your T-shirt designs and other content relevant to your target audience. For example, if you're targeting teachers, you could create boards featuring lesson plan ideas, classroom organization tips, and educational resources.

Use high-quality images and engaging captions to encourage users to save and share your pins. Tools like Canva can help you design visually appealing pins that stand out.

Utilize Pinterest analytics to track your pins' performance, identify popular content, and refine your strategy based on data-driven insights.

Consider running Pinterest ads to boost the visibility of your top-performing pins and drive even more traffic to your Etsy shop.
Offer Free Shipping and Discount Promotions
Offering free shipping and limited-time discounts can significantly increase your T-shirt shop's visibility on Etsy and improve your conversion rate. Shops that provide free shipping are often prioritized in search results, helping you stand out from the competition.
Discount promotions can also be an effective strategy for driving sales. By offering a percentage off your products for a limited time, you can create a sense of urgency and encourage potential customers to make a purchase. Experiment with different discount structures and lengths to determine what works best for your shop.
Employ an Omnichannel Marketing Approach
In addition to utilizing Etsy ads, Instagram, and Pinterest, consider adopting an omnichannel marketing strategy to reach a wider audience and strengthen your brand. This approach involves using multiple marketing channels to create a seamless and consistent customer experience across all touchpoints. Some potential channels to explore include:
A standalone website, which can help you establish a strong online presence and build credibility for your T-shirt shop.

Email marketing, allowing you to communicate directly with your customers and keep them informed about new products, promotions, and updates.

Other social media platforms such as Facebook, Twitter, and TikTok, depending on your target audience's preferences and demographics.
By incorporating multiple marketing channels into your strategy, you can expand your reach, connect with more potential customers, and grow your T-shirt shop on Etsy.
In conclusion, learning how to sell shirts on Etsy effectively involves a combination of tactics and strategies. Utilize Etsy ads to boost visibility, leverage Instagram and Pinterest to engage with your target audience, offer free shipping and discount promotions, and employ an omnichannel marketing approach to maximize your reach.
By implementing these techniques, you can increase the visibility of your T-shirt shop, attract more customers, and ultimately succeed in selling shirts on Etsy. Stay consistent in your efforts and continue to refine your strategies based on data and customer feedback to ensure long-term success in this competitive marketplace.