Print on Demand Fulfillment
Selling custom personalized products on demand
Print on demand is a kind of dropshipping model where items are printed only after and as soon as an order is placed. That means you can sell custom products globally with no minimums and no inventory. The print on demand companies that you chose will help you do the fulfillment process and ship products to your customer's doors.
Merchize is one of the best print on demand businesses which provides custom print on demand products in 2-6 business days. For products that use simple printing techniques like t-shirt, canvas, poster…production time is approximately 2 business days.
How to Sell Custom Personalized Products?
Start your own online store with Merchize print on demand fulfillment services and no inventory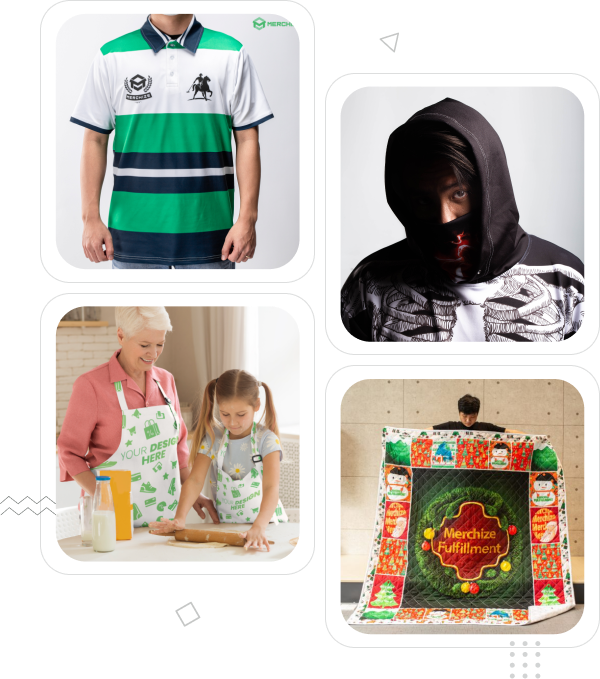 Choose a custom print on demand product
Take a look at our over 150 print on demand products from clothing, accessories to home & living categories with varying prices for you to get started. We recommend you to start with our basic print on demand t-shirt first.
Let your imagination flow, create unique designs. Apply designs in any custom print on demand product and preview final products in a minute with our mockup generator.
Focus on selling and marketing
Turn on the auto fulfillment function and relax. Whenever you have a sale, it automatically is sent to our fulfillment department.
What Makes Merchize Different?
The only one-stop solution you need for your print on demand dropshipping businesses.

Over 150 custom products
Don't stop at t-shirts, hoodies, masks and mugs. Diversify your store with less competitive products like polo shirts, hats, sweaters, ornaments...

In-house manufactory
Your products are produced under strict control, best quality guaranteed. We try our best to process your orders faster than other suppliers.

Competitive base cost
In-house manufactory is located in Vietnam, we also control and optimize product cost very seriously. That's why our custom product base cost are low.

Guaranteed Shipping Time
Orders are processed in 1-2 days and delivered to buyers in 3-5 days (Express shipping) or 4-7 days (Standard shipping).

User-friendly dashboard
Provides a range of analytics tools to help you analyze and optimize what already works to make it sell even more.

Multiple Platform Integrations
Popular marketplace and other platform order sync and tracking update automation. It saves you a ton of time.
Merchize All over print Best Selling
Create and sell inspired custom all over print products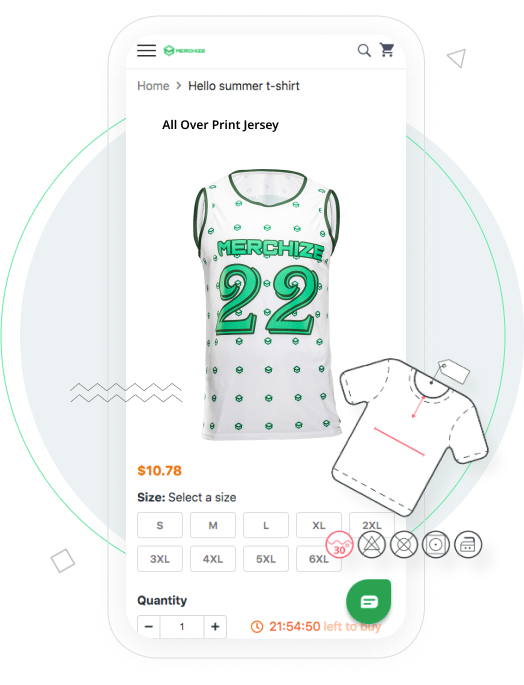 Not convinced yet? Order our All over print sample, we will ship it to your door!
Have Questions? Look Here.
Check these Frequently Asked Questions below for more helpful insights about our services.
Can you make money with Print on demand?
 As long as you choose right eCommerce platforms to sell the chosen products, right fulfillment partners to work with and do the effective marketing activities, you can really make money with Print on demand.
You can see the top Print on demand Fulfillment businesses here.
What sells best on Print on demand?
There are a lot of things that you can start selling with your Print on demand business. All over print t-shirt, custom made tote bag or a print on demand tumbler are popular items on this industry.
However, focus on a niche market can help you get the competitive advantages and get higher profit. We will show you how to find a niche market. 
How long does fulfillment take?
– Production time: 2D printed products: 1-3 business days; All over printed products: 2-6 business days
– Shipping time: The US estimated shipping time is 4-7 business days. However, in the event of COVID pandemic, the shipping time can be delayed for 2-6 business days
When will the tracking number be added to my orders?
– 2D printed products: the tracking number will be added after 2 hours since fulfillment and will be active at 8 p.m GMT+7 on the same day.
– All over printed products: the tracking number will be added after 1 to 2 days since the fulfillment department receives the order. However, this does not mean the product has been shipped. Normally, the fulfillment process takes 2-6 business days before shipment..
Do Etsy, Amazon and eBay allow Print on demand?
Yes, they do. As long as you create your own designs and integrate with the fulfillment partner services, these eCommerce platforms will allow your to sell Print on demand products.
Have a look at our integration pages for Etsy, eBay, Amazon, WooCommerce, Google Shopping, Shopify.