This post was updated on [todaysdate format=F] [todaysdate format=Y]
Sellers in the print-on-demand industry might be well-acquainted with mugs – a generously sized type of cup, fashioned with a comfortable C-handle, and used for beverages. These have been popular since their early introduction to the market, often accompanying T-shirts or hoodies. Amidst the multitude of custom products presented to the print-on-demand community, some items experience a quick rise in popularity only to become outdated in due course.
Nevertheless, certain products consistently maintain their appeal and provide sellers with a steady stream of online income and upselling opportunities, despite not being particularly unique or powerful. Among these, custom mugs, and notably print-on-demand enamel mugs, stand out as potential products you should concentrate on. They demand daily attention to keep pace with evolving customer desires and trends.
1. General print on demand enamel mugs product information
1.1 What types of custom mugs have the most selling potential?
The below list is some of the outstanding custom mug types available in the market that sellers can consider making sales with.
Custom enamel mug (or custom campfire mug)

: This mug can go over a fire whether it is on an induction cooker, gas stove, or campfire without damaging the structure or the finish of the cup. Just like its name, this mug is definitely suitable for outdoor activities such as camping or hiking.

Custom transparent mug

: This mug is normally made of glass, highly innovatory, and suitable for cold drinks such as ice chocolate, smoothies, etc. and people enjoy creating personalized designs on transparent surfaces.

Custom ceramic mug

: This mug is resistant to high temperatures and easy to clean. Since it prevents heat better, it is the best option for hot drinks such as coffee or tea.

Custom accent mug

: This mug is one of the best choices for your customers who find a simple mug for their daily hot and cold drinks, microwave-safe, and friendly to the environment.

Custom stainless steel mug

: Just like its name, this mug is resistant to erosion together with rusting, and it is suitable for carrying drinks in a humid atmosphere.
According to the Outdoor Foundation 2021 Report, 7.1M more Americans participated in outdoor activities in 2020 than in the year prior because people believe that camping is a safe and socially distanced way to travel during the COVID-19 pandemic. In addition, campers are reporting a growth in camping nights compared to past years and, similarly, those planning to spend more nights camping in 2021 have also increased. 
In fact, it is stated in the American Camper Report that Americans normally spend about $500 to $1300 on their camping gear such as tents, backpacks, clothes, kitchen stuff, etc. for the first camping trip. Based on these statistics, there is no doubt that a custom enamel mug, which is a frequently used item for drinks in most camping trips, could be considered an ideal product that all sellers could take advantage of and boost their business sales effectively.
1.2 Custom enamel mug details
Custom enamel mug of Merchize is designed in the size of 12oz which is large enough to use as a cooking vessel over open flames and also made from metal with an enamel layer. Merchize custom campfire mug is applied the high-quality printing of dye-sublimation, which the print will never fade away no matter how many times it is washed. You can definitely please your customers with the benefits of print-on-demand enamel mugs mentioned below:
Neutral to drinks

: The enamel coating is neutral and it neither absorbs flavors nor mixes any flavors into the drink. Your drink will taste such original and nuanced flavors that will be easier to detect.
Lightweight

: Custom enamel camp mugs are very light compared to other mug types. You can carry some enamel mugs in your backpack for hiking or hunting without fear that it would slow you down.
Durable and shatterproof

: Custom enamel mugs are tough and long-lasting since it is difficult to crack or break them. If your customers drop these products accidentally, they can rest assured that there is no serious damage except the possible chipping of the enamel finish.
Direct heating

: Custom enamel mugs can be used with fire on an induction cooker, gas stove, or campfire with no fear of damage to the structure of the mug.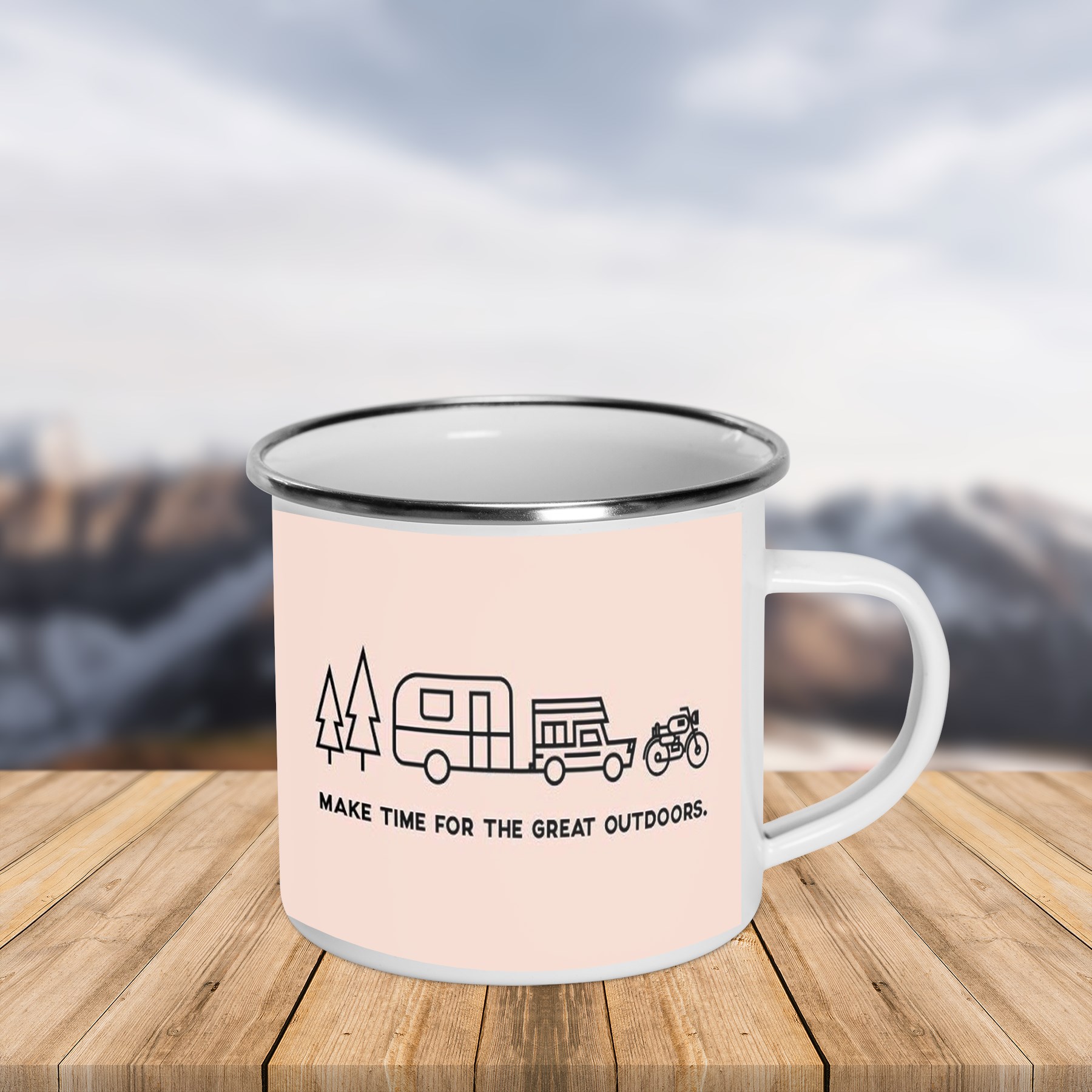 1.3 Custom enamel mugs: Your next winning product to sell online
According to the current report of Grand View Research, the market of drinkware including mugs, cups, infusers, and bottles will develop dramatically by 3.1% yearly from 2019 to 2025, and reach up to $4.9B by the year 2025. Drinkware products including custom mugs always have a stable demand since they are useful and indispensable items in our lives. People use mugs every day for many different purposes. It is not difficult to see people using mugs in their homes, at the office, cafe, restaurant, etc., they even carry their favorite mugs whenever they go on a road trip or camping.
More on this later…
The demand for custom camping mugs in the last 12 months turned out to be stable, which was reflected by the product search volume graph on Google Trends. This demand was especially high in the camping seasons between March and April, or August and September. In addition, American people also search for custom enamel mugs mostly in November and December, which is the time of many big holidays such as Thanksgiving, Christmas, and New Year. It is not difficult to explain since customers tend to buy these mugs to decorate their house or purchase them as gifts for their family, friends, colleagues, etc.
For the reasons mentioned above, mugs in general and custom enamel mugs, in particular, can be seen as the most potent and indispensable products in your print-on-demand store.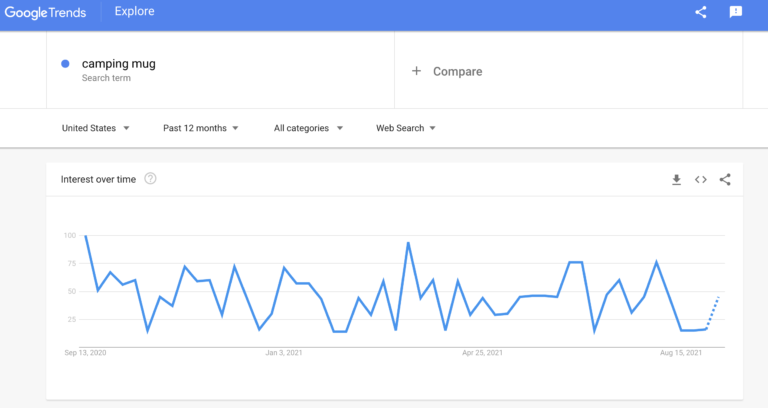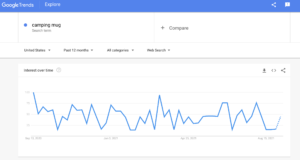 2. Design guideline for print on demand enamel mugs
2.1 How to create a selling mockup for a custom enamel mug?
You can put the customers' personalization into your custom enamel camp mugs by adding your customers' own names, photos, or images. This personalization feature is definitely ideal for this product because customers normally enjoy using mugs on their own and hardly share theirs with others. Therefore, not only can a custom mug with personalization designs help your customers show off their personality, preferences, and styles but it can also tell the difference between their mugs and others.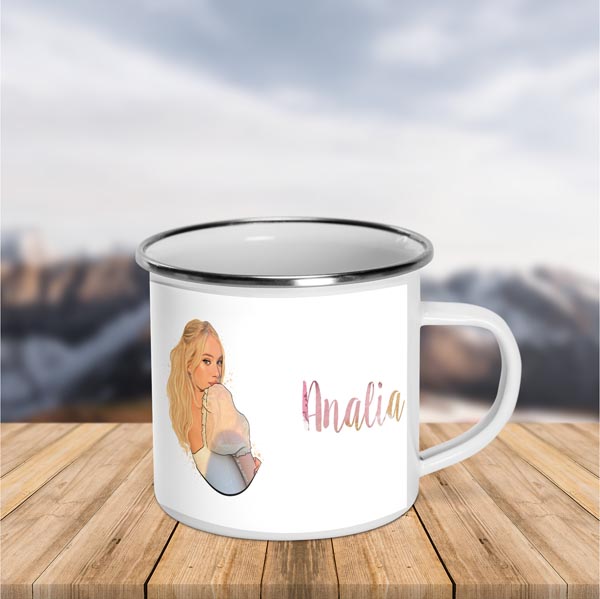 A custom design with your customer's image and name that can be altered.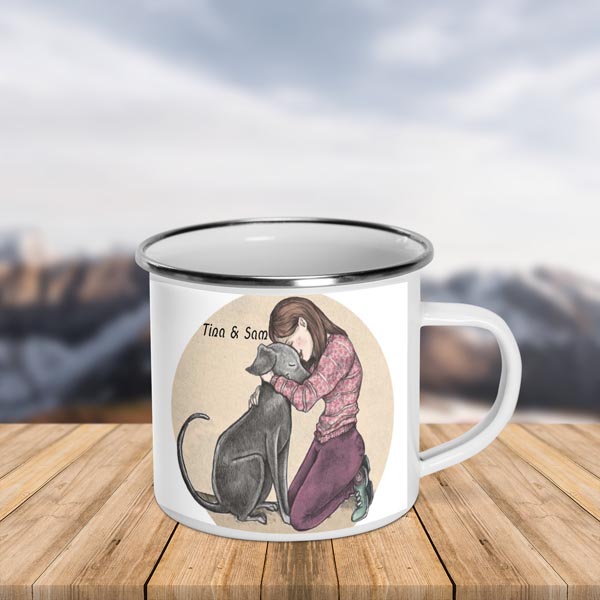 A custom design for a girl who loves her dog with her own name & dog's name, image, and names can be altered.
For customers who buy mugs as gifts, the application of personalization to the designs makes the gift even more meaningful, presenting the closeness between the giver and the recipient. Here are some custom enamel mug designs as gifts you can refer to.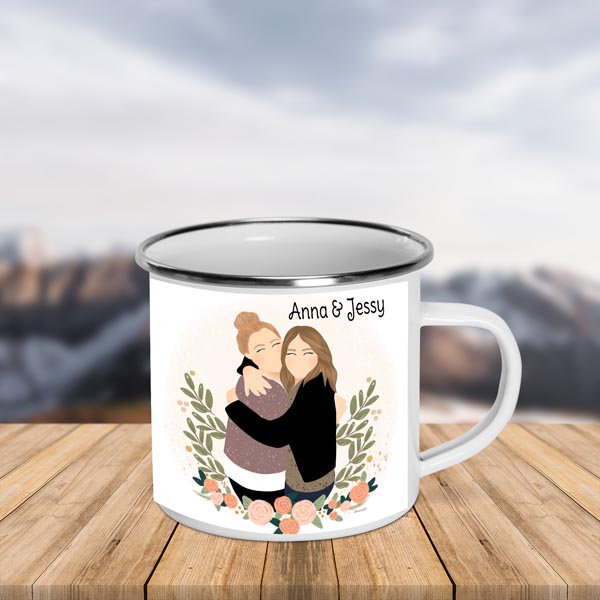 A custom design for niche sisters with customers' names that can be altered.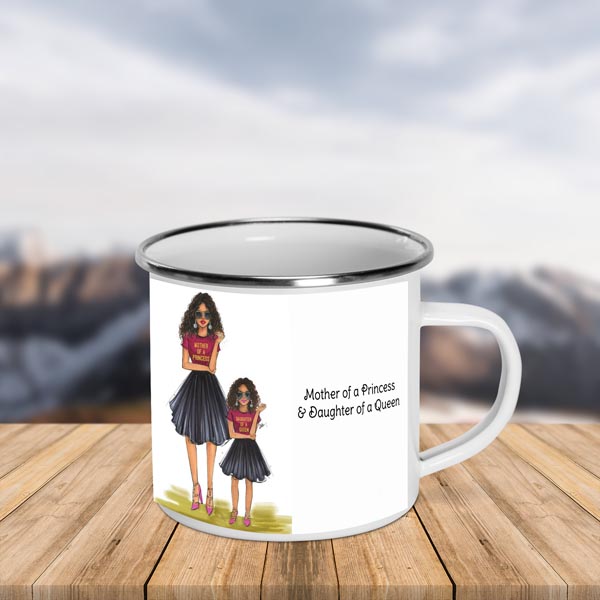 A custom design for a niche mother and daughter whose image can be altered.
How to use online photoshop (Photopea) to create a custom enamel mug?
Step 1: Open a custom enamel mug template, download the 'Mockup' section, and open it on Photopea.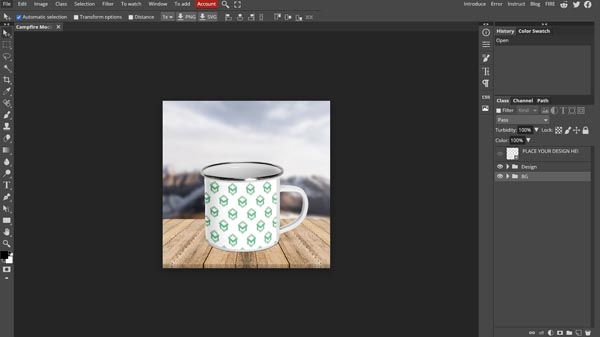 Step 2: Double click 'PLACE YOUR DESIGN HERE'  on your right-hand side to open a new tab, you can simply put your custom design into this tab. Make sure all safe zones are fully covered and save your design.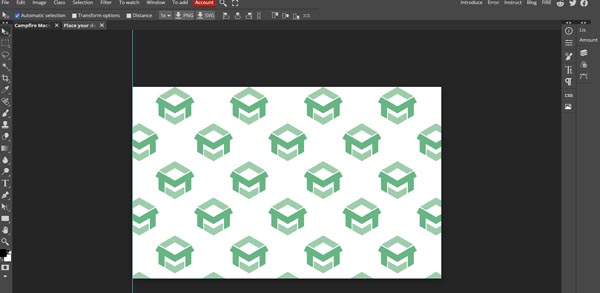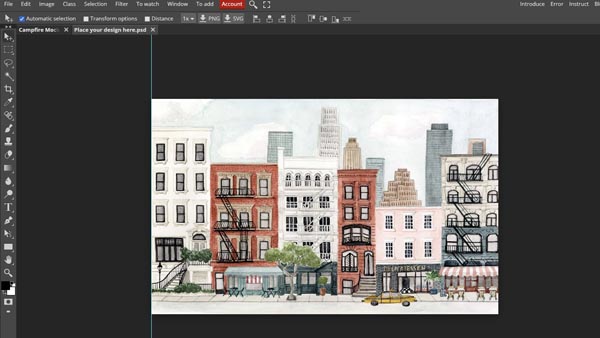 Step 3: Click back to the first tab and you will see the final mockup image. You can change the background design of the mockup, save and export it as PNG., JPG., GIF., etc. image.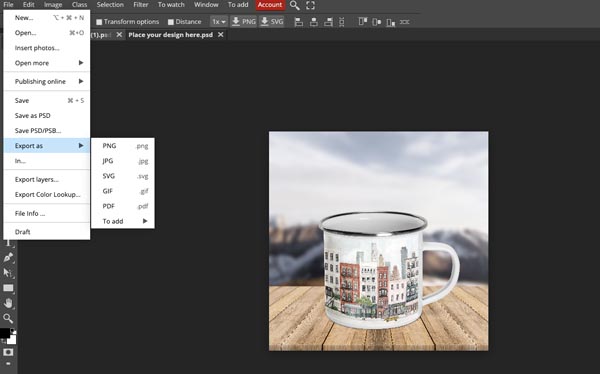 2.2 Niche ideas for a custom enamel mug
Travelers/ Campers: This niche turns out to be super potential since customers who love traveling or camping will easily get inspired and attracted by items related to their hobbies. You could sell a custom enamel mug that has an image of a camping bus, a tent, or mountains with quotes such as:
Just call me pretty and take me camping

Love is staying together after trying to park the camper

Life is meant for good friends and great adventures

Adventure is calling and I must go

Camping because therapy is expensive, …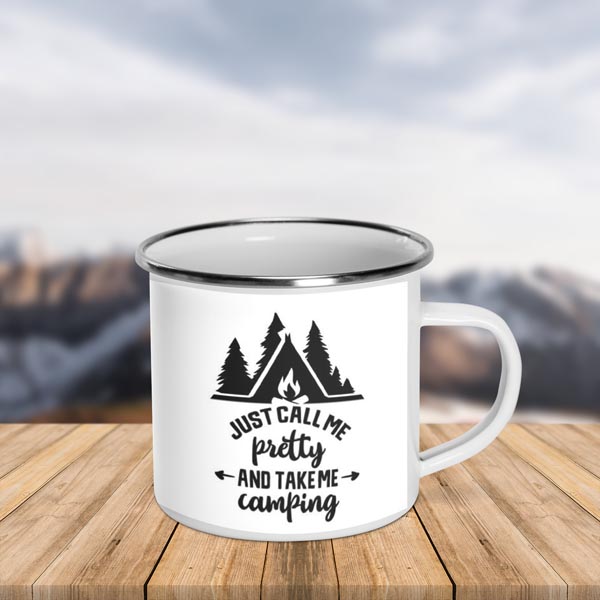 Bookworms: Research shows that Americans read 12 books each year on average, this means that reading is not only most American's hobby but also the thing that they truly care about. Based on this fact, there is no doubt that your customers will draw their attention to items that can inspire them to read more and bookworms are definitely the ideal niche for this. You can design a custom camping mug with the amazing quotes mentioned below.
Just let me live in my world of books. Keep your reality away from me

When we are collecting books. We are collecting happiness.

Please go away. I'm reading

Professional Bookworm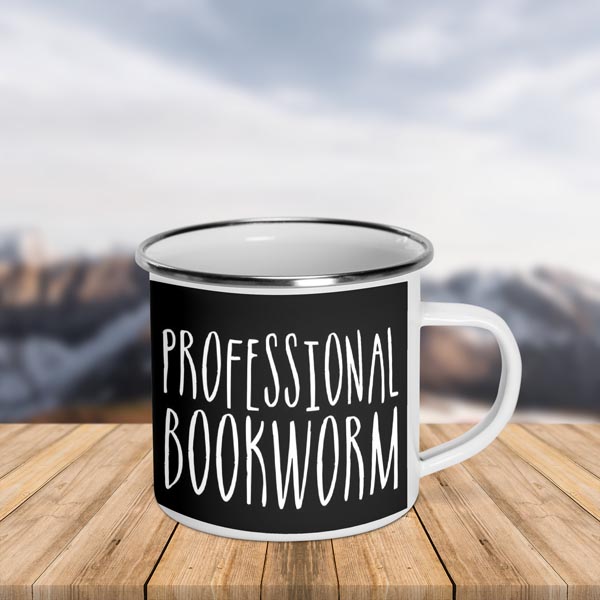 Coffeeholic: As a report, up to 83% of Americans drink coffee, and 64% drink coffee daily. In fact, each of them will need at least one coffee mug to enjoy their coffee and also easily get attracted by things that inspire them to their favorite drinks. Thus, the niche of coffeeholic will definitely draw your customer's attention and turn out to be one of the potential niches for your online store. You can mix the image of coffee, coffee cup/mug with attractive quotes such as:
You can't buy happiness but you can buy coffee and that's pretty close

Wifi, coffee, my bed. Perfection.

I must get up. My coffee needs me

Coffee is a cup of hope in a world full of chaos and Mondays

More espresso. Less depresso.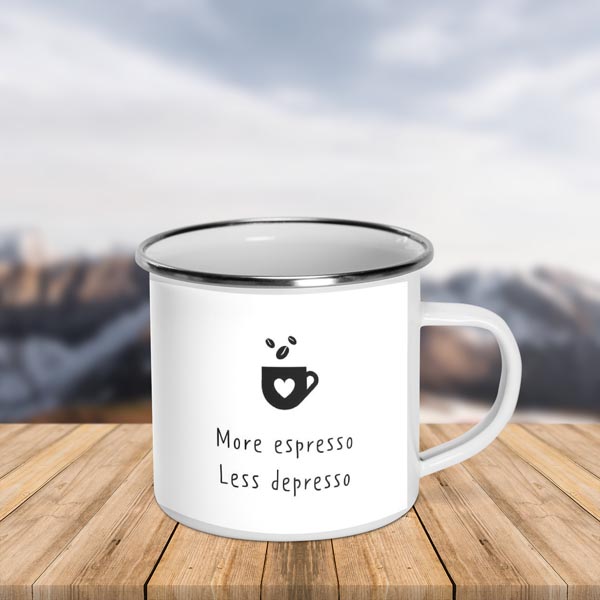 Halloween: Since Halloween is the occasion that Americans spend money shopping the second most of the year. With the total spending in 2020 reaching $8.05B and tending to grow in the upcoming Halloween season 2021, niche Halloween deserves an opportunity for you to invest and boost your business sales up with double or even triple profit compared to last period. You can customize an enamel mug in Halloween-tone colors such as orange, purple, or black with images of skeletons, pumpkins, witches, ghosts, etc. and attractive quotes below:
Pumpkin spice gives me life

It's just a bunch of hocus pocus

October get your spooky ass over here

If you got it, haunt it

Happy Halloween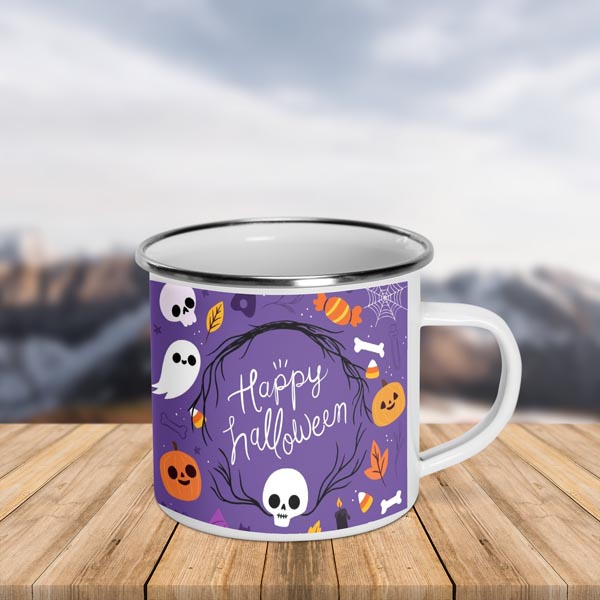 Dog Lovers: According to the 2020 report, there are up to 85M American households own pets in their families. In fact, 63.4M households have at least one dog. $1,126 is the amount each household spends on their pets yearly. 68% of Americans claim that they will maintain the budget to take care of their pets no matter what happens to the economy. Thus, there is no doubt that dog lovers would be the potential niches that you could not miss out on to raise your business sales effectively. Your customers can customize the enamel mug with their dog image, dog name, or some quotes related to this niche such as:
Life isn't perfect, but my dog is

It's never just a dog

Live, love, bark

When I needed a hand, I found your paw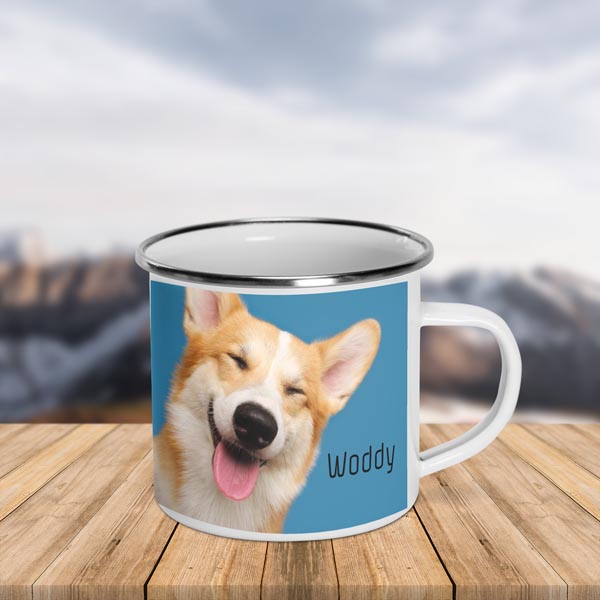 3.1 Use custom audiences with Facebook Ads
You ideally prefer to use the most cost-effective methods to promote your custom enamel mugs and make some money online. Thus, paid campaigns could create a crucial ROI, however, a lot of store owners and marketers have run ad campaigns and gained zero revenue.
The major aspect is in the audience targeting. You had better tight your audience targeting for better results. You will reach smaller audiences but those who achieve your ads are far more likely to be interested in your products.
Facebook's custom audience tool provides you with many targeting combinations with no limitation. You can upload your customer list to create similar target audiences matching your current customers rather than setting them based on behaviors and demographics.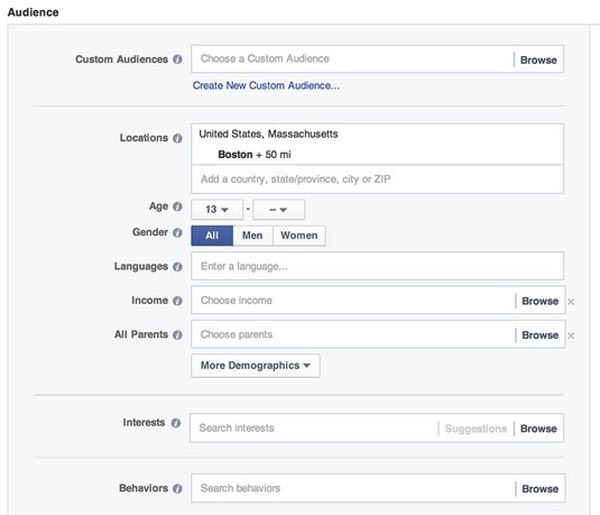 In addition, you can utilize a Facebook Pixel to create custom audiences and run some remarketing campaigns depending on your customer behavior, which involves targeting customers based on aspects mentioned below.
Specific pages they saw on your website

Purchase events and past purchase behaviors

The amount of time they spent on your website and certain pages

The content they searched or downloaded

Products they viewed or added into the cart

Lead form

Most active customers/ least active customers

Facebook page engagement
There exist lots of ways to create custom audiences to make sure your ads draw the most influence. Remember to save your audiences and continue to reach them in future ads.
Doing social media marketing is the best way to advertise your business product on social media. You can understand social media marketing as promoting your business product on Instagram, Tiktok, LinkedIn, etc. via your official pages. To get started, you need to do research to figure your business type and which social media platforms would fit yours the most.
To take an example, your mug business is a company that can draw the attention of customers searching for custom text mugs or companies searching for commercial custom mugs for gifts to their client partners or employees. Based on this fact, your business is ideal for platforms that have both types of audiences are formal and casual. The platform you can consider here is Instagram or Tiktok since they have both formal and casual audiences, unlike LinkedIn that is ideal for only formal audiences.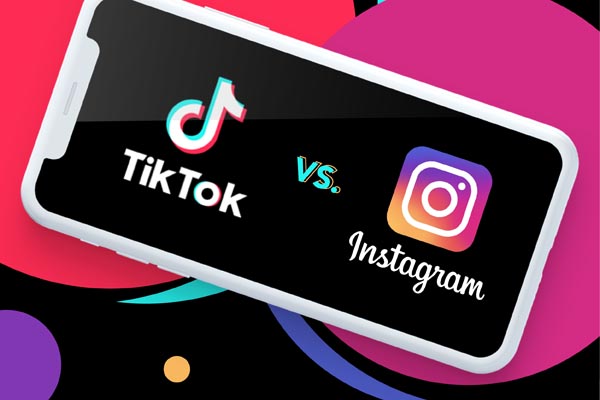 Participating in social media groups or communities related to your business niche can also be a great way to raise your product awareness. Your product promotion efforts in social media groups may get better results as group members are already interested in a similar product. However, it is crucial that you interact with other members well, reverse their interests, and be clear when giving information about your product. Keep an eye on these points, social media communities will turn out to be a great source for taking quality leads for your custom enamel mugs.
4. Build an eCommerce empire through a simple, yet robust business model of the custom enamel mug
Building an eCommerce empire from scratch is definitely a huge challenge. To complete the line, you might have to go through specific steps and deal with some typical challenging tasks. A stable generation of leads, sales, and traffic is an indispensable part of any eCommerce business. To create one, you need to pay attention to specific points. Here are some tips you might need to focus on when building an eCommerce empire through a simple, yet robust business model of the custom enamel mug.
Determine your product niche that matches your vision:

Brainstorm and list all available product niche ideas. Do research about them, evaluate them carefully for a better outcome. Check out

Google Trends

and figure if your listed niches are in trend. This process will support you to build a product niche that has the potential to gauge your online store.
Research on other online businesses:

Research is a must to build a wholesome business base. After understanding the eCommerce strategy, make sure to follow your competitors' moves. Extensive research in the custom mug industry can support you to improve your online customer experience. It also provides you with the understanding to run your online business smoothly and effectively.
Choose the suitable eCommerce platform and fulfillment company:

You can find many platforms to build your eCommerce websites, however, selecting the ideal content management system might be a difficult task. You may have to focus on factors such as features, speed, and performance. Since you prefer to choose some affordable options, we suggest choosing

a reliable print-on-demand company

to create a competitive online store and support you with fulfillment tasks, the one that can help you save your time, effort and still meet your business demands.
Check product quality:

Before setting the price for your custom enamel mugs and designing a brand, you have to ensure product quality. Make sure to get the sample product, test and inspect the product multiple times. The custom mug needs to be photographed and faced to clear information in terms of its appearance, climate resistance, the health impact, and more needs to be checked carefully. 

Create and design a brand:

In the competitive custom mug industry, you should create your own identity to be outstanding. To make a powerful identity online, generate a unique brand, you had better start with a brand name, brand logo, website design, etc. For a blooming empire, you can definitely go for a basic but different way. Try to create a user-friendly website to effectively draw your customers' attention to your brand and push them to make a purchase.
In conclusion, print-on-demand enamel mugs present a lucrative opportunity in the eCommerce sphere. With the right audience targeting, compelling designs, and effective marketing strategies, sellers can leverage this evergreen product to consistently meet customer demands and grow their business. This simple, yet robust product, embodies potential for significant online income and the building of a successful eCommerce empire.