What is print on demand?
Print-on-demand, also known as POD, is an order fulfillment service that allows sellers to develop and sell their own customized products online without having to buy in bulk or maintain a huge inventory. That means you don't have to pay for the product until after it's been sold, and only in the quantity specified in the order.
When a product sells, print-on-demand suppliers fulfill the order, ship the goods directly to the buyer, and you earn a profit on each sale. POD services allow you to experiment with new designs without incurring any upfront expenditures for you or the printing supplier.
Only when a customer makes a purchase will a bespoke design be printed. Sellers and online businesses can now profit without having to carry a significant inventory of products thanks to POD sites. To know exactly what is Print on demand and how POD works, you might find more information on our blog sites!
Print on demand offers a wide range of print on demand products to sell. All you need to do is personalized them, set your profit margins, and wait for the orders to come in.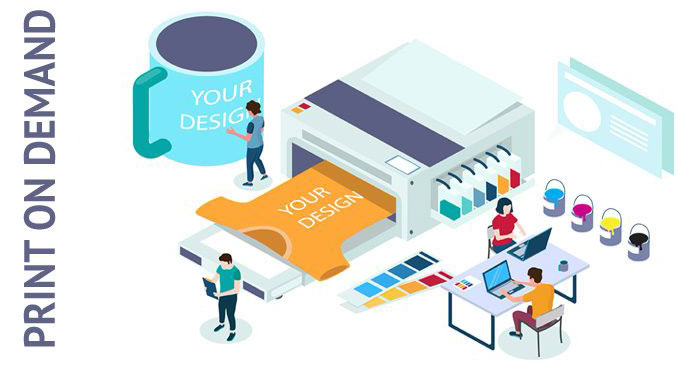 There are various choices for your print on demand niches such as greeting cards, phone cases, canvas prints, tote bags, apparel, and home decor …but you'd better make a good choice to fill the demand on the market. You can find some ideas from our blog before deciding which is the best niche for your Etsy online store.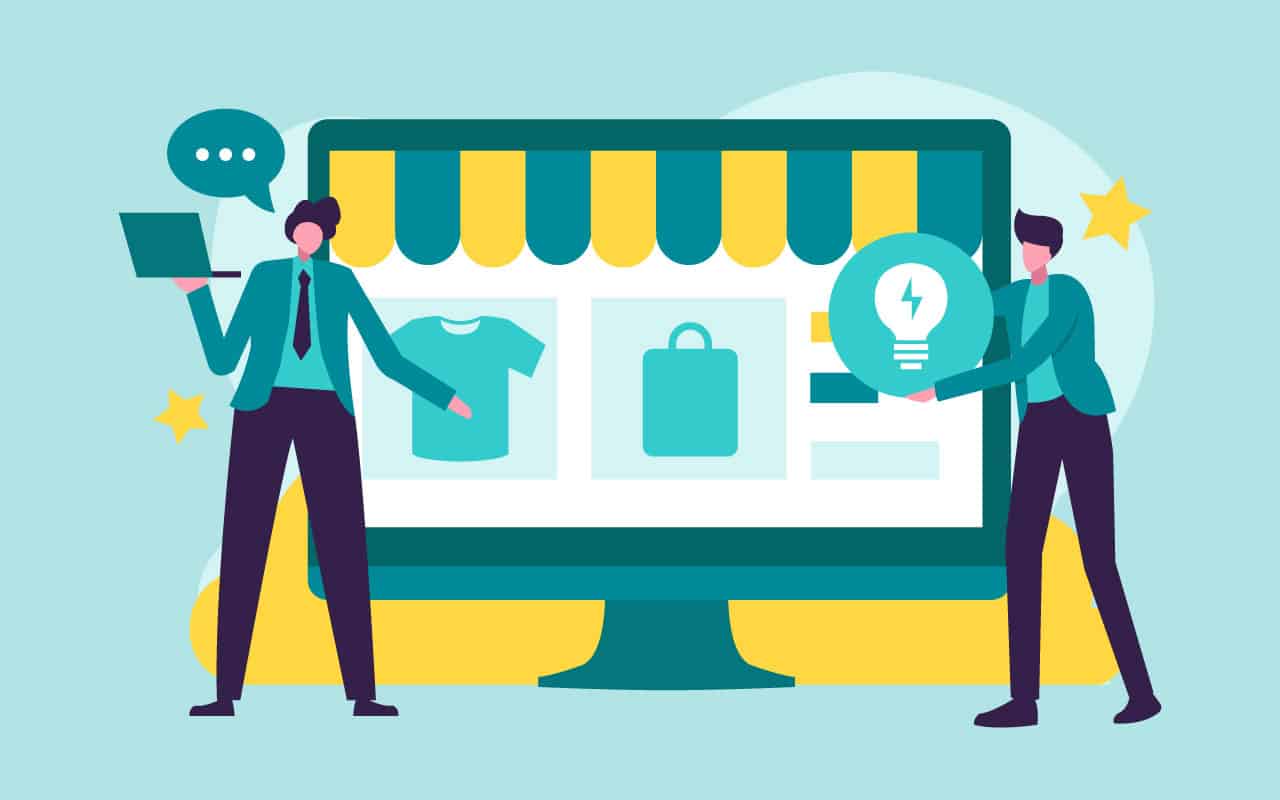 Today, more and more print-on-demand firms are being formed every year, and setting up an account is as simple as setting up a Facebook Page. But when it comes to high competition on the market, you have to make your products become unique and easy to customize.
Why Etsy Print on demand Cards Are More Profitable Today?
Before the print on demand industry, card sellers had to rely on local printing providers to complete their projects. Most printing providers would only print things in mass, requiring the producers to make a considerable investment. The sellers would cover the expenditures if the product did not sell.
But now thanks to print-on-demand suppliers, everything has changed. The majority of print-on-demand services come with no minimum and large investment gives everyone a chance to sell print on demand products such as cards.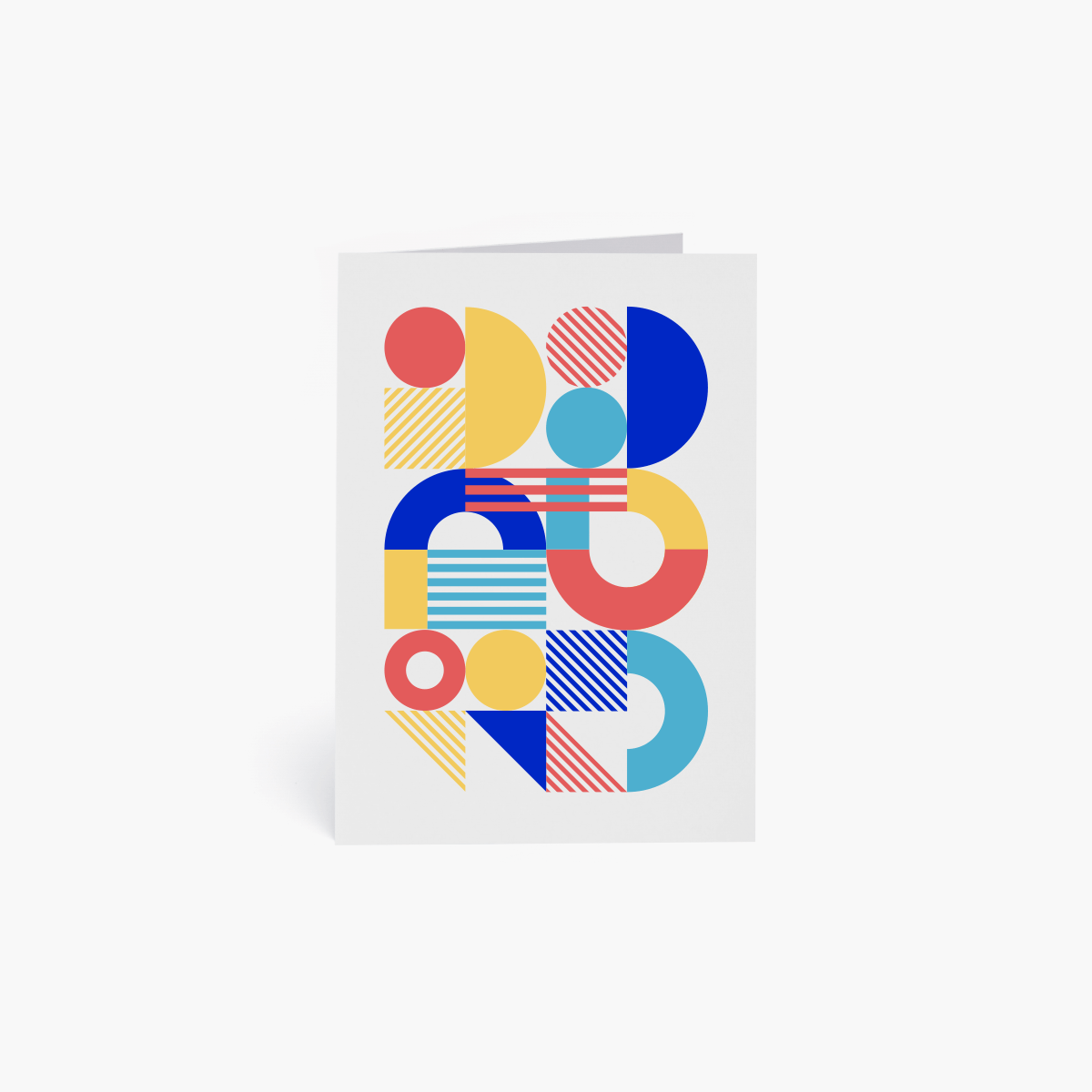 Print on demand cards was the second most popular gifting category, according to a recent survey by the National Retail Federation (NRF), with each consumer intending to buy three to four gift cards in 2020. Not only that, but the National Retail Federation predicts $27.5 billion in gift card sales this holiday season.
Nowadays, postcards and greeting cards are a profitable print-on-demand specialty. According to IBISWorld, cards industry sales in the United States are predicted to reach $4.1 billion in 2022.
Thus, print on demand cards is the potential niche that you can sell on Etsy and get a huge profit. Especially with handmade cards, the right place to reach your target audience should be Etsy where the unique and high-customized level is valuable.
This post will show you the top 5 Etsy print-on-demand cards companies that offer postcards and greeting cards at a reasonable price with high-quality and rapid delivery to help you get started selling them economically.
Which types of print on demand cards have the most potential?
The first step in selling handcrafted greeting cards online or print-on-demand greeting cards is to create an Etsy store. With Etsy, you can simply sell a variety of personalized cards with the help of marketing tools. Here is the list of the most potential print on demand cards that you can consider: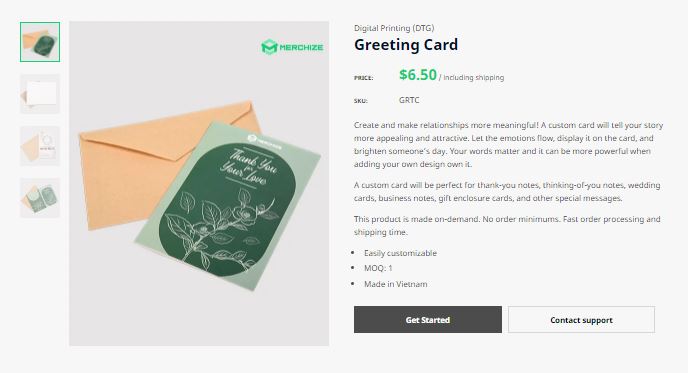 What do you need to know before choosing print on demand cards partners?
Etsy now integrates with almost print-on-demand companies like Merchize, Gooten, Printify to make it simple for sellers to create online print on demand businesses.
The quality of the product is critical for repeat business and the reputation of your company. Therefore, it is a good idea to order a single card or a pack of cards sample to see if the material and print quality are good before choosing the printing partner.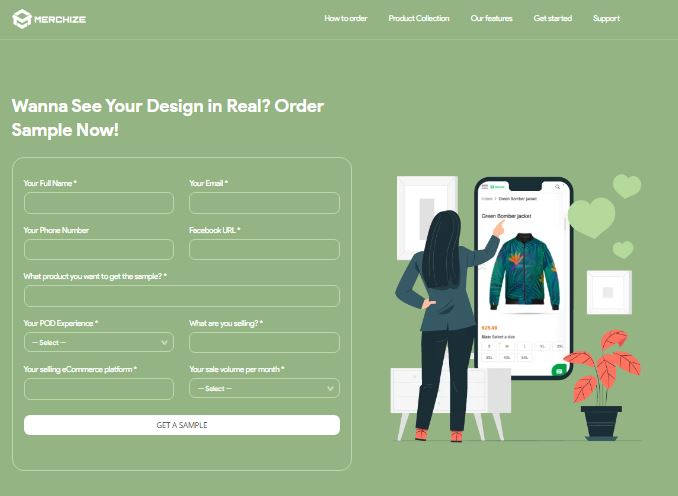 Shipping costs, particularly if they are higher than the card's cost, may have a detrimental impact on sales. Research the shipping costs for a single card and a pack of cards to see if the print-on-demand company is best for your business. You might find a list of the best POD businesses on your blog post and find ones for yourself!
Best Print On Demand Companies For Print on demand Cards in 2022
Merchize
Merchize is a fast-growing POD company based in Vietnam that provides an end-to-end fulfillment solution to help you grow your business.
Merchize operates a 43,000-square-foot manufacturing facility in Vietnam that supports a variety of printing techniques, including direct-to-garment printing, cut-and-sew heat transfer sublimation, UV printing, laser cutting, and more. It has covered everything from sourcing high-quality, high-demand items to integrating with the greatest eCommerce platform like Shopify or Etsy, global supply chain network and centralized order management.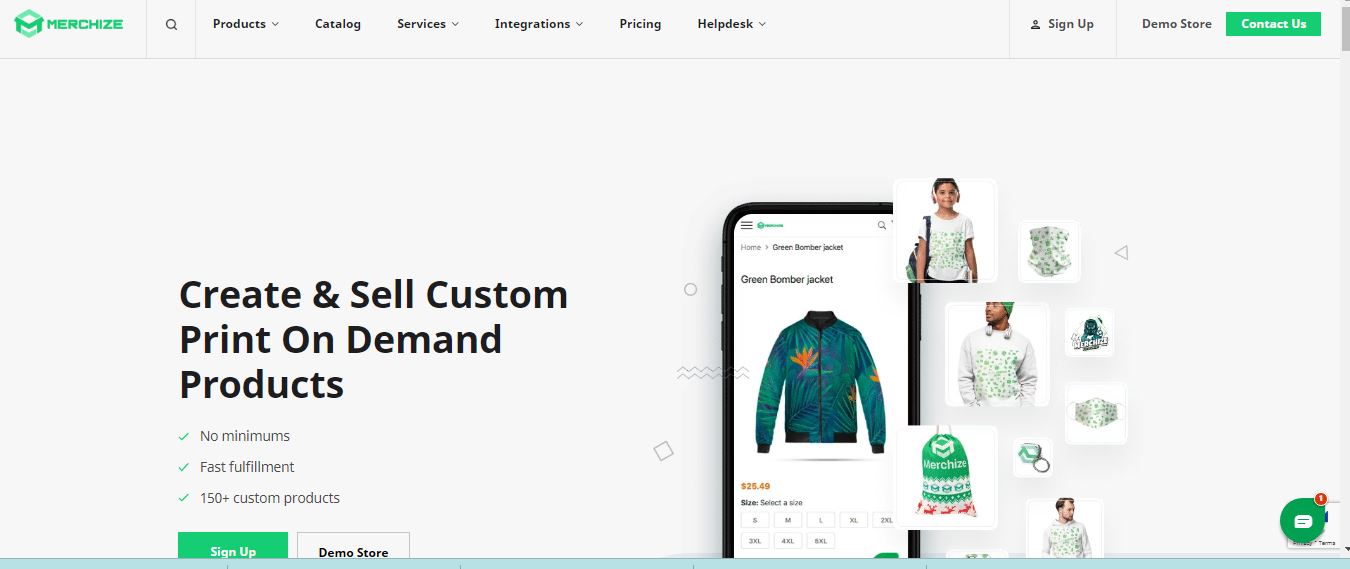 Furthermore, Merchize offers the most cost-effective all-over print products on the market with US manufacturing which takes a very short time to deliver to US customers.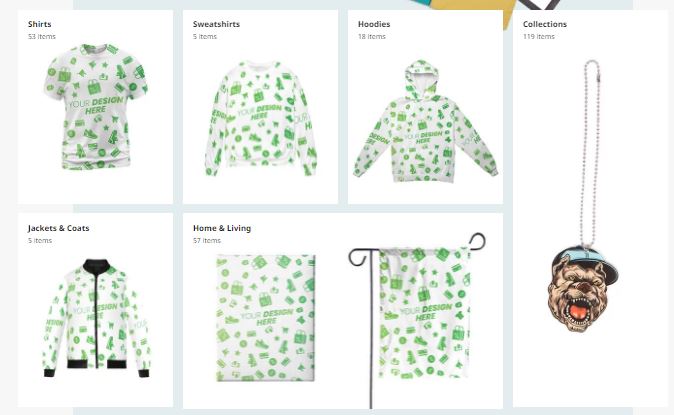 Merchize has a highly cheap price for top products that have great demand, such as t-shirts, and be one odd the top POD supplier on the market.
Pros
Worldwide delivery within 4-20 days.
Pre-made storefronts with SSL certificates, powerful marketing tools.
Get sample products with 20% discounts.
High-volume merchant discounts.
Pay with Paypal and Payoneer.
Print-on-demand integration with Amazon, eBay, Etsy, Shopify, WooCommerce, and Google Shopping.
Cons
Might need up to 8 days to process orders (for products such as doormats, bedding sets…).
Pricing
Postcards & Greeting Cards: Starting from $3.99/standard card.
Shipping Costs: from $5.4 to the US, from $16 to the EU, and $7 to the rest of the world.
Prodigy
Prodigy headquartered is in the United Kingdom, with offices in London, Alton, and Cardiff. Prodigy is recently rapidly acquiring reputation and appeal, particularly in the UK market.
This print-on-demand company also has in-house printing manufacturing facilities in the United Kingdom, the United States, and the Netherlands. Prodigi has two fulfillment locations in the United Kingdom, one in Farnham and the other in Alton.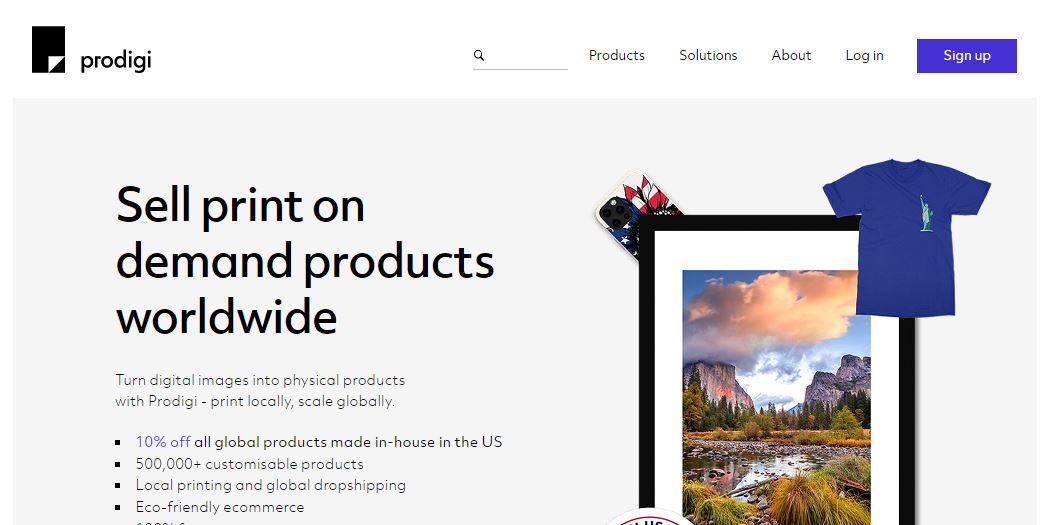 It aspires to be an environmentally conscious print-on-demand firm, with giclee classic/fine art postcards and greeting cards (both outer and inner printing) manufactured from sustainably sourced paper or wood and printed with water-based inks as its signature product. Customers can now get products in white-label cardboard boxes made from recycled resources.
Pros
Within 14 days, worldwide delivery is available.
Within 24-72 hours, 80 percent of things are created and shipped.
Accept credit and debit cards as payment.
Shopify, BigCommerce, WooCommerce, SquareSpace, and Etsy are all supported.
Cons
Personalized labeling and packaging are not supported.
Pricing
Greeting cards and postcards start at $0.5.
Shipping costs start at $5.95 for Economy shipping and go up to $19.95 for Express shipping.
Printify
Printify is a digital firm founded in 2015 and financed by Silicon Valley angel investors. What sets it apart is that it connects you to the greatest network of 35+ dependable print providers in the US, CA, EU, UK, AU, and China, with 90+ printing facilities, allowing you to compare pricing and delivery times and choose the finest partners for your business needs.
Printify offers 300+ other low-cost print-on-demand items, including apparel (t-shirts, hoodies, athletic wear, skirts & dresses, hats, etc. ), home decor & lifestyle goods (mugs, tumblers, candles, puzzles, blankets, pillows, doormats, etc. ), and pet supplies.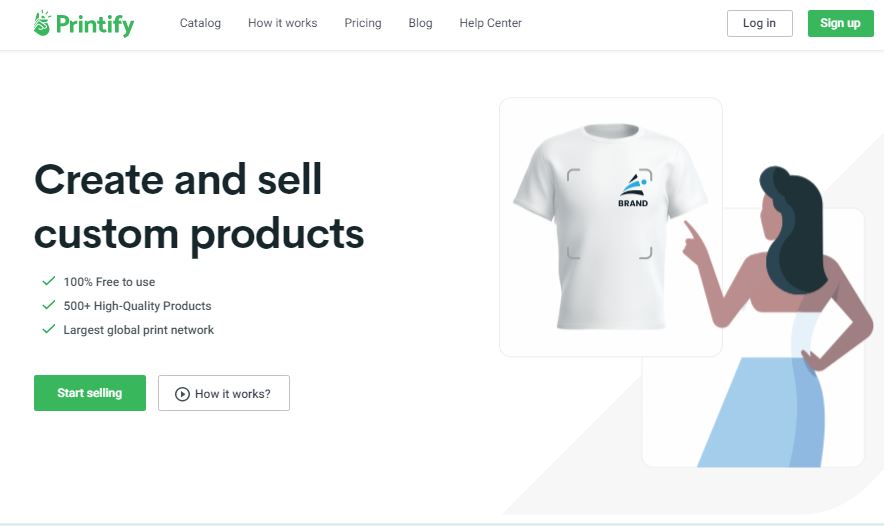 Printify enables you to offer quality greeting cards to your clients quickly and easily. They enable you to manage your product supply chain and choose the most cost-effective printer.
Pros
Blind shipping worldwide within 15 business days via USPS, FedEx, DPD, UPS, DHL, Royal Mail, etc.
Great customer service and clear policy to protect customers' rights.
Customized solutions for different seller groups: students, established influencers, and creators.
Free design library.
Accept payment with Paypal and credit cards.
Integrate with Etsy, Shopify, WooCommerce, Wix, BigCommerce, PrestaShop, eBay, and more.
Cons
Up to 7 business days to print orders.
No personalized labeling and packaging solutions.
There aren't many options for Greeting cards
Pricing
Postcards & Greeting Cards: From $2.37 (From $1.83 on Premium),
Shipping Costs: From $3-$6 to the US and $6-$8 to the rest of the world.
Gelato
Gelato is gaining popularity among card designers. It has been dedicated to developing an easy-to-use toolkit that allows artists to release their inner creativity since 2007.
Gelato has locations in thirty countries, including the United States, the United Kingdom, New Zealand, Germany, India, China, and Russia. and clients love the 72-hour shipping time. They also make it simple to sell cards on Etsy and Shopify. Make your design, and they'll handle the printing and delivery for you.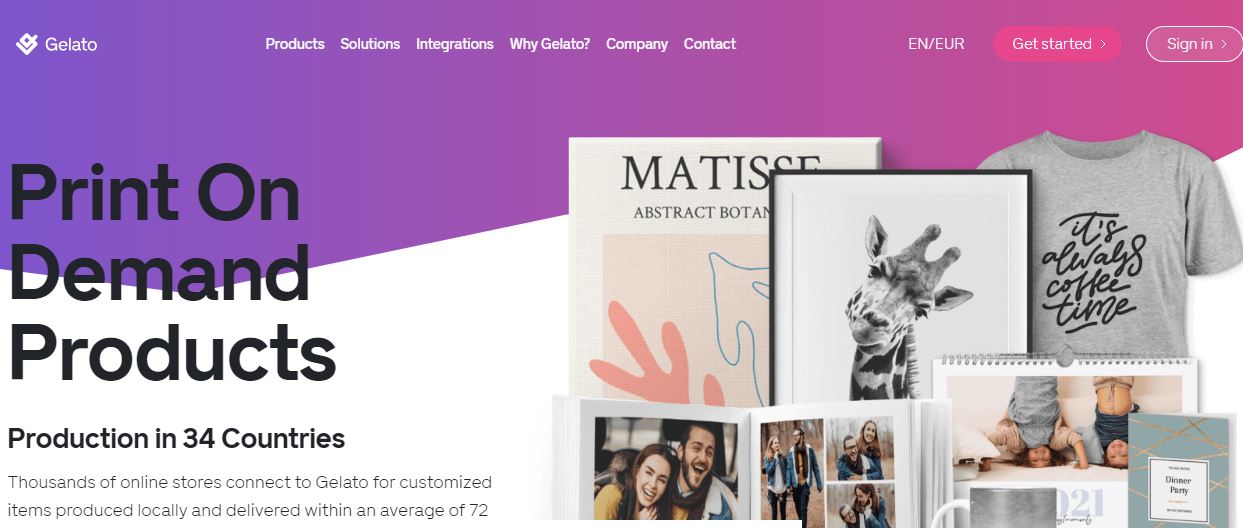 Gelato specializes in business cards and supplies, such as 2-sided cards with white envelopes, quality silk, glossy paper business cards, flyers, brochures, folders, letterheads, and roll-up banners.
It also excels at print-on-demand wall art prints, with canvases, aluminum prints, acrylic prints, foam prints, posters, photo books, and calendars available.
Pros
Shipping time within 4-15 business days.
5%-16% discounts based on your monthly sales.
Allow your customers to easily personalize their products with options from a pre-set list.
Accept payment via Paypal, credit cards, and Gelato Wallets.
Integrate with Shopify, WooCommerce, Squarespace, Wix, Etsy, and more.
Cons
2-6 business days to process orders.
Doesn't provide custom labels and packages.
Pricing
Postcards & Greeting Cards: From $6.16 (a pack of 10 cards).
Shipping Costs: From $3 to the UK, $6 to the EU, $8 to the US/Canada/Singapore, and $20 to other countries.
StationeryHQ
StationeryHQ is a San Francisco Bay Area-based family-owned and operated company. It focuses on assembling print-on-demand stationery items such as double-thick cards, flat greeting cards, folded cards, foil-stamped cards, die-cut cards, boxed card sets, portrait/landscape postcards, envelope liners, wrapping paper, stickers, notebooks & journals, office supplies, wedding supplies, and more, as the name suggests.
Despite its tiny size, StationeryHQ guarantees two business days for one-off and short-run production of most products.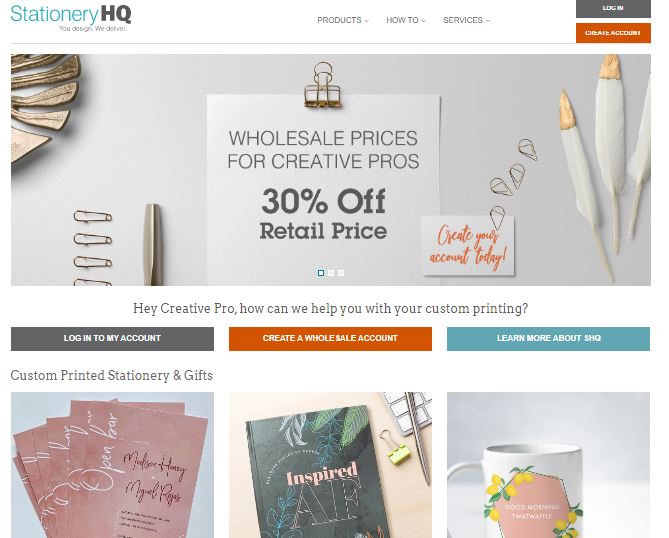 Pros
International delivery (ship within 6 business days to the US)
Discount up to 50% as your order volume increases
Payment through: Paypal, Visa, Mastercard, Discover, AMEX and JCB
Cons
Doesn't have POD dropshipping app
No personalized package & labeling
Shipping delays might happen for large orders
Pricing
Postcards & Greeting Cards: From $1/unit (MOQ is 10).
Shipping Costs: From $10
Final Thoughts On Print On Demand Greeting Cards
Over the last five years, online fine art sales have exploded, and they appear to be on the rise again. A print-on-demand provider may be your best option for selling greeting cards, whether you sell your work on Etsy, your website, or in a store. Allowing someone to buy a personalized greeting card with no upfront charges is a win-win situation for you and the consumer.
People can now run a successful art Etsy shop online and earn money from a variety of sources, including selling prints on demand greeting cards, which could help them gain a lot of profit since it is very popular and in high demand on the market.
Q&A
Can you sell custom greeting cards on Etsy?
Yes, you can. Selling your handcrafted handmade greeting cards on Etsy, where you have complete control over pricing and the appearance of your shop, and there are no rent or utilities to pay. There are expenses associated with what you sell on Etsy, but there are no upfront costs to entice buyers to buy your cards.
What type of greeting cards sells the most?
Birthday cards continue to be the most popular, accounting for more than half of all cards sold. Birthday cards are mailed in about two-thirds of cases. Print on demand custom greeting card prices range from $1 for each item, so it is the ideal gift for every occasion.