This post was updated on: December 2022
What is a Shopify theme?
Themes are collections of different pre-coded files that define and govern how your website looks and behaves on the web. Themes are built specifically for certain CMS – it could be tailored for WordPress, Drupal, Joomla, or in this case, Shopify. Theme creators can use plugins to add functions to a theme.
Themes can be made for multiple purposes or one single purpose like blogs, news portals, portfolios, or ecommerce websites. Most Shopify themes are made for ecommerce shops. Some themes can also allow you to publish blogs on the site.
How Shopify themes can help your business?
If you open a brick-and-mortar store, one of the crucial things you need to get right is the store designs – you need to build a place that is not only well-designed but also welcoming and comfortable for the customers when they come by. When a place makes customers feel relaxed and welcomed, they tend to spend more.
In the same fashion, good design is important for your virtual online store. Even though it is impossible to affect the customers the way we do at physical stores using the feels and the atmosphere, a digital store still needs "a good architecture" to guide the customers on their online shopping journey and create a great shopping experience.
To design a physical store, you would need help from professional architects and designers to create the design and construction worker to turn the plan into reality. But in the world of online business, you won't need professionals to create a virtual shop. Instead, you can avail the premade themes to build your own eCommerce store.
Pros of Shopify themes
Here are some advantages of using a prebuilt theme for your store:
Low investment: With premade themes, you can save a considerable amount of money from hiring designers and developers to build an ecommerce store from scratch.
Room for customizing the prebuilt theme as you wish
Quick and easy way to launch your print on demand business
Various options and styles to choose from
Good news for Shopify print on demand sellers: there are currently a great number of premade themes compatible with Shopify stores. You have many great options to install to your own ecommerce site.
Cons of Shopify themes
Along with these peaks, there are also a few downsides that you might want to consider before choosing a theme for your Shopify store
Limited options to personalize and establish a design that closely matches your brand: Since it is a one-size-fits-all solution, there is a small chance that it can 100% match your brand identity and image, for all options available.
Limited technical support: If you are using a premium Shopify theme, it is possible to connect with the author of the theme and ask for support when there is a bug. However, it is most likely that it will take a long time to resolve the issue. You might have to wait until the next update for the bugs to get fixed.
When to use Shopify template for your print on demand business?
Given the weaknesses of using pre-built templates, a Shopify theme is still a highly recommended solution for print on demand businesses. It is a cost-effective way to start your print on demand business. Basically, it removes all the traction and barriers that might face when launching a new ecommerce business.
Using Shopify themes is the best option for people who just started a print on demand business. For a starter, it is more important to keep the cost low and move forward as quickly as possible in order to find out if their business is worthy or not.
Once you have enough experience and want to expand your established business or build your brand, you can consider switching to developing your store from scratch. It is a big investment but in return, you will get a storefront with more personality and brand-oriented designs.
Start selling print on demand on Shopify with Merchize
Merchize helps you to bring your designs into reality and, of course, profitable products. Get 10% off for your sample order now.
Where can you find Shopify themes?
Shopify themes are available on various websites on the web. You can find various options on Shopify theme stores or other theme and template-selling websites.
Shopify theme store
Shopify is offering around 88 themes on its theme store (more themes are added frequently). Some of these themes are available free of charge. The paid options can cost from around 150 up to 350 dollars. All the themes available on Shopify stores are reviewed and approved by Shopify themes, which guarantees its quality and security to some extent.
When choosing Shopify themes, you can get the best support from the developers and Shopify. Besides, you are assured to get frequent updates for the themes you chose.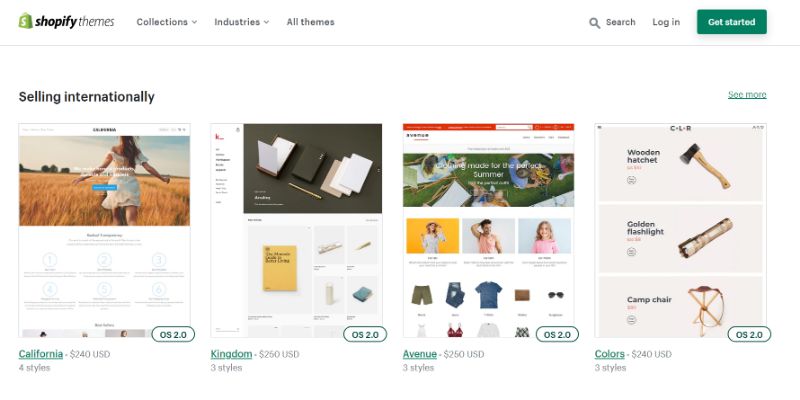 Themeforest
Themeforest is another popular option for Shopify store owners. Compared to Shopify theme stores, Themeforest has a large selection of options for your consideration. Moreover, it costs significantly less than what you have to pay to buy from Shopify theme stores. Prices of most Themeforest' Shopify themes can range from as low as $19 and go up to $99.
While you get the more affordable options from Themeforest, themes bought from these sites can have some downsides as well. First, it is about the quality. There are fewer regulations and requirements for themes to be published on these sites. With a lower entry bar, the quality of these themes might not be the best. They might possibly possess bugs and security issues. Secondly, you might not get the necessary support if an issue arises.
When buying Shopify themes from these websites, you should choose options with positive reviews and high ratings.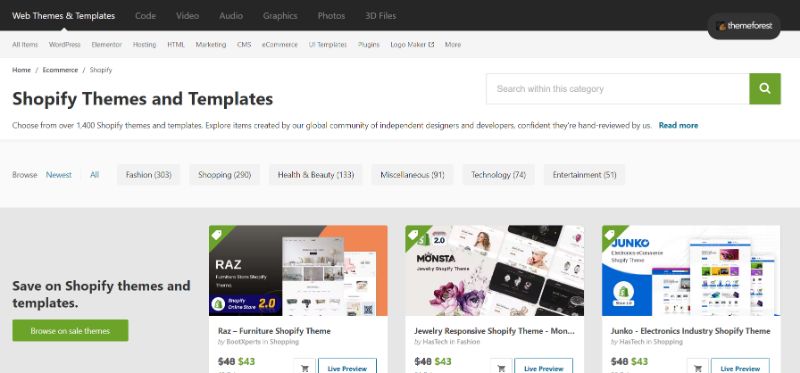 Other sources
Besides Thememosters, there are also other template markets where you can find affordable and aesthetic themes for your ecommerce store.
How to choose the best Shopify theme for print on demand stores?
If you are looking for a Shopify theme for your print on demand stores, it is easy to get lost in plenty of options. Rather than going with whatever themes meet your eye, you should take different factors into consideration.
To make a better decision, here are a few things to consider when choosing a theme for your Shopify store.
Shopify store theme vs other sources
As discussed above, there are basically two ways for you to get a theme for your store. You can either get it from Shopify stores or other sources like Themeforest. Each option has its pros and cons. If you want more options and affordable themes, go to places like Themeforest. If you want high-quality themes, better security, and support, Shopify theme store is a better choice.
Budget
With a small budget, you can opt to use the free theme available on the Shopify theme store or buy themes from Themeforest and the likes. Free Shopify themes can be a good idea if you are in the early stages of your business and want to test rather than invest in something long-term.
But note that free themes can only provide you with some very basic functions. If you want more customization and features and overall, better functionality and design for your online store, free themes can barely meet your needs.
The higher the budget is, the more options you can get. You can either buy themes from Shopify's official store or other places as well. Higher-priced themes usually come with a larger space for customization, more functions, allowing you to make the most of your online business.
Catalog size
Themes for stores with a small catalog can differ from those for larger product collections.
If you only have around a dozen products, you should choose a template that can highlight all your products in detail so that you can entertain and keep your buyers on the site longer. Small catalog themes will focus more on the imagery side.
For most print on demand Shopify stores, there are usually a large number of products, requiring a high level of categorization and advanced search function as well. With more products in hand, you won't be able to display each product in too much detail. It's better to keep it short and to the point. So find a prebuilt theme that can fit the size of your category.
Product range
What type of products you are selling can influence how you choose the theme for your store. Stores selling clothing and accessories can be different from health and beauty or electronic stores. Each category will follow a different aesthetic that works best in the given market.
You can check the suitable option for your product range using the filter on the Shopify theme store or the sources. Actually, the theme categorization is not strictly confined. One theme can be used for stores that sell products across different categories.
Brand identity
Brand identity is the compass for you to find the right theme for your Shopify store. Each theme will have certain options for customization in order to create a look that matches your brand. However, there are some certain factors that are unchangeable or not compatible with your brand image. You should be aware of this and find a theme with an overall aesthetic that is not too far from your brand's appeal.
The design should also be chosen with the target customers in mind. After all, the purpose of all designs is to provide the best experience for your customers. You should choose the styles that speak to your audience.
Functions and features of your store
Different themes can come with different functions and features. This is critically important for your online business.
All the factors mentioned above are variables that you can use to decide what theme suits your business best. Along with these factors, there are some parameters that determine the quality and functionality of a theme. It's best that your theme would meet all these requirements.
Mobile responsiveness
Mobile e-commerce accounts for almost three-quarters of ecommerce sales (72.9 percent to be exact), according to the statistics published by Statista. Undoubtedly, a majority of buyers are browsing products and shopping via their mobile devices. In addition, a mobile-friendly website is also favored by Google's ranking algorithm, which significantly benefits your SEO game.
Making your website mobile-friendly is of utmost importance nowadays. The theme you choose must be responsive and easy to navigate on the mobile version.
Loading speed
Visually attractive design is not the only thing that counts. Besides looking good, a well-built theme needs to be compact and lightweight to keep the site load fast and create a smooth user experience on your site.
Do not focus too much on the aesthetic appeal of your website and add fancy animations or heavy features that can slow down the side.
Intuitive check-out process
According to Baymard Institute, 70% of customers abandon their carts when shopping online. Research by Baymard Institute reveals 17% of participants chose a long and complicated check-out process as one of the reasons for cart abandonment. 
An optimized checkout process that is intuitive, easy to follow can help to minimize the cart abandonment rate for your website.
>>> In case you haven't found the right print on demand supplier for your Shopify store, check out the list of the best print on demand Shopify apps in our article.
Best Shopify theme for print on demand stores
In the following, we will list out the best Shopify themes for your ecommerce store, including both free and paid options. Depending on your budget and your business needs, you can find the most suitable theme to install in your shop.
We will start with some free options first. All of these are available at Shopify's official theme store free of charge. These themes can cover most of the basic functions of a print on demand store. It is an ideal solution if you are starting with print on demand or e-commerce business in general. After testing and experiencing, you can totally upgrade to a paid version.
Free theme from Shopify theme store
Minimal
Minimal is a popular free theme on Shopify. It is available in three styles, Vintages, Fashion, and Designs. With these three different versions, Minimal is suitable for various types of business, for example, clothing and accessories, art and entertainment, or home and garden.
Based on the print on demand niche that you target for your store, you can choose one of these styles to apply for your store.
Minimal also gets a lot of positive reviews from users. You can rest assured when it comes to the quality of this theme.
However, the disadvantage of this theme, as well as other free themes available, is the lack of features and functions. Minimal only gives you the basic ecommerce functions like cart notes, recommended products, stock counters for example. In addition to that, this theme works best for small catalogs. If your store has yet stocked a wide variety of products, Minimal might work properly. But for a larger collection of products, you might need to switch to other options that suit you better.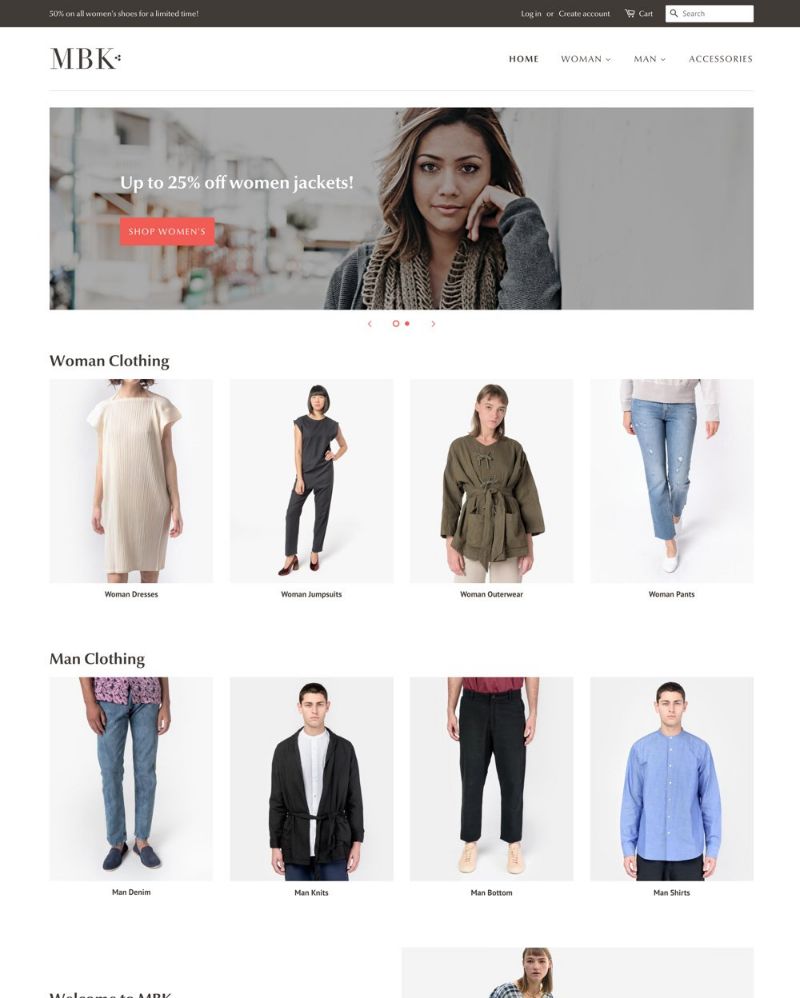 Price: Free
Review: 98 reviews (83% positive)
Highlight features:
Recommended products
Stock counter
Cart note
Best for: Stores with a small catalog
Brooklyn
Brooklyn is one of the best free Shopify themes for print on demand business. This theme is built specifically for apparel stores. If your print on demand store mostly sells print on demand clothing, Brooklyn is a great option to go with.
Depending on your brand image, you can choose either Classic or Playful styles.
These two options represent different aesthetic styles but in general, both of them look clean and minimal.
It comes with various functionalities – including header slideshow, video homepage, slide-out cart, dynamic product grids. These features altogether create a dynamic and visually-pleasing theme for your print on demand Shopify stores.
On the downside, Brooklyn has similar problems as other free themes – there is little to no support from the theme creators if any error or bug appears. In all likelihood, you either have to figure out yourself or seek help from someone in the know.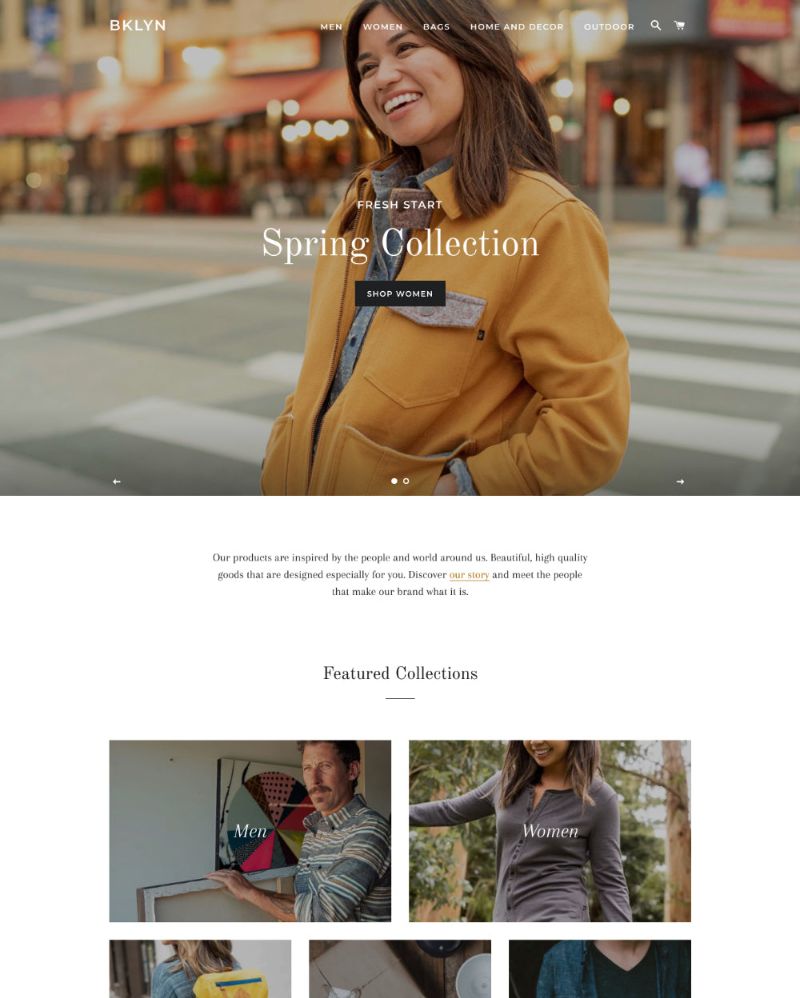 Price: Free
Review: 85 reviews (69% positive)
Highlight features:
Header slideshow
Video homepage
Slide-out cart
Dynamic product grids
Best for: Apparel print on demand store
Brooklyn and Minimal are some of the best free Shopify themes for print on demand business. Apart from these two options, here are some honorable mentions for best free Shopify themes:
If you want more personalization and functions for your store, it is highly recommended that you choose from the list of paid Shopify themes. In the following, we will explore the best paid Shopify themes for print on demand.
Paid themes from Shopify theme 
Responsive
Responsive is a great theme for print on demand business. As the name suggests, it is a responsive, highly flexible theme that looks clean across different devices.
This theme is highly customizable with four different styles, namely, London, Paris, New York, San Francisco. Each style comes with a different layout, typography, and features. Depending on your brand identity and preferred aesthetic, you can select one style that suits your store best.
Other than supporting the main function of displaying products and processing purchases, Responsive theme can come in handy for editorial types of content, like blogs, About us page, FAQs, allowing brands to tell their stories as well as enhancing the SEO of the site.
With enhanced search, product sorting and filtering, mega menu features, Responsive is highly compatible with print on demand business that comes with a large selection of products. In addition, features like breadcrumbs recommended products, and sticky headers make it easier for customers to explore your range of products.
This theme also provides you with some marketing features like back-in-stock alert, in-menu promos, product reviews, product badges, stock counter. These features help to highlight your products and increase the conversion rate.
On top of these, when buying Responsive, you can also have access to very responsive support
Along with all the bells and whistles, Responsive theme also provides top-notch support. If you have any issue while using the theme, you can contact the support team for a proper fix quickly.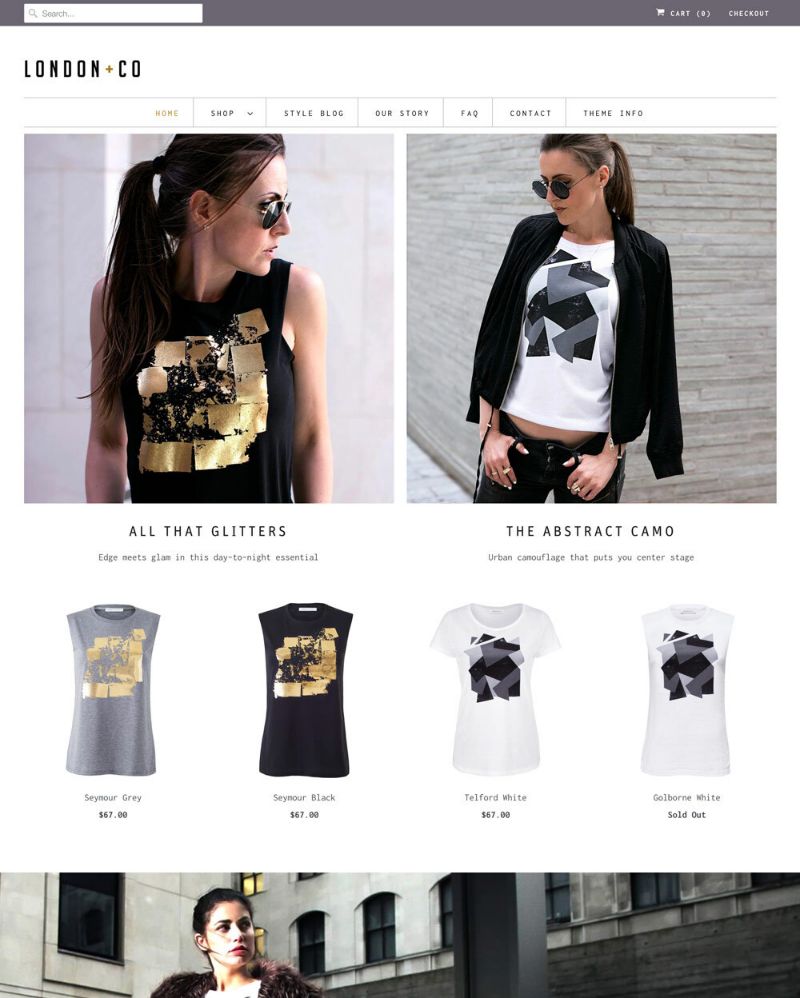 Price: $220
Review: 320 reviews (96% positive)
Highlight features:
Breadcrumbs
Enhanced search
Mega menu
Product filtering and sorting
Recommended products
Sticky header
Back-in-stock alert
FAQ page
In-menu promos
Product badges
Product reviews
Recommended products
Stock counter
Best for: Stores with large product catalog
Symmetry
Symmetry is a versatile theme for ecommerce stores participating in different markets from fashion, fitness, beauty, or accessories. Available with four styles, Symmetry can match a wide range of aesthetics. You can choose and switch between four options, Chantilly, Salt Yard, Beatnik, and Duke.
One highlight of this theme is its advanced product filters that help the users to find products easily and effortlessly. Other than a smart product filter and sorting, this theme also comes with features like breadcrumbs, mega menu, collection page navigation, and recommended products. These features enable better navigation for users and increase the visibility of products on the store.
Besides the basic product pages, Symmetry also allows you to enhance trust and establish relationships with customers via editorial content like blogs and FAQs.
In order to help ecommerce businesses to attain and convert customers, Symmetry also comes with some built-in marketing tools like cross-selling, contact form, in-menu promos, promo banners, promo pop-ups, promo tiles.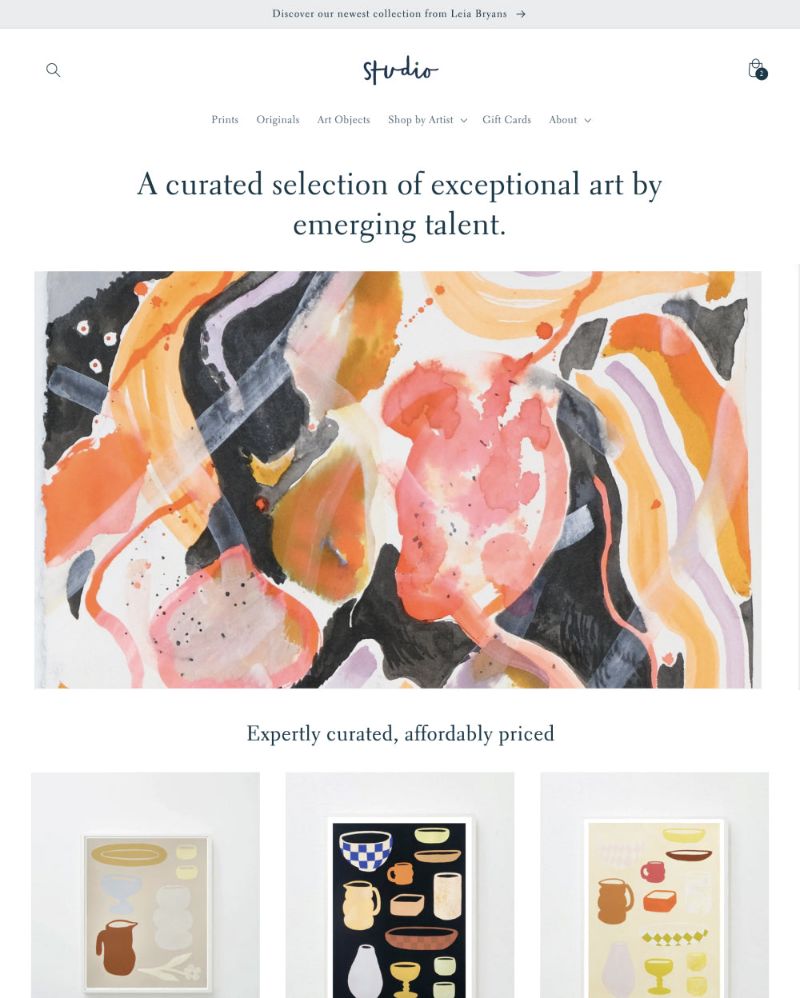 Price: $300
Review: 259 reviews (94% positive)
Highlight features:
Breadcrumbs
Collection page navigation
Enhanced search
Megamenu
Product filtering and sorting
Recommended products
Sticky header
Best for: High-volume stores
District
District is highly recommended for stores that sell clothing, accessories, health and beauty products as well as sport and recreation gear. It is the perfect theme for dropshipping and print on demand business.
District is available in three styles, District, Energy, and Coast. Each style comes with a different layout that communicates a different feeling to the customers. Depending on how you want to represent your brand, you can choose one style that best matches your brand image.
District theme is enhanced with multiple marketing tools. Promo banners, promo popups, promo tiles can be used to promote and encourage customers to spend more and stay longer on your sites. In addition, features like product badges, trust badges can make your store look more trustworthy and professional.
Another thing that makes District the top option for a Shopify theme is the excellent customer support. Stylehatch, the company behind this theme, always quickly responds and provides timely solutions for any issues that users have with the theme.
With a perfect score of 100% positive reviews, District is obviously one of the best Shopify themes available on Shopify official store.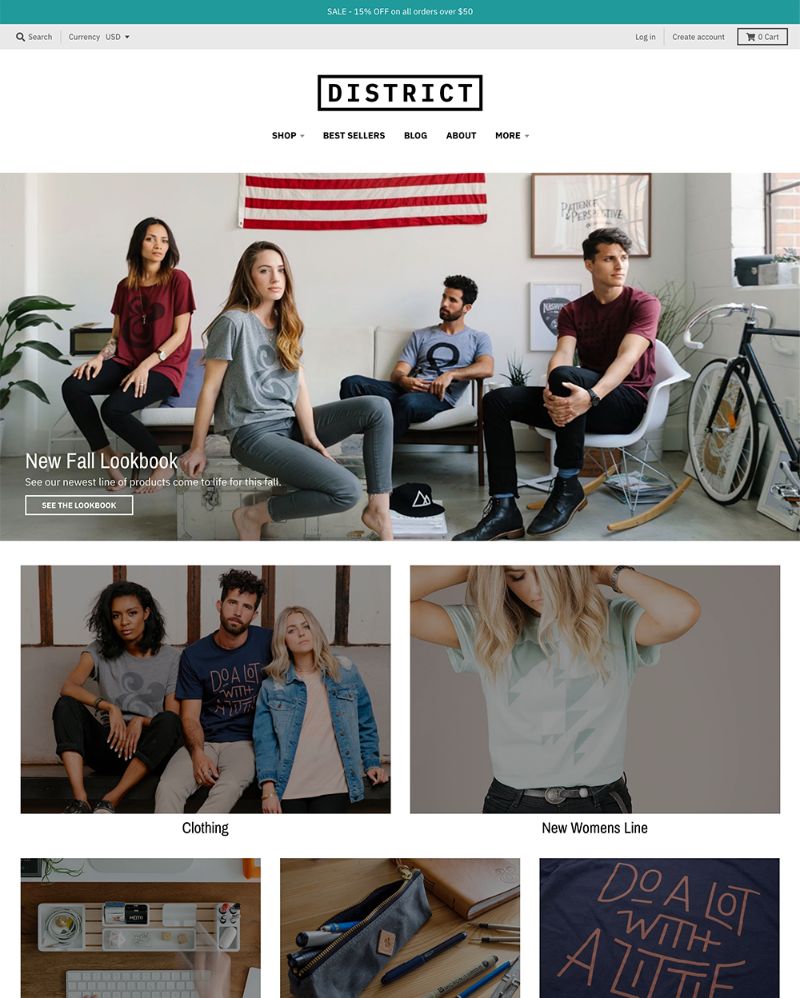 Price: $220
Review: 662 reviews (100% positive)
Highlight features:
Blogs
Product badges
Product reviews
Promo banners
Promo popups
Promo tiles
Recommended products
Store locator
Trust badges
Best for: Dropshipping, print on demand stores and others
Icon
Icon is another Shopify theme that works well for dropshipping and print on demand business.
This theme put a strong focus on the imagery with a lot of room to display images and highlight products in detail. It makes a perfect medium to tell the story of your brand via pictures and appeal to shoppers visually. In order to create a visually-focused website, the theme makes use of features such as image zoom, lookbook, product video, image hotspot, slideshow, image rollover, and so on.
Besides capturing the buyers with stunning visuals, this theme also allows store owners to make the best out of the ecommerce website with functions like cross-selling, recently viewed, recommended products, quick view, product badges, back-in-stock alert.
Store owners can also treat customers with attractive promotion campaigns using features like product badges, in-menu promos, promo banners.
The UX aspect of the theme is optimized to a great extent. For example, in order to help buyers to navigate easily through your website and a variety of products, Icon theme is equipped with functions like breadcrumbs, mega menu, back-to-top button, collection page navigation, infinite scroll, product filter and sorting, sticky header. You can also add blogs, contact forms, FAQ pages to your website with Icon theme.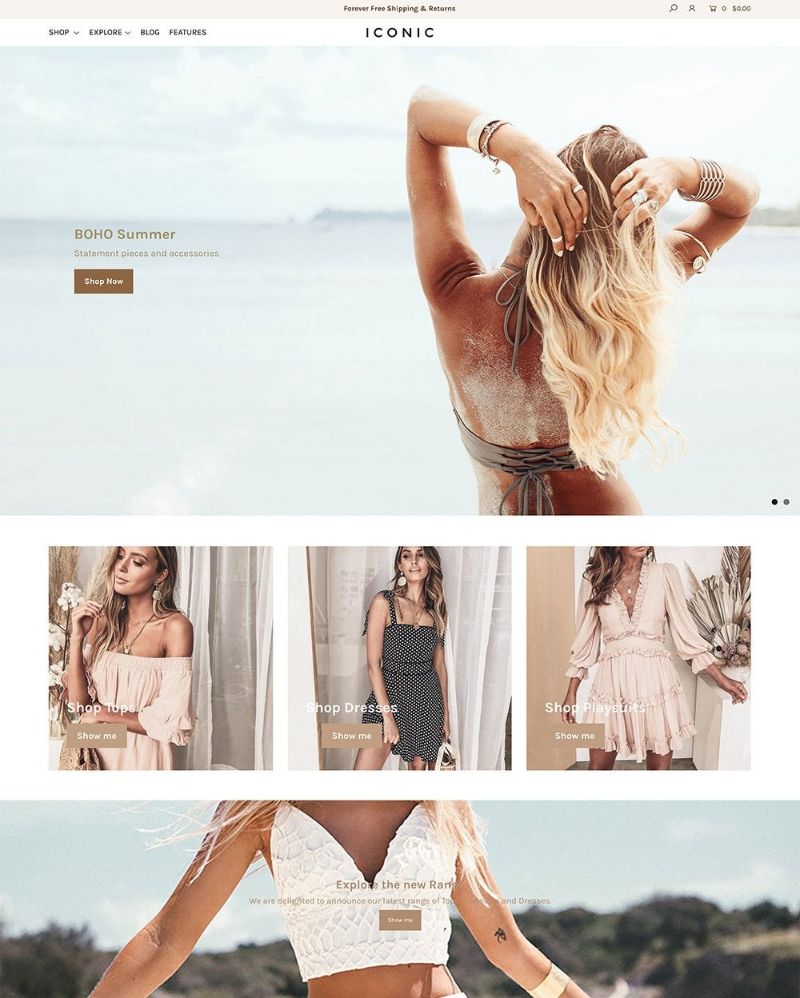 Price: $240
Review: 272 reviews (92% positive)
Highlight features: Cart notes, In-store pickups, Quick buy, Slide-out cart, Back-in-stock alert, Blogs, Cross-selling, Customizable contact form, FAQ page, In-menu promos, Product badges, Promo banners, Quick view, Recently viewed, Recommended products, Store locator, Animation, Color swatches, High-resolution images, Image galleries, Image hotspot, Image rollover, Image zoom, Lookbooks, Product options, Product videos, Slideshow, Back-to-top button, Breadcrumbs, Collection page navigation, Infinite scroll, Mega menu, Product filtering and sorting, Recently viewed, Recommended products
Best for: Dropshipping, print on demand stores and others
Shopify themes from other sources
Apart from Shopify's official theme store, you can find a wide variety of options in other places like Themeforest, TemplateMonster, and more.
Ella
Ella is one of the most popular Shopify themes in the market. This theme has accumulated over 24,614 sales since 2014.
What makes Ella a superb theme for Shopify stores is its high level of customization. There are a wide variety of styles and layouts that you can freely choose or customize for your store. For example, it comes with over 17 layouts for the homepages alone. Ella offers over 16 styles also known as Child Themes which are made for different types of business. Category pages, product pages, collection pages, and blog pages also come in different variations.
For a small amount of money, Ella surely goes beyond expectations with a wide range of features that help improve the user experience as well as increase sales for your store.
To assure the user can enjoy an intuitive and painless experience, this theme is set up with features like collection sidebar filtering, product custom tab, mega menu.
On the other hand, with a goal to boost sales, theme builder integrates features like production countdown, pop-up cart with upselling options, a dropdown cart, direct cart editing, quick view, and quick shop features.
With all the bells and whistles it has, Ella is clearly one of the best Shopify themes for print on demand. However, here are some shortcomings of this theme that you should be aware of. First, the backend interface can be complicated and confusing for some. It might take you a while to know how it works. Another weak point of Ella's theme is the lack of customer support. Support is only available via email, which might require a long time to get response. It can be very upsetting, especially when many users report recurring issues and bugs with the theme.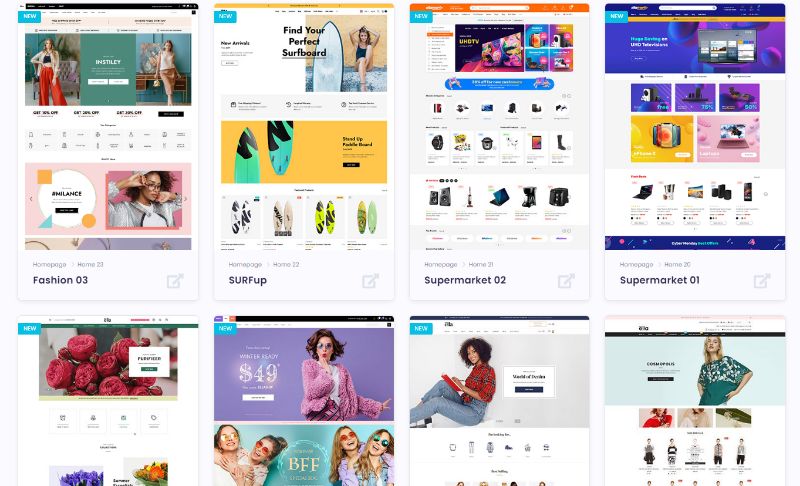 Price: 
Regular licenses: $89
Extended licenses: $2800
Review: 675 reviews (4.83 stars)
Highlight features: Bulk Editor, Quick shop, Quick edit cart, Before you leave popup, Frequently bought together, Upsell bundle with discount, Recently viewed scrolling popup, Notify me out of stock, Ask expert popup, Brand page sorted by Alphabet, One-click check out
Best for: Suitable for ecommerce store of all kinds
Konversion
Konversion is one suggestion for Shopify users who sell print on demand. This theme is perfect for a mobile experience. Everything is built with an intention to optimize the browsing experience from mobile devices – it runs smoothly and responsively on all devices.
Yet the most impressive part of Konversion is its large selection of sales-boosting features like a collection banner, countdown timer, deal of the day function, trust badges, secure payment badge, related product in cart, upsell popup, shipping rate calculator, newsletter popup, announcement popup, to name a few.
Konversion is boosted with features like collection banners, sales tags, custom CTA, countdown timer, deal of the day widget, trust icons, and over 20 other options pursuing the goal to increase your sales.
Konversion also provides plenty of room for customization. Store owners have the option to customize the footer, header, layout, color, font of the website. Besides, it also offers various types of content sections for your homepage, product page, collection page, helping diversify the content on your website and keep the customers staying in your store longer.
Overall, Konversion is a great option for print on demand Shopify stores with a variety of features, a mobile-friendly interface, and a highly customizable setting.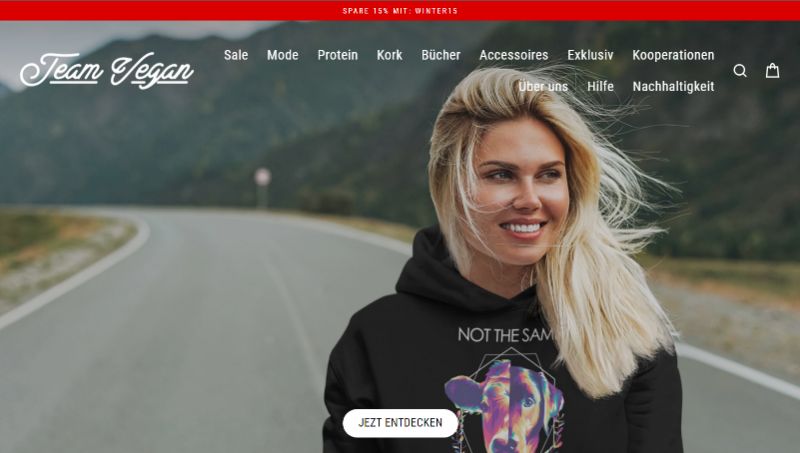 Price: 
Single license: $167
Buy 2 Get 1 free: $348
Highlight features: Related products, Secure payment badge, Trust icon,  Sticky Add-to-cart, Variant swatches, Related products in cart, Shipping rate calculator, Featured product upsell, Currency switcher, Countdown timer, Deal of the day, Upsell popup.
Best for: Good for mobile experience
Workiee
Workiee received immersively positive reviews. It is one of the most popular Shopify themes on Themeforest with nearly 20K sales, 400 reviews, and a whopping rating score of 4.99 stars.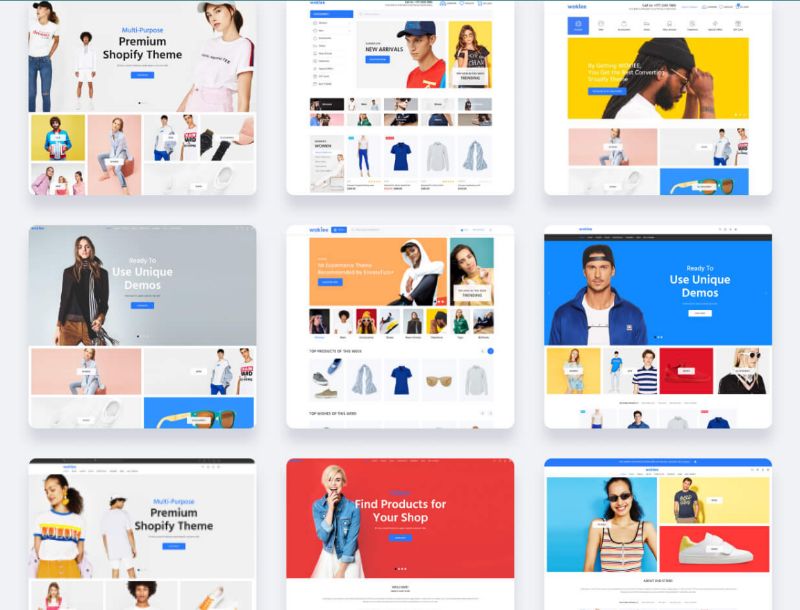 With Workiee theme, Shopify store owners can easily create a professional-looking and well-functioning ecommerce website.
What makes Workiee a well-acclaimed option for Shopify shop is its versatility. With over 90 homepage layouts, 60 skins, 8+ shop page layouts, 8+ product page layouts, and various variants, Workiee can help you create a store design that is unique to your own brand and niche.
Apart from the flexibility it has, Workiee has some of the best features for ecommerce business, especially for print on demand and dropshipping. Advanced product filter and sorting allows shoppers to easily sort products by sizes, product types, prices, color, or collection.
One of the best parts about Workiee is its various built-in features, which can save you a considerable amount of money for add-on plugins. Some of these features include mega menu, wishlist, compare, pre-order feature, price countdown, fake sale notifications, quick-view, lookbook modules.
Workiee also supports 3D model display, AR, and video for product pages, taking the user experience to the next level.
Another plus for Workiee is that this theme comes with video tutorials, making it easy and convenient for theme users to learn how to utilize and customize the theme to their liking.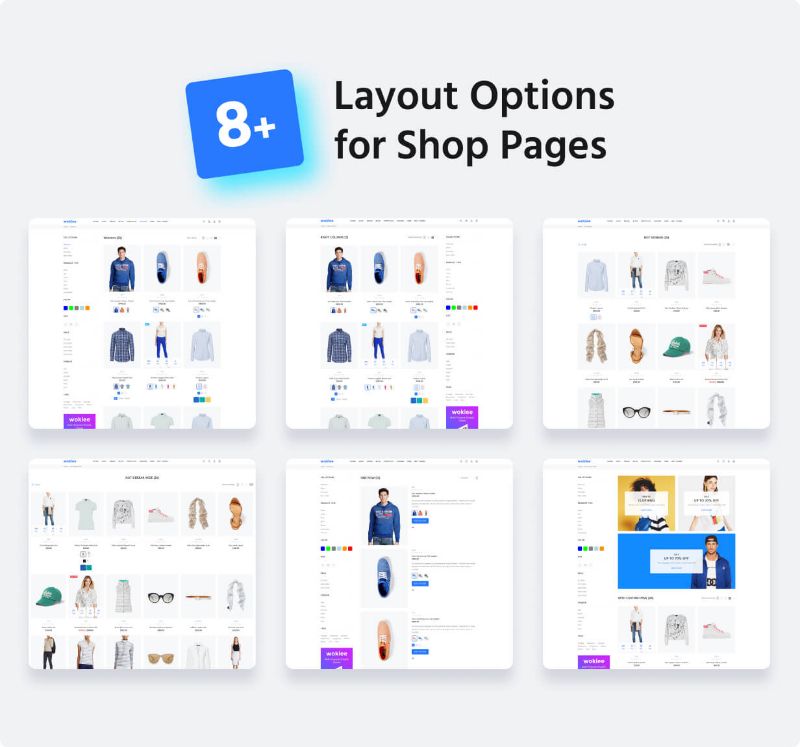 Price:
Regular licenses: $89
Extended licenses: $1750
Review: 400 reviews (5.0 stars)
Highlight features: Dynamic filtering, Fast product configuration, Dynamic checkout button, Variant swatches, Advanced product filter, Sticky Add-to-cart, Wishlist and compare. Preorder feature, 3D model, AR, and video, Instagram shop, Quick view, Lookbook. 
Best for: Dropshipping stores and other types of eCommerce stores
T-max
This theme is less popular among the general Shopify users than other themes mentioned above. But it still deserves a spot on this list because this theme is built specifically for print on demand business.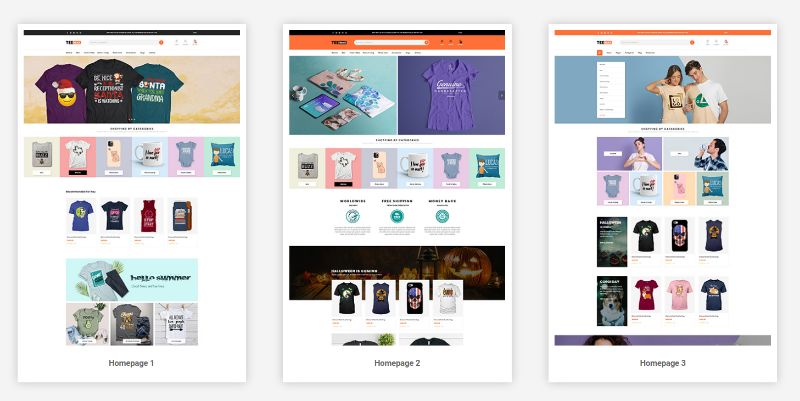 T-max offers 12 different premade homepage layouts for you to choose from. These homepage options are great for displaying a wide range of products and collections. This design approach is very suitable for print on demand businesses since most POD stores usually have a large product selection that is upgraded regularly.
T-max doesn't have as many features as other Shopify themes mentioned above. However, what this theme offers are very needed for print on demand business, for example, upsell product suggestions, free shipping threshold, quick checkout. Besides, the auto-suggestion search bar enables shoppers to explore your product collection quickly and easily.
One thing that needs improvement is the availability of custom options. There are not many customizable elements for you to play around with on this theme aside from the homepage layout and theme color.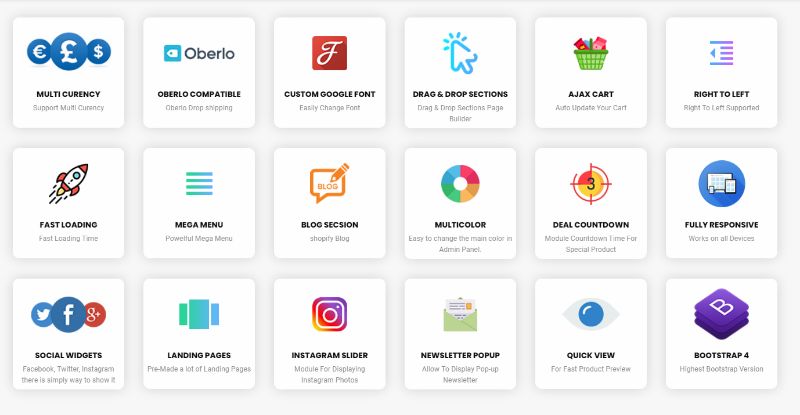 Price:
Regular licenses: $56 
Extended licenses: $3750
Review: 8 reviews (5.0 stars)
Highlight features: Cart popup and mini cart, Upsell by free shipping threshold bar, search auto-suggestion.
Best for: Print on demand, T-shirt selling store
Gecko 5.0
Gecko 5.0 is one of the best themes for Shopify stores. This theme receives an impressive rating of 4.99 with over 600 reviews. It is also recommended by Envato as a top Shopify theme in the market.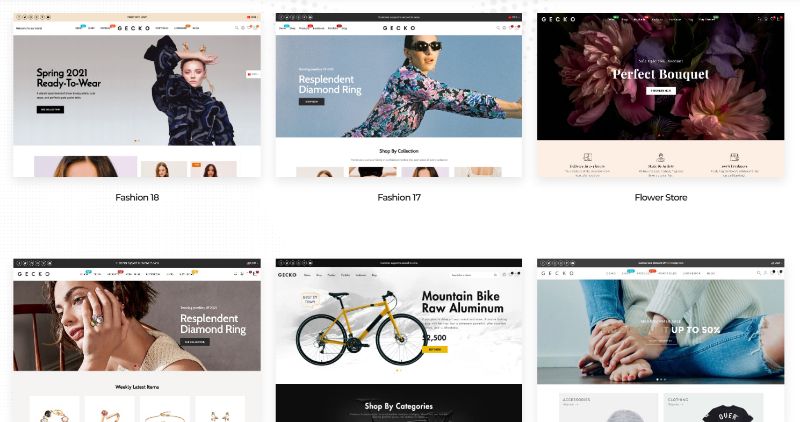 Gecko can offer many exciting features that help to boost engagement and conversion. Some notable features integrated on this theme include mega menu, Instagram shop, advanced filter, lazy load, infinite scroll, product countdown, trust badges, product bundles, sticky add-to-cart, wishlist, and so on.
While providing a variety of fancy features, Gecko can manage to deliver an outstanding performance efficiency. In fact, the site was ranked among the top fastest Shopify themes out there (1). Loading speed is the crucial factor that affects the overall experience on a website as well as its SEO performance. In this regard, Gecko is a great solution for your print on demand business.
Gecko follows a very simplistic and modern design approach. It comes with over 15 homepage layouts, various product page layouts, and many other customization options.
Generally, Gecko is a powerful theme for Shopify. However, if there is one thing that might bother some shop owners, it must be the pricey price. This theme is now priced at $99 for the regular licenses and an extended license costs $3750, which is more expensive than other Shopify themes.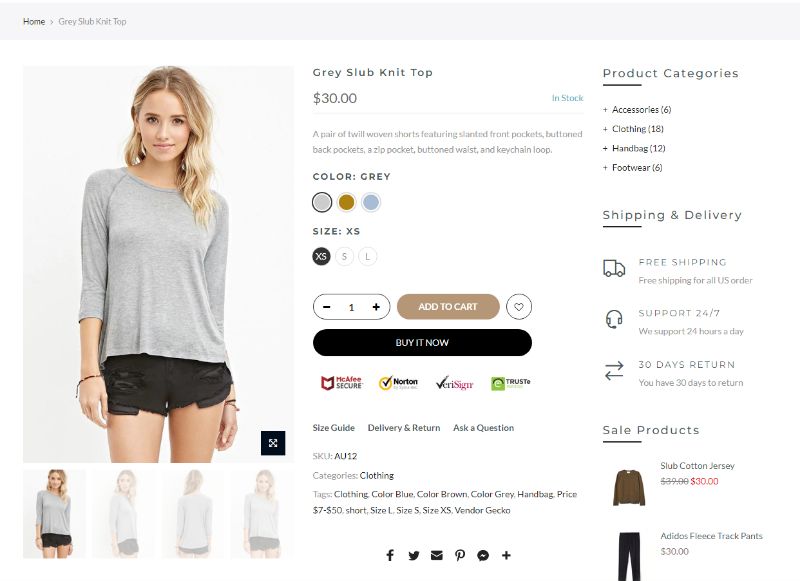 Price:
Regular licenses: $99 
Extended licenses: $3750
Review: 612 reviews (4.99 stars)
Highlight features: Freeshipping bar, Variants swatches, Advanced megamenu, Lookbook, Instagram shop, product countdown, advanced filter by attributes, product bundle, sticky add-to-cart 
Best for: Suitable for ecommerce store of all kinds
References:
1, Andrew Durot, Shopify Theme Speed: Top Shopify Theme Ranked by Speed, retrieved from https://ecomexperts.io/blogs/shopify-tutorial/shopify-theme-speed