Whether you are a veteran or a newbie in the e-commerce market, it's important to always identify the new trend and find a gap in the market to optimize your profits. To do that, you must always be on the look for the next big thing. In a fast-paced market where trends are changing nearly every day, relying on your natural instinct is not enough. You have to actively do your research to anticipate new trends and get ahead of the rest. If you're thinking that trend prediction requires some complicated, expensive tools, you are completely wrong. Fortunately, there are several free yet still very capable tools that can assist you in your trend hunting. In the following, Merchize will show you how to use free tools powered by Google to analyze the market trend and increase your profit for the upcoming peak season.
1. Best Sellers Report
The Best Sellers report shows you the most popular brands and products. It offers straightforward data with a useful filter that allows you to search for the hottest products in your selected niche. If you currently carry them in your product feed, it can help you pinpoint seasonal trends and identify products that would benefit from increased budgets or bids. Here are some metrics that you can observe using Bestseller Report:
Popularity rank: You can sort products according to their popularity from selected categories and country
Change from last week: This metric shows how a product's popularity changes from the past week.
Relative demand: To provide an objective overview of the market, Google offers this metric that illustrates how popular a product is compared to top products within its category.
Brand inventory status: This metric allows you to check if a product is still available.
Price range: Check the price range of a product.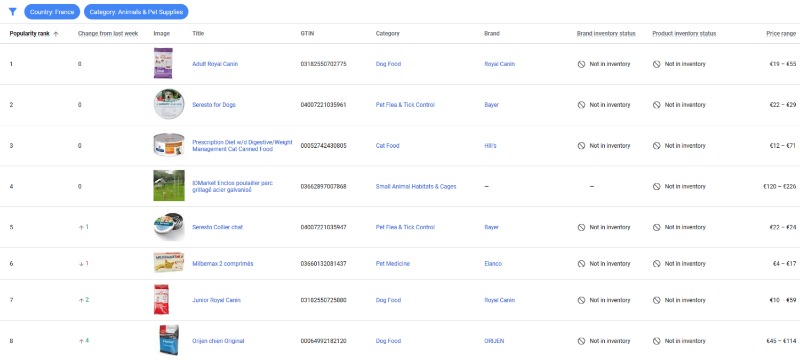 How to access Bestseller Report
Go to Gooogle Merchant Center
Select "Manage programs" and enable Market Insights. Make sure you check the box that confirms you agree to the policy.
Now you can see the Bestseller Report under the Growth section.
Use the filter to customize reports and see what're trending products in the market.
How to get insights from Bestseller Report
See what the hot-selling products
Check the prices of other competitors in the market
Check emerging and potential products with the "Changes from last week" metric
2. Price Competitiveness Report
The Price Competitiveness report shows an average price across competitors for the products you sell. This can help you understand the price at which other retailers are successfully attracting clicks, as well as aggregated metrics on benchmark prices. In this report, Google provides a metric called Current Benchmark Price. This number is the average click-weighted price for a given product provided by all retailers. It means that the more popular products which get more click volume will have more weight in the bench market price.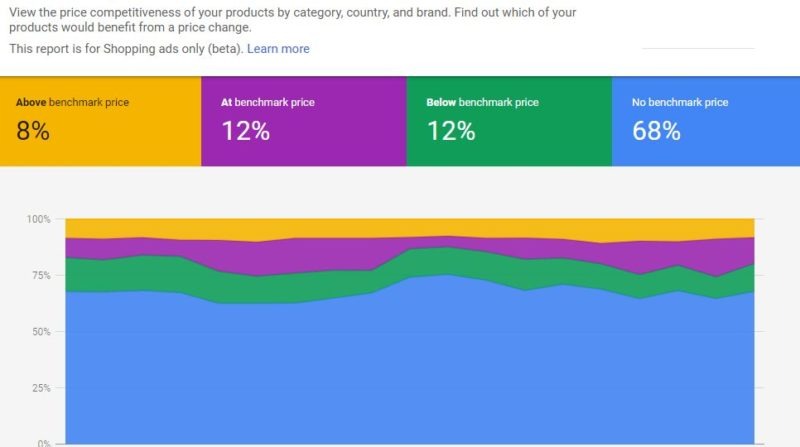 How to access the "Price Competitiveness Report"
Go to Google Merchant Centre
Select "Manage programs" and enable Market Insights. Make sure you check the box that confirms you agree to the policy.
Under the "Growth" section, select "Price Competitiveness".
How to gain insight from Price Competitive Report
Find the preferred price range of a product in the market with the Current Bench Mark Price and adjust your own price to get
Compare your prices against other products of the same category, brand, or product type. Note that you should check the "Total price" instead of "Item price". Total price is the final price that includes both the product prices and shipping. This type of price will give you an accurate price reference.
3. Demand Forecasts
Demand Forecasts show upcoming trends which are predicted to start over the next 180 days. It will also show when market demand is likely to start increasing, by how much, and for how long. It will also let you see what is expected to cause the increase and how you can best capture it. This is the most powerful tool that you can avail to predict upcoming trends by looking at the current demand.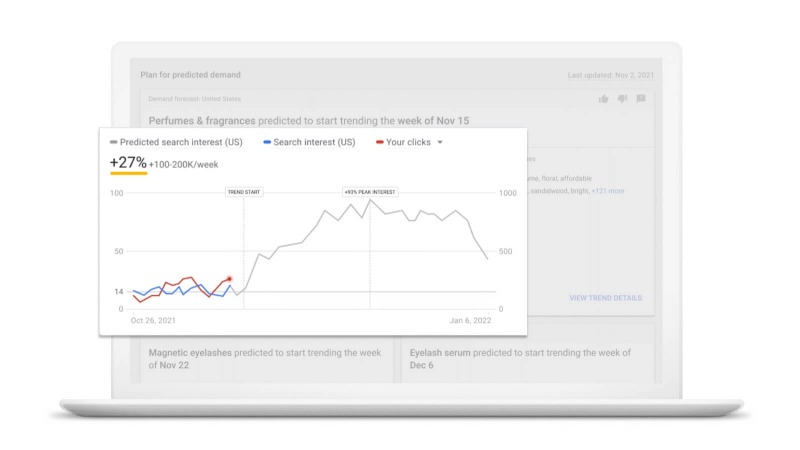 How to access the Demand Forecast
Go to your Google Ads Account
Select Insight section
Scroll down the page and you will see the Demand Forecast section
How to gain insight from Demand Forecast
From this Demand Forecast, you can gain 2 types of insight: Account (forecast for your existing ads) and Suggested (forecast for ads related to your business). This report allows you to gain insight into the current demand on the market as well as predict the upcoming trends:
Predict the upcoming trends relevant to your field, and find what products and services that are going to trend soon. It shows predicted search interest and predicted peak search interest.
Review the current market trends. You can check what demand is gaining traction this year
Compare your ads' performance with other competitors
4. Google Trends
To understand how often users search for specific queries or topics and compare different search terms, time periods, and regions, use Google Trends. This data gives insights into changes in search demand, peak periods for certain queries, and growing or declining trends. Google Trends provides a straightforward and easy-to-read data visualization that anyone can assess and understand. With this tool, you can find the search demand for a keyword over time as well as other relevant trending terms.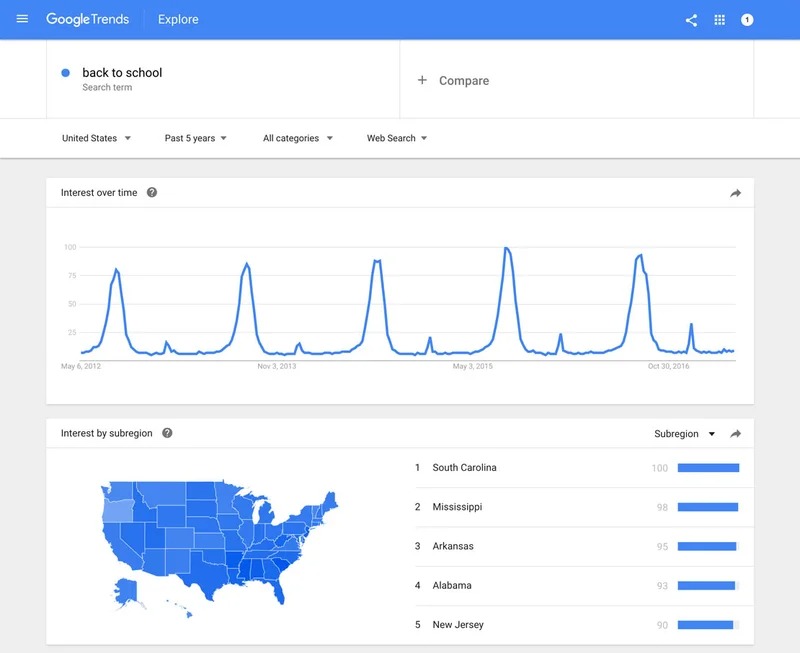 How to access Google Trends
Google Trend is an open tool that doesn't require you to register or sign in to utilize its useful features
Go to Google Trends website
Enter a search term or an interested topic
Now you will see a graph for search terms above the fold.
If you stroll down the page, you will see columns like Related Topics and Related Queries.
How to gain insight from Google Trends
Check the search demand over the span of time. It shows the data dated back to 2004. It will give you an overall view of the demand growth of certain products over time.
Find out what religion has the highest interest in the searched term.
Explore other related topics and queries that are trending
5. Get Specific With Google Keyword Planner
You can use the Keyword Planner to get niche segment ideas, as well as to check the demand for the segment you are shortlisting. Start by selecting 'search by words and phrases,' then input your broad or segmented niche and the location you're interested in. Then push the 'get ideas' button.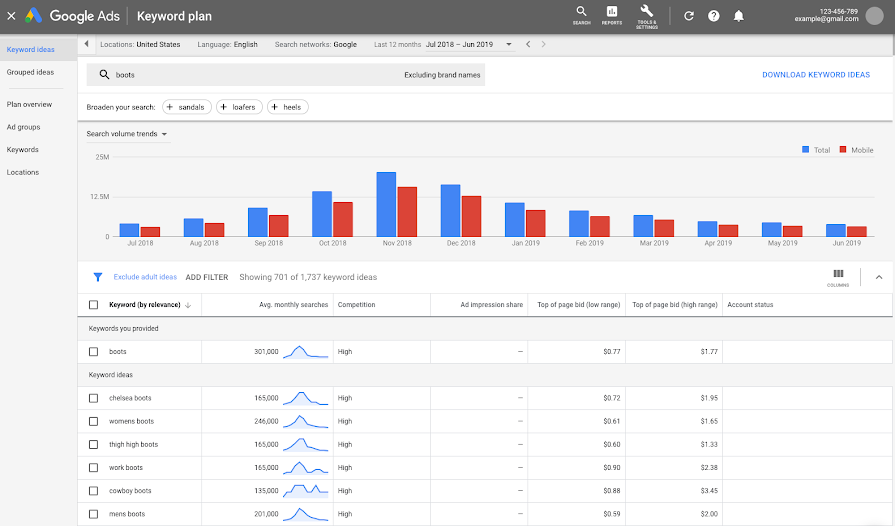 How to access Google Keyword Planner
Go to your Google Ads Account
Click the tools icon
Under the Planning section, select Keyword Planner
How to gain insight from Google Keyword Planner
Get suggestions for new keywords related to your business. You can get the suggestion by inputting keywords, domain, or using your ad groups.
Check the monthly search volume as well as keyword forecasts
Other Alternative Inspector Tools
To find out who your biggest competitors would be, a comprehensive research tool will get you started. You can also use tools like Spybadao, SpyEtsy, SpyAmz to reveal which successful campaigns. You will want to look at who your competitors in the potential niche & winning products would be, who their customers are, what kind of content they provide, shipping options, price, etc. With their custom research, you can get customized trend reports much faster than traditional research.