Christmas is one of the largest shopping seasons of the year. During this holiday, people often tend to look for home decorations like Ornament to spruce up their house. House decoration for Christmas has become a huge obsession. That's why selling ornaments for Christmas is one super lucrative business. 
Let's discover all secrets to sell print on demand ornaments during the Christmas season with Merchize!
An overview of Christmas ornament market 
The United States is the biggest market for Christmas decoration products, accounting for 57.34% of the total market share with a total value of 3 billion USD (according to visualcapitalist.com).
A new survey by SWNS Digital also shows that:
Americans spend an average of $213 a year decorating their home for the holidays.
The majority of spending for this holiday is on Christmas tree decorations (35%), followed by electric lights (23%) and house decorations (21%).
When it comes to Christmas tree decoration, 52% of people prefer freestyle, adding different types of decorations onto the tree.
According to Google Trends, the search volume for the keyword "ornaments" (blue line) starts to increase from October to January and peaks in December every year. During the peak season, the search volume for the keyword "ornament" even surpassed the keyword "T-shirt" – one of the evergreen best-selling products in the print-on-demand market.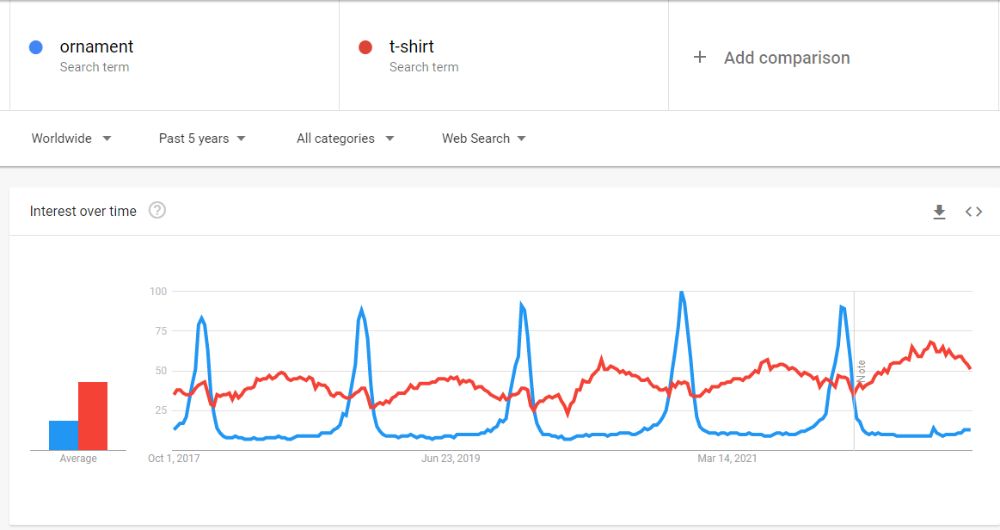 Considering its well-approved potential, ornaments are definitely indispensable products if you want to boost sales for your print-on-demand business in the fourth quarter.
What ornaments to sell this Christmas season?
Merchize offers a large collection of print-on-demand ornament products that are perfect for Christmas decoration. Our ornaments are made from many different materials such as wood, MDF, and acrylic. Each material has its own unique characteristics and is beautiful in its own way.
Regardless of the materials, our ornament always comes with three hanging cords which are silver string, ribbon string, and jute twine. Especially, for our clear plastic ornament, we also provide an option of bead chain for a polished, clean look. Customers can pick the hanging option that is convenient to use and matches the aesthetics they are going for.
Product lines

Products

Base cost

Plastic Ornament

$2

Clear Acrylic Ornament

$2

Clear Acrylic Ornament (with bead chain)

$2

1-sided plastic custom shaped ornament

$2

2-sided plastic custom shaped ornament

$2

Printed Wood Ornament

$2

Layered Wood Ornament

$3.7

Wood Ornament Cutout

$2

White MDF Ornament

$2

1-Sided White MDF Ornament

$2

2-Sided White MDF Ornament

$2

Custom Plastic Window Hanging Ornament

$10

Plastic Car Hanging Ornament

$2.1

One-sided Plastic Car Hanging Ornament

$2.1
Potential niches for print-on-demand Christmas ornament
Celebrate the first Christmas season
For newlyweds, the first Christmas has a special meaning. It marks the first of the many Christmas that they will spend for, hopefully, the rest of their lives. That's why they don't mind spending big bucks on these occasions. (Yes, the first is also the most exciting, right?)
This could be a great opportunity for you for the upcoming Christmas season. Creating some sort of personalized Ornament products with their names and the anniversary year can be a good design idea.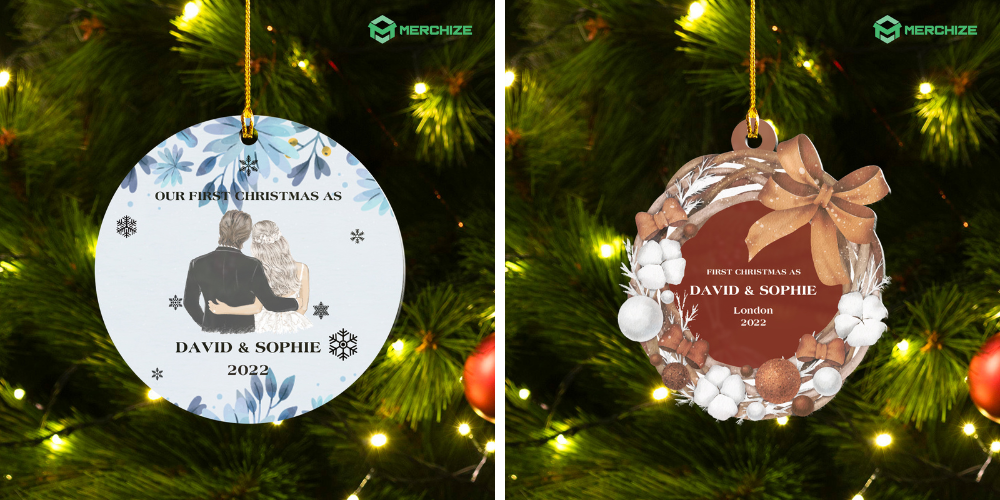 Include all family members' names 
Personalization is a powerful tool for print-on-demand products. Why don't utilize this advantage to help your ornaments compete against other mass-produced ornaments in the market? Adding names is a great way to add personalization to your products. 
In this case, you can create designs that allow customers to add the names of their family members. Family and family gathering is always the main focus of the holiday. Such meaningful products surely capture the spirit of Christmas and will sell like hot cakes.

Introduce a new family member
Welcoming a new family member, be it a new human being or a new pet, is also a very special, worth-celebrating reason on Christmas. 

Signature Christmas elements to add to your designs
Images such as snowflakes, Santa Claus, reindeer, pine trees, candy canes, and socks are signature for Christmas. Cooperating these elements for your designs is an easy and no-brainer way to create ornament designs to match the Christmas spirit.

7 ways to increase sales and profits when selling Christmas Ornament
1. Decorate the store with a Christmas theme
Customizing your online store to match the spirit of the Christmas season will help to draw customers to your store, keep them staying, and stimulate their buying sentiment. Here are some useful tips that you can use to decorate your website:
Add a Christmas-themed banner on the hero section of your main home page. This section is the first thing that customers see when they enter your website homepage.
Using small Christmas icons or animations on the corner of your website will entertain your customers and make them notice. It could be a cup of hot chocolate, a Christmas tree, Christmas bells, Santa Claus, and more.
Switch your website background color to Christmas colors like red, green, and white.
Make small changes to the footer, sidebars, forms, buttons, and navigation icons in accordance with the Christmas theme.
Twist your website logo to match the Christmas season by adding some special elements like Santa hats, gloves, and snowflakes.
Add the falling snowflakes animation effect. You can search tutorials on the web to find the easy way to add this effect to your website. 
Show your special Christmas offers in the most visible position on your homepage.
Create filters and Christmas countdown timers to highlight upcoming events and create a sense of urgency to prompt buyers to make purchases. You can also use the timer feature to show the deadline for your discounts, which is an effective way to add a sense of scarcity. 
Use email marketing to promote your Christmas ornaments
As the price for paid ads across different platforms is increasing, looking for new and efficient ways to approach potential customers is highly recommended. Email marketing is a free and high ROI medium to promote your products.
In fact, e-Commerce businesses have started to spend more budget on email advertising. The number of daily emails sent worldwide by 2025 is expected to grow to more than 376.4 billion emails. Especially, email marketing sent near Christmas has a high conversion rate compared to other times of the year. It is a sign for you to focus on email marketing for the upcoming festive season.
In order to have a successful Christmas season, you should carefully prepare ahead of the deadline. Here is the checklist for a successful email campaign:
Create a timeline for your Christmas email campaign 
Print on demand products would take longer to be delivered to customers' doors because of the added production time. 
To make sure that your promotion runs smoothly and orders are processed in time for the holiday, you must prepare 1.5 to 2 months in advance. 
Here are some ideas for  your ornament email marketing campaign:
A welcome email for new customers who made their first purchase during this season 
Product promotion emails to introduce your ornament products or other related items 
Christmas Feedback Emails
Follow-up email introducing other promotions coming after the Christmas sale
Follow-up emails about the services you offer 
Follow-up emails introducing products related to purchased products
Blog registration email
Make a list of customers you need to send emails to
Before sending emails to promote your Christmas ornament products, you need to segment customers and prepare suitable email content for each customer group. Here are three customer groups that you must pay attention to:
Existing customers
Repeated customers
New customers
Choose the right time to send your email 
Picking the right time to send your emails will help to boost the conversion rates for your products. You must pick an order to send your emails and maximize the opportunities to convert into sales. 
Ideally, you must prepare all email content before the Christmas season to avoid a last-minute rush.
Send Christmas Newsletter
Sending customers a beautifully designed e-card with meaningful wishes is a great way to remind them of you and your store.
Here are some suggestions to optimize your Christmas Newsletter:
Include special offers, and gifts for Christmas
Create responsive newsletters for better displaying across different mobile devices and computers
Design an attractive Christmas theme for your emails
Include clear and visible CTA buttons
Highlight the deadline for your Christmas promotion deals
Remind customers of special offers like free shipping or delivery date
Offer a gift card or Christmas coupon for loyal customers
Write a customer guide for choosing Christmas gifts
Promote your limited edition products
Share the special journey of your customers with your store during the past many holidays
Send a reminder of the upcoming New Year sales
Send greetings to customers
Here are some examples of good email titles from successful campaigns that you can draw inspiration from:
This season to be marvelous and mischievous — THE BRITISH LIBRARY.
Need it by Christmas? 50% OFF 2-day shipping — Cosentino Winery Napa Valley.
Thinkin' About Christmas Gifts? ? — J.D.
Last-minute gifts to save Christmas — WIRED Gadget Lab.
16 Cozy One-Pot Recipes Just Like Grandma Used to Make — EatingWell.
All I want for Christmas is growth? — GrowthHackers
Offer attractive Christmas deals
Customers want high-quality products at a good price. It's crucial to create appealing offers to attract and increase conversion rates for your store. Let's look at some exciting offers that you can offer to your customers:
Buy 1 get 1 free offer
Buy 2 get 1 free
Cross-selling 
Bonus points for purchases
Discount gift card 
Attractive Christmas membership benefits
Giveaway 
Customize your Christmas kit packaging
Unboxing is an exciting part of the buying journey. Impressive and attractive packaging will help delight your customers and impress them. No matter how good your product looks, if your packaging is underwhelming, the impact on the whole buying experience will reduce significantly. 
Designing Christmas-themed packaging is an effective way to awe your customers and create a delightful unboxing experience. Knowing this, Merchize has introduced a special brand packaging kit for Christmas ornament products this year. This Brand Packaging Kit costs an additional $0.8.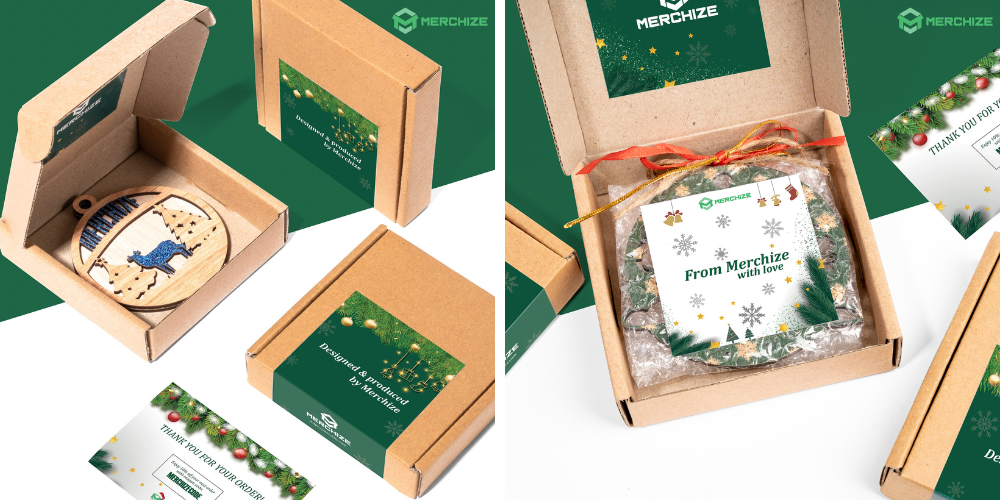 Provide the best service
In addition to attractive offers, customer service is also a determining factor in customer satisfaction and customer loyalty.
Provide 24/7 support service
Responsive support is very appreciated by customers. Creating multiple channels for customers to easily reach out to you is a good idea. Facebook, Twitter, hotline, and emails are some recommended channels where you can provide 24/7 responsive support.
Offer Free Christmas Delivery
Everyone loves free shipping. By offering free shipping, you can boost conversion rates and gain an edge over other competitors that don't offer free shipping.
Provide a good return policy
63% of shoppers don't want to buy from retailers with rigid return policies. A good return policy can help you to improve customer satisfaction and keep your customer stay. 
Make sure your customers can access your store from multiple devices
A recent study has shown that more than 75% of online purchases take place through more than 1 device. So make sure your store looks good on any device.
The current number of social media users is 4.62 billion people, which is 3.1 times higher than 1.48 billion people in 2012. The social media user base is growing at a CAGR of 12% in the past decade (as reported by Datareportal.com).
Data published in Meta's Q3 2021 financial report confirms that Facebook remains the most used social media platform in the world, with 2.91 billion users as of October 2021. Here are some suggestions for you to better promote your products on social media platforms.
Here are some suggestions you can follow to create a Christmas feel and look for your social media handles:
Change cover photo and avatar to match the Christmas holiday spirit
Include Christmas deals in your social media posts
Give rewards for sharing social posts
For Instagram and Twitter
#christmasmood #christmasjoy #christmaseve #christmasparty #christmasgifts #santaclaus #christmascheer #christmastime # christmastree # Christmas2022, #christmas, #christmasdecor, #christmastree, #christmascookies, #christmasgifts, #christmaseve, #chri
Offer Christmas gifts or organize contests, polls, and quizzes
There's no better time than the holidays to throw a fun gift-away session. Everyone is already in a good mood, so you should get in and give your followers some rewards.
Christmas is an opportunity to increase sales for all types of products, especially Ornament. Hopefully, the above article will help you get more ideas for selling ornament products.
Start planning your Christmas business this year with Merchize now!
Các nguyên tắc thiết kế sản phẩm Ornament phải tuân theo
Để sản phẩm Ornament in đạt chất lượng tốt nhất bạn cần lưu ý những nguyên tắc dưới đây:
Sử dụng file in định dạng PNG hoặc JPEG với độ phân giải 300dpi
Đối với những thiết kế có nền trong suốt Merchize khuyến khích bạn nên gửi file in với định dạng PNG. Với các thiết kế khác, bạn có thể sử dụng cả 2 định dạng là PNG hoặc JPEG. 
File in sử dụng hệ màu CMYK
Hãy đảm bảo thiết kế của bạn khi được gửi in ở hệ màu CMYK, hệ màu này sẽ đảm bảo thành phẩm in thực tế sẽ giống file thiết kế nhất.
Dùng hình ảnh tràn viền
Nếu bạn không muốn sản phẩm xuất hiện khoảng trắng dư thừa, hãy bao phủ thiết kế trên toàn bề mặt file artwork template. Tuy nhiên, với những thiết kế chỉ bao phủ một phần khu vực in, hãy đảm bảo thiết kế đó có nền trong suốt và gửi file in dưới định dạng PNG.
Tuân thủ vùng in an toàn
Luôn đảm bảo các chi tiết, hình ảnh design chính (quan trọng) nằm trong vùng in an toàn để tránh việc sản phẩm thực tế bị mất phần design chính.
Xóa các hướng dẫn thiết kế trong artwork template
Sau khi design bạn hãy xóa/tắt các layer hướng dẫn trước khi lưu file in, nếu không, chúng sẽ có thể hiển thị trên thành phẩm của bạn.
Cách lựa chọn khi upload các sản phẩm Ornament
Khi bạn fulfill sản phẩm pod ornament tại Merchize sẽ có 2 cách để bạn upload sản phẩm:
Sử dụng template và mockup bằng Photoshop  
Truy cập website merchize.com, chọn Products -> Home & living -> Ornament và chọn sản phẩm Ornament bạn muốn bán.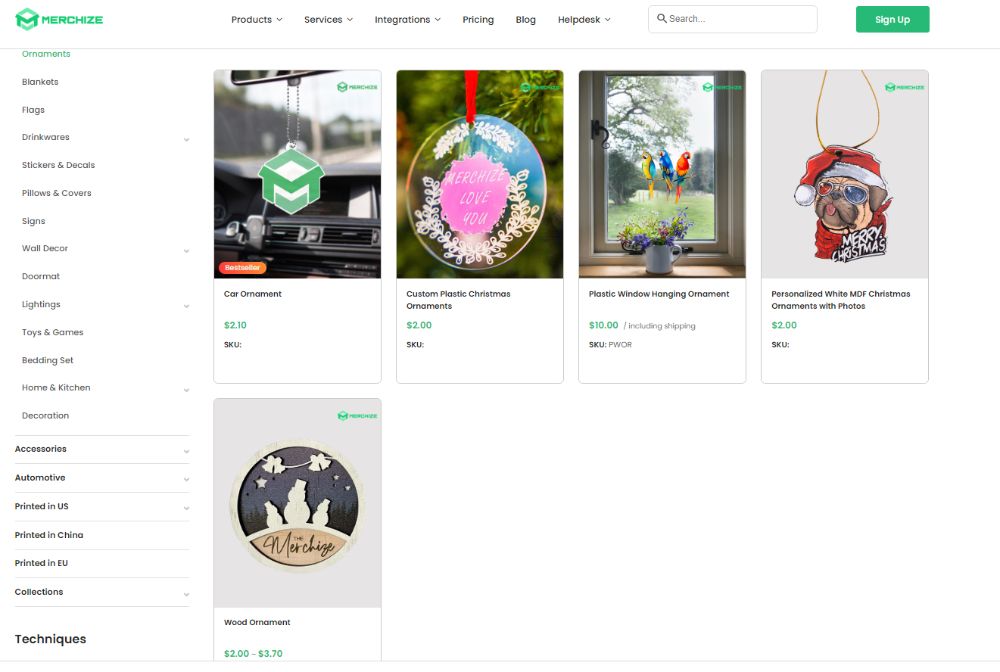 Ví dụ ở đây Merchize sẽ chọn sản phẩm Car Ornament, option Custom Plastic Car Hanging Ornament.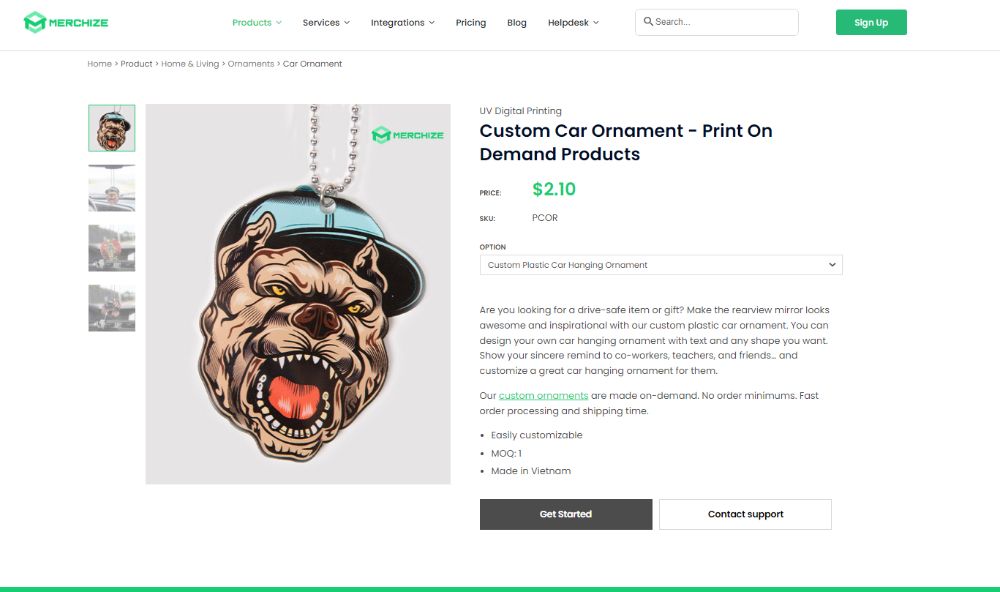 Tải file template và mockup sản phẩm tại mục Custom Product Mockups & Templates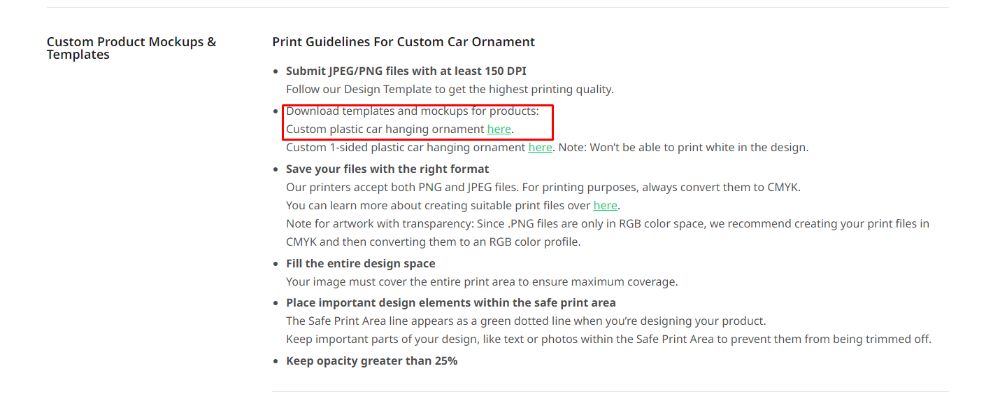 Khi hoàn thành download template và mockup về máy bạn sẽ thực hiện design trên template trước sau đó lưu file theo đúng các nguyên tắc thiết kế sản phẩm để gửi đi in.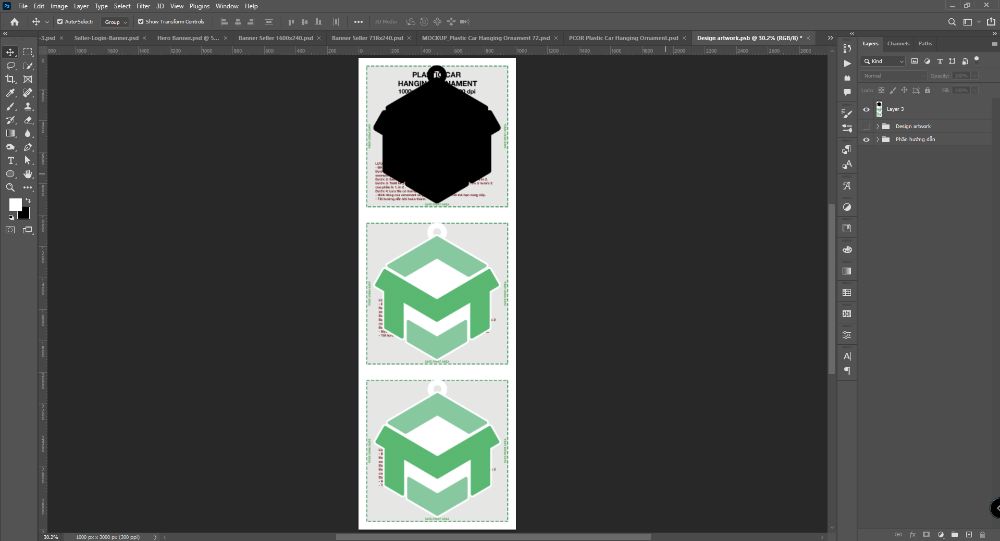 Tiếp theo bạn thêm design đã hoàn thành dựa trên template vào file mockup. Sau khi hoàn thành bạn đã có ảnh sản phẩm để đăng lên cửa hàng của mình.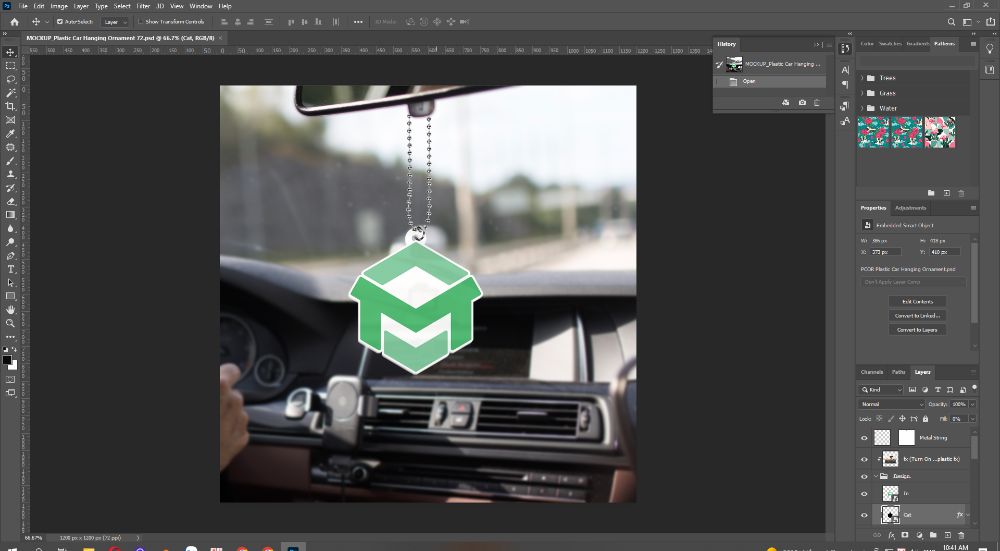 Sử dụng tính năng trên trang seller.merchize.com
Đăng nhập trang seller.merchize.com -> Product -> Create Campaign

Chọn sản phẩm -> Design -> Upload design -> Thêm giá -> Publish