Are you excited to get more profit by selling seasonal print-on-demand products on Amazon? Keep reading to know all the steps to gain more sales for your seasonal print-on-demand products on Amazon.
Potential for seasonal print on demand products on Amazon 
Seasonal products are products that only sell during a particular season. It is hard to rely on your business on seasonal products only. But selling seasonal products is a great way to make a huge amount of money within a short period of time. 
The spike in profits thanks to seasonal products can compensate for the damper months when things get slow. Plus, you spend this extra cash gained through the seasonal selling season to invest in growing your set of evergreen products and achieve a more sustainable business.
If you haven't yet believed the potential of seasonal products on Amazon, here are a few reasons why you should sell print on demand on this eCommerce platform:
No worry about unsold stocks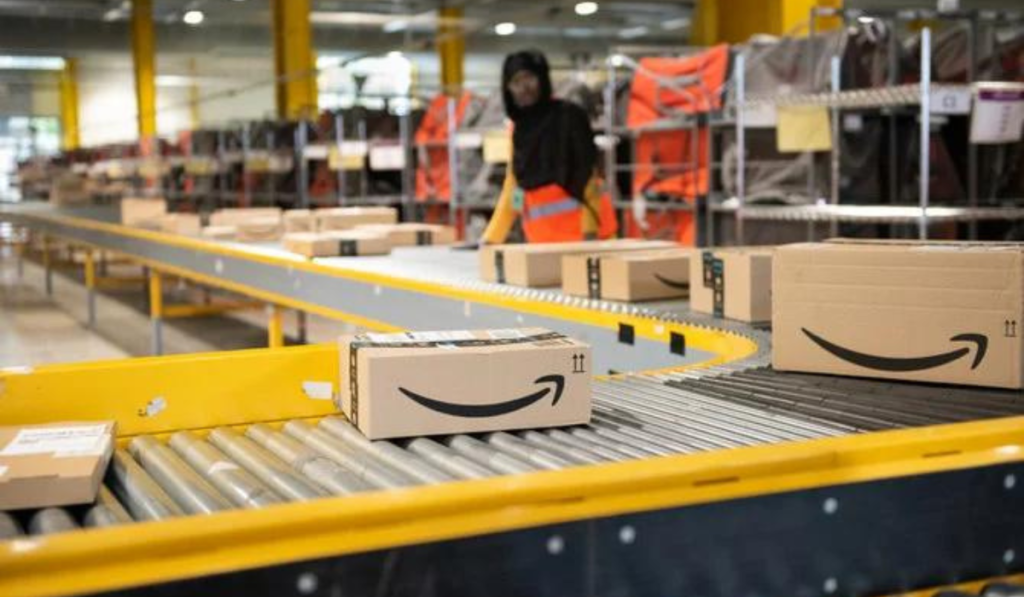 One of the biggest worries for sellers when selling seasonal products is unsold stocks. But with print on demand, this big concern can be easily solved. Your products are made on demand. You only pay for products when the order is already made. That means there's no risk of getting unsold stock. 
Predictable surge in demand for seasonal products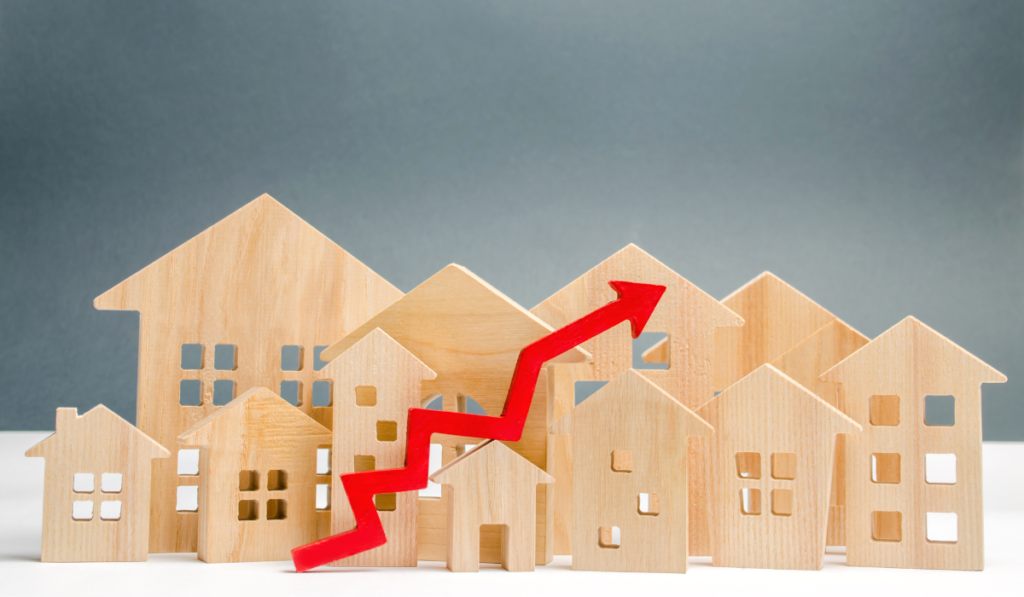 Evergreen products are important. 
It's no surprise that the shopping craze is peaking during the high seasons like Christmas or Halloween. The demand trend is predictable. There's no need to do guesswork or predict what sells. What you need to do is to create great designs that fit the mood of the season and capture the attention of buyers. 
By taking advantage of the predictable spike in demand and adding some seasonal items to your store during the high-demand season, you easily earn extra bucks. 
How to find the best seasonal products for selling on Amazon
Seasonal products are easy to detect. Yet, the trend might change from season to season. That's why you need to do some extra research to determine which products are seasonal. 
The easiest way to know if a product is seasonal is to gauge the search demand over the years with keyword tools.
Here are some popular tools that can be used to obverse the trends: 
Jungle Scout 
Helium 
Merchant Words
Viral Launch
Keepa
Google Trends
The paid options come with various features and functions that allow you to find measure market demand in depth. But there are some still useful free tools that you can utilize to check market trends to some extent. 
Google Trends is the most useful application to check the search trend for particular keywords across the globe. Google is the largest search engine so we can totally trust the validation of their data. 
But how can you use this tool to find out what products are seasonal? Here's how
Put your keyword terms into the search bar
Use the filter to get the data for the location or the market you are targeting at
Adjust the time frame to "Past 12 months" to observe the trend during a year. Normally, seasonal products see low search volume most time in a year. But it will spike in a certain time period.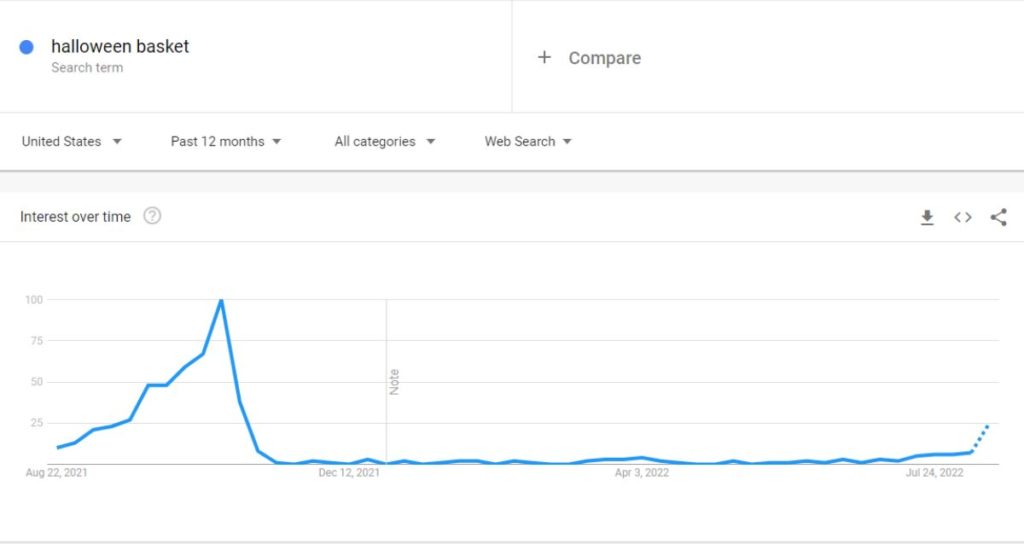 Look at the graph for the keyword "halloween basket". You will notice how the interest starts increasing from August and grow toward the end of October then drops abruptly after the Halloween season. This is a huge indicator that a product is seasonal. But in order to make sure that you are not mistaking some one-time trending product for a seasonal product, there is an extra step that you need to take.
Adjust the time period to "Past 5 years"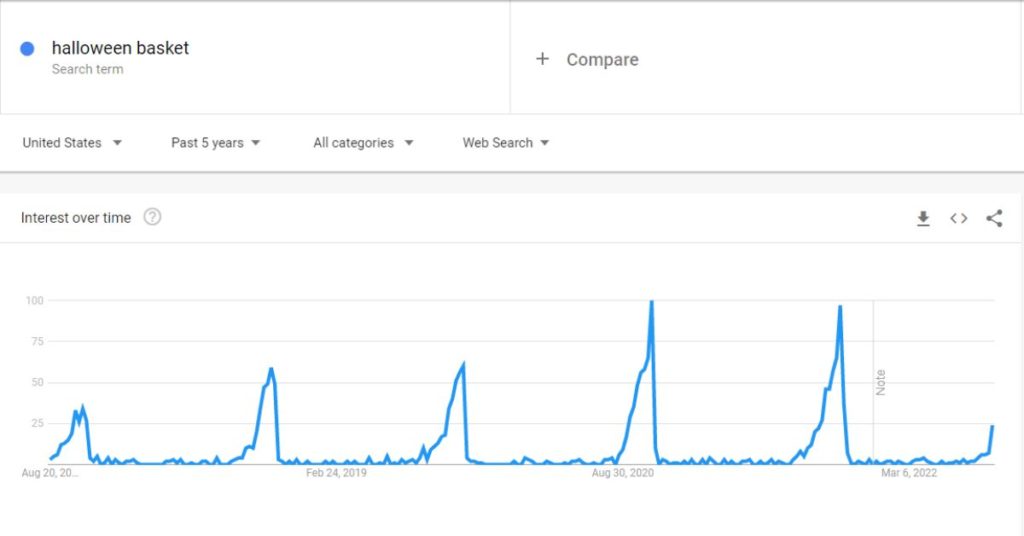 In order to determine if the trend for a product is consistent over the years, you can switch the time range to "Past 5 years". This is the graph you get:
You can see that every year, from the beginning of August, the search demand for this item starts growing. This trend repeats each year. This graph also shows that the search demand is increasing significantly in 2020 and 2021. It is likely that the trend continues to grow into 2022.
Tips for selling seasonal print on demand products on Amazon
Create the seasonal version of your best-selling non-seasonal products
One of the low-risk methods to gain profit during the high season is to create the season version from the evergreen products that are already selling well for your store. With print on demand, it is super easy to twist your products to fit the seasonal demand.
For example, if you have some T-shirt products that are selling well throughout the years, considering put those designs into products that are in high demand during the winter, like hoodies, sweaters,s or blankets.
Another way is to twist your designs to fit the mood of the season or a particular holiday. Take this store for example.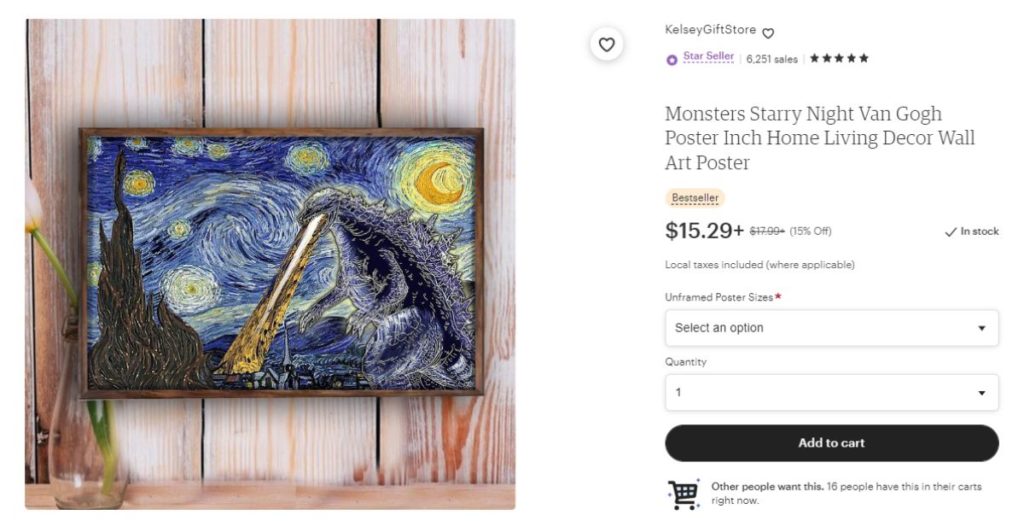 One of its best-selling products is this poster that iterates the famous Starry Night painting by adding a monster into the design. Since they are gaining good sales from this particular product. They extend this idea for the Halloween season by creating a new version of this artwork. It is a great way to make more money from your tested and proven ideas.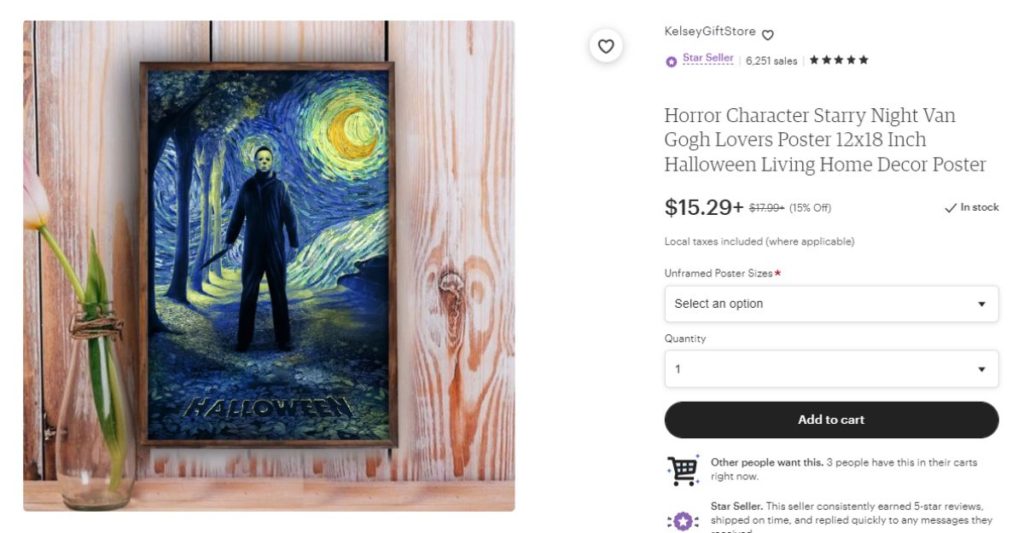 Start early 
A rule of thumb when selling seasonal products is that you must prepare for the season in advance. The timeline might vary depending on the seasonal event or period you are targeting at. 
For example, you want to sell summer products, you might only have to prepare one month ahead as the summer seasons last pretty long. That's why you don't need to rush and plan months ahead of the peak season. 
On the other hand, if you are selling Halloween or Christmas products, you must plan two or three months in advance. If you only start two weeks ahead of the event, you are terribly late.
Use FBA to tackle the high season 
The biggest fear of print-on-demand sellers during the holiday season is delayed shipping. The high demand outstrips the capacity and causes the logistics chain overloaded. 
Virtually, the same problems are faced by most eCommerce retailers. However, for print on demand businesses, the problem escalates even more.
Print on demand products are not shipping-ready but take time to be produced. During the peak season, some print-on-demand suppliers' production capacity might not be able to meet the increasing demand. That leads to a longer production time, making the wait even longer. 
Prolonged delivery not only upsets customers but also affects your store's health. One great way to lower the risk is to use fulfillment services provided by Amazon.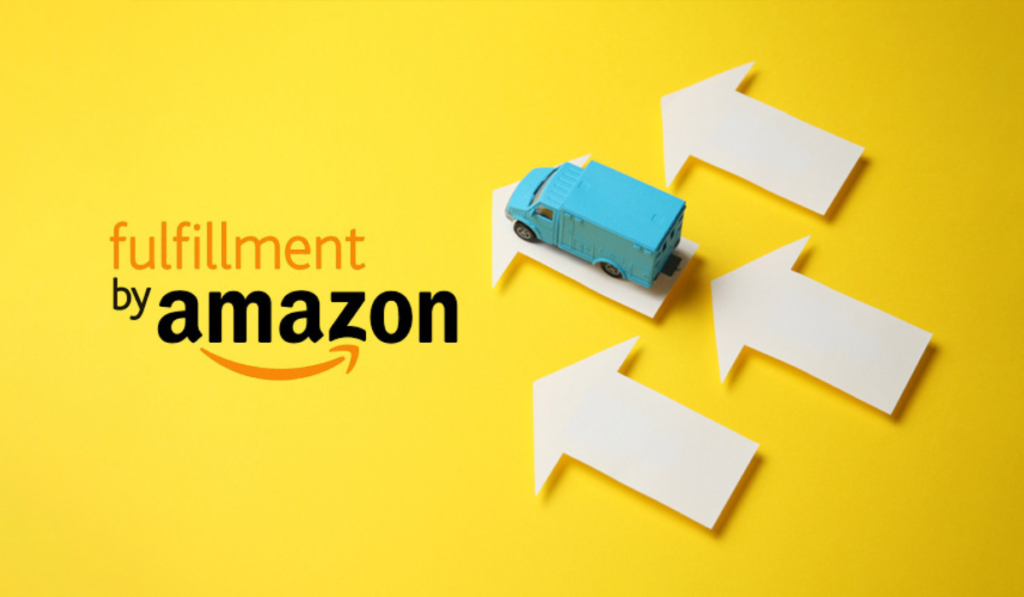 As you might know, when using Fulfillment by Amazon or FBA services, Amazon will stock your products and take care of the delivery. From what we know, Amazon is the best when it comes to delivery. With their resources and capabilities, Amazon can assure your package will be delivered on time. 
How you can do print on demand with FBA?
If you want to use fulfillment services by Amazon, you must have your products sent to Amazon and ready to ship to buyers. This model seems to contrast with the traditional print on demand. But it is not entirely impossible to use FBA for your print-on-demand business.
Understanding the pain of print-on-demand sellers during the peak season, Merchize has come up with a solution that smartly and seamlessly combines print-on-demand with FBA.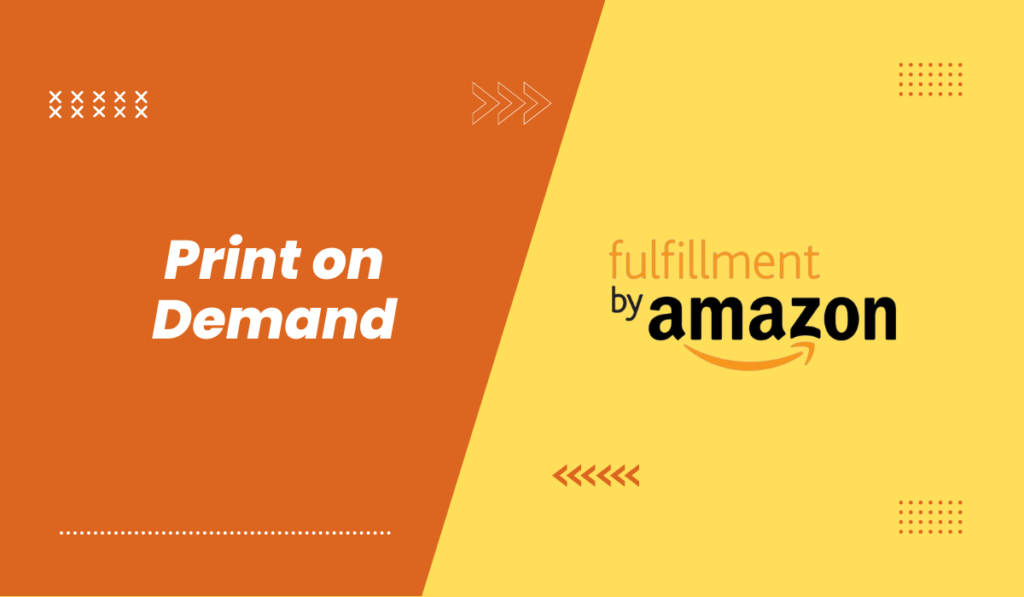 Here's how: 
You create orders to Merchize's fulfillment system for certain products. We print and send the completed products to Amazon. From there, Amazon will take care of your stock. Each time order of a product that is available in your FBA stock comes, Amazon will process the order, pack, and send it to your customers. 
Basically, your products are made and printed in advance and on YOUR demand. It still allows you to use your own designs and create unique products. With this model, orders will be shipped immediately without waiting for the products to be made.
Pros of FBA Print on demand
Significantly shorter shipping time. Your products are stocked at Amazon warehouses and will be processed imediately after the moment the customers completed their purchase. With Prime Shipping, your products will arrive at your customer's door within two days. 
Ability to create your own products. With print on demand, you can create your own unique products that no one else is selling – that also means less competition for your products.
No hurdle during the peak season: Since your products are already made and set to be delivered,  you can easily avoid logistic disasters during the peak season. 
Benefits from Amazon: When fulfilling via Amazon, sellers can get various benefits from Amazon, for example, lower shipping costs, Prime shipping, necessary analytic tools, and more.
Here's why you should choose Merchize to fulfill your FBA orders. 
No minimum order: There is no minimum order requirement. You can order as many products as you want. Merchize will print and send your orders to Amazon facilities on your behalf. 
Ability to print multiple designs in one batch. You can estimate the demand and allot the number of orders accordingly. 
Strict quality control at our in-house manufacturing. Your orders are printed and processed at our Vietnam-based manufacturing facility where we can manage and oversee the entire process and assure the highest quality for your products.
Multiple branding options for your products, including hang tags, pack-ins, woven labels, and more. With these branding options, you are allowed to grow a strong branding and create a lasting impression on your customers. 
Create Your Own Print on Demand Business with Merchize
Merchize helps you to bring your designs into reality and, of course profitable products. Get 10% off for your first 10 orders fulfilled via Merchize for your store.
Cons of FBA Print on demand
Possible unsold stock: As all the products are printed and produced in advance, you will have to pay for the products even when no order is made yet. This is an issue that most FBA sellers must deal with. But with careful planning and estimation, you can clear out stock before the season ends and get through the season with flying colors.
Need to estimate the demand: The tricky part of doing FBA is to set the right expectation. You should avoid doing guesswork. Instead, you need to base your decision on solid calculations and estimation so that you will not fall short of stock or get unsold stock. It is most suitable for experienced sellers who know how the market works and their capability, especially during the high season.
Discount
During the peak season, to encourage customers' shopping craze, sellers should introduce some sort of discount. Yet, you need to calculate the pricing carefully to make sure that your products are still profitable after deducting all the discounts. 
Do your promotion properly 
Running promotion campaigns is highly effective, especially for seasonal products. If doing it right, you can attract more interested customers and convert them into buyers at a fraction of the cost.  
Remember to target the right audience and create attractive designs and phones for your products along with an efficient CTA. 
Final Thoughts
Seasonal products are incredible opportunities that if done properly, you can leverage your business to the next level. 
If you are interested in selling print on demand on Amazon, check out Merchize's solutions for Amazon's e-commerce business!