Amazon is a huge market where millions of people come to find and buy products every day. The great thing is that Amazon does not only sell their own products but also offers space for individual sellers to come and sell their own goods in exchange for a portion of their profits. This opens up various opportunities for people to make money from selling on Amazon. Selling Amazon print on demand is also on the list.
If you are interested in knowing how to sell print on demand on Amazon, we will give you a thorough guideline, explaining what is print on demand and ways you can make money from print on demand on Amazon. Let's get started!
1. What is print on demand and how does it work?
Starting a business online can be an overwhelming challenge for beginners. But with print on demand, the daunting task of maintaining a business is minimized significantly as the business owners don't have to care about manufacturing, inventory management, and shipping. Instead, they can source help from print on demand companies who will fulfill their orders, manage the supply chain, and deliver the packages.
What's even more convenient is that a POD seller doesn't have to make an upfront payment in order for their business to get running. Instead, they are only charged once an order comes. POD sellers' major responsibilities revolve around selecting the types of products based on the given catalog from their printing partners, creating designs for their products, and promoting their products appropriately. The rest of the process is managed entirely by print-on-demand companies.
In this model, your profit will come from the difference in the selling price and the costs that the print on demand provides take. Other additional costs that you should take into account include the cost of maintaining your store on your selected platform or marketplace as well as the potential advertising costs that you might spend in order to push the sales.
With appealing designs and good marketing efforts, you can easily make good profits from print on demand business.
2. How to sell print on demand Amazon?
Amazon is the world's largest online store. As a normal online shopper, you must have at least once purchased goods from this online marketplace. According to Statista, Amazon is the most popular shopping app in the United States with over 150 million users accessing the app in September 2019.
With such a huge customer base, Amazon is the chosen destination for many print on demand sellers. Interestingly, there is not one but two ways for you to make money on Amazon through print on demand.
The first option, you can work directly with Amazon. Amazon is providing Merch by Amazon, its own print on demand services where you can submit your designs, and Amazon prints and delivers your merchandise.
The second option, you work with other print on demand providers like Printful, Printify, or Merchize and sell print on demand through your own Amazon store. In this case, Amazon only provides that space for you to sell the products. Your POD partner is in charge of fulfilling your orders.
This is a brief introduction to how you can sell Amazon print on demand. We will talk in detail about each option and the steps that you can follow to create a successful business on Amazon with print on demand.
Create Your Own Print on Demand Business with Merchize
Merchize helps you to bring your designs into reality and, of course profitable products. Get 20% off for your sample order now.
Besides selling print on demand, you can also choose Fulfillment by Amazon. Read our comparison of print on demand vs FBA to find the right model to start your business.
3. Sell POD through Merch by Amazon
Launched in 2015, Merch by Amazon is an official print on demand service provided by Amazon.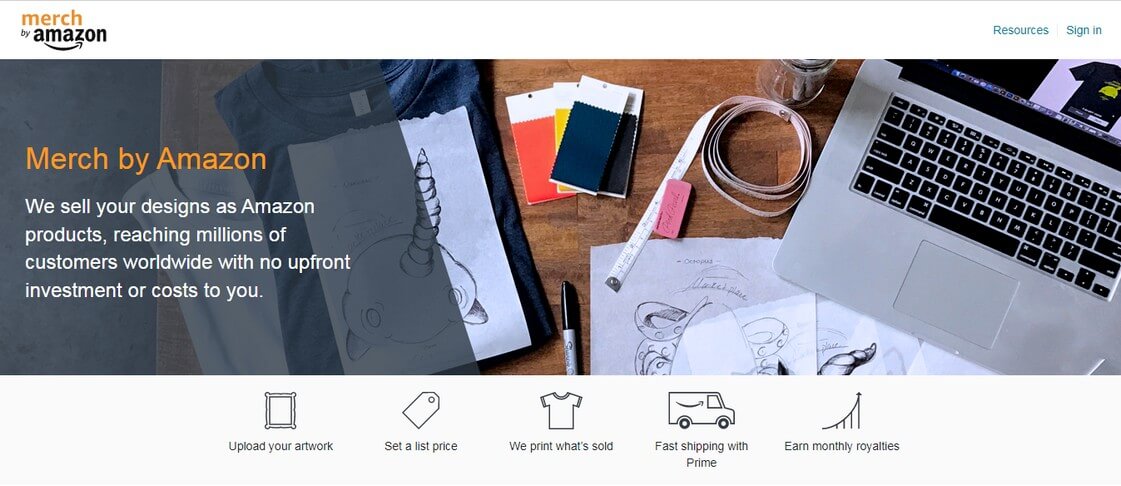 How does Merch by Amazon work?
Similar to other print on demand services out there, Merch by Amazon will help you with the production and distribution of your products.
But unlike companies like Printful or Printify, Merch by Amazon only fulfills orders generated through Amazon only. Merch by Amazon is not an option if you are planning to sell on Etsy, eBay, or your Shopify store.
Another thing that should be noted: Merch by Amazon is an invite-only service. It means that you can only join once you're invited or accepted by Amazon. The entry to this program is not as open as when you are opting for services from other specialized print on demand companies.
As soon as you are accepted to Merch by Amazon, you can start uploading your designs and make a profit. Your products are listed under the Merch by Amazon brand. Amazon prints and ships the merch to the customers. In return, you will receive a royalty from each sale made.
How to get Merch by Amazon approval?
As mentioned above, Merch by Amazon is invite-only. In other words, you will need to receive approval before getting your designs on sale. Here comes the disheartening part: It could take up to a year to finally get approval from Amazon.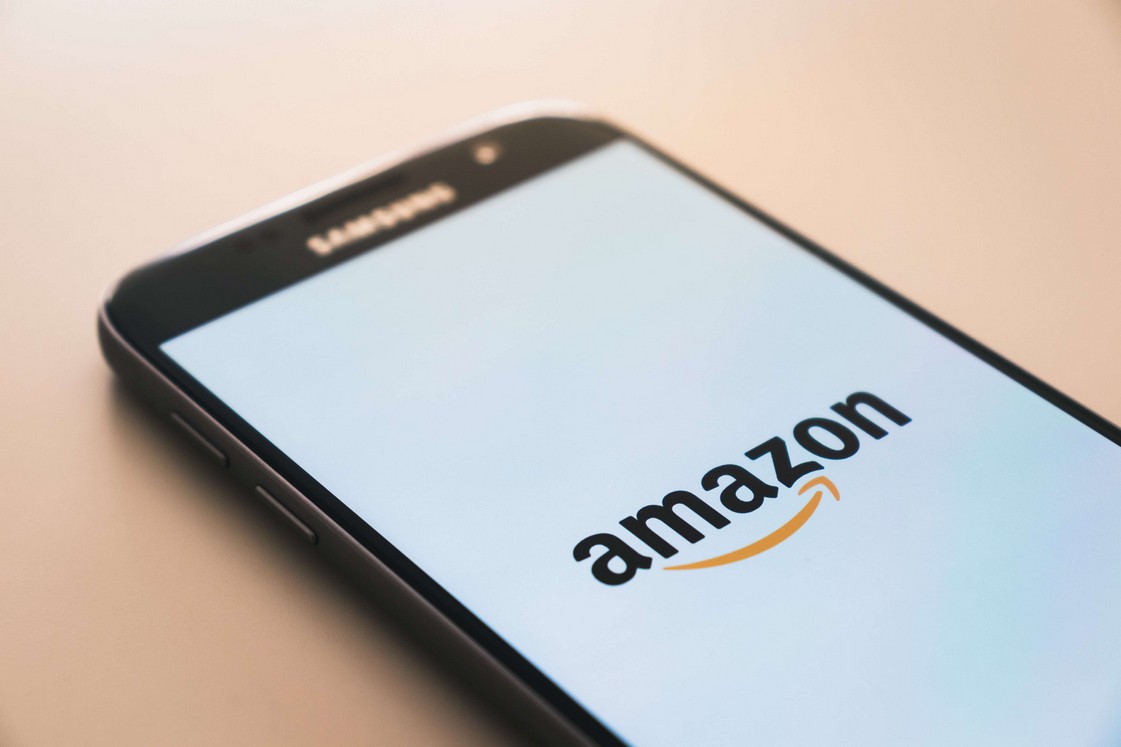 You might wonder how a company that can pull off one-day delivery can take so long to process your application. Well, it is actually intentional. Due to the popularity and reputation of this platform, many people want to join the program. The prolonged approval waiting period deliberately limits the number of Merch by Amazon sellers. If you are interested in Merch by Amazon, you have better start it now. Here's how you can send your application:
Go to Merch by Amazon
Click "Request Invitation" right next to the "How does it work" section
Here, log in to your existing Amazon account or register a new account if you don't have one.
Fill the application form. Amazon will ask for three pieces of information:
Business contact information
Bank account and routing numbers
Social security number or tax identification number
Answer tax-related questions
Answer additional questions related to your industry, your organization
After submitting all your information and questions, your application is ready to be processed.
How to get Merch by Amazon approval faster?
Merch by Amazon wait time is awfully long. While it is not 100% successful, here are a few tips that you can apply to make the approval process faster. While it is not exclusively mentioned by Amazon that they require your business entity instead of your own name, it is believed that using a business entity can increase your chances of getting approved. Make sure you got all the tax details correctly filled. Amazon will reject your application right away with incorrect tax information. To show that you're serious with your business, show all the successful online business you have done so far and if possible, include your business domain. This valuable information might help you to fasten the process.
How to upload your design and make money with Merch by Amazon?
After processing your application, Amazon will send invitations to your contact information. From here, you can start uploading your designs and gain money.
Design requirements
But there are certain rules that you need to follow in order to get your design qualified for printing. Always ensure that your artwork will adhere to the guidelines of Amazon:
Printable area: 15-inch width x 18-inch height with a transparent background
Format: 300 DPI PNG file
Color space: sRGB
File size: Under 25MB
You can download Merch by Amazon templates 
here
.
Tips for uploading artworks to Merch by Amazon:
If you are using Photoshop, click the "Smallest File Size" option when the PNG Format Options box appears to reduce the file size.
The maximum size of the printable area is 15 inches. However, it is recommended to keep your artwork size around 12 inches or less for the optimal result.
Pay attention to the placement of your artworks. The image placement must be visually balanced and should work well with your customer's anatomy.
Avoid using elements that might blend into the product's color.
What you shouldn't do
There are also a few other policies regarding content appropriation and copyright issues that you should also pay attention to.
Make sure you are using your original arts. Amazon will ban your account if any violation of copyright rules is detected.
Besides, Amazon also rejects artworks with objectionable content, including Pornographic imagery, Child exploitation, Profanity, Hate or racist speech, Content that promotes violence.
How to move through Merch by Amazon tier system?
Not all Merch by Amazon sellers is equal. In fact, Merch by Amazon is applying a tier system to limit the number of designs a seller can upload. In the beginning, you are in Tier 1, which allows you to upload only 10 designs. For example, if you want to move to Tier 2 and upload up to 25 designs, you will have to sell 10 T-shirts first. On Tier 2, you are required to sell 25 t-shirts to move to Tier 3.
| | |
| --- | --- |
| Tier 1 | 10 Designs |
| Tier 2 | 25 Designs |
| Tier 3 | 100 Designs |
| Tier 4 | 500 Designs |
| Tier 5 | 1000 Designs |
| Tier 6 | 2000 Designs |
| Tier 7 | 4000 Designs |
| Tier 8 | 8000 Designs |
Obviously, the more designs you are able to upload, the higher profits you get. You can wait for the sales to go up organically and move to the next tier. However, if you want to move faster through their tier system, you can put your own money and buy the products, especially in the first two tiers. 
Another way to walk around this tier system is by paying for ads. While running ads on Amazon is not all possible until you reach Tier 3, you can put ads on other platforms like Facebook or Instagram. If you are not quite confident that your designs can pay off in the end, don't go overboard with your advertising budget in the beginning.
Merch by Amazon royalties – How much does Amazon pay you?
On average, you can make around 13-37% of the retailed price. The profit you earn depends on the retailing price that you set and the type of products you are selling. Amazon has predefined price options that you can choose from with each product. Here are some examples:
Standard T-Shirt – US
Purchase price
$15.99
$17.99
$19.99
$21.99
$23.99
$25.99
Royalty
$2.21
$3.72
$5.23
$6.74
$8.25
$9.77
Long Sleeve T-Shirt – US
Purchase price
$20.99
$21.99
$22.99
$23.99
$24.99
$25.99
Royalty
$2.37
$3.09
$3.81
$4.53
$5.24
$5.96
Pullover Hoodie – US
Purchase price
$29.99
$31.99
$33.99
$35.99
$37.99
$39.99
Royalty
$3.57
$5.01
$6.45
$7.90
$9.34
$10.78
Zip Hoodie – US
Purchase price
$29.99
$31.99
$33.99
$35.99
$37.99
$39.99
Royalty
$2.26
$3.68
$5.10
$6.52
$7.94
$9.36
Sweatshirt – US
Purchase price
$27.99
$29.99
$31.99
$33.99
$35.99
$37.99
Royalty
$2.12
$3.62
$5.11
$6.61
$8.10
$9.60
Tank Top – US
Purchase price
$17.99
$18.99
$19.99
$20.99
$21.99
$22.99
Royalty
$2.07
$2.84
$3.60
$4.36
$5.12
$5.89
V-Neck – US
Purchase price
$17.99
$18.99
$19.99
$20.99
$21.99
$22.99
Royalty
$2.10
$2.85
$3.60
$4.35
$5.09
$5.84
Raglan – US
Purchase price
$21.99
$22.99
$23.99
$24.99
$25.99
$26.99
Royalty
$2.36
$3.10
$3.83
$4.57
$5.30
$6.03
PopSockets Grip – US
Purchase price
$13.99
$14.49
$14.99
$15.49
$15.99
$16.49
Royalty
$1.56
$1.90
$2.25
$2.59
$2.94
$3.28
Phone Case – US
Purchase price
$14.99
$15.99
$16.99
$17.99
$18.99
$19.99
Royalty
$0.80
$1.50
$2.19
$2.89
$3.59
$4.28
Tote Bag – US
Purchase price
$16.99
$17.99
$18.99
$19.99
$20.99
$21.99
Royalty
$1.20
$2.03
$2.86
$3.69
$4.52
$5.35
Throw Pillow (16in) – US
Purchase price
$18.99
$19.99
$20.99
$21.99
$22.99
$23.99
Royalty
$1.29
$2.09
$2.90
$3.71
$4.51
$5.32
Throw Pillow (18in) – US
Purchase price
$20.99
$21.99
$22.99
$23.99
$24.99
$25.99
Royalty
$2.90
$3.71
$4.51
$5.32
$6.13
$6.93
If you set the price of your T-shirt at $15.99, you will earn a royalty of $2.21. If the purchase price is put at $25.99, you will pocket $9.77. With pullover hoodies, the profit is slightly higher, ranging from $3.57 to $10.78.
Decide your price wisely so you can get a good benefit while keeping a competitive edge over other designs.
Tips for Merch by Amazon success
How to find niches for your designs on Merch by Amazon
One of the proven ways to successfully generate money through print on demand is monetizing a specific niche. In print on demand business, beautiful designs alone can not help you to make a desirable income. You must target a specific group of customers and deliver designs that speak to their interests.
How can I find a niche for my products?
Here are some suggestions you can try to find a profitable niche:
Think about your own interest. What is your hobby? Your occupation? Your favorite animals? If you are interested in something, good chances are there is a number of people sharing the same interests as you. The next step is to confirm the potential demand for this niche. You can use a keyword research tool to estimate how large a niche is. If the demand for the niche is too small, it might not yield enough benefit for you.
Use keyword research tool. Typing queries and searching for products is a common activity for online shoppers. Data about the keywords that people are using hold valuable insight into the customer's needs. Knowing how to leverage keyword research tools can help you tap into the potential niche with large demand and less competition. Google Trend, Jungle Scout, Merch Research, are a few common and effective tools that can help you do keyword research.
Trademark and copyright issues
As mentioned briefly above, trademark and copyright issues are very important and should be taken seriously if you want to develop a long-term and stable business with Merch by Amazon.
Using your original artworks or ideas is the best practice. However, it should not entirely keep you from infringing copyright. To make sure you are not violating the trademark and copyright rules, always double-check your quote, and content on the trademark database.
4. Sell Amazon print on demand via a POD provider
Merch by Amazon is a great option to kick off a print-on-demand business on Amazon. If your application is rejected, or if you have waited too long but the invitation has yet reached you, there is another way you can get things rolling without Amazon's nod of approval. What you need to do is to open an Amazon store and connect it to the print on company provider of your choice. This third-party print-on-demand company will replace Amazon and fulfill your orders.
What are the differences between selling POD via Merch by Amazon and via a third-party POD provider?
If you can't decide which direction you want to go, we will discuss the pros and cons of each option.
Entry barrier: Merch by Amazon is harder to get onboard. The waiting time took months or even a year. On the other hand, setting up with a print on demand company will only take you a few minutes. There is basically no barrier to start print on demand business if you opt to work with a print-on-demand company. The success rate is 100%.
Ease of use: Merch by Amazon wins in this aspect. The peak of using Merch by Amazon much comes from its ease of use. You can upload your artwork and put up listings easily. There is no need to spend extra time setting up the integration or managing your store or additional steps to keep your business running.
Pricing: Technically, both Merch by Amazon and the POD company don't require you a penny to sell print-on-demand products. However, when you partner with a third-party POD company, you have to pay $39.99 to run an Amazon store as an individual seller. In the meanwhile, you can list your product for free under the Merch by Amazon program.
Profits: Selling POD as an independent seller will give you more control over the profits of your business. You can set the price freely. While doing POD with Merch by Amazon, the prices of your products as well as the profit you earn are limited to a specific range predetermined by Amazon.
Product types: Print on demand companies have a wider range of products for you to choose from, from clothing items to accessories or even home and living decors. The possibilities are endless and so are the opportunities for you to monetize your artwork.
Search visibility: Products listed under Merch by Amazon program have better search visibility. Obviously, Amazon will favor its products over third-party providers. It can translate into better organic sale volume.
Flexibility: Third-party POD companies easily win in this category as it offers you the flexibility to set up your own prices, a larger selection of product options, and access to various branding options. It should be noted that as individual sellers, you can sell many designs as you wish. In the meanwhile, Merch by Amazon sellers are allowed to list a certain number of products in accordance with their tier.
What POD companies are best for Amazon?
Amazon is the largest online marketplace in the world. It might come as a surprise that not all print-on-demand companies are providing integration with Amazon. In the below, we will go through some print on demand with Amazon integration.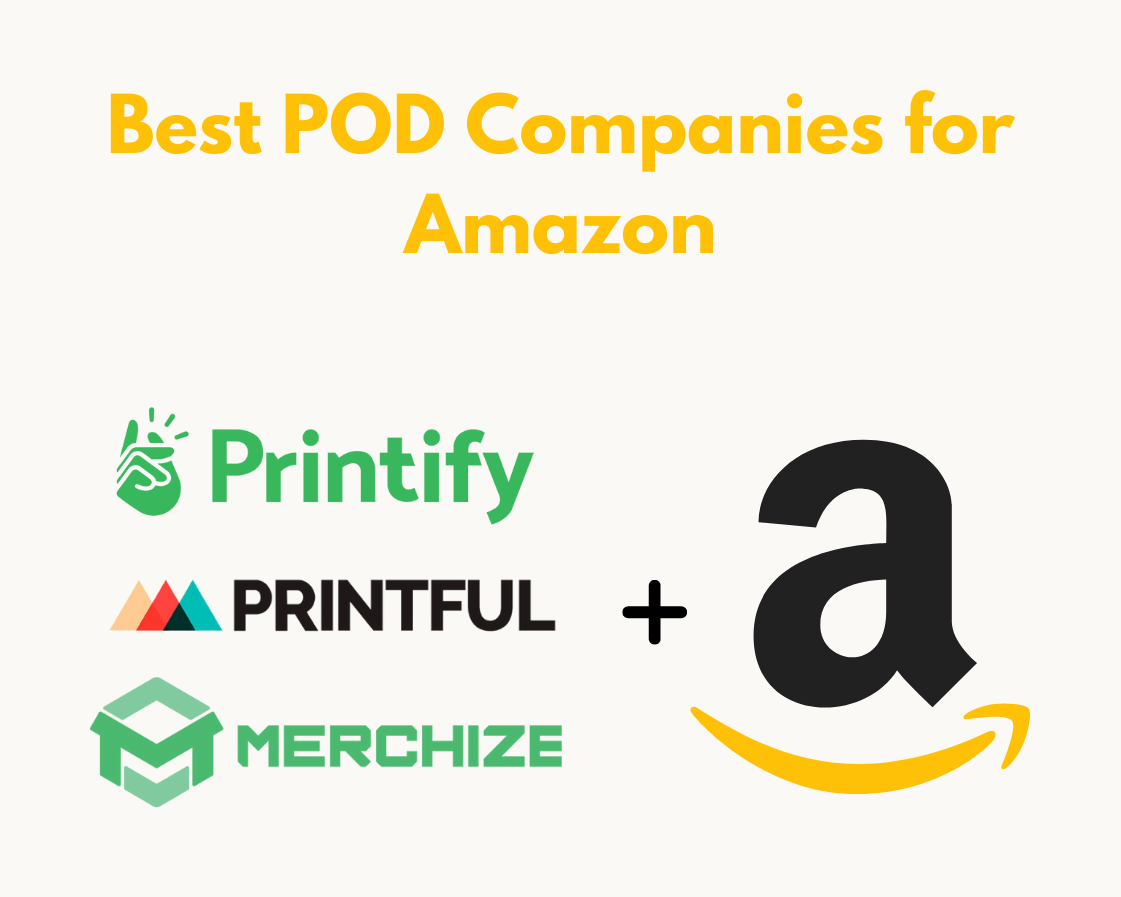 1, Printful
Printful is the largest print-on-demand company out there. The company has various fulfillment centers across the world. Product quality is excellent and the services are comprehensive, covering from manufacturing, warehousing to branding, and more.
2, Printify
Printify is another big name in the industry. Printify's services can be slightly different from Printful's services. Instead of printing the product themselves, the company works with printing companies across different locations and countries. Printify provides the platforms that help you fulfill your orders from one of the printing partners on their network.
3, Merchize
Merchize offers easy integration with Amazon. Merchize is currently having manufacturing facilities in Vietnam, China, and the US. Our companies provide products at very competitive prices for a wide range of products. Our customer support teams are always ready to give you the help needed to get your business started.
Create Your Amazon Print on Demand Business with Merchize
Merchize helps you to bring your designs into reality and, of course profitable products. Get 20% off for your sample order now.
Steps to start selling POD products on Amazon
Here is how you can start selling Amazon Print on demand with a third-party print on demand company of your choice.
1. Open an Amazon store
Amazon offers two store options for you, individual and Professional seller accounts. The first option is free but is very limited. The second option will cost $39.9 but it covers most functions and features needed for your business to thrive.
| | | |
| --- | --- | --- |
| Plan | Professional Seller | Individual account |
| Price | $39.9/Month | $0.99 per sale (No monthly cost) |
| Category | 20 categories and additional categories | 20 categories |
| Create listings in bulk | Yes | No |
| Inventory management with feed, spreadsheet, and reports | Yes | No |
| Shipping fee (non-media products) | Adjustable | Fixed |
| Advertising tool | Yes | No |
| Promotion with free shipping | Yes | No |
| Multiple users | Yes | No |
| Top placement on product detail pages | Yes | No |
| API Integration | Yes | No |
Go to Amazon to create an account for yourself.
2. Create an account on your selected POD provider's website
After registering an account seller account on Amazon, you should head to your print on demand websites to open an account here. If you choose Merchize to be your companion in this journey, go to seller.merchize.com and get your account set and ready.
3. Connect your store to the POD account
The last step of the setup process is to connect your store to your new account on your POD's website.
4. Create your design ad create mockups
Once you have successfully connected two accounts, you can now start uploading your designs, create mockups using the mockup generator, and push them to your Amazon store.
How to find the best Amazon best print on demand products?
One of the best things about selling print on demand on Amazon with a print on demand company is that you have more choices on which to sell.
While you can add as many products as you want, being a bit strategic with which products you want to focus on can help you get better results than selling whatever you have in hand.
There are two types of products that you should have in your store:
Evergreen products: These products are best sellers all year round. There are always needs for these products at any given time of the year. T-shirts, mugs, and posters are such products. These products can bring you consistent sales in all months of the year.
Seasonal products: While evergreen products can maintain relatively good sales throughout the year, it takes a few seasonal hits to break the sales record and maximize your profits. For example, during the Christmas season, ornaments, Christmas clothes, and home decor items are best sellers. Blankets and warmer clothing are also the main staples during the colder season.
Throughout the years, there are many events, and occasions where there is a surge in demand for a particular product. If you can grasp these opportunities, money will flow into your bank accounts like crazy.
How to promote and advertise your Amazon print on demand products?
As an individual seller, you have full control over the promotion of your products. On the other hand, Merch by Amazon sellers have their advertising activities restricted by the tier system. Only people from third-tier (over 100 listings) can run Amazon Sponsored Product ads. But if you have a professional account for your Amazon store, you can plan your advertising campaigns anytime.
Amazon is a large marketplace where people with clear and serious buying intentions go to. It is also the number one option to run your ads. Amazon is now offering a few advertising options, including:
Sponsored Products for individual product listings
Sponsored Brands for showing your brands and product portfolio
Sponsored Display for displaying ads across buyer journey, on and off Amazon
Amazon Sponsored Products is the most common option for print on demand sellers on Amazon. First, let's make sure you meet the requirements to run Sponsored Products ads:
Owner of a professional Amazon account
Your products should be listed under an eligible category
Your products must have the buy box
How do Amazon Sponsored Product ads work?
With Amazon Sponsored Products ads, your products will be shown at the top positions on the result pages. It is a pay-per-click form of advertising, which means you only have to pay if the customers click on your ads. You can decide the products to promote, the keywords you can target, and how much you want to bid for a keyword.
In order to run successful Amazon advertising campaigns, finding the right set of keywords to target is the key.
Running ads can take up a huge part of your budget. Therefore, you should be strategic with your advertising activities, focus on keywords with high returns, and cut off keywords that do not add to your profits. Or else, a huge amount of your budget will go wasted on ineffective promotional attempts.
How much can you make from selling Amazon print on demand?
Print on demand is a low-profit business. But still, there is actually no limit to the number of your income when selling print on demand. In fact, there are many success stories where people can earn a six-figure income with Amazon print on demand.
To have a realistic expectation of how much you can earn from Amazon print on demand, let's go through Amazon print on demand pricing:
Monthly fee for maintaining a professional store: $39.9
Referral fees: Depending on the categories of your products, Amazon will charge you a referral fee for each item sold. The fee usually ranges from 8% to 15%.
Advertising cost: To generate profitable sales on Amazon, a budget for advertising is necessary. If you can master the art of Amazon PPC, you can earn enough to make up for the advertising budget. However, if your advertising campaigns are not efficiently set, it might hurt your return on investment.
It means that if you are selling a T-shirt for $14 and the print on demand company takes $10 for their part. It will leave you with a profit of $4 per sale. But you will not have this whole $4 as the final profit. Always subtract the other fees for store maintenance, referral fee, and advertising, if you are using any.
Tips for selling Amazon POD
Simple is the best: One of the beginner mistakes is to invest too much time and money on overly complex designs. While these kinds of designs might be very visually attractive, and highly original, it has a small chance of becoming winning designs. With print on demand, simple is the best. Sometimes, simple artworks with funny quotes are the things that sell.
Quantity over quality: Here is another rule that should be applied to print-on-demand businesses. In print on demand, sellers are not in the position to control the quality of their products. In order to maximize profits, the best thing to do is to increase the number of products. This rule has been proven effective in the realm of print on demand. Instead of introducing ten beautiful, unique products, you should try to make 100 designs with simpler designs that address a specific interest of target customers.
Cross-niche: Some niches are very competitive to the point that it makes little sense to create designs that fit just that one niche. To increase your chance of standing out and reaching untapped but profitable niches, you can combine two more niches. For example, "engineer" and "pet lover" might be too broad and competitive niches, "engineer who loves pets" can be more specific niches with lower competition.
5. What are resources to learn about Amazon print on demand?
Youtube channels to learn about Amazon POD
Youtube is a free and resourceful place for you to learn about anything. The great news is that Youtube has a large community of creators making educational content about Print on demand and Amazon Print on demand in particular. Here are some useful Youtube print on demand channels for you to check.
1. Ryan Hogue Passive Income
Ryan Hogue's channel is focusing on content about making money online and creating passive income. On his channel, he constantly updates and shares about this experience and journey with both print on demand and selling on Amazon. Last year, he reported making over 175K from passive income. You can check his channel for more tips on how to make money online with print on demand on Amazon.
2. Shimmy Morris
Shimmy Morris has over 54K subscribers on his Youtube channel. London-based Youtuber is currently doing both print on demand and Amazon FBA. On his Youtube channel, he frequently shares his comprehensive insights and tips on how to make and sell print on demand products.
3. Wholesale Ted
Wholesale Ted is one of the top Youtube channels on print on demand. At the time of this writing, this channel has attracted 894K subscribers. Sarah, the person behind this channel, has created various content that is easy to understand, and beginner-friendly.
Podcasts about Amazon POD
If you are a fan of podcasts and want to hear more success stories and insightful discussions about print on demand as well as print on demand with Amazon, here are some useful sources for you:
The Side Hustle Show
The Side Hustle Show explores all business ideas, models, and plans that can help people create money and income outside their 9-to-5 job. It also means that the show has a broader focus than just print on demand.
Here are some episodes where they discuss print on demand in-depth:
You can listen and gain valuable lessons from successful people from different industries and businesses. After all, it is never a bad idea to keep learning new things and sharpen your business skills and mindset.
Print on demand Cast
Print on demand Cast is a podcast show dedicated to print on demand. At the time of this writing, the show has released about 70 episodes. In each episode, two hosts, Travis and Joshiah talk and discuss in detail print on demand strategy and ideas. They also invite guests who also work with print on demand to the show.
Courses and blogs
If you want to understand the basics of print on demand and learn industry knowledge in a systematic way, doing courses or reading books, articles can be very helpful. Check out these resources, courses:
Final Thought
Selling print on demand on Amazon can be challenging but it also comes with huge opportunities. Hopefully, with all the information we have mentioned above, you can feel confident on your journey to create a successful Amazon print on demand business in the near future