2022 was expected to be the year of recovery from the Covid-19 pandemic, yet the world's economy still has to suffer from war, energy crisis, and inflation. Not excluded from these problems, the Print-on demand market has also been highly affected.
2022 was a complex and challenging year for Merchize:
The passionate discussions among the Board of Directors to find the direction for the whole company.
The heated debates and discussions between teams to optimize the products and services.
The non-stop efforts of our Technology team to keep the system stable; optimize and develop features that can support users in managing the orders easily and conveniently.
The non-weekend working periods of the Supply Chain team, Support team, Accounting team, etc to ensure orders are produced and shipped quickly.
Merchize factories working days and nights to ensure that all orders were promptly delivered to customers on time.
It's an emotional and effortful journey for all Merchize employees with the ultimate goal of bringing the best products and services to our sellers and introducing the Vietnamese brand to the global market.
And at this moment, let's review the memorable achievements of Merchize in 2022!
1, EXPAND AND DEVELOP SUPPLY CHAIN SYSTEM AND NEW PRODUCTS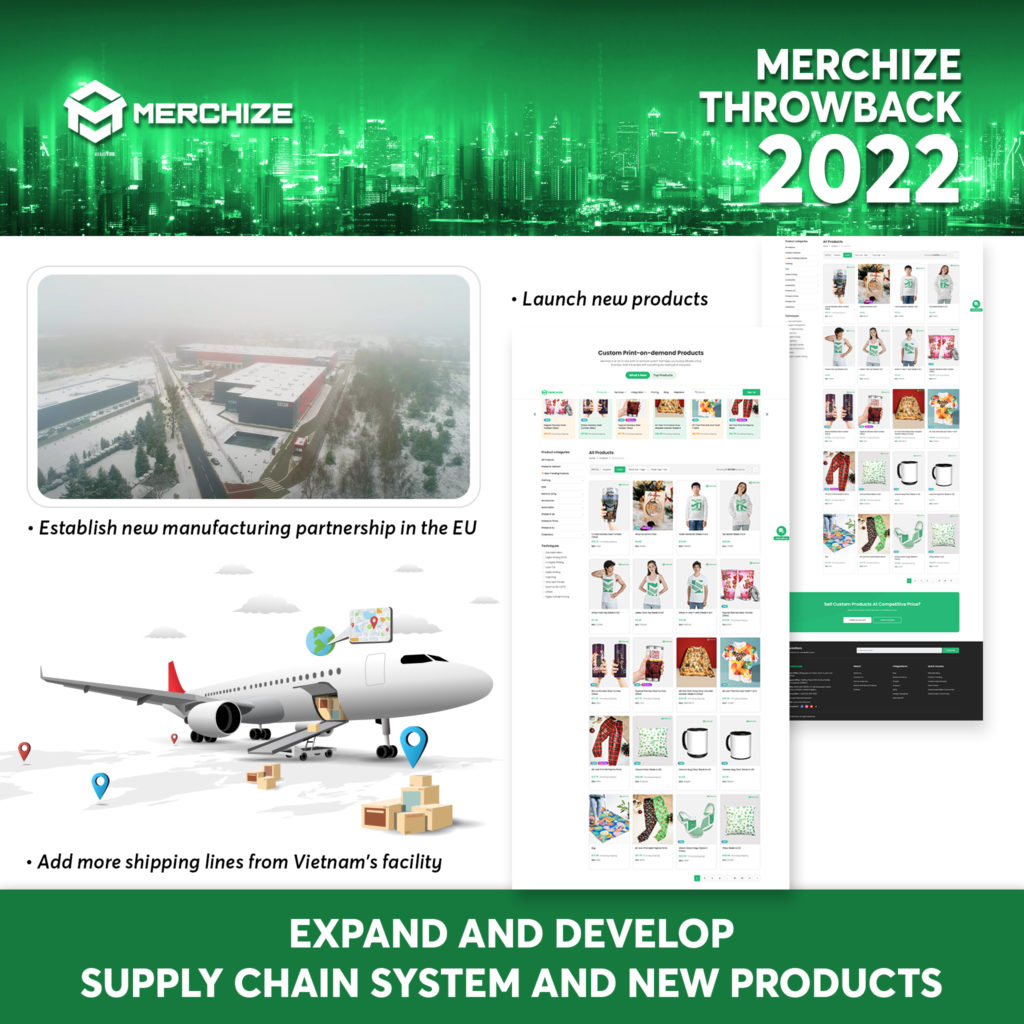 In 2022, Merchize cooperated with a manufacturing partner in Europe to provide DTG clothing, along with some all-over print products such as hoodies, and Hawaiian shirts. This new partnership helps to optimize production and shipping time to EU countries.
Merchize continues to add many new services including Branding Services, FBA Fulfillment, and On-demand Productions with an aim to help Sellers increase sales and maximize profits.
With the goal of diversifying delivery channels and limiting the risk of overload and congestion during the peak seasons, Merchize continuously expands and develops new shipping lines.
Diversifying the product catalog from more than 200 in 2021 to more than 350 by the end of 2022. Merchize is also always researching and exploring new materials, importing high-tech machines to improve the quality of products.
We also improved the product Mock-up to help Sellers have the most realistic and the highest image quality, ultimately driving sales. The Mock-up Generator system has also been upgraded, making the product design process faster and more efficient.
2, IMPROVE AND LEVEL UP TECHNICAL SYSTEM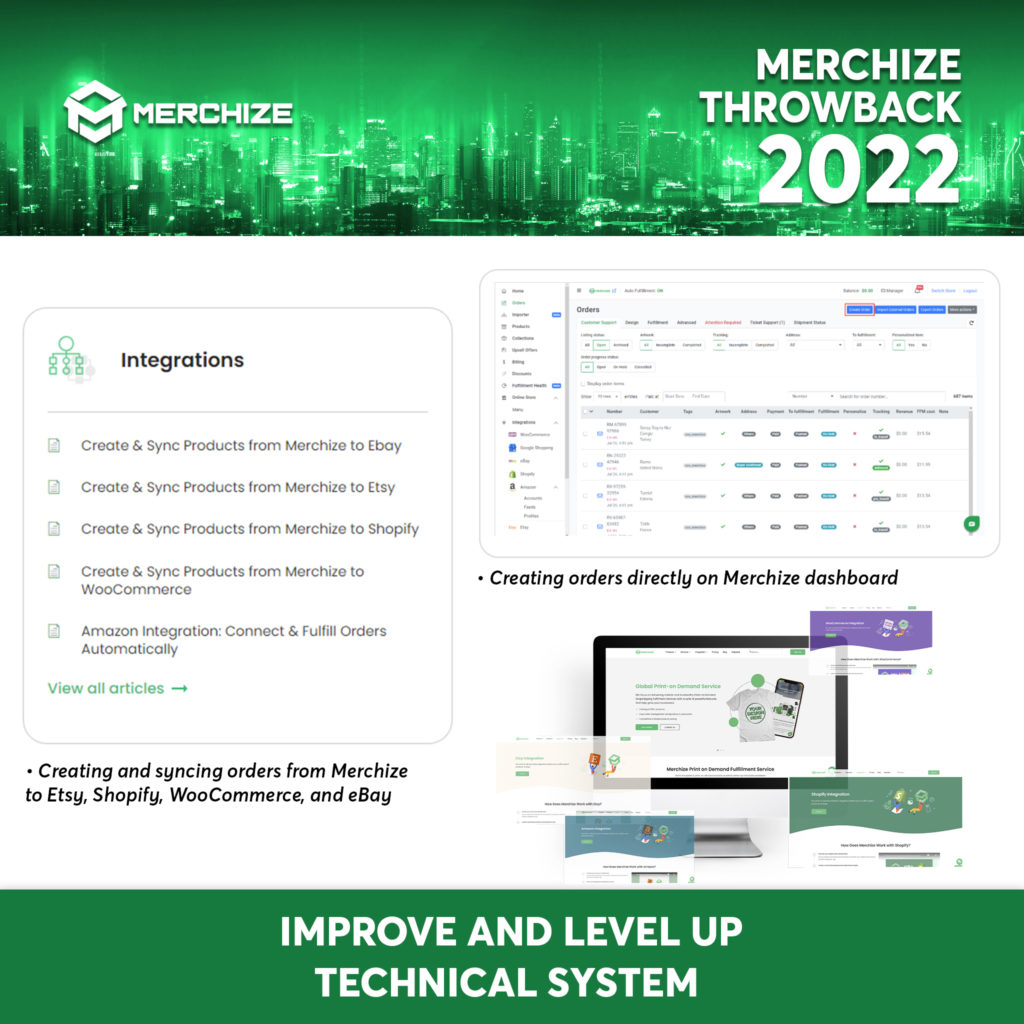 Developing the highly-requested features such as "Creating and syncing orders from Merchize to Etsy, Shopify, WooCommerce, and eBay" to make it easier for Sellers to create, control, and manage orders. In 2023, Merchize expects to continue developing this feature for other platforms.
Building "Creating orders directly on Merchize dashboard" feature that makes it creating orders more convenient and easy.
Stabilizing and optimizing the platform to improve the user experience in both Storefront and Back Office.
Developing the Affiliate/Referral System that brings many advantages to partners and new Sellers of Merchize.
3, OFFER ADDED SERVICES, BRING A HIGH SERVICE EXPERIENCE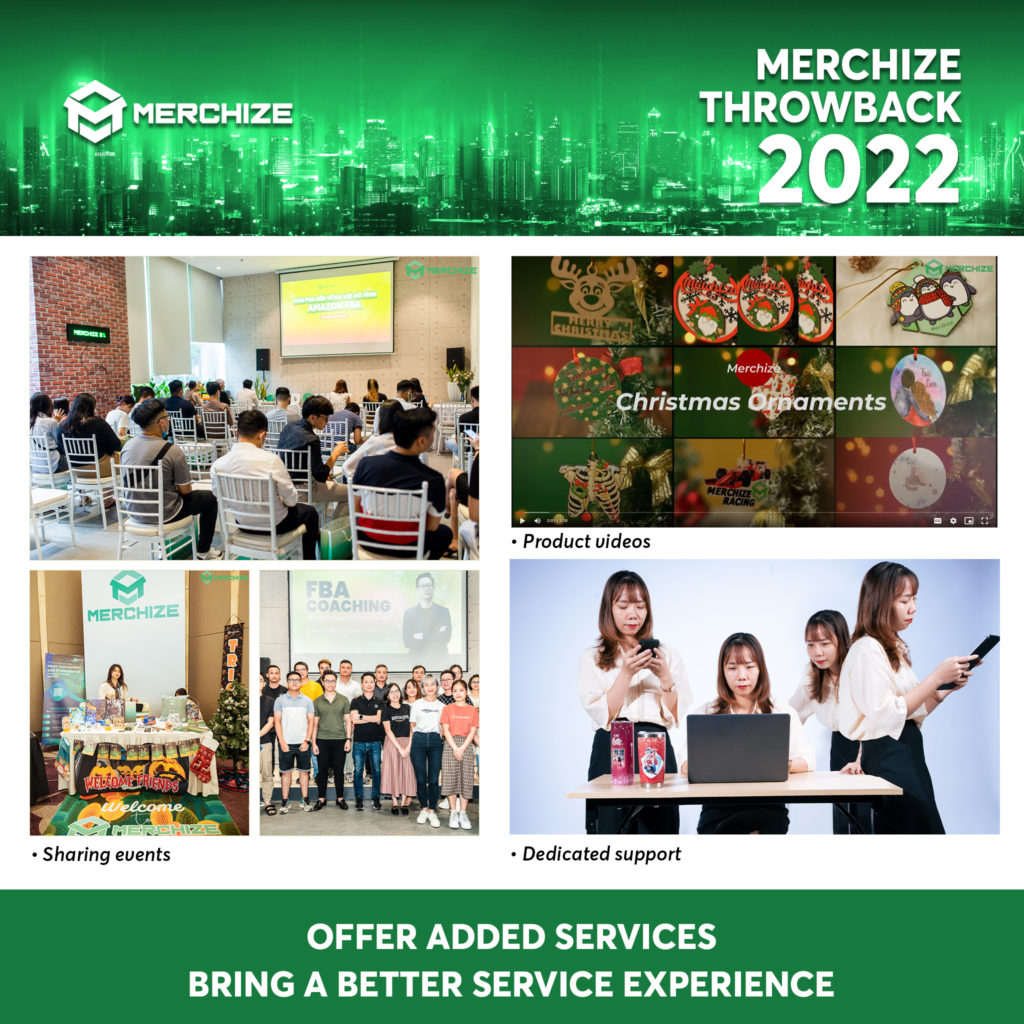 In 2022, Merchize cooperated with many strategic partners such as Amazon Global Selling Vietnam, LianLian, and PingPong to host a variety of events for Sellers to exchange and share experiences.
We also launched Merchize Academy program starting with an FBA Coaching series to help Sellers navigate the increasingly saturated POD market.
Media Productions Team was established with the goal of providing the best quality images and videos for Sellers.
We tried to support Sellers in different ways to help them achieve a successful sale season:
In 2022, Merchize piloted a capital support program for Sellers (Fulfill first, pay later).
We also supported a payment gateway for Sellers during the peak season.
Our Tech team implemented many new features and functions, allowing Sellers to manage larger orders and create designs with ease.
The account Manager Team provided immediate support and flexible solutions to avoid unnecessary losses for Sellers.
With these efforts, Merchize has had a successful sale season with impressive numbers:
Average shipping time: 7.2 Business Days.
Delivery success rate before Christmas: 94.82%.
The highest number of products produced and shipped in 1 day: 48,989 items.
Average production time of some products:
Ornaments: 1,49 Business Days.
AOP Sweater: 3,29 Business Days.
Photo Night Light: 2,52 Business Days.
AOP Hoodie: 4,3 Business Days.
AOP Hawaiian Shirt: 4,49 Business Days.
AOP T-shirt: 4,14 Business Days.
AOP Jersey: 5,0 Business Days.
Doormat: 2,07 Business Days.
These numbers are a testament to the effort and contribution of all Merchize employees, a team of hard-working, creative and innovative individuals.
All of these wouldn't have been possible without your trust. Thanks to all of you who always supported and accompanied Merchize throughout 2022.
We acknowledge there were still inevitable shortcomings and room for improvement during the process. With a focus on meeting the needs of our sellers, we are dedicated to constantly evolving and bringing the best products and services to the market.
See you in a smooth sailing 2023 Sale Season!  We wish you all the best in your future endeavors
Ngọc Tuấn
CEO Merchize