Up to this point, the US is still the largest market for print-on-demand business. A majority of print on demand products are delivered and consumed in the US. As more and more people are entering the competition, the market for print on demand in the US becomes saturated at some point.
This reality has prompted many to venture out of the US market. The UK market is one of the top potential markets for print on demand businesses to grow.
In case you are looking to expand your print on demand business in the UK and European market in general, we are about to list out the best print on demand companies in the UK which you can trust to make and deliver your products to your customers.
What is print on demand?
Starting out one's own business was once a far-fetched dream for many people. But that is no longer the case. With business models like dropshipping and print on demand, you don't have to spend a huge investment up front and risk your own daytime career to follow your entrepreneurial dream. Print on demand requires no upfront costs, no minimum, no inventory. It has never been easier to start a business.
Print on demand also offers the comfort of working from someone's own home, at their own time. Even more impressive, print on demand business allows anyone to start a business that expands across borders and continents. All of these can be made possible from someone's home office. Does that sound wonderful?
To get the full explanation on print on demand, you can check out our article where we dive into the definition and operation of print on demand. 
Create Your Own Merch Brand with Merchize
Merchize helps you to bring your designs into reality and, of course profitable products. Get 10% off for your sample order now.
How to find a suitable print on demand business in the UK?
Finding the right print on demand supplier for your business is deemed one of the most important steps it takes to succeed. Here are some key factors to consider when choosing your print on demand partner for your business in the UK.
UK facilities
In order to break into the UK market, it is necessary to find print on demand suppliers who can handle orders from UK customers efficiently and cost-effectively.
With facilities located right in the country or at least, the nearby countries, print on demand suppliers can assure faster and more efficient shipping. A reduced shipping time can improve the buyer experience significantly. On the contrary, if it takes too long to wait for a package to arrive, customer satisfaction can dramatically drop.
If you have a lot of orders coming from the US, you should find a print on demand supplier with a UK-based facility to fulfill these orders for you.
Note that not every print on demand business has the facility in the country or offers international shipping.
Product catalog
When you choose a print on demand company in the UK, consider what products you want to target to the UK customers and find a print on demand partner that can fulfill these products.
If you want to sell popular print on demand products like T-shirts, sweatshirts, hoodies, mugs, almost every print on demand UK company can manufacture and deliver these products for your store. However, if your plan for the UK market includes some less common products, it's likely that you need to extend your research to find what print on demand companies have these options.
Customer support
When using print on demand services, there is a high chance that you will need support from the supplier along the way. It is of high importance to find print on demand suppliers that can timely handle urgent requests or support.
Service and features
Apart from the main service of fulfillment, each print on demand company can come up with different plans and services. Some print on demand can even do the designs and photography for you. Depending on your needs, you should find a print on demand company that can deliver the job.
Besides production and shipping, a large part of the print on demand services has to do with the software. Since most of your print on demand businesses are remotely controlled online, it is of great importance for print on demand companies to possess a user-friendly and functional platform.
It is best if the print on demand platform has a built-in mockup generator that helps you create mock-ups easily and efficiently.
Best print on demand companies for the UK market?
With due regards to all the factors that attribute to a great print on demand supplier for the UK market, we have listed out the best POD partners to serve your UK audience. 
Printful
Printful is one of the major print on demand suppliers in the world. The company has established a worldwide network of fulfillment centers which also includes one UK facility.  
The opening of the UK fulfillment center was announced last year (1). This manufacturing facility provides a variety of printing services, including cut and sew, DTG, embroidery, and so on. These printing technologies enable the customization of a wide range of print on demand products.
After the opening of the UK fulfillment facilities, the Lavia-based print on demand company was able to reduce the shipping time for orders in the UK. Printify claimed to deliver products to everywhere in the country within 2 business days. Before that, the shipping to the UK would take around 6 business days.
Apart from the UK facility, Printful also has other printing centers in Europe, namely two in Lavia and one in Spain. In the near future, this print on demand company also plans to open one facility in Poland as well. If you are having a large number of orders coming from across Europe, Printful can help you distribute your products with efficiency.
But one thing to take into consideration when choosing Printful as your fulfillment partner is the hefty pricing. It means that you will not be able to maximize your profit and make the most out of your newfound business in the UK.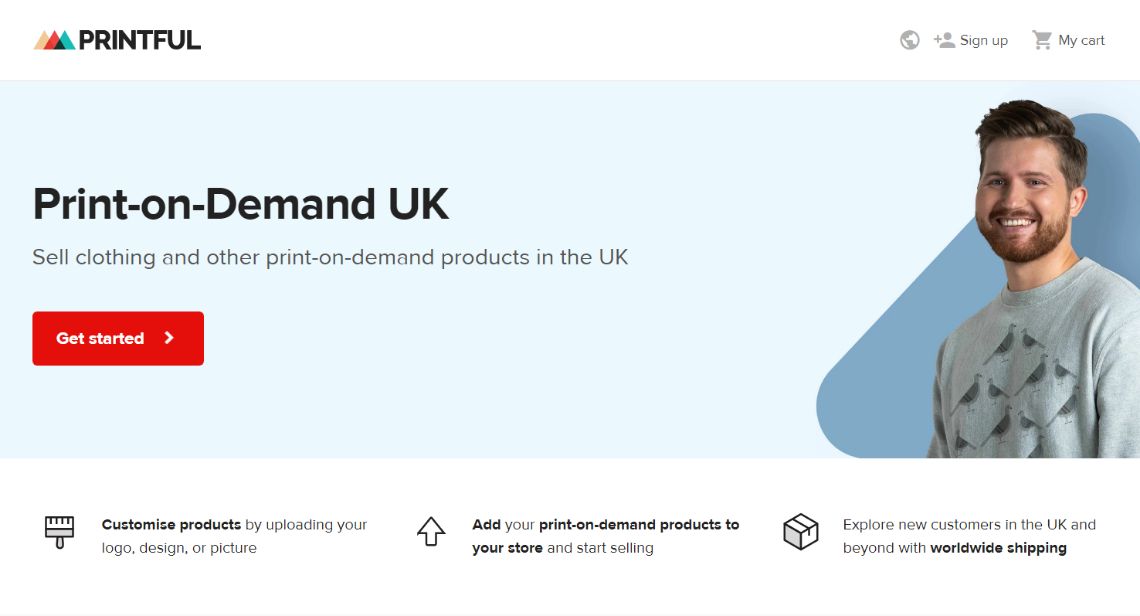 Pros:
Wide range of products available for customization
Up-to-date mock-up generator
Various integration options to various platforms and marketplace
Cons:
Printify
Printify is another major player in the print on demand industry. Especially in the UK, Printify is a solid option for many print on demand sellers.
Unlike Printful which relies mostly on its in-house printing facilities, Printify adopts a different business model in which they will outsource the printing services from third-party partners. This model allows them to work with multiple printing partners in different regions. For example, while Printful only has one fulfillment facility in the UK, Printify has around 5 printing partners within the country, including Harrier, MANNA, Print Clever, Prodigy, T-shirt and Sons, WPaPS.
Each printing partner can fulfill a number of products. Depending on which printing provider you choose, you can sell a different range of products, from apparel to home and living items.
With multiple printing on demand manufacturers, Printify can offer a high level of flexibility for your business and faster shipping. However, the downside of Printify's services is the possibility of inconsistent quality. The printing quality can vary, depending on which printing providers you are choosing. It would take a while for you to experience and find out which printing partners can best match your needs and requirements.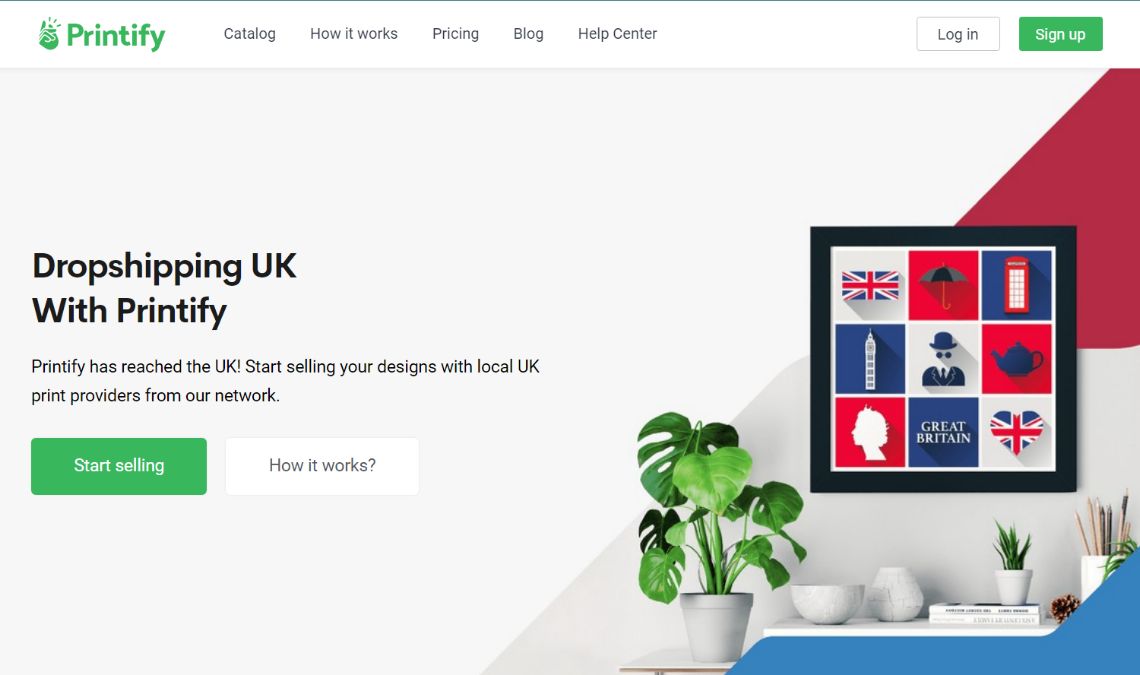 Pros:
Flexibility to choose the printing facility that best suits your needs
Various product options to choose from
Fast and cost-effective shipping within the UK
Easy-to-use mockup generators
Multiple integration options to the top marketplaces and popular platforms
Cons:
Inconsistent product quality
More time to experience the services and choose the best option
Prodigi
Prodigi is not as popular and well-known as Printful or Printify. However, this company is constantly gaining recognition and popularity, especially within the UK market.
Headquartered in the UK, Prodigi is running three offices in London, Alton, and Cardiff.
In addition, this print on demand company has in-house printing manufacturing facilities in the UK, US, and the Netherlands. In the UK in particular, Prodigi has two fulfillment centers – one in Farnham and another in Alton.
With this strong base in the UK, Prodigy has the full capability to deliver reliable and efficient printing on demand services within the country.
Prodigi has a diverse selection of print on demand products in different categories, from apparel, accessories, stationery, home & living. This wide range of products provides various business opportunities for sellers who are targeting the UK market.
It should be noted that Printify also outsourced Prodigi as their printing partner in the UK. But Prodigi only offers three custom products via Printify. If you want to access the full product catalog, you should connect directly to Prodigy.
Along with the advantages it has to offer, Prodigi still owns some shortcomings that it needs to work on. One of those is the lack of integration options. At the moment, the print on demand company only allows native integration to Shopify and Bigcommerce. If you are selling print on demand on platforms other than Shopify or Bigcommerce, you might need to get technical support to process the integration or submit your order manually to Prodigi's system.
In addition to that, Prodigy's shipping time within the UK is far from the best. It might take a while for your orders to be delivered to the hands of buyers.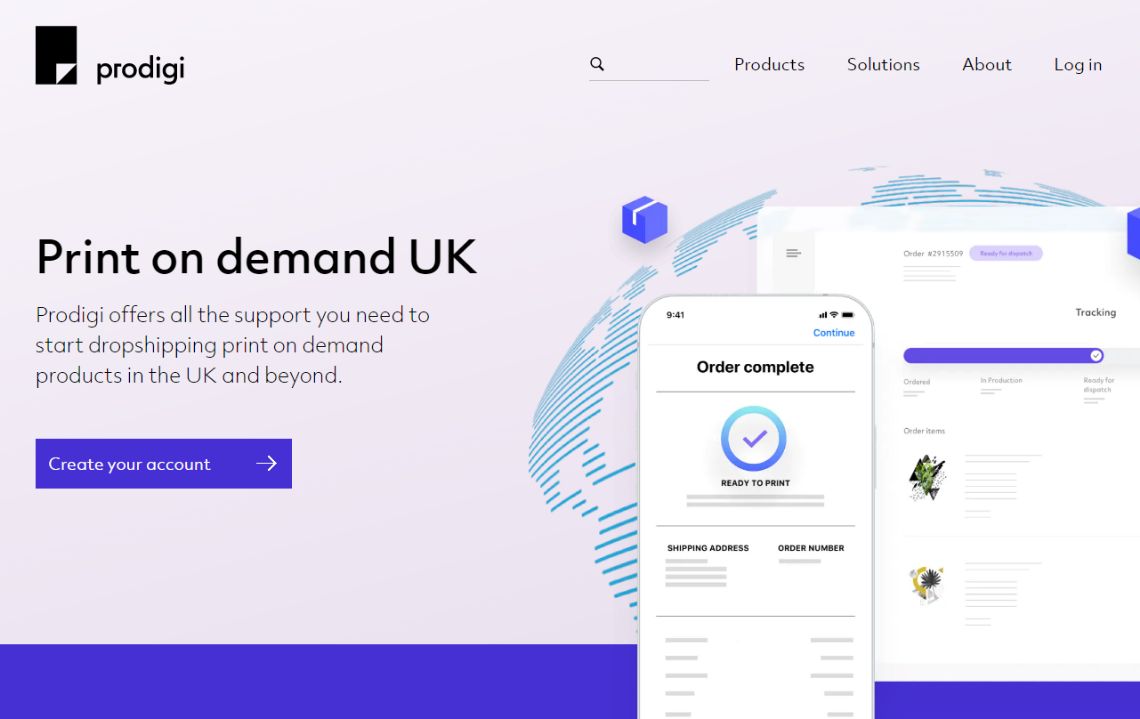 Pros
Large selection of print on demand products
Reliable and trustworthy product and services
Various facilities and offices in the UK
Cons
Lack of integration options
Higher prices for some items
Some products can take a while to deliver
Two Fifteen
Two Fifteen is another local print on demand supplier that can fulfill your print on demand orders within the UK territory. While having a small presence in the worldwide market, Two Fifteen is actually very well-known among the print on demand sellers coming from the UK.
Two Fifteen majorly operates within the UK market with its main in-house facility located within the country. This print on demand company offers efficient and fast shipping in the country. It is said that orders within the UK only take around two to five days to arrive.
International orders might take a significantly longer time to be delivered and cost a lot more, which is why Two Fifteen isn't well-known among international print on demand business owners.
The UK print on demand provider has a very convenient and easy-to-use platform that can be integrated with various ecommerce platforms, including Shopify, Bigcommerce, Woocommerce, Wix, Squarespace, Big Cartel, EKM. Two Fifteen can also sync and fulfill orders coming from your Etsy store.
In addition to its various integration options, Two Fifteen also provides a large selection of print on demand products. Apart from the essential and popular print on demand products like T-shirts, hoodies, mugs, and so on, this UK print on demand provider also allows you to sell some unique custom products like car mats, compact mirrors, money boxes, compact mirrors, chopping boards, tea towels and so on. These unique options can add diversity to your product category.
Another notable strength of this UK print on demand company is its commitment to deliver strongly ethical and environment-conscious products. It can be a great option if you are building a brand that has a similar message.
On the downside, Two Fifteen has limited printing options. At the moment the print on demand company only provides two printing methods, which are direct to garment (DTG) and sublimation.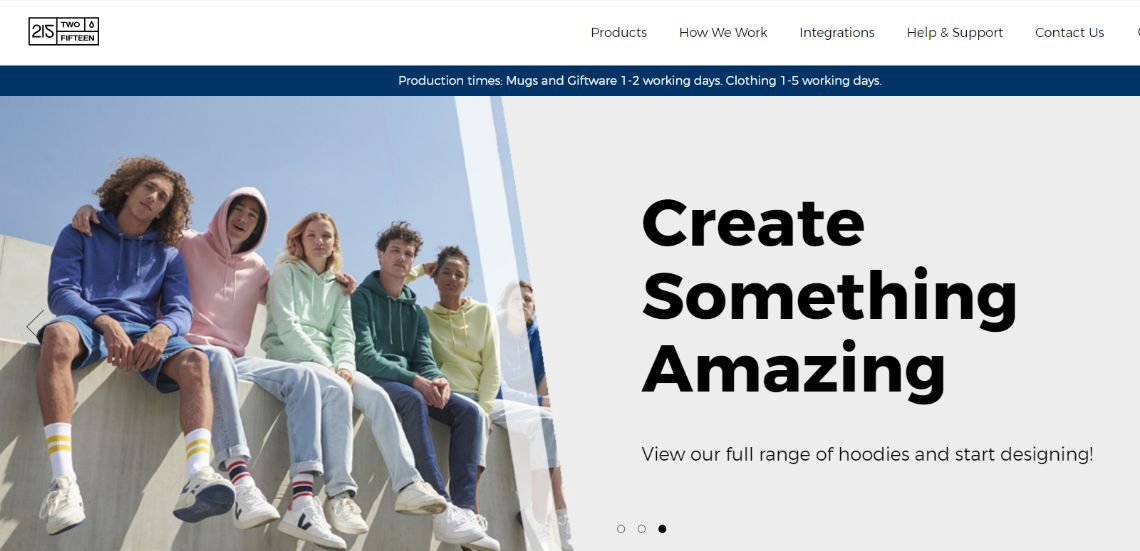 Pros
Local production in the UK for fast and efficient shipping
A unique selection of print on demand products
Wide range of integration options
Commitment to ethical and environment-friendly production
Cons
Smaller range of products
Limited options for international shipping
Spreadshirt
Spreadshirt is a widely chosen print on demand platform in the market. Unlike other print on demand companies on this list, Spreadshirt can offer a marketplace for print on demand sellers.
Similar to other print on demand sites like Redbuddle and Zazzle, Spreadshirt allows people to upload artworks to its website and start selling print on demand products to the existing shoppers on the website. Print on demand marketplaces like Spreadshirt does not require you to create your own websites in order to start your eCommerce business.
In addition to the POD marketplace, Spreadshirt also allows you to set up your print on demand store with customizable settings. This online store can fully function as an independent eCommerce storefront with product categories, shopping carts, payment gateway, and so on.
Another plus of Spreadshirt is that this print on demand site takes responsibility to advertise your products to the right target audience.
Even though the company currently has no product facility or office in the UK, it has grown a production system across Europe, allowing it to distribute orders effectively to customers in this region including those in the UK. That being said, it could not compete with those print on demand companies that own facilities in the UK in terms of shipping cost and shipping time.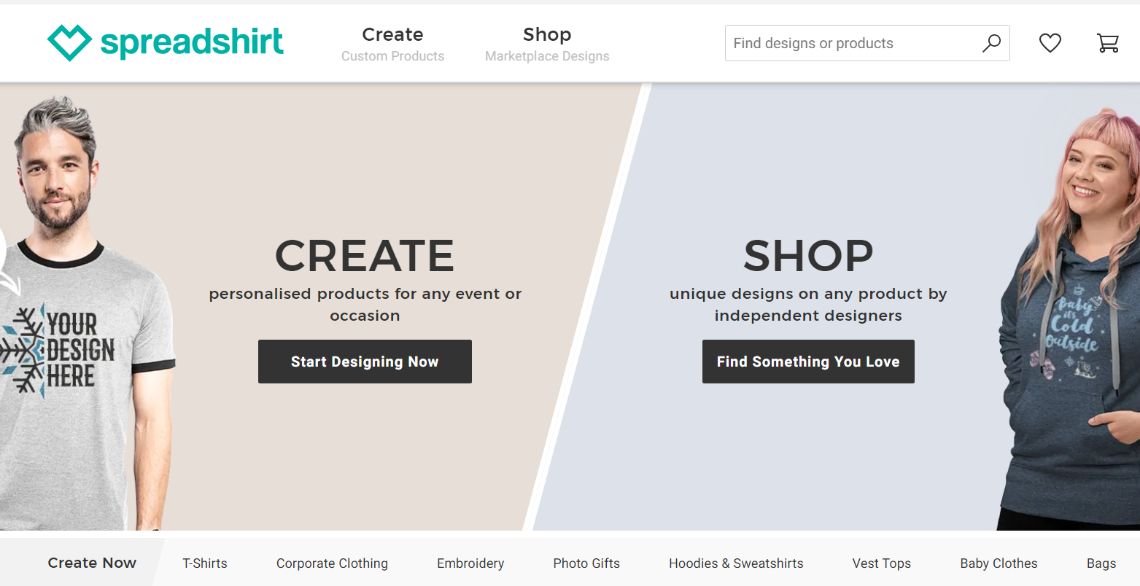 Pros:
Large marketplace with a number of existing customers
Wide range of products
Easy entry and low maintenance business
No need to do advertising and promotion for your shop
Cons
Stiff competition against other products in the marketplace
Lower profit margin
No local production in the UK
Gelato
Gelato is an emerging print on demand company with a worldwide production and distribution network.
Similar to Printify, this print on demand company collaborates with various printing partners in different locations across the world. Currently, Gelato reports presenting in over 34 countries including the UK. If you want to expand your online business globally, Gelato can be a good print provider
In the UK, Gelato has 8 fulfillment centers. From these local production centers, your orders can be delivered to the customers within 2-5 business days.
Gelato also provides integration options to some of the biggest eCommerce platforms in the world like Shopify, Woocommerce, Bigcommerce, Wix, and Squarespace. Like other print on demand companies, it also provides integration to Etsy.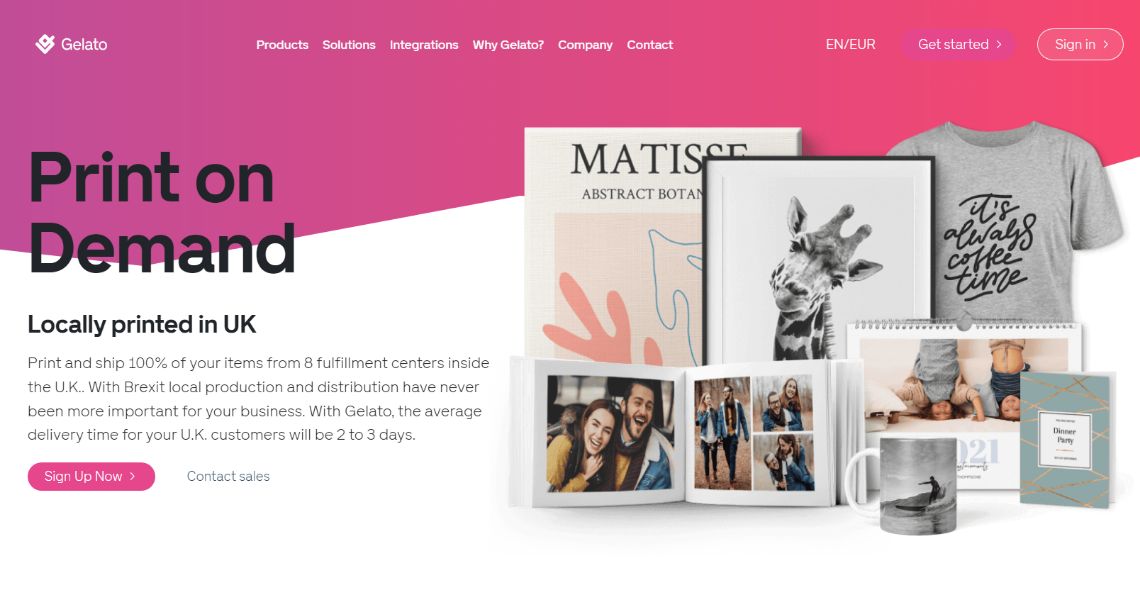 Pros
A broad network of print on demand fulfillment centers across 34 countries including the UK
Fast shipping
Various integration options
Cons:
Limited product options
Expensive price
Pwinty
Pwinty is one of the best print on demand companies in the UK. Apart from its in-house printing facilities within the UK, the print on demand company also works with over 30 printing providers across different countries. This large network of print providers allows Pwinty to optimize the international shipping process and reduce the shipping time and shipping costs.
Notably, in 2017, Pwinty was acquired by Prodigi and is now operated as a subsidiary of Prodigi Group. Still, it provides services independent of what Prodigi is delivering.
Pwinty has over 300 items available on its catalog, offering various business opportunities.
What makes Pwinty stand out from its competitors is its 24/7 manufacturing. With the production running all day long, Pwinty can speed up the production process and deliver the finished product faster. This print provider states that 80% of their products are manufactured and shipped within 2 days.
Pwinty provides API solutions that allow you to develop your integration to your website or app, offering a high level of customization. The downside is that Pwinty has yet provided direct integration to popular platforms and marketplaces.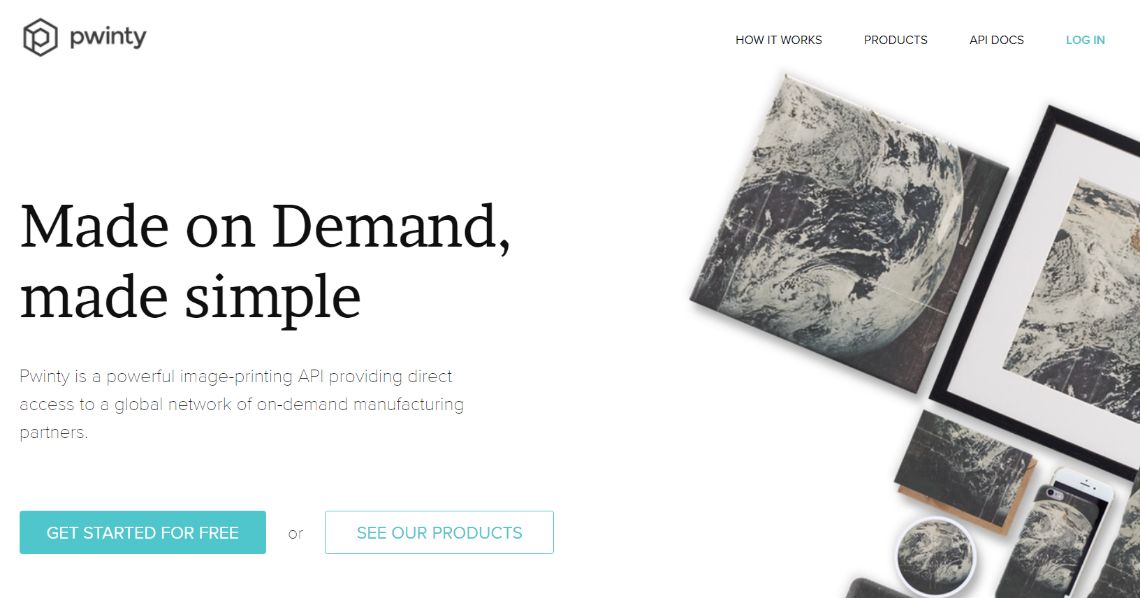 Pros:
Large networks of print providers in the UK, Europe, and across the world.
24/7 manufacturing for fast production time and shipping time
Various production options to choose from
Cons
No direct integration to popular platforms like Shopify, Bigcommerce, WooCommerce.
Snuggle Printing
While Snuggle Printing has yet gained recognition among international print on demand sellers, it has been around for quite a while and earned trust from many UK sellers. It is known as one of the best printing companies in the UK considering the print quality.
Along with the high-quality products, Snuggle Printing also promises to provide competitive prices for its services and products. It currently has one printing facility located in Peterborough equipped with state-of-art printers and technologies. The printing providers are offering two main printing methods: direct to garment printing, UV printing, and sublimation printing.
With expertise in printing, the company has the capability to fulfill wholesale orders as well. In a way, any chances you want to make a large quantity order in the future, Snuggle Printing can be a worthy option to consider.
Originally, Snuggle printed mobile phone cases only. Later on, the company expanded its product range and started to print custom garments, mugs, and other products as well.
But the biggest disadvantage of Snuggle Printing is its lack of integration option. At this point, Shopify sellers can connect their store to Snuggle for print on demand fulfillment. But if you are using eCommerce platforms other than Shopify, you need to submit orders manually. Mockup generator isn't a part of the deal as well.
Pros:
High-quality products
Wholesale option available
Local production
Cons
Lack of integration option (only from Shopify)
A small selection of print on demand product
No mock-up generator
Sellfy
Among the best print on demand companies in the UK, Sellfy offers more comprehensive solutions for print on demand businesses.
Basically, you can build a print on demand business from scratch with Sellfy. This company allows you to create your storefront on your own domain. Sellfy's storefront service is available at a monthly fee. It could be a convenient option for you to build a storefront without too much technical knowledge. Sellfy storefront service makes it easy for you to customize your online store and upload new products.
Sellfy is more well-known as an eCommerce platform for digital products. In fact, Sellfy was originally a platform that empowered creators and artists to sell digital products like e-books, videos, or music through a subscription-based model. Later on, Sellfy has expanded its services to include print on demand services.
Due to this origin, Sellfy can offer advanced and excellent solutions for eCommerce businesses like marketing tools, analytic tools. These adds-on help store owners optimize conversion rate or advertise their products to their target audience.
About their print on demand services, Sellfy is currently offering a selection of apparel, bags, drinkware, stickers, posters, apron, and phone cases. All of these products are printed using the Direct-to-garment method. Unfortunately, there are currently no all over print options available on its product selection. Print on demand sellers can also make use of Sellfy's mock-up generator where you can customize your merchandise with text, graphics, colors, and labels.
Sellfy has a business that spans across different trades and print on demand isn't the focus of the company. Obviously, the solution catered specifically to the print on demand business isn't the best in the market. For example, Sellfy does provide integration to popular platforms for print on demand business.
In order to have access to Sellfy's eCommerce tools, you need to subscribe to its monthly or annual plan. The free plan is on offer but with many limitations.
It is not sure if the company is having any fulfillment center in the UK or not. Sellfy's business has more to do with digital solutions than physical production, our bet is that they can either have a printing partner somewhere in Europe or the UK to manage the production for them.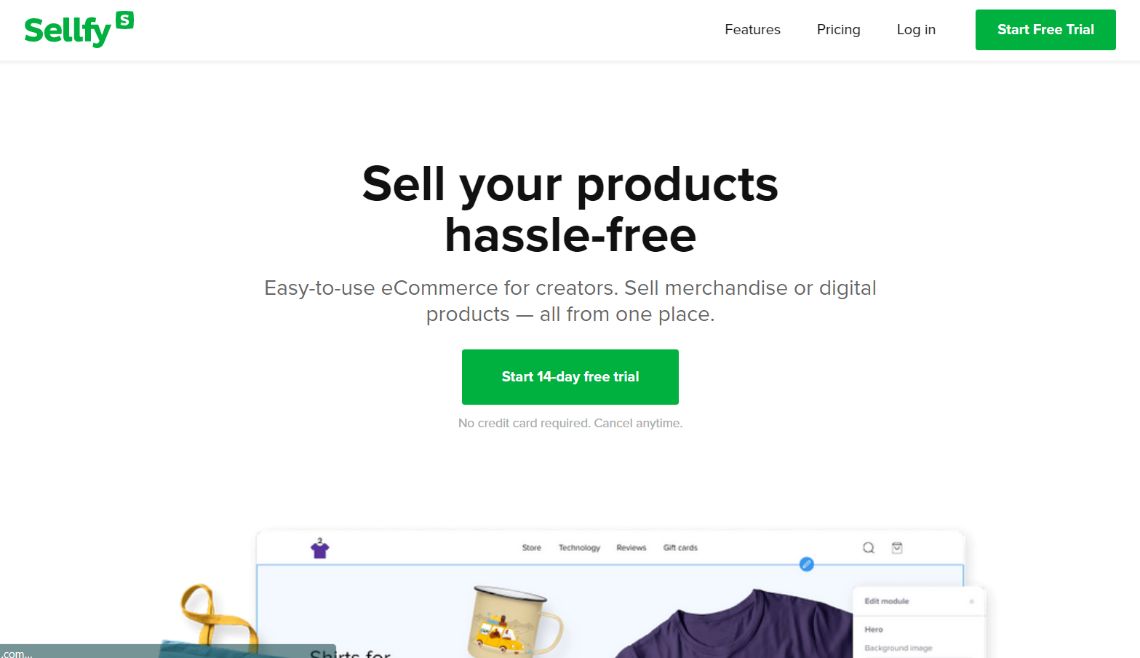 Pros:
All-in-one eCommerce platforms for both digital and print on demand products
Easy approach to open an online business
Availability of advanced marketing and selling tools
Cons
Limited collection of print on demand products
Monthly fees required to sell print on demand products
Inkthreadable
Inkthreadable is unquestionably one of the best print on demand companies in the UK. This print on demand provider can offer basically all services and features that you might need for your online business.
With a manufacturing facility located within the UK, Inkthreadable manages to handle all orders with efficiency and speed. Currently, the company is using Royal Mail as its shipping partner, keeping a stable and affordable shipping rate.
Up to this point, Inthreadable has introduced around 250+ products in its catalog. This is not the best in class but surely provides all the essentials for your print on demand shop. Inkthreadable is making use of two main printing methods, Direct to garment and Dye Sublimation. There is also an option to embroider texts and details into the garment as you wish. Besides customizing the graphics and colors of your products, Inkthreadable also makes it possible to add your own custom labels, allowing you to mark your brand on the products.
In addition, Inkthreadable also pays close attention to the sustainable and ethical side of its business. Rather than a marketing stunt, the company has committed to translating its philosophy into practice. For example, since 2019, Inkthreadable has successfully abolished the use of plastic packaging from its manufacturing and packing process.
In terms of integration options, Inkthreadable sellers can connect to platforms like Shopify, Woocommerce, BigCartel, Wix, Squarespace, as well as stores on Etsy.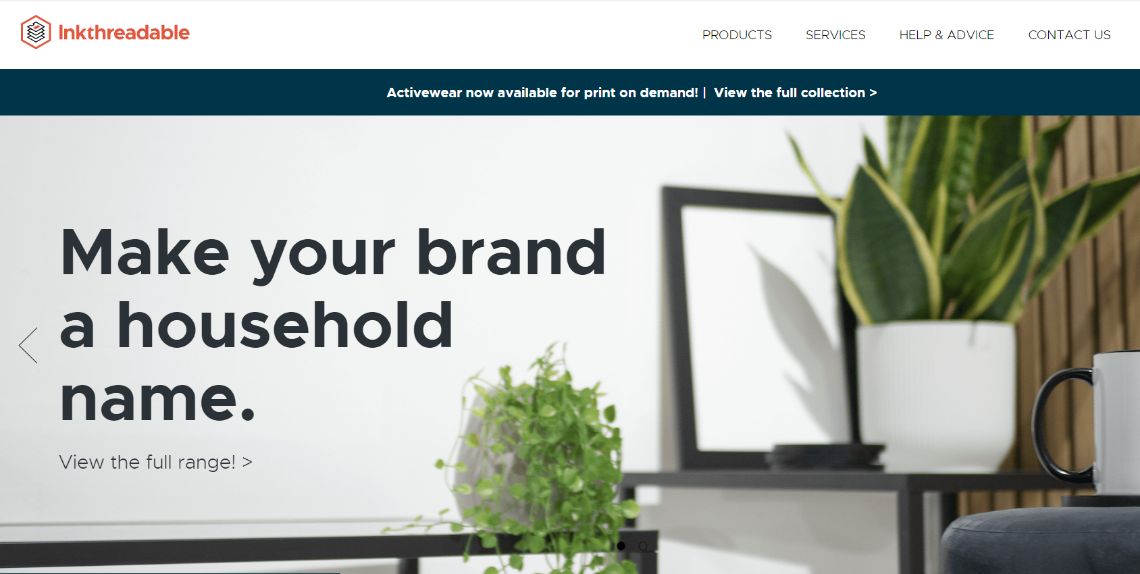 Pros:
Local production in the UK for faster and more reliable delivery.
Various integrations to top eCommerce platforms and markets
Wide range of products
Sustainable and environmentally friendly manufacturing and shipping
Cons
Expensive pricing
Slow international shipping
Contrado
Contrado is clearly a noteworthy name among the best print on demand companies in the UK. Starting out pretty early in 2002, this print on demand can provide a variety of products and services that allow artists, designers, and print on demand sellers to leverage their business.
The company has a broad selection of print on demand products. To this point, Contrado has expanded to over 450 items in its product range. All of these products are printed from their UK-based fulfillment center, providing consistent quality and the highest quality control. Plus, the local in-house production allows a faster delivery within the country. However, the shipping rates for international orders might be a bit on the costly side.
Besides the regular products that most print on demand companies in the UK can provide, Contrado has some unique options that allow you to print design into materials like leather, fabrics of different types, from cotton, canvas to silk, velvet. These options open up new possibilities for your business.
In addition, Contrado also provides various branding options for print on demand sellers. These include adding custom private labels, delivery notes, care labels, packaging inserts like thank you cards.
With Contrado, you can either sell products on your existing websites and stores or sell directly via your own store on Contrado's platform. This store even allows you to set up different currencies and languages – suitable to approach the global audience. It should be noted that Contrado only allows integration to Shopify websites only.
Besides the regular print on demand, Contrado also provides dropshipping services and fulfills wholesale orders. The latter option comes with exclusive prices that allow you to gain higher profit margins.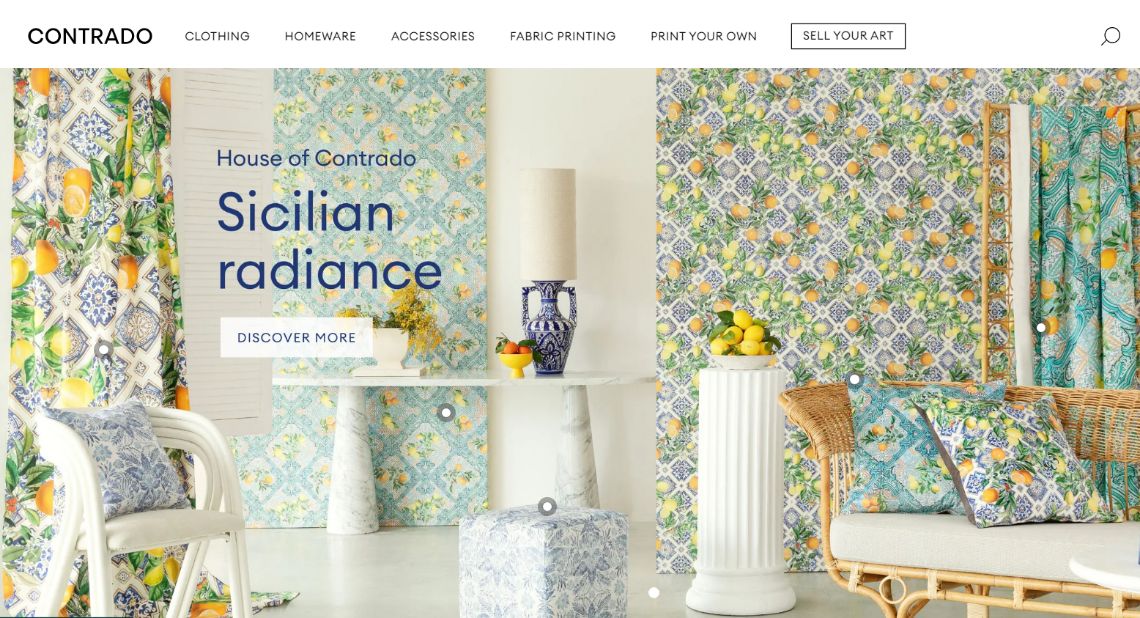 Pros:
Local and in-house production
Large selection of products
Wholesale selling option available
Various branding options
Cons
Shopify integration only
Expensive pricing
Wrap up
These best print on demand companies in the UK is a great start for you to consider when deciding to penetrate into the UK market.
References:
1, Jasmine, Printful opens fulfillment center in the UK retrieved from
https://ecommercenews.eu/printful-opens-fulfilment-center-in-the-uk/