In recent years, more and more people have come to the realization that your income does not necessarily limit to your daytime job only. With our special skills and expertise, we can easily find opportunities to make some extra cash outside our full-time job. As an artist, your ability to create beautiful arts is highly sought-after. One of the great mediums for artists to make money is through print on demand business. In this post, Merchize will help to list out the best print on demand sites for artists.
1. How artists can make money with print on demand?
The creative power of artists allows you to have multiple sources of income. You can either sell their unique artwork or work on different projects for clients. However, these kinds of work are highly dependent on how much time you can spend on working. The more you work, the more money you can generate. On the other hand, if you don't work, there will be no income.
There are still other ways to create some sort of passive income for creative professionals. Musicians can make music and earn money from streaming platforms like Youtube or Spotify. Photographers can upload their photos on stock websites to earn royalty each time people download their images. Artists can sell printables and digital artworks online. These are a few examples of how artists can make money by selling their arts.
Besides these traditional ways to create income, artists can make money by selling merchandise – physical products related to their brands or using their artworks.
How to put your art on merchandise without upfront cost?
Want to start selling merch without upfront cost? Print on demand is the solution for you. Products will only be printed once the order arrives. There's no need to worry about the inventory or shipping. Everything is handled by your print on demand suppliers, from manufacturing, warehousing to shipping.
Here are two popular ways for you to sell art with print on demand:
1, Sell on print on demand marketplaces
Big artists can make a huge profit out of selling merchandise thanks to their well-established brands or their huge following. If you are a small artist with a smaller to no audience. How can you sell your product?
Well, doing print on demand is how you make merch for free – without upfront cost. By uploading your design on marketplaces like Etsy, Amazon, eBay and making use of the existing visitors and shoppers on these websites to buy your merch, you can create a source of income without hassle. You don't even have to have a large existing audience to monetize your arts. These print on demand sites will take care of promoting and advertising your products. You only have to care about what you do best – create a wholesome design. As long as your art can capture the shoppers, you can always gain money.
Selling merchandise on print on demand websites for artists is the easiest way to make some money. The less maintenance of this business comes at the expense of the profit margin. You can sell your art for less money on these print on demand sites than what you can earn if you sell print on demand by yourself.
Moreover, with these print on demand websites for artists, you have no option to build your own brands. You just present as an individual artist, not a business brand at its full entity.
Pros

Cons

Offers marketplace where buyers can find your products

Does the marketing to attract visitors to the website

Pays through commission, lower profit

Offers fewer product options

Has limited options to build your own brand
2, Sell on your own stores with print on demand companies
Compared to the previous option, this option offers more space for you to get involved with your online business. Print on demand companies will only help you with the production, inventory management, and delivery of your products. Besides designing, in order to get your business up and running, you have to do the advertising and marketing for your business, which involves a variety of skills rather than just design skills.
In return, you can earn more money when working with print on demand services for artists. You have total control over how much you can sell for a product. It's also a great opportunity for you to operate a business, build your own brand without the inventor risks or upfront costs.
Pros

Cons

Offers high profit margin

Provides various product options

Allows you to build your own brand

Doesn't offer a marketplace to promote your designs

Doesn't do marketing activities on half of your business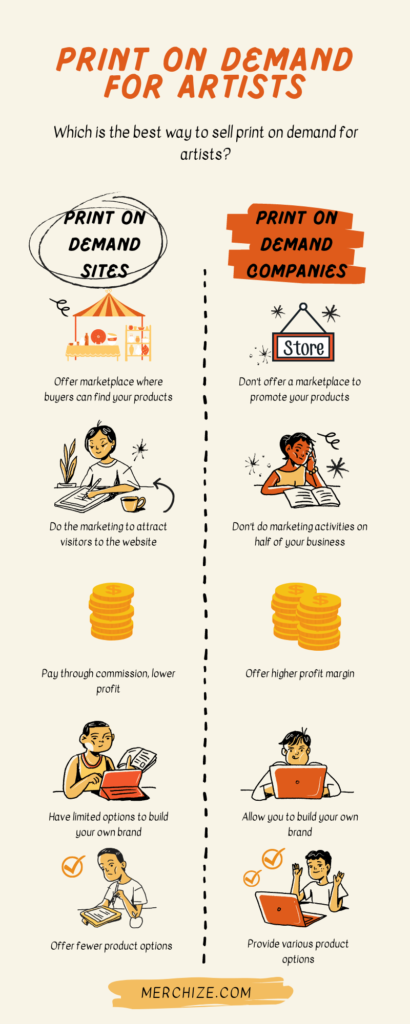 Read our guide on how you can start a profitable print on demand T-shirt store.
By weighing the pros and cons of each option, you can find the right choice that makes the most sense in your situation and match your expectation
Now let's run down our list of the best print on demand sites for artists, photographers, designers to make money.
How to find the right platform to sell your art?
There are multiple platforms where you can upload your arts and earn money. Here are a few things that you should take into consideration when choosing the place to introduce your arts.
Traffic
This is the key metric that reflects how large the audience on print on demand art sites is. Obviously, the higher the traffic is, the better. Here's one thing you should be careful of when checking the traffic metrics.
Print on demand sites will have a few sources of traffic – direct, referral, search, email, etc. However, there are two key sources that will tell you the true size of the audience on these websites – organic search and direct traffic. If a site is able to attract a good number of organic visitors as well as direct traffic, there is a lower need to push the traffic and sales on the sites through advertising. Of course, paid traffic is still very important. It shows the commitment that your products are promoted properly to the right people.
Profit margin
Each site will have a different way to determine how much the artists can make out of the sold items. Unlike with print on demand companies where the sellers are entitled to set up their pricing, there is a limit to how much profit the artist can benefit from selling merchandise on print on demand sites. Profit margin limitation will directly affect how much you can earn.
Copyright
As an artist, it is always of high priority to protect the copyrights of your art. Whenever you publish anything on the internet, artists are expecting to see a certain level of protection over their copyright. No one wants to see their art robbed or benefit others.
Copyright is a big issue on many print on demand marketplaces. Always be considerate of the copyright issues when choosing a marketplace to publish your art.
Competition
Competition is an important factor that affects the chance of being successful in a marketplace. A website might have good traffic. But at the same time, the competition is also high. In that case, you will prefer a website with slightly less traffic but less competition.
Print on demand sites
Monthly Traffic
Profit margin
Product Variation

Redbubble

29.5M

Flexible

+70

Zazzle

16M

Flexible (Additional

Fee for items with > 15%)

N.A

Teepublic

9M

Fixed ($4-$5 for a T-shirt)

+75

Fineartamerica

6.5M

Flexible

+40

Society6

6.5M

Fixed (10% with exception of art prints)

+80

Teespring

5.5M

Flexible

+50

Cafepress

2.3M

Fixed for a regular store (10%)

Flexible for Premium store

+300

Spreadshirt

2M

Fixed (Around 20%)

+ Volume commission

+200

Threadless

2M

Fixed (Around 10%)

+ Rewards for Winner of the Design Challenge

+100

Merch by Amazon

N.A

Flexible

+20
2. Best print on demand sites for artists
It is possible for artists to upload their arts on multiple platforms at the same time. That being said, being on multiple platforms means a massive workload to manage and maintain all accounts at the same time. Plus, only a few can bring you considerable revenue, which makes them worthy of your time. Instead of being present on every single print on demand site out there, you should pick two or three sites to list your designs.
In the following, we will run down the list of the best print on demand sites for artists in 2021, explaining each option's pros and cons, and how much they pay for artists as well as how you can sell your designs on these art-selling websites.
Redbubble
Founded in 2006, Redbubble is one of the biggest websites dedicated for print on demand products. The company is headquartered in Melbourne, Australia. At the moment, this global online marketplace for print on demand has opened two offices in San Francisco, US, and Berlin, Germany.
How Redbubble works – Pros and cons
Basically, Redbubble functions as a marketplace for print on demand. They are in charge of printing the product, shipping, managing the inventory as well as other related marketing activities to attract customers to the site.
After signing up with Redbubble, you can upload your artwork, choose products, and list your products for sale, all free of charge. Once a customer buys your product, Redbubble will print and deliver it to the door of the customer.
Pros
Biggest traffic

: Redbubble has a large number of monthly organic traffic, which explains why many artists decide to choose this website as their main platform to sell their designs. On average, each month, Redbubble attracts around 30 million traffic in total, which is higher than any other standalone print on demand marketplaces. It is nearly double the number of the second largest POD site – Zazzle.

No marketing attempt required to generate sales

: One of the peaks of Redbubble, as well as other print on demand sites, is that users don't have to promote their store in order to generate sales. Instead of running expensive ads, designers can count on the organic traffic coming from search engines as well as direct traffic to the websites. Besides, Redbubble also allocates budgets to promote the listings on their website.
Cons
Small number of product options:

While being the largest standalone print on demand market, Redbubble only offers around 60-70 product variants for sellers to print their arts on. This collection covers most of the essentials. But still, it is still a huge missing opportunity to generate sales and provide exciting buying experiences for the shoppers.

Design copycats:

A big issue in such a large marketplace is copycat. It is easy for people to scrape for the best selling on Redbubble, which creates opportunities for others to steal and copy your designs. Sadly, it seems that Redbubble has not offered any solution for this issue.

Competition:

A larger market means fiercer competition, no surprise. And copycat thefts make it even worse. Now, you compete not only against other artists and designs, but also against yourself, or, your copycats to be exact.

How much does Redbubble pay you?
Artists and designers who upload their arts on Redbubble will get a royalty when a product is sold. The default rate is 20%. However, Redbubble does not limit the profit margin range – which means you can literally set it as high as 100% of the retail price.
Even when you can set any price for your design, don't set it so high that it shocks the shoppers and makes them abandon your products right away. The ideal profit margin usually ranges from 10 to 30 percent. The artist can adjust the profit margins within the given range.
With each item sold, the royalty will be added and the minimum balance required for payment is $20, the print on demand site will pay the royalty either via Paypal or your registered bank account. The payment will be processed once a month.
How to sell art on Redbubble
It is quite simple to list your artworks on Redbubble. The first step is to create an account on Redbubble, which is all free. It is required to confirm the payment information before you can sell on Redbubble. From this point, you can upload your work to the website. You can choose the products to add your artworks and come with the most attractive titles and descriptions for your products.
Last but not least, remember that you should own the copyright of all the arts you add to your store.
Here is what you can do to optimize your listings to attract more sales:
Use strategic keywords

: Optimizing your titles, descriptions, and tags for high-volume search can increase the chance of your listings appearing on search result pages.

Create attractive and unique design

: Finding a profitable and hot niche is a proven way to boost sales, especially in the print on demand market. Invest your time to do some market research to

find out trending niches

and ideas to incorporate into your design

Customize your store

: Redbubble allows you to customize your storefront. You can get a custom domain, change the header images, avatar, store description as well as add links to your social media profile, websites, portfolio. You can take this chance to introduce yourself, build trust and establish credibility with your customers. This is an opportunity for you to make yourself stand out from the rest.
What sells on Redbubble?
Stickers, phone cases and mugs are the all-time best sellers on this platform. Selling stickers alone will not generate much profit. Each stick sale is only worth a few cents in terms of profit. However, you can upsell it with other items, like mugs, phone cases, t-shirts, for example.
In conclusion, Redbubble is the number one print on demand site for artists, designers and photographers to try out, especially those who are new to print on demand. Its huge traffic and well-established popularity can assure steady income for creative professionals.
Zazzle
Zazzle was launched in 2005, a year before Redbubble. The company had a successful beginning story. In 2007, it was named the "best business model" by TechCrunch at the first Crunchies Awards.
Despite the smooth beginning, as more competitors enter the market, Zazzle seems to lose momentum and fall behind its peers like Redbubble. At the moment, Redbubble's traffic is almost double that of Zazzle.
But Zazzle is far from dead. In fact, the company has developed a strong community of sellers that continues to contribute and make money through this platform. It is safe to say that Zazzle is still one of the best places for artists to earn an income.
How Zazzle works – Pros and Cons
Similar to Redbubble, Zazzle allows independent artists to upload their designs and make money from the royalty. Zazzle is now providing a wide range of products covering different categories, including clothing, stationery, home and living, and more.
Pros
Less competition

– Obviously, the smaller organic traffic, compared to Redbubble, might come across as a turn-off. However, it can be a blessing in disguise. With a significantly larger amount of traffic, artists are elbowing into this platform, which explains the harsh competition here. On the other hand, Zazzle attracts fewer sellers, hence lowering the rivalry.

Wide range of products: Zazzle claims that there are over 300 million unique products available on their site.

Personalization options for buyers

: Buyers love a touch of personalization on products. It is reported that

80% of customers

are more likely to make a purchase if the business can provide a personalized experience. Fortunately, Zazzle is offering a personalization option for their buyers, which is a unique selling point for Zazzle.

A large number of products:

Zazzle has the largest number of products out of all the print on demand websites on this list. A large collection of products allows more opportunities for you to sell your design.
Cons
Not user-friendly interface

: One of the discouraging features of Zazzle is its lack of a user-friendly interface. Users usually complain that it is hard and time-consuming to create listings on Zazzle as it has no bulk uploading feature. It means that you will have to upload one listing at a time.

Technical issues:

Many users also report that they usually encounter bugs while using Zazzle. These bugs might have nothing to do with how much you can earn from this platform. However, it can be very frustrating sometimes. Prepare yourself for any inconvenience that might happen while using Zazzle.
How does Zazzle pay you?
Zazzle calculates the artist's profit in a similar way as Redbubble does. It means that you can set the profit margin for your product.
Unlike Redbubble where designers and artists are free to set the price without any constraint, Zazzle has a rule that a profit margin over 15% is subject to transaction fees. This is something that you should put into consideration when calculating the profit margins for your products.
How to sell art on Zazzle
Signing up for an account on Zazzle is free. With some simple set-up steps, your store on Zazzle is ready and you are able to upload and sell your design.
What sells best on Zazzle?
Zazzle puts a strong focus on content with Wedding and Holiday themes. Zazzle even dedicates a category for Wedding, Gift, and Occasion on their homepage. Customizable products are also a hot-selling option on this marketplace. The best selling options on Zazzle are mugs, T-shirts, and stationary.
Teepublic
Teepublic is another platform that allows artists and designers to make money from print on money. Launched in 2013, Teepublic used to make t-shirts exclusively. However, later on, the company has expanded to other categories like stationery, mugs, phone cases. In 2018, Teepublic was acquired by Redbuble. However, these two print on demand websites still operate independently.
How Teepublic works – Pros and Cons
Pros
Good organic traffic

: Teepublic has a big number of organic traffic that ranked only after Zazzle and Redbubble. On average, Teepublic attracts around 4.5 to 5 million traffic through Search. Organic traffic also contributes to over 55% of the total search traffic to this site.

Efficient upload process

: One of the great things about Teepublic is its efficient and user-friendly upload process which allows you to upload your design in quick few steps.

Good growth indicator

: While being a newer player in the market, Teepublic has shown some positive signals of its future growth. The branded search volume for Teepublic has consistently grown over the years. The site also receives overwhelmingly positive feedback on Trustpilot. Teepublic with over 130,000 reviews and an average score of 4.3 on Trustpilot. It is the highest score that a print-on-demand website has received.
Cons
Low-profit margin:

The biggest turn-off of Teepublic is its low profit margin. On other websites, it is up to the uploader to set the commission rate for their design while Teepublic has already set a fixed royalty for their products. For example, with each T-shirt sold, you will receive a fixed amount of $4. This number can even be lower during the sale period.

How does Teepublic pay you?
As mentioned above, Teepublic has fixed the commission rate on each item.
T-shirt: $4-$5

Hoodie: $8

Tank top: $4

Phone case: $5

Mug: $3-$4

Pillow: $4

Tote: $4

Tapestry: $9

Pin, magnet: $0.5

Mask: $2
Your commission will be paid via your Paypal or Payoneer account once a month.
How to sell art on Teepublic?
To sell on Teepublic, you will follow the same process that it requires to onboard on other platforms. Afterward, you can set up your own store and add your design. Each time a design is uploaded, it will be automatically offered at a sale for 72 hours. After this period of time, the price will go back to the normal price.
Fineartamerica
FineArtAmerica is the best print on demand website for photographers. While the website is up for any types of designs and arts to be uploaded, its best-selling and main staple remains to be wall arts, prints with photographic images.
How Fineartamerica works – Pros and Cons
Artists and photographers can upload their images on FineArtAmerica. Whenever an order is made, FineArtAmercia will print your image into the product and ship it to the customer's address. You don't have to worry about the inventory or shipping.
Pros
A good amount of organic traffic:

FineArtAmerica's total traffic is just about 40% of Zazzle's, but surprisingly (6.5M vs 16M), this website has just about the same amount of organic traffic (4.4M vs 4.1M). Compared to Society6, who comes close in terms of total traffic, FineArtAmerica has double the organic traffic (4.1M vs 1.9M). This impressive number suggests that FineArtAmerica is going in the right direction with their SEO strategy.

Good user experience:

FineArtAmerica has done a great job in designing a great user experience. The website is minimalized, well-organized, easy to navigate. Not only benefiting the buyers, a good categorization and filtering functionality increase your product's visibility significantly.
Cons:
Free listings for 25 designs only

: Most of the websites on this list do not charge the sellers anything to get their images listed on their website. But things are slightly different with FineArtAmerica where they only offer free listings for the first 25 designs. After the 25th design, you will have to sign up for a premium plan in order to continue uploading images on this website.

How much does Fineartamerica pay you?
Artists and photographers are allowed to set their own prices.
FineArtAmerica will pay you through Paypal. This website does not require a minimum balance on your account to process payment, which means that regardless of how much you earn, the company will pay you on a monthly basis.
How to sell art on Fineartamerica?
First, you will need to sign up on FineArtAmerica. After registering your account, you are able to upload your images on this platform. You are entitled to upload 20 images for free. Besides working with individual artists, FineArtAmerica also collaborates with galleries to print their images.
The best-selling products on FineArtAmerica are posters, prints, wall decors, cards, and so on. FineArtAmerica is also one of the art selling websites with the highest quality print on demand.
Society6
Compared to the two previous websites, Society started later. But Society6 has successfully branded itself as a unique and cool place that is full of aesthetic designs. While it doesn't have a wide-range audience, Society6 has attracted a good number of loyal customers.
How Society6 works – Pros and Cons
Pros:
Appealing user interface

: Society6's website should have the most visually appealing interfaces of all the print-on-demand websites out there. A good interface can make visitors happy and get hooked. It can also make your products appear more desirable to the shoppers.

Huge social media presence

: Society6 has a big number of followers across different social media platforms. The aesthetic style of this website easily appeals to the existing users on social media. It also assures that Society6 knows how to promote your products properly using their strong social media presence.

Multiple sources of traffic

: Society6 knows how to capitalize on their huge followings and direct their existing audience on social platforms to the website.

Good engagement:

Society6 has the highest engagement signals of all the best print on demand sites for artists. Pages per visit metric of Society6 is 5.59 which is even higher than Redbubble. Time on site figure is also high, 4:14 per visit, ranking only behind Redbubble. All of these make it a highly potential Redbubble alternative.
Cons
Low search traffic:

Compared to other websites mentioned above, Society6's search traffic is significantly lower. Take FineArtAmerica for example. While both of them attract around 6 million traffic a month each, FineArtAmerica's organic traffic is double Society's. It means that your product can reach out to fewer potential customers. However, you still have a good chance of garnering sales if your art stands out and fits the aesthetic of the site.

Not compatible with your design:

As mentioned earlier, Society6 has a very well-defined and distinctive design. In order for your products to really catch on here, your designs should be aligned with what Society6 is trying to present. If your style is vastly different from Society6's preferred style, you might not find this marketplace profitable.

How does Society6 pay you?
Society6 still follows the commission payment model as other sites on this list. But instead of letting you freely set the price, Society6 restricts the commission rate to below 10% for mostly all of their products with the expedition of art prints. This will heavily influence how much you can earn from selling your print-on-demand products.
How to sell art on Society6?
Just like other sites on this list, the entry barrier on Society6 is very easy. After registering an account on this platform, confirming the payment information, you are all set to publish your arts and ready to get sales.
What sells best on Society6?
One thing that should be noted when onboarding to Society6 is that Society6 has a very distinctive style. Most of the designs on this platform will feature the contemporary, minimalist, pattern design with neutral and pastel colors.
Wall arts and home decors like rugs, pillows, blankets, and tapestries are some hot-selling items on this marketplace.
Teespring
Teespring or Spring is one of the best merchandise websites. First launched in 2012 TeeSpring is an eCommerce platform where artists and creators can create and sell products. In 2021, Teespring was rebranded as Spring.
How Teespring works – Pros and Cons
Just like other print on demand sites, Teespring offers the marketplace to sell merch for artists. The company also handles printing and shipping. One great thing about Teespring is that the site offers a certain level of integration with other major marketplaces like Amazon or eBAy through its Boosted Network.
The unique selling point of Spring compared to other print on demand sites is its merch integration with some of the largest platforms for content creators, like Youtube, Tiktok, Instagram, and Twitch.
Pros
Solution for online content creators:

If you are an artist with a considerable following on platforms like Youtube, Tiktok, Instagram, or Twitch, you will find Spring an easy solution to sell merch to your existing audience.

Decent amount of traffic:

While it has yet grown a significant traffic flow, the site is still ahead of other names like Cafefress, Spreadshirt, and Threadless.
Cons
Users handling the marketing:

On Spring, the creators and artists are supposed to promote their designs, not Spring themselves. Your merch, once created, will not go right to the marketplace. Instead, Spring will only list your merch once it reaches a certain number of sales. And in order to do that, you must promote your products yourself. It might work for the artists and creators with an existing audience but not for the regular sellers.

How does Teespring pay you?

Spring allows you to set your own price. You can benefit from the difference between the retail price and the production cost. Unlike other platforms, on Spring, sellers can send payout requests, which will be processed within a week. Payment is processed via Paypal.

How to sell art on Teespring?
It is entirely free and very easy to register an account and start selling on Teespring. But as explained above, it will take some extra effort to get your listing featured on the site. In general, you will have to do some sort of promotion and marketing to ensure that your products are out there for people to buy.
What sells best on TeeSpring?
Apparel is the main staple on Spring. T-shirts and hoodies are what you should go for when selling art on this website.
Cafepress
Cafepress is a US-based online marketplace for print on demand. Users on this platform can upload their images and have them printed on products. Cafepress offers services for customers who want to custom their own shirts, mugs, and more. It also allows artists and designers to start selling print on demand products on their site.
How Cafepress works – Pros and Cons
Just like other names on this list, Cafepress allows artists and designers to upload their arts, pick the preferred products and create listings. From here, you can count on Cafepress with the manufacturing and shipping of products.
Pros:
Good reputation

: Cafepress was among the very first platforms to offer print on demand services. Starting very early, in 1999, Cafepress had the first-mover advantage. At its peak, Cafepress claimed to attract over 13 million members with over 325 million products available.

Wide range of products

: Cafepress owns one of the largest product categories on this list with over 300 items. It means that you will be offered plenty of options for you to put your art on.

Fan portals:

Cafepress also offers the fan portals program where you can submit your fan arts and get the profits from selling merch. The website holds the license to sell merchandise for some famous TV shows and movies like Friends, Game of Thrones, Marvel, and more.
Cons
Falling traffic

: It seems that the heydays of Cafepress were far behind. The popularity of this website has decreased over the years. These days, the organic traffic to Cafepress is only around 2.5 million a month, much lower than other top print on demand sites.

Outdated interface:

It looks like Cafepress needs to do a lot of work in regards to their web design if they want to attract more buyers to their website. The website looks quite outdated and hard to navigate around.

How to sell art on Cafepress?
You just need to create an account on Cafepress. In order to get your design featured on CafePress marketplace, you should opt for the Premium Shop which will cost you an upfront cost to maintain the store.
How much does Cafepress pay you?
Cafepress has a different approach of rewarding the artists and designers who registered to sell on their marketplace. There are three types of shops, namely Basic, CafePress, Premium. Depending on the option you choose, you will be charged differently.
Basic Shop

: It is free to list your products. However, the Basic shop plan only allows you to sell one product. The retail price and the profit margin are up to you.

CafePress Shop

: There is no limit to the number of products you can add to your shop. But it's not you who decides the retail price of the products. Instead, Cafepress will determine the price and your commission rate is fixed at 10%. The product options for you to put your art on are also limited. Also, these products will not be available in the Cafepress Marketplace. It means that you will take full responsibility for the promotion of your store.

Premium Shop

: This is a subscription plan that can be charged monthly, quarterly, or annually. Premium Shop owners are entitled to all the benefits, including unlimited listings, full product options, ability to set the price and margin. There is also a performance bonus if you reach a certain sales milestone.
CafePress will pay you either by check or Paypal. The minimum payment is $100 for a check and $25 for Paypal.
What sells best on Cafepress?
While having a diverse collection of products, Cafepress's best-selling items remain to be T-shirts. One of the tips to drive sales for your t-shirt designs is to find a niche or combine several niches.
Spreadshirt
Spreadshirt is a marketplace for print on demand. The website is owned by a German company called Spread Group. Besides Spreadshirt, the company also owns TeamShirts and SPOD – a print on demand app on Shopify.
How does Spreadshirt work?
On Spreadshirt, you can open a Spreadshop – a storefront where you can display your merch. Apart from providing the platform for your store, Spreadshirt will take care of the printing, managing inventory, delivering as well as payment and customer services. You as the owner of the shop will benefit from the commission which is calculated by deducting total revenue from the product base price and printing cost.
Spreadshop also allows integration into your existing website. It might require a certain knowledge on front-end coding. Moreover, it also allows shop owners to do some customization with the "HTML and CSS" setting option.
From here, Spreadshop will take care of and fulfill all of the orders generated on your website. With this storefront, you will be in charge of the promotion and advertising of your store.
On the other hand, Spreadshirt Marketplace provides a shared space for all artists to sell their merch. Being on Spreadshirt will spare you the work of marketing and advertising since you can take advantage of the existing visitors to the website. It is possible to be on both Marketplace and Spreadshop,
Pros
Availability of both marketplace and storefront

: Sellers can have their own store as well as present on the shared marketplace. It provides a certain level of flexibility and visibility. You have the choice to do the promotion for your designs or not.

Volume commission:

It is possible for you to earn some extra cash if your store can reach a certain sale mark.

Customizable shop

: Spreadshop allows a certain level of customization that allows you to create a theme for your shop that will match your brand.
Cons:
Low traffic:

This could be the biggest drawback of Spreadshirt. The site does not attract enough traffic to help the sellers make a decent income.

How much does Spreadshirt pay you?
Your income on Spreadshirt will come from three sources – Design price, Affiliate Commission and Volume Commission. With every sale, you will take 20% of the printing and product cost for the Design price and Affiliate Commission. If you are selling your design on the Spreadshirt Marketplace, the profit margin is fixed. You can earn some bonus with the Volume Commission.
How to sell on Spreadshirt?
You can register on Spreadshirt in order to get your design displayed on the Marketplace. If you want to run a separate storefront, you can go to Spreadshop to create your own. The registration on both platforms is free.
What sells best on Spreadshirt?
Apart from apparel, Spreadshirt also offers stationery, accessories, as well as home and living products. According to the report released by Spreadshirt itself, T-shirts remain to be the best selling items. The most popular colors are black, navy and white.
Threadless
Threadless follows a unique model that makes it a game-changer in the beginning. Starting out as a competition for artists, Threadless has created its business model around the idea of communal construction. With a unique idea, Threadless has created some sort of buzz when it started out in 2000. Over the years, the reputation of this website has decreased. But it still attracts a loyal following thanks to its loyal community.
How Threadless works?
Threadless offers a few ways to monetize their artworks. Here's how you can make money with Threadless.
Design Challenge

: This Design Challenge is the reason for Threadless's existence. Artists will submit their artworks which will be voted on by the community. The designs with the highest score will be printed into t-shirts. The winning design will also become a "regular" item on this website, gaining a higher exposure for the artists. The prize comes in cash as well.

Artist Shop

: This option allows you to set up your own storefront with a customizable theme. You will get a domain name ended with .threadless.com. All orders from this store will be fulfilled and shipped by Threadless. With this option, you can't make use of the traffic from Threadless's website.

Threadless "Discover":

The last option allows your listing to be discovered from Threadless's search.
Pros:
Huge social media presence

: Threadless has the most followed social profile out of all names on this list. Thanks to the huge following, Threadless can promote your designs and brand effectively. It also adds another reason for you to submit your artwork to the Design Challenge.

Unique style

: Threadless is a safe place for artists and designers to showcase unique works and get rewarded for their creativity.
Cons
Small organic traffic

: The biggest challenge for this platform is its decreasing and low organic traffic. In fact, organic search traffic only contributes about less than 20% of the total traffic which stands around 2 million a month. It seems that Threadless is not doing any SEO or their SEO strategy does go the right way. As a seller, it means that you can't reach the massive numbers of users who are searching for products through search engines every day.

How much does Threadless pay you?
Each week, Threadshirt will give the artists with the highest score a reward of $2500 in cash.
You can either set your own price or let Threadless manage the pricing. Threadless claims that the Artist Compensation, aka your profit, will be no less than 10% of the retail prices, even during the promotional event. The profit will be paid to the artists via Paypal once a month.
How to sell on Threadless?
You can choose between the three options above. While the last option is similar to other print on demand sites that have already been mentioned above, the first option can be a new approach and a new challenge for you. While it is not easy to win first place, you can see the Design Challenge as an opportunity to gain a following and exposure to a large audience. Combining these options will help you to earn some decent profit.
What to sell on Threadless?
While Threadless has expanded its product catalog to various options, t-shirts still remain to be the best selling items on this print on demand site. It is also regarded as one of the best t-shirt websites for artists.
Merch by Amazon
Merch by Amazon is technically not a print on demand site but a program created by Amazon for artists and designers who want to sell their merch on Amazon. Stills, it is an option that you shouldn't skip. Powered by the biggest e-commerce company in the world, Merch by Amazon offers a very reliable medium for artists and designers to monetize their arts. Amazon is obviously one of the best places to sell shirts online.
How Merch by Amazon works – Pros and Cons
Merch by Amazon doesn't offer a separate marketplace for you to showcase your merch. However, it shouldn't be discouraging for you since your design will be available on one of the largest e-commerce marketplaces – Amazon. Amazon will be your print on demand supplier who printed and shipped your merch.
Pros:
A massive existing audience:

Being the biggest online marketplace in the world obviously has its advantages. Your merch can reach a greater number of users here on Amazon.

Good brand name:

Your merch will be produced and shipped by Amazon. At this point, there shouldn't be any complaints about the shipping speed of Amazon or the quality that this company can deliver.

Freeship initiatives for Prime subscribers

: This is another reason for the customers to buy your merch through Merch by Amazon. Prime members will benefit from freeship when using Merch by Amazon.
Cons
Long registration:

To join Merch by Amazon program, you should meet certain requirements. It's not like other print on demand websites where you can just create an account to be eligible to sell merch. Your request to enter must be approved by Amazon. It will take from three weeks to months to get your request approved.

No branding option

: Basically, you will go anonymous when selling with Merch by Amazon. All your designs will be listed under the name Merch by Amazon. There is no option to create your own profile or store. If your intention is to solely make money then Merch by Amazon can be a good fit. However, if you want to create your own brands and attract followers, you should reconsider choosing Merch by Amazon.

Copyright theft:

A big problem with Merch by Amazon is design theft. Copycats or improve- cats are very prevalent on this app. Since everything goes anonymous here, people have no shame in copying and stealing designs. While you can report design theft to Amazon, the company didn't show any intention to stop this practice once and for all.
How does Merch by Amazon pay you?
The royalty rate is entirely up to you. While it is flexible to set up the commission rate, you will have to take into consideration the high competition in this platform, plus the possibility of copycats of your designs, it makes little sense to put the price up to high.
How to sell art on Merch by Amazon?
To be able to sell your design under Merch by Amazon, you will have to sign up by filling out a form that requires your information. Then your requests will be processed by Amazon. There is no fixed date for this process. Some people claim that it took them up to six months to get approved. After receiving approval, you are now allowed to sell t-shirts on Amazon as well as other items on their catalog.
It requires no upfront cost to get on Merch by Amazon. However, as a beginner, you are only entitled to upload 10 designs. As your sales increase, you can unlock a new tier that allows you to submit more designs.
Merch by Amazon is no doubt one of the best online printing services for artists.
Other options
We have gone through the best print on demand sites for artists, designers, and photographers. Yet, they are not the only option if you want to start a print on demand business. In fact, the websites and companies above are quite restricted when it comes to the amount of money you can make and how much control you have over your business.
If you want to get more serious with your business, working with print on demand companies can be a great choice. It is also a fantastic opportunity to learn how to operate an online business with a small investment.
In the following, let's see how you can create a stable stream of income by working with print on demand companies.
Etsy
Etsy is one of the largest online marketplaces in the world. While the user base size of this platform is not as big as Amazon or eBay, Etsy offers the most product-market fit for print on demand products. The reason is that Etsy thrives on the idea of providing unique and handmade products. While print on demand could not serve the handmade part, it fits the criteria for uniqueness.
How Etsy works – Pros and Cons
Etsy is not designed specifically for print on demand. However, it still offers space for print on demand products to be sold on their site. In fact, Etsy does list some print on demand companies as their Production partners. It means that you can have your orders on Etsy fulfilled by your chosen Etsy print on demand partners. They will print the products and ship them to the doorstep of your customers.
There is also a variety of print on demand companies that offer Etsy integration. This way, you can sync orders from Etsy and let the print on demand supplier fulfill your orders.
Pros:
Large marketplace with good traffic:

Etsy has attracted good traffic through both search and their marketing effort. Also, there are a large number of existing users who will go directly to the website to search for products.
Cons:
Very high competition:

Since it is a large marketplace and not exclusively for print on demand, you will face very high competition on this platform. It also requires a lot of work for

Etsy SEO

in order to get more traffic to your store.
Print on Demand on Etsy
Connect your Etsy store with Merchize and start selling your own designs. No up front cost.
How to sell art on Etsy?
It takes a few simple steps to register a seller account on Etsy. If you want to sell print on demand, you will have to connect your store on Etsy to your print on demand providers. You can do it either through Etsy's Production Partner setting or through your print on demand supplier's site.
One thing you should keep in mind is that shoppers on Etsy really love personalized products. Try to incorporate a personalization factor into your design. 
What sells best on Etsy?
Custom T-shirts are always in high demand. Still, there are a variety of product options that can generate good sales for your stores, like accessories, home decor, kitchenware, and so on. Gifts and holiday or event decorations are also best-sellers on this market. 
Wonder what products to sell on Etsy? Check our list of the best print on demand products for Etsy.
 eCommerce platforms (Shopify, Woocommerce)
Etsy is one option if you want to source the services from print on demand companies. Besides selling print on demand on marketplaces, artists and photographers also could also create their own site using the service of eCommerce platforms like Shopify, Woocommerce, BigCar, and so on. 
How eCommerce platform works – Pros and Cons
eCommerce platforms offer storefront solutions that allow you to operate an entire website as your own online store. You are in charge of every step in the way, from buying a domain, setting up your store, and connecting your store to your print on demand suppliers. 
It is also within your responsibility to come up with the designs and promote your store. As it is your own store, your own domain, there is no existing customer base for you to take advantage of. The success of your store really relies on your ability to promote and advertise your products. 
Print on demand companies only step in and help you with the manufacturing and delivery of your products. 
Pros:
Opportunities to experience running your own business:

 For many artists, designers, and photographers out there, doing business and marketing might not be their field of expertise or have a high priority. But whatever, who knows what you are capable of. It's always a good idea to start and try new things and pick up new skills.

Ability to create your own brand:

 With an eCommerce platform, you will be able to build your own brand.  You can decide to design your store to match your brand identity. Moreover, some print on demand companies provide branding options that allow you to put your brand logos, trademarks on the packages, payslips, or even the products. In a way, you own the business.
This is very important in the long run. You don't have to rely on the prosperity of other sites to maintain your business. As long as you can establish your brand, do proper advertising and keep up with your great works, you can expand your business and make handsome money.

Higher profit: 

Running your own store means that you won't have to put your designs in direct competition with other thousands. Customers are not given the benchmark for comparison while on your site. Here comes an opportunity for you to set your own benchmark and profit margin. 
Cons: 
More work required from your side:

 All of the promotion and store operations will add more workload for you as the owner of the business. If you are just considering doing print on demand as a side hustle and don't want it to take up a large part of your schedule, this business model might not be what you are expecting. 
How to sell art in an eCommerce store?
To set up a fully functioning eCommerce store, you will need to put in some serious effort. Here is the simplified guide on how to sell art through an eCommerce store.
Buy your domain: To create an eCommerce store, it is highly recommended to buy your own domain rather than just taking whatever the eCommerce platform has to offer. You can use your own domain to build your store.
Create your store: The next step is to register with an eCommerce platform of your choice. Shopify is the most popular among print on demand sellers. Almost every print on demand has the Shopify integration option. After picking the platform, you can now start to set up and customize your store.
Connect your store with print on demand services: To finish the setup process, you will need to connect your store to the print on demand supplier's system so they can sync and fulfill your order.
Design and add products: From here, you can upload your designs, use the mock-up generator from these suppliers, and select the products you want to put your artwork on. 
Promote your stores: Here comes another important part of running a print on demand store – promote and advertise your products. There are a few ways to help your store reach your targeted customers. You can promote your brand through social media, send emails to people on your list, do SEO to get more traffic from search engines, or put on money to run ads. 
What are the best print on demand services for artists?
The last important question is "What are the best print on demand companies for artists?"
Here are some quick suggestions for you:
1, Printful: The biggest print on demand company at the moment. Printful is the most popular option with a well-established brand and a wide range of services. However, the biggest cons of Printful is its expensive pricing. 
2, Printify: Printify is considered one of the best Printful alternatives. Printify has an extensive network of printing partners from different countries across the globe. It also offers products at more affordable prices than Printful. But, some people are really concerned about the inconsistent printing quality from Printify since the company themselves doesn't own the manufacturing facility. 
3, Merchize: Merchize helps you fulfill and ship your orders. You can find the cheapest all over print products on Merchize. Competitive price is what you will get from Merchize's services. Besides, Merchize also provides a collection of over 180 products with various unique offers. Merchize also offers help for new sellers to set up a storefront from the get-go. You can always check the live updates on the production time from Merchize's website.
Create Your Own Merch Brand with Merchize
Merchize helps you to bring your designs into reality and, of course profitable products. Get 10% off for your sample order now.
3. Print on demand Sites for Artist Comparison chart
Traffic and engagement metrics
Print on demand sites

Time on site

Pages per visit

Total traffic

(millions)

Organic search traffic

(millions)

Direct traffic

Redbubble

4:39
5.2
29.5M
12.39M

11.21M

Zazzle

3:15
3.33
16M
4.45M

4.8M

Teepublic

2:56
3.7
9M
3.32M

2.97M

Fineartamerica

2:27
3.85
6.5M
4.14M

1.3M

Society6

4:14
5.59
6.5M
1.87M

2.67M

Teespring

2:51
4.13
5.5M
0.94M

2.48M

Cafepress

3:12
4.23
2.3M
1.16M

0.69M

Spreadshirt

3:02
4.22
2M
0.66M

0.88M

Threadless
2:29
4.7
2M
0.38M

0.8M
Social media profiles
| | | | |
| --- | --- | --- | --- |
| Print on demand sites | Facebook | Instagram | Twitter |
| Redbubble | 983K | 412K | 100K |
| Zazzle | 211K | 56K | 59K |
| Teepublic | 159K | 178K | 30K |
| Fineartamerica | 150K |   |   |
| Society6 | 917K | 875K | 90K |
| Teespring | 4.4K | 128K |   |
| Cafepress | 615K | 8.6K | 23K |
| Spreadshirt | 160K | 38.3K | 18.4K |
| Threadless | 1.4M | 407K | 1.7M |
Wrap up
Hopefully you have understood the ins and outs of how each print on demand site works and how you can make money from it. 
If you want to have the latest updates on print on demand as well as participate in a supportive community of POD merchants, join our Facebook community here.