Guideline To Integrate Email Marketing Klaviyo Solution On Your Merchize Store.
Merchize has its own email system to send abandoned checkout email, order confirmation email, tracking update email, etc. Though, to utilise the up-sale advantage from email, many sellers want to integrate a professional email marketing solution such as Klaviyo.
Klaviyo is an email marketing platform which is built 100% for eCommerce, helping optimise for eCommerce. For example, when customers enter their email in check out form, Klaviyo can catch up and record the customer behaviours for customer classification. So that you can send the right email to the right person.
To refer more about Klaviyo (how to use, the features, annual fees,…) or email marketing strategies, you can access the website and blog of Klaviyo here for more detailed information. This article will deeply guide on how to integrate Merchize stores with Klaviyo.
Basically, to open the feature of integrating Merchize store with Klaviyo, it has 2 main steps:
Create a Kaviyo account, log in and enter your store domain.

Log in seller.merchize.com, then go to Settings → Email marketing

and enter the API key of Klaviyo.
1- Create Klaviyo account:
Register and create Klaviyo account at: https://www.klaviyo.com/register
Then Klaviyo will ask for website address, category of business and what platform you use:
Enter the domain of your Merchize store.

Category of business: Ecommerce

Platform: choose Other
 Then press Continue.
Next, it will display a notice of connecting with your store.
You can click on the link to view the detailed guideline if needed, or ignore this step.
Now you only need to log in your store management on seller.merchize.com, go to Settings → Email Marketing and click on Find Your Keys Here to get the key for connection.
This is the page interface to get the key, you copy the key in the Public API key/ Site ID section and paste into settings on Merchize.

Basically, your store is now connected with Klaviyo. When it has events such as checkout, order, view products, etc, Klaviyo system will receive the information and you can log in Klaviyo to adjust your marketing campaign and to start sending email. For specific guideline for each Klaviyo feature, please contact Klaviyo support or view on Klaviyo website here.
More information about the sections on Klaviyo
Profiles section displays the basic information about email and user on your store that Klaviyo collected.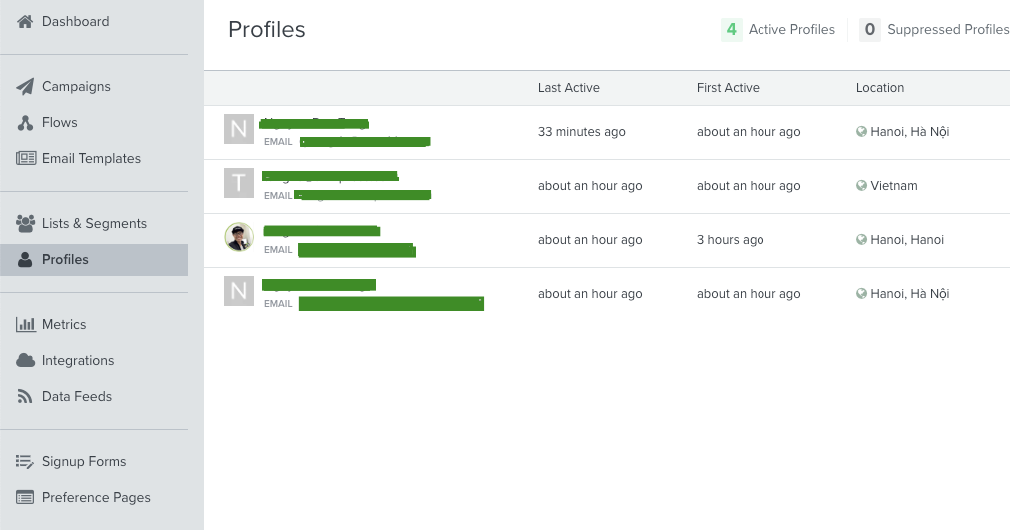 When clicking on 1 user, it will have the detailed information about behaviours and activities of the user. For example: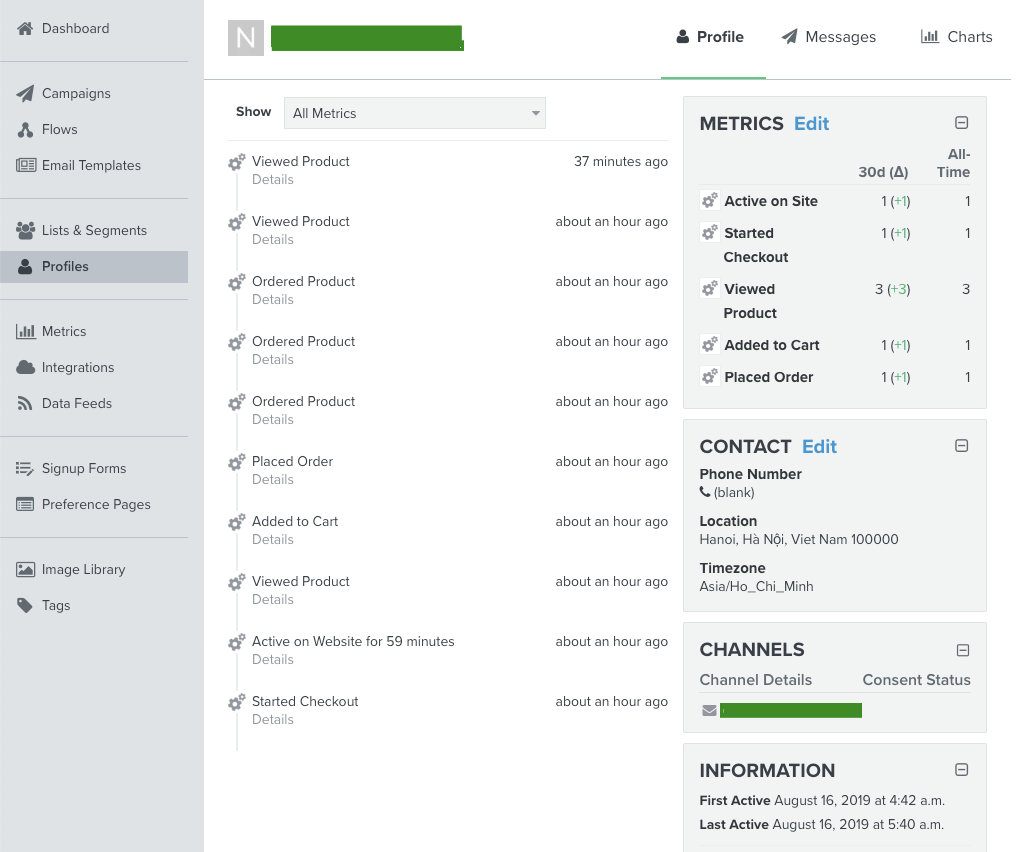 List & segments section will help to classify the email list according to the different types of specific objects to send the different email content. You can create more automatically based on the behaviours of customers on site, or manually create more according to your existing lists.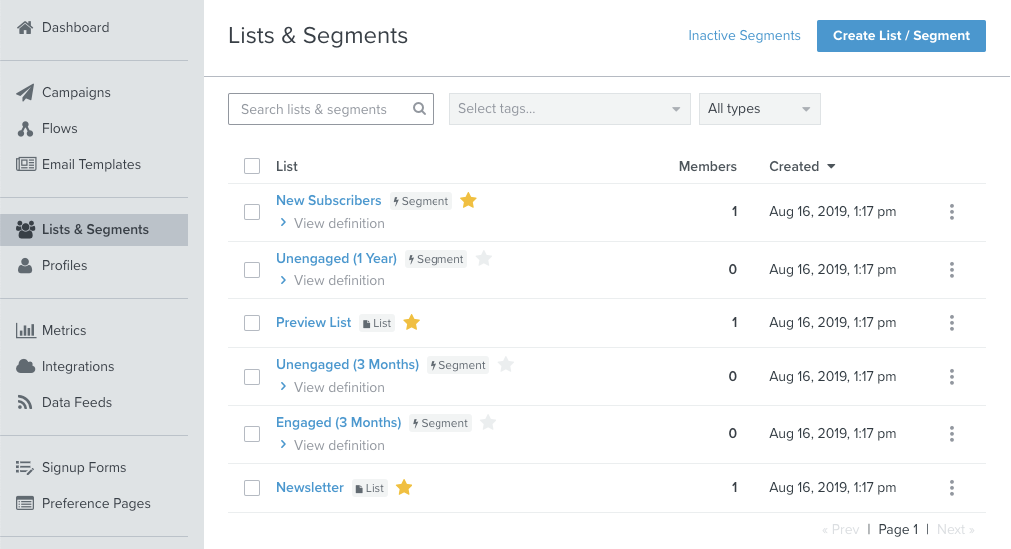 Klaviyo will automatically send email for customers based on maf streams you create on Klaviyo. For instance, Abandon checkout, thank you email,…
You can go to Browser Ideas to use the flows that are created by Klaviyo. (this is the most convenient of Klaviyo).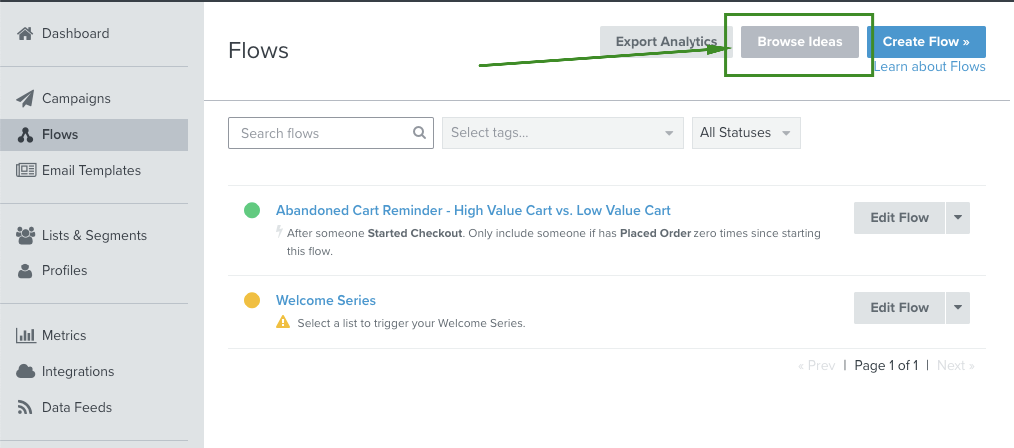 Note that to run the Flows, you just need to choose Flows in the Integration→ Custom Ecommerce Cart to avoid choosing wrong flows of other platforms.