eBay Integration: Connect & Fulfill Orders Automatically
This following tutorial just explains how you can connect your eBay store with Merchize to fulfill your eBay orders.
To serve eBay sellers, Merchize has added the feature of eBay Fulfillment. With this feature, sellers can:
Manage the orders, add multiple eBay accounts to Merchize

safely.

Integrate and fulfill the orders on one or more your eBay accounts.

After integration and fulfillment, Merchize will update tracking on your eBay order.
To ensure your eBay accounts are not suspended, please read and follow this step-by-step guideline carefully before starting to connect your eBay account with Merchize. We are not responsible if you do not follow instructions. 
Detailed Instruction to Connect Merchize with eBay
Log in your store on Seller.Merchize.com. 
From the left Menu, go to Integration → eBay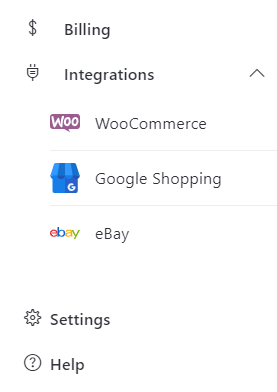 You will be directed to eBay connection management page which has appearance as picture below, it has 2 main parts:
The left side: Information about eBay connection guideline

The right side: List information about accounts which are connected to Merchize. You can disconnect if you want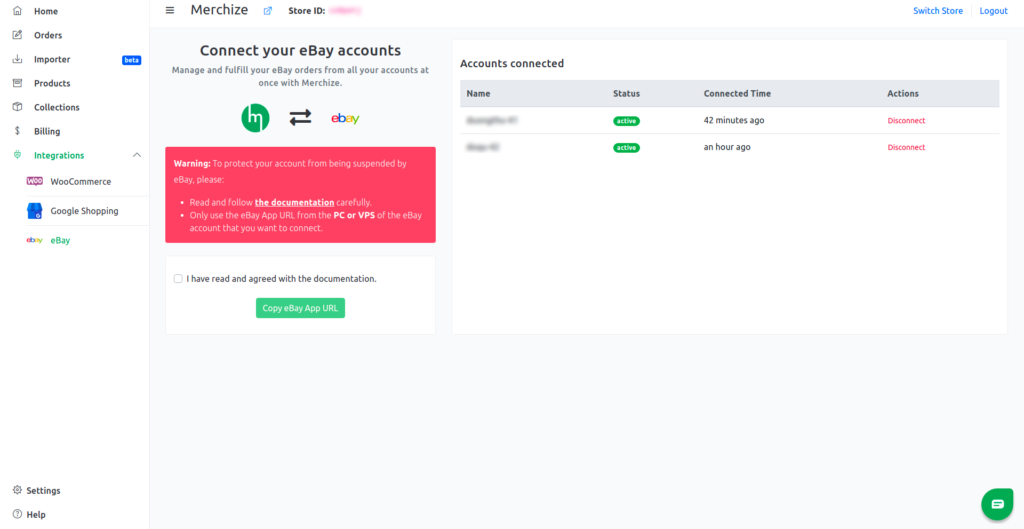 To start connecting, you read carefully the guide information on the left side and tick on the checkbox "I have read and agreed with the documentation" to use this function.
When ticking on the checkbox, you can click on the "Copy eBay App URL" button to get Authorized Link.

Then, open a new tab (or dedicated IP/VPS: which is logging in your eBay account), paste the link copied in the previous step. You will be prompted to login to eBay from here. After loading, a confirmation will be displayed to grant access for Merchize's application. Latterly, if you want to remove this application from your eBay account, you can go to the account setting to remove it.
In this step, you just need to click Agree.  
NOTE:  If you use VPS, other IP or proxy service to access to your eBay Account

,

you need to open the right VPS used for that eBay account you connect with Merchize (This is essential to avoid being suspected of unusual IP addresses or prevent multiple store associations if you connect different

accounts.)
After clicking on the "Agree" button. 

If you already log in, you will be directed to the  Account eBay connection Management of Merchize. Here, on the Accounts connected, you will see your newly connected account with the status as active. Now, when you have an order on eBay, you can see immediately in the order section of Merchize, along with the order tag in the form "ebay_your_ebay_account_name".

For example, when you go to the order section on Merchize, you will see the orders from Merchize have 2 tags in form: "ebay" and "ebay_your account name". You can use these tags to identify which orders come from which eBay account. 
When you go to view each order, you also can see eBay tags and order_history section will show this order is imported from eBay. Now you only need to upload artwork (front/back) for this order to start Fulfilling.
In about 15 minutes to 2 hours, Merchize will fulfill this order and update the tracking code information into the order on eBay for you, helping to reduce the risk of dispute or return due to the late tracking.
Automate the Fulfillment Process
By default, for your first use fulfillment by Merchize , you need to Turn on "Auto-fulfillment" feature if you want to automate your order processing. (If you want to get your orders processed manually, or apply custom fulfillment progress, you need to contact Support Team to request appropriate configurations).
As eBay orders are fulfilled, Merchize will send the tracking information back to your eBay account and notify your customers.
Can I create products on Merchize and sync listing to eBay?

Unfortunately, at this time, we don't have the listing integration feature yet. The "integration" between eBay and Merchize is now basically a one-way thing, just enabling you to sync orders only. So you can't get products created on Merchize account automatically synced & published to your eBay store.

This feature is expected to be released by Q3, 2022 and there will be sure a notification when it is complete.

If you want to get our mockups of your custom products to see how they'll look once printed or for listing purposes, there are currently two options:

Using Merchize Mockup Generator inside your browser: This tool helps to quickly visualize your ideas, and you can easily create multiple products with the same design. Then, download the mockups to use on your eBay store or other online storefronts, social media channels.

     For more detailed instructions, check out this Mockup Generator guide.

Using .PSD mockup version included in each product link: In our website catalog or this folder, you'll find a wide range of products –apparel,  home decor, accessories, and more. For all the mockups you create, make sure that your design is created according to the Merchize Design Guide.

(You can also use your own unique mockups as long as they are appropriate for Merchize product details & print files).

Then you will have to create your listings/or edit the thumbnail of items in eBay manually as per usual, and directly upload the mock-ups you had captured via Merchize before.

If you have any concerns or questions, please don't hesitate to contact our support team.

Requesting Other Features

If there's a particular features that you would like to recommend, you can submit a request to our team for review. We do strive to make as many user-centered features available as possible.