How To Set Up Shipping Rates With Merchize
🇻🇳 Click here for Vietnamese version 
In this article, Merchize will guide you how to install and set up the shipping system of Merchize.
To set up shipping information for your store, you log in your store at seller.merchize.com then go to Settings → Shippings. Here you will set up all shipping settings for your store.

When you set up a store for the first time, or your store has never set up Shipping, it will have default settings like the picture below. In which:
Free Shipping

: Setting free shipping fee or not. If free shipping, other Shipping settings will not activate.

Shipping Rates At Checkout

: Where you set up the shipping rates information based on zones (Countries, Territories).
Default will have settings for the US and ROW (other countries) at the same price as the standard shipping fee at Merchize: US is $4.99 + $1.99 additional item with standard shipping and fast shipping by standard shipping + $3. With other countries, shipping fee is $7.5 + $5.95 additional item and don't have fast shipping.
Here, you can add more shipping information for other countries, or edit information of current countries to suit your store. To add shipping zone, choose Add Shipping Zone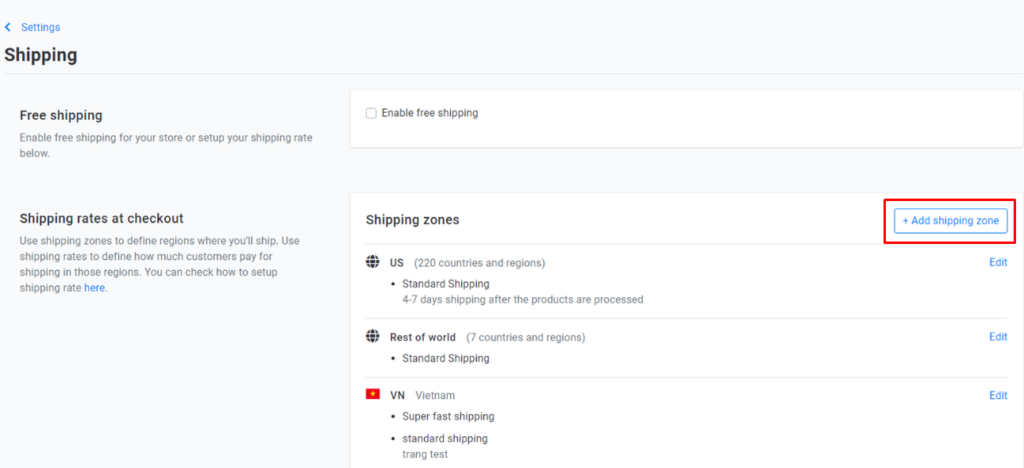 Here you can name the shipping zone. For example, North America and choose other countries corresponding to that shipping zone in Countries and regions.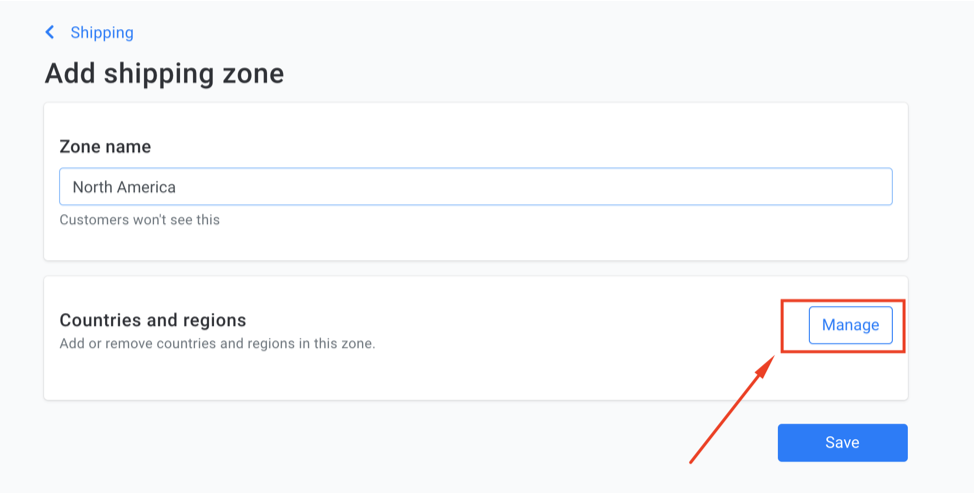 Here for the convenience of selecting multiple countries, Merchize has grouped countries and territories in a group. You can choose groups such as Asia, North America, South America to quickly select all the countries in this zone. Or you can select individual countries and Save. If you want to select all remaining countries, you can choose Rest of World.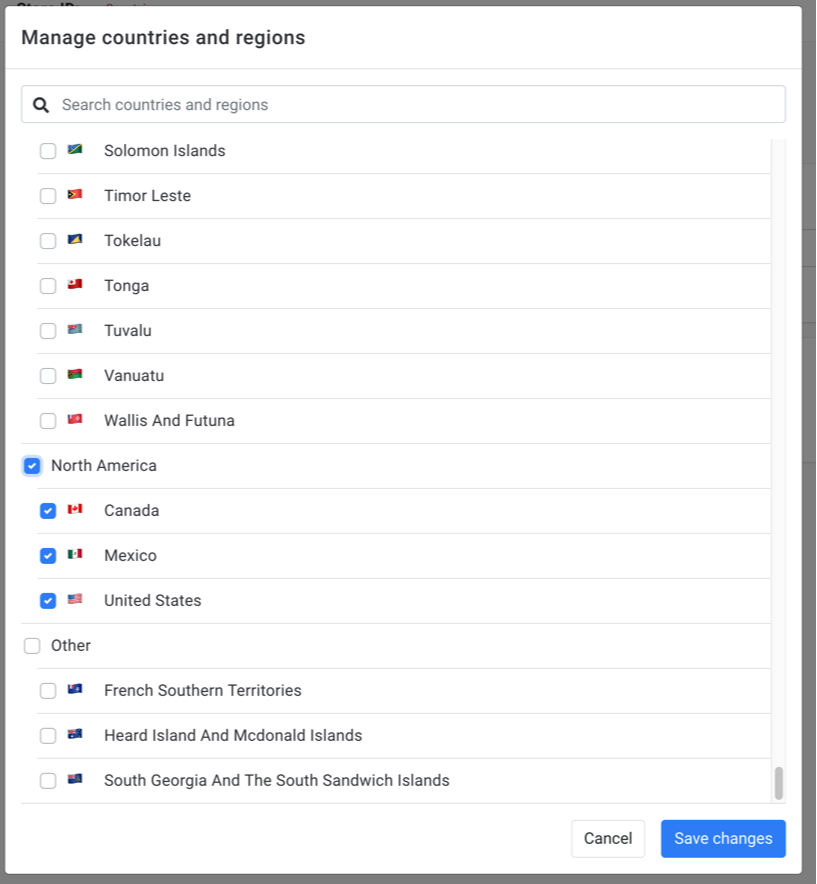 Finally, after selecting countries in the shipping zone, we move to choose Rates – the fees. Choose Add shipping rate in Rates.

Here, you will create different types of shipping that customers can choose in the payment step based on their demand. For example, Standard Shipping, Express Shipping, Overnight Shipping, etc.
I will make an example with Standard Shipping:
Enter the title as Standard Shipping.

Subtitle is for the information that explains more about this shipping type. For instance: Delivered in 4 – 7 days after the items are processed.
Take a look at Add shipping rate, you can see that we can create the rules for shipping fee by weight (For example, 0-100 gram is $5, 100-200 gram is $10, over 200 gram is $20,…) or by order value (For example, order value $0-20 is $5 shipping fee, $20-$25 is $10 shipping fee, over $50 is free shipping). Or by the number of products as current Merchize shipping fee (For example, the first product is $4.99, from second product is $1.99).
Finally, if it has many conditions at the same time, we can choose the calculation of system: According to the lowest shipping fee (lowest return rule), or the highest shipping fee (Highest return rule)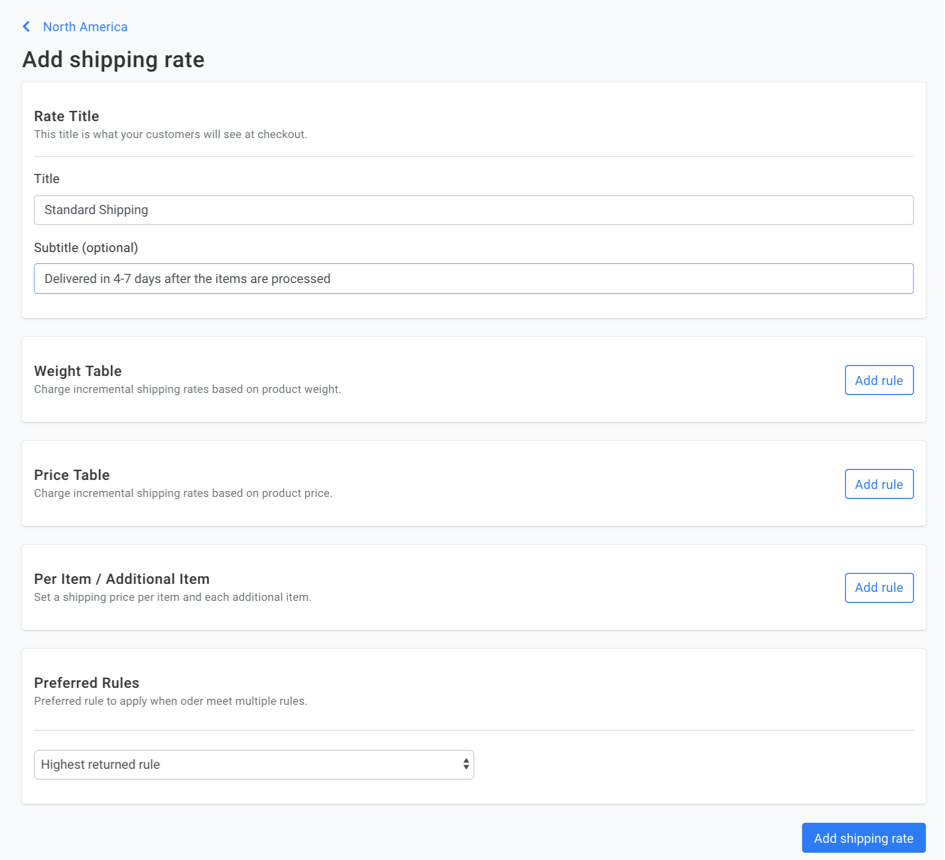 With the configuration according to the example above, we can see the following settings (Note: This is an example, not the standard. Each store will have a different shipping rule setting. This example is for guide you how to familiar with the shipping rule system):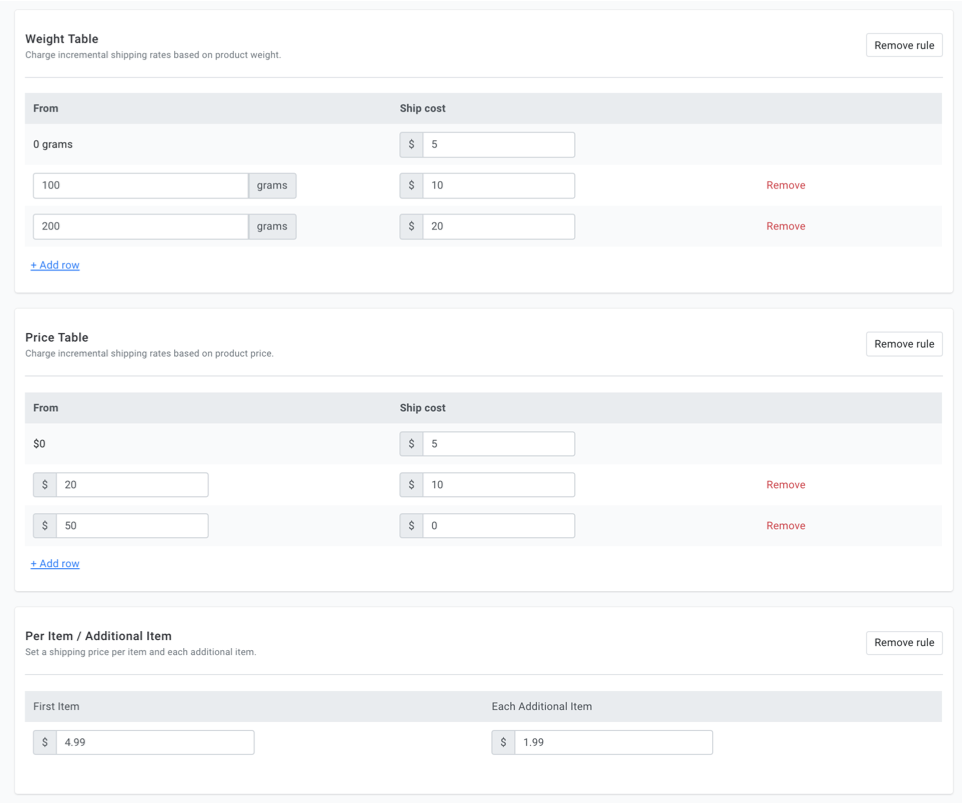 Similarly, we can create more different Shipping Rate such as Fast Shipping, or do for different countries and territories, etc

Thus, after customers add to cart and proceed to check out, they will see the different options of shipping rate as in the picture below. When customers click to choose each shipping option, the system will automatically calculate the corresponding fee.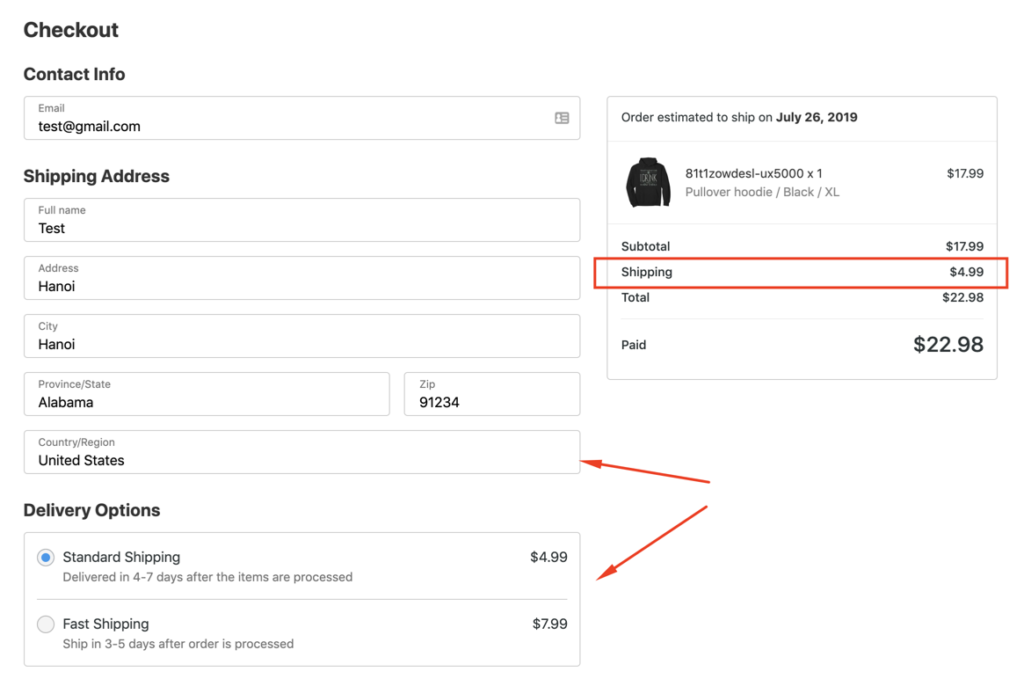 Finally, after payment, customers will receive Order Confirmation Email which includes shipping method and shipping information. This mail also has a specific link for order information.

For Admin, to fulfill this order,  you will be able to see information about shipping methods in the order management page.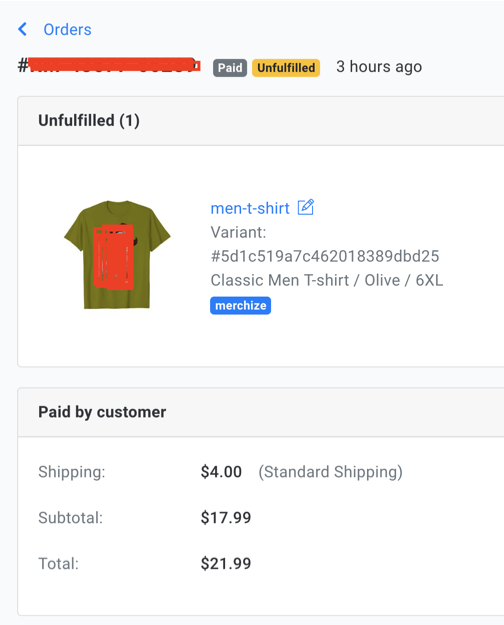 F.A.Q – Note
1 – How to set up the weight for the product?
To set up the weight for the product, please go to Products, choose the product that you want to add the weight, find Variants and change the weight.

2 – Is the weight available when importing the shirt?
When importing the shirt, the default weight is 0 gram. You please change this information if you want to set up the shipping by the weight in an appropriate way. In the following time, Merchize will update default weight for campaign creation.
3 – What is the current shipping fee of Merchize?
With most POD products as T-shirts, mugs or posters to the US, the standard shipping fee is $4.99 with the first product, and plus $1.99 from the second product. Shipping time for standard is 4-7 business days.
With other markets, shipping fee is $7.5 for the first product and plus $5.95 from the second one.
Fast shipping fee to the US is $7.99 + $4.99 additional. Fast shipping time is 3-4 business days.
The shirts will be shipped after the production process. After the order is placed, it will take up to 1-2 days for Merchize to process such as print, etc. With all of the current orders, Merchize will try to print and ship within the same day to make sure the fastest shipping time/ speed.You can refer detailed information about products that Merchize provides as well as shipping fee, processing time here: Merchize Basecost and Catalogue
4 – Notes
This shipping rate setting guideline is used for customers who pay at your store only. This means your customers have to pay the shipping fee as your setting for this order.
The fulfillment fee, printing fee and shipping fee that you – store owner – must pay for Merchize will be based on the information at Merchize Basecost and Catalogue. This is not related to the fee that you set up before.
Thus, if you decide to reduce the shipping fee for customers, you should be careful and have  a reasonable product's price strategy to compensate for the shipping fee that you promote for customers.